James Bond. Seen. The Lord of the Rings. Seen. Harry Potter. Seen. Twilight. Seen. How many movie nights spent alone, with a boyfriend or with the girlfriends?! And how many bags of popcorns in the microwave?! And how many pizzas delivered?!
Ohhh, no! Not the same movie night. Not again. Invite your friends and spice the movie night with a different snack than popcorn. Make some of the top 10 best movie night snacks which we present to you. Be the chef of the movie night and do what everybody at least expects.
Fruit And Dip
Recipe via mygardeninsider.com
Fruit is a sweet treat and especially exotic fruits! Cut up a few of your fave fruits and arrange them in a pretty pattern on a plate. You can make a fruit dip to go with it very easily. Simply mix 1 pack of cream cheese, 1 container of marshmallow creme, and a few drops of vanilla. Put it in a small bowl and place it in the center of the fruit and voila! You've got it!
Caramel Popcorn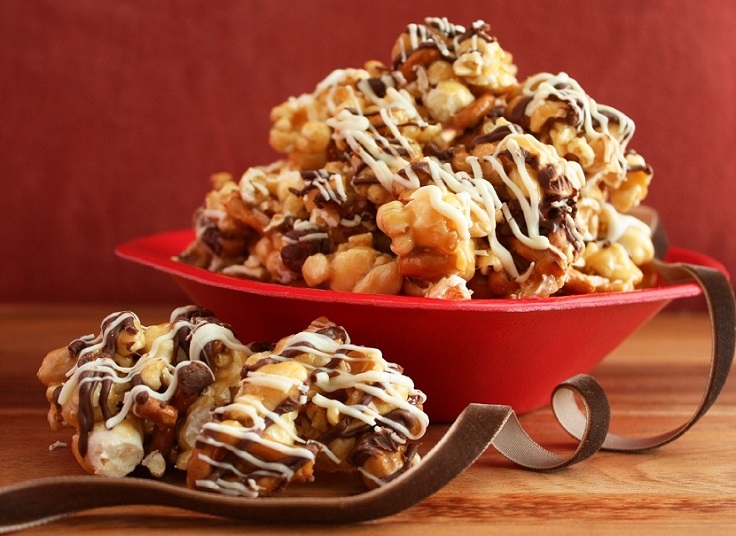 Recipe via cookingclassy.com
What kind of movie night would it be if you didn't have popcorn? But add a twist to the regular old stuff. Drizzle caramel over the popcorn for a sticky sweet snack! Your caramel popcorn will be a huge hit with the girls. It's one of the best movie night snacks for an evening with the girls. Don't forget cute little bowls to put it in!
Double Fudge Brownies Ice Cream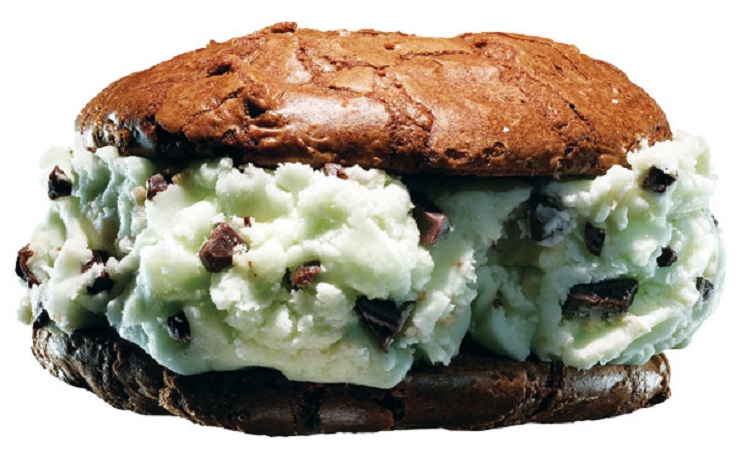 Recipe via bostonmagazine.com
Ok, here come all those calories I was talking about. But it's ok to splurge on you every now and then, right? Come on, you had a hard week, you deserve it! So make a big bunch of double fudge brownies and grab a carton of cold vanilla ice cream to top them off with. Mmmmmm, is  your mouth watering already?
Chips and Salsa

Recipe via pictureperfectmeals.com
Chips and salsa are a great go-to and one of the best movie night snacks. You can choose from a range of different flavors and textures of salsa or even make your own if you're feeling adventurous! You will love to mix a few teaspoons of sour cream with spicy salsa to tone it down a bit and give it a creamy texture. Use a pretty platter to put the chips and salsa on. This will make it convenient to pass around for seconds!
Oreo Truffle Balls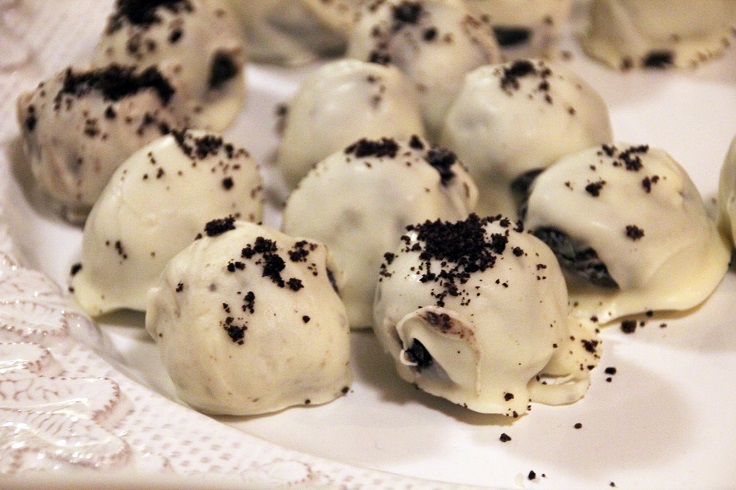 Recipe via bellesbakery.wordpress.com
Ok, you are about to discover chocolate in a whole new light! You have never tasted anything as rich and yummy as these Oreo balls. Take one pack of Oreos and crush them up. Next, mix in one pack of cream cheese. Roll this mixture into balls, (it can get messy!), dip them into melted chocolate and then refrigerate for a few hours until hard. Warning: You will be addicted!!
Turkey And Veggie Rolls
Recipe via globerove.com
Here's a bit of a healthy take on little petite sandwiches: Turkey and veggie rolls! It's one of the best movie night snacks for the girls since guys don't particularly care for dainty bite-sized food items.
Chocolate Covered Potato Chips
Recipe via allysonkramer.com
If you want to surprise your friends with a unique recipe, prepare them a sweet-salty snack.  They will be overwhelmed!
Cheesy Buffalo Chicken Pizza Sticks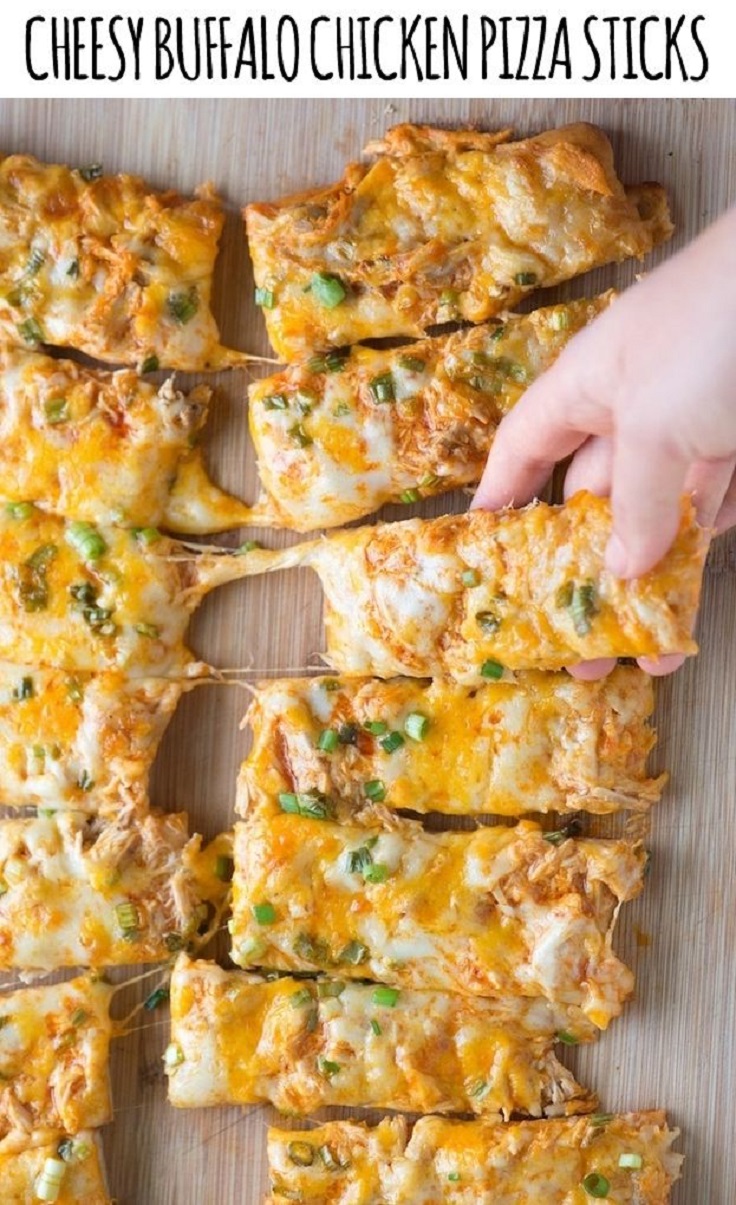 Recipe via buzzfeed.com
It won't be movie night if there is no pizza on the table. But you are bored of the simple and every time the same movie night. But again, your friends adore pizza. In order to change the night, but satisfy your quest too, make a Cheesy Buffalo Chicken Pizza Sticks.
Fried Panko-Dipped Pickle Spear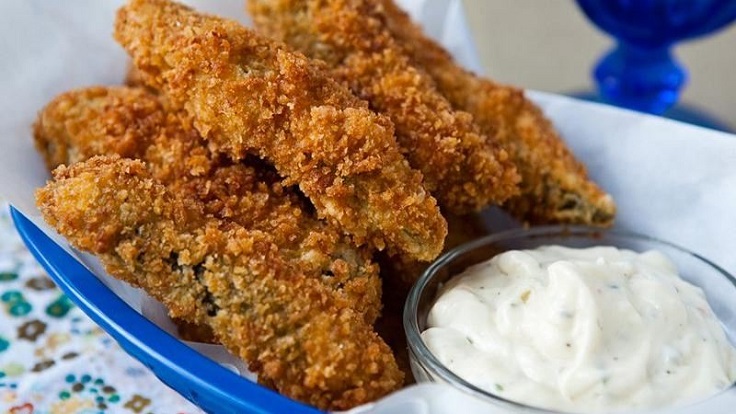 Recipe and Photo credit tobettycrocker.com
Have you had fried pickles yet? It's a kind of a newer southern treat. There are amazingly good and so addictive.
Oven-Fried Zucchini Sticks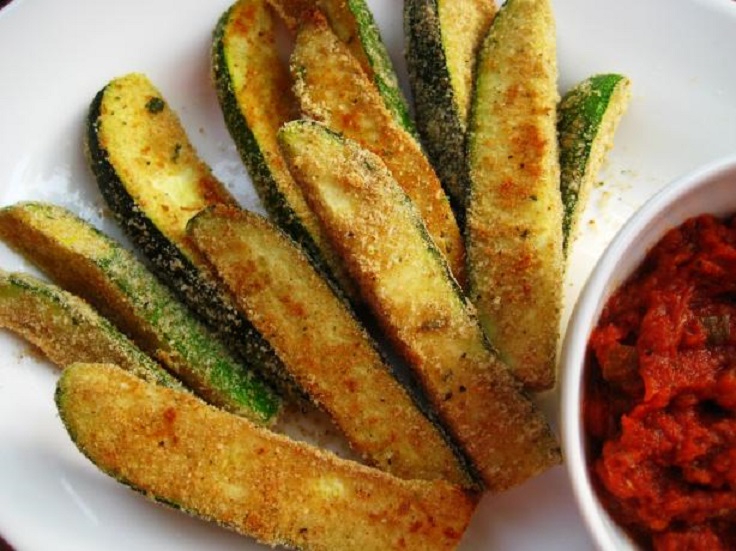 Recipe via food.com
Zucchini may be at the back of the alphabet, but it's at the front of our minds when it comes to movie night snacks. Prepare for a crunchy night!