The mug cake dessert is super easy and super delicious. All recipes below are ready in 10 minutes or even less, so they're great for any occasion, especially busy or lazy days. Don't hesitate to prepare a cake in mug even for guests. These desserts not only are easy, tasty and relatively cheap because you only need few ingredients, they also look very adorable and there's no way someone will say "no" to such sweet treat. So, go ahead and check out the ten recipes below. We're sure you are going to like them as much as we do!
1. Eggless Blueberry Mug Cake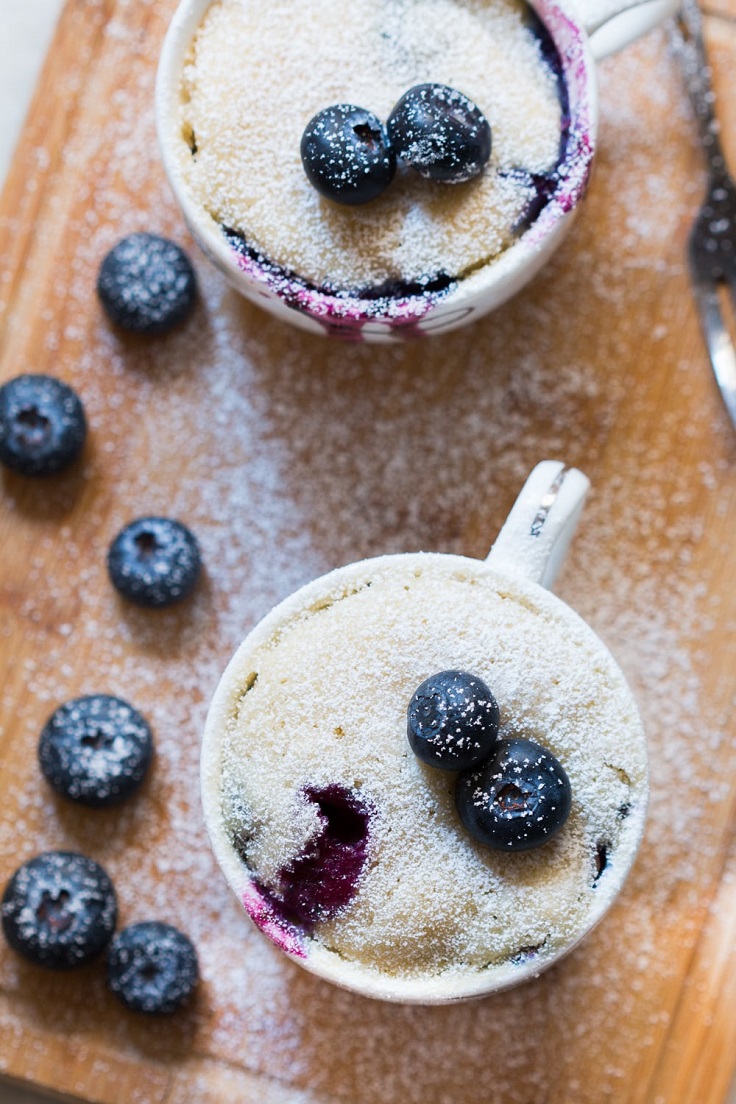 via myfoodstory.in
For this super tasty dessert you only need 2 minutes (yes, just 2!) and few ingredients, including blueberries. Blueberries taste amazing, but these berries have health benefits. According to many studies, eating blueberries can lower the risk of obesity, diabetes, heart diseases; they help us having healthy bones; they can lower our blood pressure and so on. So, including the blueberries in your small dessert can taste great and be healthy for you at the same time. For this mug cake, you need 7 – 8 blueberries, 1/4 all purpose flour, 2 tablespoons of melted butter and milk, 2 1/2 sugar tablespoons and 1/2 tablespoons of vanilla extract and baking powder each.
2. Eggless Vanilla Mug Cake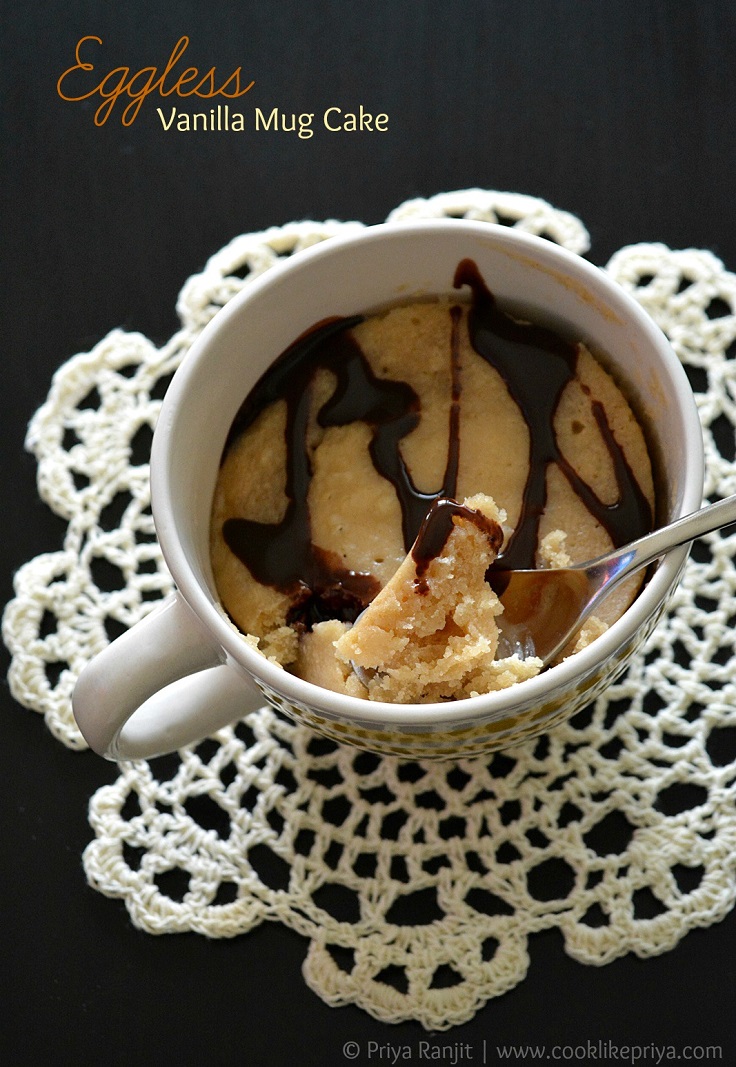 This mug cake is very simple, but yet a decadent treat. It's going to be a great dessert choice after heavy meal. Make sure you have the following ingredients: 1/4 cup plus 2 tablespoons all purpose flour, 2 tablespoons granulated sugar, 1/4 tablespoons baking powder, 1/8 teaspoon salt, 1/4 plus 2 tablespoons milk, 2 tablespoon unsalted and melted butter, 1/2 teaspoon vanilla extract. If you want to, you can serve it with chocolate syrup as used in the recipe, or you can try something else by desire. Whipped cream, fruit and many other toppings will do the trick.
3. Oatmeal Nutella Mug Cake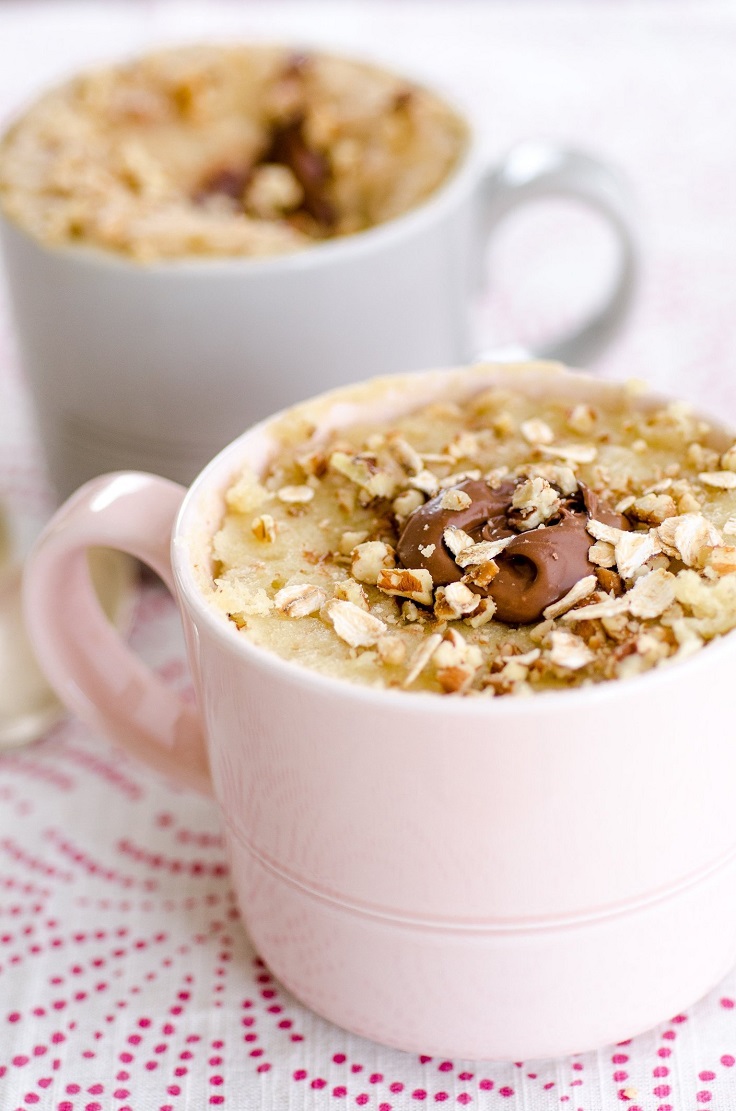 via thekitchn.com
Nutella dessert? Yes, please! For one mug, make sure you have 3 tablespoons milk, 1 tablespoon olive oil, 1 tablespoon sugar, 3 tablespoons flour, 1 1/2 tablespoons rolled oats
1 tablespoon finely chopped pecans, plus more to garnish, 1/4 teaspoon baking powder, 1/8 teaspoon salt, 1 tablespoon Nutella. You can also add a little bit of nutmeg and 1/4 tablespoon cinnamon, but this is optional. It takes less than 10 minutes to prepare the cake and even less to eat it. Instead of Nutella, you can use any other chocolate – hazelnut spread. It will work just as much as good!
4. Orange and Almond Mug Cake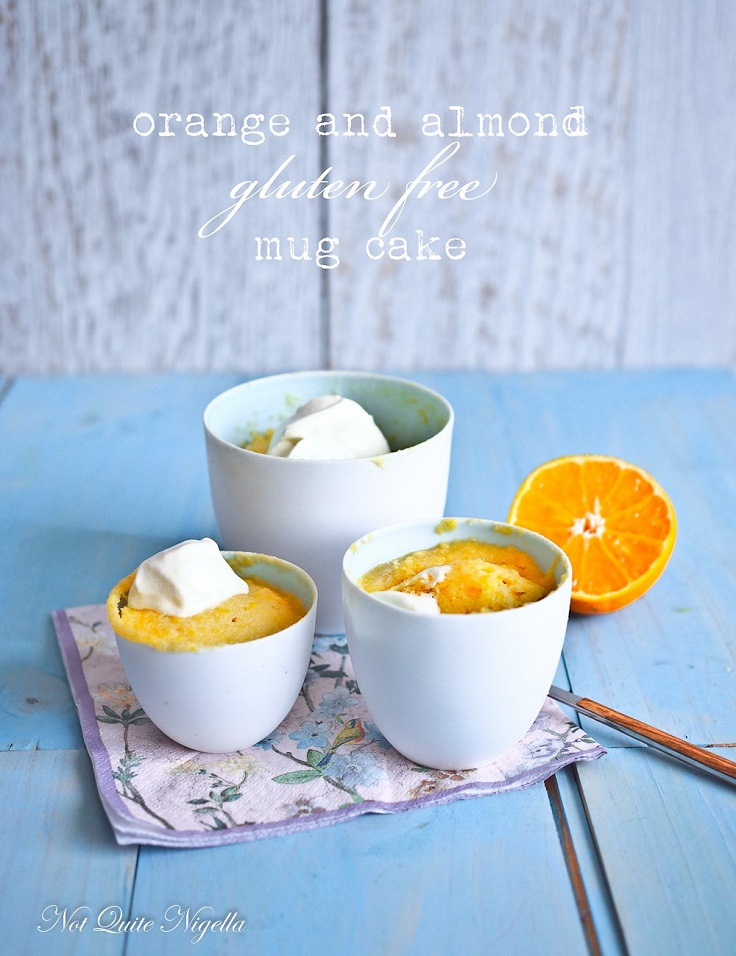 via notquitenigella.com
This mug cake contains both orange and almonds, two very healthy ingredients. Oranges can lower the risk of few cancers, they can prevent kidney diseases, they lower the cholesterol level and other benefits, while the almonds are known for being rich with many nutrients and are loaded with antioxidants. For the mug cake, you need 1/2 orange with seeds removed, 6 tablespoons almond meal or ground almonds, 1 egg, 2 tablespoons sugar and 1/4 teaspoon baking powder. To make it even tastier, you can serve the mug cake with sour cream or yogurt.
5. Salted Caramel Mug Cakes
via duncanhines.com
Preparing this mug cake is going to take some 30 – 40 minutes, but it serves 10 – 12. In order to prepare it, you need 1 container salted caramel frosting, 1/2 cup mini marshmallows and one package of cake mix, which requires few more ingredients stated on the box, such as eggs, water and oil. It's really easy to prepare the cake mix, just combine the ingredients and mix until for few minutes. Fill the mugs about 2/3 with the batter and bake for 20 – 25 minutes until a toothpick comes out clean. Top with marshmallows and your job is done!
6. Chocolate Mug Cake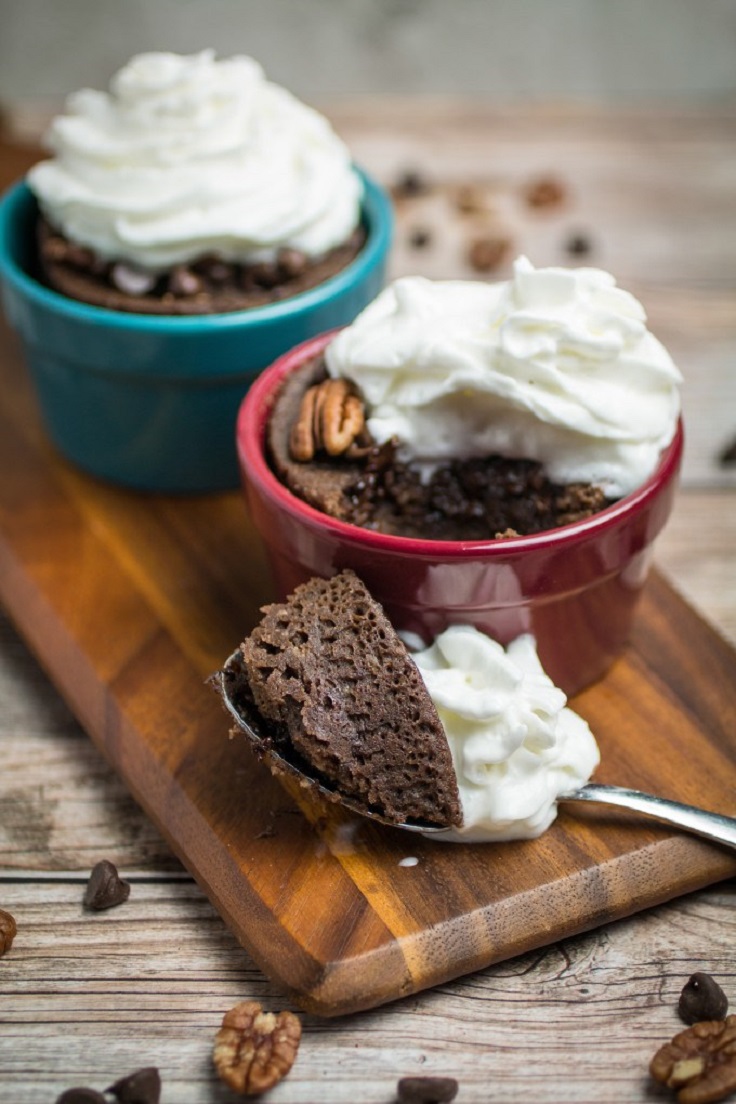 via dishingdelish.com
These pretty, tasty mug cakes are done in exactly 4 minutes! We bet that eating one will take half of that time. You need 4 tbsp. all-purpose 1-to-1 gluten free flour, 4 tbsp. white sugar, 2 tbsp. cocoa, 1 egg, 3 tbsp. milk, 3 tbsp. applesauce, 3 tbsp. chocolate chips, 1 tbsp. chopped pecans, 1 tsp vanilla extract and ⅛ tsp (or a dash) salt. Stir together all dry ingredients and when well combined, add the wet ingredients and stir until what you have is wet batter. Add the pecans and the chocolate chips and the batter is ready, just fill in the mugs and place them in the microwave for 1, 1/2 minutes until a toothpick comes out clean.
7. Unicorn Tracks Mug Cake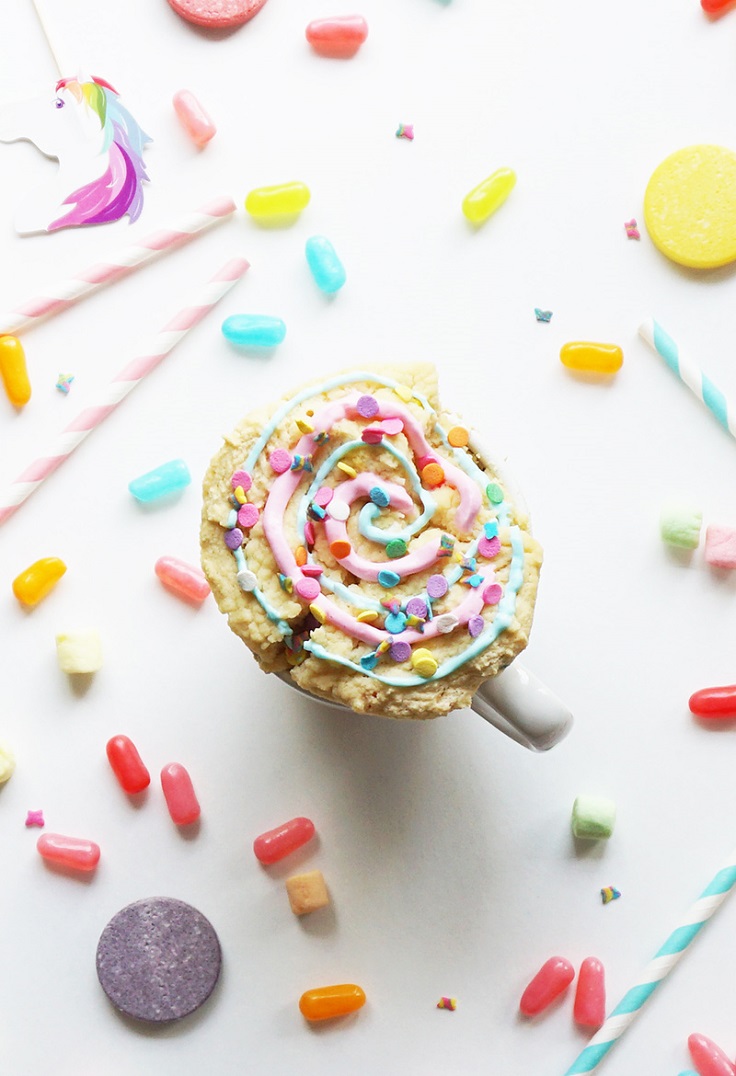 via bijouxandbits.com
These colorful mug cakes can be the ideal dessert for birthday parties. They take exactly 8 minutes to be done and these are the ingredients that you need to have: 3 Tbsp coconut flour, 1/4 tsp baking powder, 3 tsp sugar substitute, 1/2 cup unsweetened vanilla almond milk (or milk of your choice), 1 Tbsp Greek yogurt, 1 large egg white and rainbow sprinkles as many as you think you'll need. For the frosting, you need 1 tbsp plain Greek yogurt, 3-4 drops of liquid stevia and 1 drop food coloring. First mix the coconut flour and the baking powder, and then add sugar substitute and almond milk, continue stirring. Beat the egg white and when it gets fluffy, add it the batter along with sprinkles. Microwave on high for 2½ to 3 minutes and prepare the frosting.
8. Pumpkin Spice Mug Cake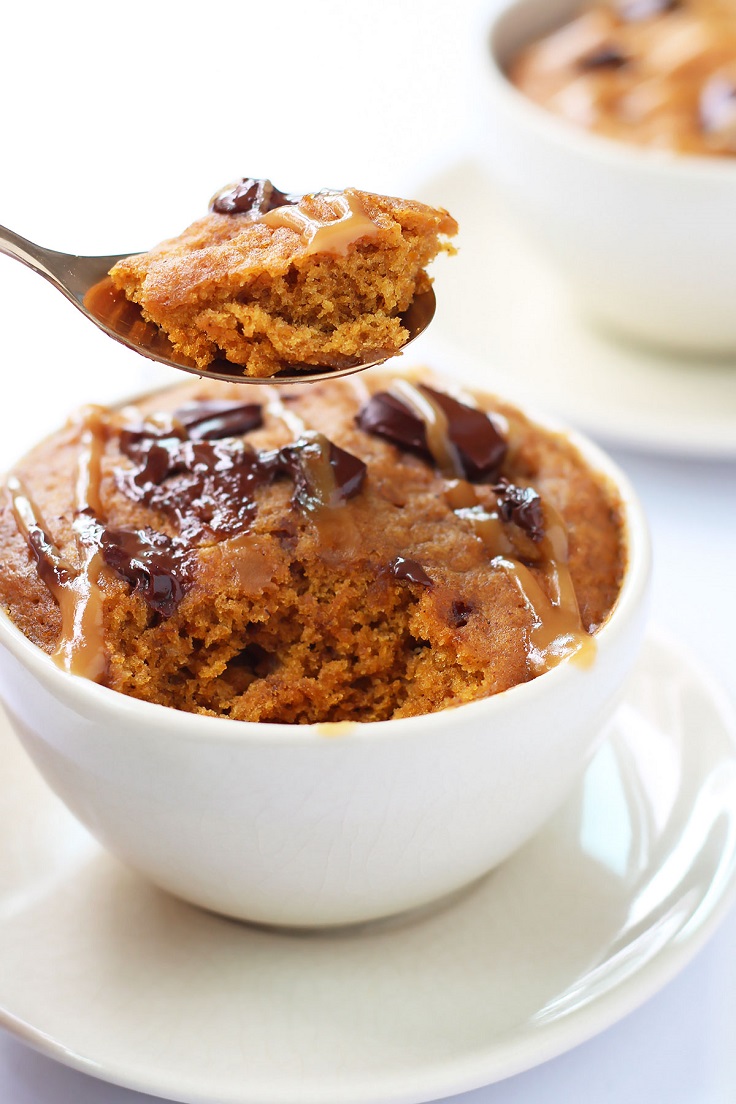 via leelalicious.com
Done in just four minutes, this pumpkin mug cakes will surely satisfy your sweet tooth with its amazing aroma and taste. You need to have these ingredients in order to prepare it: 1 tablespoon melted butter, 2 tablespoons pumpkin puree, 1 tablespoon water, ¼ teaspoon vanilla extract, 2 tablespoons brown sugar, 4 tablespoons flour, ½ teaspoon pumpkin pie spice mix and ⅛ teaspoon baking powder. Melt the butter in the mug and stir in the pumpkin puree, the water and the vanilla extract. Next add the dry ingredients in the mug and mix well until combined. Microwave for one minute, and if you feel like it needs more, microwave for 15 – 20 seconds.
9. Banana Mug Cake with Simple Cream Cheese Frosting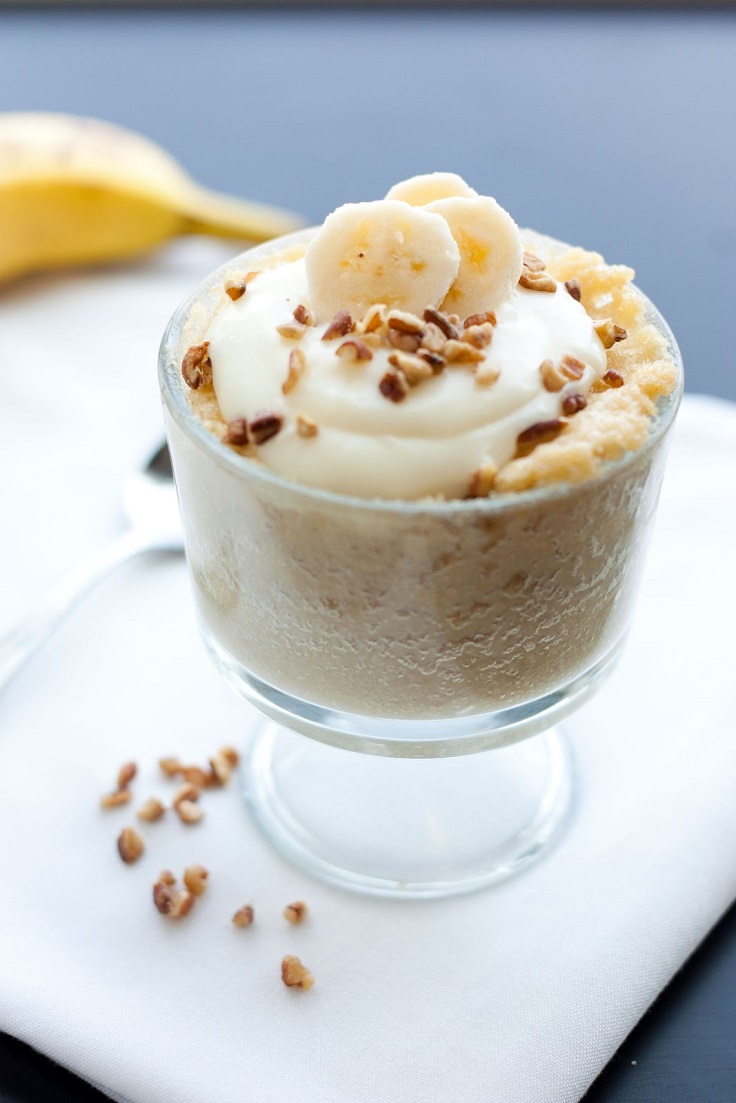 via cookingclassy.com
Bananas are rich in fiber and antioxidants. They also contain several nutrients that can help in moderating blood sugar levels after meals; bananas can improve our digestion and may help in weight loss. So, in order to feel these benefits, include this fruit in your eating routines. One of the recipes that uses banana is exactly this super easy mug cake. The recipe makes on big cake, and for that you need 1/3 cup all-purpose flour, 1/4 cup granulated sugar, 1/4 tsp baking powder, 1/8 tsp cinnamon, 1 pinch salt, 1/2 overripe mashed banana (scant 1/4 cup), 1 tbsp vegetable oil, 1 tbsp applesauce, 1 tbsp buttermilk, 1 large egg yolk, 1/4 tsp vanilla extract. The recipe also includes banana slices, pecans and cream cheese frosting which are recommended, but optional.
10. Mocha Mug Cake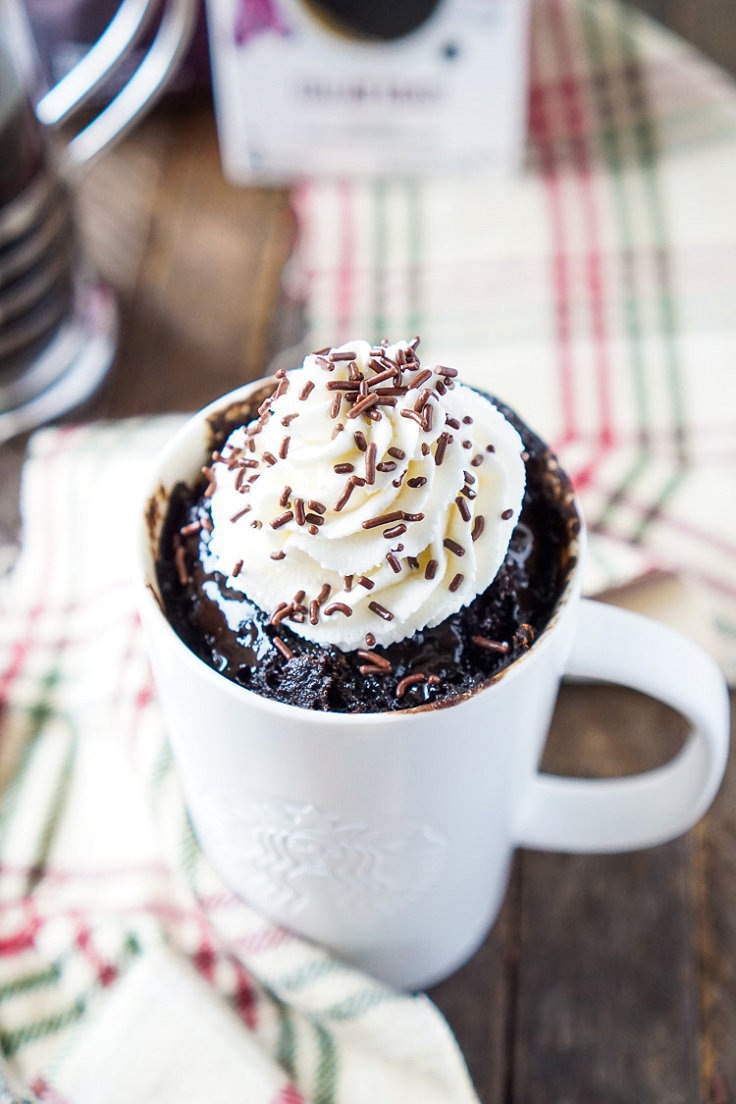 via sugarandsoul.co
The 5 minutes mocha mug cake requires for these ingredients: ½ tsp vegetable oil, 1 Tbsp unsalted melted butter, 3 Tbsp granulated sugar, 5 Tbsp Starbucks coffee, hot, 2 Tbsp cocoa powder, ¼ tsp salt, ¼ tsp baking soda, ½ tsp vanilla extract, ¼ tsp Starbucks VIA instant coffee, 4 Tbsp all-purpose flour and 2 Tbsp mini chocolate chips. If you were looking for a chocolate – coffee cake experience, then you have just found one! To make things more delicious, add some toppings, such as whipped cream, chocolate sprinkles and chocolate syrup.