Having a backyard leaves you with plenty of options that you have when it comes to decorating this area. No matter if it's just a small space or a whole yard, there are many things that you can do to make a beautiful outdoor sitting place, starting from small DIY projects to having the possibility to place whole sitting furniture outside.
In this article, we would like to share these ten ideas with you. There is something for everyone's taste, so we hope you're going to find what you need. Have fun!
1. Decorate with String Lights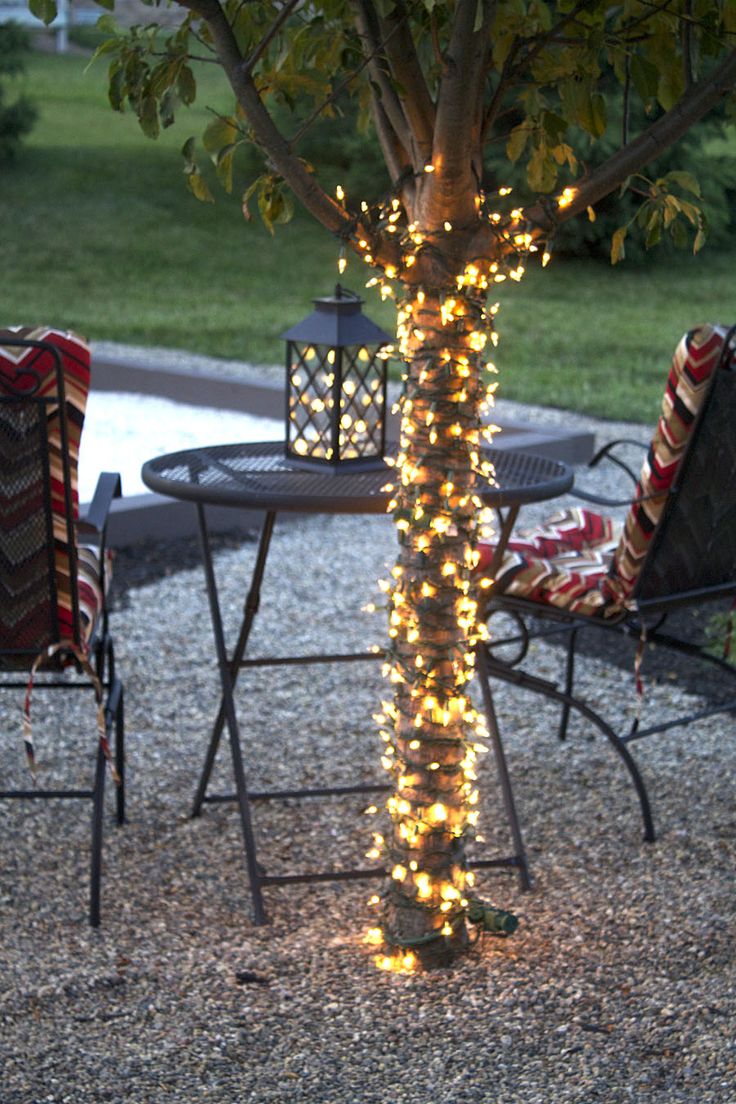 via itsoverflowing.com
There's something about string lights that can make the atmosphere so cozy and romantic. It will remind you of warm summer nights and beautiful conversations with your family and friends! Creating this kind of atmosphere is really easy, as all you need is a pair of string lights. Place them somewhere in your garden; for example, wrap them around a tree, just like in the picture.
2. Add Details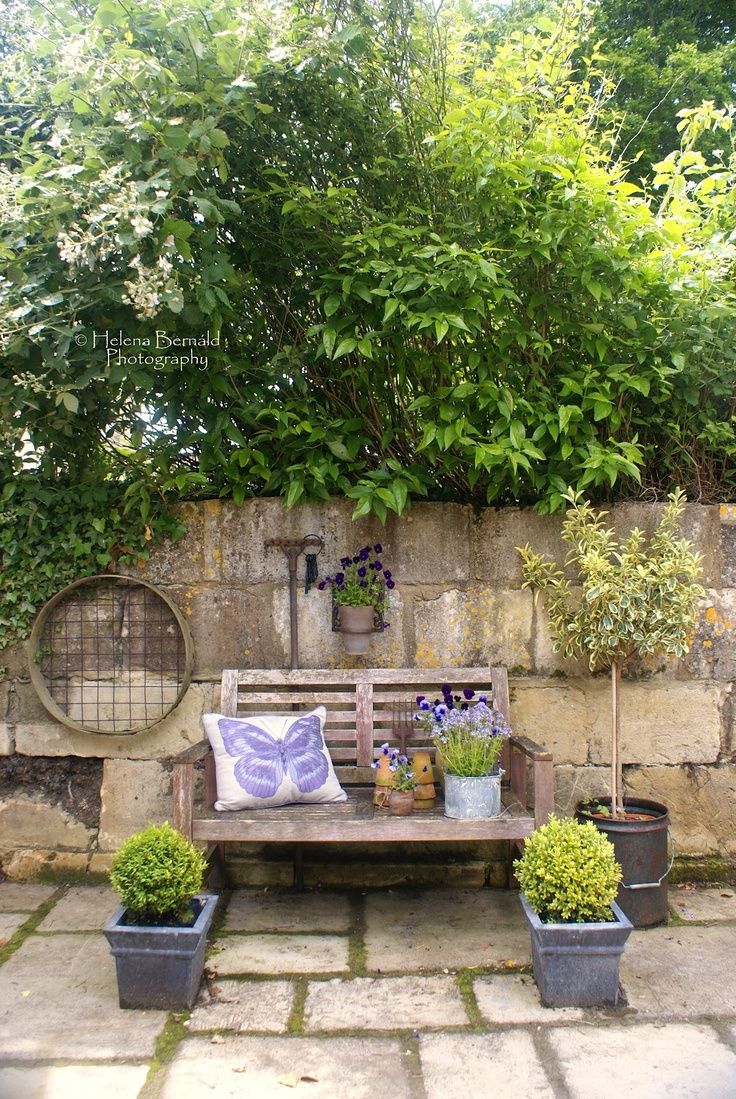 via theswenglishhome.blogspot.com
No matter if it is a flower garden, DIY craft, or just a small pillow on your garden bunch, having details in your garden is very important. They can make it way more charming, especially if they're a match. Take a look at this photo – the pillow and the flowers match very well, especially with their purple color. This is a very easy way to make a difference in your garden.
3. Al Fresco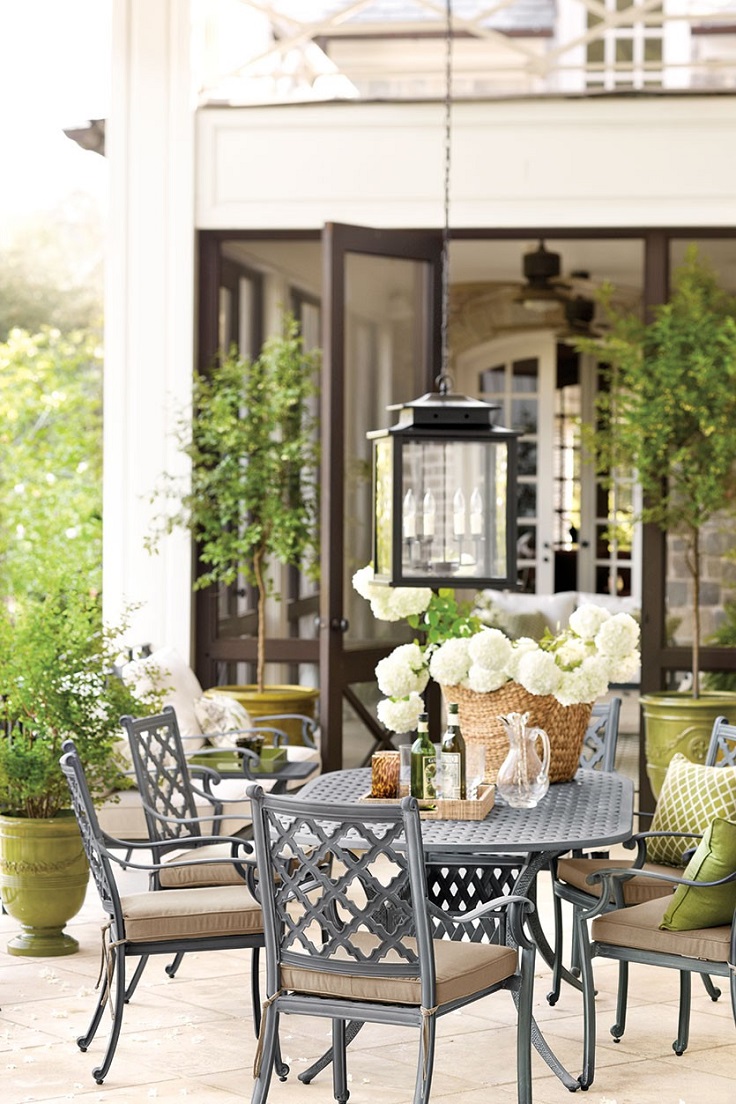 The term "al fresco" comes from the Italian language, and here, it applies to dining outside. If you have a family who loves spending time outside and have barbecues during weekends, this is the kind of sitting area you need, which will fit all of you and be comfortable enough for everybody. Pick nice outdoor furniture, add pillows for extra coziness, and a bouquet on the table to make it stylish.
4. Around the Fire Pit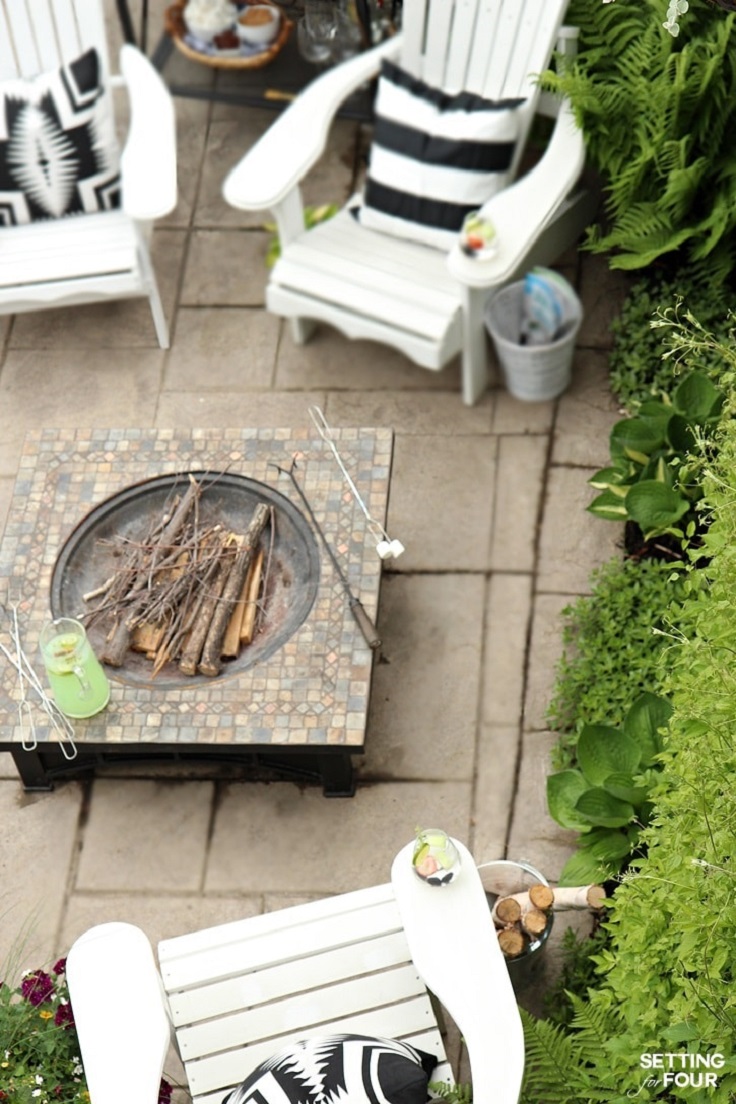 Here's another way to arrange the sitting area in your garden. If dining outside isn't your thing, but you still want to be outside, having fun and talking, then you know that sometimes at night, it can get cool. So, to fix this and use it to your advantage, you can place a fire pit to warm you during those nights. Arrange cool outside chairs with pillows, and you're ready for some family fun!
5. Table for Two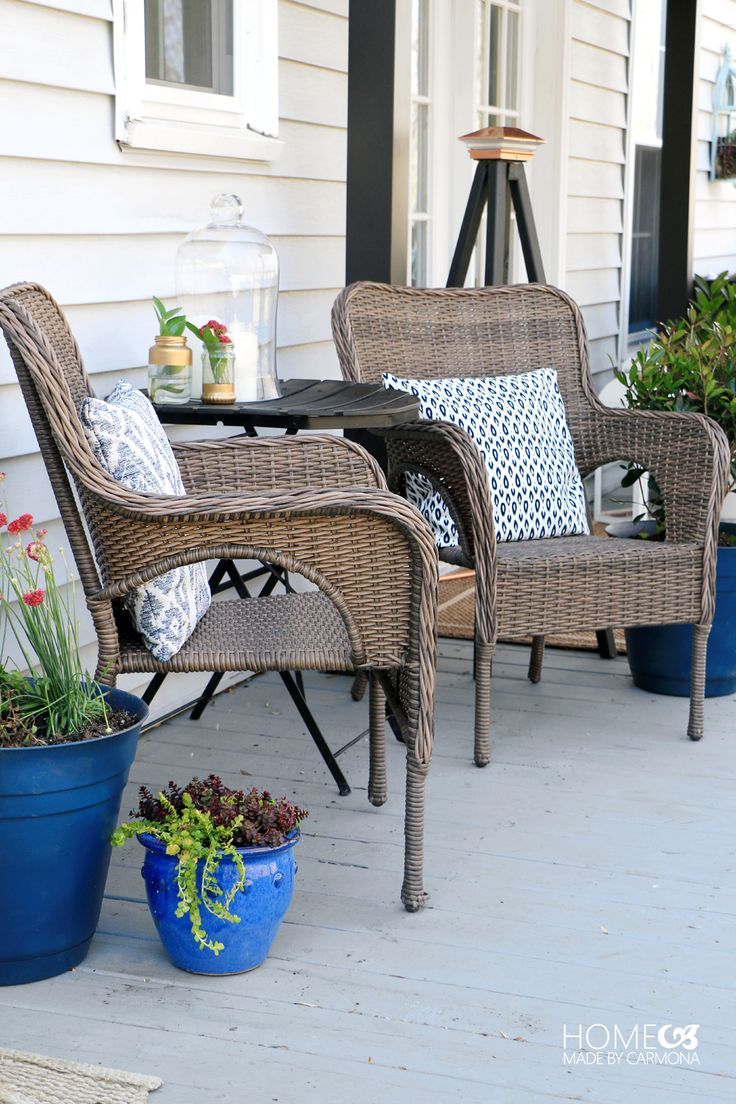 It can't get any simpler than this – two chairs, a table and pots of flowers around you. You can also place vases on the table to add more details and pillows on the chairs to keep you feeling comfortable. This option isn't that expensive, as all you need is just three items that you can find at flea markets, but that all depends on your taste and preferences.
6. Cozy Corner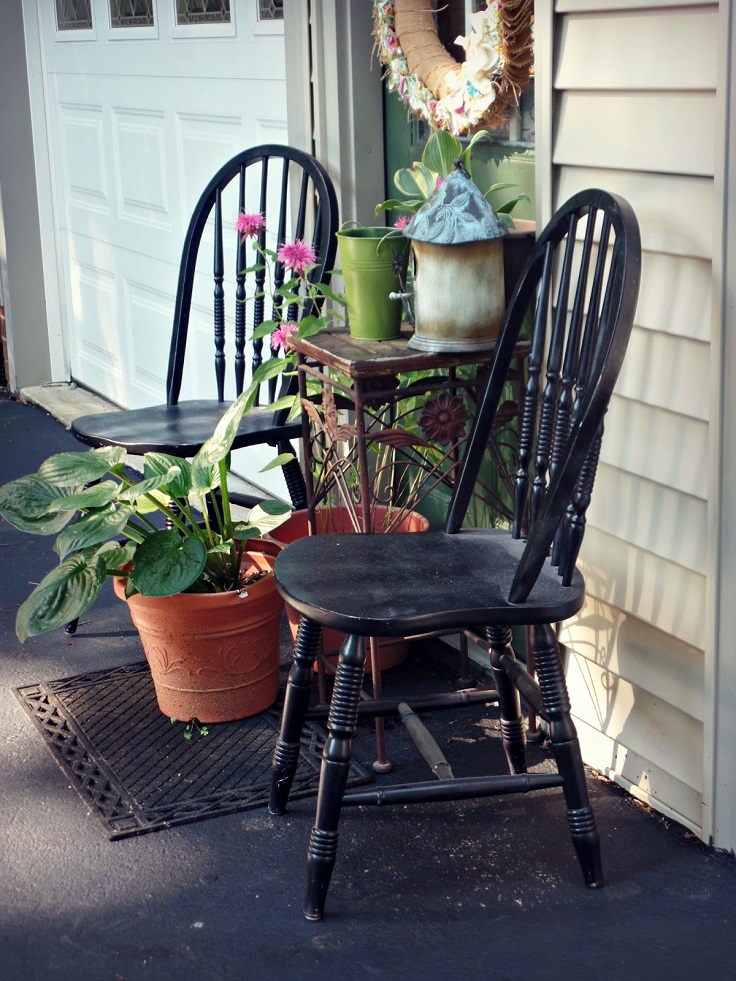 via knockitoffkim.com
If you don't have enough budget to spend on fancy patio furniture or fire pits, you can pick a corner of the patio or somewhere else in your garden and make it a place for just a few people and make it as cozy as possible. Place two chairs, a small table and surround them with vintage or rustic objects and flowers to make the place pleasant and visually beautiful.
7. Sunbath Fun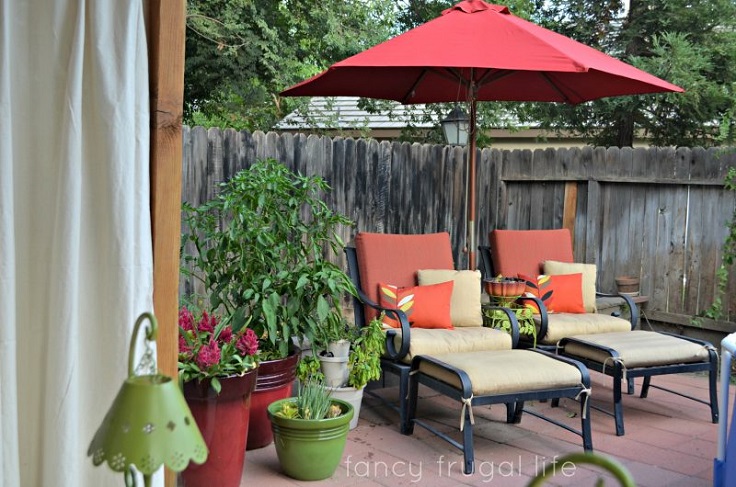 via savwi.com
Not everyone gets the chance to sunbathe on a beautiful sandy beach, so we can at least try to recreate the whole atmosphere at home. Buy a chaise lounge chair and a big umbrella to keep you protected from the hot summer sun. The next thing you'll need to do is to experiment with decorating the area. Take this photo, for example – a few flower pots and cushions should do the trick.
8. Cushi Cabana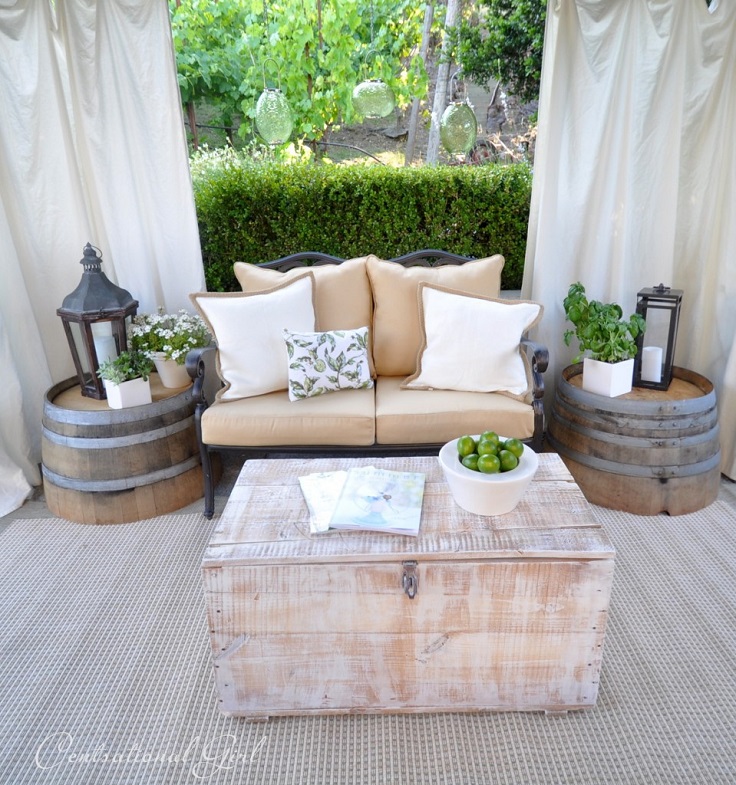 If you want to bring some beach vibes to your garden, this is the perfect way to do it. For this, you'll need a cabana lounge and few items to achieve the perfect atmosphere, such as cotton curtains, deep seat cushions for the furniture, and decorative objects, such as wine barrels and a wood trunk that can serve as both a table and for storage. Don't forget to add other decorative objects, such as plants and lamps.
9. Outdoor Living Room
via sunset.com
This is definitely not the usual patio furniture you're used to seeing, but it's still something worth the try. It has boho vibes; it is cozy and stylish! For this outdoor setting, it's very important to have the right floor. Then, it's important to choose the right pieces. If you go for boho style, make sure to pick a nice carpet, plenty of plants, and maybe some typical boho decor, such as a dream catcher.
10. Greek Style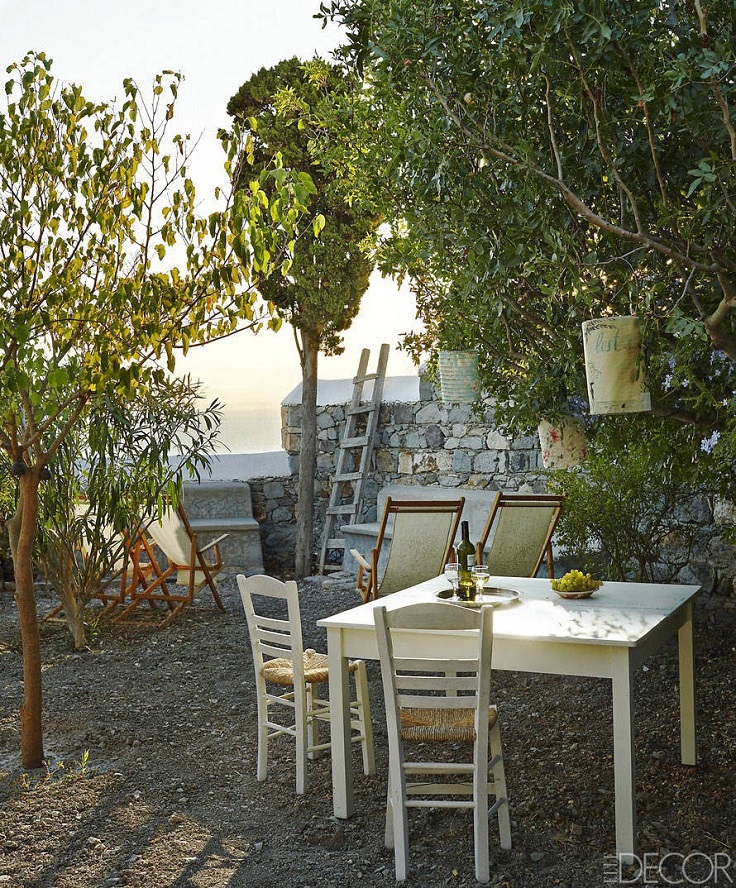 via highfashionhome.com
You can easily create your own Greek-inspired sitting area in the garden, for this is very important to choose a simple and similar sitting furniture to the one that the Greeks used. Most of the time, there are no cushions, unlike the rest of the list's ideas. To make the whole place even more Greek, you can plant olive or tangerine trees near the sitting area.