The paleo diet is one of the healthiest, as it includes lean proteins, fruits and vegetables, sea food, nuts and seeds. This leaves us with so much choice, that cooking paleo recipes is very easy and doesn't necessarily take much time, nor it is expensive.
In this article we are showing you ten amazing recipes that you can prepare for breakfast, lunch or dinner. Most of them require just few ingredients, which makes cooking budget – friendly and is especially easy, even for people with basic cooking skills. Whether you follow the paleo diet or not, we're sure that you are going to like at least few of these!
1. Filled Portobello Mushroom Caps
via paleospirit.com
There are so many recipes with stuffed mushrooms and this one simply can't be missed. It takes few ingredients, basic cooking skills and just a little time! First of all, get the needed ingredients – eggs, portobello mushroom caps, slices of prosciutto, black pepper, fresh parsley or thyme and a little olive oil. Baking the mushrooms will take 20-30 minutes and it depends on how done you like the eggs and on how thick the mushrooms are.
2. Taco Zucchini Boats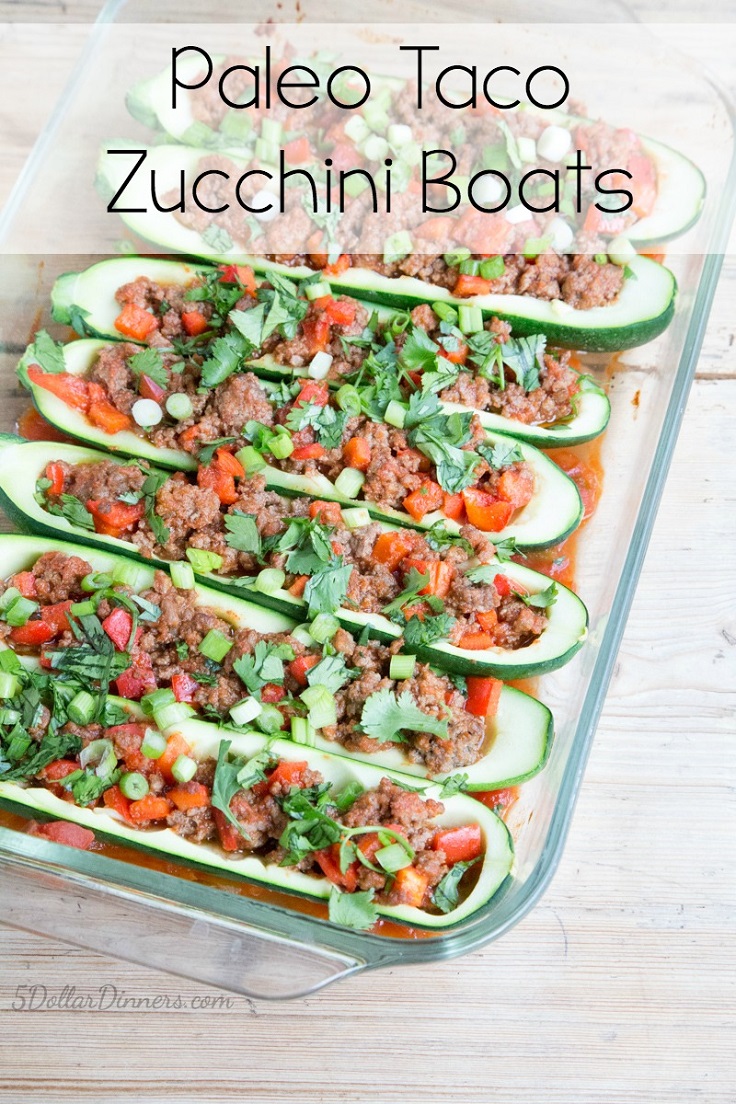 This recipe is the perfect picture of veggies, meat and spices. You need 4 large zucchinis, 1/2 cup salsa, 3/4 lb. ground beef, 1 Tbsp minced onion, 1 tsp garlic powder, 4 oz. tomato sauce, 1 small red bell pepper, 1/2 Tbsp chili powder, 1/2 tsp ground cumin, 1/2 tsp garlic powder, 1/2 tsp onion powder and salt and pepper. Additionally, you can garnish with sliced green onion or chopped cilantro.
3. Mediterranean Vegetable Cakes
via paleoplan.com
Here's we have veggie cakes that are perfect way to introduce the Mediterranean food into your paleo diet. To prepare these, you need 2 tbsp olive oil, 1 small yellow onion, 2 medium garlic cloves, 3 cups of baby spinach, 1 large parsnip, 1 tsp oregano, 1/4 cup sun-dried tomato, 1/4 cup olives, 1/4 artichoke hearts, 2 large eggs, 1/4 cup almond flour, 1/2 tsp sea salt and 1/4 tsp black pepper. The veggie cakes are ready in about 15 minutes and it's best to serve them hot.
4. Basil&Tomato Eggs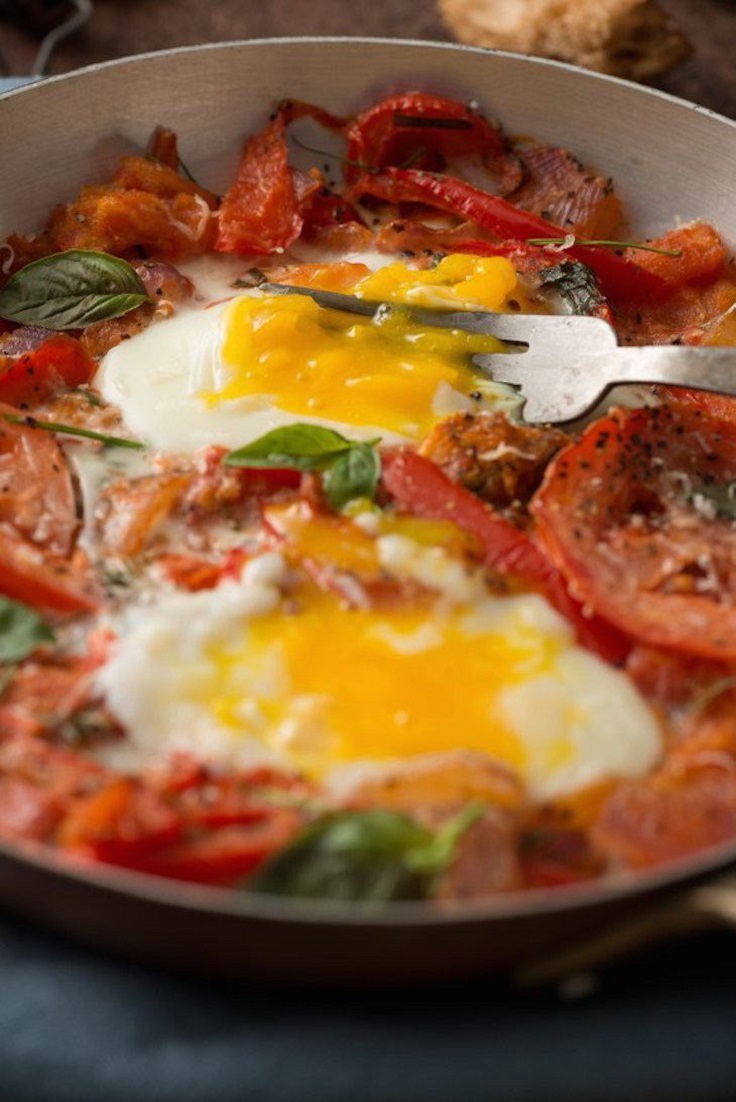 The basil&tomato eggs is the kind of recipe you'd like to have during those busy or lazy mornings. You will have such delicious and healthy breakfast in 15 minutes. For this recipe, you need 2 eggs, ½ onion, 1 garlic clove, 2 large tomatoes, 1 handful of fresh basil, ½ teaspoon chili flakes (optional), 1 tablespoon olive oil and salt & pepper to taste.
5. Sweet Potato Hash Browns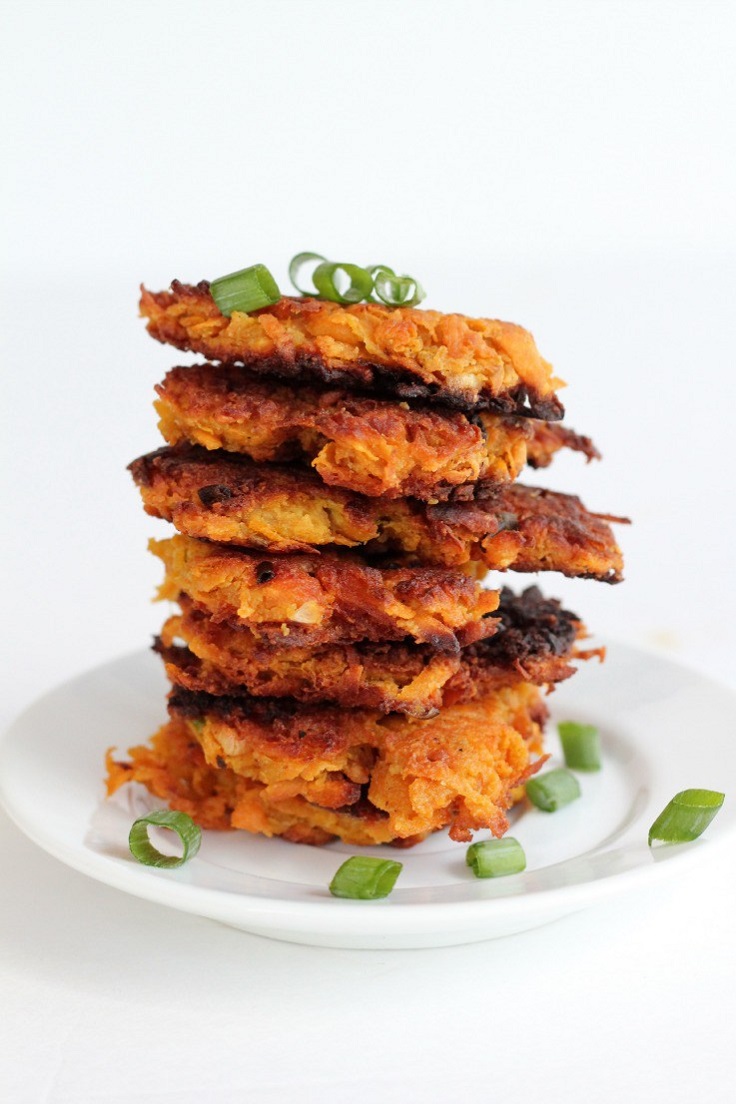 You will find the sweet potatoes very often in paleo recipes and this one is definitely worth the try. It's ready in less than 30 minutes and you just need few ingredients to prepare this delicious meal – 4 medium sweet potatoes, 2 eggs, 1/2 cup almond flour, 2 teaspoons sea salt, 1/4 cup green onions and 1/4 cup coconut oil. You can garnish with green onions and make sure to serve them hot.
6. Deviled Avocado Egg Salad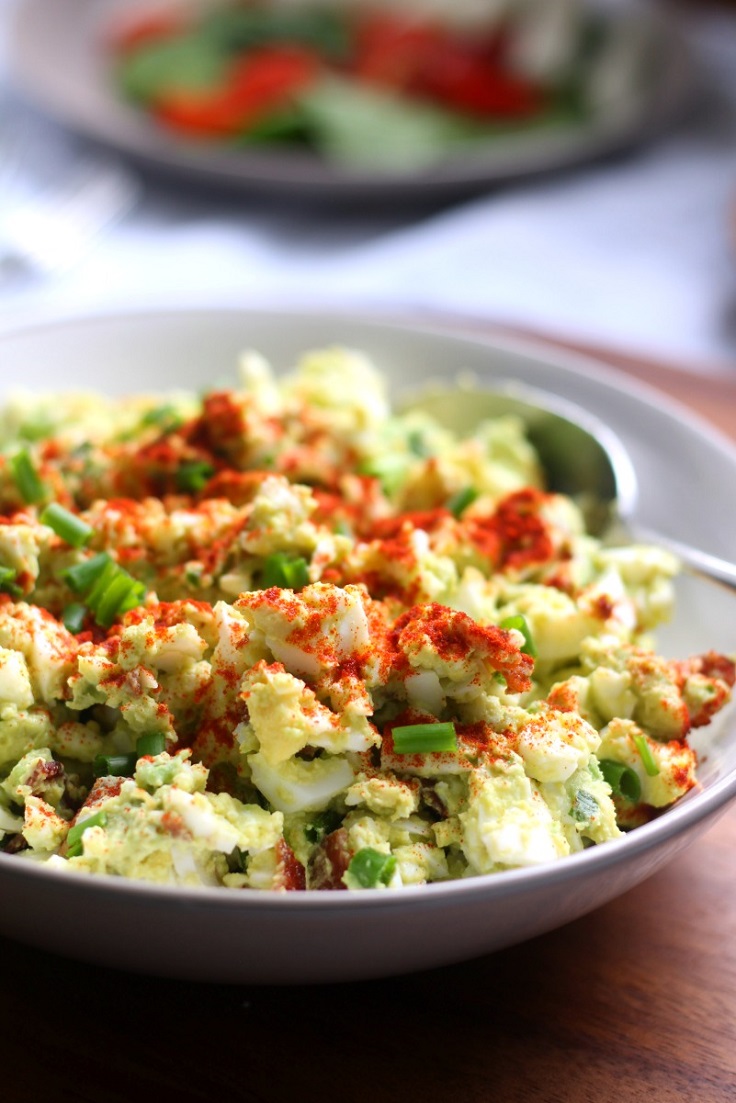 Creamy and healthy, this avocado salad will give you the needed nutrients and will make you full as well – not to mention that is super delicious, easy to make and budget-friendly! To prepare it, you need 5 hard boiled eggs, 1 med-large ripe avocado, 4 slices nitrate free sugar free bacon, 2-3 tbsp chopped fresh chives or thinly sliced green onion, 1 and ½ tbsp fresh squeezed lemon juice (or lime) plus an extra squeeze before serving, ½ tsp fine grain sea salt and generous dash smoked paprika.
7. Chicken Stew with Butternut Squash and Kale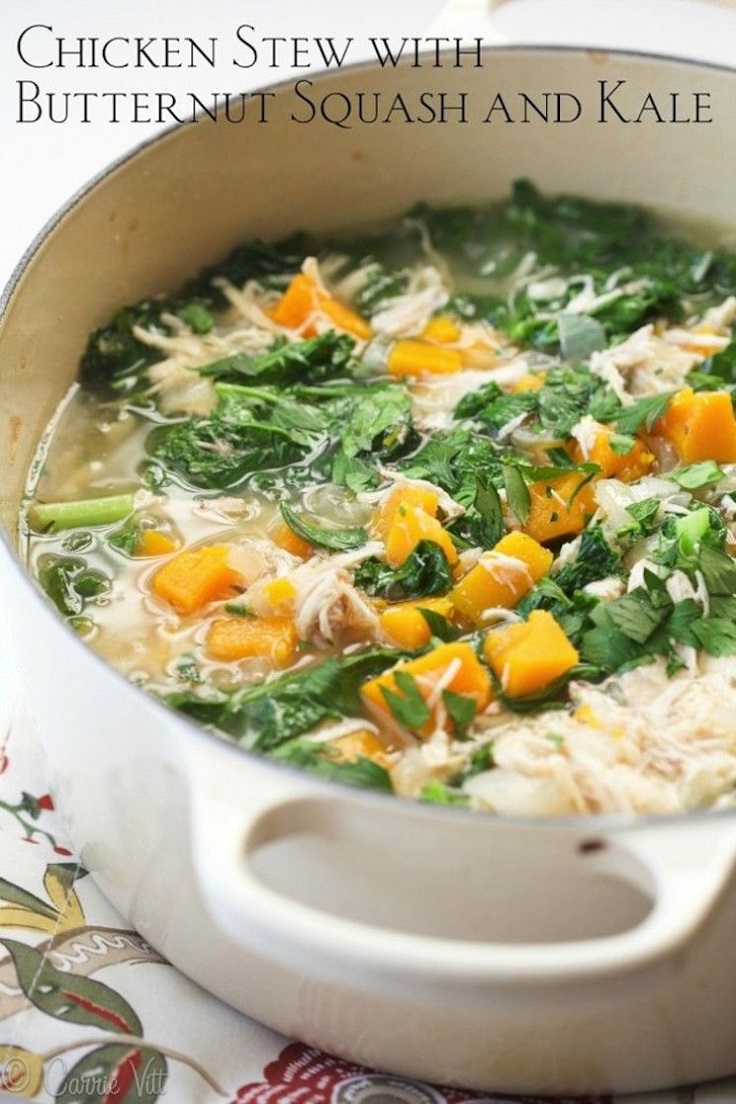 Stews are a great ways to warm yourself when it's cold outside, and with being this delicious we're sure that it won't be a problem for you to prepare one. You need the following ingredients: 2 tablespoons ghee, 1 teaspoon Celtic sea salt, 2 yellow onions, 4 cloves garlic, 1/4 teaspoon dried thyme, 2 teaspoons coconut flour, 6 cups chicken stock, 4 bone-in, skin-on chicken breasts, 4 cups butternut squash, 1 large head kale, 1/4 cup minced parsley and 1/8 teaspoon freshly ground black pepper.
8. Mini Paleo Crust Pizzas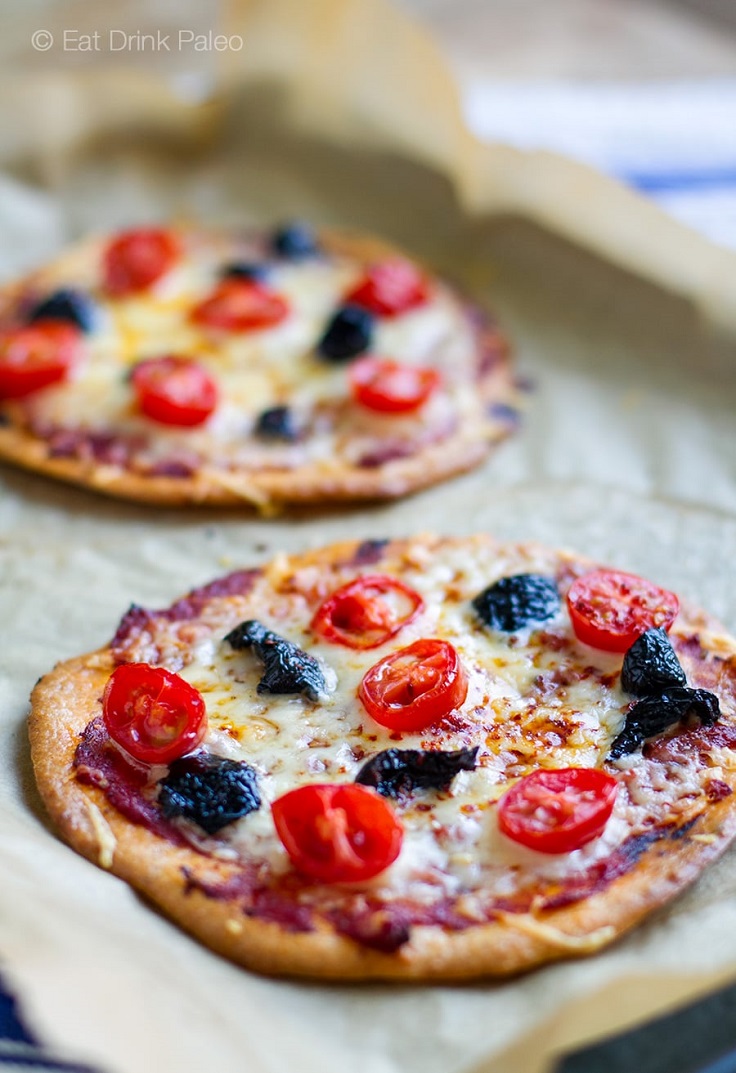 The paleo diet doesn't stop you from indulging yourself into pizza, in fact there are many toppings that you can try out! For the pizza dough, you need 2 medium eggs, 1.5 oz. butter, ½ teaspoon salt, ½ teaspoon garlic powder, ½ teaspoon dried oregano, ¼ cup warm water, ⅔ cup tapioca flour and ⅓ cup coconut flour. Here are some toppings that you can use for your pizza – tomato paste, cheddar cheese, olives and tomatoes.
9. Bang Bang Cauliflower
The main star in this recipe is the Bang Bang sauce. It goes very well with cauliflowers, so it's definitely worth the try! To prepare it, you need 7 tablespoons white wine vinegar, 1/4 cup water, 2 garlic cloves, 1 teaspoon fresh ginger, 1/4 cup honey, 2 teaspoons red pepper flakes, 1/4 teaspoon cayenne pepper, 2/3 cup mayonnaise and 3-4 tablespoons Sriracha. It has the perfect sweet and savory taste!
10. One Skillet Chicken Thighs With Butternut Squash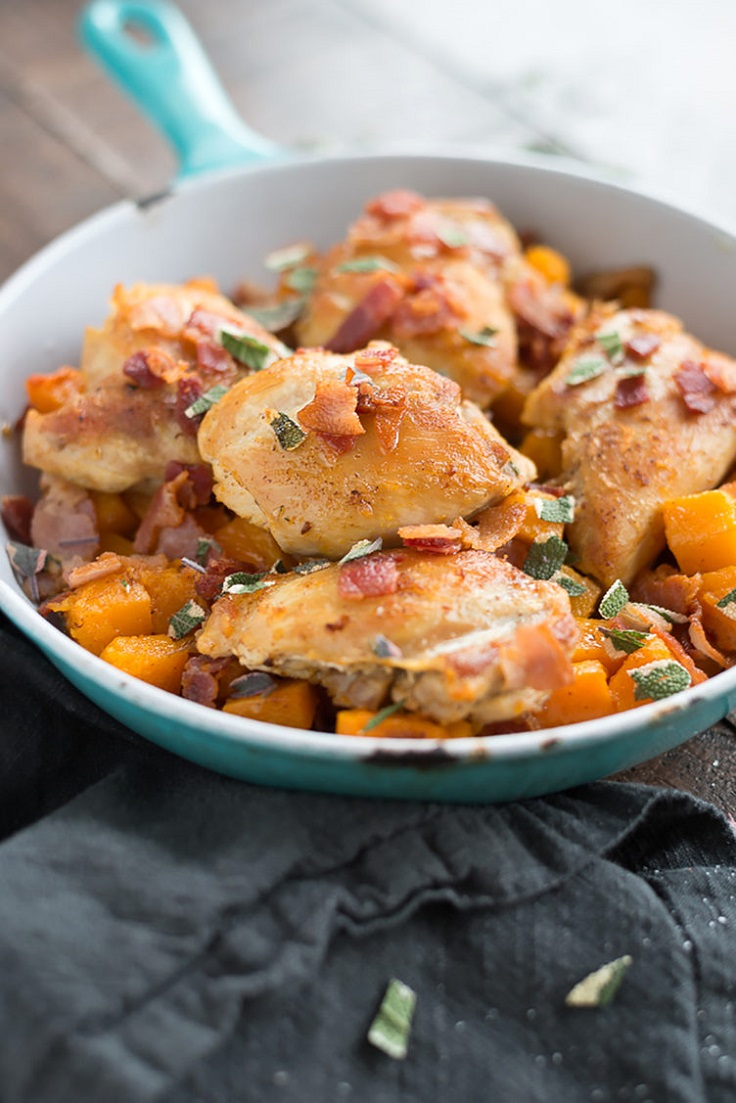 via eatyourbeets.com
Ready in less than hour, this combination of chicken and butternut squash is such a good lunch or dinner idea. It's easy to prepare it and you just need few ingredients – ½ lb of nitrate free bacon, 6 boneless, skinless chicken thighs, 2-3 cup butternut squash (cubed), extra oil for frying (you can use coconut oil), fresh sage and salt & pepper to taste.