Panna Cotta is a traditional Italian dessert that is served cold and it's made with milk, sugar, and simmering cream mixed with gelatin. This softly set and creamy pudding, which has originated from North Italy is loved by many people all over the world and there are so many good reasons for that.
So, if you really want to make this dessert, you can easily find many different recipes around the web, but just for you, we've gathered 10 of them which will be the perfect end to your meal. Don't forget to serve Panna Cotta with fresh berries or fruits! Enjoy!
Panna Cotta with Berry Sauce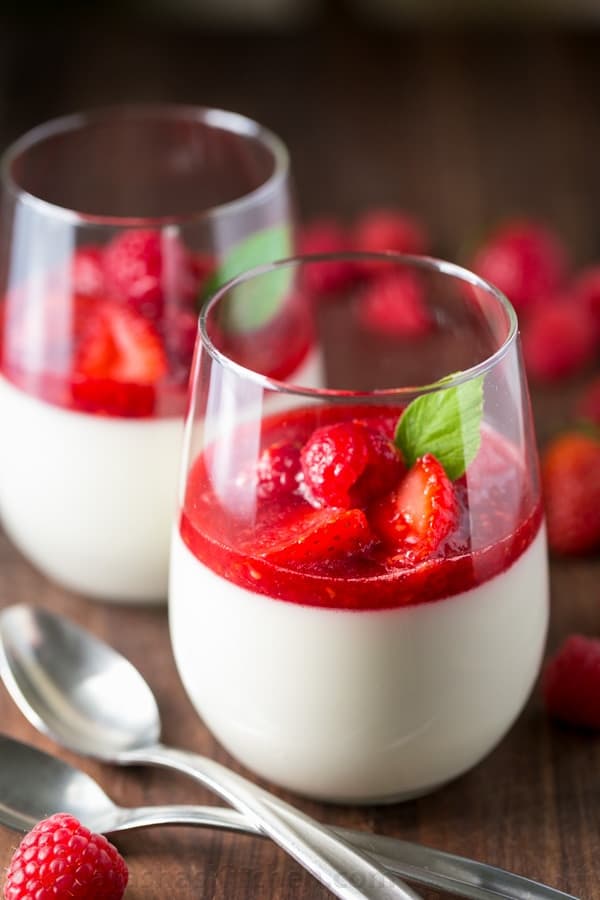 Recipe via natashaskitchen.com
An absolute favorite for the warm summer months perfectly balancing the heaviness of the cream mixed with summer berries' sour bites. The smoothness of the small Italian delights will in itself delight those who wish to close their eyes and be transported to an Italian countryside somewhere high above sea level. Serve a lovely red berry smoothie for the morning breakfast or indeed if you're having a spot of lunch with friends and family, opt for a nice sweet light, and zesty sweet wine. Serve yourself an alcohol-free beverage, green tea. Works wonders.
Pumpkin Panna Cotta with Apple Cider Sauce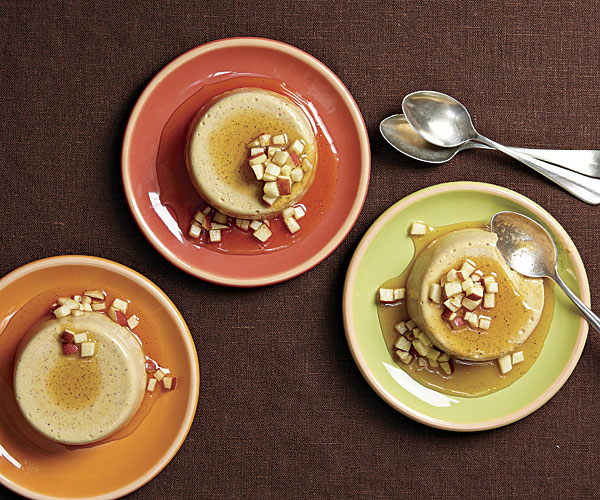 Recipe via finecooking.com
Pumpin is a brilliant vegetable that can be moduled to possibly everything imaginable. Delicious in the oven-roasted with a little honey and rosemary, to ice cream, to the fabulous Panna Cotta. A Franco-Italian twist creating big complexities to the final dessert. The apple and the pumpkin work wonders together and maybe not the mix we would automatically associate with but really rather delicious. Serve with a simple vanilla ice cream and a shot of espresso. Or why not treat yourself to a little crafted cider paying homage to your sauce?
Coffee Panna Cotta with Coffee Syrup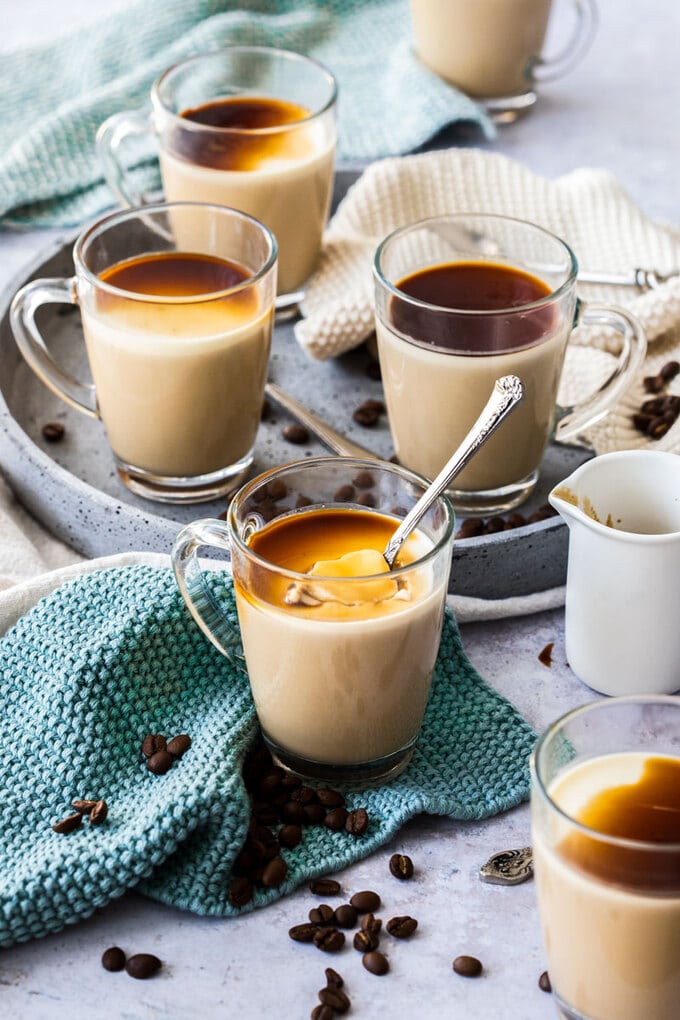 Recipe via sugarsaltmagic.com
Never enough morning coffee hit from your morning espresso before going to work? Or wish to have yet another one after dinner? Normality one might say. Nothing better than a coffee after a meal. Perhaps a tea if you're a tea lover but otherwise a little caffeine does wonders. And what better but than a coffee dessert? The flavors are instantly perfuming your Panna Cotta really well. Adopting a caramel-like flavor profile. Perfect for coffee lovers and "on the way to becoming a coffee lover"!
Matcha Panna Cotta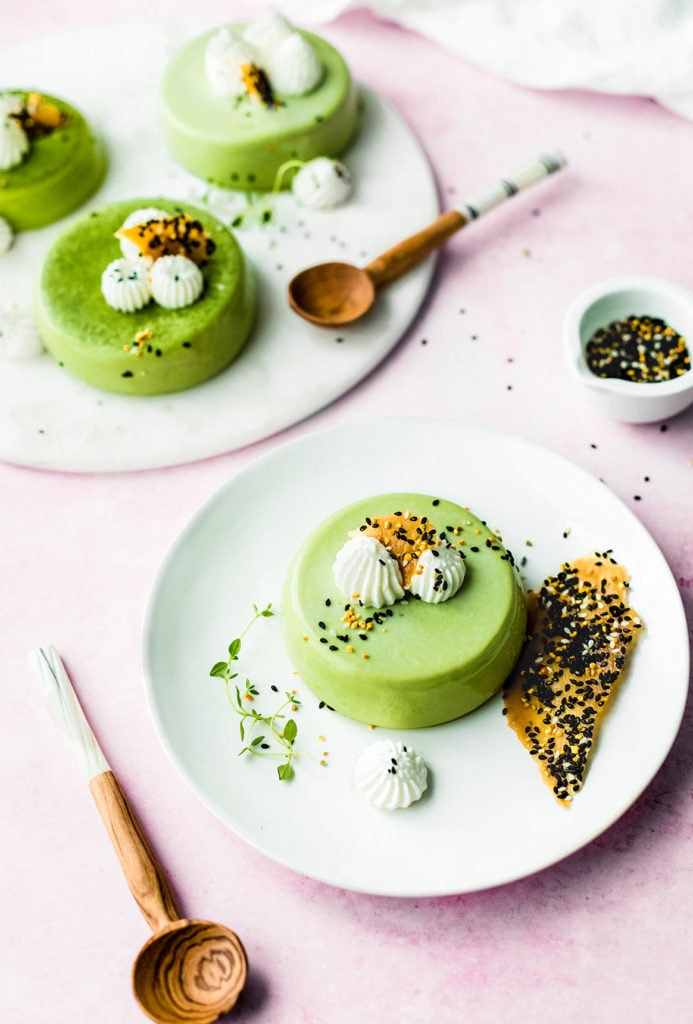 Recipe via yogaofcooking.co
Like coffee, Matcha does contain caffeine but gives you a clean high as opposed to jilters. You'll love the color profile once done and also the superb fresh green tea natural flavor. Full of antioxidants and bags worth of goods, you won't have a guilt trip eating up this one, and perhaps another cheekily. Great for the family and friends alike. The black sesame gives a lovely caramel, nut-like flavor with a lovely crunch giving you not just appeal but also texture.
Chocolate Panna Cotta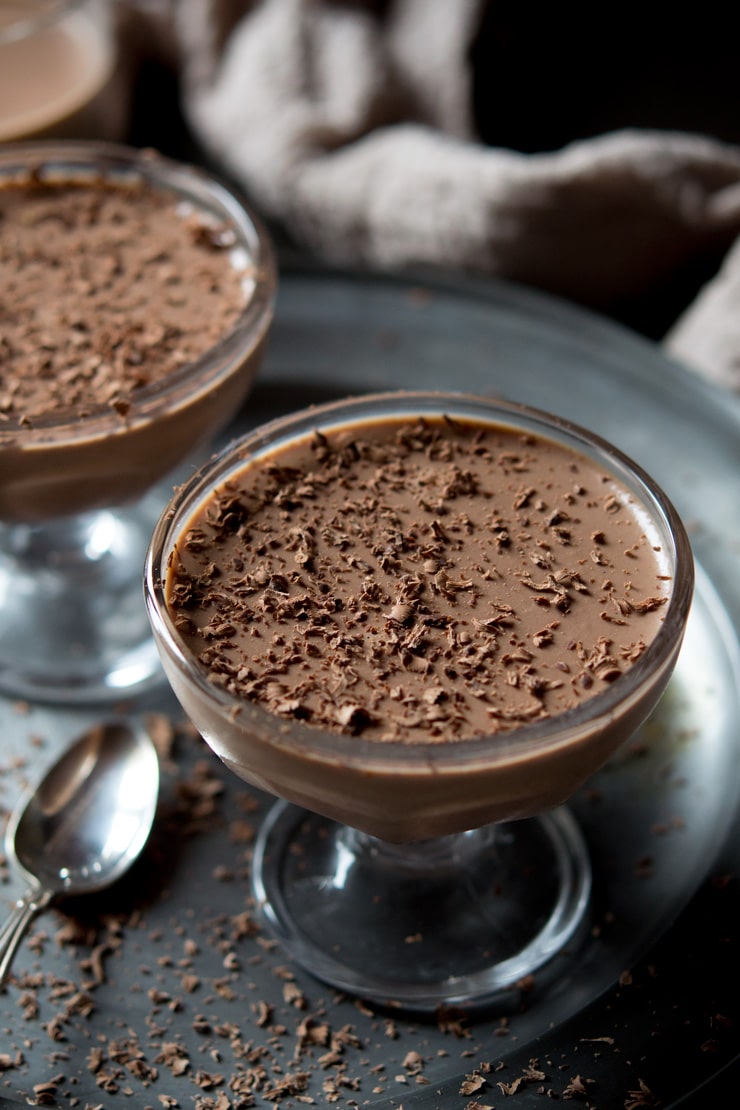 Recipe via insidetherustickitchen.com
If you wish to make something rather than chocolate mousse, then this is the perfect recipe that won't throw you too off the target but one that will definitely change the ball game a little. Preferably use between 62% to 78% cocoa but we would not recommend anything more bitter in order to manage the chocolate to its full potential. Often we think more is better, but not in desserts. We need the cocoa fat, it's really important for all the ingredients to come together well and in harmony. You can serve this with blackberries to give it extra freshness and zest.
Salted Caramel Panna Cotta with Praline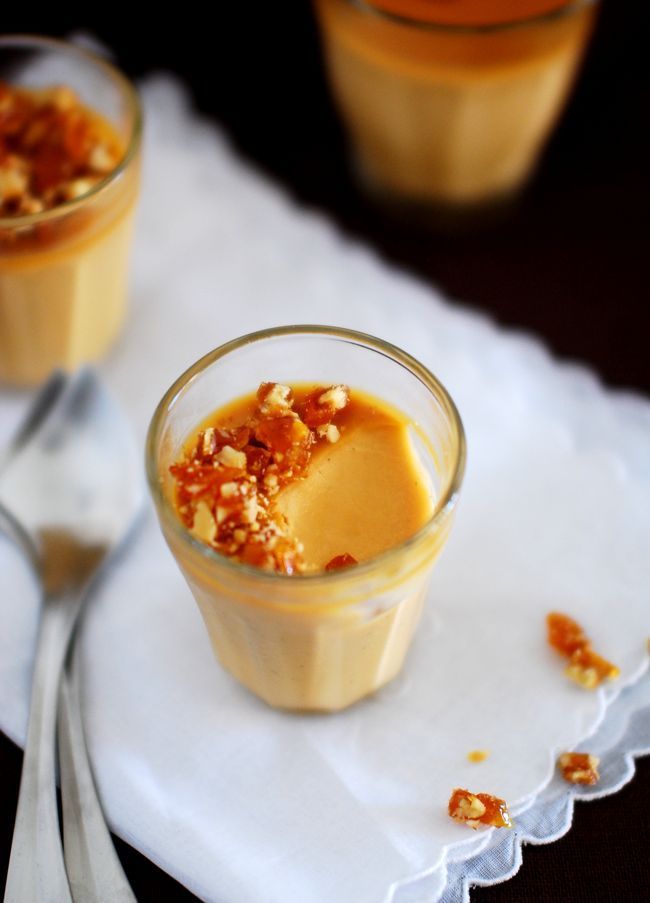 Recipe via mariasmenu.com
Salt Caramel has been a favorite to us all for so long and thanks to you to the person that put one and one together in the first place. Salt is fabulous, in small quantities of course, and great with chocolate also to give us a different texture cutting through the high cocoa content and giving us much-needed texture at times. This small glass of wonderfulness is perfect for the entire family to share and for the adults, a nice espresso complimenting the dessert alongside perfect nutty liquor adding to the experience if you are entertaining guests.
Panna Cotta Tricolore
Recipe via manusmenu.com
How could we not include this in this TOP 10? After all, it is thanks to you that so many of us are now able to create our own versions of this Italian Classic. One might associate a Tricolore with the famous tomato and mozzarella salad, but in this instant, it's all about sweet decadence. Natural coloring can be found if you do not wish to work too hard, but you can also take the matcha recipe, a simple vanilla traditional recipe with a raspberry Panna Cotta and mix it into a beautiful Italian flag.
Sweet Pea Panna Cotta with Crab and Dashi Sorbet
Recipe via greatbritishchefs.com
Do not fear and feel as if this were a mistake. This transforms what we feel comfortable with and transports us to a totally different dimension. The natural sweetness of the crabs in the natural umami of the dashi. Incredible recipe one that will make your dinner party super popular. A true genius dish and one that without a doubt could be found on Michelin Star menus all over the world. Superb and not highly recommended enough.
Boozy Eggnog Panna Cotta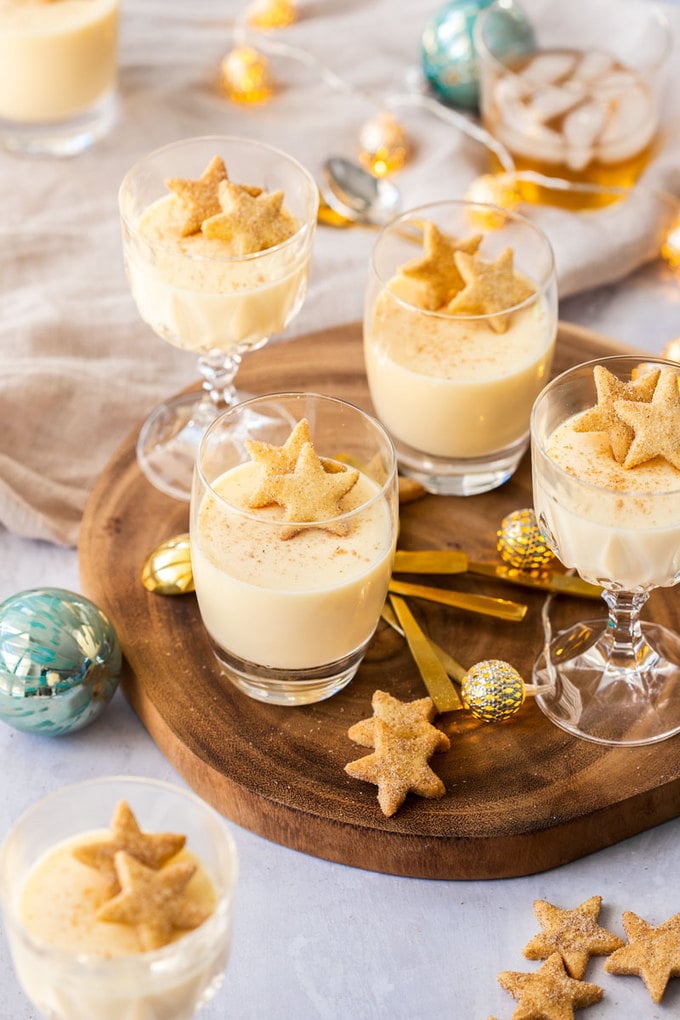 Recipe via sugarsaltmagic.com
This recipe is perfect for the colder months in front of a real wooden fireplace. Just the thought…It' 'll take you minutes before one can dig into a beautiful creamy boozy wonder. A lot of different citrus or nuts, chocolate liqueurs will work wonders. No need to overpour within the dessert. Also, do not overdo it with gelatine as you would not want the finished product to become rock hard. The gelatine has to harden slightly the texture but must disappear in the mouth and melt back into an almost liquid form. A couple of attempts should do the trick!
Passion Fruit Panna Cotta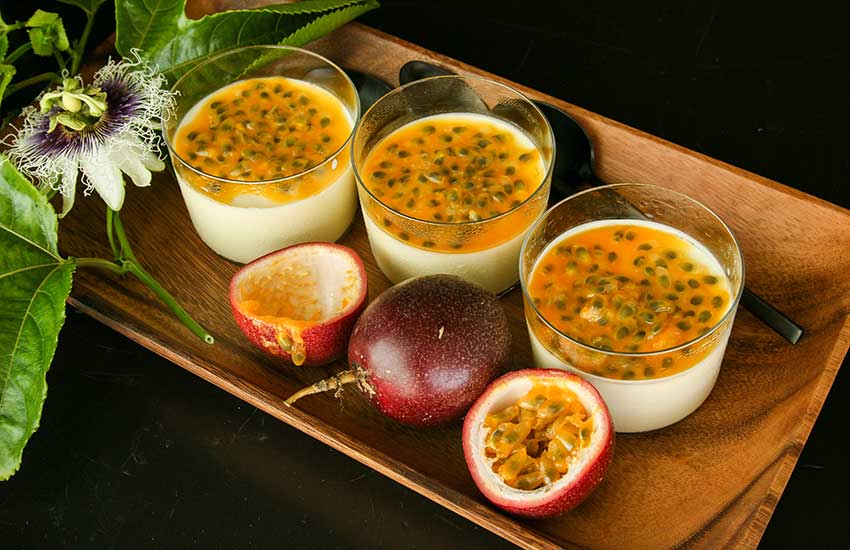 Recipe via somethingnewfordinner.com
If you after a challenging tasting of Panna Cotta and love to defy your tastebuds, then look no further. Fresh passion fruit is one of the most tart fruits on the market yet also the sweetest. The flavor profile does create fireworks in your mouth and is simply sublime. Tricky to use in cooking but when done well, incredible. This recipe will make you feel as if you are on an exotic island somewhere in the wild where no one else received the same invite. Perfectly served alongside green tea and exotic fruits on the side.