The last Monday of May is Memorial Day, the day we honor all the brave souls who gave their lives so we can be free. It is a somber day when we should take the time to visit the graves of all the men and women who had fallen in battle to keep this country safe, but the truth is most of us take the day off to relax and enjoy a good family outing, like a nice picnic.
When it comes to family picnics, choosing which foods to bring depends on what each family member likes, so the list may well be endless. However, everyone loves desserts, and if you want to bring some delicious homemade desserts to your picnic, it needs to be something travel-friendly.
To keep up with the spirit of this glorious holiday, we would like to offer you the Top 10 patriotically delicious sweets recipes that will not only survive the trip to your picnic destination but will also help you remember and honor the people that gave their lives so you and your family can enjoy this glorious Memorial Day.
Red, White, And Blue Candy Coated Cereal Treat Stars
Candy on a stick is a nice and neat way to bring some sweets to your picnic; it is even better when tasty and healthy. These star-shaped chocolate dipped rice Krispies will make a great light dessert or snack for your picnic.
Red, White, And Blue Berry Cups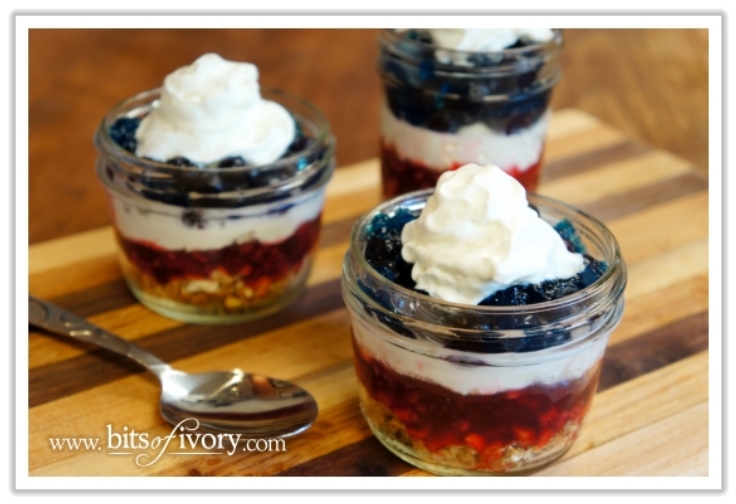 via bitsofivory.com
When you're out all day long and are getting low on energy, you need something to give you a boost. Something with sugar is a good start, but it also needs to be refreshing, like these delicious desserts in a cup, perfect addition to a picnic or a BBQ.
Red, White, And Blue Dessert Kabobs
via veryculinary.com
When making a barbecue, one dish that the men might cook up is a fat, juicy kebab. Show them a better alternative to the meaty kebab with a patriotic dessert skewer of your own with some fresh fruit, pound cake, and a splatter of white chocolate.
Red, White, And Blue Funfetti Sandwich Cookies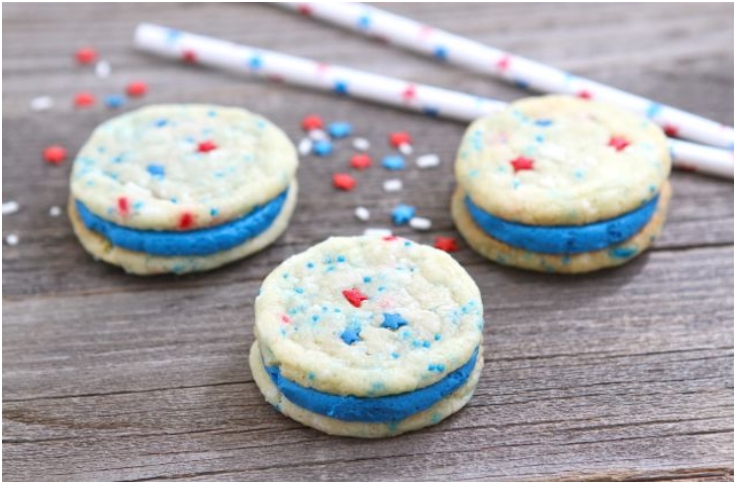 Cookies are the most practical treats when you go on trips, but sometimes they might seem bit dry and dull. Liven them up by making cookie sandwiches like these, filled with butterscotch cream and sprinkled with red, white, and blue stars.
Red, White And Blue Rock Candy
Small children love their lollipops, and what better way to get them into the spirit of the holiday than winning them over with some yummy patriotic homemade rock candy on skewers. Unique and easy to make, make sure you have a couple of them read for everyone.
Star-Spangled Gumdrops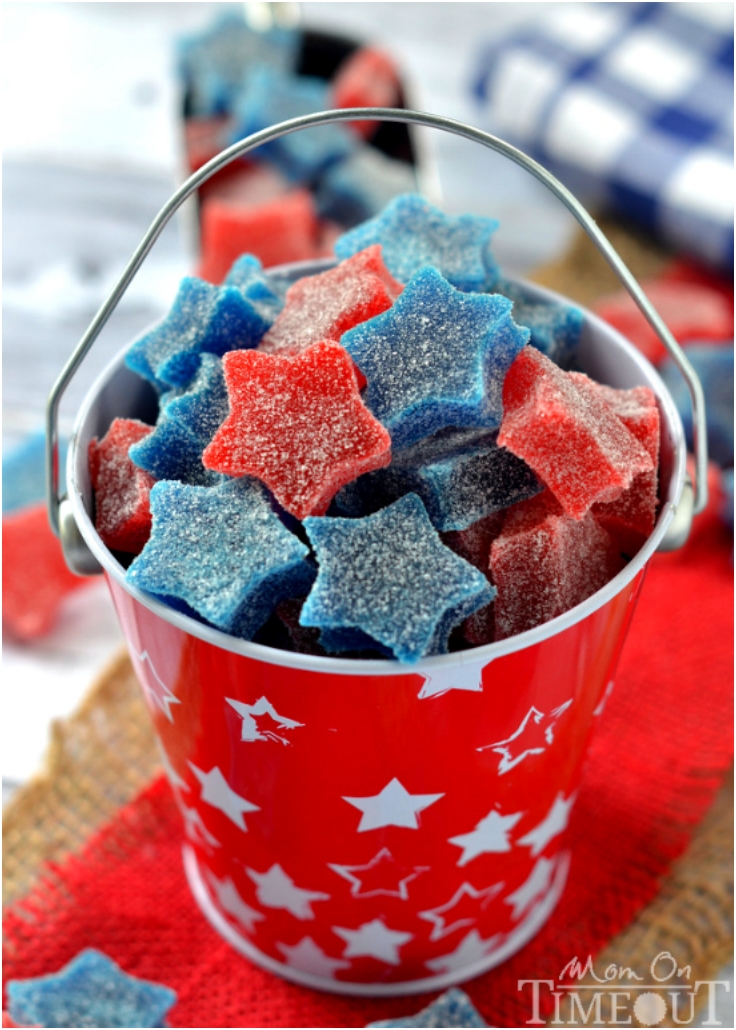 via momontimeout.com
Make some star-spangled gumdrops that are even better than the regular plain store-bought ones. These gumdrops are not only patriotic, but they provide you with more than enough sweets for everyone around, making you the absolute hit at the picnic area.
Uncle Sam Flag Cookies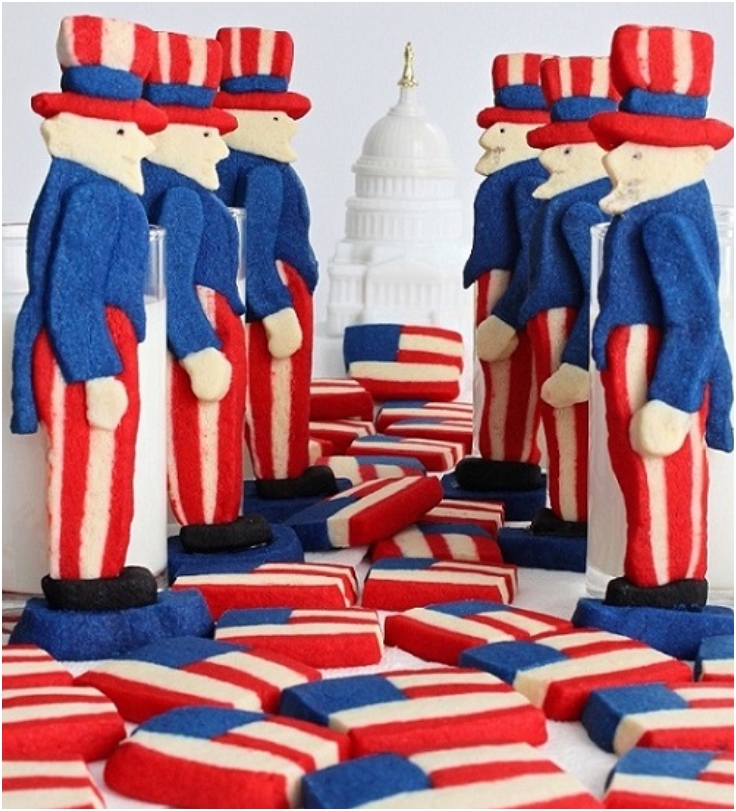 via sugarywinzy.com
Make the cookie dough from your favorite cookie and give it a patriotic new shape. By adding red and blue food coloring in addition to the base white one and following these simple instructions, you too can have your own Uncle Sam and US flag cookies.
Patriotic Chocolate Bark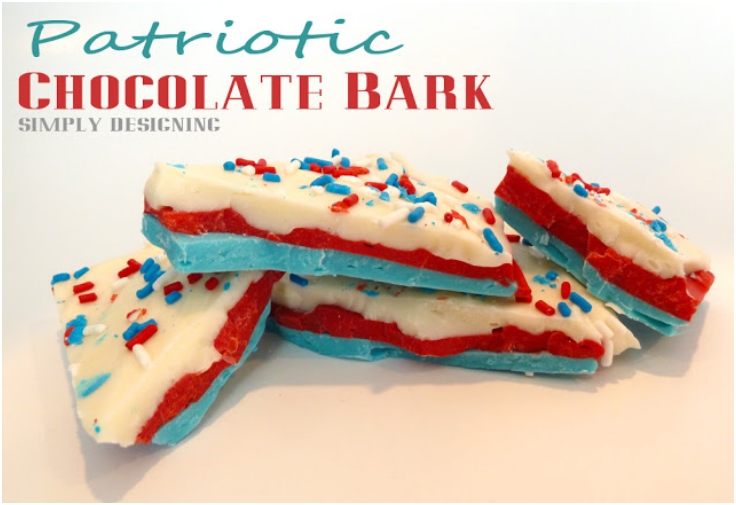 Cookies and candies are nice, but if you truly want to satisfy every sweet tooth, you need chocolate. The one chocolate treat that requires the least amount of effort with the tastiest results is the chocolate bark. Here is how you can make a patriotic version of this chocolaty goodness.
Stars & Stripes Sweet Dip With Shortbread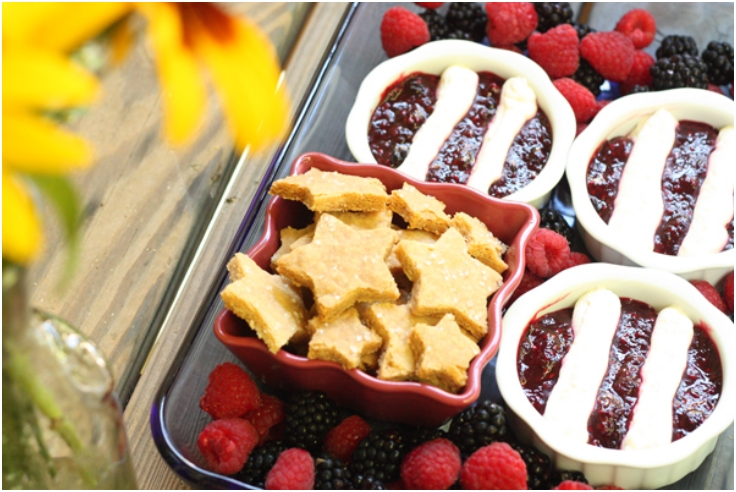 Dips don't have to be only for salty snacks. They can also be sweet, for dipping fruits and cookies, or this case, shortbread. So, make some shortbread stars that you can dip in a whipped cream dip made with jam and cream cheese. It's easy to make and finger-licking good.
Dog Tag Cookies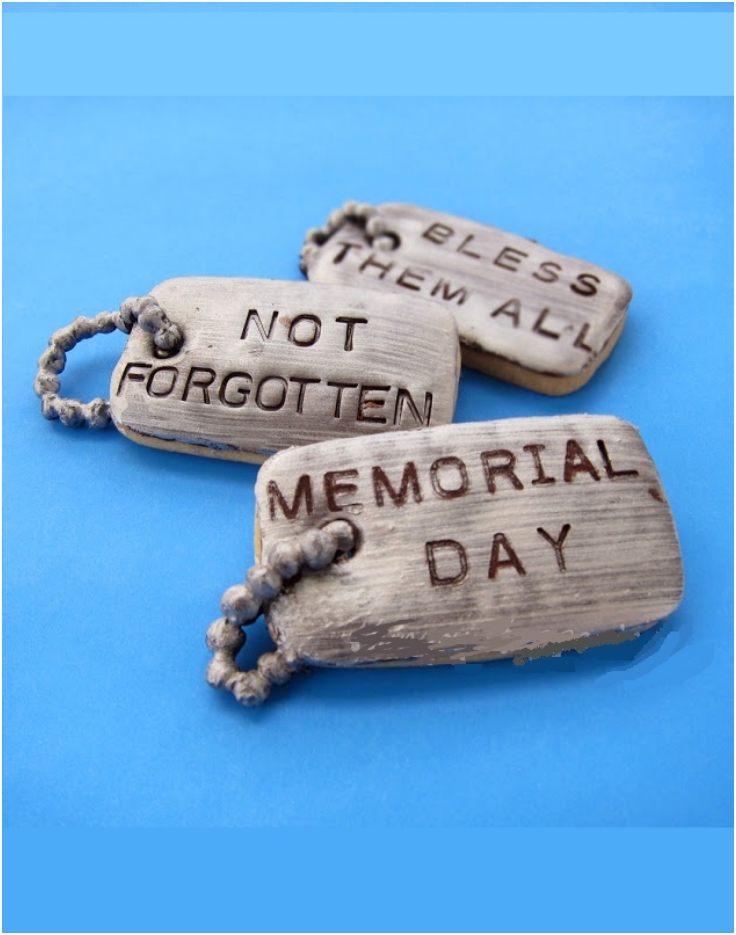 Everything for Memorial Day is themed with the stars and stripes of the US flag. But that theme is also used for 4th July, Flag Day, and other similar patriotic holidays. But these cookies are special because they truly convey what Memorial Day is all about. Make sure to make them, enjoy them and remember.