Make your pencils look more fun by adding interesting toppers to them. They're not hard to make and look really cute. It may not be the most important thing to have your pencils styled up, but it's the little things that make you happy, right?
Make it a craft project for you and your kids, and who knows, maybe they'll be more motivated to do their homework while scribbling with their new, fun pencils. They're also a good idea to keep in mind for teacher's appreciation week, it would be a perfect gift, and it's even better because it's handmade.
Take a look at these choices for our top 10 favorites, just follow the instructions and have fun crafting!
Monster Pencil Toppers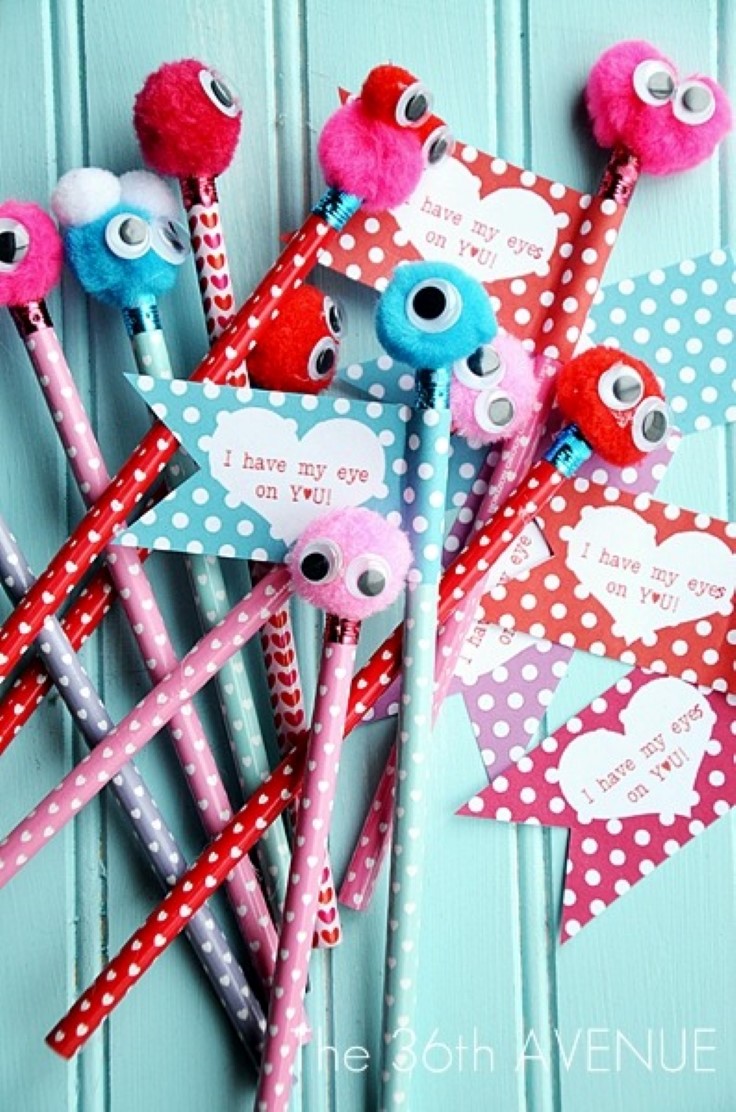 DIY Tutorial via the36thavenue.com
Valentine's. We love it or we loath it! Either way, we always end up doing a little something just to mark the occasion. Often, for one's other half! Anyway, nothing wrong with our books for a little excuse of romance as the world lacks it. So, get creative and get into the living spirit. This is an easy craft and actually one that is rather fun too. Perfect for adult lovers and your kids too. To show them that you thought of them on this special day, and simply love them. Turn them into proper little gentlemen, or ladies understanding that the man can do nice things for them also.
Dr. Seuss's Thing Pencil Toppers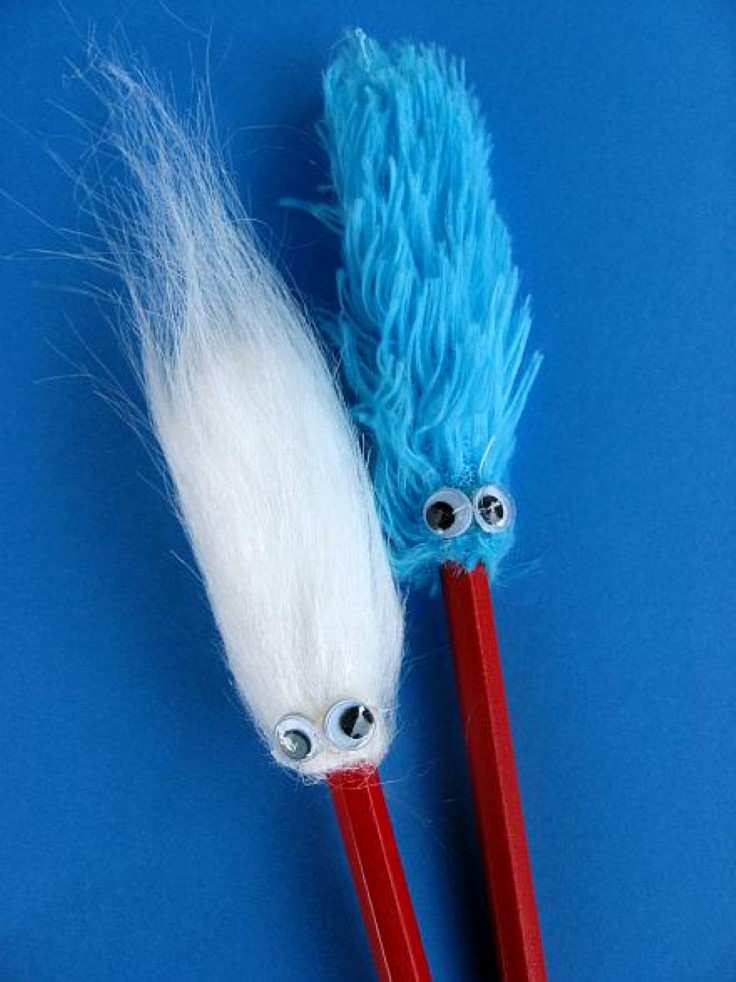 DIY Tutorial via skiptomylou.org
American children's author, political cartoonist, illustrator, poet, animator, and filmmaker. He is known for his work writing and illustrating more than 60 books under the pen name Dr. Seuss. And in his honor, there goes a really cool and crazy fun idea to do for the children. It looks a little like a little Einstein figurine admittedly, but will really pop out with the blue faux fur and the rather googly eyes turning anyone into a cosmic cartoony look! The kids would love to take these to the drawing board getting creative in the process.
Snowman Pencil Toppers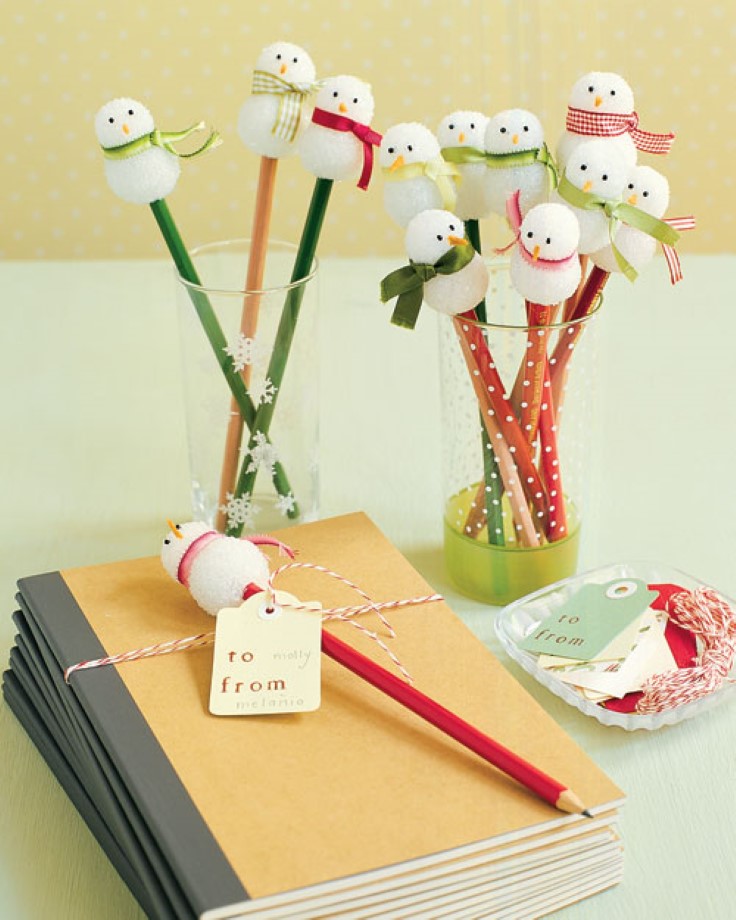 DIY Tutorial via marthastewart.com
Those styrofoam balls will put everyone in the best of moods ready for the upcoming winter season while everyone is waiting for the beautiful first snow to fall from the sky. These are great for gifts or for the children to bring to school to make everyone envious of their creation! A real show-off that will fit most crayons or pens and pencils. Make some more on the side because you will never know where they end up! Secretly put them on your other halves pen – they will be getting a real surprise at the office in front of everyone! How cute!
Flower Pencil Toppers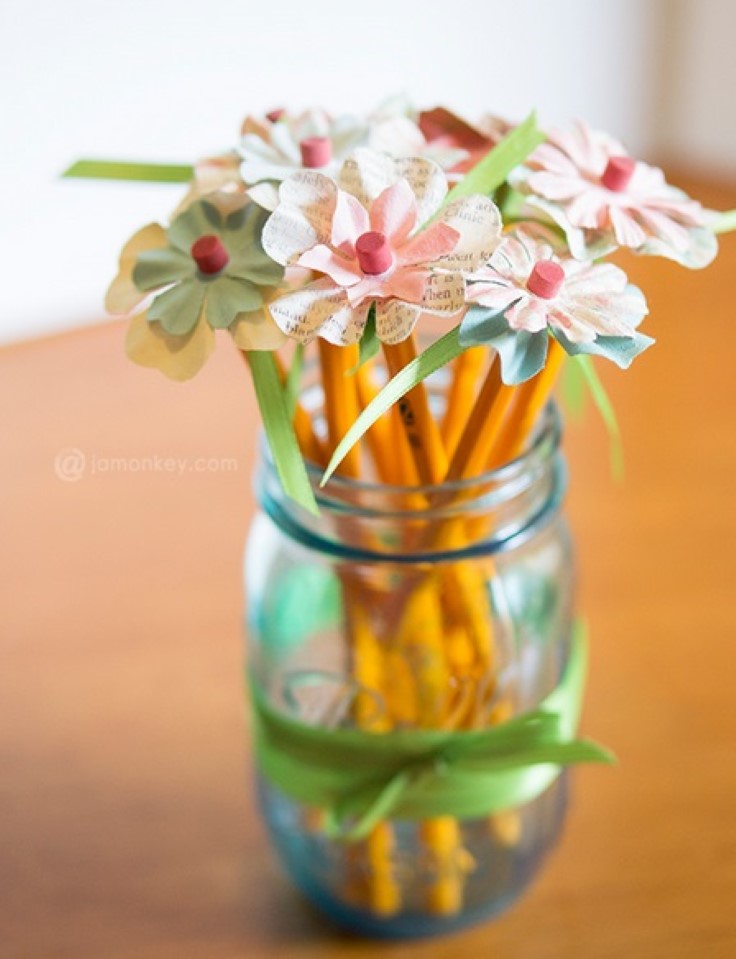 DIY Tutorial via jamonkey.com
What to do with an abundance of cheap pencils that we bought because we thought they were terrific value? Now, what to do with 50 of them? Well, here is a super cute idea. Turn them all into a beautiful DIY bouquet of flowers. A little girlish so, perfect for the girls wishing to take them to school showing off their work. Put them in the study room perhaps or indeed in your daughter's room. She would be delighted to do her homework ready to be handed in on time and done well.
Love Struck Pencils
DIY Tutorial via thehomesihavemade.com
You wish to tell someone you really like, that you like them but they are not getting the hint?? Anyway, throw these at them perhaps they'll get it then! These are perfect for Valentine's day letting someone you really like them, and while also giving them something that you have made yourself. That is love right there. Cheer your friends up also who might need a little cheering up in those times if they are still single. How about putting a smile on your best friends? Nothing else like it really. And don't they look super great? Who's gonna be your Valentine next? Or perhaps you are celebrating an anniversary…
Felt Pencil Toppers
DIY Tutorial via cutoutandkeep.net
Get your kids' imagination up and running with this one. Get their favorite animal characters to live with these genius-looking animal toppers making them also learn their names and what they stand for. Games could also be generated through this activity which always supports awakening your younger ones. Or why not give them to people you know with children? Make a good change rather than always giving them the same things everyone else does. Or share the creativity with the children they would love spending a little time doing arts and crafts.
Foam Sheet Pencil Toppers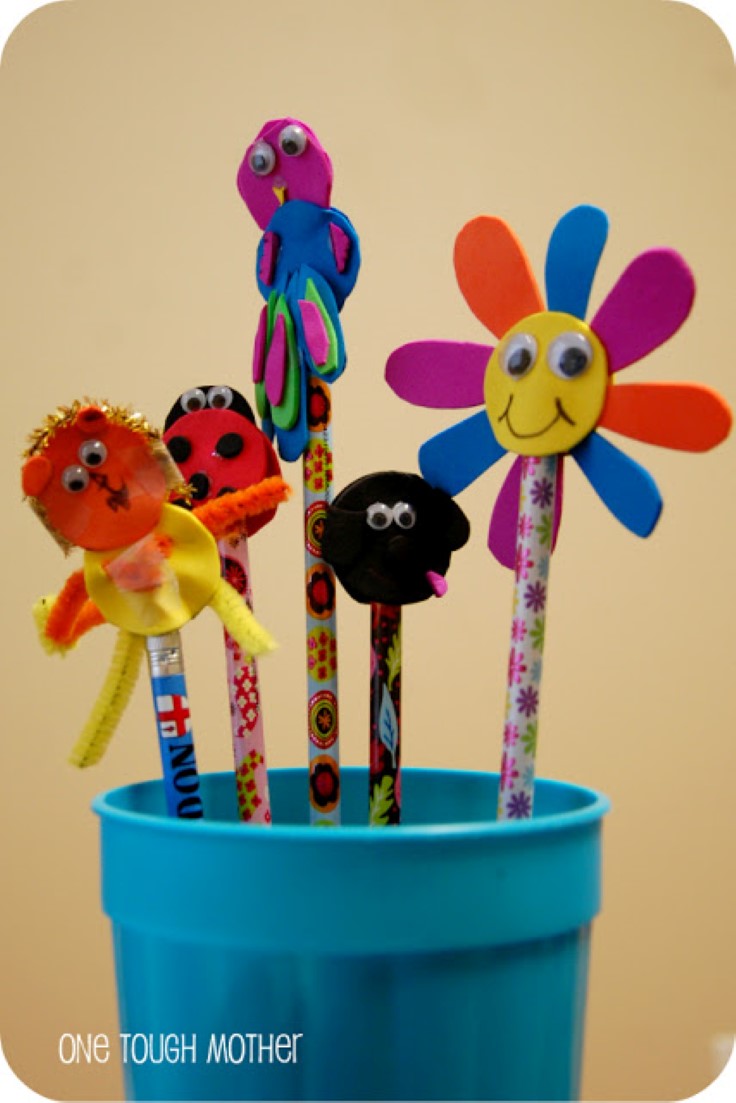 DIY Tutorial via sweetteaandsavinggraceblog.com
Your children would love to spend time with you doing these little cute things. Or perhaps, they are staying over the grandparents or funky aunty and they might not know how to fully engage with them. So this is a real treat for everyone to have fun all together, away from the dreaded TV set! You can do any of your favorite characters and all you will need are all the basics in children's crafts. Won't take too much time either but will surely bring both your relationships together while doing this. So cute!
Pinwheel Pencil Toppers
DIY Tutorial via wherewishescomefrom.com
We are not sure how much time one would spend writing or blowing on them making the wheel turn! Simple minds really! These are really cool to do and rather simple too; making it fun for the younger ones to get to draw or write with this fine writing instrument. You could hang these within a rather windy area, in order to see them at their best and even use them as wind charms for the outdoors reminding the kids they could also be drawing something up.
Pipe Cleaner Pencil Toppers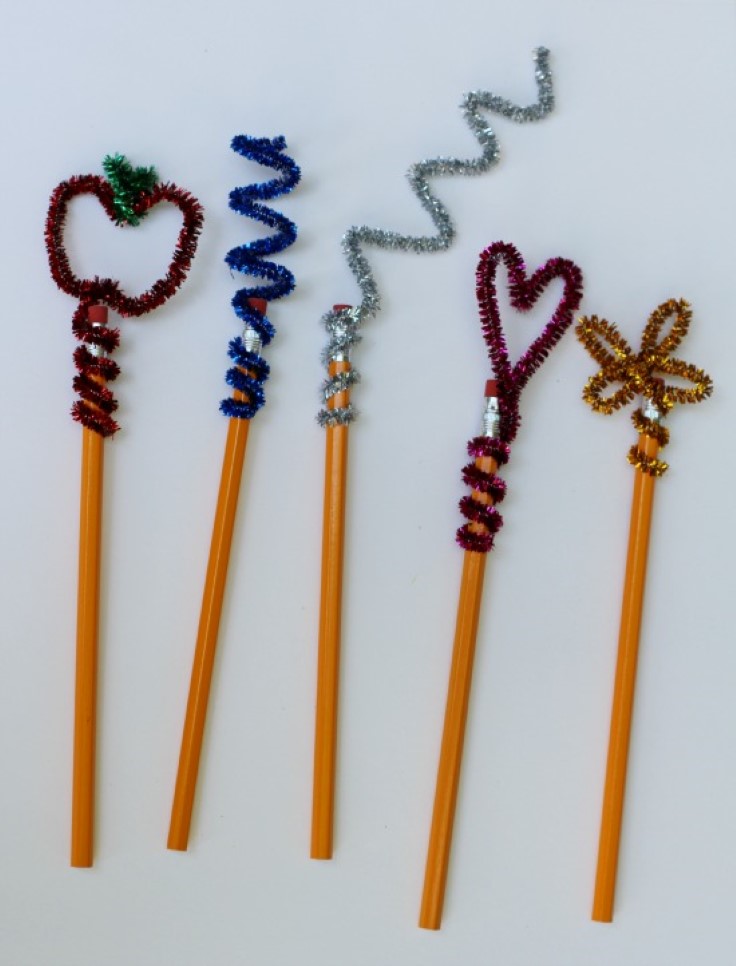 DIY Tutorial via makeandtakes.com
These odd-looking characters are brilliant fun to do and put together. Very cheap to do, and super easy. They will make everyone giggle at them while trying to draw or write seeing the little toppers going berserk in every direction! Ok so this could be a little distracting, but they sure do the job right and will put a big interest for children to pick up a pen or pencil or even a crayon to get arty and use their creativity that they all have. And this, all thanks to a few basics, time, and patience! Do up your favorite fruits (to remind them to never forget to eat their five a day for example), or their favorite figurines. Make a heart letting them know you love them!
Scrap Canvas Pencil Toppers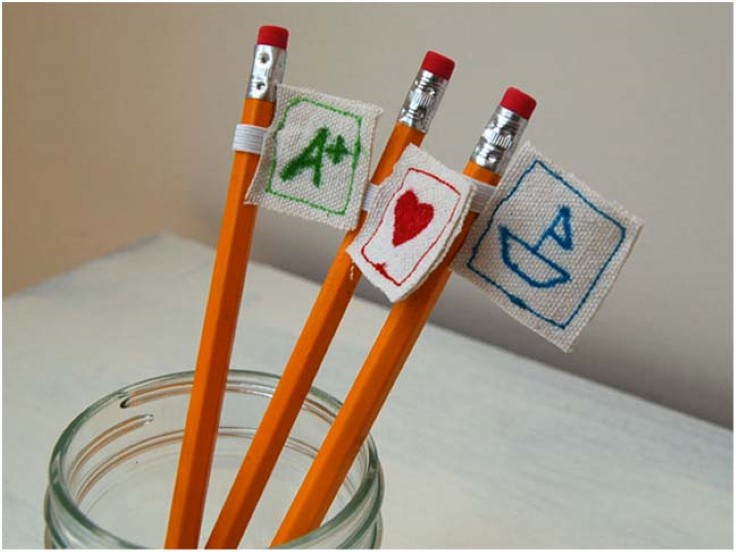 DIY Tutorial via momtastic.com
Why not personalize your children writing instruments by having their initials or even full name if short on top of their pens and pencils? It will be really fun for them too. Maybe put their school notes on them, with an A+ reminding them you will be proud of them if they do really well in, say, a test, or even do them a heart letting them know you love them and are always thinking about them. Perhaps they love sailing, or the beach, or whatever they might be into, and recreate this as pencil toppers. Show them a little craft and perhaps do all of them together for a weekend of fun and activities.