Pesto is a sauce that comes from the Italian town of Genoa. In case you haven't tried it, it is originally made of basil leaves, Parmesan cheese, pine nuts, garlic and cheese made of sheep's milk. Some people add other herbs and spices as well, but that is up to your taste.
Mostly you see recipes of pesto and pasta. We can all agree that they're such a delicious match, but there are many other recipes that go very well with pesto as well. Below you will find our ten favorite – we hope that they're going to make it to your kitchen as well!
1. French Bread Pizzas With Ricotta, Roasted Tomatoes, and Pesto
via epicurious.com
Here's another way to eat pizza without the typical pizza dough. For this recipe you use French bread, a crunchy and more sandwich-like way of pizza. The needed ingredients are the following: 1 1/2 pints cherry tomatoes, 1 tablespoon plus 2 teaspoons olive oil, 1/4 teaspoon kosher salt, 1/4 teaspoon freshly ground black pepper, 1 French or Italian bread, 1 garlic clove, 1/2 cup fresh ricotta, 3/4 cup coarsely grated Parmesan and 2 tablespoons fresh store-bought or homemade basil pesto.
2. Grilled Bread with Pesto, Burrata and Tomatoes
Tired of eating avocado toasts? This recipe is a great way to add change in your eating habits. You need 1 cup halved cherry tomatoes, 2 teaspoons olive oil, salt, 2 cups packed basil leaves, 2 cloves garlic, 1/4 cup Parmesan cheese, 1/2 cup oil, 1/2 loaf of como or other crusty bread cut in half lengthwise and 4 ounces burrata. This recipe is really easy to make – it is ready in less than 30 minutes and it serves four.
3. Baked Pesto Chicken Parmesan
via saltandwind.com
Chicken and pesto is a popular combination, so you might have already seen it at restaurants. They match really good, so if you haven't tried it so far, we recommend you to do so. You can make it at home easy with this recipe and these are the ingredients – 2 chicken breasts, 1/2 cup all purpose or white whole wheat flour, kosher salt and freshly ground black pepper, 2 large egg whites, 1 large egg, 1/3 cup finely grated Parmesan cheese, 2 cups breadcrumbs, 3 tablespoons parsley, 2 tablespoons extra-virgin olive oil, 4 cups marinara sauce, 1/4 cup pesto, 4 mozzarella and 3 cups cooked quinoa.
4. Turkey, Mozzarella, and Kale Pesto Panini
via delish.com
Ready in just 20 minutes, these panini are ideal for any time of the day. Plus, they are the easiest to make! You will have no problem with making these at home at all. Here are the ingredients you need – 1 bunch kale, 1 c. fresh basil leaves, 1/2 c. extra-virgin olive oil, 1/4 c. freshly grated Parmesan, 1/4 c. walnuts, 1 clove garlic, kosher salt, 1 loaf ciabatta or focaccia, 1/2 lb. sliced turkey breast, 1 large tomato and 6 oz. mozzarella.
5. Pesto Potato Skillet
Ideal for lunch or dinner, this recipe doesn't require too many ingredients, you just need pesto, 1 tablespoon olive oil, 3 cups fingerling potatoes, 1/2 small red onion, 1-2 eggs and parmesan cheese for garnish. It's really easy to make this meal – cook the potatoes and carefully add the rest of the ingredients, one at a time. Don't forget to sparkle the meal with parmesan!
6. Mushroom Gnocchi with Walnut Pesto and Arugula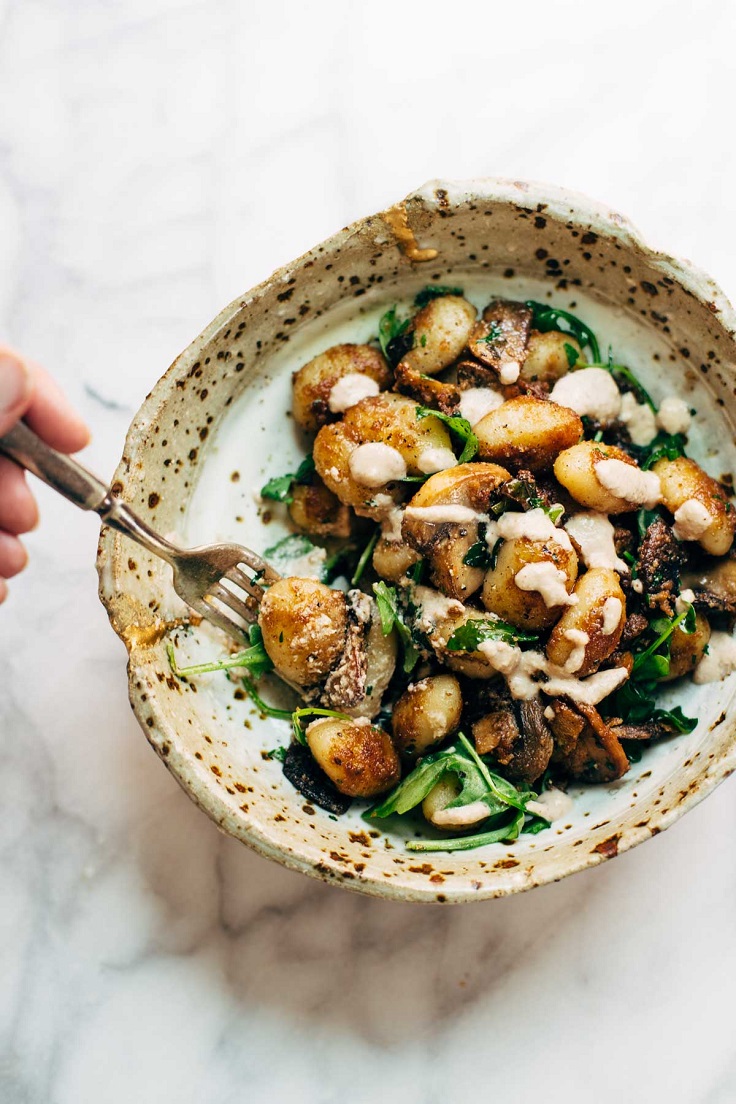 via pinchofyum.com
How about mushroom gnocchi and walnut pesto? This is a great combo that you really need to try. So far the recipes that we've shown are using basil pesto, but to prepare this one you need 1 cup walnuts, ½ cup Parmesan cheese, ¼ cup olive oil, 1 clove garlic, juice of 1 lemon and salt and pepper to taste. The other ingredients that you need are 1 tablespoon butter, 16 ounces fresh sliced mushrooms, 24 ounces gnocchi, 3-4 cups arugula and fresh parsley, basil, or other herbs to taste.
7. Grilled Zucchini & Pesto Pizza
via tasteofhome.com
And yes, here's pizza. We can't have enough of it, so why not try other versions of it, because eating pepperoni and cheese can get boring, right? This pizza has it all, plus a pesto and just a tiny difference – it's a naan flatbread instead of the usual pizza dough. Other ingredients that you need are the following: 2 cups (8 ounces) shredded part-skim mozzarella cheese, 1 medium zucchini, 1 small red onion, 1/4 pound thinly sliced hard salami, 1/2 cup fresh basil leaves and 1/4 cup grated Romano cheese.
8. Vegetable Shakshuka with Pesto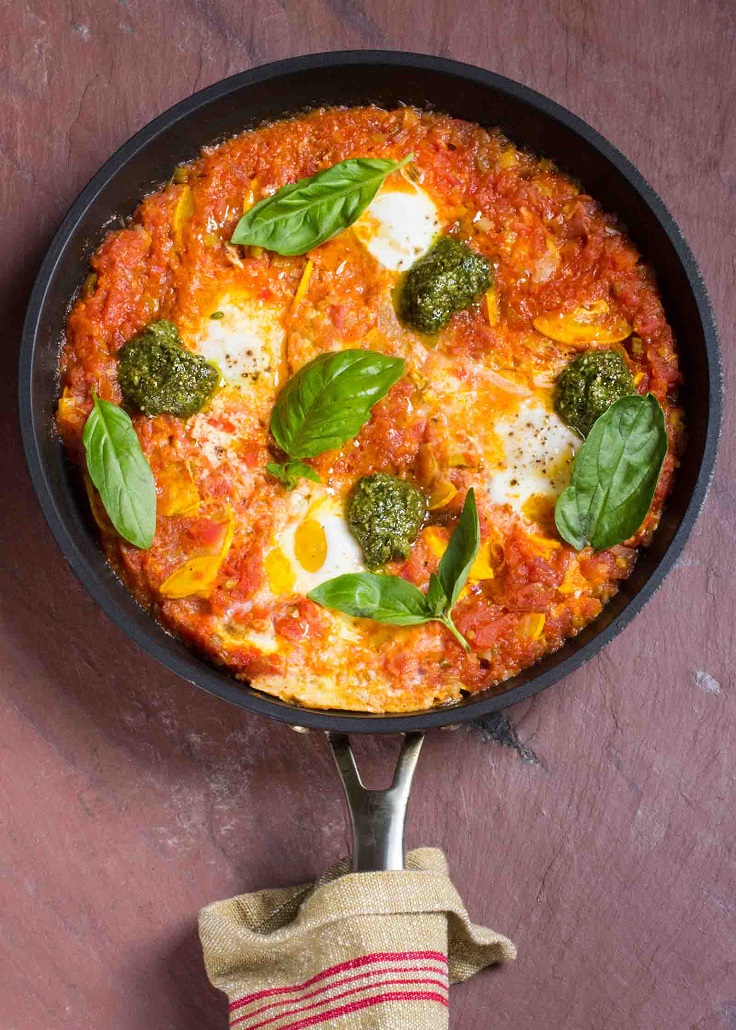 For those of you who haven't heard of or tried Shakshuka so far, it is a dish coming from the North African cuisine and it is basically eggs poached in a quick, spiced-up, homemade tomato sauce. This is an amazing dish if you want to use your backyard veggies. In this recipe, the pesto is used as topping, so feel free to add more than just a few spoons if you consider yourself a huge pesto fan.
9. Kale Pesto Lasagna
Lasagna with meat isn't the best option when you're trying to lose weight, so this recipe allows you to use healthier foods, such as kale. However, it hasn't lost all of its Italian taste – this lasagna also has tasty ingredients such as mozzarella and Parmesan. To prepare the kale pesto, you need 4 cups tightly packed kale leaves, 3 garlic cloves, 2 tbsp pumpkin seeds, generous pinch red pepper flakes, salt and pepper to taste, ½ cup grated parmesan cheese and ⅔ cup extra virgin olive oil.
10. Chicken, Chickpea and Pesto Salad
This is so far the easiest recipe on the list and it takes the least time to prepare it – if you already have cooked chicken breasts. Besides that, you will also need 2 shredded cooked chicken breast halves, 1/2 large English cucumber, 2 celery stalks, 1 can (15 ounces) chickpeas, 1/3 cup basic basil pesto, squeeze of lemon and coarse salt and ground pepper. Just mix all the ingredients and voila, you made such a delicious salad for any time of the day!
SaveSave