Take a deep breath of that crisp, cool air, and enjoy the sparkling beauty of the city in the snow! A city quite dramatic, romantic, and inspiring where every year millions of people flock in the hopes of seeing iconic landmarks and buildings, climbing up the Skyscrapers in both searing, sweaty heat and frostbitten, icy cold.
New York is a booming metropolis known for skyscrapers, amazing friendly multi-cultured people, beautiful architecture, and pushy pedestrians. Your experience in the Big Apple can change on a dime simply based on what time of year you visit. New York is located in that exact sweet spot that gives you the highest searing highs and the lowest chilly lows.
New York City surely is among the most popular cities in the world and there are countless reasons why is that so. But, if you walk on the streets in winter you will see the city from a whole different and white dimension.
The city just alive with a certain charge brought in by holiday spirit, powder white snow, and the smell of cinnamon chestnuts being sold on street corners.
Bundle up Big Apple, true winter Wonderland!
1. Snowy Day on Times Square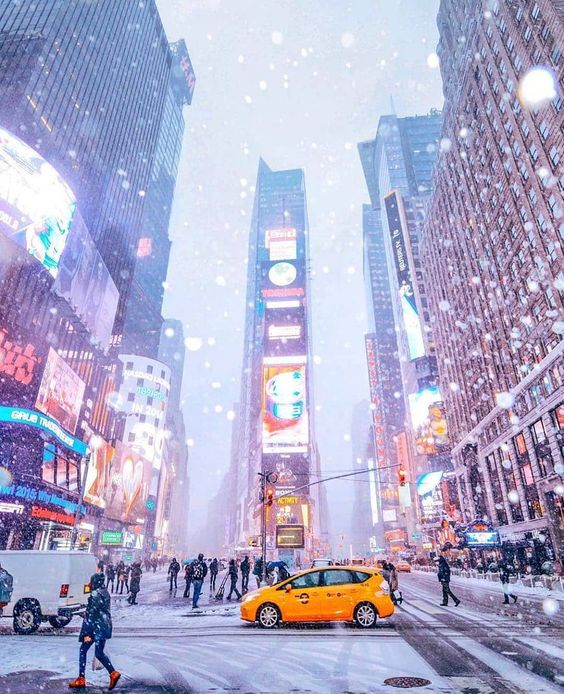 Photo by pinterest
When the snow is falling and covering the streets of New York, Time Square becomes like a giant Christmas tree decored with colorful flashing lights from the billboard adverts, contrasting on the white background on a snowy day. One of New York's major commercial intersections and host place of the famous New Years Ball Drop event is a massive tourist attraction and place full of entertainment. This glowing place has a special charm in winter.
2. Brooklyn Bridge Covered with Snow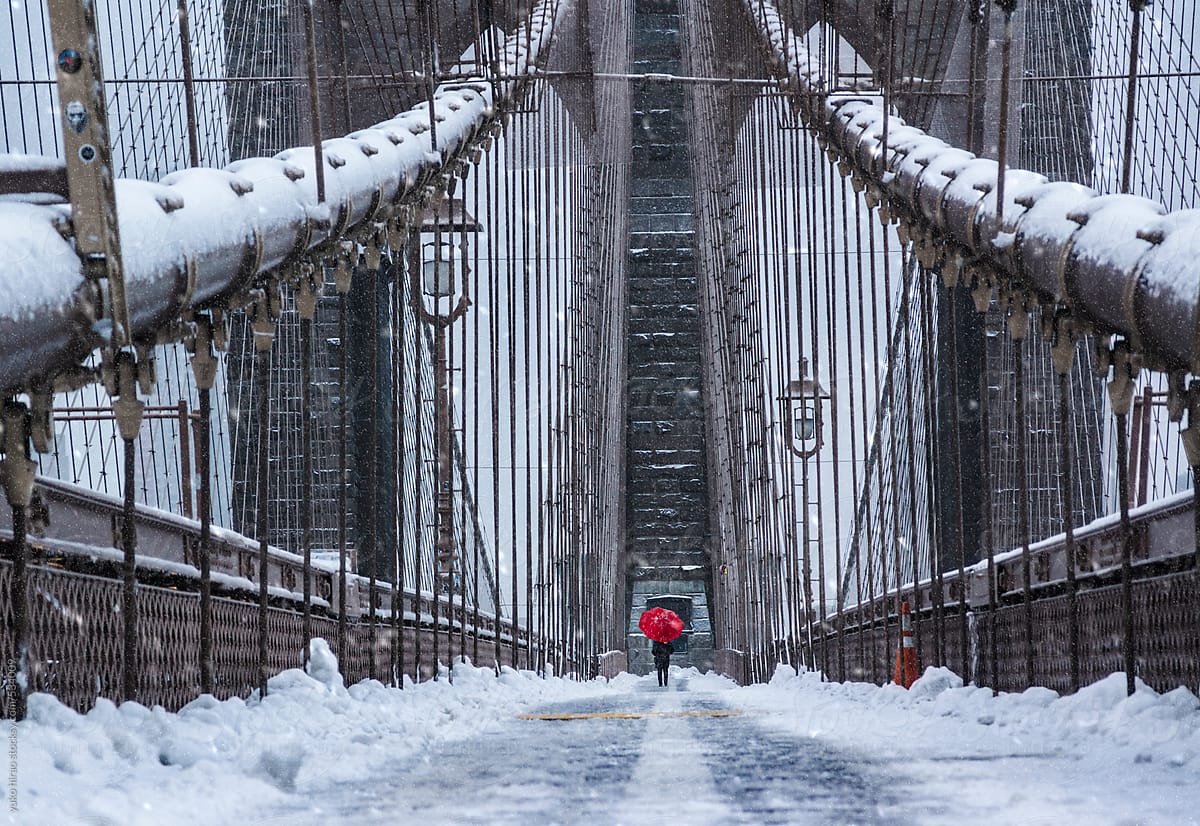 Photo by stocksy
This is another classic that never gets old. A beautiful place any time of the year. When snowing, the frigid cold keeps pedestrians and most people away from the bridge, unless you are a photographer who is tempting to get fantastic shots from this snow-coated bridge.
3. The Snow Is Everywhere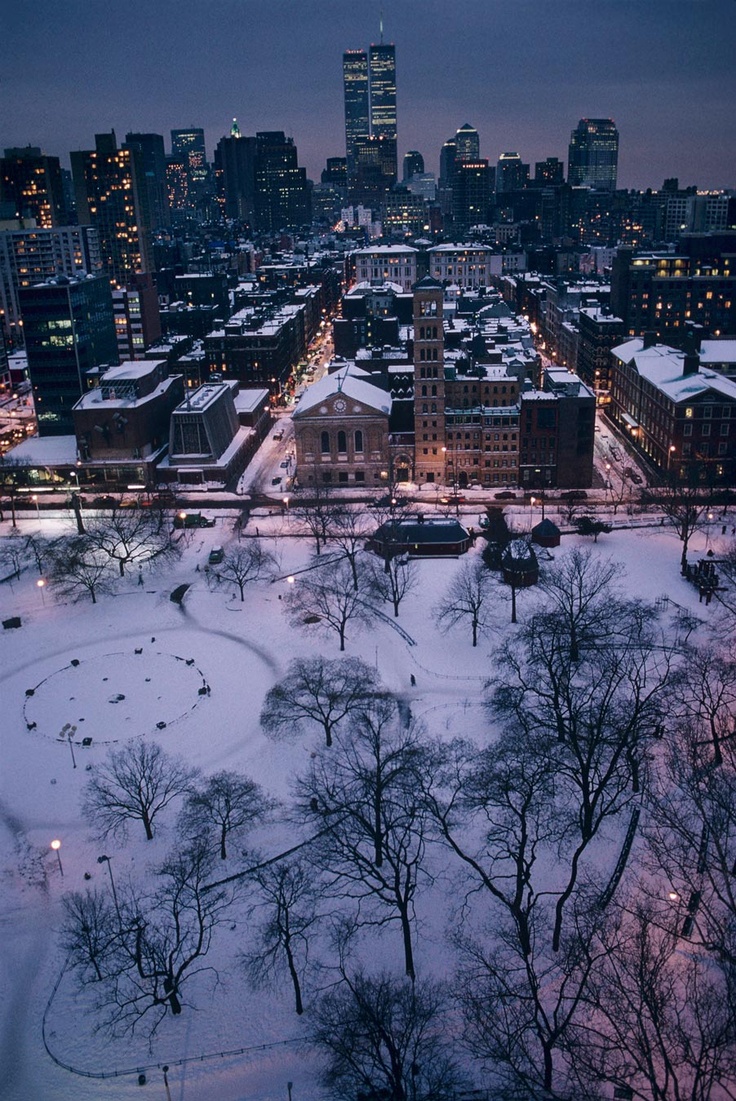 Photo by pinterest
When the snow blanket the ground, and collects in the arms of the trees, on a dark blue sky walking down the streets of New York City is a true fairytale moment. You will be fascinated by the sound of the crunching snow under your feet and mesmerized by the view everywhere you turn. The air slowly blowing the magic dust and the snow flex landing on the surface will just fulfill the experience.
4. Everything is White in Central Park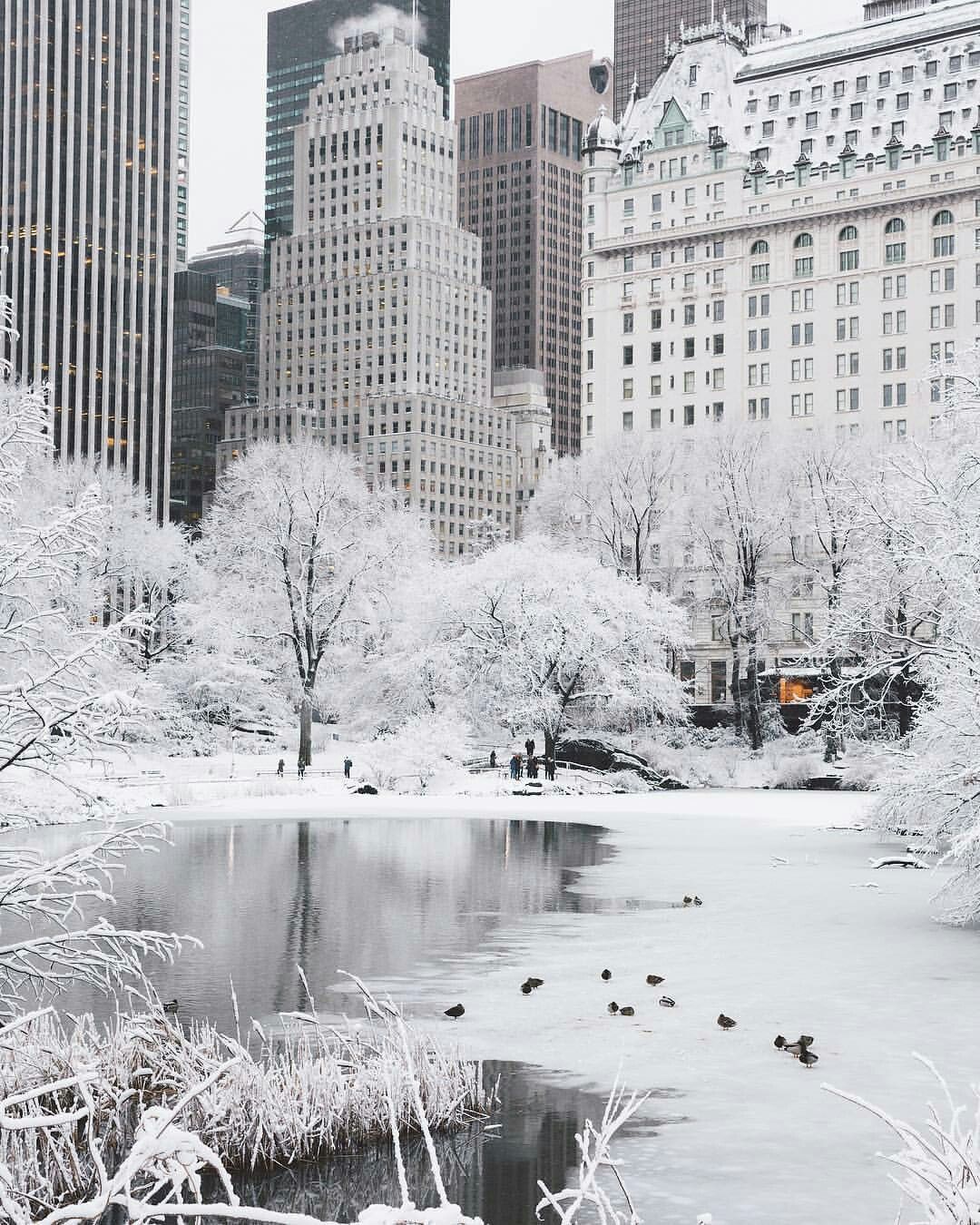 Photo by wallpaperaccess
Do not let the cold keep you away from Central Park especially when covered with snow! A no banner spot when it comes to snow photos. Central Park is inherently gorgeous, full of fun outdoor snowy activities (sledding, ice skating), and year-round decorations, whether you are walking through the endless aisls white trees, or catching a glimpse of the Bow Bridge. The winter wonderland of NYC in its spirit!
5. 5th Avenue Winter Scenery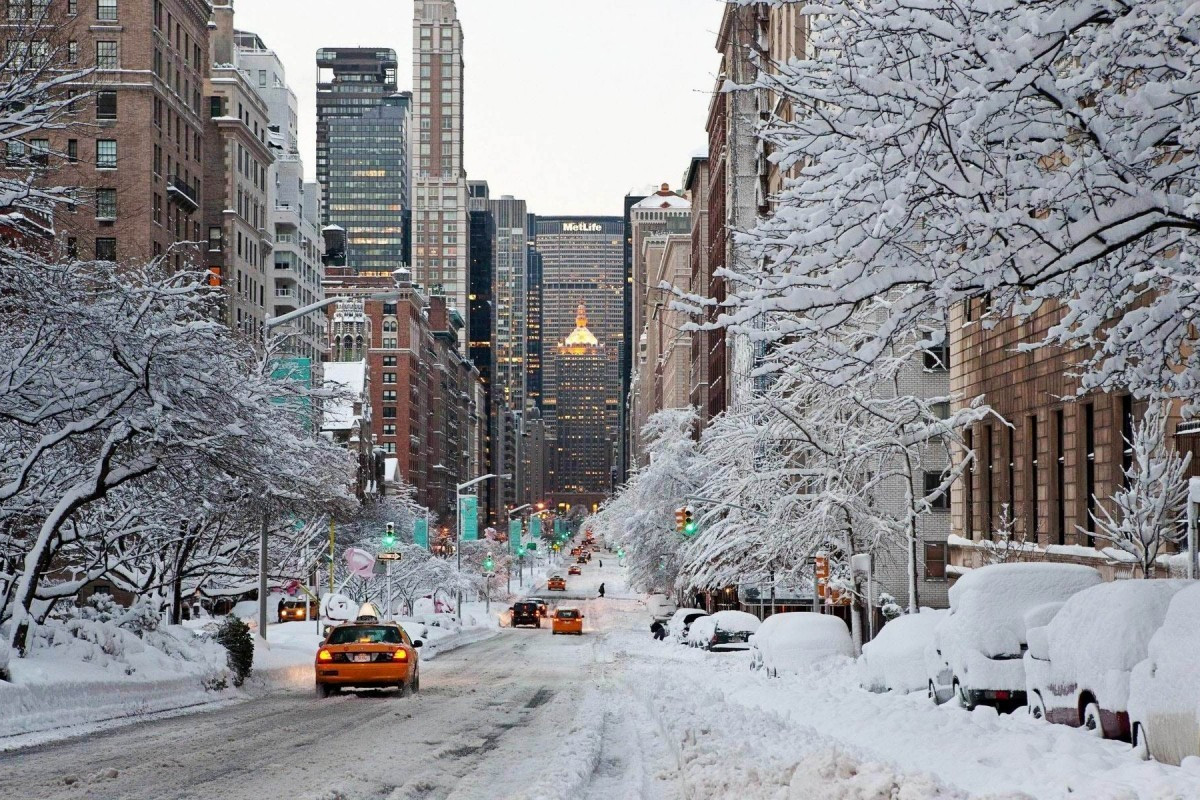 Photo by frenchyyankee
What a view! This street makes a delightful scenery if you are scouting places for great snow photos of NY. Streets, trees, and almost not noticeable cars fully covered with snow "powder", a background of architectural skyscrapers will give you a shot for a postcard. The most expensive and elegant street best for shopping is also known as Millionaire's Row.
6. Flatiron Building (Madison Square) in Snow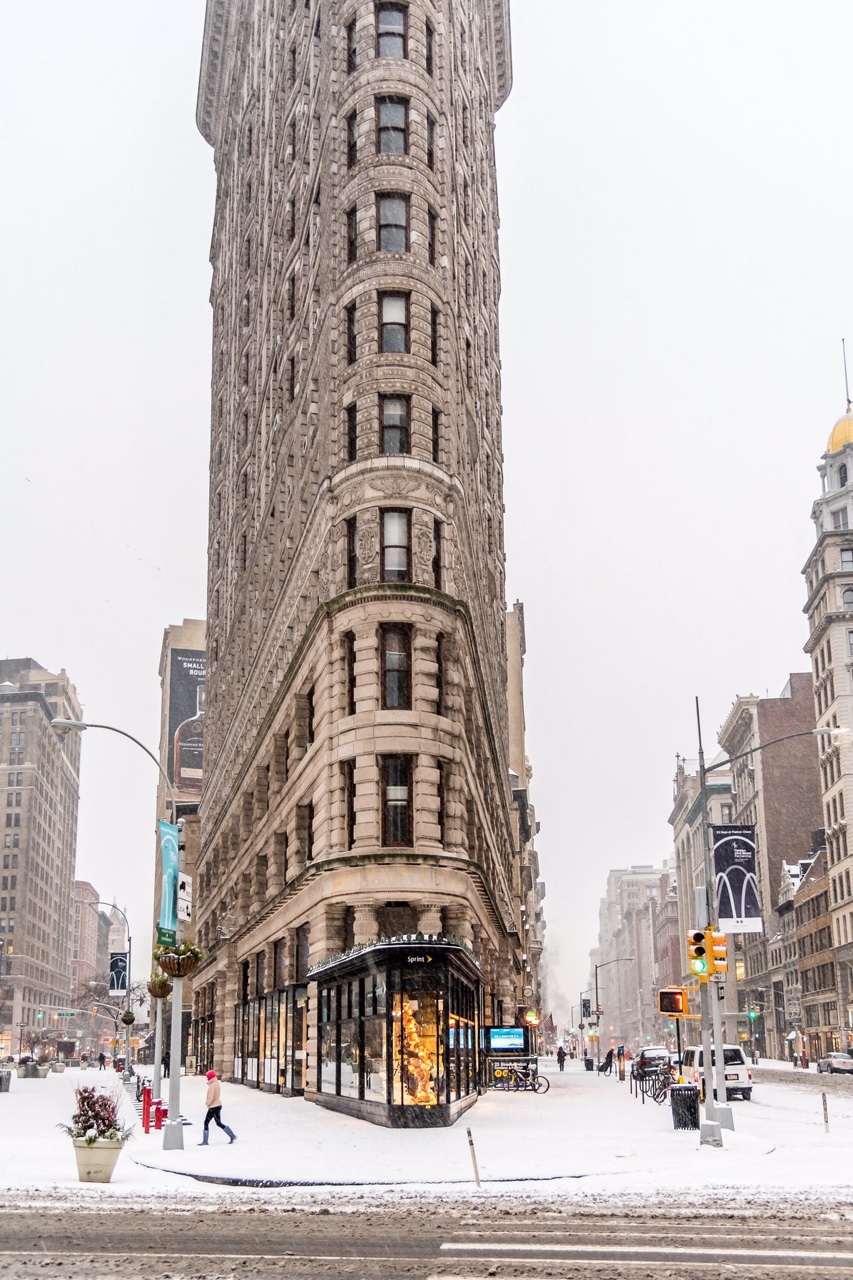 Photo by twenty20
An ultra-popular and photo-worthy spot in Madison Square Park where you can get a great flash of uptown and a view of the Flatiron Building.  The building sits on a triangular block, formed by 5th Avenue, Broadway, and East 22nd Street. One of the top insta-worthy spots when in NY. Flatiron is notorious for it's unique, and photogenic shape that never gets old. Adding a snow background is making it a mega-worthy shot.
7. Winter Wonderland in the Streets of New York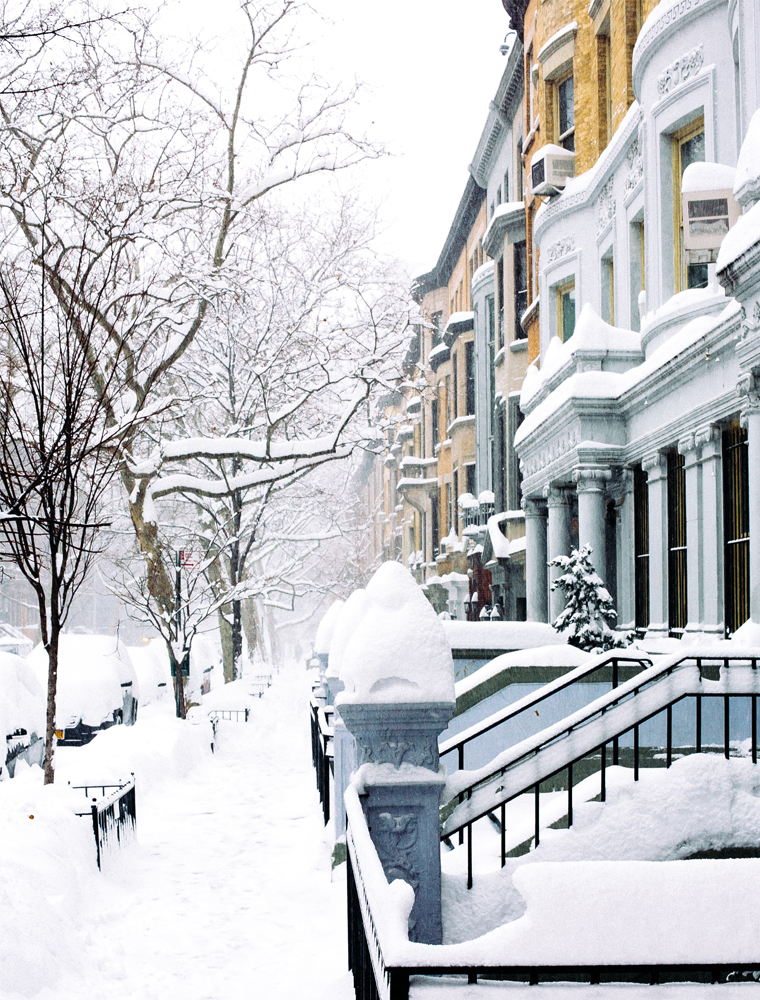 Photo by Will Taylor
On a day when NY is covered in a large blanket of snow, the shops closed and unaccessible, the streets as good as deserted, photographers will not miss the opportunity to snap some magical shots of the magnificent view of winter nature, and panorama covered with the fluffy white miracle. A fresh snowfall maintains an almost supernatural power to calm us down and give us relaxing vibes.
8. Stuck in the Snow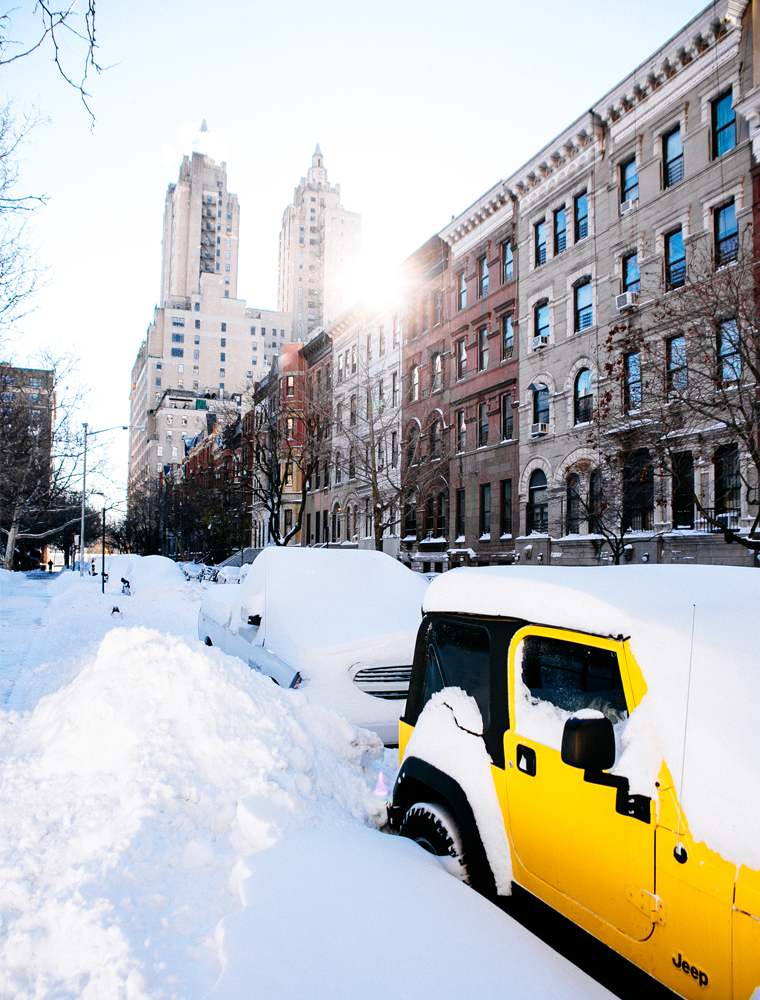 Photo by Will Taylor
Morning shots, when the sun comes out after a long snow falling night is a poster-worthy photo on which everything pops against the clean crisp white, undisturbed, still pristine snow. The loneliness of the streets and the feeling of owning the world will complete the moment.
9. Wall Street Winter Night
Photo by wcti12
One of the most significant financial institutions in the world, the NY Stock Exchange is located on Wall Street. A hub of international businesses and a rich tourist attraction. A place where you can find the two super famous statues of a bull – representing the courage and can-do spirit, and the fearless girl – promoting female empowerment. Covered in snow, this area has its own beauty.
10. Lost in Trafic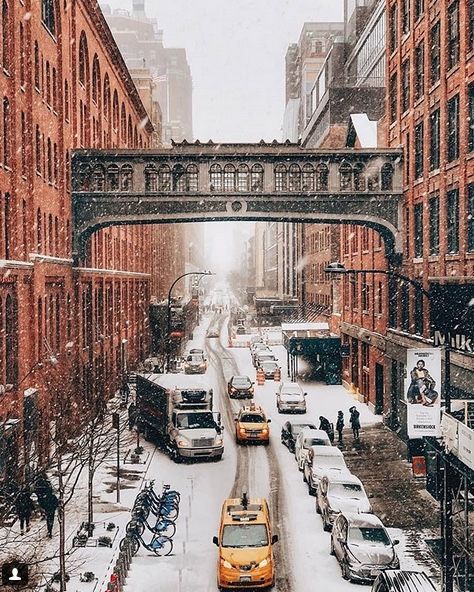 Photo by weheartit
Even walking during the coldest months of NY, you are for a treat in the photography world. On a freezing day full of ice crystals this city won't let you down. The magic is in the millions of pure white and decorative snowflakes, falling from the white sky and covering everything around. Seeing from a good vantage point will offer unforgettable city scenery of the Big Apple.