Bees are very important. And we are not talking only about honeybees, but also bumblebees, soldier bees, carpenter bees, mason bees, sweat bees, and several thousand other types. A good percent of the plants we eat, including vegetables and fruits, are pollinated by them.
Without bees, there will be no agriculture. Unfortunately, bees are struggling in the wild., so much that they have already gone extinct. Although bees do not harm our crops, the use of pesticides and other environmental pollutants is killing them off; this is why today, the private garden is responsible for protecting the bees.
To increase their number, we can grow many kinds of plants that provide pollen and nectar for the bees to feed. These 10 plants are a great choice for a bee-friendly garden…
1. Rosemary
via pinterest.com
This Mediterranean herb is a welcomed addition to any garden. It flowers around April/May, and as long as you prune it correctly, bees will take advantage of its pollen. Do the pruning right after flowering, but make sure you don't prune it back to old and bare wood as it won't regrow. Rosemary prefers well-drained soil. Plant it in full sun. 
2. Lavender
via gardenersblog.jerseyplantsdirect.com
Just as rosemary, lavender needs lots of suns and well-drained soil. There are many varieties to choose from, and they all come with beautiful fragrant flowers that can be cut and dried. Lavender is one of the most bee-friendly plants and will attract plenty of bees once it starts flowering.
3. Bee Balm
These beautiful flowering plants from the mint family deserve a place in every bee-friendly garden . They like plenty of suns but also plenty of moisture. You will enjoy their flowers all summer! And just as their name suggests, prepare to see lots of bees around these beauties. Pick from the different color choices ranging from deep red to various pink and purple shades, and even white. Both the leaves and flowers are aromatic. 
4. Stonecrop
via pixabay.com
Stonecrops or Sedums are succulents with heads of tiny flowers that are so easy to grow! You can propagate them from cuttings, seeds, or stems. All they want is a little sun and drainage, which makes them a perfect choice for lazy gardeners or dry areas. But they are also a great choice if you want to attract bees to your garden, especially when their tiny star-shaped flowers start to appear from mid-spring to late fall.
5. Tall Verbena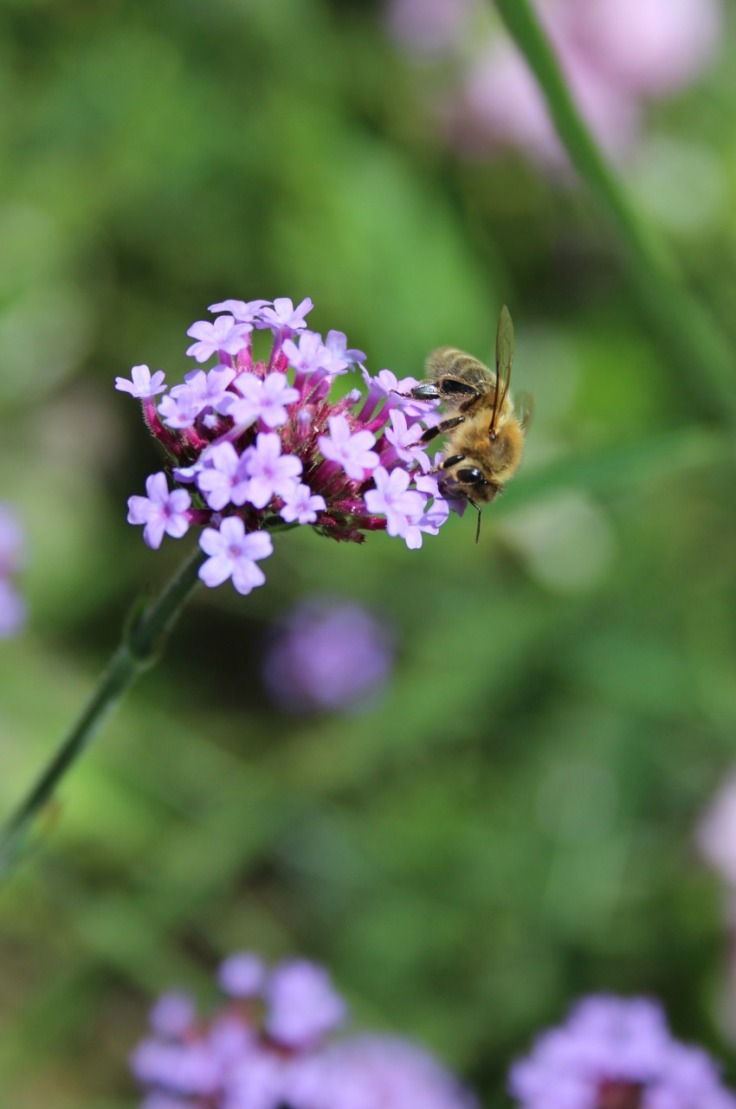 via zeensandroger.wordpress.com
The tall perennial Verbena Bonariensis will mesmerize you with its delicate purple flowers. It will add a tropical look to your garden and will definitely attract bees. It is easily grown from seed and will surprise you with beautiful flowers even in its first year. This verbena flourishes in sunny, warm gardens.
6. Aster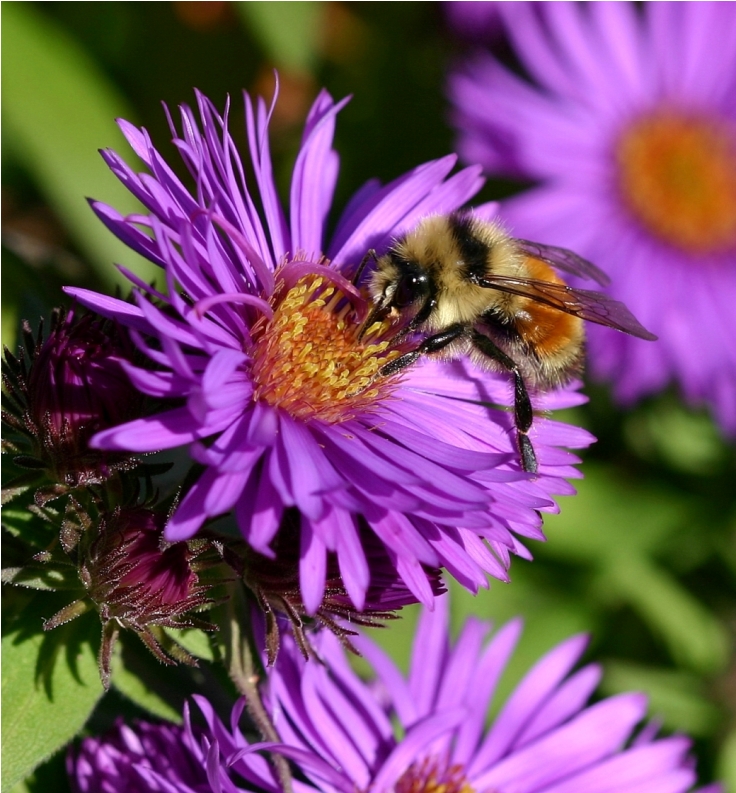 via areallysmallfarm.com
Aster is important for honeybees to feed to get through the winter months as it provides late food. This is because aster flowers during late summer to autumn when many flowers have stopped blooming. The modern hybrid perennial is very easy to grow and has gorgeous colorful starry-shaped flowers.
7. Sunflowers
Bees can get plenty of pollen and nectar from Sunflower's large central discs. These gorgeous flowers are available in many shapes and colors and obviously love the sun. Choose yellow and orange varieties over reds if you want to attract bees. Make sure you avoid varieties that contain no pollen. 
8. Coneflower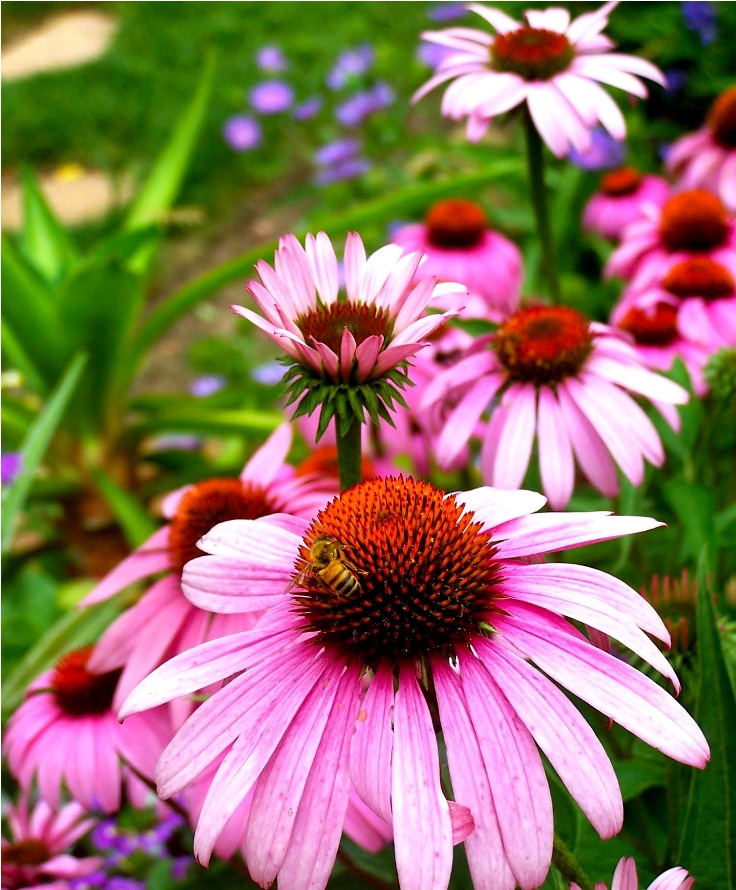 via potagerblog.com
With coneflower or echinacea in your gardens, attracting bees is guaranteed. These tall plants will bloom from midsummer to late fall. Start them from seeds or seedlings and tolerate poor soil and dry conditions. Today there are many varieties to choose from, and they all attract bees and butterflies.
9. Cosmos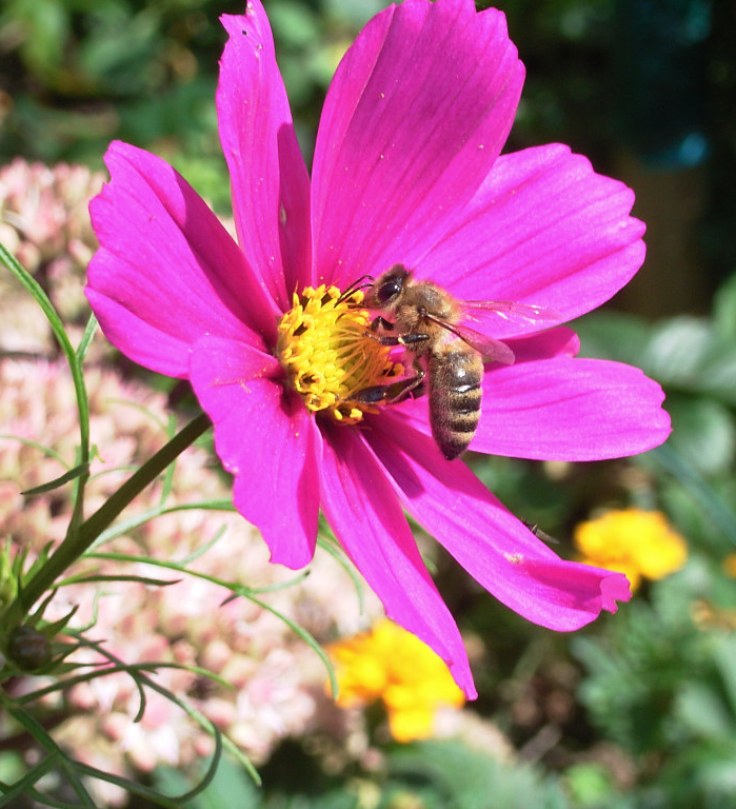 via pinterest.com
This annual flower is very easy to start from seeds and is one of the best choices for attracting bees in your garden. Make it even easier for bees to collect the pollen by planting it in groups. Cosmos originates from Mexico and is a half-hardy annual so make sure you plant it when all the danger for frost is gone.
10. Poppies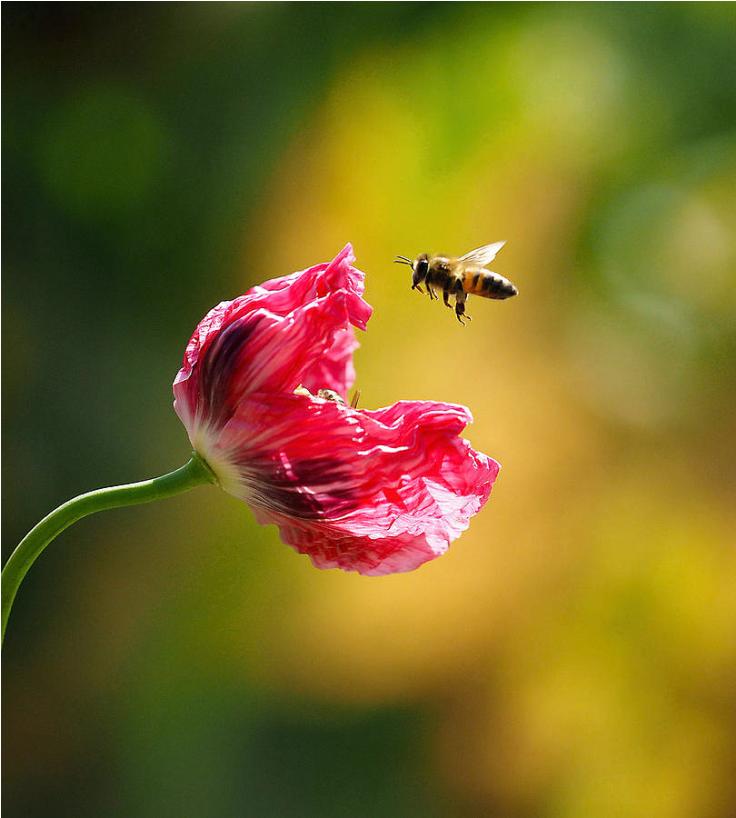 Poppies are so easy to grow, and all of them attract bees! Their beautiful open flowers with delicate petals are full of pollen. If you opt for an annual variety, make sure you save the seeds from sowing next year. They do well in full sun to partial shade. Keep them moderately well watered in hot and dry weather. Do not fertilize.