The reason why so many people love parties is exactly because of the food – some love to prepare it, while others eat it. If you're the kind of person who considers themselves as the first (or even the both!), then you know how challenging can cooking be.
One of the best foods to serve as appetizers at parties is puff pastry bites. They are very easy to prepare and depending on your preferences; they can be prepared with just a few ingredients. For this case, we picked ten puff pastry bites for you, and you can find both sweet and savory recipes to serve at your parties.
1. Strawberry Pastry Bites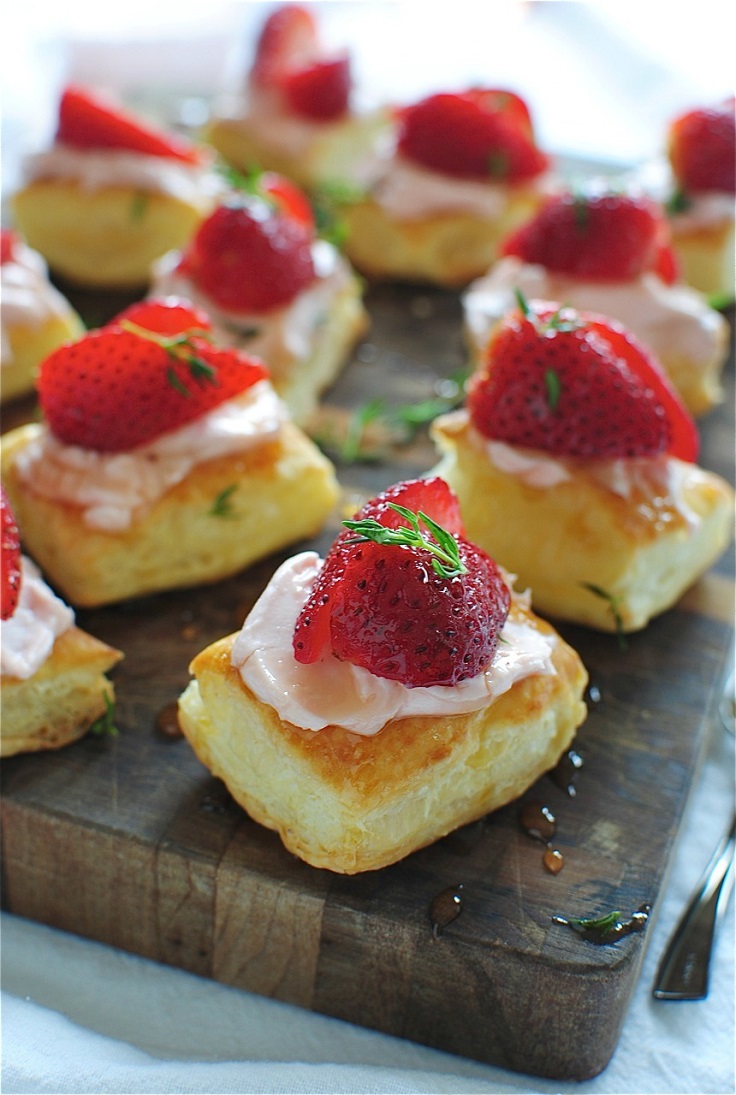 via bevcooks.com
Perfect as after lunch or dinner treat, these pastry puff bites with strawberry cream cheese and fresh strawberry on top take so little time to be ready! To prepare, you need 1 sheet puff pastry, thawed for 40 minutes, 1 egg, and about 3/4 cup strawberry cream cheese. You can use fresh strawberries and add a teaspoon of honey to each puff bite for the topping.
2. Blue Cheese and Pear Puff Pastry Bites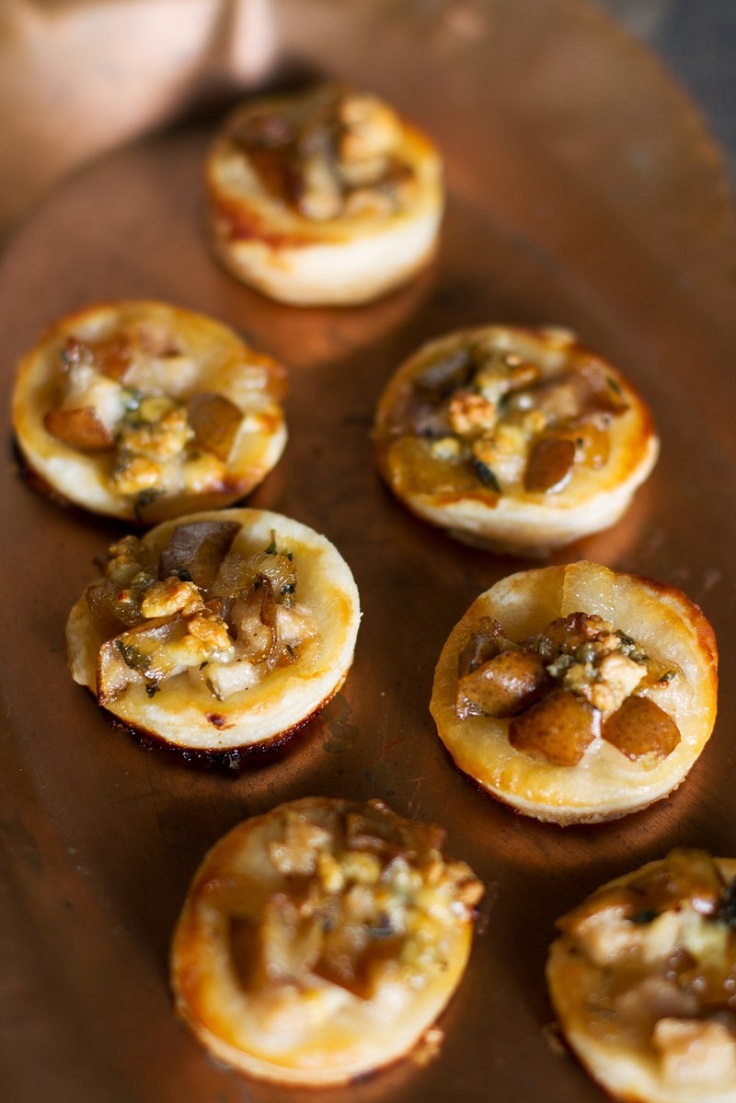 via saltandwind.com
The combination of cheese and fruit makes these puff pastries more "elegant," so if you were thinking about throwing a more formal party, this is ideal for you. You need these ingredients – 1 tablespoon extra-virgin olive oil, 1 medium yellow onion, kosher salt, freshly ground black pepper, 1 tablespoon fresh thyme leaves, 2 medium ripe Red d'Anjou pears, 1 pound all-butter puff pastry dough, and 2 ounces crumbled Gorgonzola or other blue cheese.
3. Caprese Puff Pastry Bites
Here's a great way to use a popular Italian recipe in preparing puff pastries. The Caprese recipe is famous for its use of vegetables, mozzarella, and often pesto. These puff pastries have it all, and for that, you need 6 oz. Mozzarella cheese, 10 grape tomatoes, 1/2 of a 17.3-ounce pkg. puff pastry sheets (1 sheet), pesto (homemade or store-bought), and Balsamic glaze.
4. Praline Pecan and Brie Puff Pastry Bites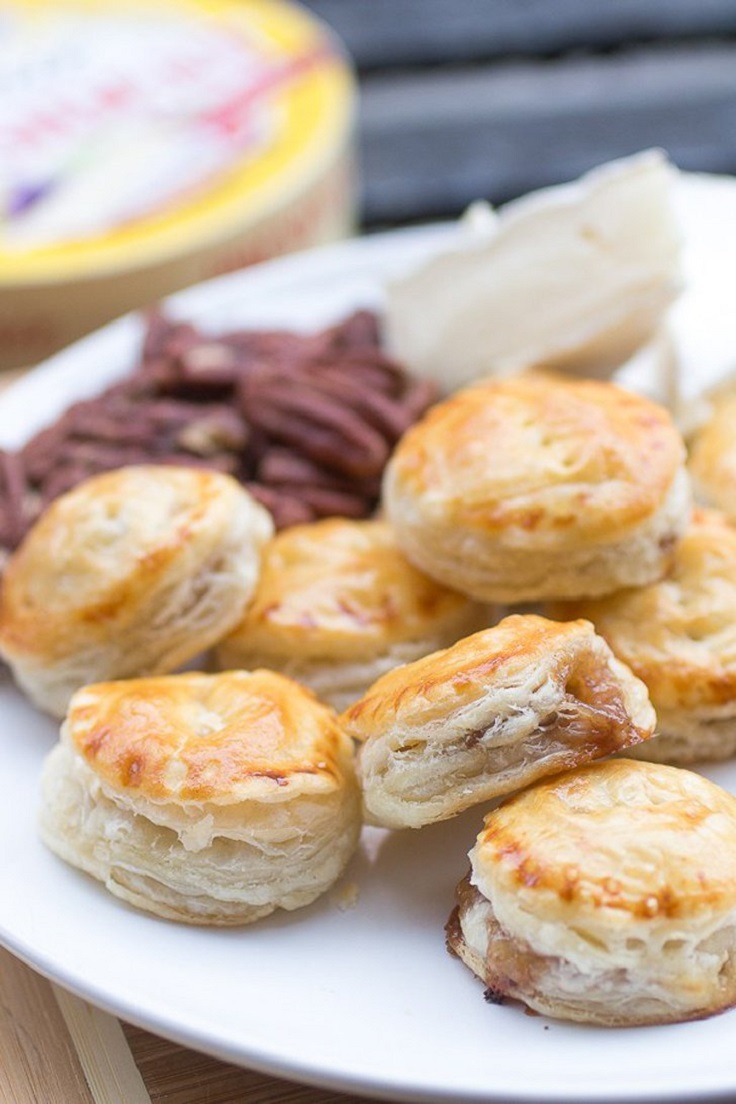 via asuechef.com
Ready in less than an hour, these puff pastry bites are such delicious when eating with praline pecans – not to mention that you need just a few ingredients to prepare them! You need these ingredients – 2 packages of pre-made puff pastry, 1 egg, a splash of milk, water, and 2 oz. brie, while for the praline pecans, you need 1 cup chopped pecans, 1 T corn syrup, 1 T pure maple syrup, 3 T brown sugar, 1 T unsalted butter, and 1 pinch of salt.
5. Cheesy Onion Puff Pastry Bites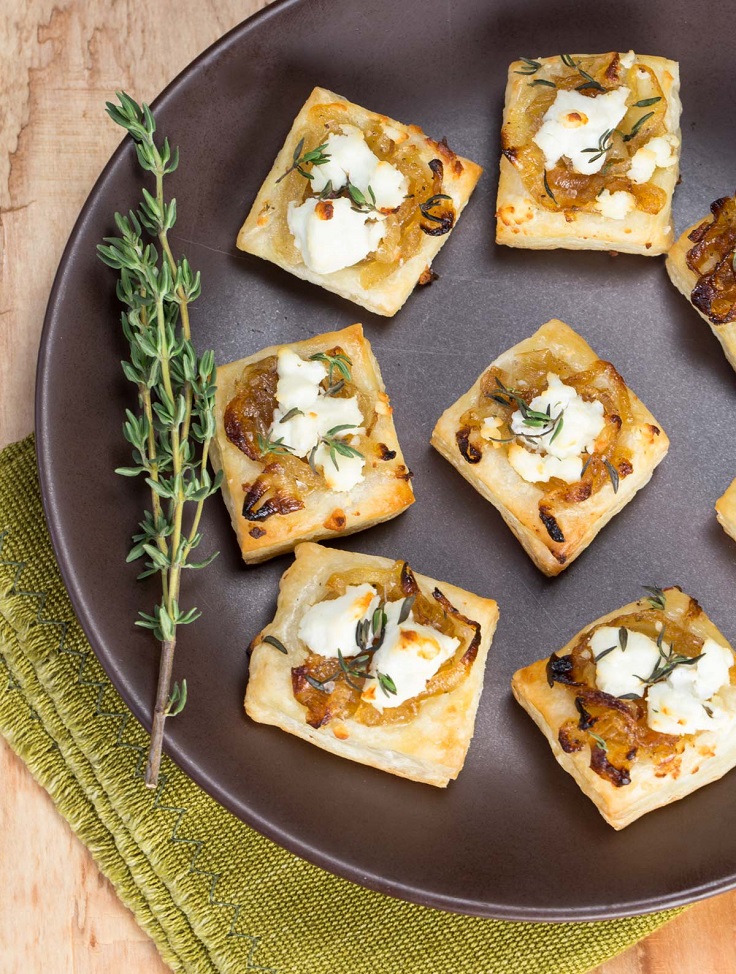 If you are a fan of caramelized onions, you definitely need to try out these puff pastries. However, note that these take approximately 1h and 14 min to be ready. Make sure to have the following ingredients – 1 sheet frozen puff pastry, 1 egg, 3 ounces goat cheese, coarse sea salt, and fresh thyme leaves. You need 2 teaspoons olive oil, 2 teaspoons butter, 2 onions, and 1 teaspoon sugar for the caramelized onions.
6. Cheddar Bacon Jam Puff Pastry Bites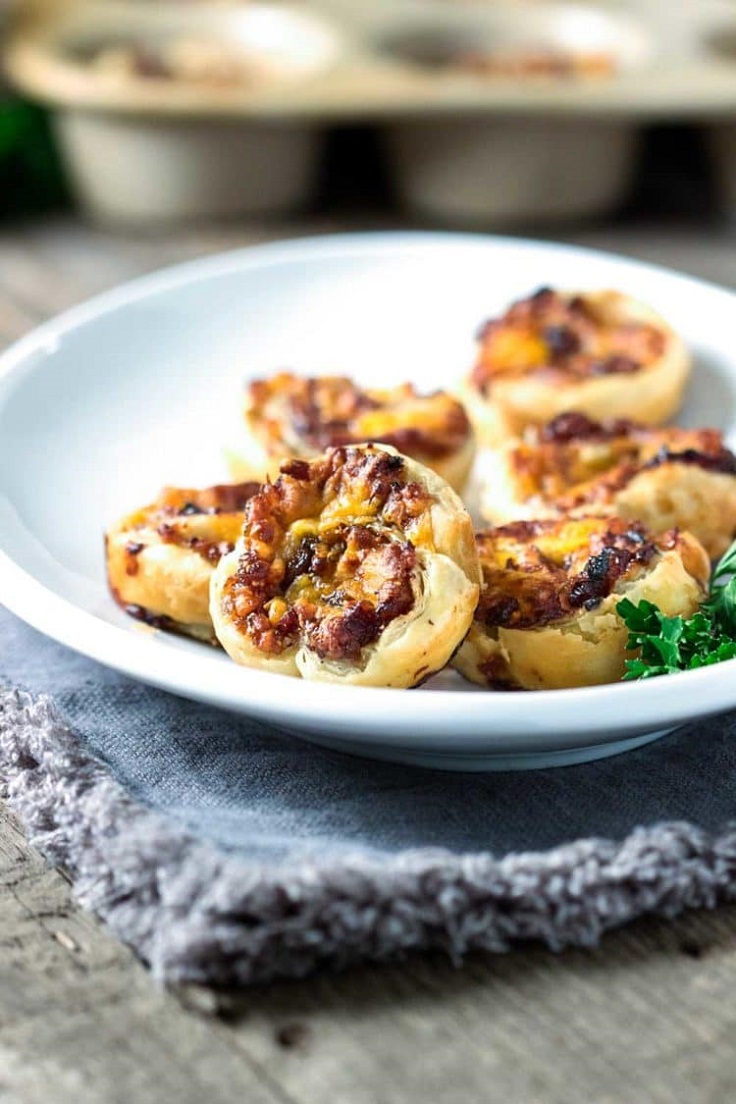 Ready in just 40 minutes, these puff pastries have special taste thanks to the coffee being used! You might find it weird, but it's something you should try out. Get these ingredients – 1 lb bacon, 1 large red onion, 2 cloves garlic, 8 figs chopped, 1/2 cup brown sugar, 1/2 cup apple cider vinegar, 1/2 cup coffee espresso pinch red pepper flakeс, 2 sheets puff pastry and 1 1/2 cups cheddar cheese.
7. Apple, Onion and Gruyere Bites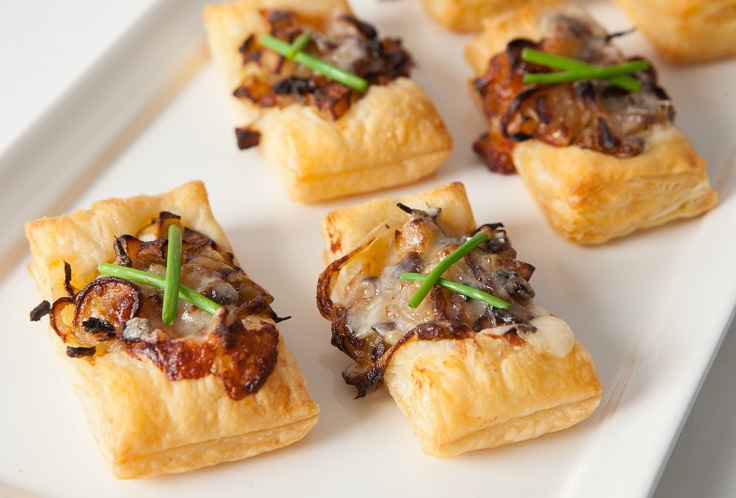 If you're in a hurry or simply don't want to waste your whole time in the kitchen preparing appetizers for your guests, these puff pastries are going to be really helpful, as they take less than 30 minutes to be ready. You need 1 tablespoon extra virgin olive oil, ½ sweet onion, 1 Pink Lady apple, 2 ounces crimini mushrooms, 1 teaspoon salt, 3 ounces gruyere cheese, 1 sheet of puff pastry, and 3 chives.
8. Chocolate Puff Bites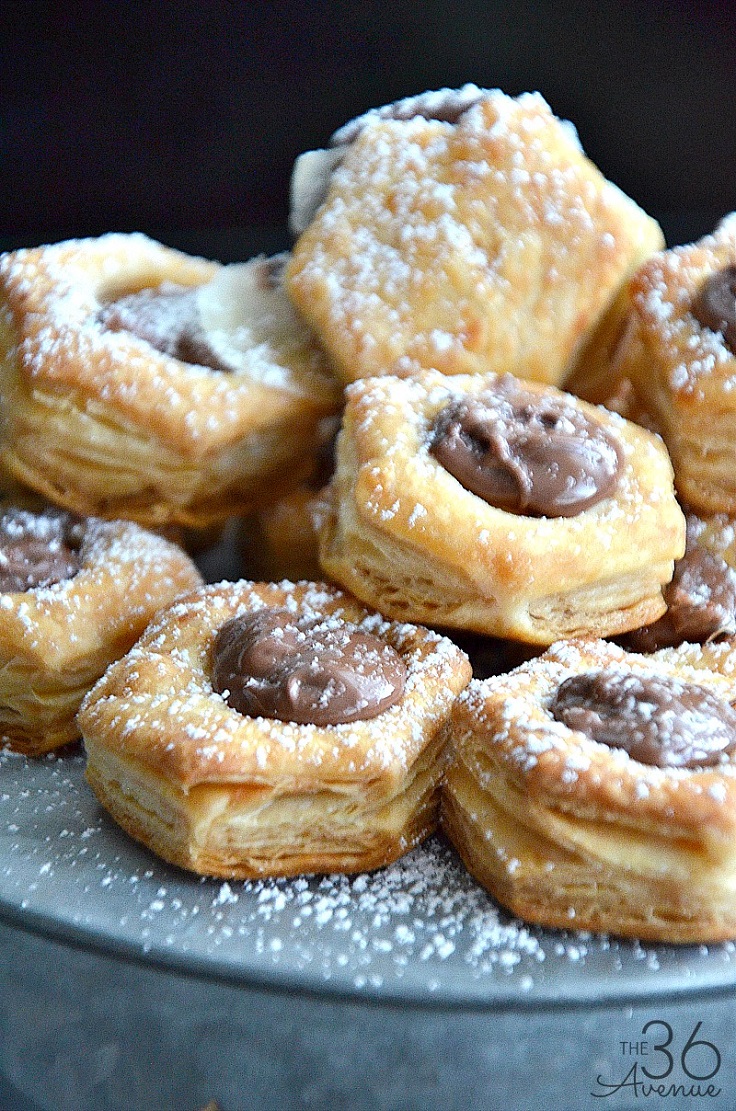 And now, time for some chocolate! The best part about these pastry bites, besides the fact that they have chocolate inside, is that you only need three ingredients to prepare them, and those are 1 box (24 bite-size) puff pastry cups, 1/2 c. Nutella and 2 tbl. Powdered sugar. Feel free to use other chocolate creams if you're not a Nutella fan!
9. Pastry Bites with Blueberry and Homemade Sour Grapes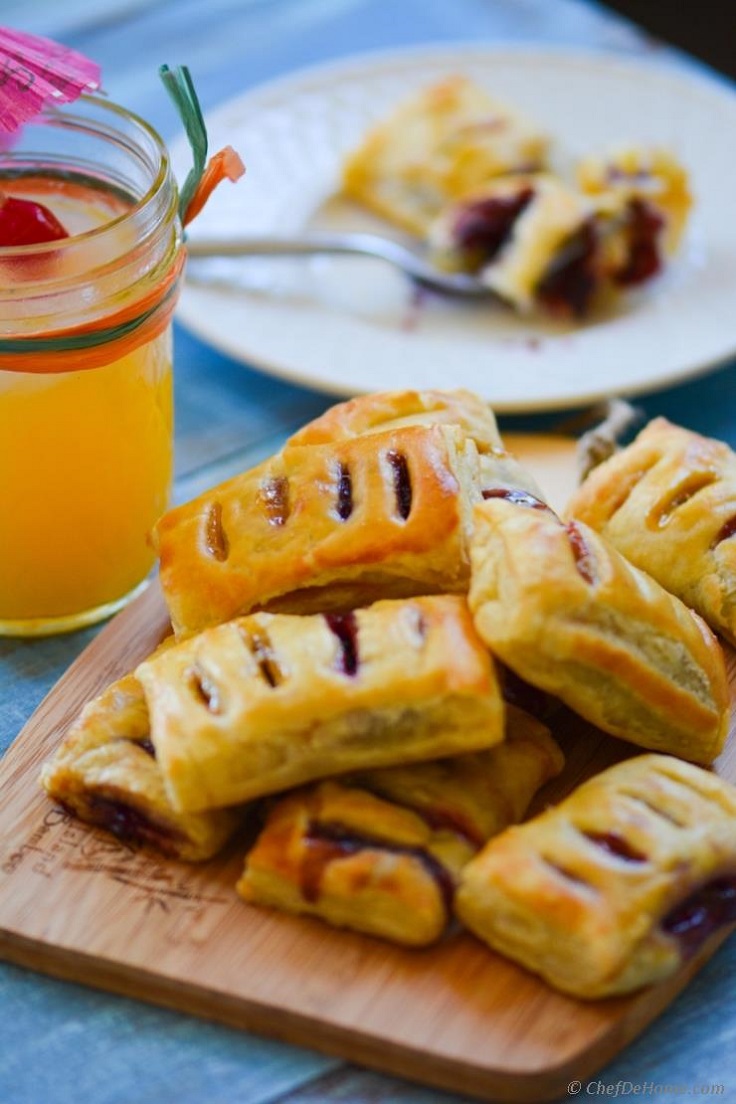 via chefdehome.com
Or, if you're not a chocolate fan at all, you can just switch to using jam and come up with amazing fruit puff pastry bites. For these, you need 1/4 cup blueberry jam + 1/4 cup of sour grape jam, 1 puff pastry package, 1 egg, and for the sour grape preserve, you need 2 cups green grapes, 1 cup orange juice, 1/2 cup sugar, and 1/4 tsp salt.
10. Ham and Cheese Puffs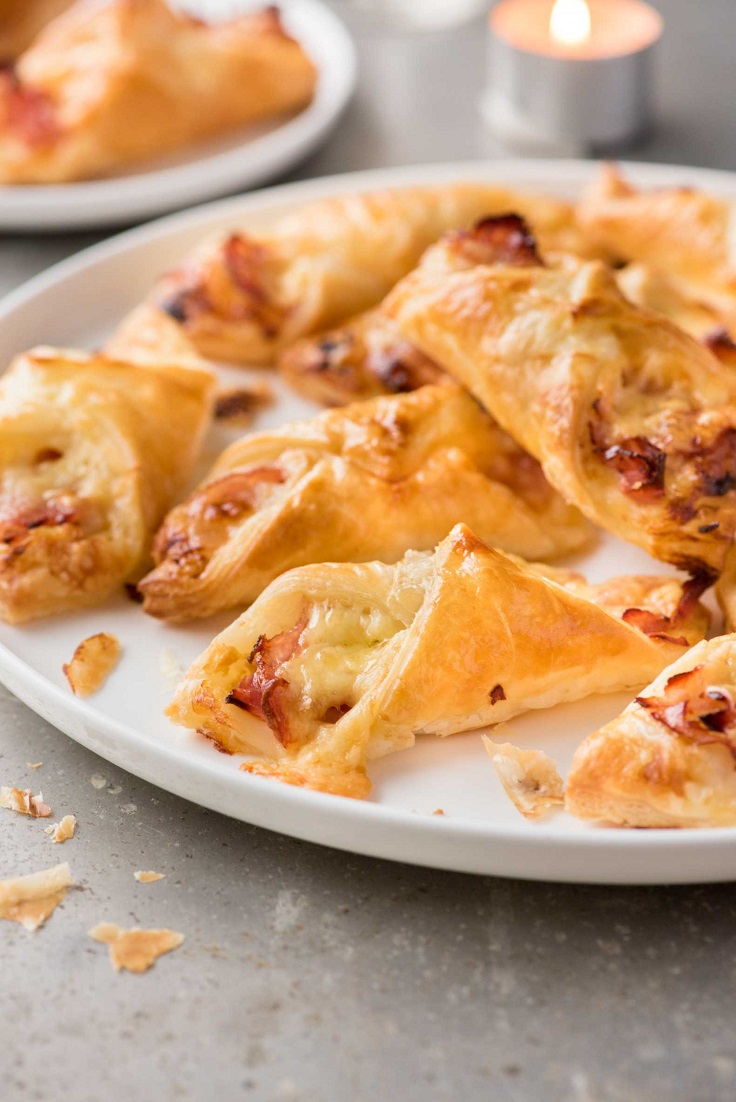 Last on the list; we have this all-time favorite combination of cheese and ham. It's simple to prepare these bites, and you will for sure know that this is something that most guests eat. Make sure to have 2 sheets puff pastry, 25cm/10″ square, 4 – 5 tbsp Dijon mustard, 8oz/250g shaved ham, 2 cups grated cheddar cheese (or any other melting cheese), 2 egg yolks, or 1 egg and oil spray.