Frozen puff pastry might be your best bet on hectic days when you just don't have the time to cook or want to whip up something quick for your guests. From last-minute starters to hearty dinners and quick desserts, you can make so many things with puff pastry; the possibilities are endless.
The best thing about it is that you can always keep a few packs in your freezer and add a few ingredients depending on what you have at hand and create your own recipe. Here are 10 different snack recipes to start with. You can make them easily and quickly before heading out for an evening of trick-or-treating as well!
1. Onion Cheese Tarts In Puff Pastry
Recipe via www.jernejkitchen.com
This delicious flaky puff pastry filled with honey glazed onions and fresh mozzarella cheese will be everyone's favorite! It can be served as a starter, snack, or a light dinner with a bowl of fresh salad on the side. You can prepare it in no time, and success is guaranteed!
2. Moroccan Lamb Puff Pastry Triangles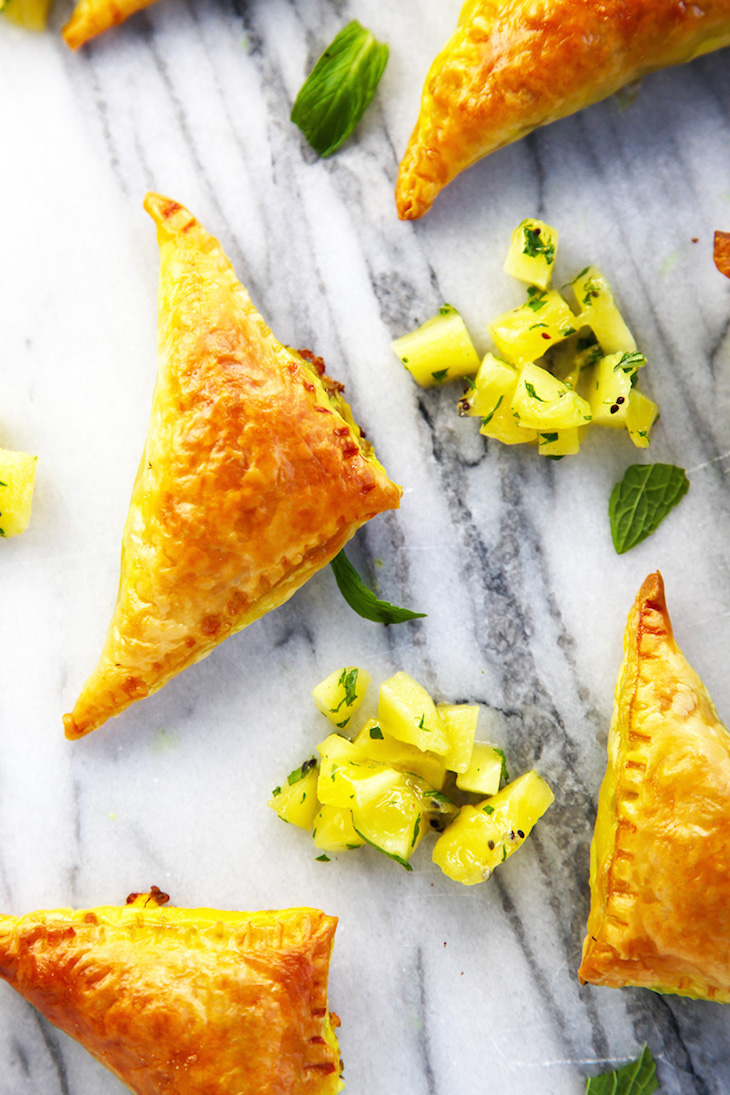 Recipe via littlebigh.com
These puff pastry triangles filled with lamb, spices, mint, and feta are as delicious as they sound. The best thing about it is that you can prepare a large batch and freeze what's left. So next time you have unexpected visitors, you can just warm them up in the oven, and you have a delicious snack to serve.
3. Buffalo Cheese Puff Pastry Rolls
Recipe via whitneybond.com
Everyone loves creamy, melted cheese, especially with hot and flaky dough. These super cheesy puff pastry rolls are made with cheddar cheese, cream cheese, blue cheese, and buffalo sauce. Serve them with buffalo sauce or additional blue cheese dip. Delicious and addictive!
4. Asparagus, Sun-dried Tomatoes Puff Pastry Bites
Recipe via culinaryginger.com
These puff pastry bites are so easy to make and take just some minutes to bake. Roll out the store-bought puff pastry, cut it into 2-inch squares, and put half a teaspoon of sun-dried tomato pesto in the middle, plus place asparagus tips on top. Bake until it is golden, and serve warm!
5. Puff Pastry Grissinis
Recipe via www.no leftovers.pt
Italian grassiness makes perfect starters or party snacks. This super easy 3 ingredient recipe requires puff pastry sheets, grated Parmesan cheese, and an egg. You can also use other cheeses or skip the cheese and just serve as is, sprinkled with sesame seeds.
6. Mini Pigs In A Blanket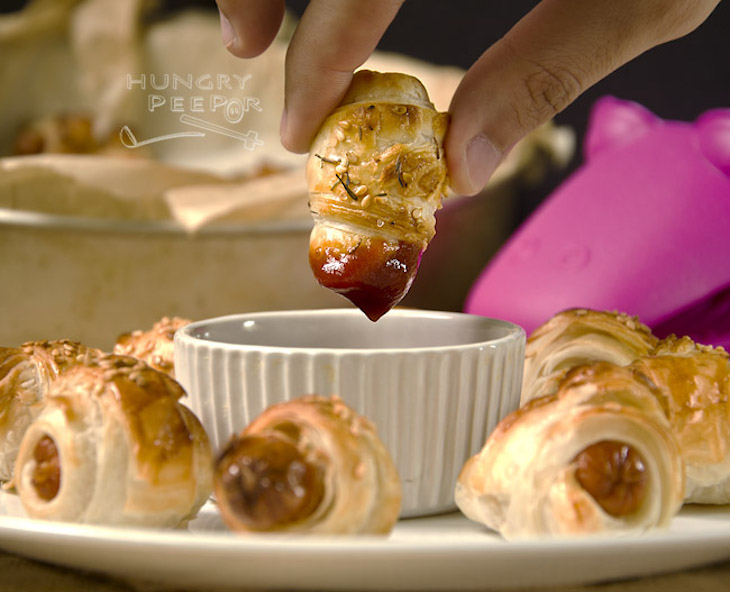 Recipe via peepor.net
This convenient finger food is perfect for every occasion. The name comes from 'pigs' – pork sausages, wrapped in 'blankets' – pastry. You can use any of your favorite sausages – chorizo, wiener, a cocktail – and even add topping on the top of the roll. Serve it with dips, ketchup, or bbq sauce.
7. Puff Pastry Shrimp Beer Cheese Sweet Chili Bites
Recipe via thebeeroness.com
Puff pastry is also a great base for seafood. To prepare this recipe, you will need cream cheese, pale ale, and raw shrimp, and puff pastry. Roll the pastry out on a lightly floured surface, add the cream cheese topping, shrimps and put it in the oven for about 15 minutes.
8. Cheesy Mushroom Puff Pastry Bites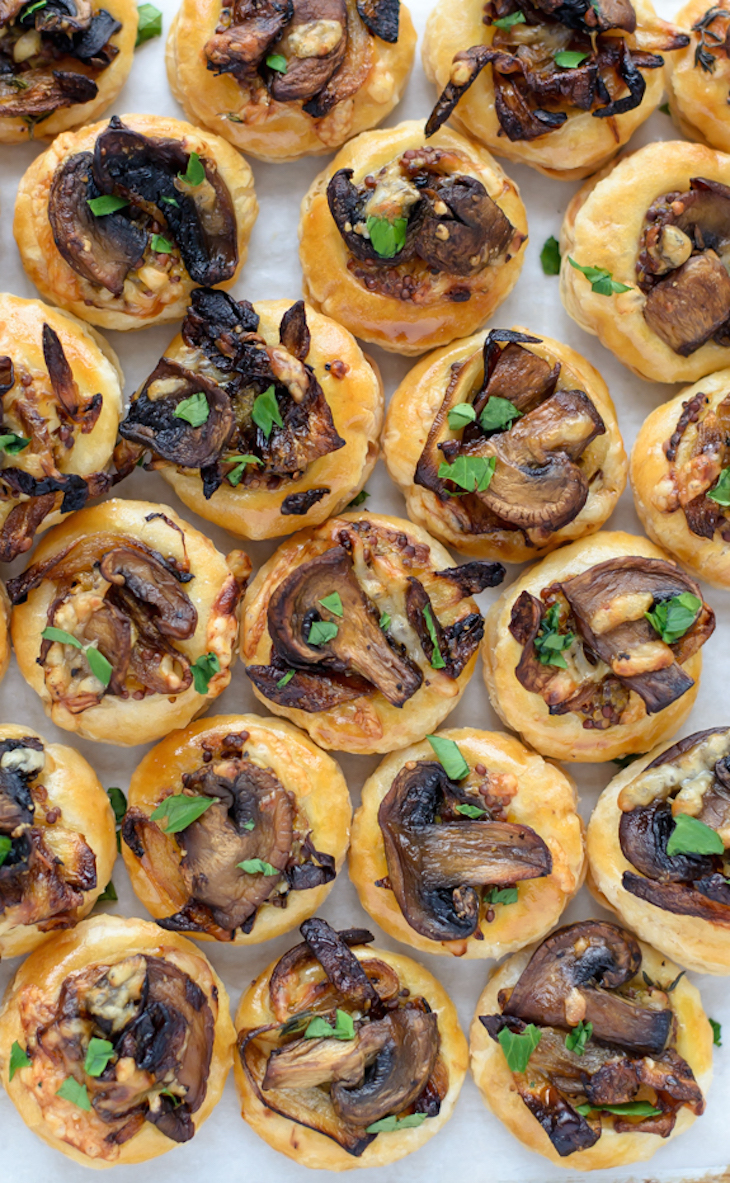 Recipe via www.wellplated.com
These bite-sized puff pastries, topped with caramelized onions, sautéed mushrooms, and melted cheese, are perfect appetizers or snacks. Mushrooms are in season in the fall, so you can buy tasty fresh mushrooms at farmer's markets to prepare this easy and irresistible puff pastry appetizer.
9. Puff Pastry With Ham & Gruyere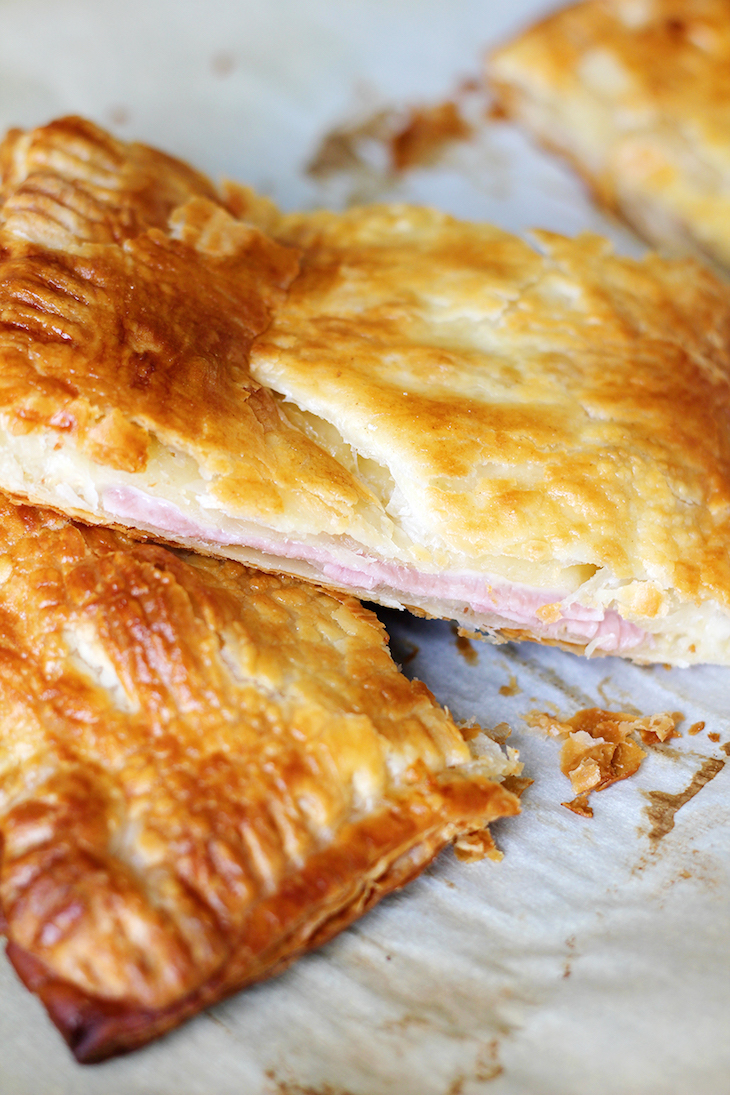 Recipe via splashofsomething.com
Here is another super easy recipe. Roll out some puff pastry, spread some mustard on top, and arrange some ham and cheese, then top it off with another piece of pastry. Beat an egg and spread it on the top, put it in the oven, wait a few minutes, and you have an amazing snack.
10. Baby Tomato, Pesto, and Prosciutto Tart
Recipe via scrummylane.com
Instead of making pizza dough, you can use puff pastry as a base. You can make the tart in minutes, and yet it looks impressive enough to serve to guests. Add your chosen toppings such as pesto, tomato sauce, cherry tomatoes, cheese, and serrano ham just as you would to a pizza.