Rainy Day Outfits for 2020-201
Isn't it depressing when you get out of the bed and you see from the window gray clouds and cold rains? It's instantly bringing you down. But, make your melancholic rainy day more fun and interesting by putting up some playful and vibrant outfit combinations.
Even it is cold time, you can give yourself permission to wear some strong colors to brighten up the day. It will make you feel good and you will bring up the others around you. And this ten rainy day outfits will help you with your choice.
Try to enjoy the rain, after all it is making a romantic atmosphere that is ideal for love, hugs, watching movies, walks on the lonely streets, kisses under the umbrella…
There are endless possibilities that you can do, just put a smile and don't let the gray weather bring down your mood. Have a happy rainy day!
1. Olive Green Skirt
One of the coolest Rainy day outfits idea! You can pair black and olive green for the rainy days season. Knee skirt with black leggings, knee boots and rain coat. The best umbrella that will pair with this combination is of course – black umbrella.
2. Baby Pink Poncho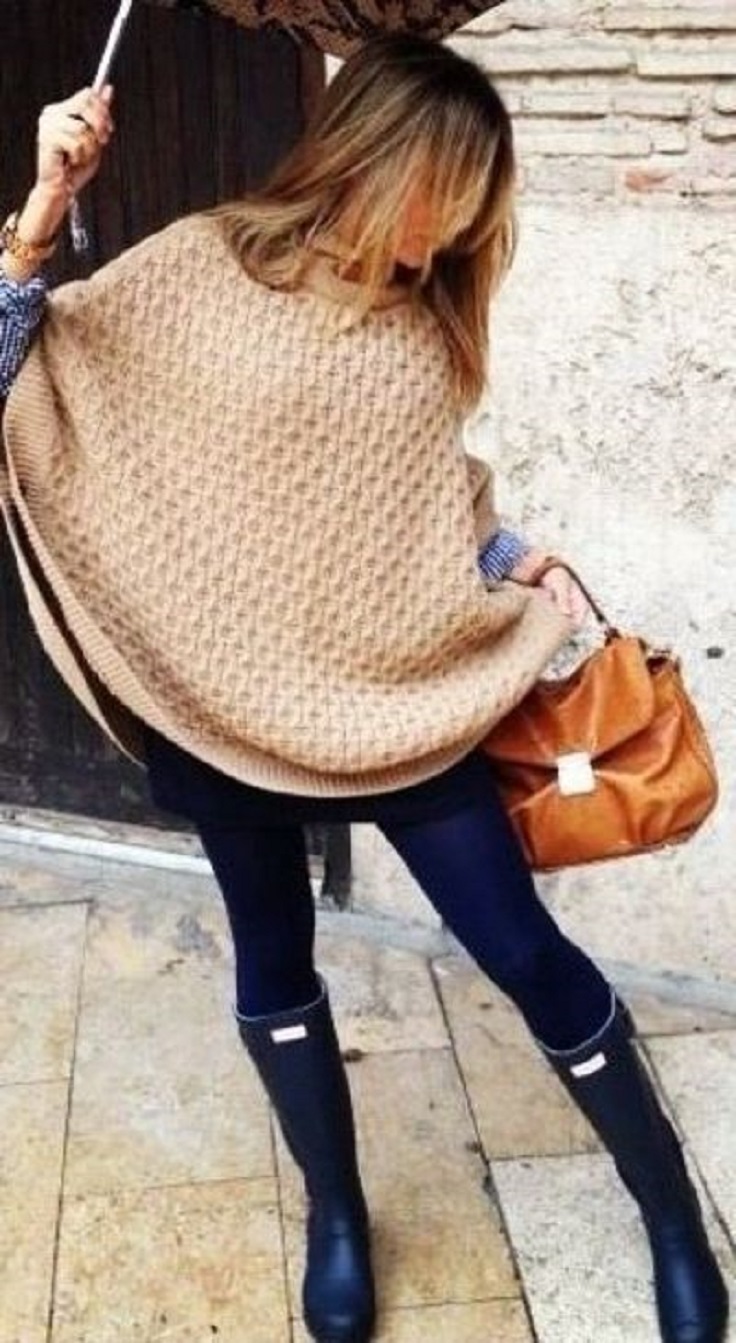 Source
Ponchos are so feminine and make you warm at the same time. This baby pink one will suit great with skirt and rain boots, its such a chick combination. You can choose some strong colored handbag and colorful umbrella to break the monotony.
3. Brown Boots And Bag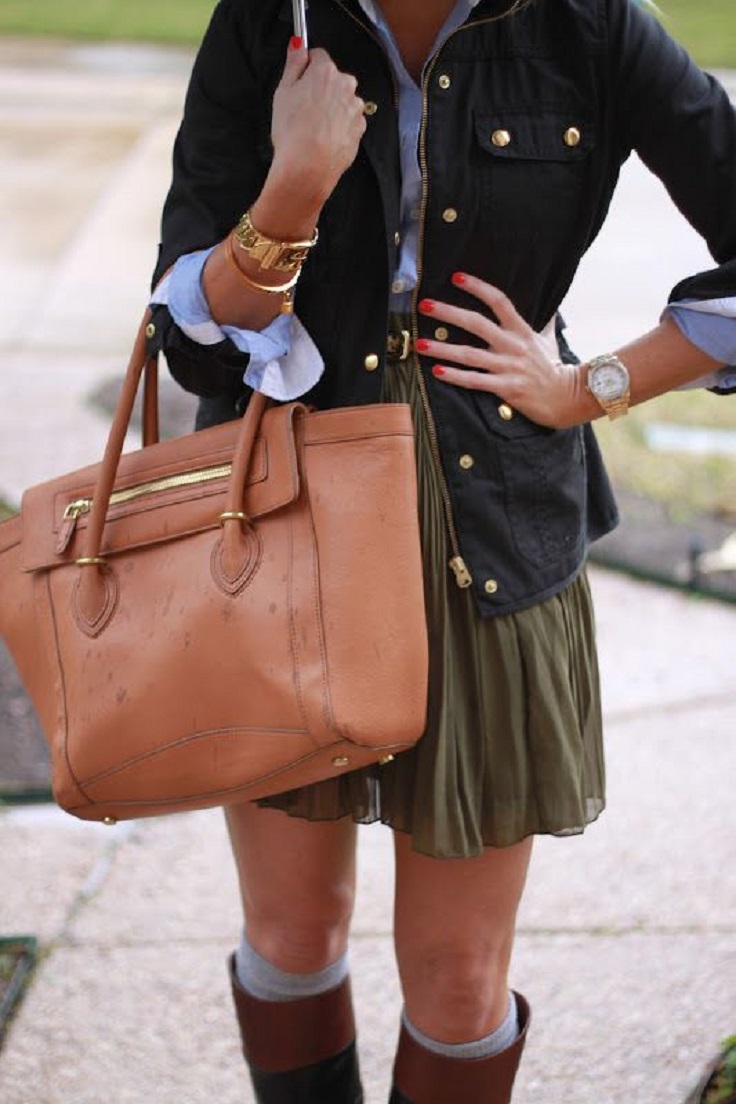 via lolobu.com
If you like the earth tones then you can make this interesting combination. Get your brown boots and a few shades lighter big handbag. With this outfit you can put olive green, and every shade of blue. Be creative and play with this colors.
4. Leopard Pants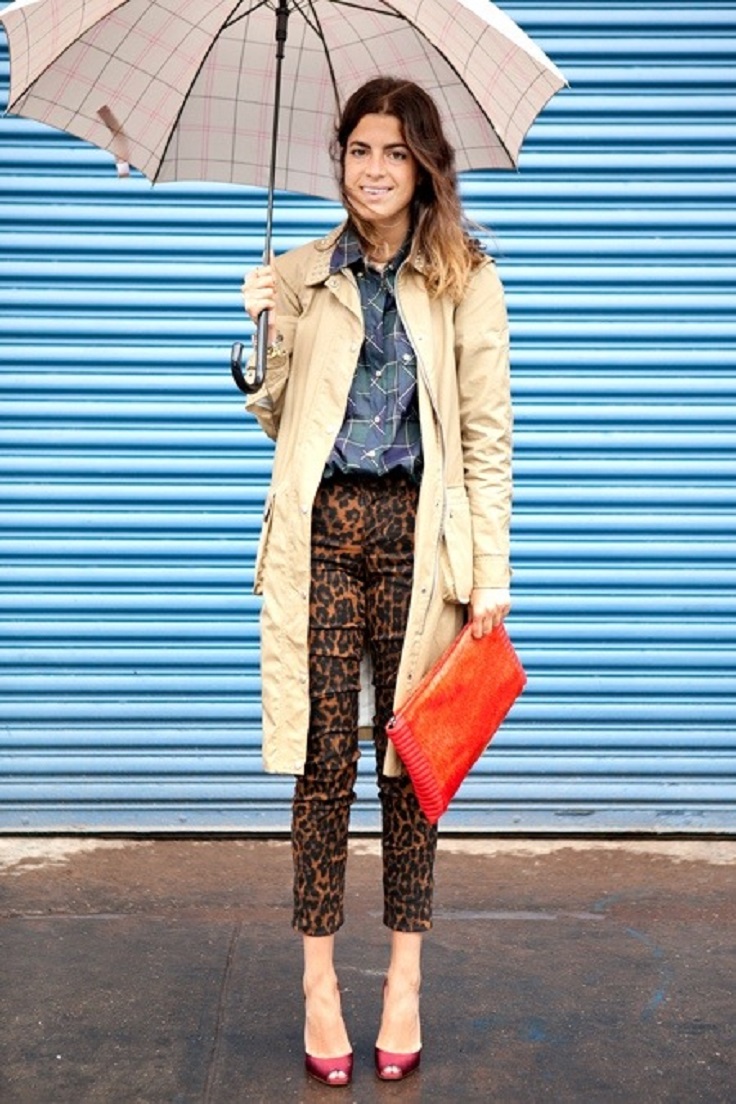 via Amazon
Animal prints are fun and are always good choice if they are paired properly. Choose cherry color high heels, handbag with bright orange color, blue shirt with some white patterns, and cream coat.
5. Black Boots & White Sweater
via closetcat.wordpress.com
High heel above the knee black boots can look gorgeous and make your usual outfit more glamorous. Grey tunic with over sized white sweater over it.
6. Stripes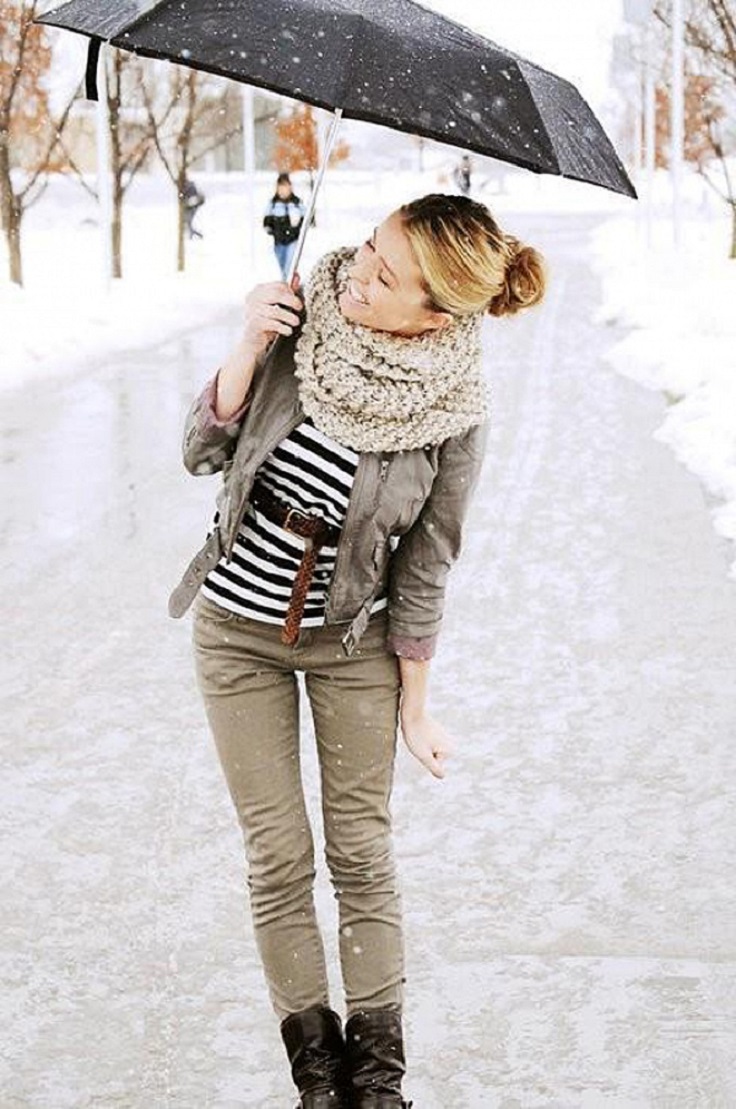 via be.com
The horizontal stripes are mostly avoided because everyone thinks that they can spread the waist, but this is only a myth. They can look gorgeous and you can pair black and white stripes with cream shade pants, shawl and jacket.
7. Black Pants and Jacket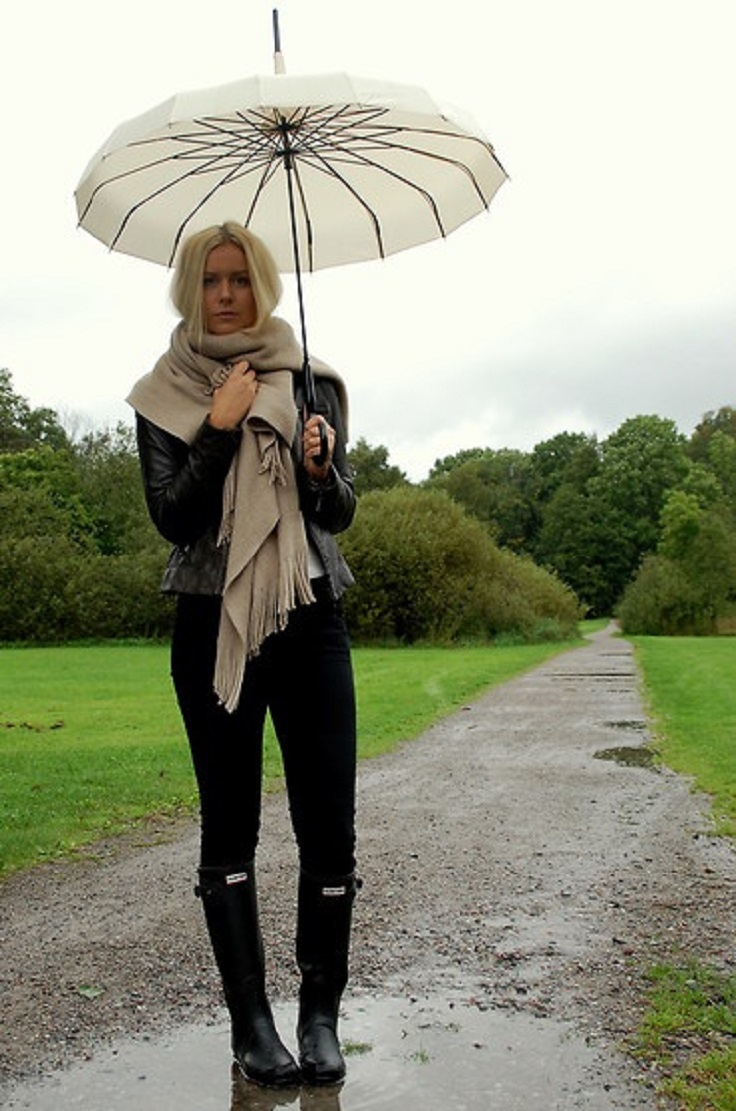 via lookbook.nu
Black is always a nice choice, so go ahead and pair black rain boots, black pants, black jacket and to brighten things up get a grey shawl and white umbrella.
8. Classy Coat Style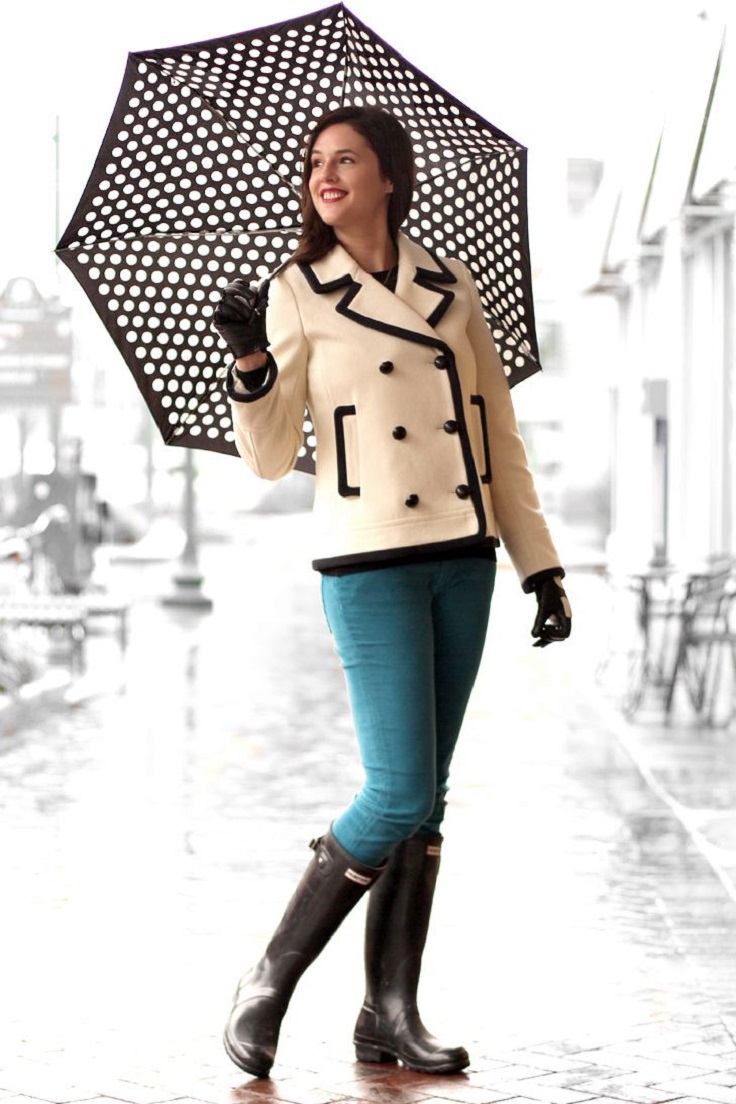 via whatiwore.tumblr.com
If you want to look classy choose this elegant cream and black coat, light blue jeans, brown rain boots, black hand gloves and the thing that will be the best choice for this outfit is this cute black and white dotty umbrella.
9. Green Boots
via chiclook.com.br
This outfit is a little bit of everything from the ones above. The dotty umbrella is now red, and the striped shirt is paired with jeans, green rain boots, and beautiful creamy coat with red flower on it.
10. Sweatdress
via aphroditeperception.wordpress.com
The sweaters are so good for the cold days, and even better option are the sweatdresses! You can wear them with above the knee boots and cute knitted hat. Grey with black looks beautiful, and remember that the dress should be the lightest color!