One of the most famous actresses at the moment, Emma Stone not only knows how to act, but to dress as well. Her red carpet appearances can only ask for sighs – she really knows how to rock her outfits! This lady definitely knows how to steal the attention with her looks. Since there are many times that she showed what stylish is, we had hard times only picking ten. See how she dresses in the past few years on big events and let yourself be inspired by this gorgeous actress. 
1. Golden Globes, 2015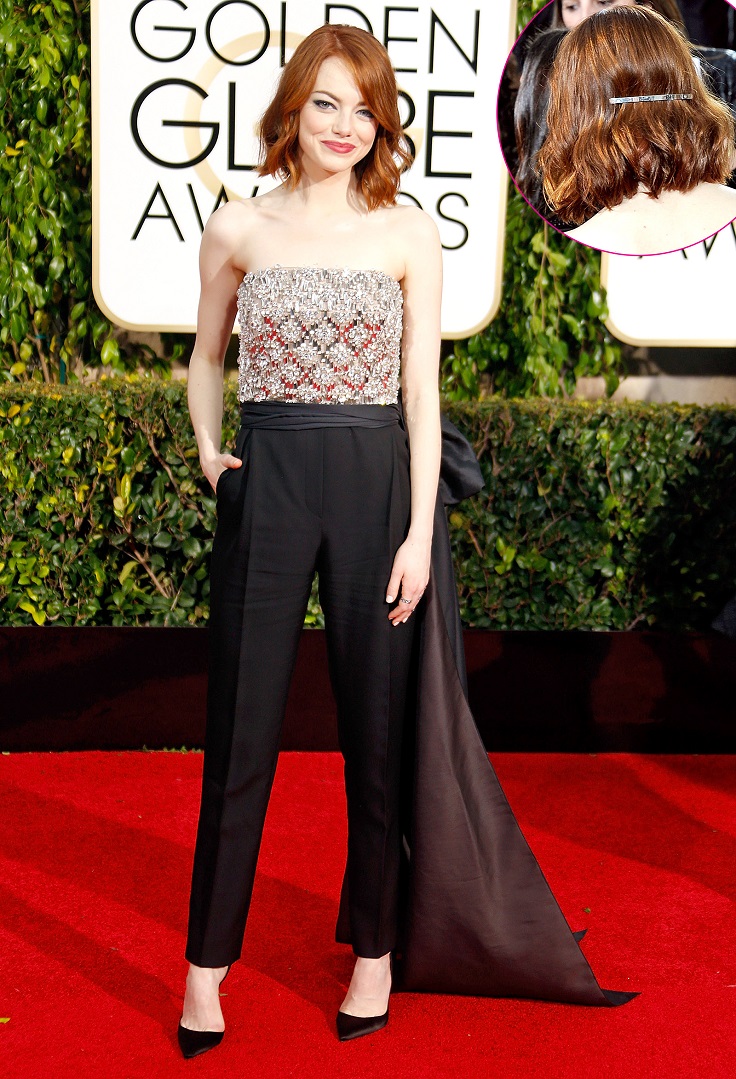 via beyouspirit.com
We don't often see famous ladies wearing pants during big red carpet events. It's all about dresses in those moments, but sometimes there are some who aren't afraid to make a bold move and stand out of the crowd. During this year Golden Globe Awards, that's exactly what Emma did: she wore a Lanvin jumpsuit with amazing big bow and black high heels.
2. Oscars, 2012
via justjared.com
Three years ago during the Oscars Emma proved that la vie en rose is really works well. The pink gown she wore absolutely flattered her tan and her body. The gown with a big bow as a detail is from Giambattista Valli Haute Couture. It was such a lovely gown that made Emma one of the best dressed actresses that night!
3. The Amazing Spider – Man 2 Premiere, 2014
via whatsthet.net
Yellow is not the color we are used to see on the red carpet. But, this time Emma again made a bold move and wore a beautiful yellow gown by Versace. She wore it during the premiere of The Amazing Spider- Man 2 in London. It's no doubt that all eyes were on her – she looks so amazing!
4. Oscars, 2015
via nydailynews.com
The Oscars are few of the red carpet events that everyone is waiting for. That's the time when all the celebrities are giving their best to look flawless. This year Emma looked flawless thanks to her beauty and her dress. She was here nominated as Best Supporting Actress for her role in Birdman and the dress she wore was by the one only, the world's favorite Lebanese fashion designer – Elie Saab.
5. Met Gala, 2014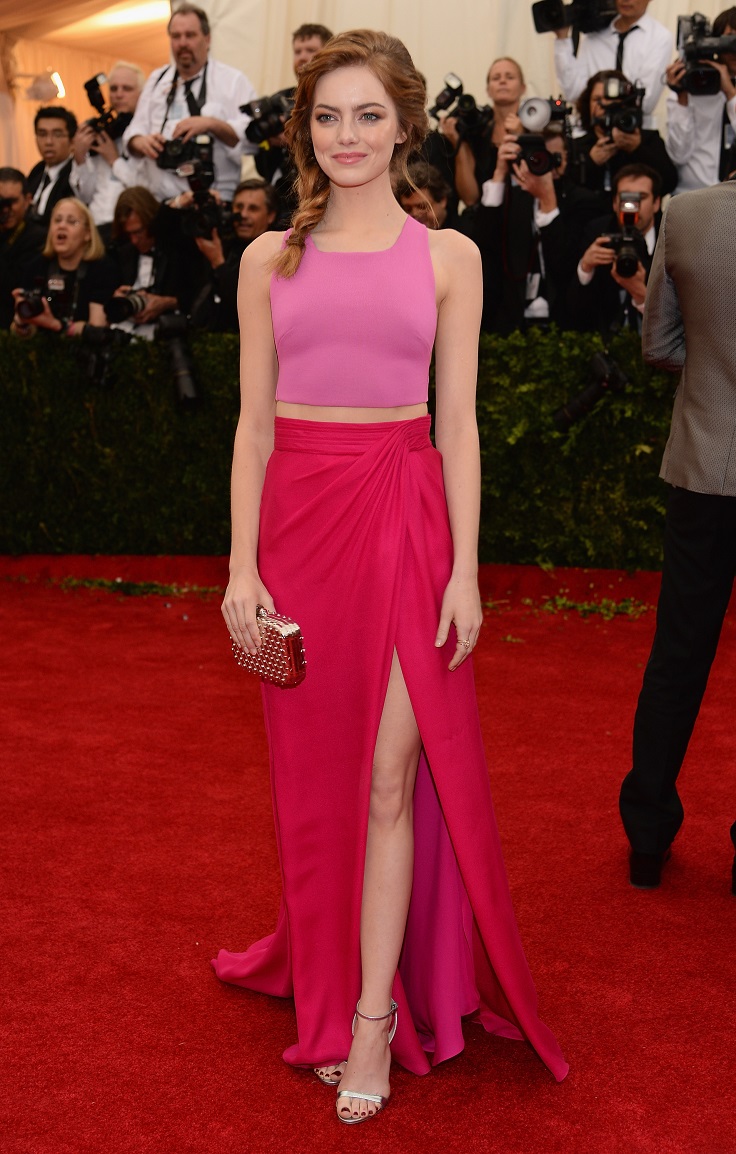 via blog.peopleschoice.com
We're back with the pink obsession. This time instead of a usual gown, Emma wore a two piece gown designed by Thai – American designer Thakoon Panichgul. Not only her ourfit, but her hairstyle looks really gorgeous. She's having a braid in Frozen's Elsa style. This lady really knows what fits her the best!
6. Cannes Film Festival, 2015
It's that event of the year when again all the celebrities, all the fans and all the magazines are waiting for – the Cannes Film Festival in France. During the days of the Festival, this french town is full of celebrities wearing pretty dresses and makeup. Emma Stone is no exception to this. on the premiere of Irrational Man she wore a pale Christian Dior gown. It looked simple and elegant.
7. Magic in the Moonlight Premiere, 2014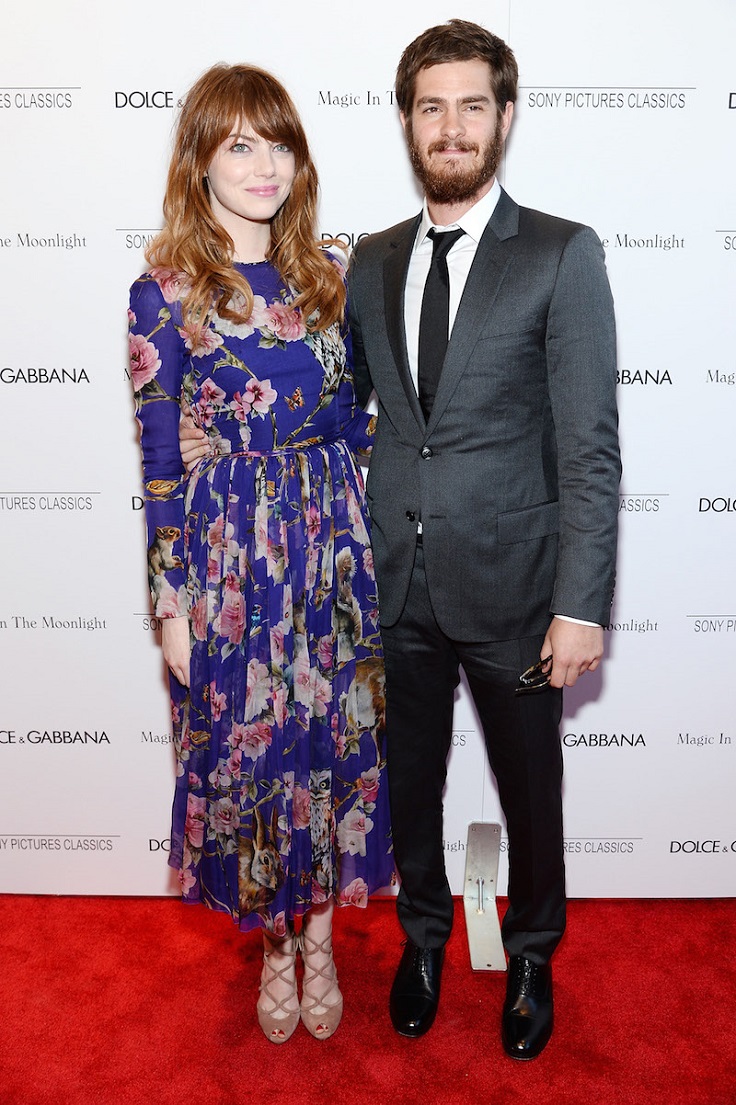 via fashionnstyle.com
It's really hard to resist on Dolce & Gabbana, so we totally understand why Emma Stone chose to wear dress and heels from this designer brand. This time it isn't the usual fancy celebrity red carpet look, but something a bit more casual. The blue floral dress really looks good on Emma, and the nude skin tone heels add so much to the look.
8. Venice Film Festival, 2014
Emerald green is one of the colors that we truly love! There' something so elegant in this dark color. When you have the opportunity to wear an emerald green gown, always say yes – especially if it's Valentino we're talking about. Emma definitely didn't make any fashion mistake by wearing this one. In fact, she looked gorgeous as usual.
9. MTV Movie Awards, 2012
A little break from the fancy gowns and straight to the party dresses. Emma Stone likes experimenting a bit with the colors, and she's definitely succeeding in that. Wearing a two – tone Martin Grant dress suits her pretty well, especially when combined with such heels. We have to give her another compliment – it's true that a smile is the best accessory one can have!
10. Spirit Awards, 2015
via celebitchy.com
Having a pale skin tone can be tricky – you always have to be careful with the colors you wear. Even though Emma has a pale skin tone, she knows how to wear black without looking too pale in it. During this year Spirit Awards, she wore an amazing dress by Monique Huillier and Christian Loubutin heels. We simply love this look of hers, it looks absolutely amazing!