One of the most beautiful actresses in Hollywood, the 34 year old Jessica Alba really knows how to cast her spell on the red carpet. No matter which awards or events it's about, Alba always looks gorgeous, not only with her beauty, but with her style as well.
From wonderful gowns to chic cocktail dresses, this list has ten of her looks proving she is a true fashionista. Check out the photos and get some inspiration!
1. A.C.O.D Premiere in Los Angeles, 2013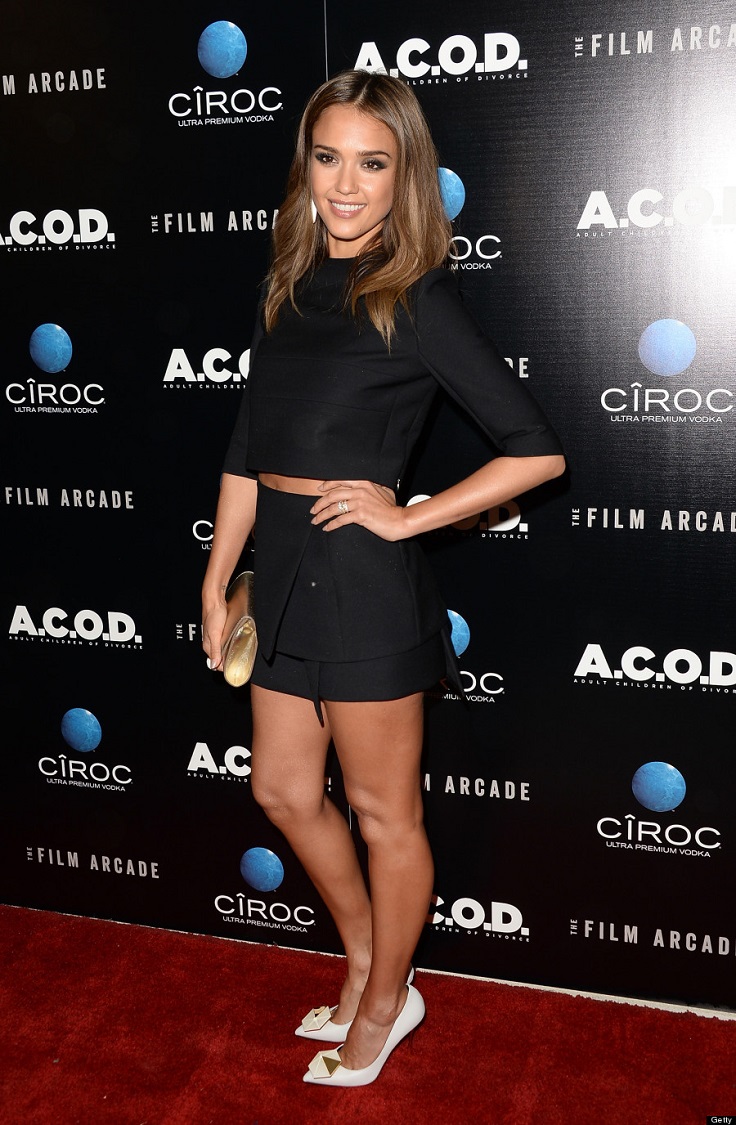 On the LA premiere of A.C.O.D, where Jessica Alba had the main role, she walked the red carpet in a simple, but yet so elegant black crop top and mini skirt, designed by Narciso Rodriguez and Nicholas Kirkwood white high – heels. What she wears is simple, yet so elegant. Black is always a good choice!
2. Who What Wear Event, 2013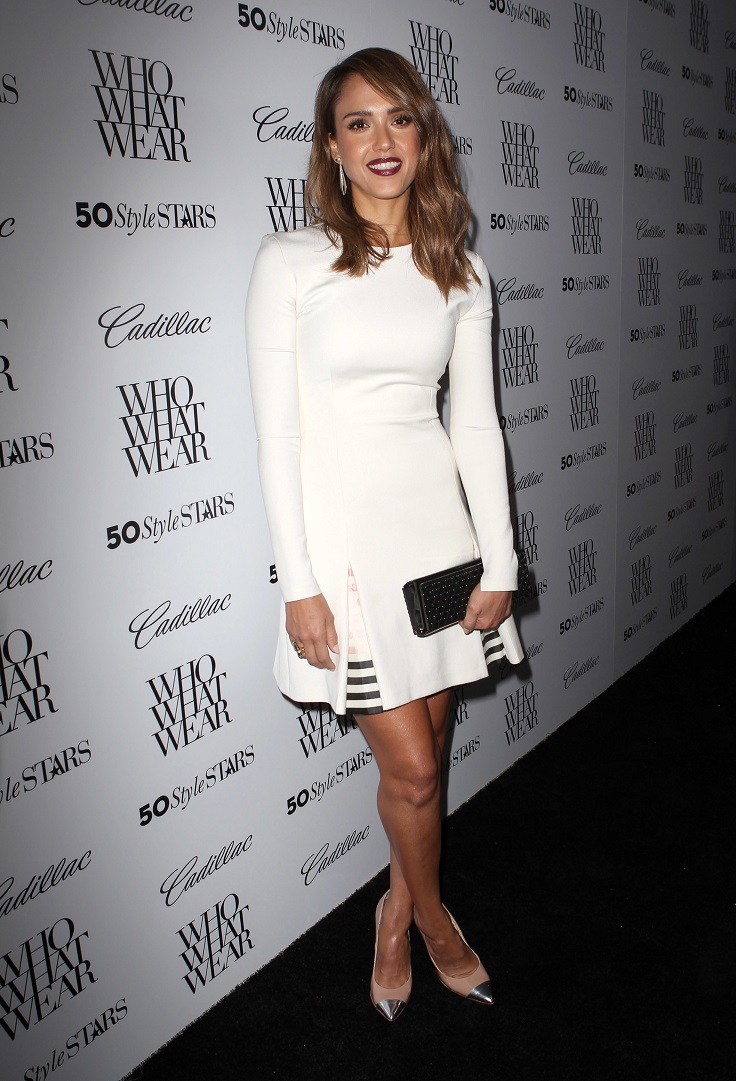 via moejackson.com
Here Jessica is wearing a white dress by Wes Gordon, nude peep toe shoes by Jerome C. Rousseau and a black clutch by Tod's. She made a good outfit choice, which made her look so chic and effortless. No wonder she was one of the best dressed celebrities at the Who What Wear and Cadillac's 50 Most Fashionable Women event.
3. Golden Globe Awards, 2013
The Golden Globe Awards are one of the most spectacular events when all the celebrities are looking their best. Jessica Alba is no exclusion to this. In fact, she knows how to make her way on the red carpet. This gown by Oscar de la Renta made her as one of the best dressed celebrities that night and the diamond necklace she is wearing is by the famous Harry Winston, with a price of $5.8 million!
4. MTV Movie Awards, 2014
via gotceleb.com
During the last year's MTV Movie Awards, Jessica Alba wore a Kenzo high – waist skirt with a white tube top by Piece d'Anarchive and heels by the one and only, Jimmy Choo. She looked so chic and her hairstyle contributed to her whole look as well. High – waist skirts are really timeless piece of clothing.
5. Forbes Women's Summit, 2015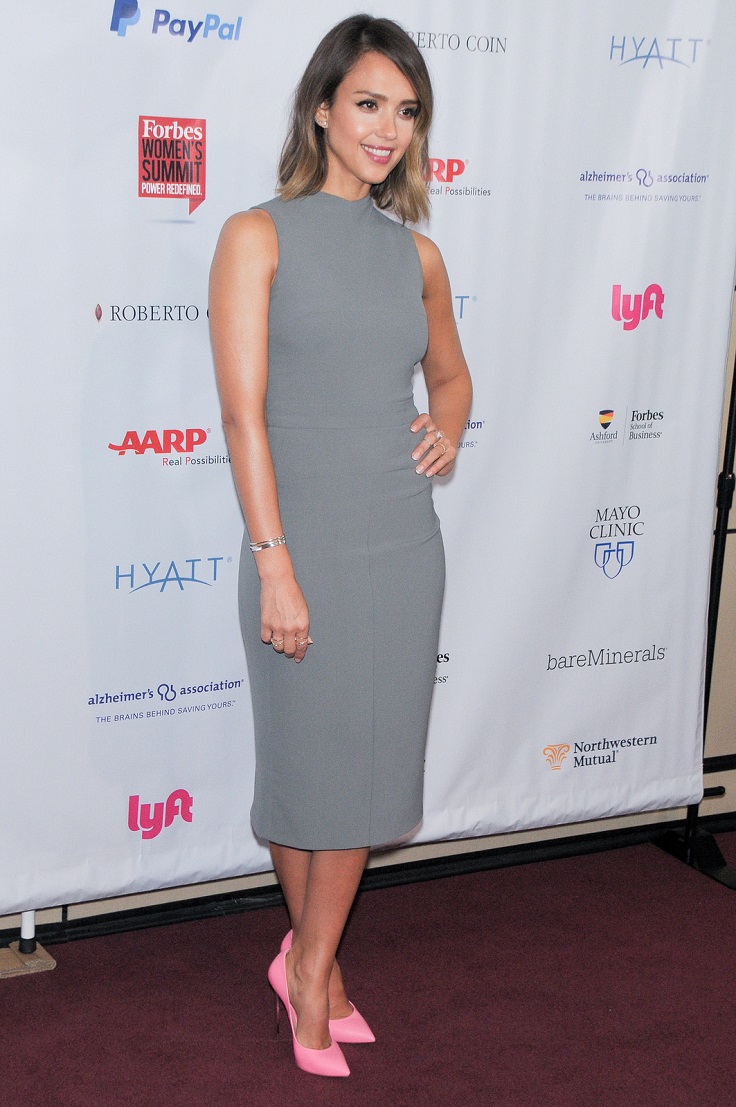 With the grey Narciso Rodriguez dress and plain pink heels, the actress just proves that sometimes the great style is in simplicity. The dress not onlu is very elegant and beautiful, but also shows the good figure of Jessica. It's easy to copy this look, dress yourself in one colored dress and one colored heels. You are going to feel and look so good!
6. People's Choice Awards, 2014
Wearing the white, strapless dress by Jason Wu and Casadei shoes shows only that Jessica Alba really deserves to be called one of the best dressed celebrities – ever. She knows what looks good on her body (and that is just about everything!), knows how to combine pieces and the result is this: amazing, flawless and elegant outfit.
7. Baby2Baby Gala, 2014
via globalgrind.com
An actress or a princess? We're having some doubts here, because wearing this dreamy Andrew Gn gown with Tiffany&Co rings made Jessica Alba look like real princess that night. It is one of our favorite dresses that Alba has ever worn!
8. ALMA Awards, 2013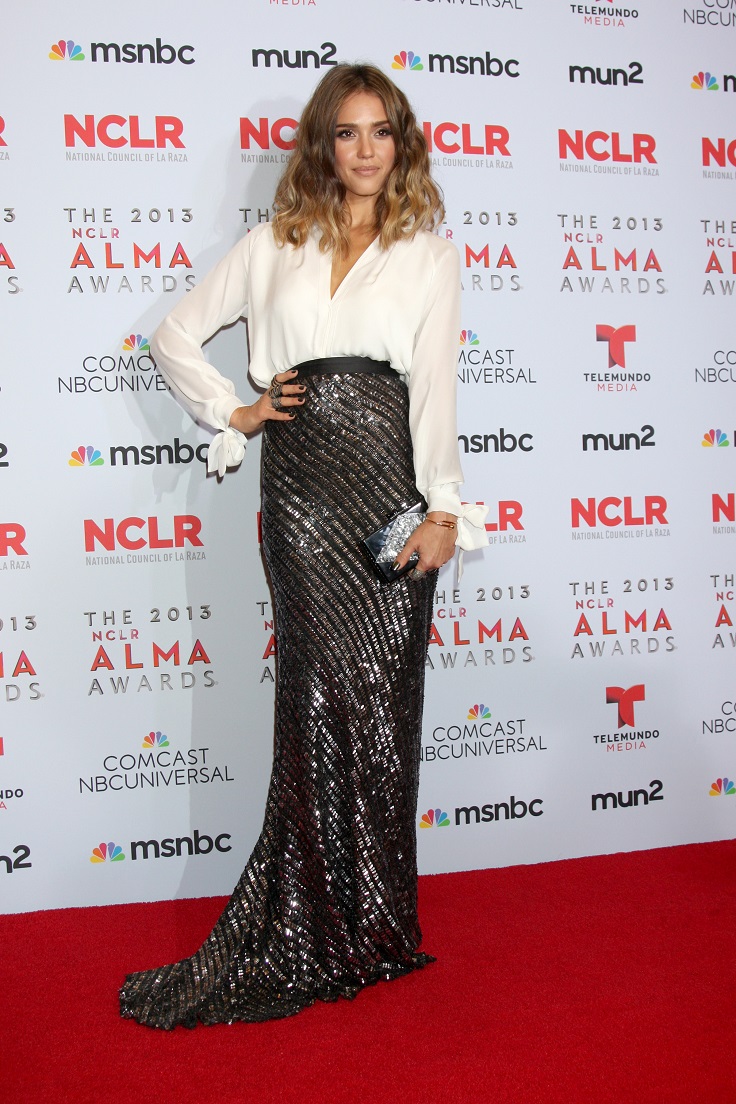 via redcarpet101.com
This outfit almost left us breathless! Jessica Alba makes us fall in love with the way she dresses herself, and there's so much inspiration out of it. Both skirt and blouse are by Juan Carlos Obando. The curly hairstyle also makes the whole look even more charming! We love everything that she wore that year at the Alma Awards.
9. MAC Cosmetics & Giambattista Valli's 'Floral Obsession Ball', 2015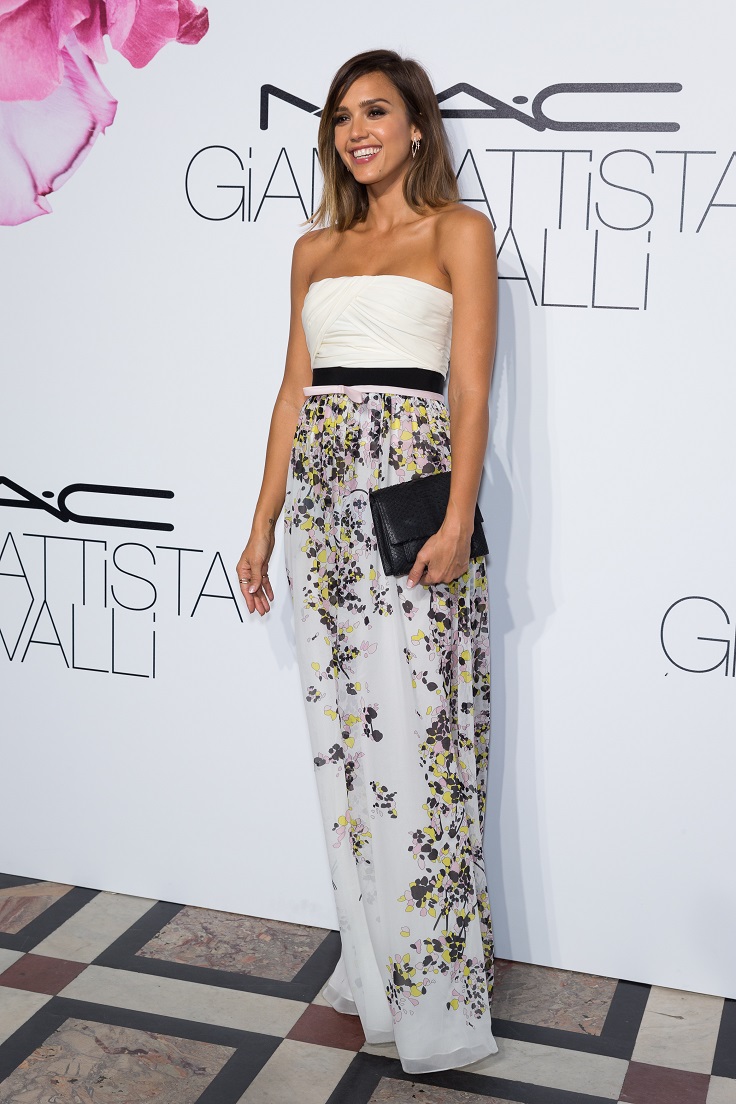 via ousive.com
From what we saw so far, white looks very good on Jessica Alba and this time it isn't exception at all. On the MAC Cosmetics & Giambattista Valli's 'Floral Obsession Ball', which was held this year in Paris. Alba contributed to the event's theme by wearing a Giambattista Valli floral, strapless dress.
10. Met Gala, 2012
via carbonated.tv
Last on the list is the Met Gala event held in 2012. Jessica Alba looked like goddess in the one shoulder, gold Michael Kors dress and Wilfredo Rosado gold jewels. She also have the iconic Veronica Lake hairstyle, making the whole look even more charming.