Everyone who has a pet knows that having a dog, cat, or something else at home is like having and raising a child! Taking care of them is an essential part of your daily routine, and you can't complain about it because you'll do your best to keep your darling happy, clean, and full all the time!
As a pet owner, you probably want to make your home a better place for your fluffy friend, the place with which it will feel familiar! You can buy many things to achieve this goal, like a bed, food station or seat, but sometimes those things are a little bit expensive and over-priced. However, don't worry, you can always make them on your own by using old furniture that's probably taking dust somewhere in your basement!
Here is a list of 10 easy ways to show you how to transform old furniture into various pet objects for different purposes! We assure you that you'll find every idea useful and that you can implement them in your home without effort! Enjoy the collection and get inspired!
Cat Condo from Destroyed Dresser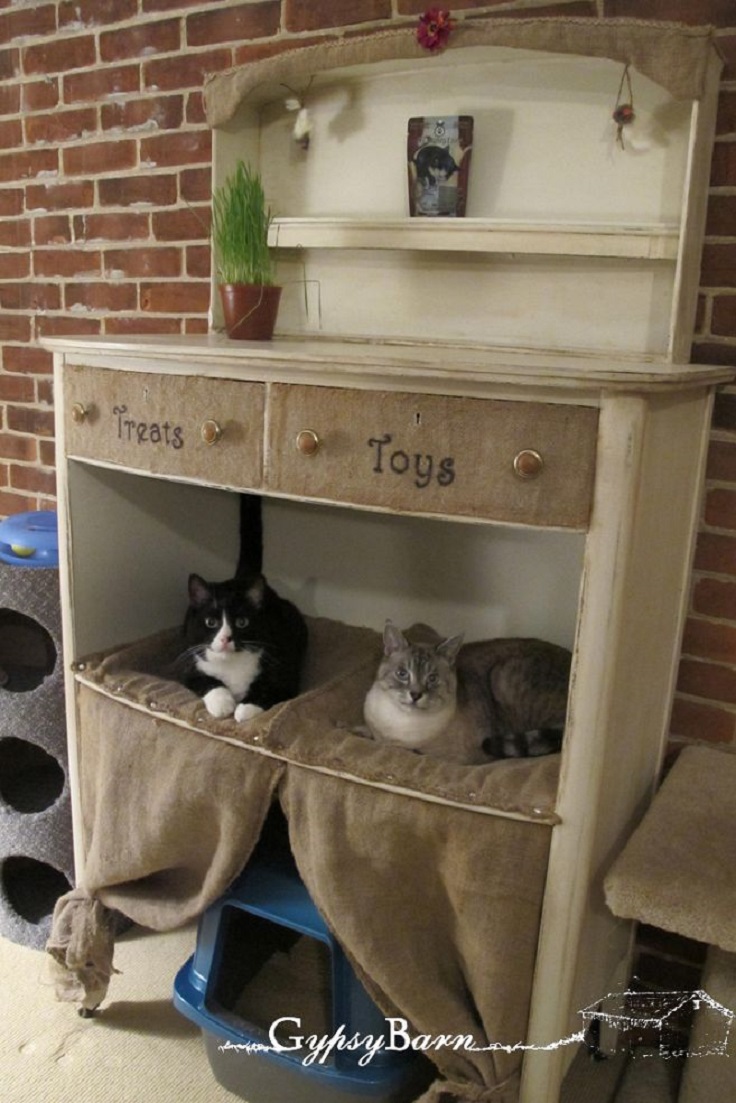 via hometalk.com
At the same beginning, we're starting with a fabulous idea for every cat owner! If you have some old and useless dresser, don't throw it away! Instead, with a few pillows and fabric, you can repurpose it into an amazing cat condo where your darling will lay, cuddle or sleep. , your cat will always have a place for itself, and it will appreciate that!
Homemade Dog/Cat Bed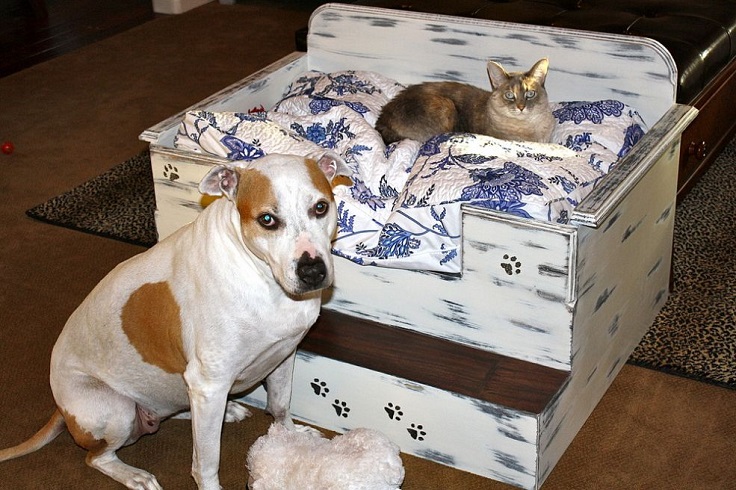 via hometalk.com
If you want to create a bed for your fluffy friend on a budget, then find or buy some wood piece (it's not too much expensive) and make it on your own! Paint the wood in any color you want, and then cover the bed with pillows to be more comfortable for your pet! The full project with instructions you can find above the text. Good luck!
Recycled Chairs Turned into Elevated Dog Feeding Station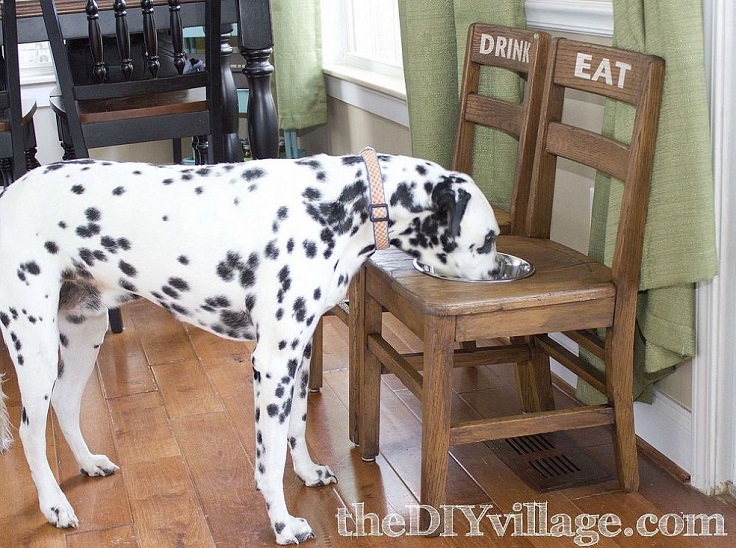 via hometalk.com
We're delighted with this idea; it left us speechless! We're sure that you feel the same, so find some vintage wood chairs and transform them into an elevated dog food station! Now your dog will have a comfortable place for food and water!
Pet Relaxation Area out of a Kitchen Cabinets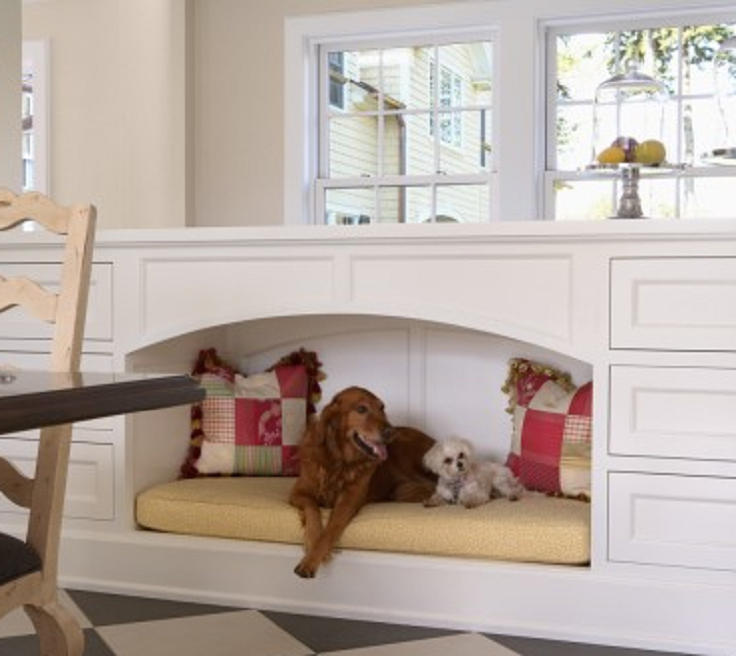 via hometalk.com
Yes, you can create a relaxing place for your darlings everywhere around the house. This is a good example of how a kitchen cabinet turned into a great relaxation area for any fluffy friend! With a little effort and a big dose of inspiration, you can surely make something like this within a weekend! Let's get crafty!
Repurposed Old Cabinet into Pet Food Storage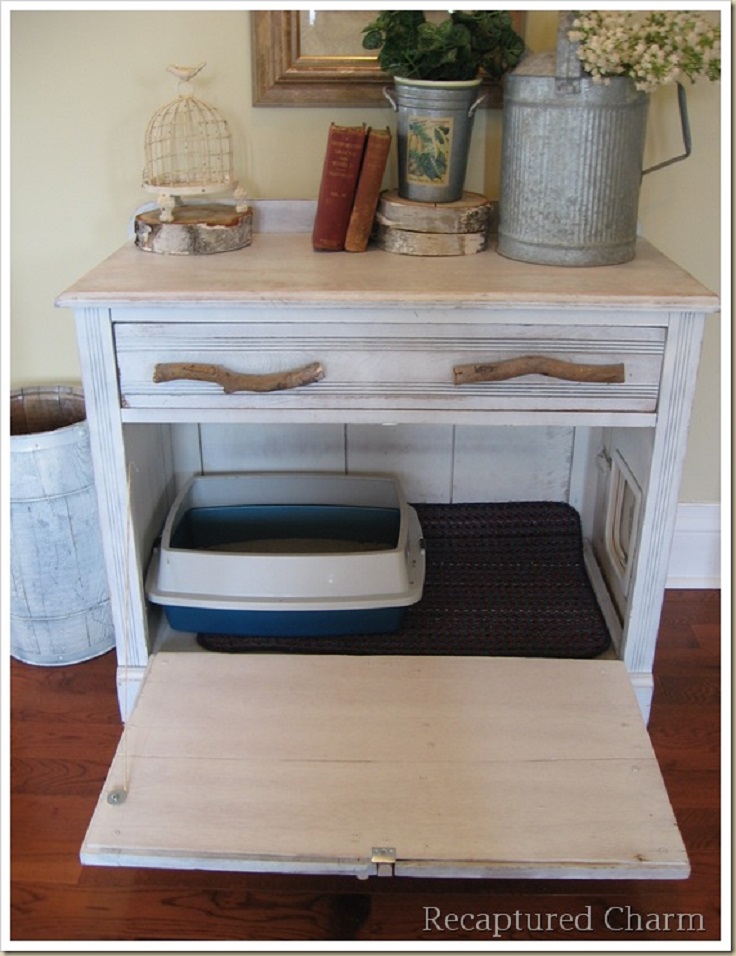 Every pet owner needs a special place for storing various foods for their loved one! Sometimes this can be difficult, especially if you live in a compact home without a lot of space. But that's no problem anymore because you can repurpose a small old cabinet into pet food storage, which won't take a lot of space… what a relief!
Repurposed Pallets and Old Cedar into Dog Bath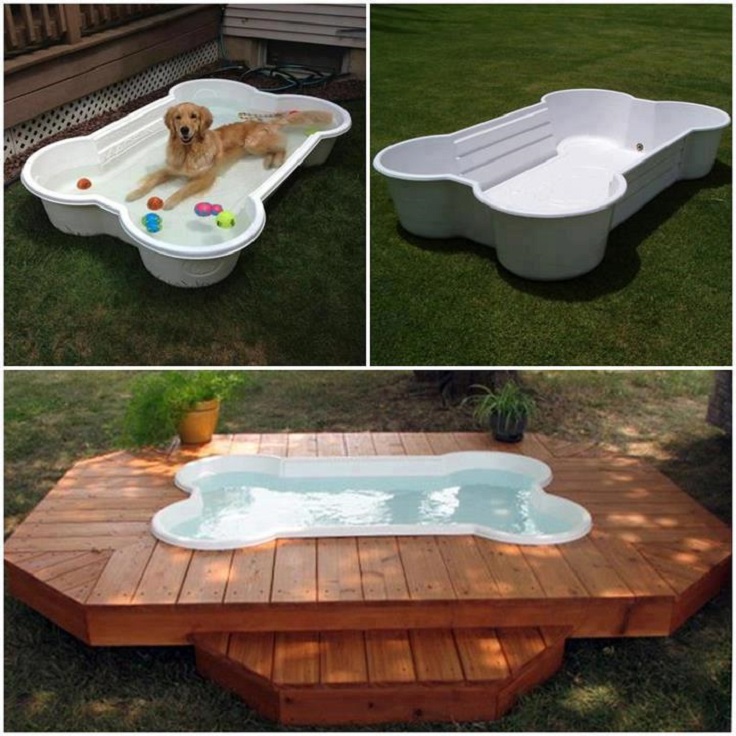 via hometalk.com
Dogs adore swimming, and if you make this bath in your garden, they will spend all their time having fun in that small pool! All you need are old pallets and old cedar you probably have somewhere around the house! The result is priceless to you and your lovely dog!
Transformed Serving Tray into Cat Window Seat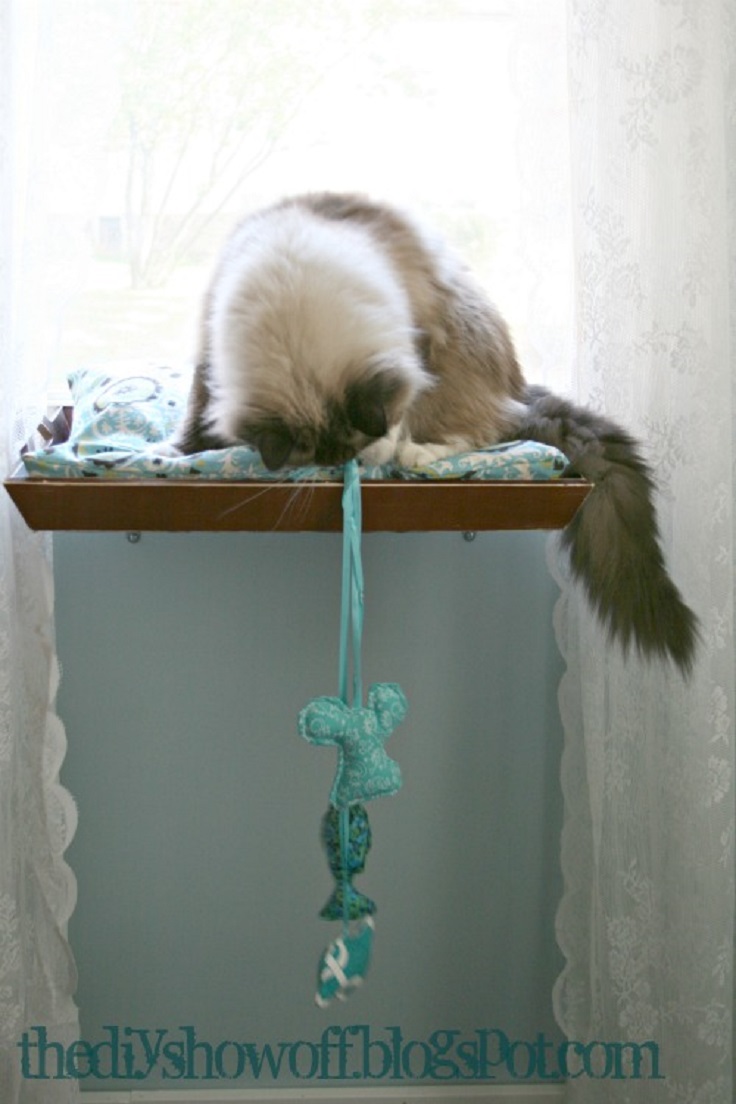 via diyshowoff.com
Make a private space for your cat by transforming a serving tray into the window seat. It's an easy project that your four-legged pet will love… your cat will spend many, many hours watching across the window!
Vintage Suite Case Turned Pet Bed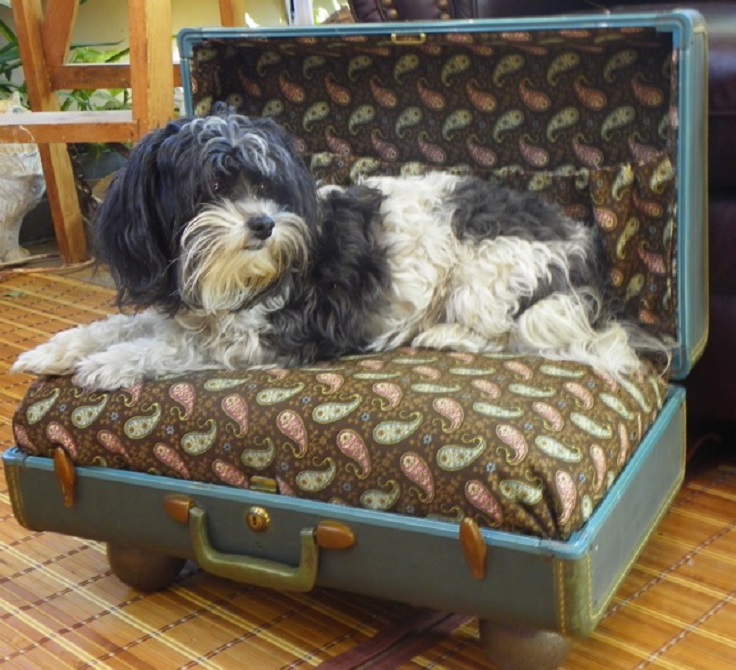 Here is a marvelous idea that will inspire you to turn a vintage suitcase into a dog or cat bed! Maybe the suitcase is not a piece of furniture, but we love this project, and we really wanted to include it in our list! We hope that you love it too!
Pet Station Created From Vintage Secretary Desk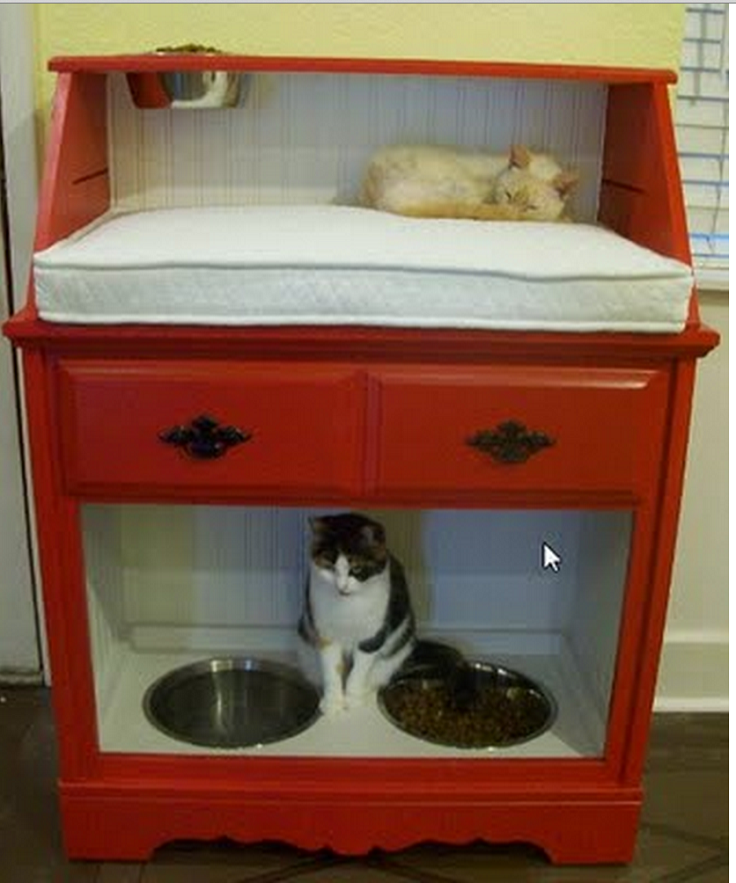 Give a vintage secretary desk a new meaning by repurposing it into a useful pet station! It's a convenient choice that will give you two life-changing solutions for your pet! If you make it, you'll get a food station and a bed for your cat at the same time!
Ancient Dresser Drawer Turned into Fancy Pet Bed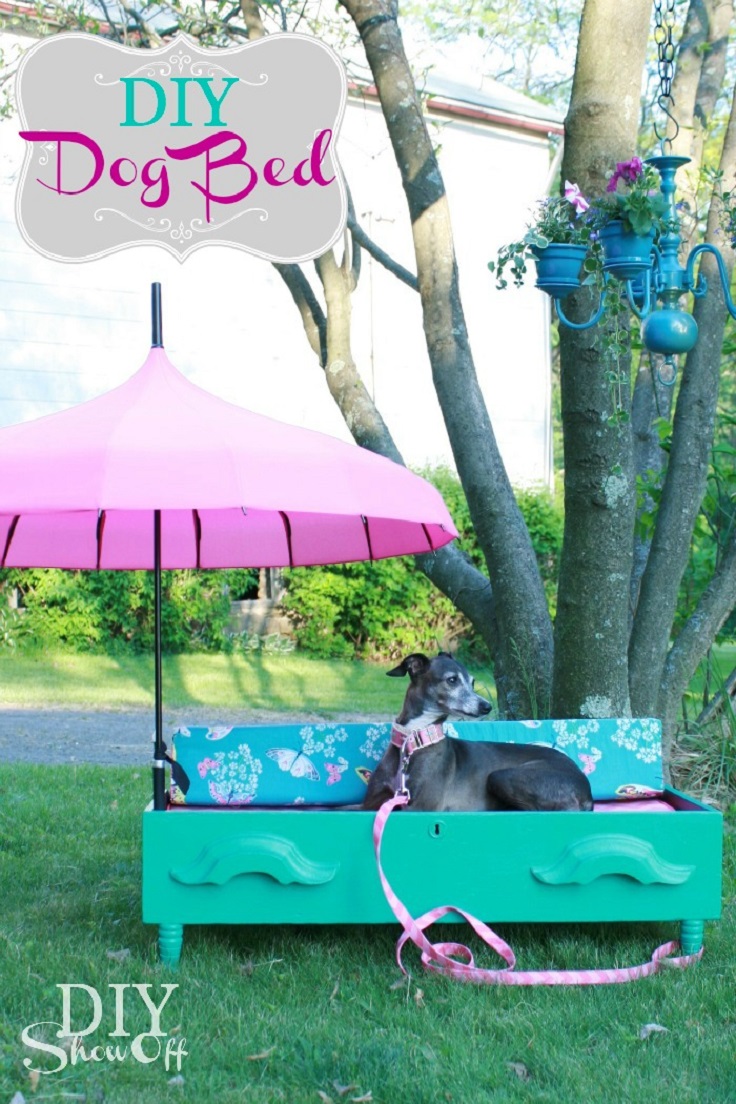 via diyshowoff.com
We're closing the list with one more dog bed, but this one is made out of the ancient dresser drawer. It's a completely cool project you can paint in any color you want, but choose some fun shade, like blue or pink, if you have a female fluffy friend!