Ever since we've known about ladders, we only thought of them as a tool that helped us change a lightbulb, paint the ceiling, or reach for that monopoly board game on top of the closet. We've probably seen some decorative ladders in the home shops, but we've hardly ever thought about repurposing ours. Especially if we have a ton of stuff just lying around and no space to store them.
The truth is, the possibilities of repurposing them are endless – you can use them as a laundry rack in the bathroom, as bookshelves in the living room and bedroom, and even as a place to hang your most precious photos. We were truly mind-blown.
That's why we've decided to widen your horizons when it comes to ladder purpose ideas with this list of top 10 Repurposed Old Ladders.  So, before you think of spending money on regular shelves and racks, you might want to take a look at the potential your old ladders in the basement have.
Read on and pick your favorites.
Ladder Laundry Rack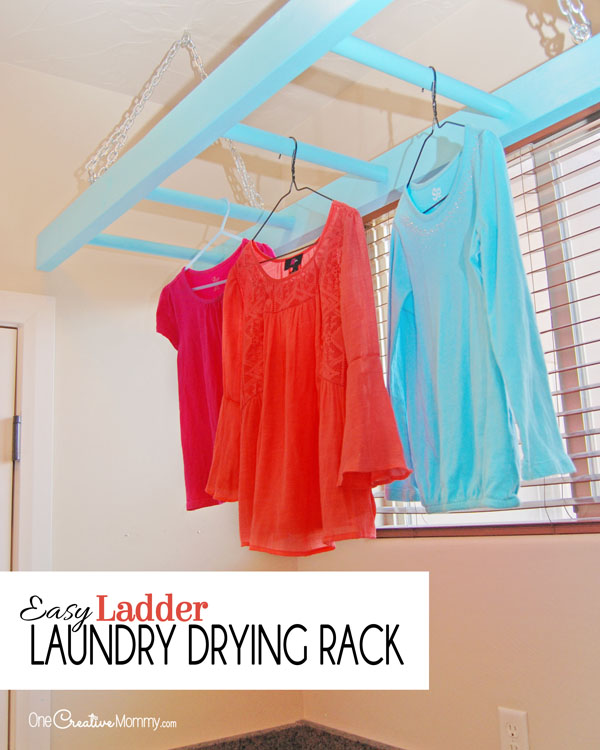 Let's be honest, we're always going to need additional drying racks for our laundry, especially if there are children in the family who make a mess out of their clothes on a daily basis. If you already have a ladder, all you need to do is hang it to the ceiling using chains. Otherwise, this DIY contains instructions on how to build one from scratch.
Ladder Shelf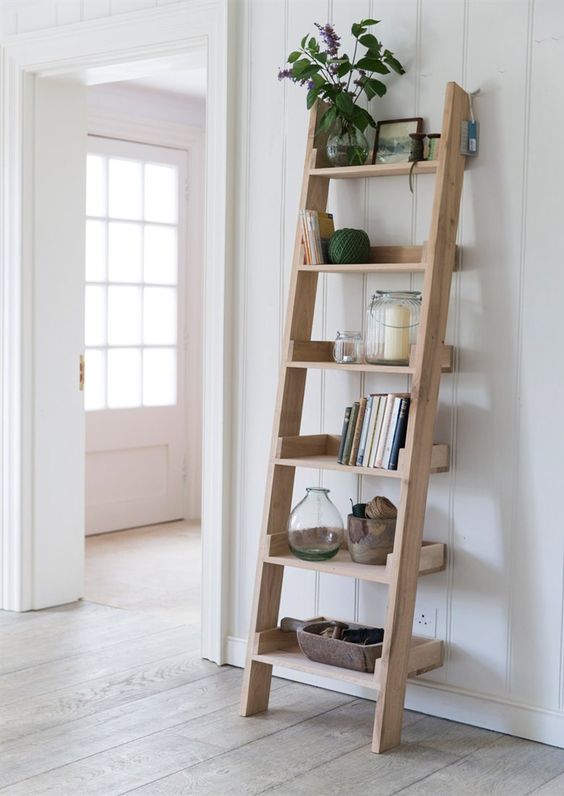 Who would have thought that a ladder could be turned into a more aesthetically pleasing shelves than the small ones we can buy at Ikea? While you can definitely find shelves-like ladders at the store, unless you're ready to spend 200-300 dollars for them, than we suggest you gather your tools and make a ladder shelf for your stuff. Plus, you can call your friends or family members to help you, which is always a welcoming bonus.
Old Ladder As A Shoe Rack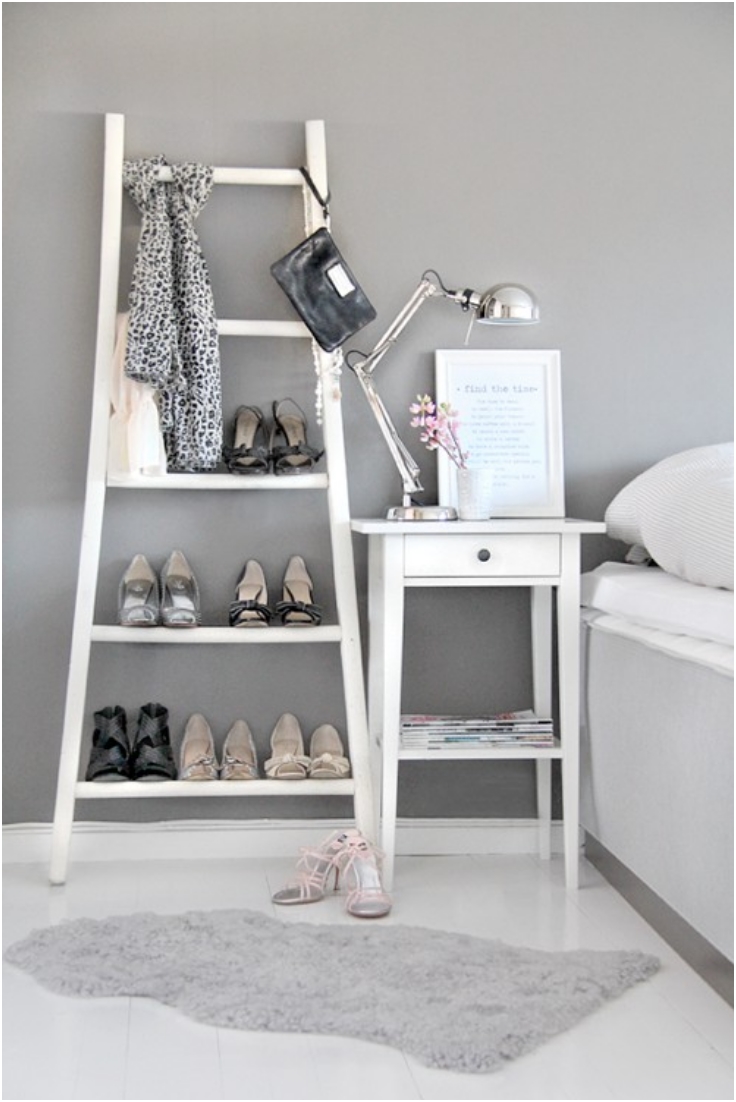 If you already have an old ladder and a number of shoes you can't find a place for, which is every girl's problem, than you'll love this idea. Save for some fresh repainting, it requires absolutely nothing else. After the paint has dried off, the only thing you have to do is place your shoes. Not only will they finally have a place of their own, but the room you put them in will get a whole new look.
Shabby Chic Decoupage Ladder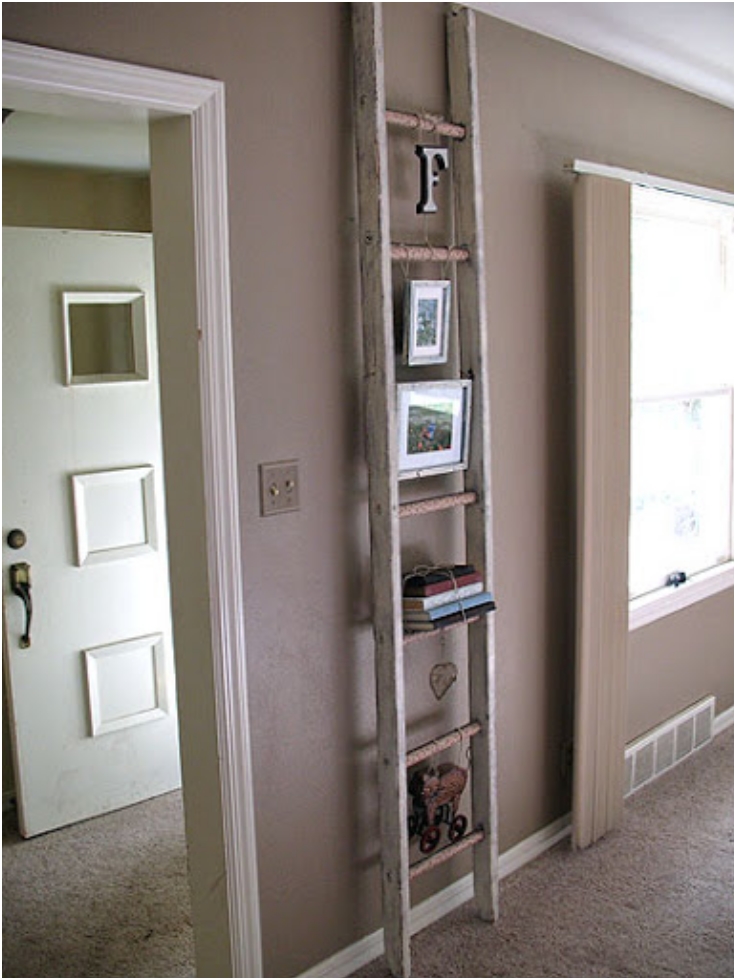 Have you ever wanted a little corner of your room that contained everything that make you YOU? Just like Julie Andrews sang in The Sound of Music: "These are a few of my favorite things…". Thanks to this DIY, you can make this ladder to which you can hang the first letter of your name and the rest of your favorite signature things. You won't help but grin at it with admiration every time you look at it.
Repurposed Old Ladder Pot Rack
If there's a room in the house that will always lack space, that's the kitchen, what with all these recipes we can't wait to make and all these air fryers they've invented. While you can't actually hang up an air fryer (that we know of), you can make some room for it in the pot-and-pan section of your kitchen and hang what you can on the ladder we're sure you'll repurpose with a little help of this DIY.
Ladder Blanket Rack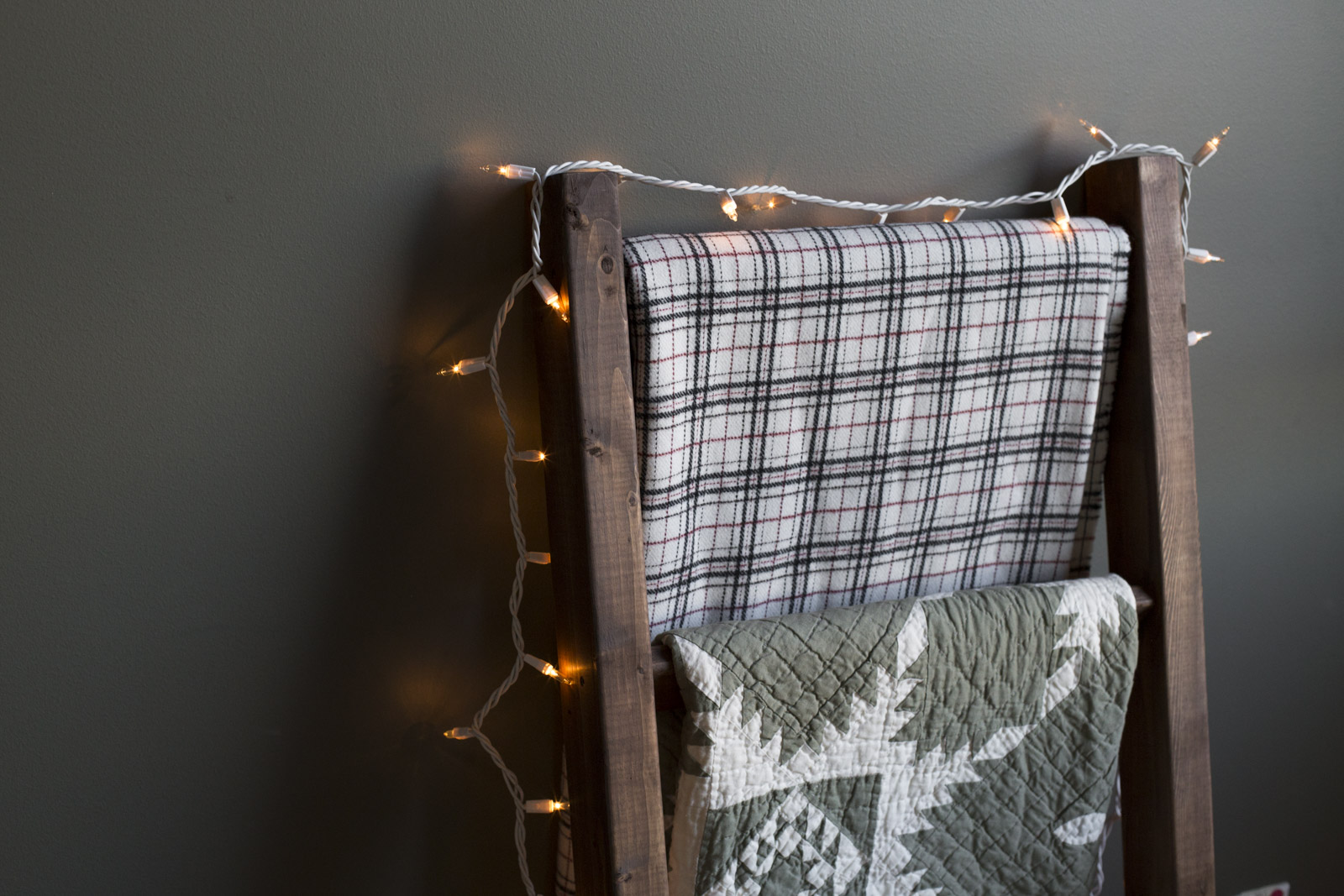 If you and your family prefer staying in over going out, then you probably can't help yourself when buying all these different blankets for your regular evening cuddling in front of the TV. If so, you've probably run out of storage room a long time ago. Guess what we're about to say to you…. get that ladder from the basement, repaint it, and hang up your beloved blankets. And if you don't have one, this DIY will guide you to your newly created one every step of the way.
Step Ladder as Bedside Table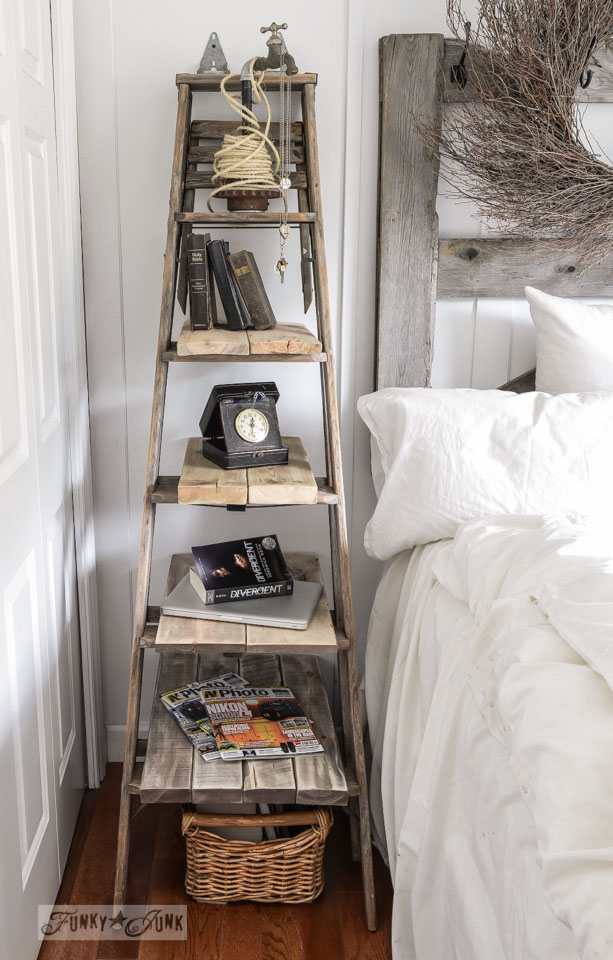 This ladder bedside table is perfect for when you need plenty of stuff within a reach of your bed but don't want to take up all the space to store them. Besides, to say that it looks beautiful is an understatement, and that's always a big plus. Check out this DIY project to find out how to make it.
Ladder Bookshelf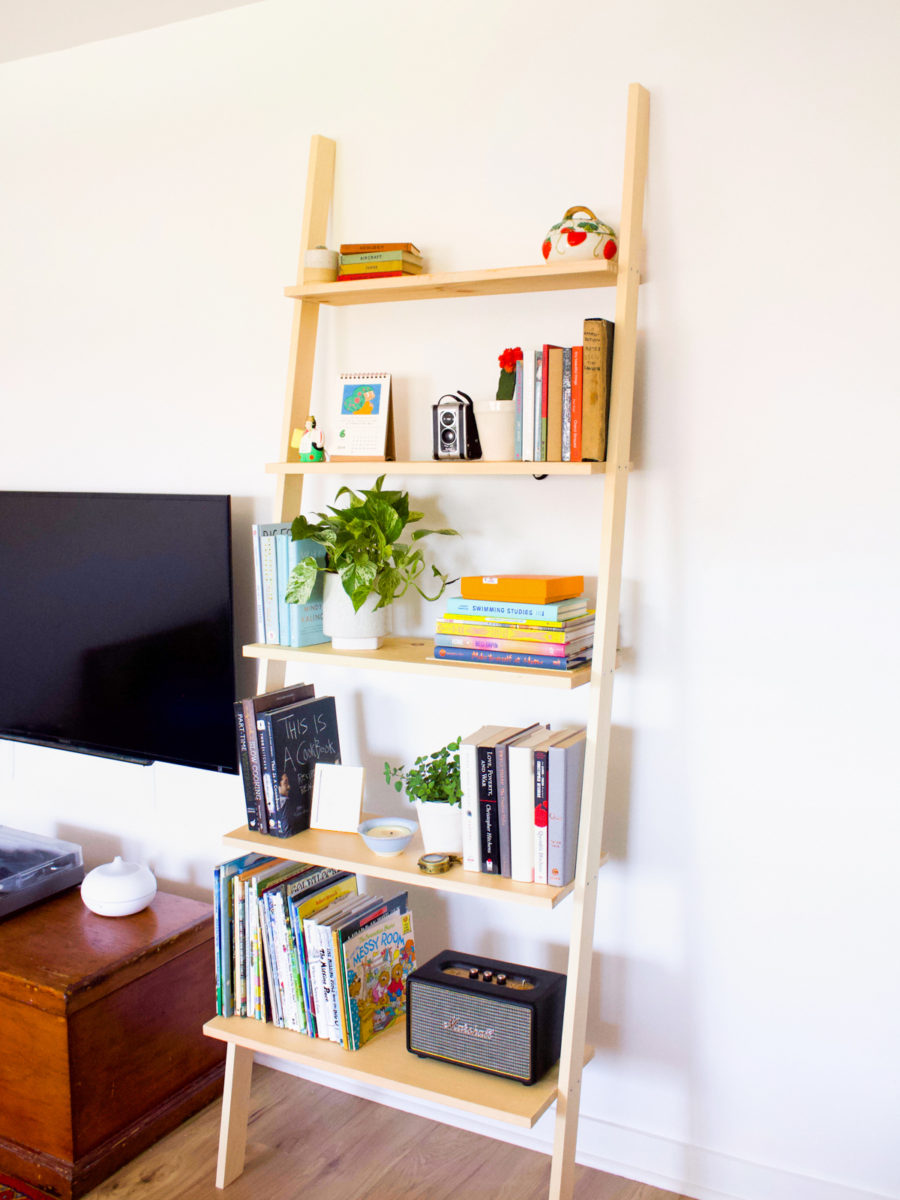 This one's for our fellow restless bookworms. Since bookworms are thought to be one of the most imaginative people, what is a more creative way to store your source of imagination than on a ladder bookshelf? That was a rhetorical question, BTW…
Photo Ladder
Now, if this isn't the most creative (both in material and in purpose) DIY project from this list… Instead of plain boards, this ladder is made out of tree branches and is perfect for hanging up the photos of your most precious moments like your wedding ceremony or your kid's graduation day. Genius, right? And the best part is, your materials are right there in your garden, waiting for you to give them a brand new life in your house.
A-Ladder Shelves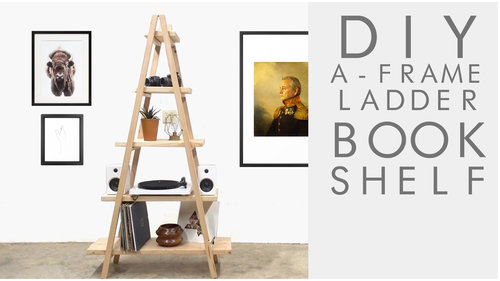 Ironically enough, at the bottom of the A-list of ladder shelves is this A-list one – but that doesn't make it the least important. What's perfect about this one is that it's stable enough to sustain heavier objects than your books, which makes for an excellent office storage shelf. Besides, every office space needs a creative element such as this one.
Found anything that sparked your interest, yet? We certainly hope so. While you're letting us know your thoughts in the comments, we'll continue delivering you even more DIY ideas that will help you climb that domestic ladder of success (pun intended).