Rhubarb has a unique sweet, tart flavor that perfectly complements many other sweet fruits for pies and juices. Perhaps that's why it is most often thought of as a fruit. But did you know that rhubarb is actually a vegetable?
It is a perennial growing from short, thick rhizomes and the stem-like part is what we use. Rhubarb leaves contain a poison, called oxalic acid, so should never be eaten. Usually rhubarb is sold without the leaves but in case they are not, just cut them off and discard.
Rhubarb is an amazingly healthy plant packed with vitamins and minerals and has various benefits for the human body. Rhubarb aids weight loss, promotes a normal digestion process, prevents cancer, stimulates bone growth and protects against osteoporosis and help promote healthy skin.
The good news is that they are widely available in almost any season. If you don't know how to use rhubarb, here is a list of ten rhubarb recipes for a start. They are all deliciously sweet, perfect for your coffee table!
10. Blackberry Rhubarb Bread
Recipe via www.whereismyspoon.co
Are you bored with the regular banana bread recipe? Here is the deliciously moist and sweet Blackberry Rhubarb Bread with tangy rhubarb and blackberries. You can prepare it for breakfast, brunch or as a snack to serve with coffee. It is ready in no time and the kids will love it too!
9. Strawberry Rhubarb Streusel Muffins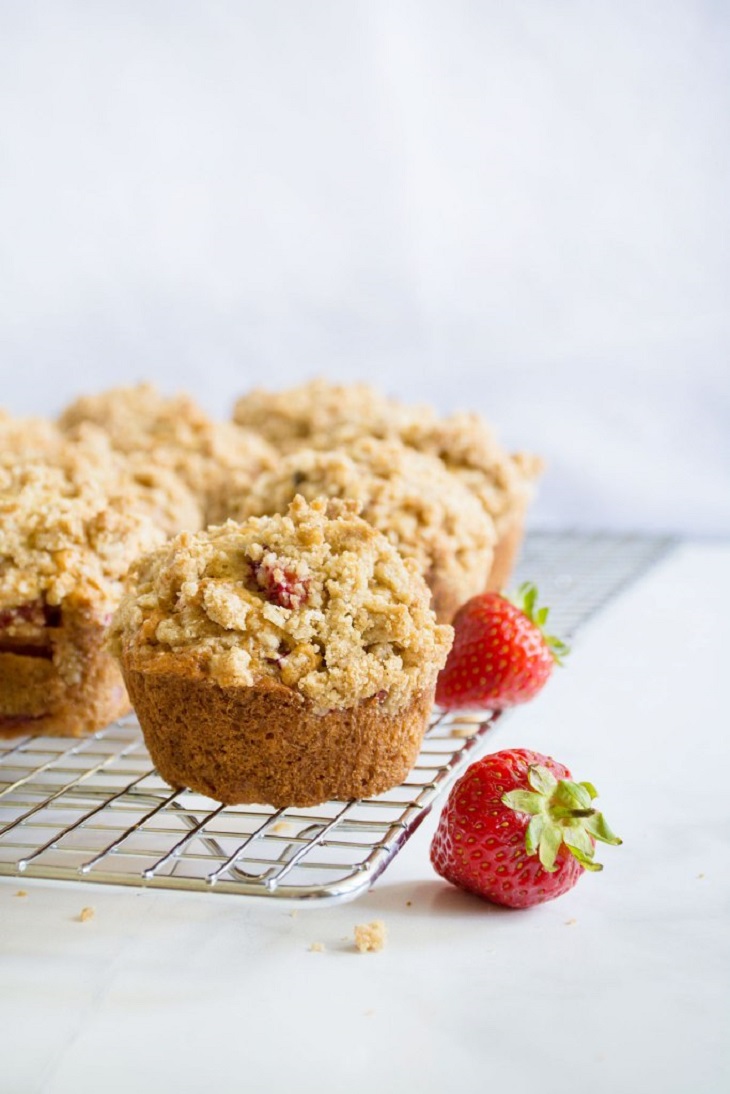 Recipe via portandfin.com
These Strawberry Rhubarb Streusel Muffins make a fantastic grab-and-go treat. The streusel topping on them takes these muffins to the next level. Streusel is a German word, it is a crumbly topping or filling made from butter, flour and sugar. In this recipe the ginger adds a hint of spice to it.
8. Cardamom Rhubarb Custard Bars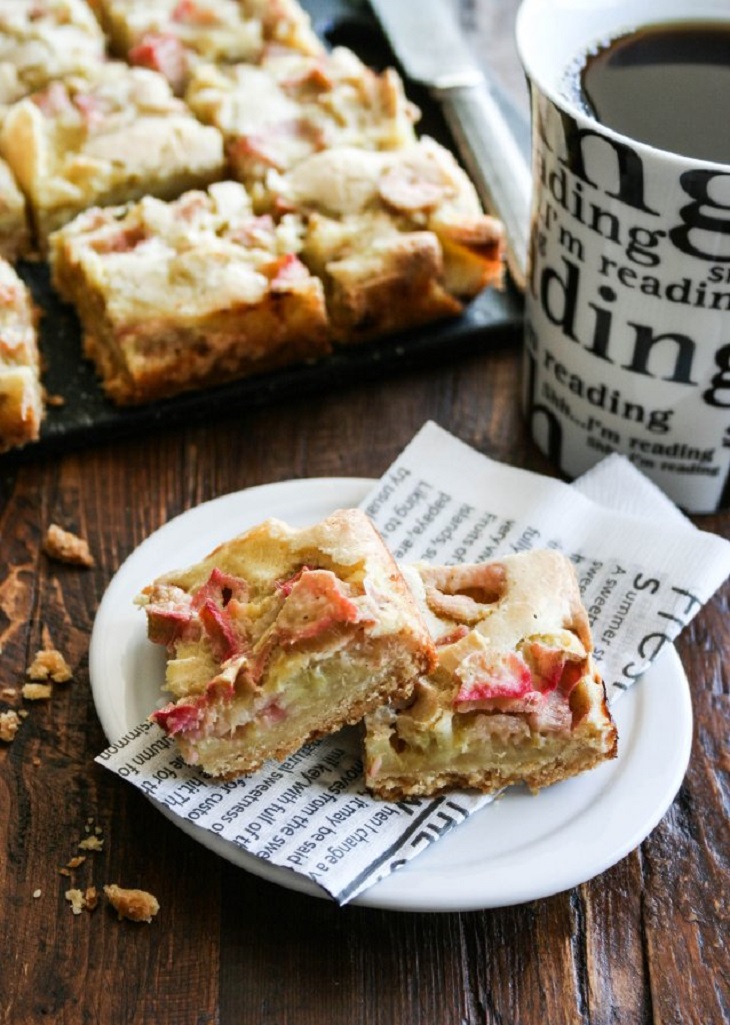 Recipe via www.culinarytribune.com
If you are looking for something quick and simple, look no further. These Cardamom Rhubarb Custard Bars are easy to make and absolutely delicious. The combination of cardamom, rhubarb, and custard is brilliant. Great with strong black coffee or tea!
7. Rhubarb and Strawberry Oatcake (Vegan and gluten-free)
Recipe via www.inthemoodforfood.fr
Rhubarb and strawberries is the classic combination and for many of us is the all-time-favorite as well. You can prepare this beautiful Rhubarb & Strawberry Oatcake without any sugar, eggs or dairy. The added banana and maple syrup limit the oatcake sourness and the oats give some consistence. Rhubarb paired with banana is really tasty!
6. Raspberry Rhubarb Almond Bars (Gluten Free and Paleo)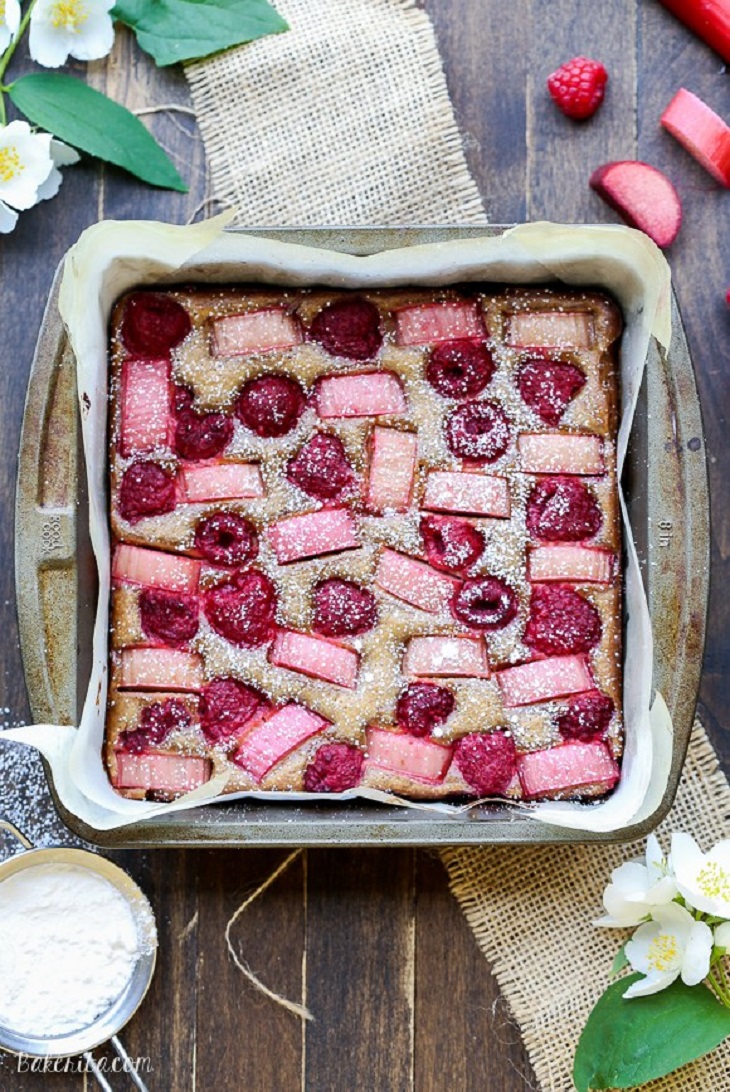 Recipe via www.bakerita.com
These beautiful Raspberry Rhubarb Almond Bars have a crisp almond flour crust topped with soft almond frangipane, fresh raspberries, and tart rhubarb. It is Paleo, gluten free and refined sugar free! It is super quick to make, you just have to mix all the ingredients and then press into the pan.
5. Rhubarb and Custard Cake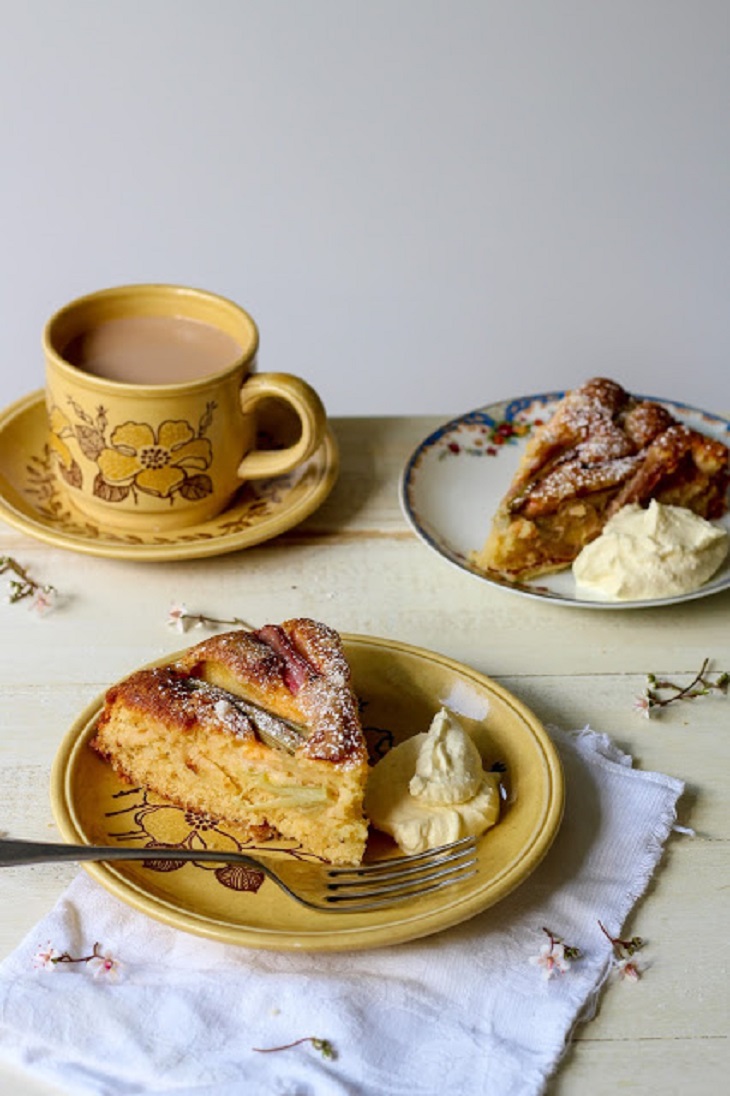 Recipe via thespoonandwhisk.blogspot.co.uk
You will love this Custard and Rhubarb cake! The moist, lightly cardamom infused sponge with a hint of vanilla, topped with thin rhubarb stalks, it's heaven… Add custard powder and real custard within the cake batter itself and dot it on top in little clusters as well. This cake is equally amazing served hot or cold!
4. Brownie Cookies Rhubarb & Vanilla Bean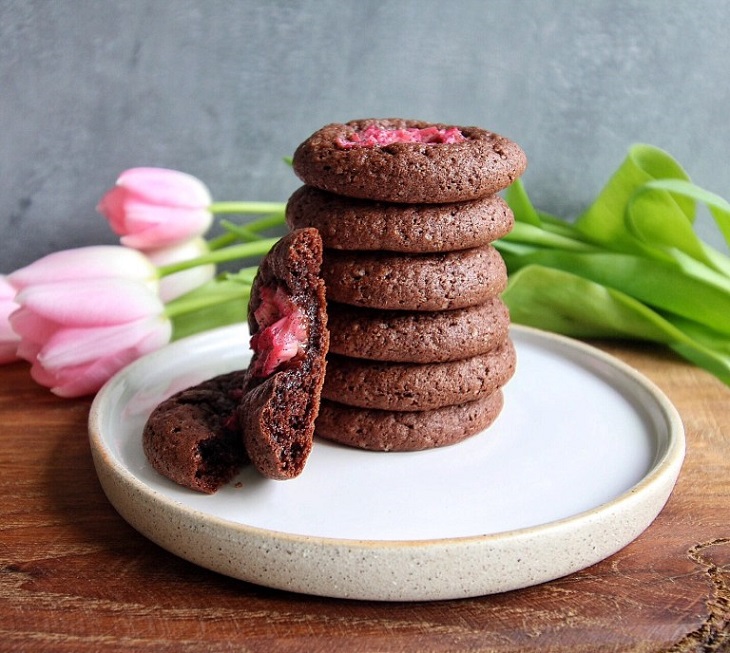 Recipe via cravingsinamsterdam.com
These cute Brownie Cookies with Rhubarb & Vanilla Bean are like small brownie bites topped with juicy, tart rhubarbs. They are soft and fudgy on the inside. The dark chocolate gives them richness without being overly sweet, and the tartness of the rhubarb still comes through.
3. Rhubarb Meringue Pie
Recipe via www.whereismyspoon.co
This Rhubarb Meringue Pie is one of our favorites! The tart rhubarb placed on the batter reduces the sweetness of the cake, then the sweet meringue topping is soft on the inside and crunchy on top. There is a balance of taste and texture in it that makes this cake just perfect!
2. Mini Oat-Crusted Strawberry, Rhubarb&Maple Galettes

Recipe via www.thebrickkitchen.com
Galette is a French word, usually referring to a kind of flat, round cake, made with a flaky pastry dough. This mini oat-crusted strawberry, rhubarb and maple galette might just be your next favorite dessert. The best part is the creamy, cold vanilla-bean ice cream melting on top of the freshly baked galette.
1. Rhubarb & Raspberry Frangipane Tart with Almond Praline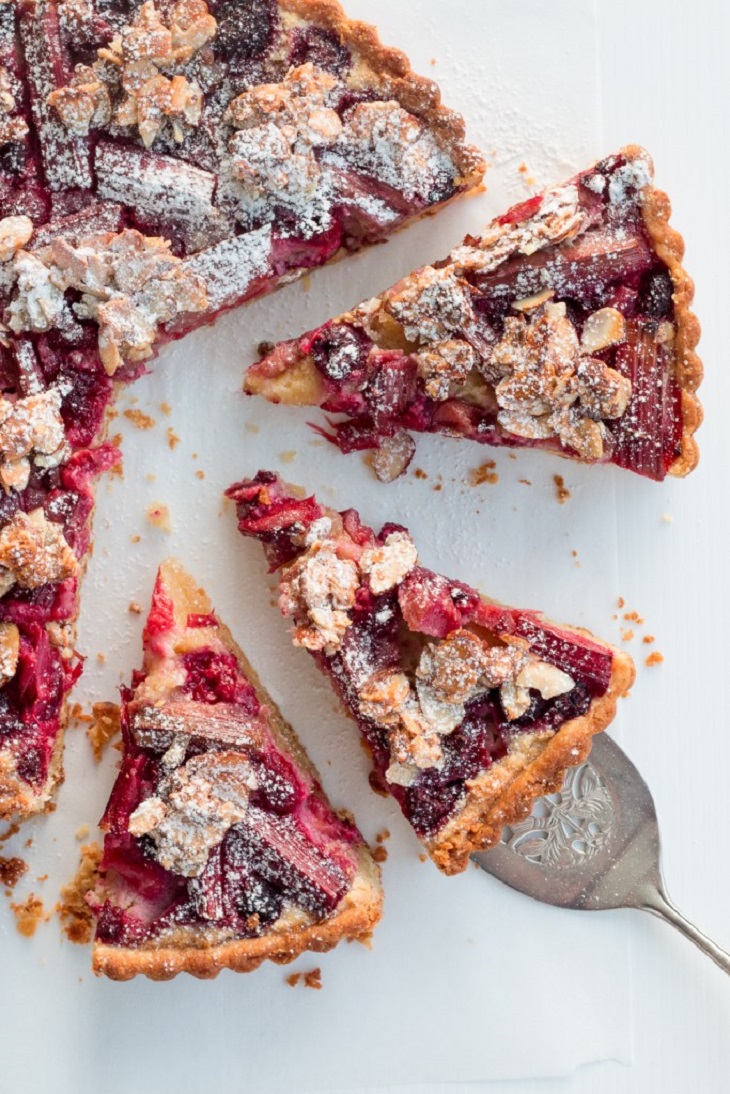 Recipe via www.thebrickkitchen.com
This beautiful Rhubarb and Raspberry Tart is perfect for morning tea, afternoon tea, breakfast or whenever you like! It shouldn't just be limited to dessert, it is appropriate anytime, any day! The rhubarb is baked briefly in the oven, infusing it with orange zest and vanilla bean and the buttery sweet pastry is filled with soft almond frangipane. Delicious!