Back in the days, women were in charge of the kitchen and slowly the man started to venture into the unknown territory and started having a little fun in there too, wanting to look after their women the way they have been looking after them in the past.
Cooking has to be the utmost artform and signification of love. Because is done with the hands and with love. Cooking is special because, in today's hectic lifestyle, it is something, perhaps one of the only recurring things, that two lovey-dovey enjoy day after day and together, talking about their day and expressing the way they feel.
Cooking is also relaxing, and a true love note to their partners. Here are some superb examples of having the best moments in the world with your partner.
Lemon Garlic Sole with Butter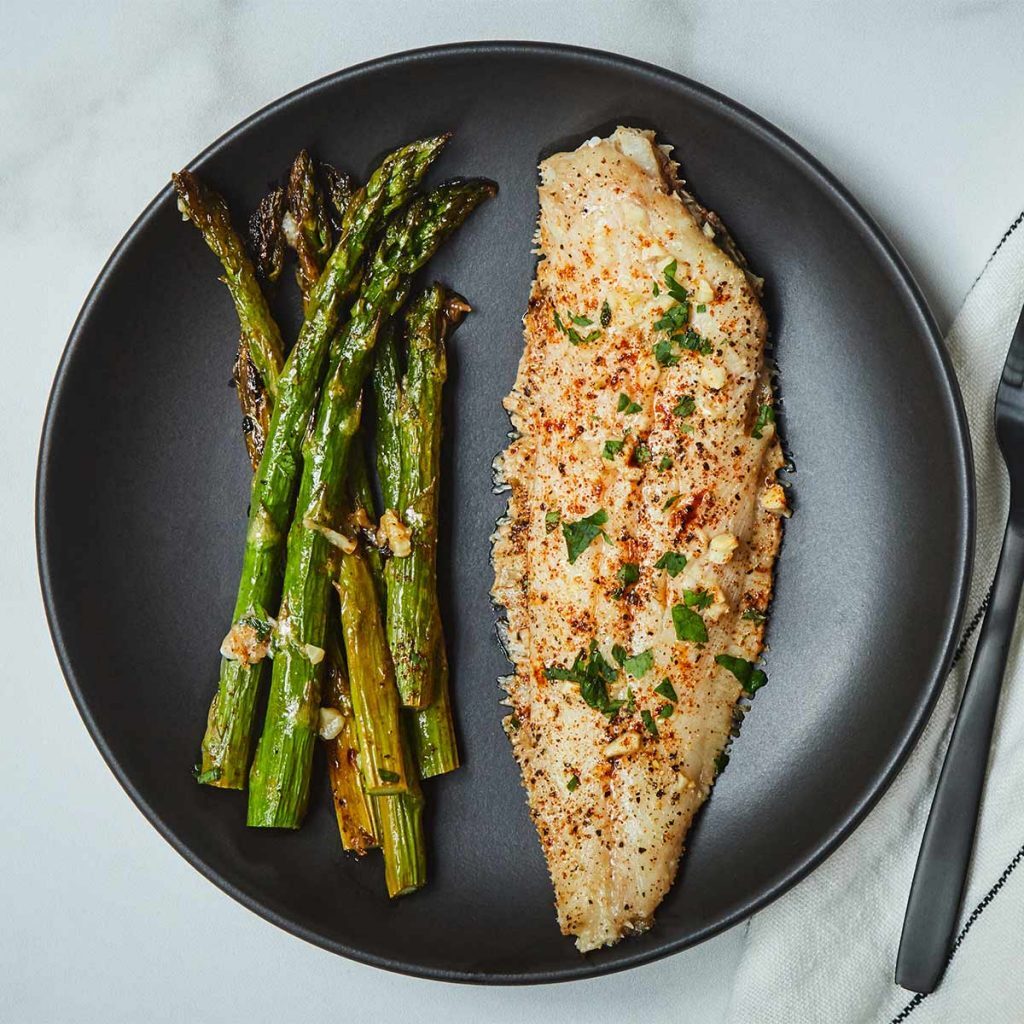 Recipe via cookingwithcoit.com
Lemon Sole is a fish famous in cold waters that is so delicate to palate, making this fabulous for romantic nights. It will leave you plenty of space for perhaps a chocolate treat after and will go well alongside a nice Sauvignon Blanc to polish the night. You will not take hours in the kitchen, making the precious time event even more precious, and be with your loved partner instead of behind the stove. Serve this with asparagus especially that they are about to come into season. Drizzled with olive oil, fresh country bread, light music in the background.
Fondue Savoyarde – Cheese Fondue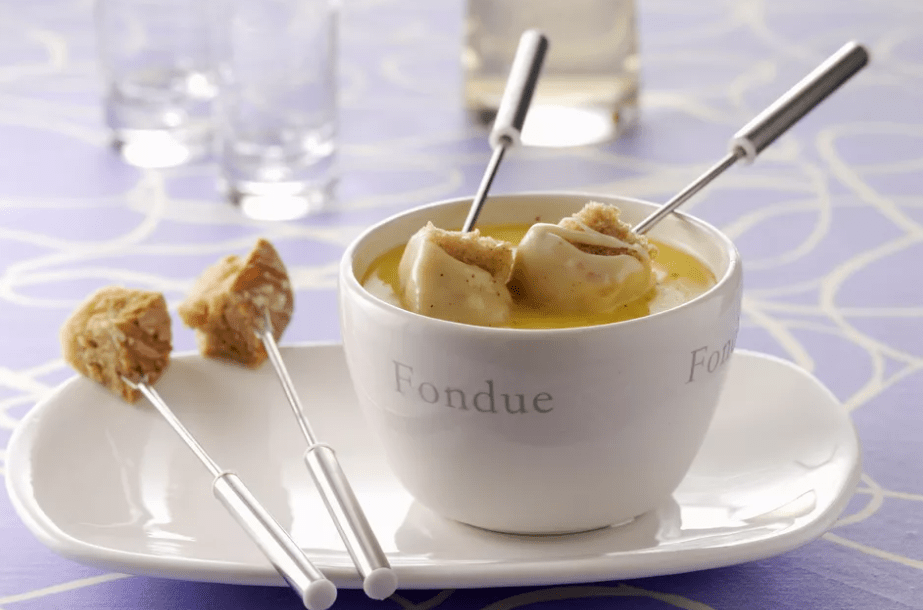 Recipe via thespruceeats.com
The cheese fondue is perhaps world known for being so good! Simple. And, it is perhaps for two people wishing to share their meal out of one casserole dish. Nothing says love more than sharing. Since both of you will eat the same, you both will offset the cheese flavor and will without a doubt fall in love the more so. Normally, if a person dips the bread and loses it in the cheese mix, then this person has truth or dare. Such a good recipe that will warm both your hearts. A good bottle of Savoie white wine on the side and it is literally going to heaven.
Heart-Shaped Pizza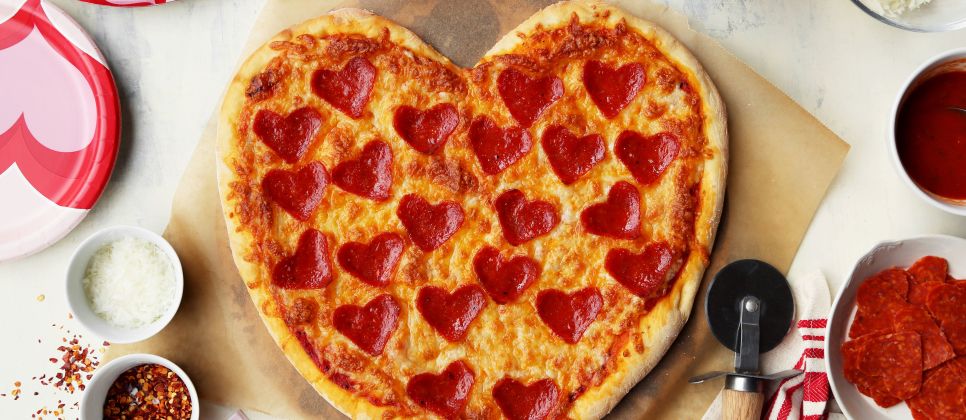 Recipe via food.com
Ok so, for some of us this is going a step too far. But one, you won't have to make the pizza dough into a heart shape but again, we are talking about a dish that can be shared between two people. And sharing is not only caring, it is a sign of love and togetherness. Most of the time we would recommend eating at the table, but on occasions, you want a good movie, a bottle of wine, and a great pizza to share all cuddled up. Hence why the pizza is there.
Sushi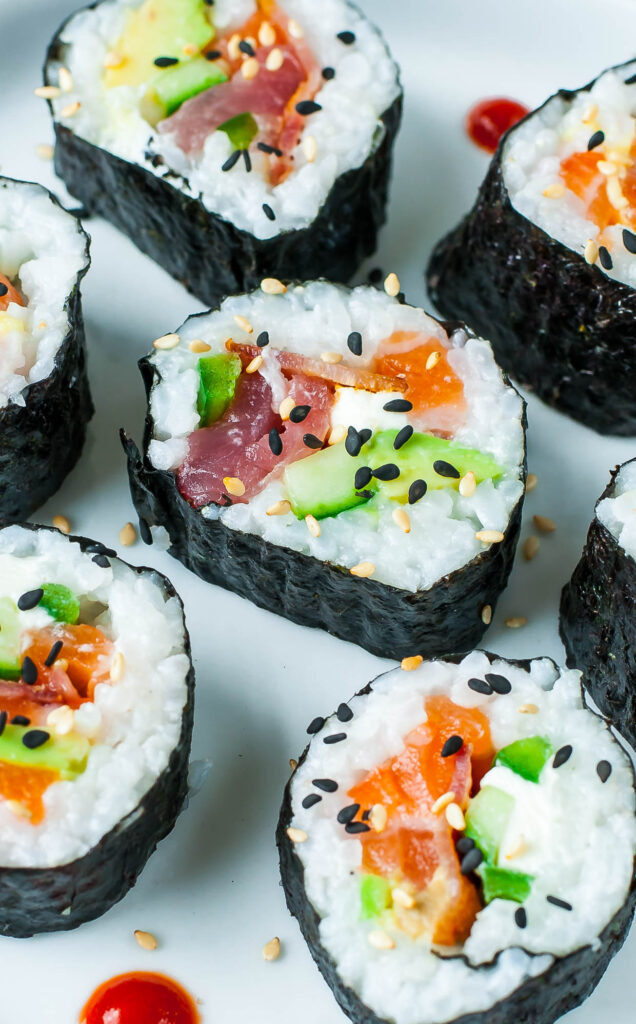 Recipe via peasandcrayons.com
Homemade Sushi. Ever had a Gin and Tonic Night in? If you do not drink alcohol that's ok, get some tonic water, a slice of freshly squeezed lime, a slice of a cucumber, and rose water and you are set to go! You might have gone to a couple of sushi restaurants in your lifetime, or if like us once or twice a week! We will give you the secret to great sushi, well, it is the rice. Do half-half; as in half white wine vinegar and half Mirin. The other key ingredients are the raw products to wish to use naturally, if raw isn't your thing, flash cook them in a super hot pan. Again, nothing says love more than sharing. If you cannot eat with chopsticks give it a go anyway. You will not look ridiculous but super cute!
Garlic Prawns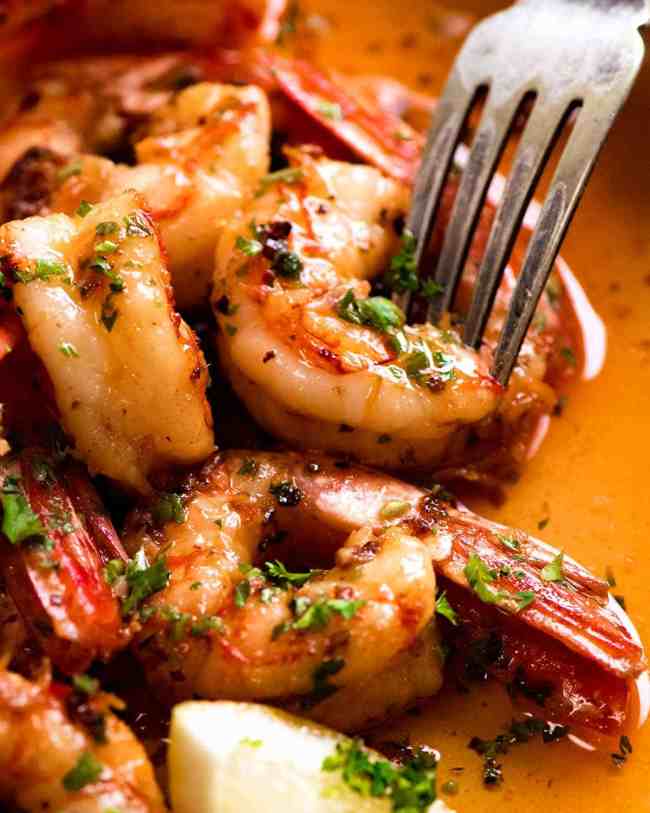 Recipe via recipetineats.com
There is something mystical romantic about eating prawns. Maybe the seducing shape of them makes them so? This is a super easy recipe that anyone can do. Do not hesitate on the garlic and the amount of oil you will need for this dish. If you happen to find fresh prawns, the better, but any kind will do. Simply adapt the recipe accordingly. Seafood in general has always been seen as romantic so go ahead. Add a splash of white wine just seconds away from serving which adds a completely different dimension. Paprika could be used, we recommend the Spanish Paprika de la Vera, possibly the finest out there.
Homemade Ravioli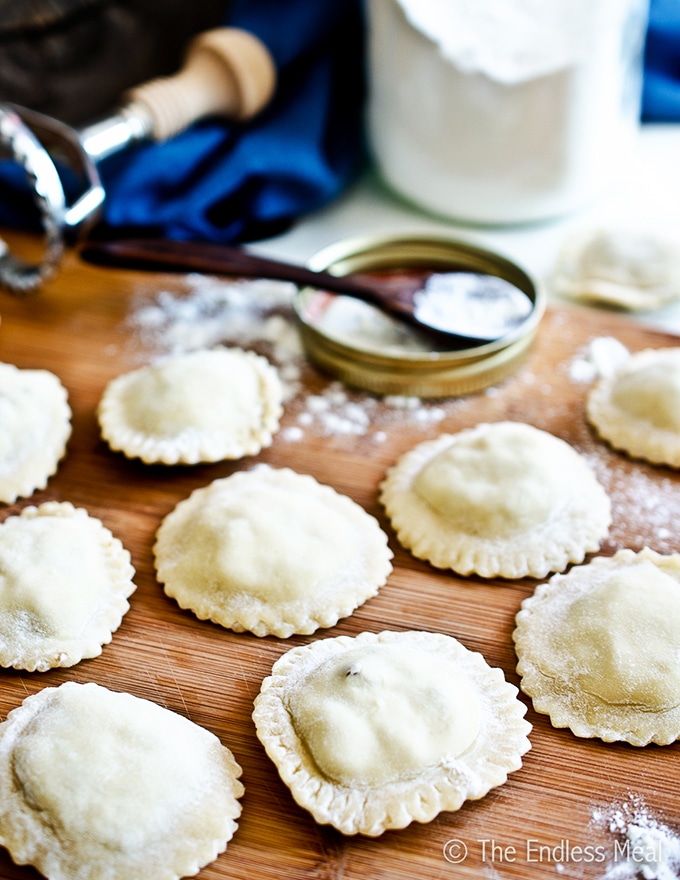 Recipe via theendlessmeal.com
The artform of pasta is like breadmaking or a chocolatier. Looks easy, but demands some culinary skills and patience to really deliver the goods brilliantly. Give this a go, your partner would not believe you went all the way to making pasta ravioli. So many ways of stuffing them, but honestly, the simpler the better. Do not forget, the star of the show is your ravioli, the stuffing comes second. Keep it simple.
Butternut Squash Soup with Bacon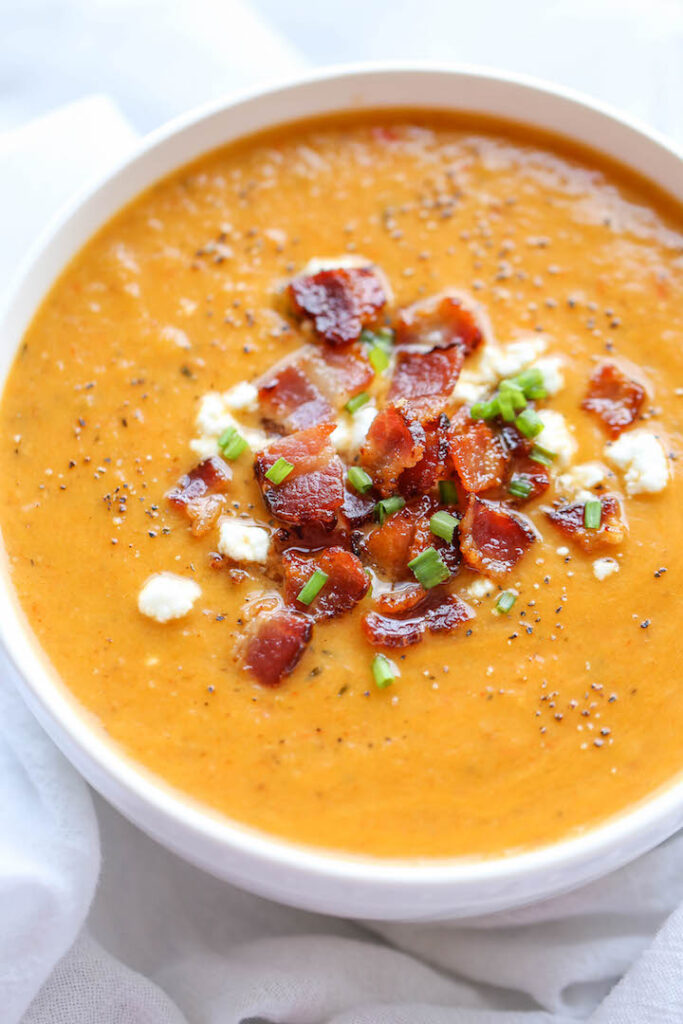 Recipe via damndelicious.net
If you are planning to do a little starter before the main meal comes out, then this veloute-style soup is the perfect way to start, refreshing your palate and ready for what comes next. Butternut is amazing and the flavors are incredible. For the best results, throw your squash in the oven for a couple of hours for big ones, at 180 celsius. It will add natural nuttiness to the vegetable. It will make your partner believe that you spent hours in the kitchen, whereas you put the oven on, watch a bit of TV, or continued with other shores getting the dinner date ready. If vegetarian, leave the meat element out and replace it with crispy fried shallots.
Beef Wellington for Two

Recipe via gordonramsayrestaurants.com
Who better than Gordon for this recipe tutorial? And what is perfect about Wellington is that it is always meant for two people. Hence, perfect for two loved birds. If you are a lover of meat, then nothing could compete with this. A certain amount of technical know-how is recommended and perhaps not for beginners. But then again, you have to start from somewhere at some point. This dish is super fancy and we believe that your partner would simply not believe their eyes and their taste buds.
Lamb Ribs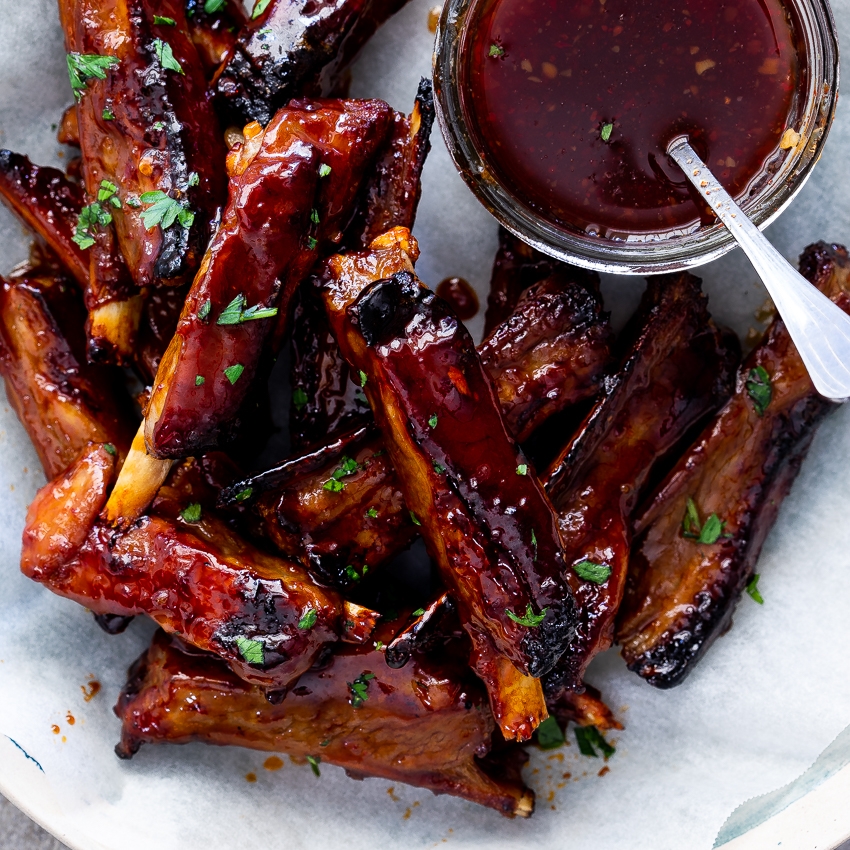 Recipe via simply-delicious-food.com
Being Romantic is one thing, but being romantic and cooking something sticky and delicious and something you can share is another. These are just…filled with love and tenderness. Super succulent and can be eaten with the fingers, in the comfort of your home where everything is allowed. Get your fingers dirty and get dipping in the magical sauce. Have fun, feed your other half, and put the sauce from the ribs all over their lips! Food is also about having fun, and fun means love, love means romance.
Chocolate Fondue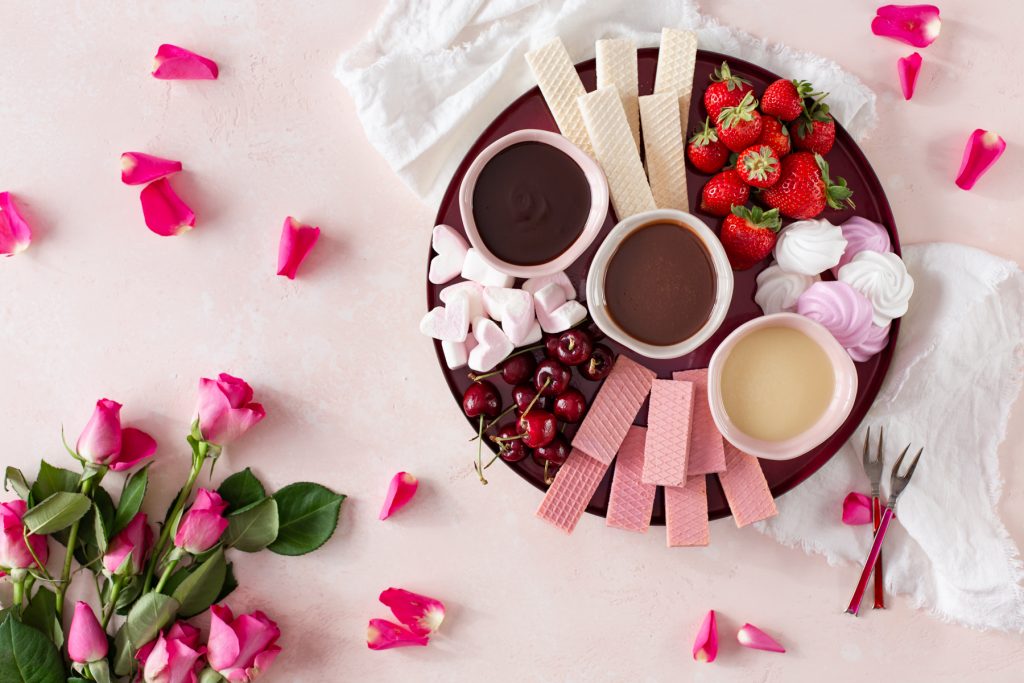 Recipe via ilovecooking.ie
On the subject of fondue, we could not have left you without the alternative, the ultimate classic; the chocolate fondue. It is cliche perhaps but really, who cares? It is so good. So delicious and very sexy too. It will reunite you, maybe you both will take it in turn to deep the red fruits in the chocolate and place it in your partner's mouth before biting into the sourness of the fruit and the extravagantly warm chocolate. Best use 60-70% chocolate, but milk or white chocolate could also be used for this.