There's something about the Scandinavian interior that we simply can't resist! It's about simplicity, the practical, and the classy. This type of interior is perfect for everyone who doesn't like too many items in a room but instead prefers clean colors and more space than objects.
You can arrange your whole home according to the rules of the Scandinavian interior, but in this article, we're showing you ten-bedroom ideas. It's the same pattern in all of them, but they are all very different and offer something that the previous one doesn't have. Check them out, and let us know which one is your favorite!
1. Retro Minimalism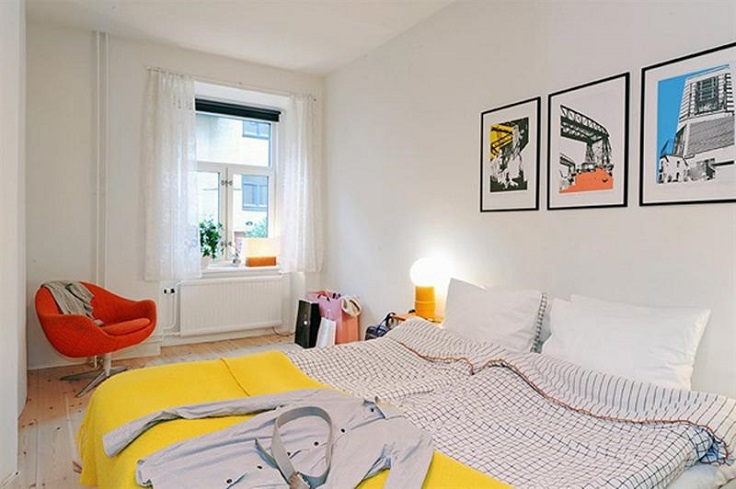 via rilane.com
Achieving a retro look and Scandinavian minimalism at the same time it's nothing difficult. Make sure you have most of the room in white and focus on few room pieces that would be the main retro details. Choosing bright colors such as yellow and orange will achieve the pop art look, so it's enough to pick a chair or blanket in those colors.
2. Contrast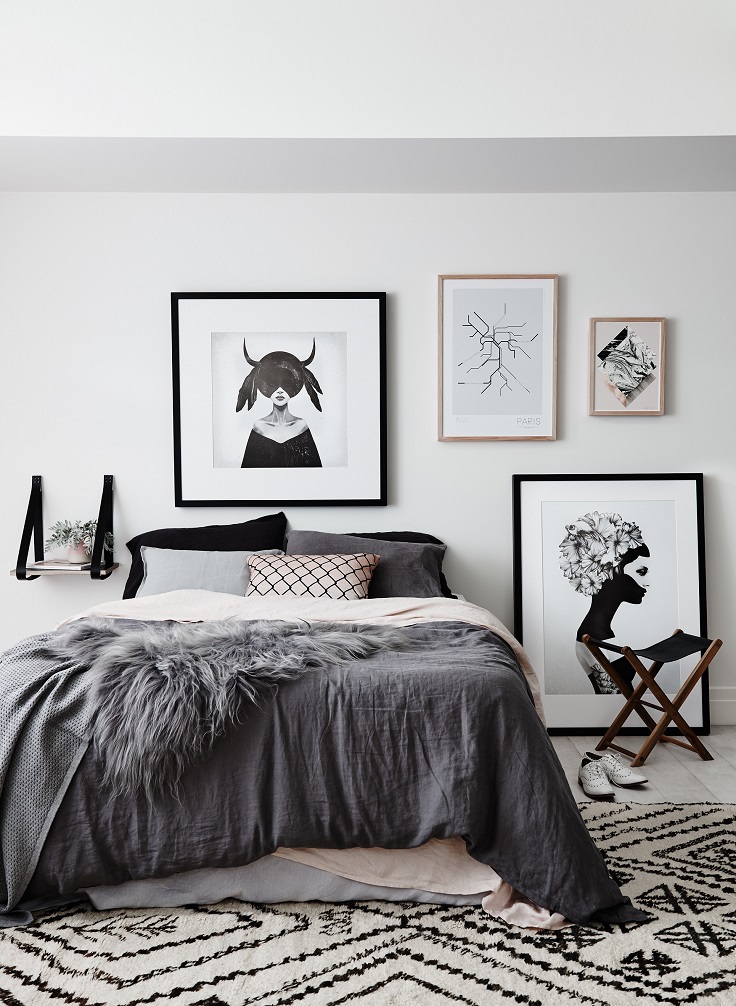 via thinkter.com
Having a room full of contrast is really nice! Black and white minimalism are one of the prettiest ways of room decorating, especially if you're into simpler styles. This means that to achieve this look, all you need is to have all things black and white – the carpet, the wall art, the pillows… everything you can!
3. Earth Tones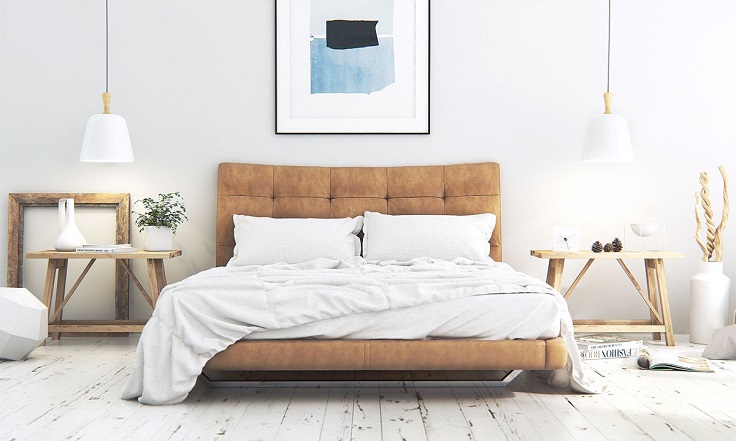 Earth tones create natural, calming effects on your room. That means choosing pastel colors such as brown, blue, and green can do wonders for your bedroom! In this picture, this effect is achieved by making sure some parts of the room are brown wood, the bed is brown, and the wall art has blue colors on it. It's all about mixing white minimalism with the Earth tone colors.
4. Grey Tones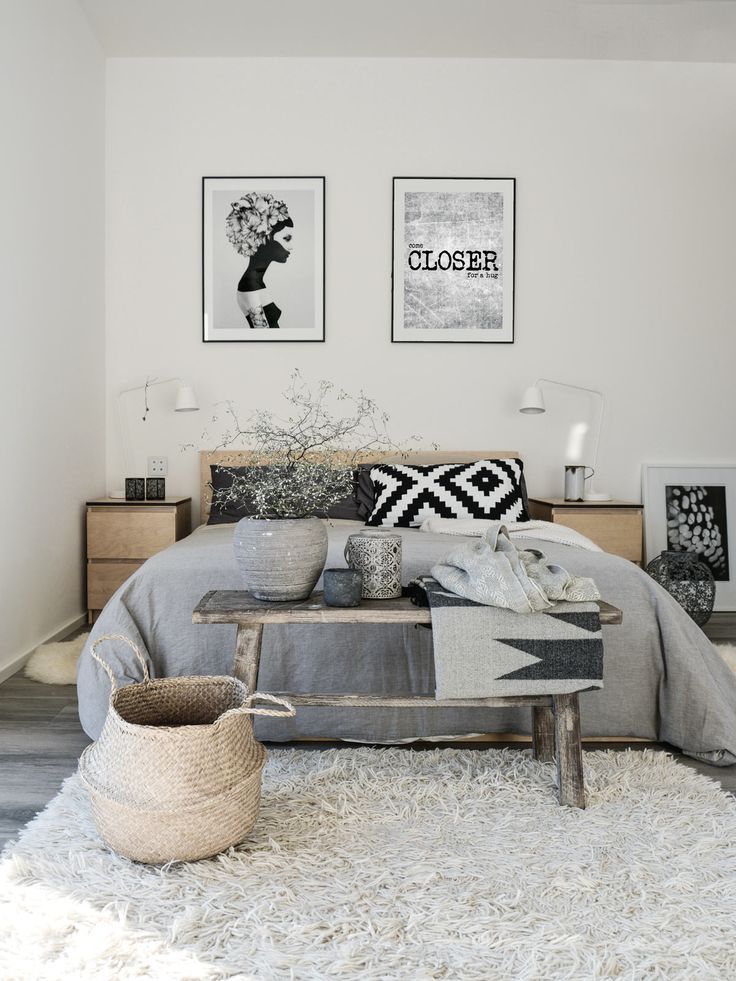 Grey is a very popular color when it comes to minimalism. It is a pale, light color and has the power to make everything look so chic. So, putting your whole bedroom in grey can turn out really great. In this case, focus on getting as many grey objects as possible, but make sure they're well coordinated. It is supposed to look chic and classy, not trash!
5. Pastel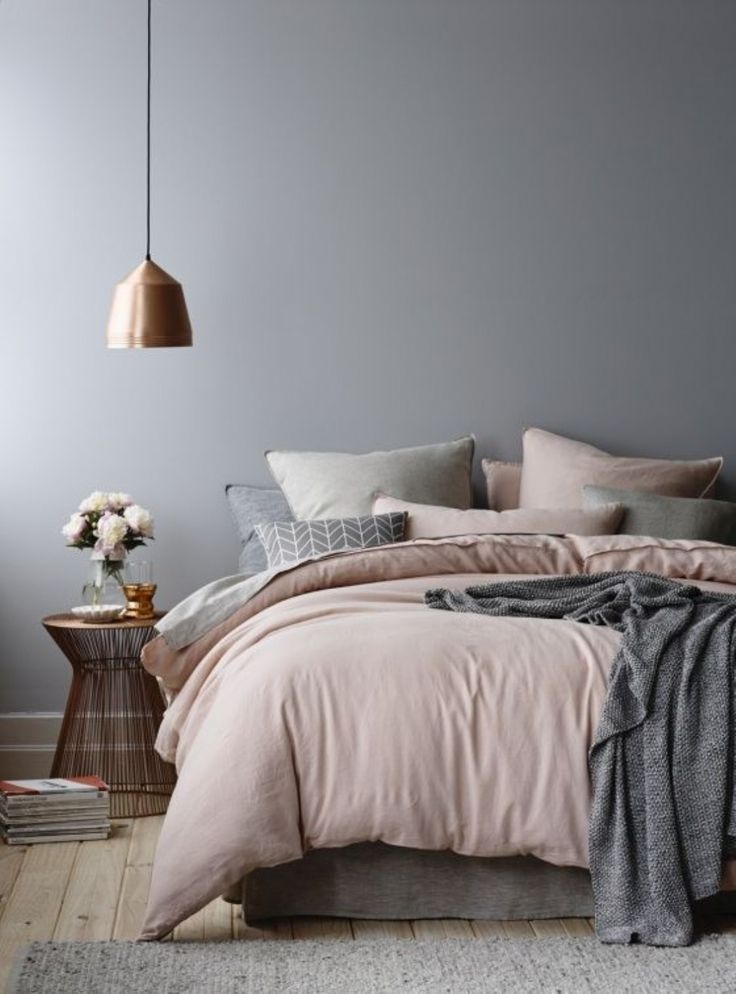 via theoverqualifiedapplicant.com
Pastel colors are giving your room a soft and calming look, so choosing pastel pink, blue, green, or other light colors is perfect for this case. It's enough to focus on one object, and you have done so much! Take a look at this bed – it has so many pillows, and the bedsheets are also pastel and very well coordinated with the rest of the details.
6. Pop of Color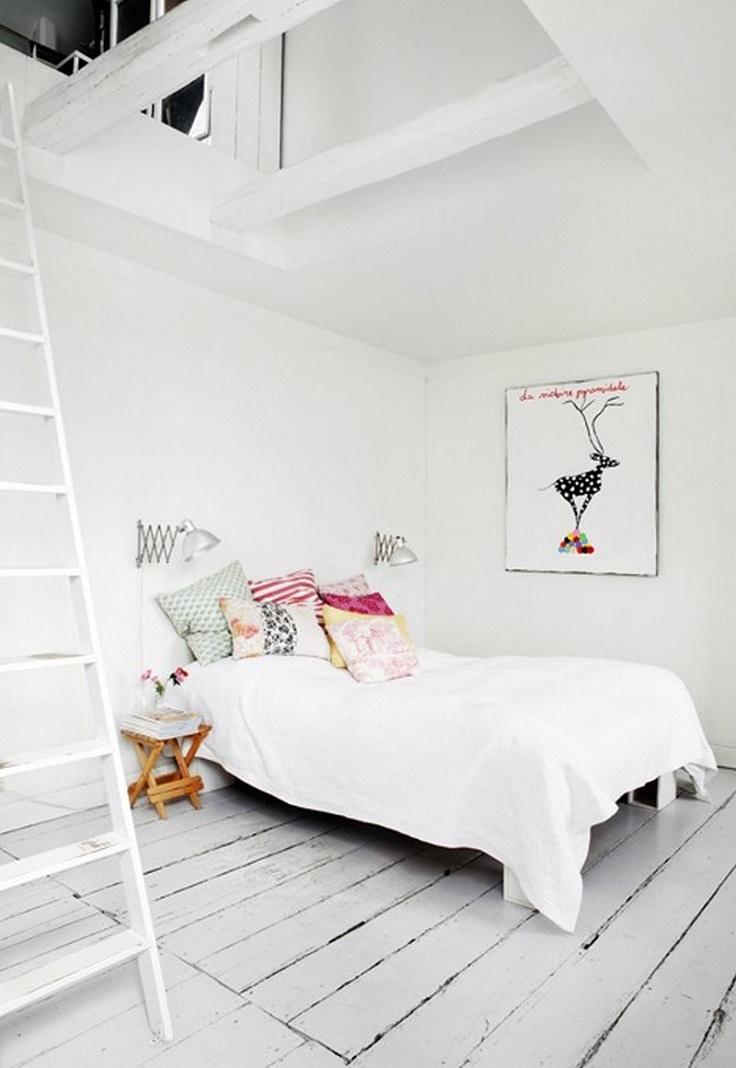 via indiacha.com
Similar to retro minimalism, this one also requires a pop of color. Except, in this case, it's not about creating a pop-art look with colors known for achieving that effect, but it's all about using other bold colors, such as pink, purple or blue. You can also play with their textures – look how the pillows are with stripes, polka dots, and floral themes.
7. All Things White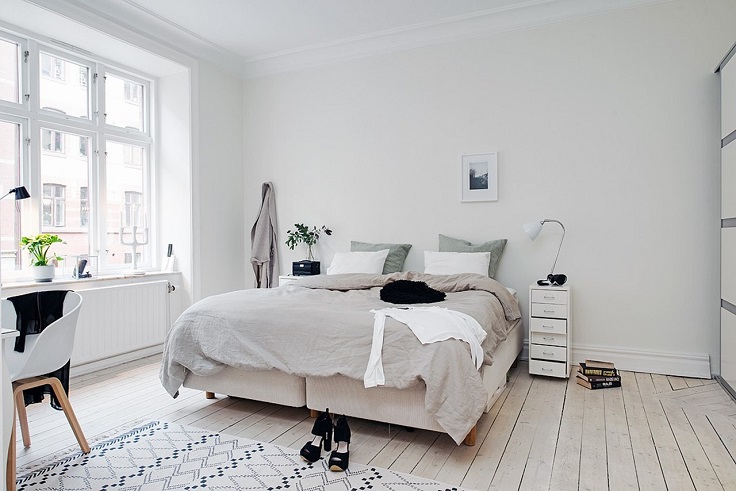 This can be too much white for someone, but for others, this is the ideal bedroom. Choosing white for your overall bedroom look is going to create a clean, cooling minimalist space, and if you want to add just a little bit of contrast but still keep the all-white look, just focus on a few small details in grey or black.
8. Wood Tones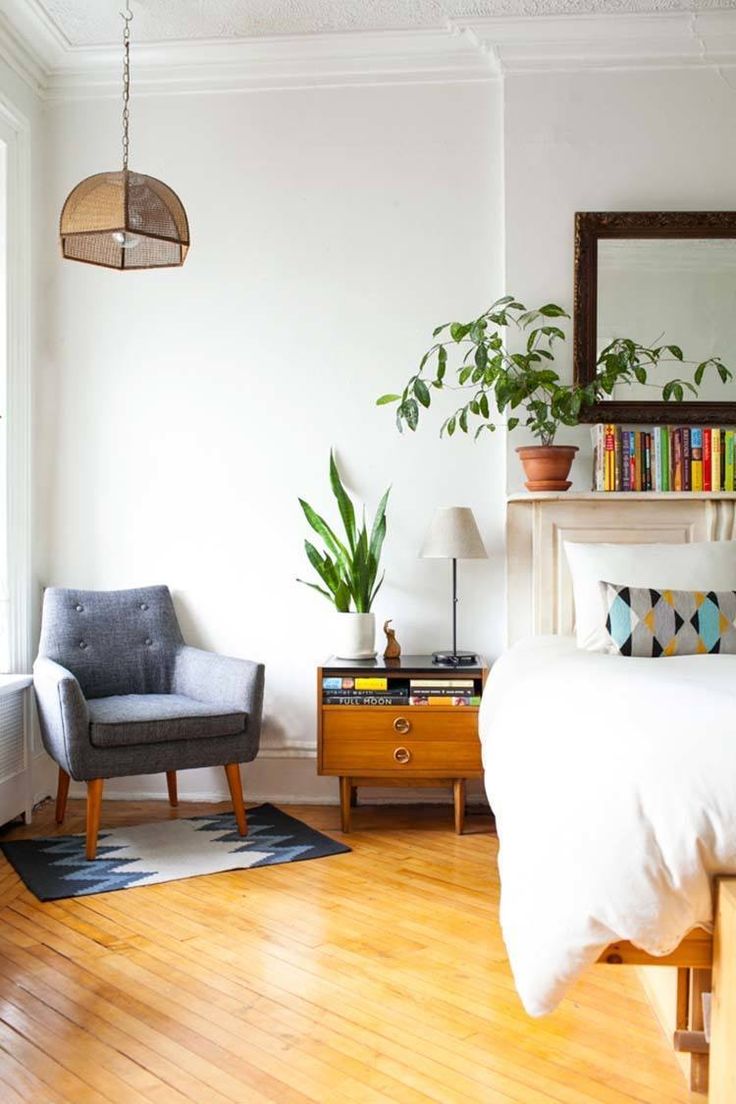 via sasandrose.com
So far, you've seen how you can play with colors, but this time it's more about the textures in the room. It's known that the Scandinavian interior uses mostly wood for flooring, but most often, that is the white or similar pale-colored floor. Instead of that, choose orange wood flooring and go for simpler colors and details for the rest of the room.
9. Different Textures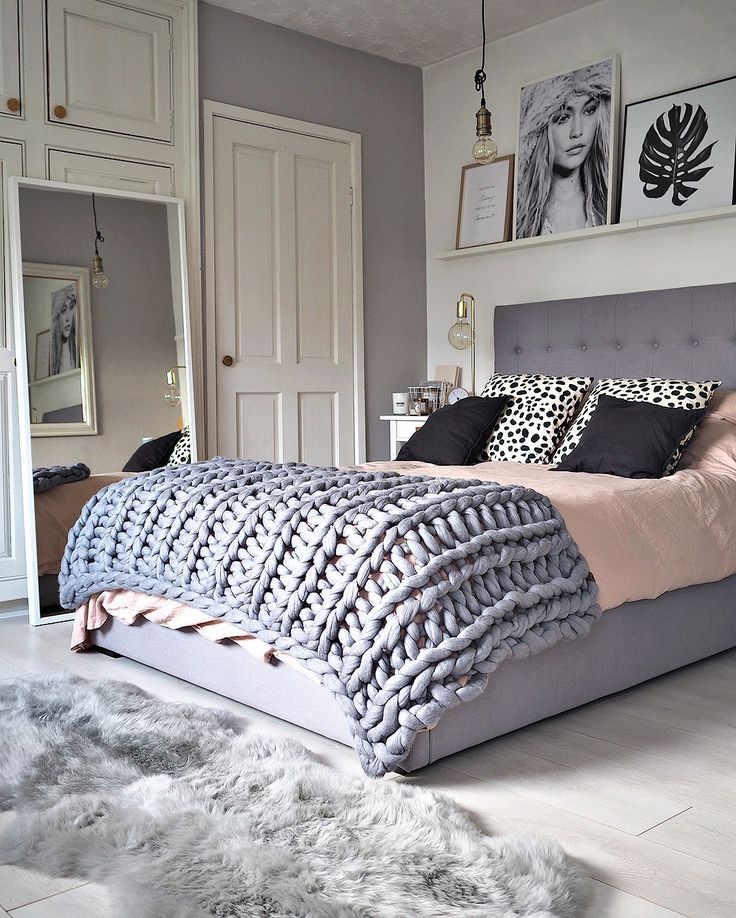 via carnet-deco.fr
This bedroom look is a combination of everything grey and pastel and plays a lot with texture! It has a fur carpet, a knitted blanket, and wood flooring. You can experiment here with so much that pick your favorite items and make sure they all have different textures.
10. Matching Elements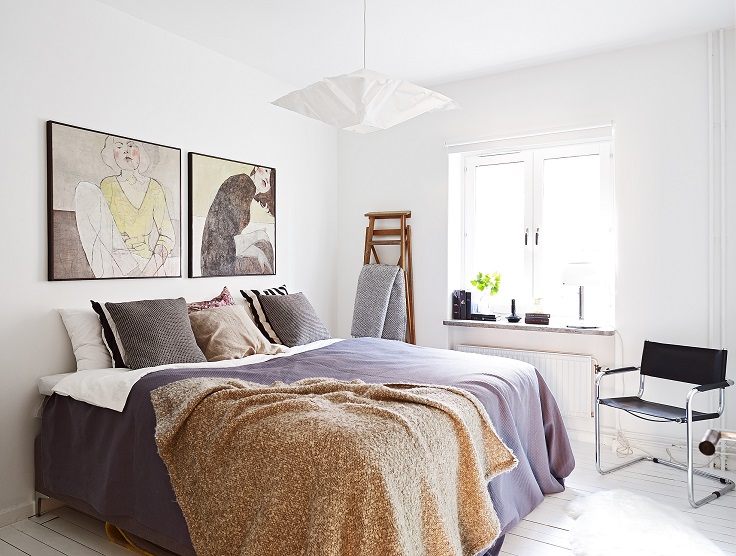 via hstudion.com
Sometimes it is all about how everything matches – in fact, this is one of the most important things you should be careful about. Scandinavian minimalism is all about choosing items that are both practical and classy at the same! Look at this bedroom and how the bed sheets match with the wall art. Many people don't pay that much attention to details, but if you want your bedroom to be your interior heaven, you better start doing that!