Shadow boxes are one of the most popular Christmas decorations you can get. They look incredible and give out such warm, Christmas–y vibes to your home. The great thing about them is that you can even easily make your own!
Creating shadow boxes at home is a fun, quick DIY project that won't empty your pockets. You can even do it together with your children as a family fun activity! There are plenty of ways to decorate a shadow box, so make sure to check out our ten favorites below.
1. Enchanted Forest Shadow Box
via popsugar.com
Ever wanted to have your very own enchanted forest? This shadow box looks so pretty that you'll want to have it in every room of your home. It's a fun project that requires just a few materials – glam shadow boxes, cotton as snow, copper – wire lights, and brush trees. Play with the elements and arrange them – either way, you do, it's going to look perfect.
2. Chalkboard Shadow Box
via attagirlsays.com
The advantage of having a chalkboard glued to the back of the shadow box is that you can write or even draw whatever you want with a chalkboard marker. Take this shadow box as an example – there is snow in the background, making this box even more Christmas-y. You will also need glue, Christmas figurines, garland ties or chenille stems, bottle brush trees, and ribbon.
3. Trees on Cars Shadow Box
via diycandy.com
Simple-looking, but still so adorable and Christmas-y! For these shadows, you just need few materials – shadow box, black paper or cardstock, white paint pen, and different elements to achieve the wintery look, such as tiny cars, bottle brush trees, and cotton snow. Write down your favorite Christmas quote or something fun for the background.
4. Christmas Ornament Shadow Box
via mamacheaps.com
You decorated your Christmas tree, and you still got few more ornaments? One of the best Christmas decorations is the shadow box, for which you need different ornaments, a background for a picture frame, and words cut out of vinyl. Your background can be a piece of glitter heat transfer vinyl as pictured, or scrapbook paper, fabric, or wrapping paper.
5. Crate Shadow Box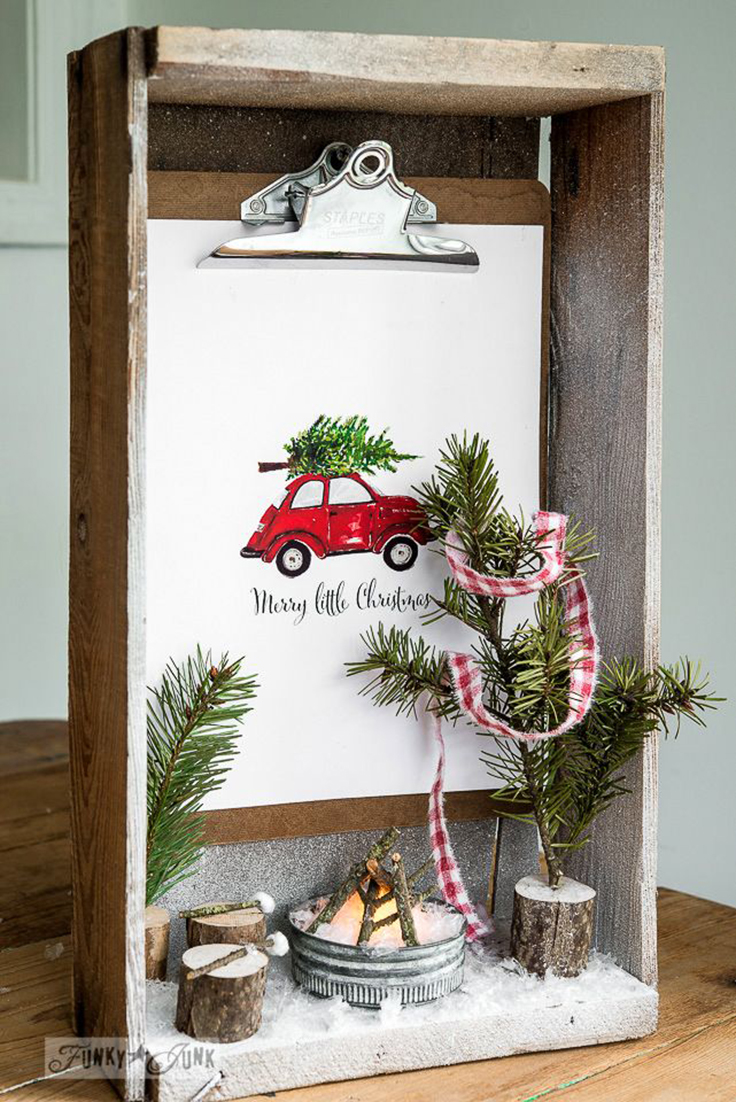 The perfect wintery scene, isn't it? We found it so lovely that we wish we could have it right away! To create this shadow box, you box an outdoor picture you love, fire pit/mason jar lid; battery operated tea light, faux snow, and sticks, 2 branch cuts, 2 branch cuts with evergreen sprigs, spray snow, plastic snow, marshmallow roasting, branches, and q-tip fuzz.
6. Shadow Box Ornament
If you're looking for a smaller shadow box that can be put anywhere and won't occupy a lot of space, then you can consider making a shadow box ornament. You can attach it to the wall or the door or use it as a Christmas decoration on your tree. You need 1- 2 ¾ " round aluminum tin, handheld hole punch, florist wire, decorative paper, assorted decorative items, or figurines to fit tin and sparkle flakes.
7.  Let It Snow Shadow Box
Not a fan of ribbons and springs? There's another way you can decorate your own shadow box. For this, you will need sparkly iridescent snow, light scrapbook paper, and some glitter snowflakes. You can use Silhouette Cameo for the letters, or use sticker quotes or even sticker letters to come up with your favorite Christmas quote.
8. "Believe" Shadow Box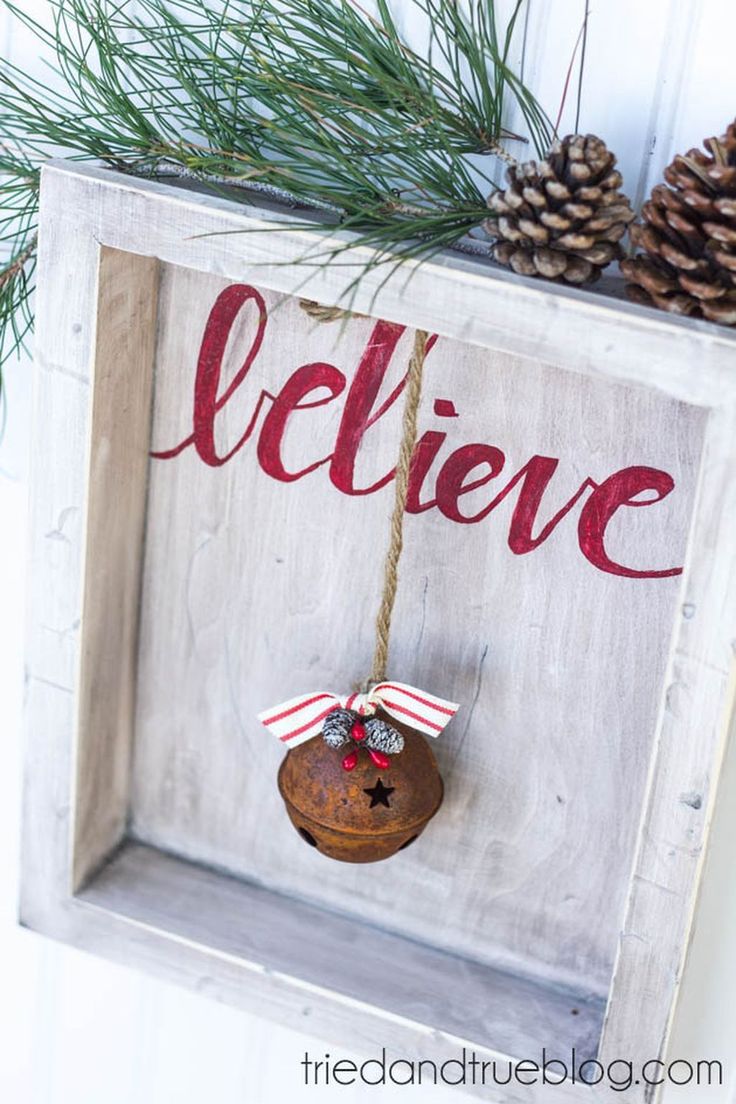 Very simple and creative, this shadow box is also a budget-friendly idea that will bring warm and Christmas vibes to any room you'll put it into. This is also a great decoration for those of you who like all things rustic. You need both chestnut and white wood stain, red paint, rustic jingle bell, jute rope, decorative ribbon, small pinecones, staple gun, and hammer.
9. Vintage-Inspired Christmas Shadow Box
Here's something for the vintage fans. You can make your own vintage shadow box without spending so much money on it. For this project, you need vintage clip art, decorative papers, various decorative elements, such as ribbons, cotton balls, glitter, tinsel, faux snow and greenery, paint or nail polish, a hot glue gun, and scissors.
10. "Dashing Through the Snow" Shadow Box
And last, we have a shadow box with our favorite Christmas line of all time! Just by looking at the box will remind you of the song and cheer you for the beautiful holiday ahead of you. That's why make sure to fill the inside of the box with different elements that will make the box look as Christmas-y as possible!