Shimmery makeup is really fun to play with, so if you're into experimenting with looks and colors, you are going to like this. Even if you're not very good at applying makeup, trying few times will help you make it. As people say – practice makes it perfect! We picked simple, but yet very beautiful shimmer ideas for you, and for each of them, there is a tutorial.
If the picture doesn't have the instructions, all you need to do is just click the link below and it will lead you to a website where you can see how to apply the makeup. Have fun!
1. Shimmery Smokey Eyes
via cosmopolitan.com
To get a smokey eye look is referring to a style that requires a black base. This usually is by applying a black eyeshadow to your top and bottom eyelids, and blend it well with a brush. This dramatic look is often combined with a white eyeshadow on the inner corner, as well as glitter shadows to complete the final look. Follow the link step by step to get inspired for this type of makeup. Tips: use this makeup style mainly at evening outings as during the day can be a bit too much.
2. Rose Red Cat Eyes
via makeupgeek.com
A great makeup style that suits almost all kinds of eyes is the rose-red cat look. Start off by prepping your eyelids for shadow. Starting off with the lightest shades, like rose and cocoa. Blending them well is a crucial part of this process. Followed by darker shadows on the outer-v. Once you blend it all it's time for the shimmer eyeshadow used on the middle of your eyelid. To finalize the look you can use reddish eyeliner and black mascara. You are now set to go!
3. Holiday Shimmer Eye Tutorial
via blog.lulus.com
For this summer look, you will need our favorite tones in the color pallet, beige, or neutral shades! You won't be mistaken if you go for this shimmery makeup. So, after you prepped your eyelids, it's time to choose at least 3 shadows of your neutral pallet and start by applying the lightest. Careful, don't go for the bright or bold once, as they will achieve rather a pale look. Also, use shimmer shadow instead of sparkling as we are going for a summery, sunny glow with bronzing tones.
4. Shimmery Mermaid Makeup
We are being inspired by mermaids, their shimmery tails splashing in the crystal waters… Thus is this green and blue eye makeup that will glow in the sun! Perfect for summer parties, bbq gatherings, and also evening events. Suitable for any occasion. To begin with is by using brown matte eyeshadows all over your eyelid. The next step is the shimmery bronze eyeshadow on the inner corner of the eyelid; a shimmery olive green shadow on the center of the eyelid; and a shimmery blue on the outer corner of the eyelid. Use black eyeliner on the top and bottom waterlines, blue pencil for bottom eyelids, and finish with black mascara!
5. Simply Shimmer Makeup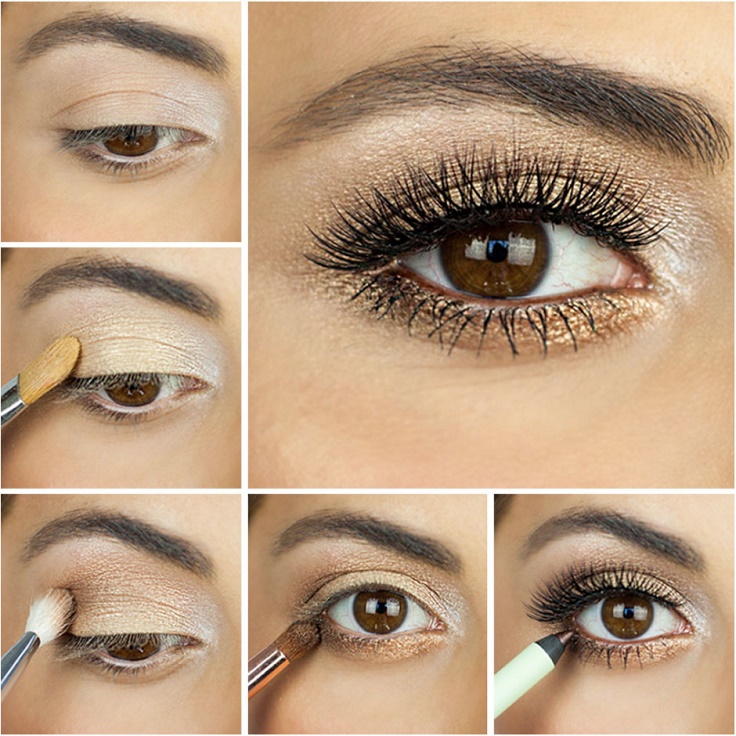 via simplysona.com
Simple yet super beautiful makeup which can be used every day. On the inner corner of your eyelids apply highlight shimmery shadow, then begin with applying a shimmery gold shadow on the entire lid. For the outer corner, you will need a copper shimmery color, which you will also need to apply on the bottom inner of your lash line. You want these colors to pop, so don't shy when applying. Expose your lashes with black mascara or use false. This makeup suits best brown-colored eyes!
6. Gold And Purple Shimmer Look
Another extremely beautiful shimmery makeup look is this gold and purple combination. Here is all about bringing warmth into it. Blending rose and brown eyeshadows as a base, and adding light shimmery color on top focusing on the center of your eyelid. The purple shadow is blended on the upper and bottom corner of the lid only. It is all about blending the colors correctly! Create a winged liner on top and use a black pencil for the water lines. The lashes will finalize this look!
7. Shimmery Gold And Blue Makeup Look
via fabmood.com
This makeup look you can achieve by using a beige eyeshadow as a base and to prep the eye for the gold shimmery finish. The golden shadow is added to the entire upper eyelid blending it well into your inner corner. For your lower lids use cobalt blue eye pencil which blended well will act as an eyeshadow too; don't forget to apply it on your water lines! The blue pencil is also used as an eyeliner. This makeup look is finished with very light shimmery eyeshadow for the inner corner of the eye and of course black mascara.
8. New Year Smoky Eyes Tutorial
via stylesweekly.com
Is that time of year when all the sparkles and glitters are allowed. It is a night you want to be commented on your look and of course remembered. Golden shimmery eyes, curly lashes that are extra voluminous, and a fierce red lipstick are perfect makeup for it! Follow the tutorial to achieve this sophisticated look.
9. Shimmery Turquoise and Gold Holiday Makeup Tutorial
via beautifyandcreatify.blogspot.com
The colors in this look are super dramatic and best to be used during the winter festive days. This tutorial starts by creating a V line with an eye pencil on the upper corner lid; blending it with a black and brown shadow. Moving along with a dramatic turquoise shadow use in the center, and shimmery gold shade on the tear ducts. IF you have any harsh lines, blend them well with a clean brush and if you desire apply eyeliner, however, do not forget the mascara.
10. Dusty Rose Smokey Eyes
The pallet used for this makeup is a perfect combination of neutral and rich shades in both shimmery and matte finishes. Brushes are playing an important role when applying and blending the shadows. For the upper lid, the tones used are from light cream to brow and plum colors. Black eyeshadow is used in the corner to achieve a smoky eye look. And for the lower eyelid go for more chocolate and wine colors. Add your favorite eyeliner and mascara to complete.