Shrimps are easy to prepare, cheap to buy and delicious to eat, but these aren't the only three reasons why this seafood is popular. Shrimps have their own health benefits, including being low in carbohydrates (has zero carbs, to be exact!) and are a rich source of protein. They contain many vitamins and nutrients, including iron, calcium and magnesium, to name few.
In this article you can find ten shrimp recipes – all of them don't require any advanced cooking skills and they're ready in 30 minutes the most – mostly even less. Check them out and let us know which of these super delicious recipes is going to be the next you're going to make!
1. Shrimp with Chimichurri Sauce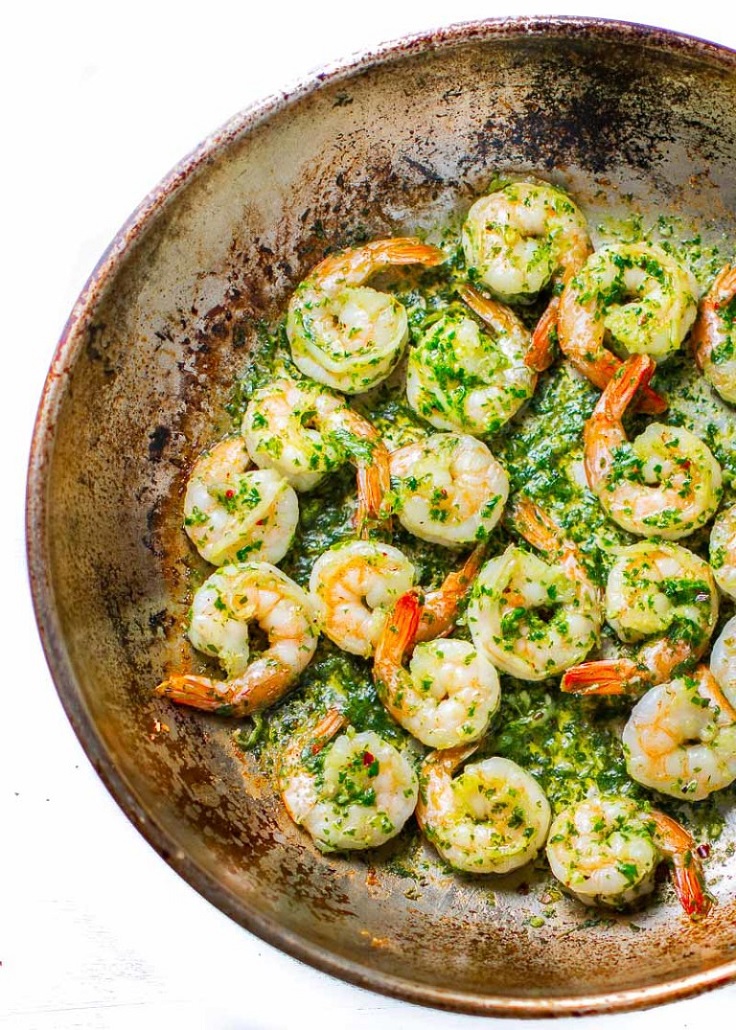 via rootandrevel.com
Shrimps go very well with sauces and if you are a fan of this combination, then you definitely need to try the Argentino chimichurri sauce. It takes just 5 minutes to prepare it and you need the following ingredients: 1 bunch fresh parsley, 1 bunch fresh cilantro, 1 tablespoon oregano, 2 cloves garlic, 2 teaspoons red pepper flakes, 2 tablespoons apple cider vinegar, 1 tablespoon lemon juice, 1 teaspoon kosher salt, ½ teaspoon freshly ground black pepper and ½ cup extra-virgin olive oil. When the sauce is done, cook the shrimp and pour over the sauce.
2. Shrimp and Broccoli Stir-Fry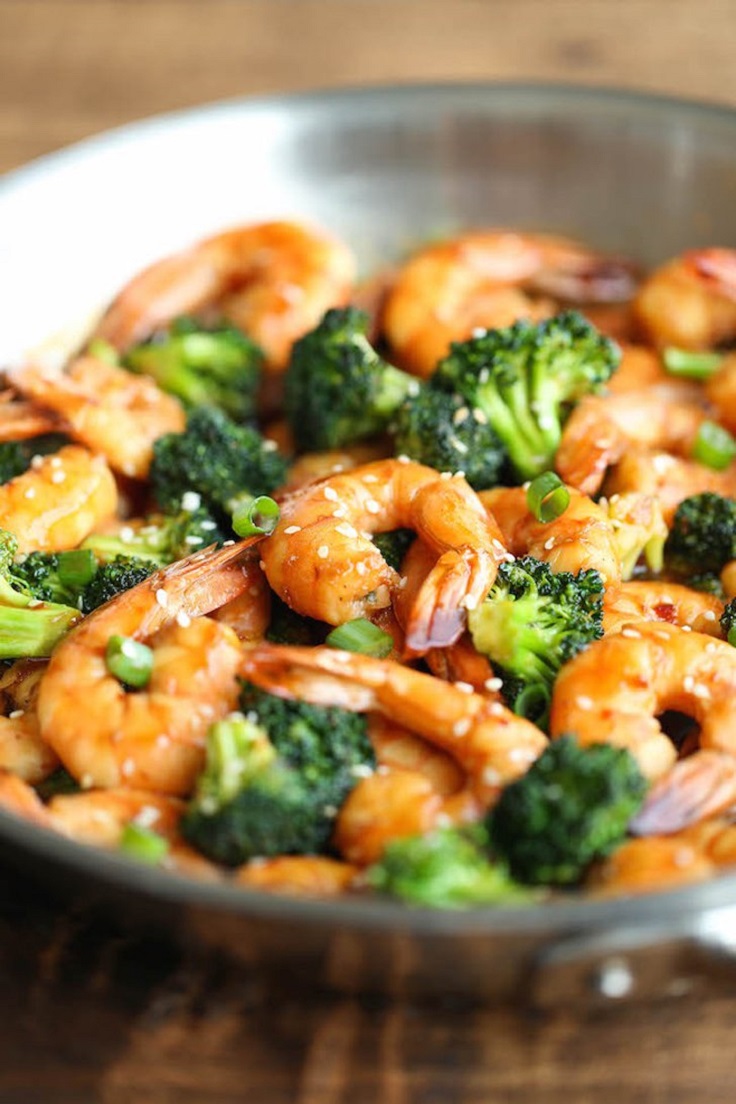 Broccoli and seafood is a popular food combination all around the world! These two taste amazing when they're combined and if you cook at home, you will also love it because it's simple and easy to prepare. For this recipe, you will need 1 tablespoon olive oil, 1 1/2 pounds medium shrimp, 24 ounces broccoli florets, 1 teaspoon sesame seeds and 1 green onion. This tasty dish not only will make you feel full and satisfied, but you can also put it on the list of low-calorie dishes – one serving has less than 300 calories.
3. Citrusy Shrimp-Stuffed Avocados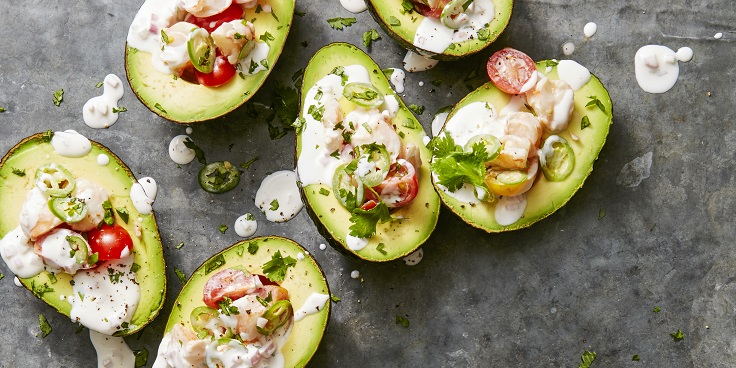 One of the ways that you can prepare stuffed avocados is by using seafood and in this case, that's shrimp. First, make sure you have all the needed ingredients – 1 small shallot, 1/4 c. mayonnaise, 3 tbsp. sour cream, 3 tbsp. lime juice, 2 tbsp. orange juice, 1 lb. cooked shelled shrimp, 1 c. grape tomatoes, 1 serrano chile and 2 ripe avocados. You can use cilantro for garnish too. This recipe serves 4 and you can make it in 15 minutes.
4. Chipotle Pineapple Shrimp Lettuce Cups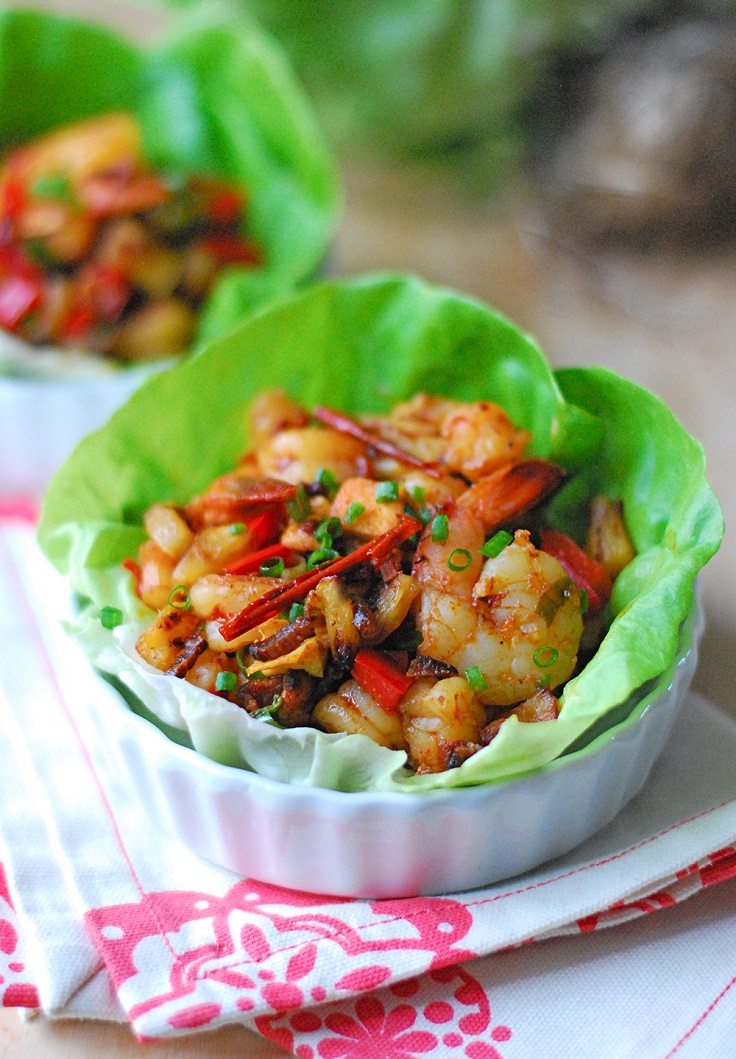 This is truly one of the best and easiest paleo recipes that you can prepare for 20 minutes. Here are the ingredients that you need – 1lb raw shrimp, 1 head butter lettuce, 1 egg, 2 slices bacon, nitrite and preservative free, 1 red bell pepper, 1 cup fresh pineapple, ¼ cup green onions and 3 tbsp chipotle adobo sauce. The recipe serves 2, so feel free to double the ingredients if you want to prepare for more people.
5. Spicy Shrimp with Pesto Noodles
via pinchofyum.com
Pesto lovers, you're going to love this recipe. To prepare your own pesto sauce, you need 1 cup kale, 1 cup spinach, 1 cup mixed basil and/or parsley, ¾ cup almonds, ½ cup olive oil, ¼ cup water, ½ teaspoon salt, 2 cloves garlic and juice of one lemon. First prepare the pesto, and then the rest of the recipe. For that, you need 1 tablespoon butter or oil, 1 lb. shrimp, 1-2 teaspoons each chili powder and cumin, salt and pepper and 4 medium zucchini.
6. Shrimp BLT Toasts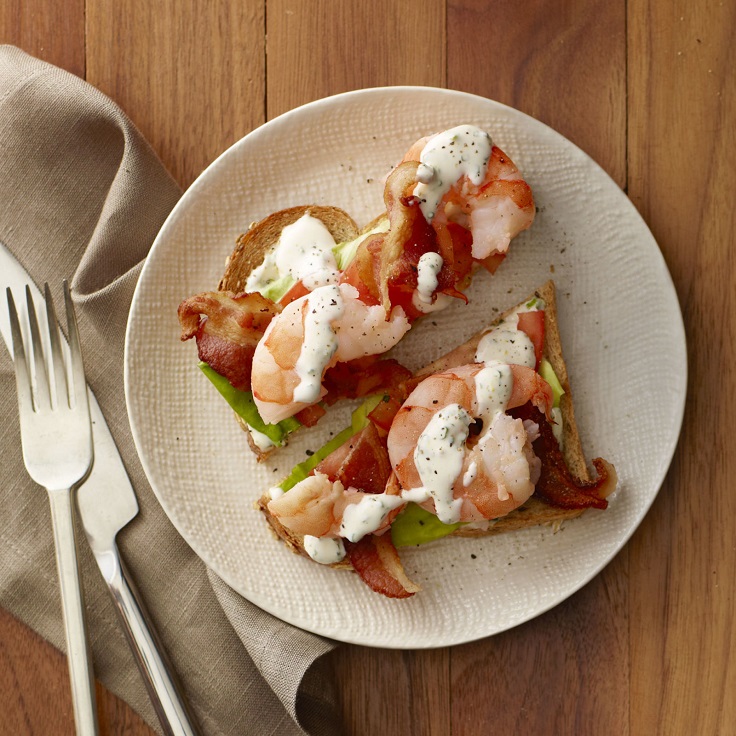 via redbookmag.com
Perfect for lunch or dinner, this toast will make you feel full satisfy your food cravings! It has so many delicious ingredients in it that you it will make you want to eat it as soon as you see it. To prepare it at home, you need ¾ lb frozen large shrimp (16–20 size), 8 slices bacon, 6 tbsp mayonnaise, 3 tbsp finely chopped fresh herbs, such as chives, parsley, or basil, 1 tbsp grated lemon zest, 2 tsp fresh lemon juice, Kosher salt and ground black pepper, 4 slices multigrain toasted bread, 4 leaves butter lettuce and 1 medium tomato.
7. Thai Shrimp Salad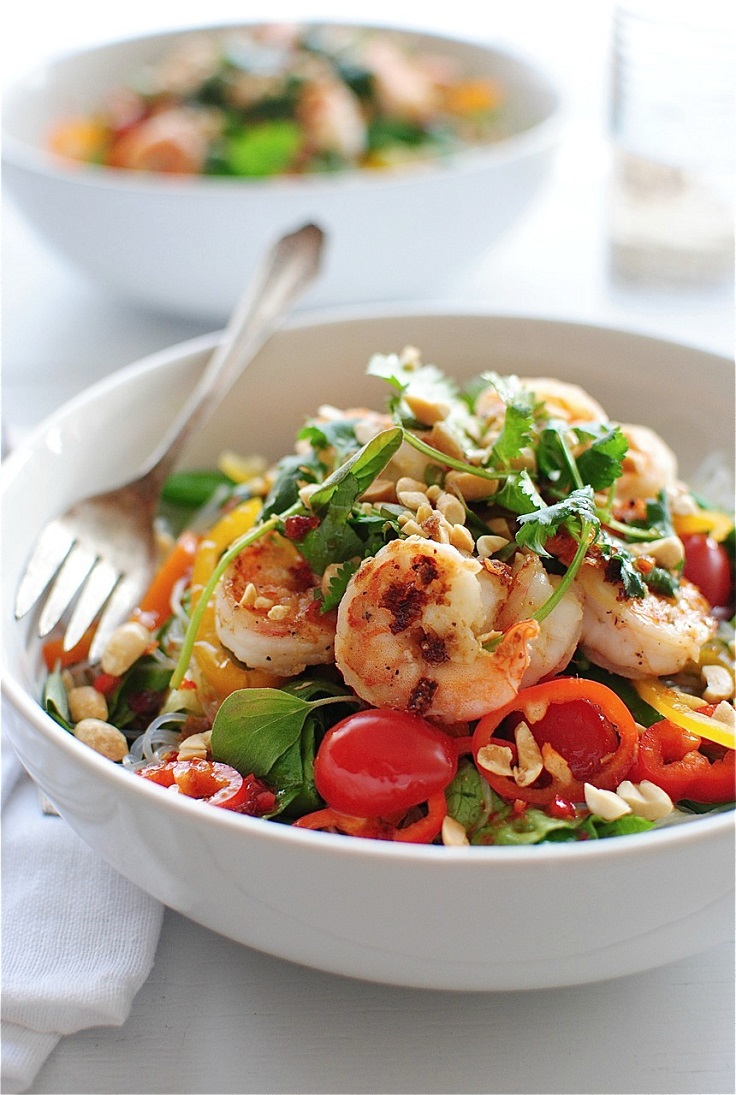 via bevcooks.com
Salads are so easy and quick recipes, so it's best if you know few recipes for days when you're too busy to spend more than 10 minutes in the kitchen. This one is a Thai salad that contains so many tasty ingredients – it's up to you to experiment a little bit with spices and other ingredients! You need 1/2 pound shrimp, 6 tbs extra-virgin olive oil, 2 tbs. soy sauce, 1 tsp fish sauce, 1 tsp sambal oelel, 1 tbs. brown sugar, 3 tbs. lime juice and 1 tbs. minced red pepper. Other ingredients you can use are lettuce, noodles, cherry tomatoes, snap peas and peanuts for garnish.
8. Linguine with Shrimp and Lemon Oil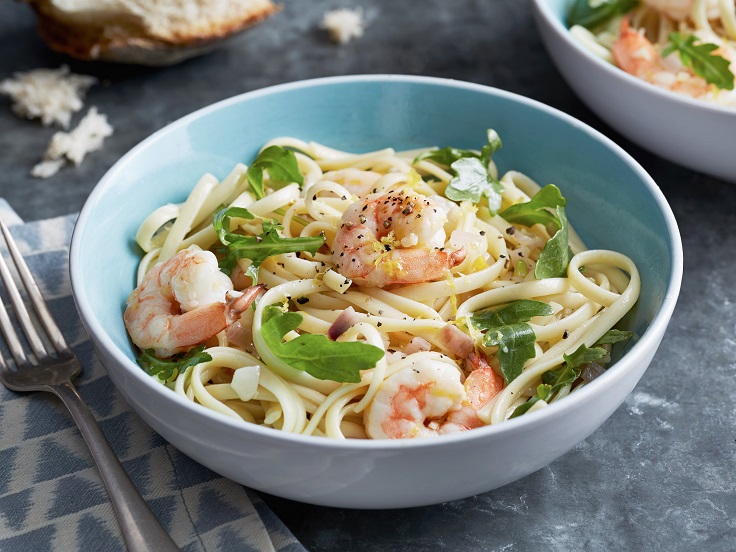 via foodnetwork.com
If you're the kind of person who can never have enough of pasta, here's one recipe to add on your list. You need 1 pound linguine pasta, 2 tablespoons olive oil, 2 shallots, 2 garlic cloves, 16 ounces frozen shrimp, 1/4 cup lemon juice (about 2 lemons), 1 lemon, 1 teaspoon salt, 1/2 teaspoon freshly ground black pepper, 3 ounces arugula and 1/4 cup chopped fresh flat-leaf parsley. It takes 25 minutes to prepare it and makes 4-6 servings.
9. One-Pot Shrimp Scampi
via thekitchn.com
If linguine pasta isn't your thing, try spaghetti. There are so many recipes with spaghetti and shrimp that was simply hard to pick just one, but we managed and here it is. It serves 6 and it's really simple to prepare it. Here are the ingredients that you need: 1 pound dry spaghettini or thin spaghetti, 1 1/2 pounds peeled and deveined uncooked medium shrimp, Kosher salt, freshly ground black pepper, 2 tablespoons olive oil, 1/2 cup dry white wine, 6 cloves garlic, 1/4 teaspoon red pepper flakes, 3 tablespoons cold, 1/4 cup coarsely chopped fresh flat-leaf parsley and juice from 1/2 a medium lemon.
10. Cold Southwestern Corn and Shrimp Soup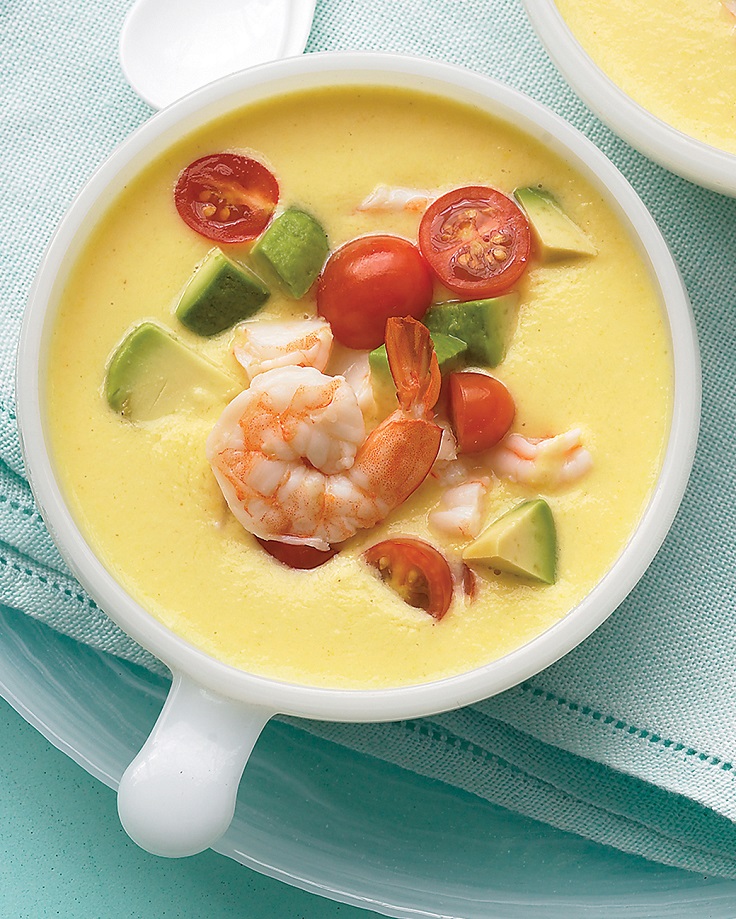 And last we have a soup that's really easy to prepare and takes just 20 minutes. You need 4 packages (10 ounces each) frozen corn kernels, 1 cup low-fat yogurt, 1 cup milk, 1/3 cup fresh lime juice, 1 teaspoon ground coriander, pinch cayenne, pepper, 1 pound cooked frozen shrimp, coarse salt and ground pepper, 1 cup grape tomatoes and 1 avocado.