Good old s'mores is always a great dessert idea. This popular campfire treat is mostly popular in the States and Canada, but the combination of chocolate, marshmallows and crackers will surely please anyone's taste. The recipe got popular in 1920's and it first started as popular between the Scouts. During this decade, the first recipe of "Some More" was published in a cooking book, while in the 1950's the campfire treat got the name "s'more".
The original s'mores dessert is a roasted marshmallow placed between two Graham crackers with a chocolate layer, however these ingredients allow many cooking experiments, so you can make different s'mores desserts. They are easy to make and can be used for any occasion.
See below ten s'mores recipes, that we are sure you're going to love!
1. Tipsy Caramel S'mores Milkshake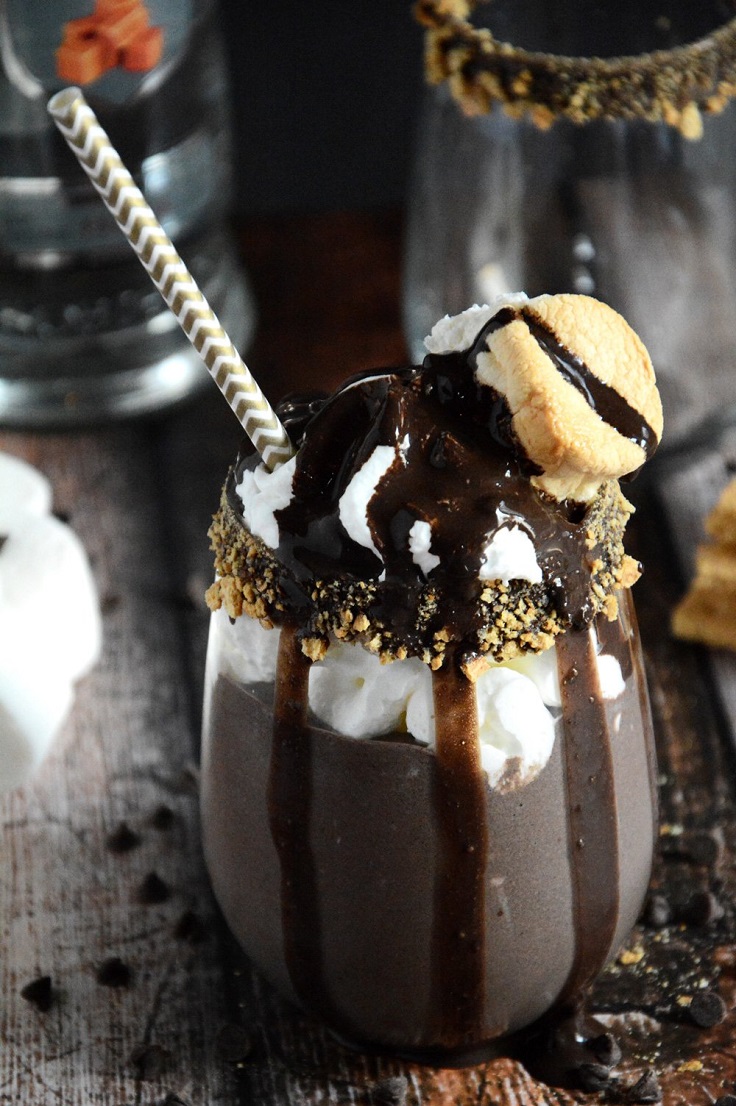 via withsaltandwit.com
S'mores can be turned into a super tasty, very sweet milkshake! All you need is ¼ cup caramel vodka, 4 large scoops of vanilla bean ice cream, 2 tablespoons of cocoa powder, 6 marshmallows, 1½ sheets graham crackers, ½ – 1 cup ice cubes, 2 tablespoons of cocoa powder, 2 tablespoons of almond milk and Sweet Leaf Vanilla Stevia to taste. The recipe serves two and it's ready in 10 minutes. It makes it a perfect sweet treat when you really want something sweet, but you don't have the time or you're feeling too lazy to spend hours in the kitchen!
2. S'mores Pizza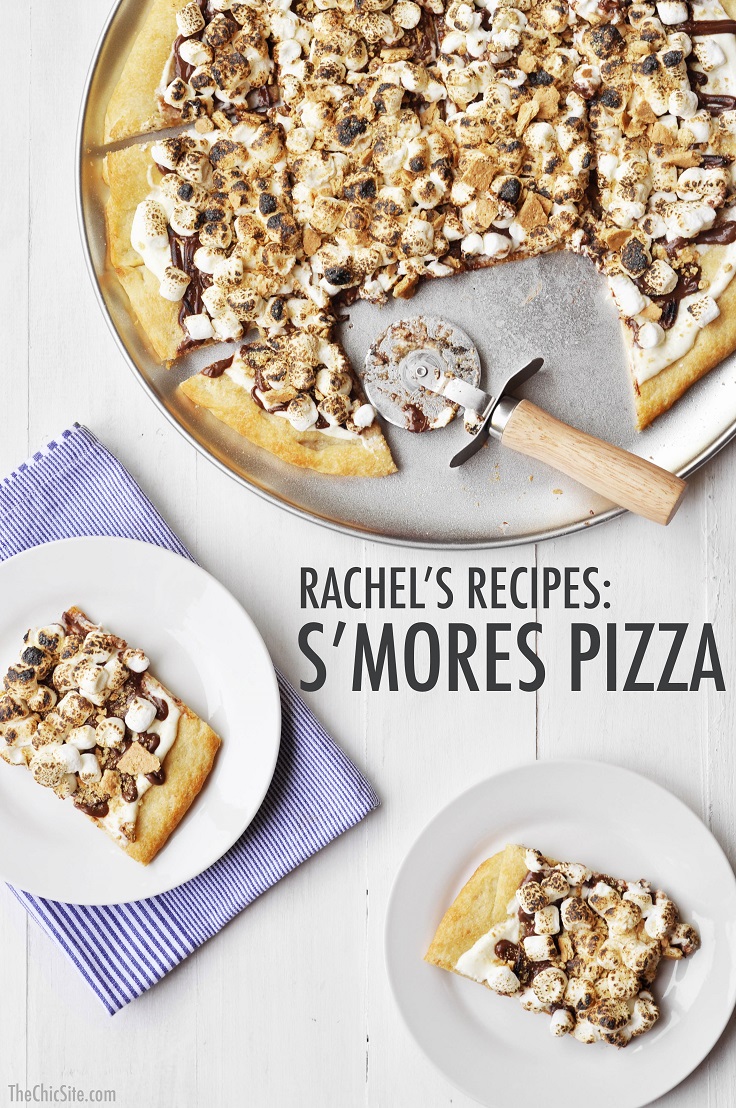 via thechicsite.com
How about eating a pizza with chocolate, crackers and marshmallows, instead cheese, pepperoni and mushrooms? Yes, the pizza we all love can be turned into s'mores dessert as well, and to make it you need pizza dough, 1/2 cup ricotta, 1/2 cup mascarpone, 1/4 cup powdered sugar, 1 teaspoon vanilla extract, 1 cup nutella, 2 cups mini marshmallows and 1/4 cup of Graham crackers crumbs. Bake the pizza dough and take it out 5 or 10 minutes earlier than the given time in the instructions, so that you can place the other ingredients. Watch out the pizza – the marshmallows can easily turn from roasted to burnt!
3. S'mores Donuts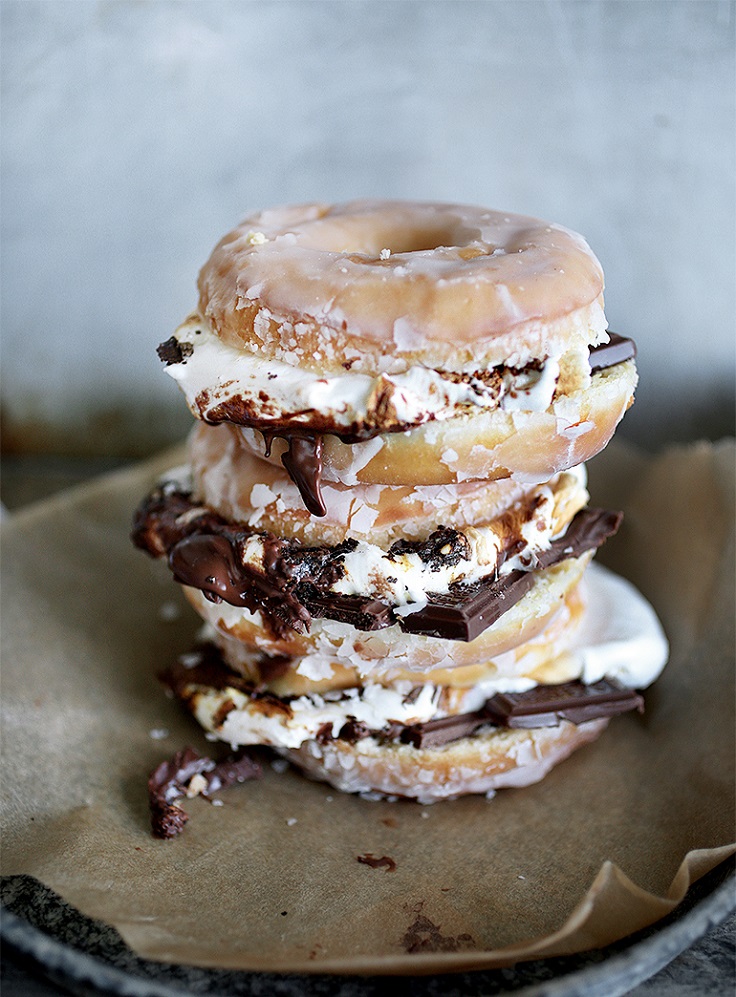 via themerrythought.com
One of the easiest recipes in this article, the S'mores donuts will be ready in no time. You can either buy the donuts or make them yourself – which suits you best. Roast marshmallow over fire until they turn brown and melt some chocolate. Slice the donuts in half and place the marshmallows and the melted chocolate. This recipe doesn't use graham crackers, but if you want some you can always add cracker crumbs on top of the chocolate layer. After placing all the ingredients, put together the donut slices and make a sandwich.
4. Triple Chocolate S'mores Bark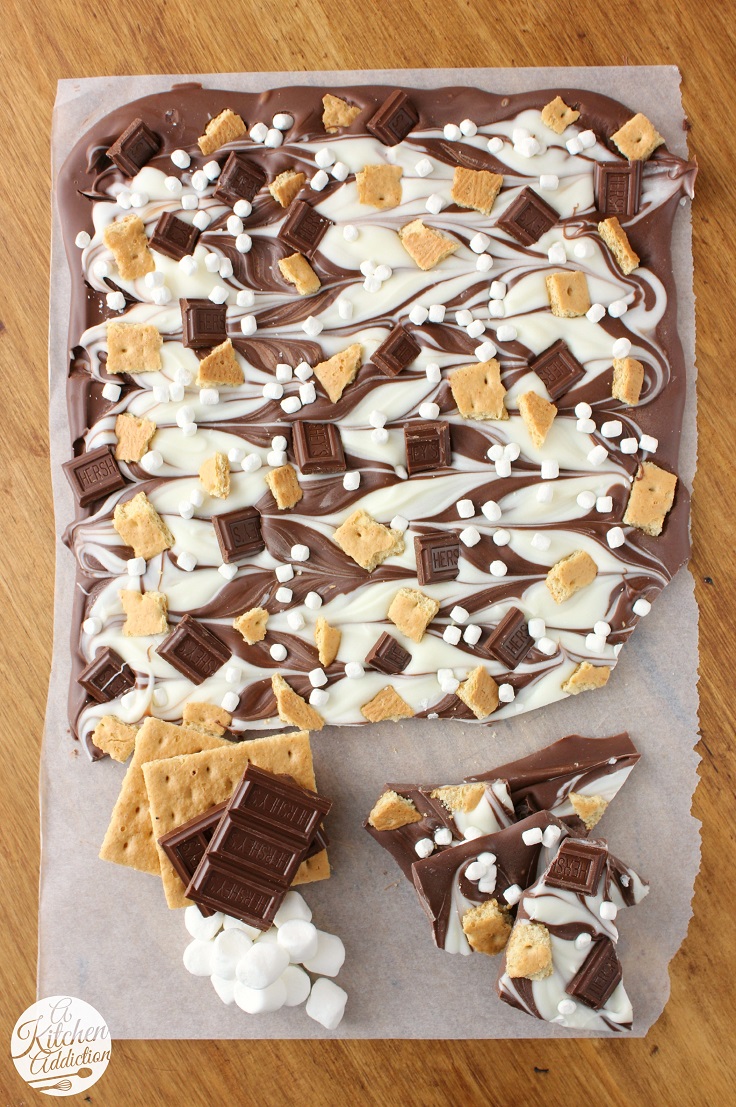 via a-kitchen-addiction.com
This S'mores bark is surely going to be one of the best you've ever had! Only five ingredients are needed: 24 oz dark or milk chocolate, 8 oz white chocolate, ¾ C graham crackers broken into pieces, ½ C marshmallows bits and 2 (1.55 oz) Hershey's milk chocolate bars. Melt the dark and the white chocolate separately, according to the given instructions. Spread the dark chocolate over cooking sheet and add the white one, but swirl it with knife. Top with graham crackers crumbs, broken Hershley's chocolate bars and marshmallow bits. Place the bark in fridge and leave it for an hour to set.
5. Peanut Butter S'mores Nachos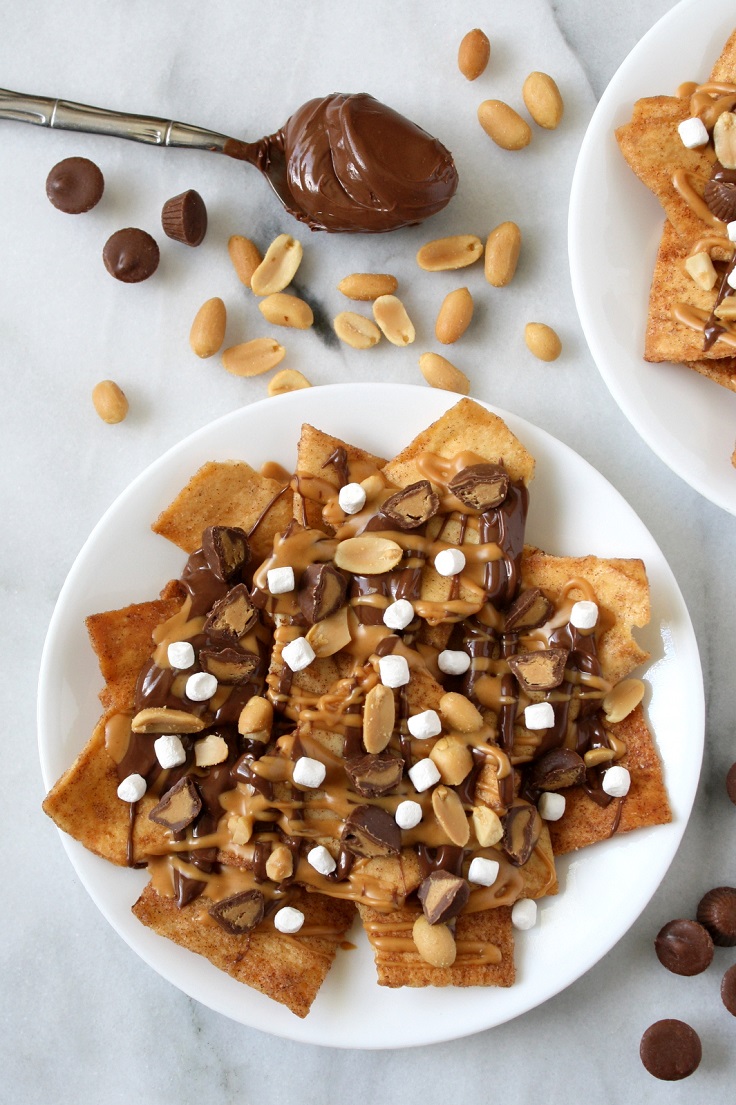 via putonyourcakepants.com
The peanut butter s'mores nachos can be the ideal night snack (not the healthiest one, though) for a movie night or when you're watching a game. Plus, it takes only 10 minutes to prepare it and that's a reason more for you to make it. You need 8 ounces cinnamon sugar pita chips, 1/4 cup of Nutella, 1/4 cup of peanut butter, 1/4 cup miniature peanut butter cups, 1/4 cup peanuts and 2 tablespoons of marshmallow bits. Drizzle melted peanut butter and Nutella over the pita chips, cut the miniature peanut butter cups in half and sprinkle them over the chips as well. Don't forget to sprinkle peanuts and marshmallow bits!
6. Marshmallow Stuffed S'mores Cookies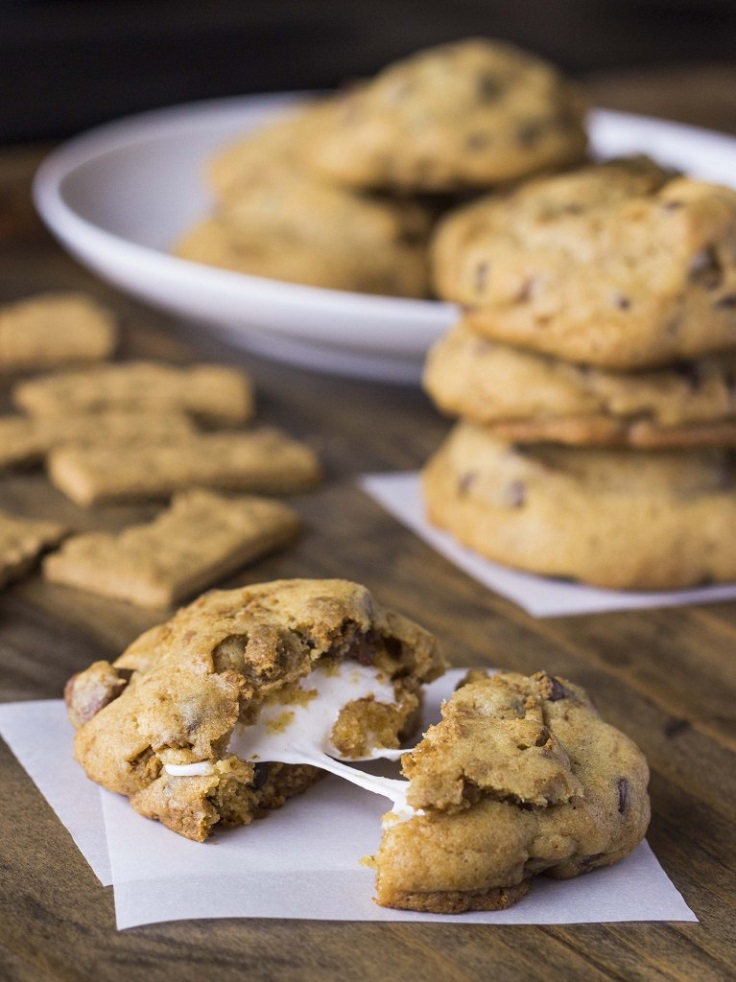 via veggieandthebeastfeast.com
Imagine soft, chewy cookies with all the S'mores ingredients – delicious, isn't it? For this recipe you  need: 2½ cups unbleached all purpose flour, ½ teaspoon salt, 1 teaspoon baking soda, ½ teaspoon baking powder, 1 cup unsalted butter, softened, ¾ cup dark brown sugar, 2 tablespoons honey, 2 large eggs, ½ cup milk chocolate chips, ½ cup mini semisweet chocolate chips, ¾ cup hand-crushed graham crackers and 10-11 large gelatin-free marshmallows. Prepare the dough and place flattened pieces of dough balls on parchment-lined cookie sheet. Place marshmallow in the middle and then add another layer of flattened dough. Bake for 10 – 13 minutes, until both sides of the cookies are golden.
7. S'mores Hot Chocolate
via alyssasbreakfastcafe.wordpress.com
Now we're back to the sweet drinks again. The S'mores Hot Chocolate is the perfect beverage for a cold and cozy winter time. Roll in your blanket, play our favorite TV show and drink this amazing hot chocolate. To prepare it, make sure you have 2 cups whole milk, 60g Symphony Bar milk chocolate, 1 heaping tsp cocoa powder, 1 tsp Nutella or other chocolate hazelnut spread, 10 large marshmallows or so, 4 graham cracker squares, chocolate syrup and caramel sauce. Having a hot chocolate like that on the picture, is surely going to make you drink it the minute you have it in your arms!
8. Ooey Gooey S'mores Brownie Bars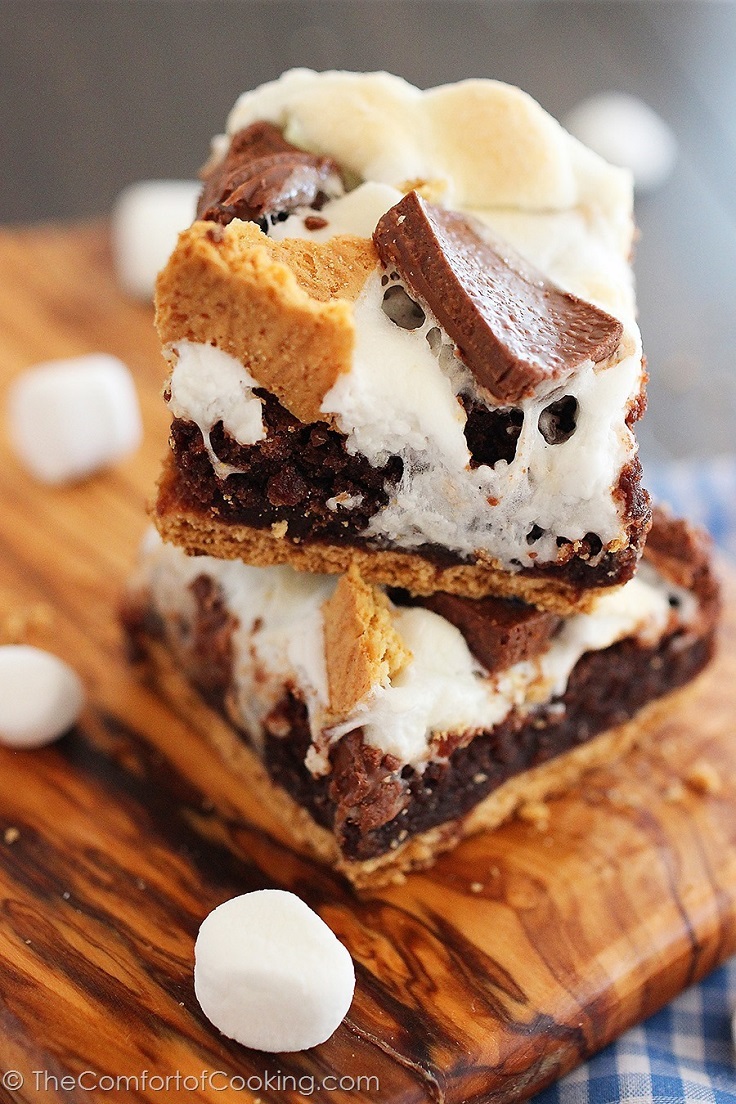 via thecomfortofcooking.com
Every brownie is a delicious brownie, but the S'mores is a special one. It has to be the marshmallows that make this recipe so great! The Ooey Gooey S'mores Brownie Bars recipe serves 24, so it's great for parties, family gatherings and other celebrations. You need the S'mores ingredients – 3 cups mini marshmallows, 1 – 2 Hershley's chocolate bars or similar, 6-10 whole graham crackers and 2 – 3 crushed graham crackers. The other ingredients needed are for the brownie – a brownie mix and the additional ingredients mentioned on the package, such as eggs, water and oil.
9. S'mores Custard Cake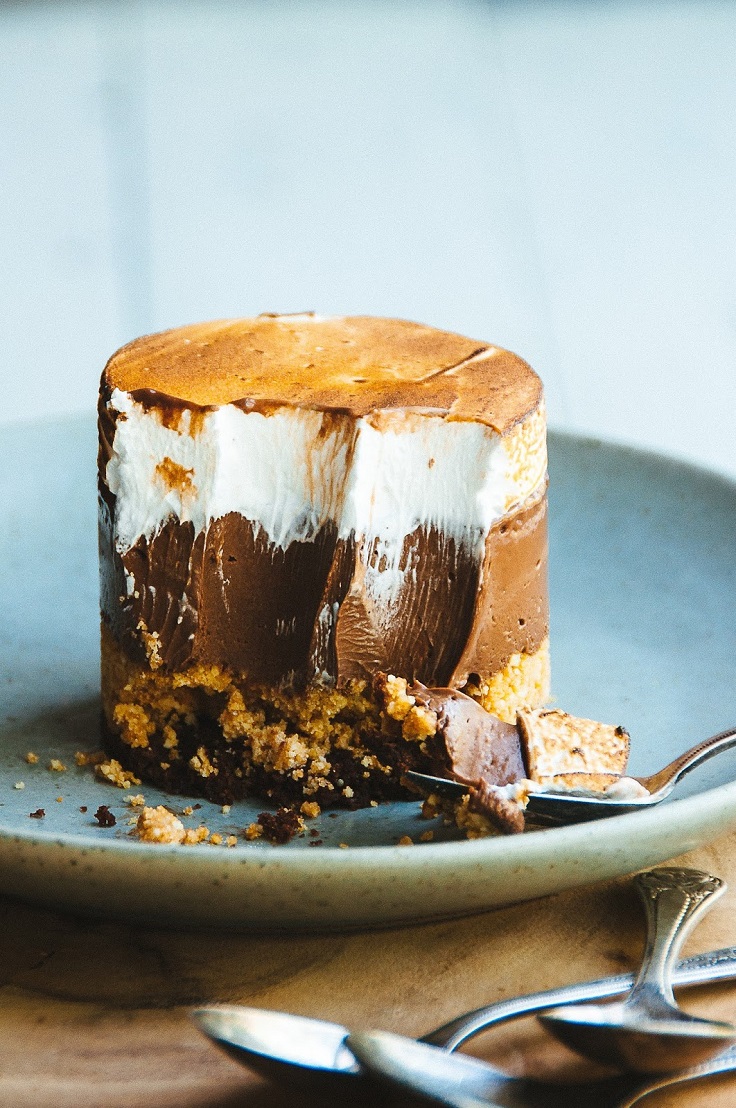 via hintofvanillablog.com
A campfire treat transformed into fancy dessert – the S'mores custard cake. It does tastes tasty, but you will also have to spend more time in the kitchen to achieve that tastiness. The recipe makes 3 – inch cakes, and you also need more ingredients, because you are going to make a Graham Streusel, Chocolate Crème Brûlée, Meringue and Devils Food Cake. When all of these are combined together, what you get is that amazing S'mores custard cake shown on the picture. So, if you have more time, buy all the ingredients you need and start making your own S'mores custard cake.
10. Peanut Butter S'mores Dip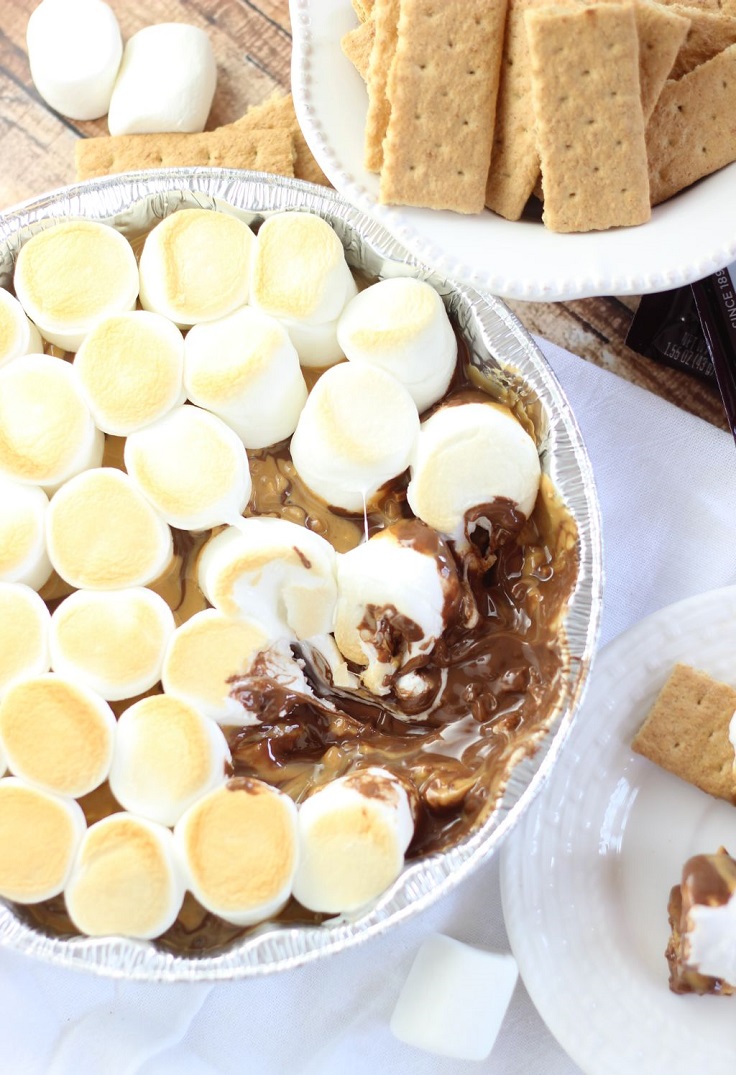 via thegoldlininggirl.com
The S'mores dip is probably one of the most popular S'mores recipes. It's easy to prepare and it's also one of the most delicious night snacks that one can have. Plus, this dip contains peanut butter, and we all know that peanut butter is definitely one of the most delicious butter ever known to human kind! In a cake pan, place chocolate squares and add peanut butter on top – about a tablespoon at a time. Put the cake pan in preheated oven or grill for one minute, until the chocolate and the peanut butter are melted. You can now swirl them if you want to. Add the marshmallows on top and put it back in the oven and bake until the marshmallows are a bit roasted.