A mouthful of the ocean, years ago the oyster was considered a humble snack as they grew in abundance around the harbors. Now oysters have become associated with champagne, extravagance, wealth, and romance.
Often oysters are served raw on the half shell with a little mignonette sauce, but we have also collected some great healthy oyster recipes, which lightened-up versions of the classic oyster dishes and a good source of zinc, which supports the immune system. Try some of them at a dinner party, or just as part of a romantic dinner for your loved one.
1. Smoked Oyster Pasta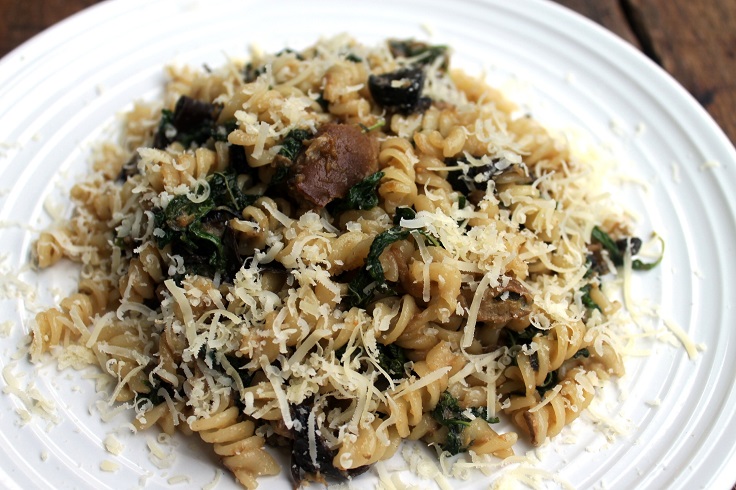 Recipe via dentistvschef.wordpress.com
We understand that most purists will want to eat oysters raw but sometimes a little innovation in the kitchen can reveal your genius inside. This dish will make you feel like you have really achieved something brilliant. You'll have to smoke the oysters and preferably with oak wood chips but any soft enough chips will do just fine. You might not want to overdo it. It will demand some technical abilities but the result is unheard of.  Each oyster is around 10-15 calories when raw, so mixed with the pasta, it's a dish that will remain rather balanced too.
2. Seasoned Oyster and Goldfish Crackers
Recipe via veronicascornucopia.com
Beautiful as a snack, or as a little entree, these bite-size oyster crackers offer a lot of fun to entertain your guests or simply, your family and friends. A quick and easy to follow the recipe, that will not make you spend half a day but the opposite. Fun for all ages and a great way to share for any special occasion. They are a way to introduce oysters to the faint-hearted and the "not so ready to eat raw oysters yet" people.
3. Bacon and Mushroom Stew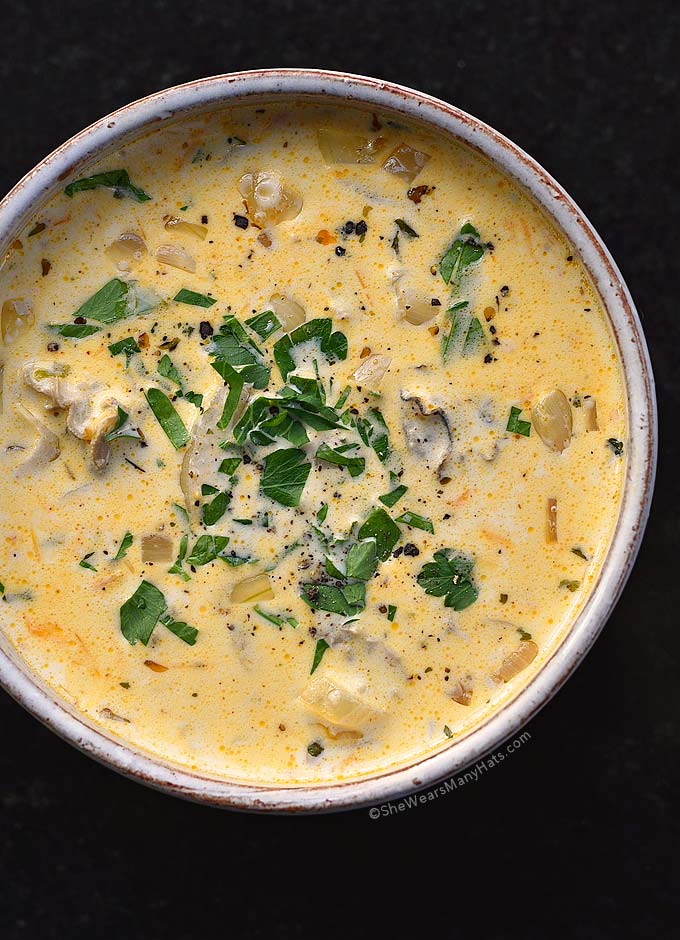 Recipe via shewearsmanyhats.com
Perhaps you never had the chance of thinking about making a soup with freshly, shucked oysters. However, as you're reading the recipe I have no doubt that you will add fresh oysters to your shopping list. Perfect for the winter days especially when oysters are in season. It is also a great way to introduce oysters to people having a hard time with the oyster consistency but who love the iodized flavor profile. Really quite simple to make with a very rewarding ending.
4. Fried Oysters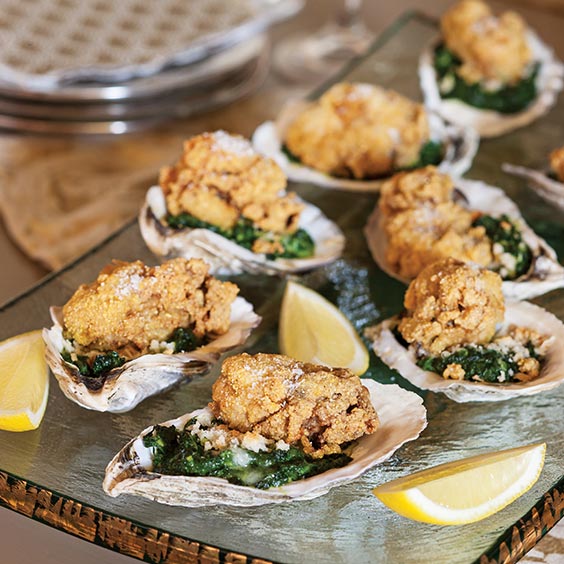 Recipe via thespruceeats.com
Fed up with eating fried chicken in 100 different ways imaginable? Would like to venture with something enlightening that hasn't got the word chicken attached to it? Then this is the recipe for you! Very simple to do and perfect for oyster beginners. Works perfectly well with a homemade tartar sauce as a lovely snack in front of a good movie or if you're having a dinner party. Not time consuming, you'll devour them in minutes.
5. Thai Oyster Salad
Recipe via linsfood.com
If you're one of those who is all about impressing people when you invite them around and it's your turn to cook, then this is for you! It's one of the most creative, colorful, taste challenging recipes you'll find. A hot, sweet, and sour Thai salad that will blow your taste buds into a different dimension. A truly winning dish for those seeking to challenge their mouthfeel. We think of Thai cuisine mainly for their warm dishes but their salads are genuinely exquisite.
6. Oyster Motoyaki
Recipe via chowtimes.com
In this recipe, you will find many important ingredients, one being, of course, the oysters. However the mayonnaise. You will want to use and only use the Kewpie Japanese mayo and Japanese mayo only if you truly want this dish to work as it is so dense and rich. Indeed, one will have to pay a visit to an Asian shop but a visit well worth it to accommodate for so many Asian spices and discoveries.
7. Australian Oyster Kilpatrick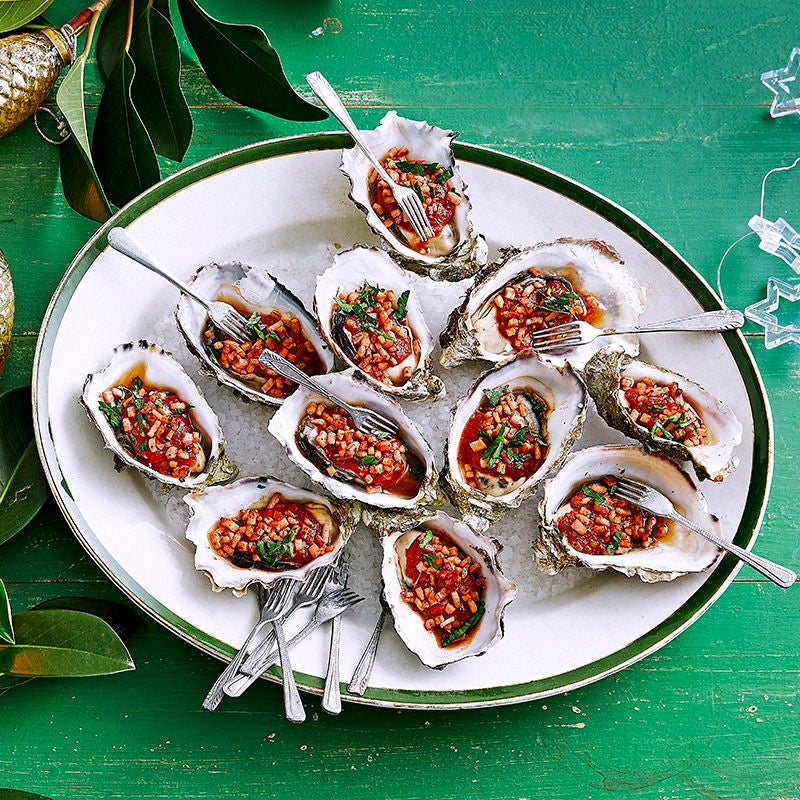 Recipe via thespruceeats.com
A little Aussie one for you. Easy to do, great flair profile which also looks great. Smoked crispy bacon and Worcestershire sauce sounds all too an English breakfast with eggs, sausages, and baked beans, however, this really is very Australian. This dish was created by Ernest Arbogast of the Palm Court at the Palace Hotel in San Francisco. The story is super interesting and rather fun so click on it.
8. Nigerian Spicy Oysters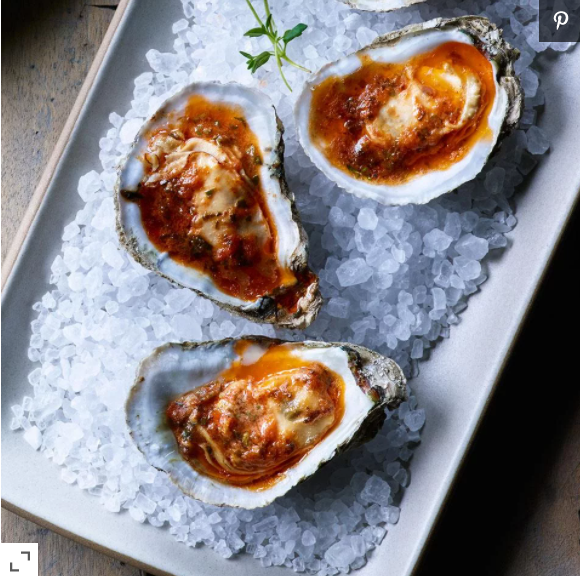 Recipe via recipes.fandom.com
In this part of the world, oysters are in abundance and many recipes exist. Nigeria is well known for its diversity of spices, things in the regular world we have difficulties finding. Well worth dish especially if you have quality oysters. A little hot on the palate but nothing that will take away the natural flavors. Not difficult and can be done by any of us in no time.
9. B.O.L.T – Bacon, Oyster, Lettuce, Tomato, Burger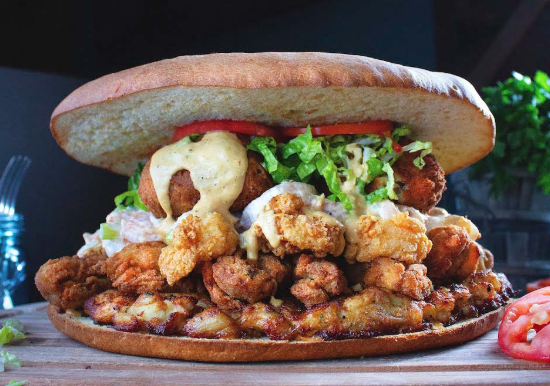 Recipe via bonappetit.com
We often wonder how many burgers one consumes in one lifetime. We are prepared to bet that most have never tried nor thought about making an oyster burger. And yet it is a burger revelation! The contrast of flavors versus textures is incredible and will make you think of different variations to this recipe. In any case, this is really fun and definitely on your next in line must cook.
10. Oysters Rockefeller
Recipe via saveur.com
An absolute classic recipe that deserves a mention. Although the recipe is secretly guarded, this version gets as good and as close. Originally created in New Orleans at the legendary Antoine's restaurant. This is a great recipe for those trying oysters for the first time as they are put under the grill getting rid of the somewhat slimy texture.