Who can ever resist on all that jewelry that takes our breath away and keeps it for itself until we buy it? We buy and buy until our room is full with necklaces and rings, earrings and bracelets. We know it's time for us to be better organized with our jewelry the moment we start losing it or forgetting where we've put it. Instead of spending lots of money on that beautiful holders, there are other ways in which we can storage the jewelry and still be creative. You will be surprise that some of the ideas come from things that you already have at home, you just need to reuse them! If you are wondering how to organize it and make it look creative at the same time, here are ten ideas to consider.
1. Little Molds For Your Jewelry
via paisleywallpaper.blogspot.com
The molds can be super practical not just for giving shape to desserts, but when it comes to organizing jewelry too! You can use the smaller ones for rings and earrings, while the bigger molds for the necklaces and bracelets. Not only they are practical, but they can also be nice decoration for your bedroom or bathroom, wherever you decide to keep the jewelry.
2. The Grater Storage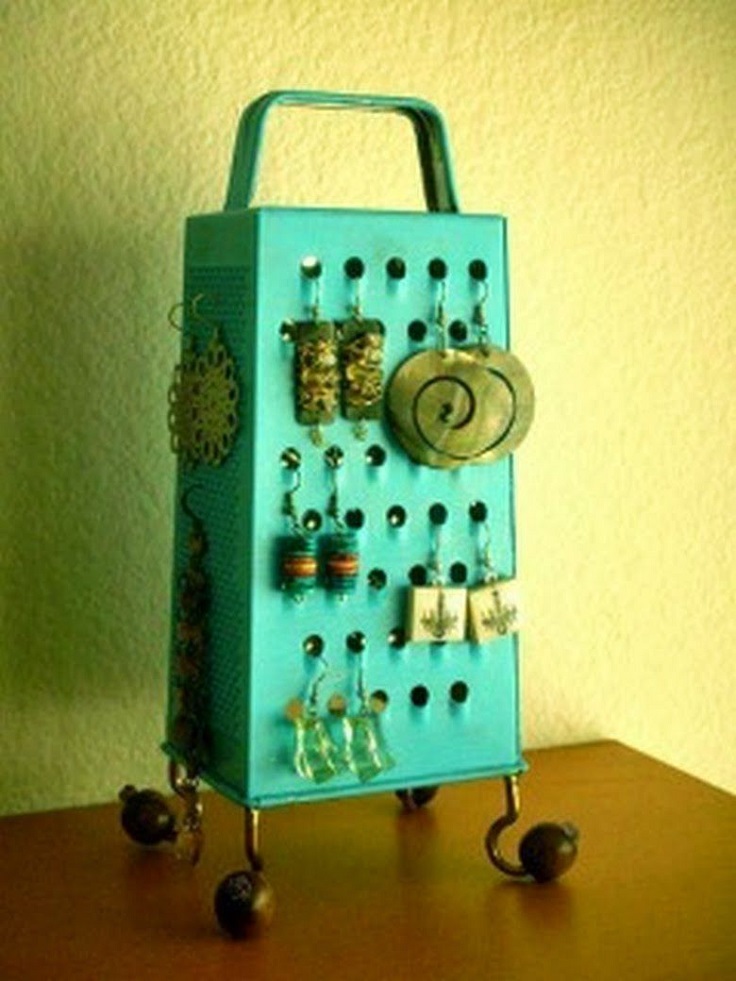 via curbly.com
The grater can be such nice earrings holder. It would be great if you paint it in order to look more as a decoration and not as item that belongs in the kitchen, but accidentally ended it up in some other room with some other purpose. Your earrings going to be safe with it, anyway!
3. Unusual Use Of The Muffin Tin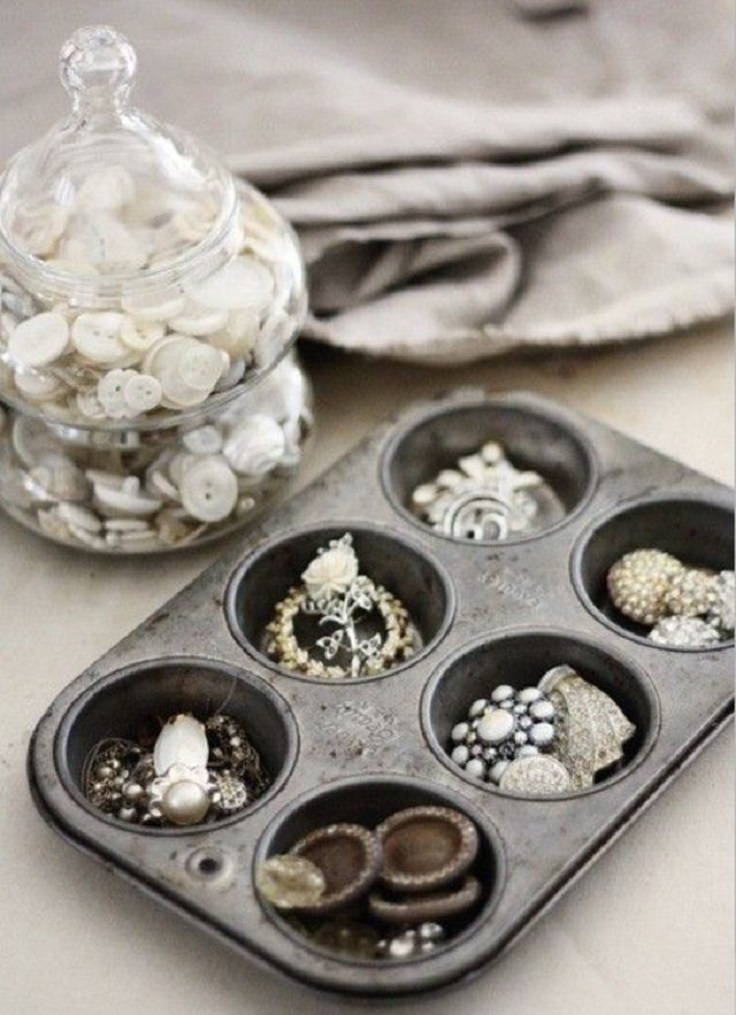 via shelterness.com
Here's another kitchen item that can be used as a creative solution in the battle against losing jewelry and forgetting where you've put them. If you've got any old muffin tin, instead of throwing it away, place it in your bedroom and give it new meaning as your new jewelry storage.
4. Old Frame Storage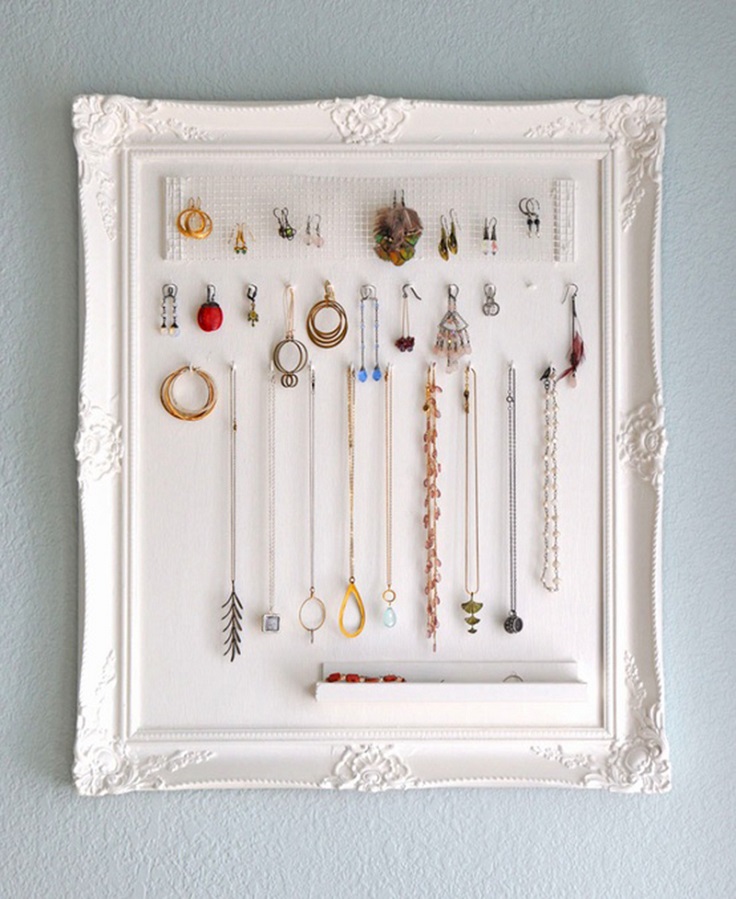 If you are more into DIY projects, here's one you should try out. You need to buy few items and then there's a process of measuring, staggering earring hooks, using glue, painting and so on. It will take some time and even some money, but the outcome is something worth to have so don't get frustrated if it takes you a little bit longer than expected or if you didn't make it good enough. It's important to enjoy while making your jewelry storage, too!
5. Shades And Shapes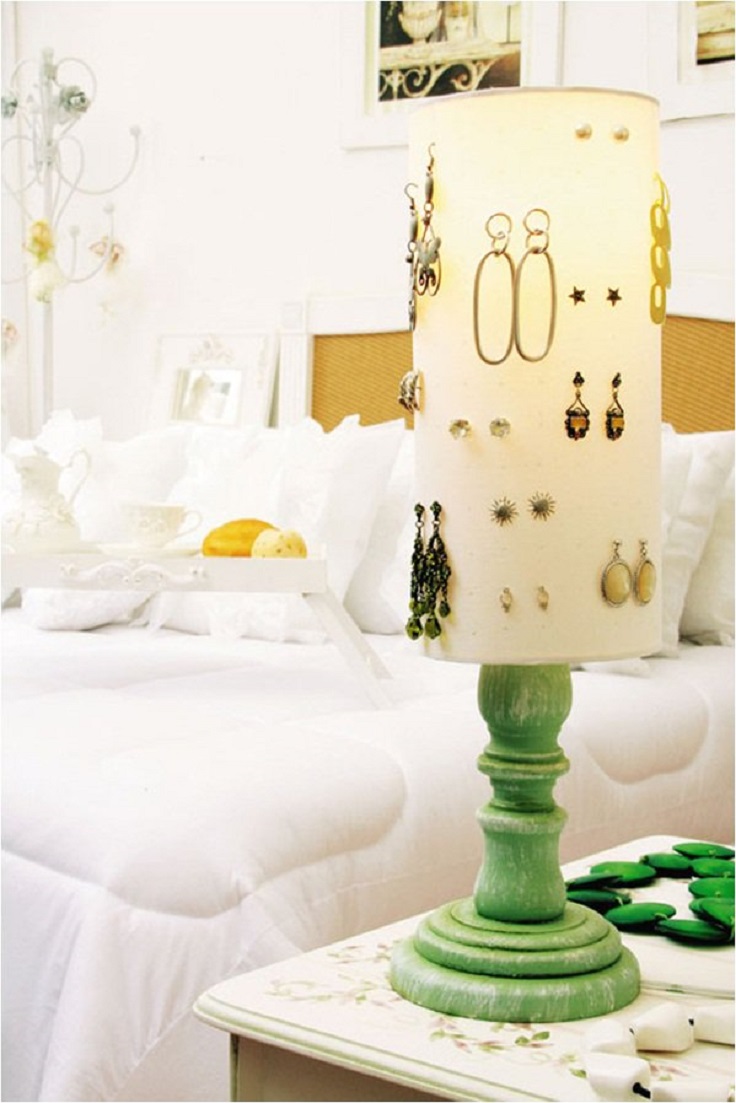 A little bit unusual, but yes, your lamp can be used as earrings holder, which at night can give some cool shades and shapes in the room. It's practical and costs you no money (if you already have the proper lamp) and it's cool. It's rare to find a holder like this and that's what it makes all very interesting.
6. The Vintage Way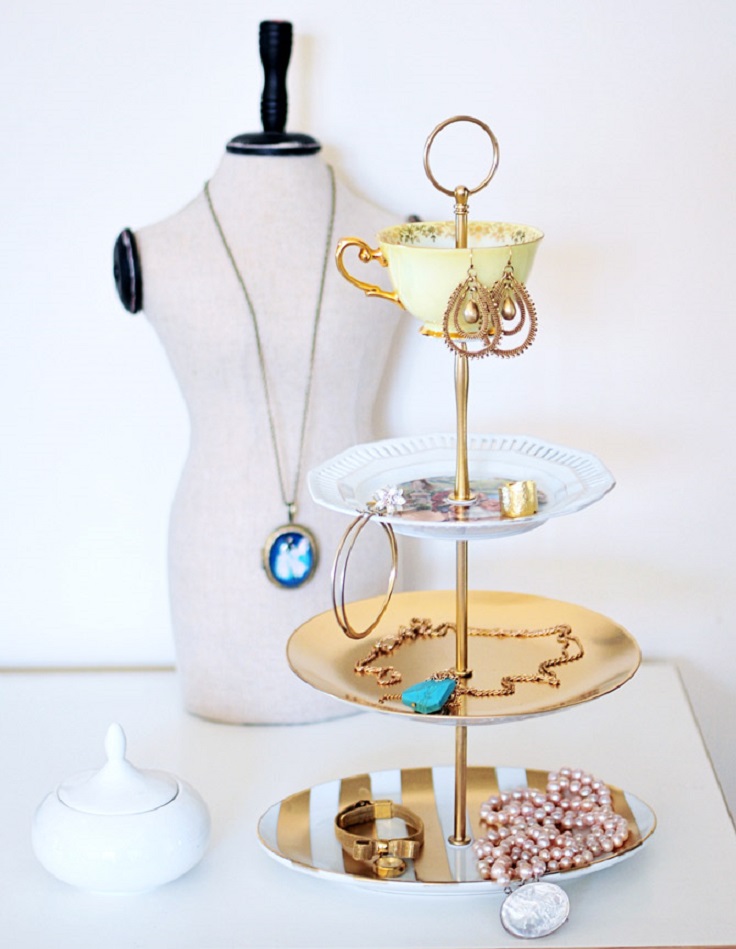 via ambitoterritorialecinisellobalsamo.it
…And also the classy way, in this case. Most of the breath – taking holders are expensive, so instead of throwing money on them, use your own dessert stands and transform them into jewelry stands. This one is so easy and the only worry you'll have is whether to put the necklace next to rings and so on.
7. The Small Space Case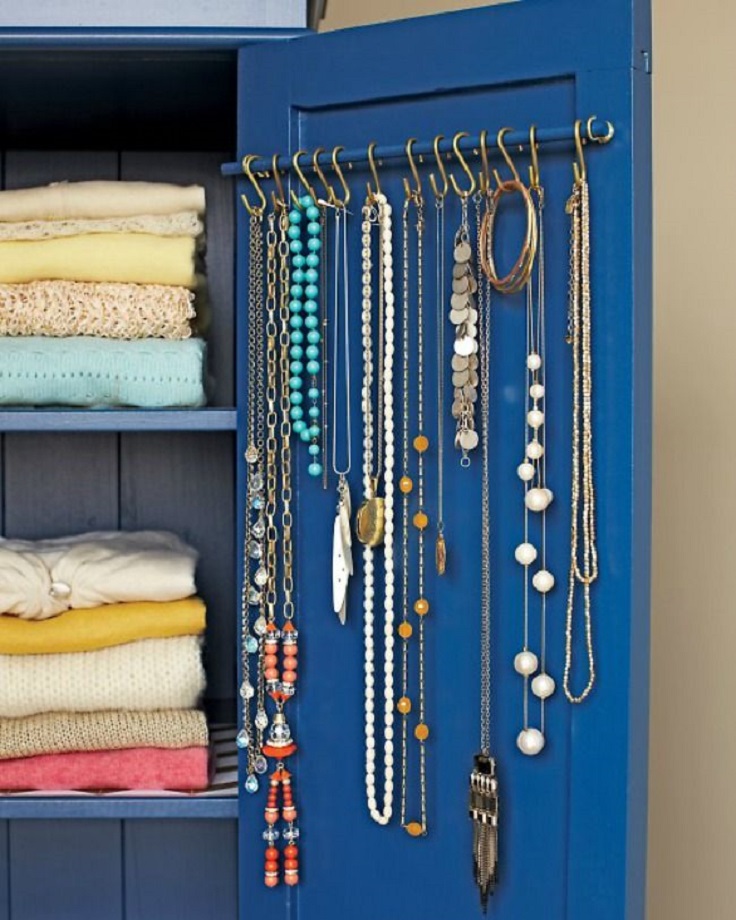 Are you feeling like your bedroom is already small and crowded enough and the last thing you need is dusty jewelry or jewelry everywhere around the room? Or both? This one is a very practical idea because you actually keep your precious stuff in your wardrobe.
8. The Creative Twig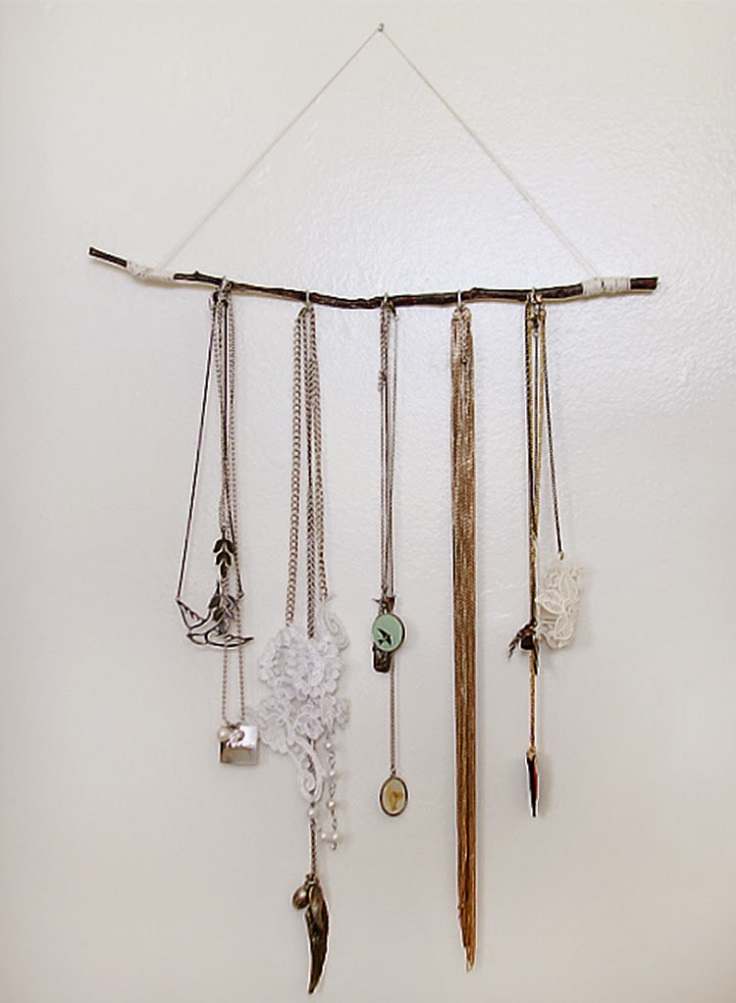 via julieannart.com
Another unusual way of organizing your jewelry is hanging a twig on your wall with all your stuff on it. So, if you are more of the DIY project lovers, then this one might be the perfect for you. And how could not be, the twig looks really nice and creative.
9. Woodbox Project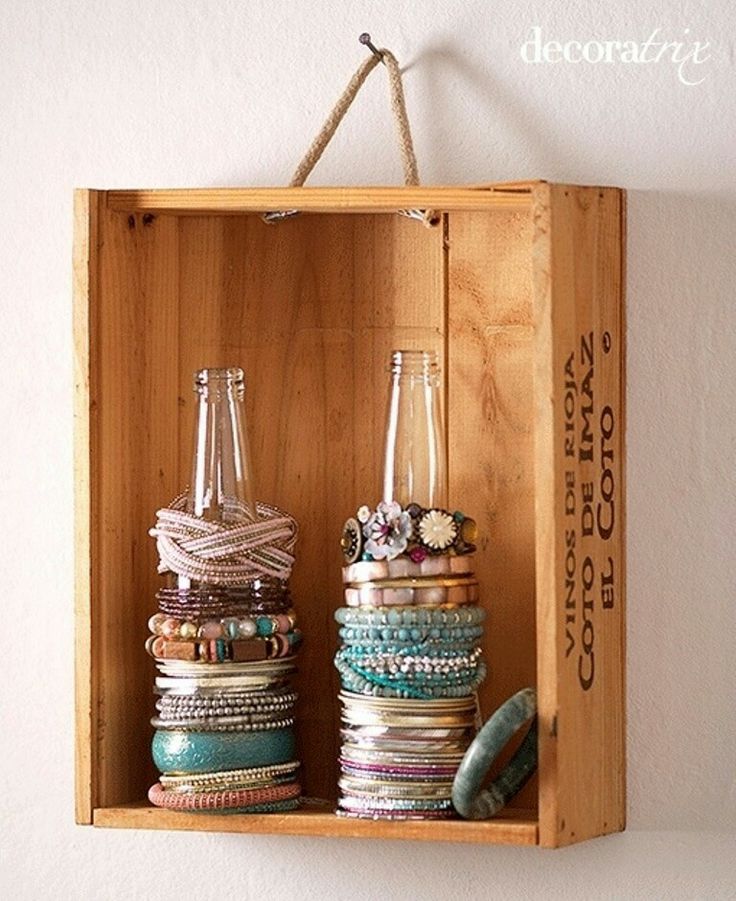 via decor4all.com
If by any chance you find a wooden box that you or someone doesn't need, then what you need to do in order to make a nice jewelry storage out of it, is to hang it and place empty bottles inside it. This one is a perfect way for anyone who has lots of bracelets that need a place of their own.
10. Pegboard Project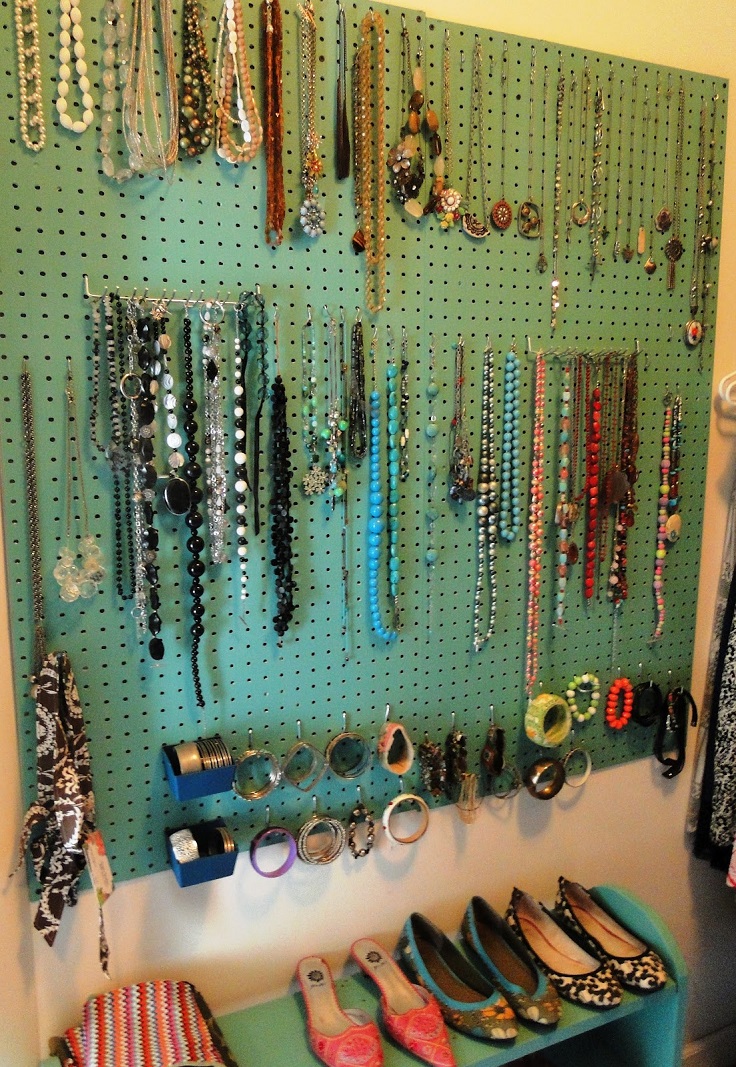 You want your jewelry to be placed where you can see it? No problem. For this project you need a peg board, a paint and some empty wall where you can place the board. After you hang it, there are couple of ways to hang your jewelry on, and it's up to you to see which of it suits your need and style the best.