Why not think outside of the store-bought heart-shaped box this year and make your own homemade treat for your sweetie. You can make a surprising number of well-loved desserts with chocolate.
From puddings and cakes to fondues, truffles and pies, there's no end to variety that you get to try. The great news is that these summer chocolate desserts are easy to make, and they are delicious! Beside all kind of ice-cream flavours, these chocolate recipes are perfect for the summertime.
Start experimenting with these 10 ideas here. If you are pressed for time but still need a treat, any of these ideas will work. Do you have some other summer chocolate dessert recipes to share with us?
Hot Chocolate Fudge Cakes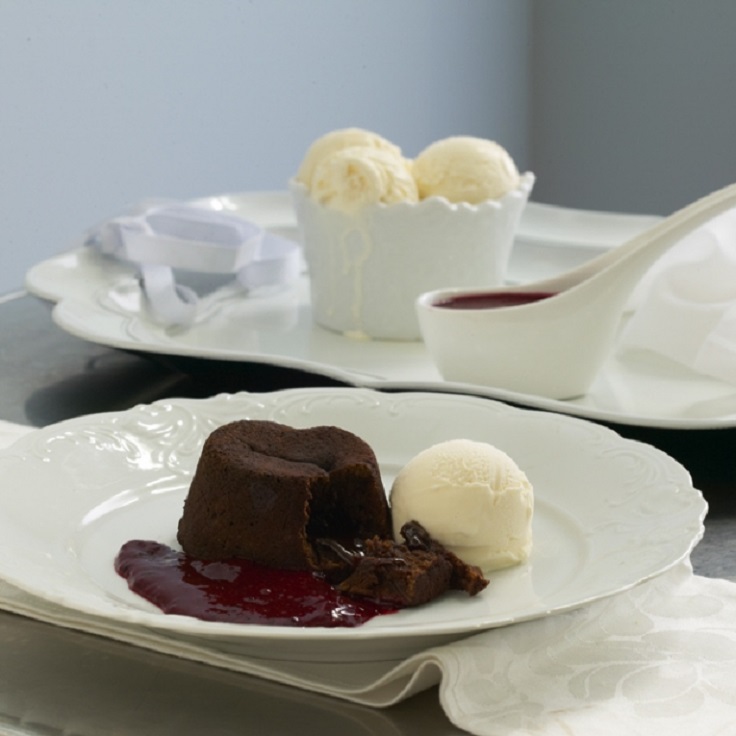 via bittongourmet.com.au
This is a perfect chocolate cake to serve for dessert or even a decadent afternoon tea, or for satisfying chocolate cravings at any time of the day. This recipe is also deceptively simple resulting in an intense chocolate flavour, a more-ish cake with a soft 'fudgy' centre. Add some finely grated orange zest to the mixture for a more 'grown-up' chocolate cake. Serve with a berry coulis and vanilla bean ice cream. Fresh raspberries are a great accompaniment, too.
Chocolate Cupcakes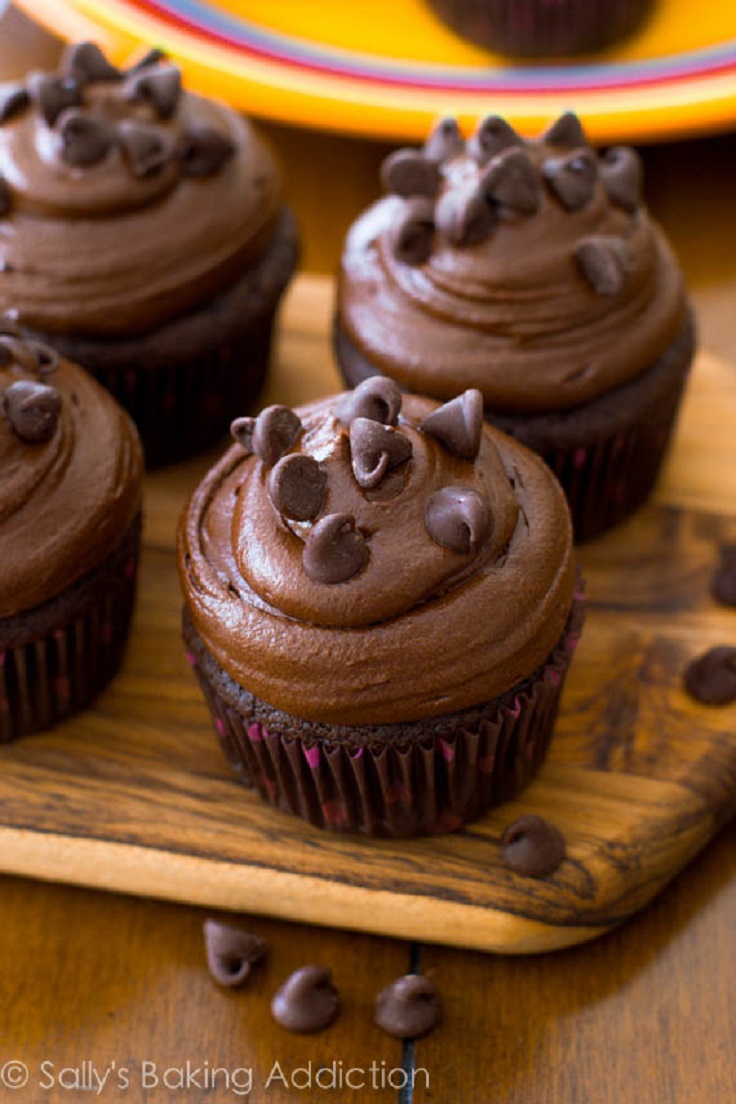 This recipe is dedicated to all of you chocoholics. Pure, unadulterated, inexplicable, out-of-this-world love for chocolate. They are dark chocolate cupcakes with a thick dark chocolate frosting on top and sprinkled with chocolate chips. The cupcakes are not overly sweet – they are deep and intense.
Creamy Chocolate Pudding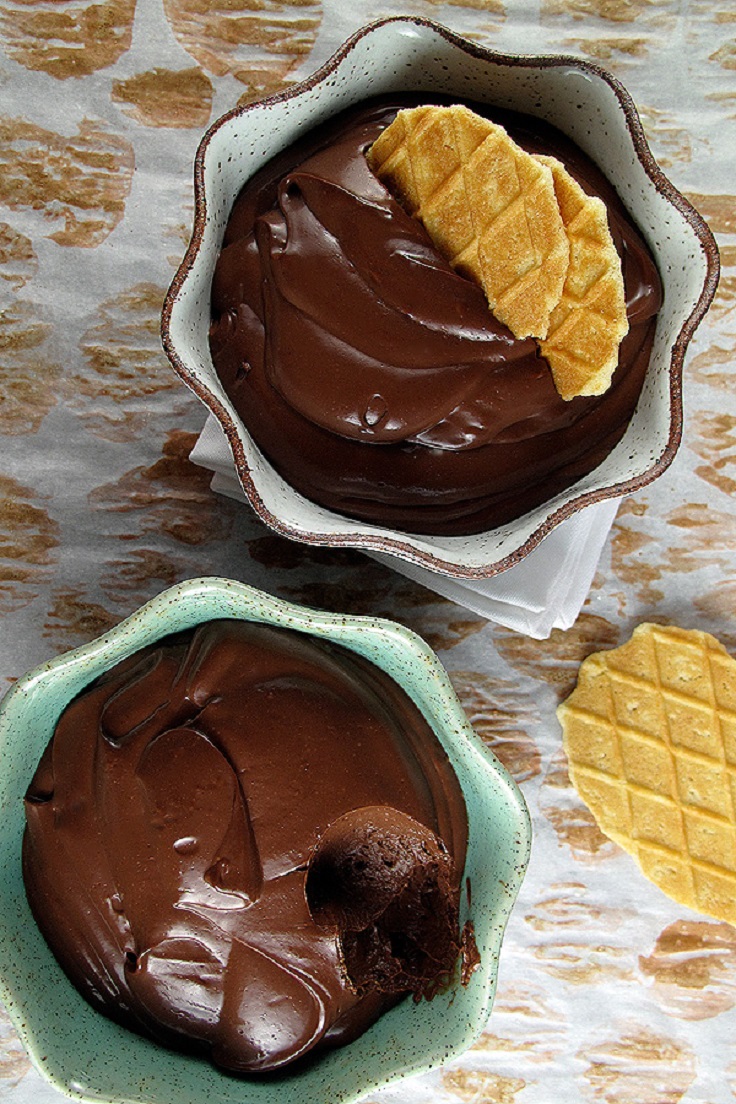 via aidamollenkamp.com
The double hit of melted chocolate and cocoa powder sends this dessert over the top. Serve the pudding on its own, freeze it for dairy-free pudding pops, or spread it into a cookie crust or other pie crust for a simple chocolate pie.
Chocolate and Peanut Butter No Bake Cookies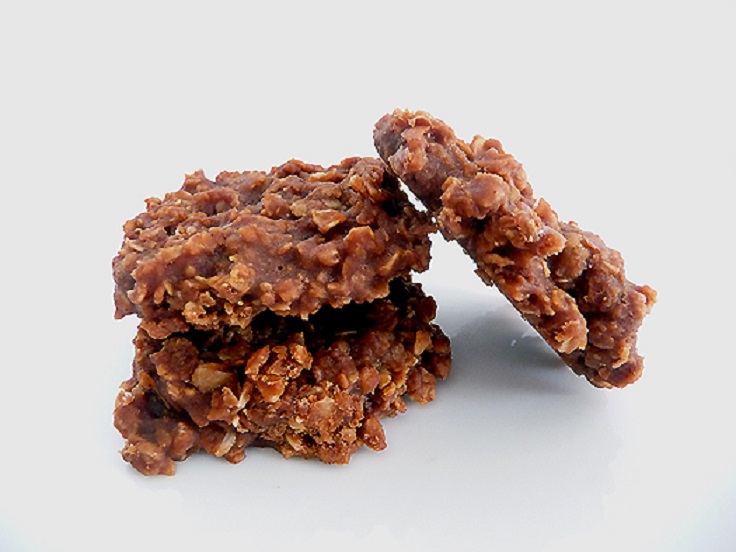 via momitforward.com
The following recipe for peanut butter and chocolate no-bake cookies is easy to make. There is no baking involved. Could it be any easier? Just pop them in the fridge for a few minutes, and then you're ready to serve!
Chocolate Meringue Pie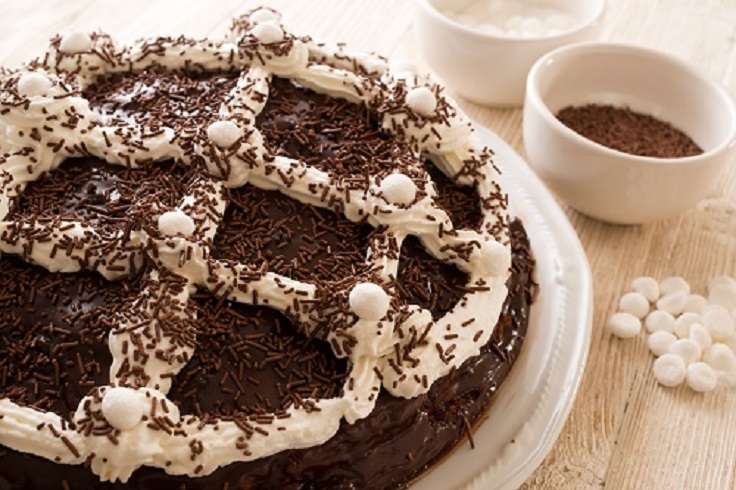 Mix ¾ cup sugar, cornstarch and salt in a saucepan and mix in 4 ounces chocolate chips and 2 cups of fat-free milk. Boil for a minute as you stir, and turn the flame off. Whisk in 3 well-beaten egg yolks and cook for another 5 minutes as you stir. You'll need to mix  3 egg whites, cream of tartar, ½ cup of sugar and vanilla in a pot for the meringue. Beat the mixture until it's soft and foamy. Fill both the chocolate and the meringue in a pie shell.
Sugar-Free Bourbon Chocolate Truffles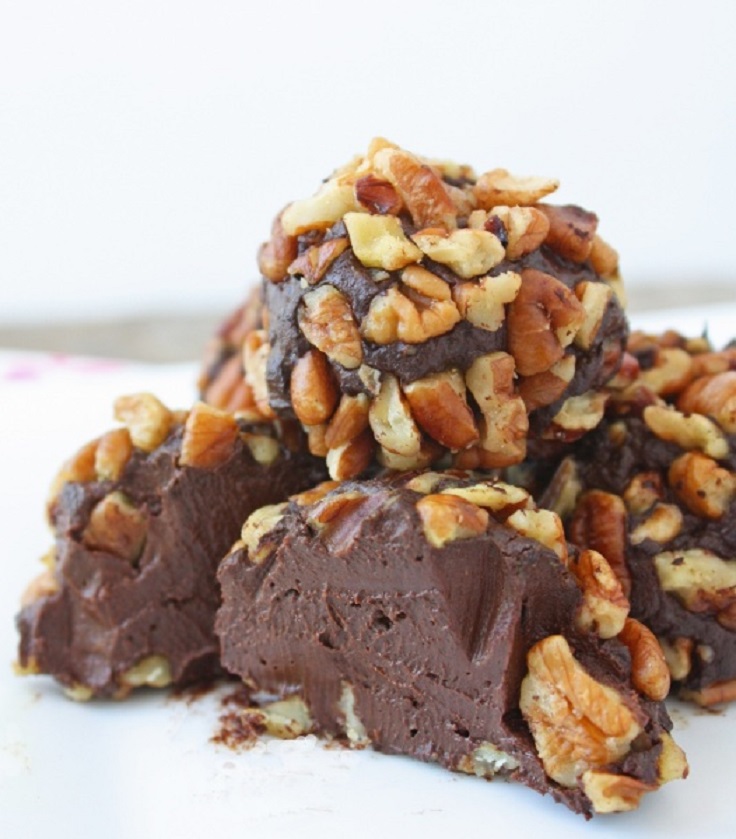 We love the bourbon's flavour in these, but it's completely optional – they taste amazing without it too! And if you don't feel like rolling them out, you can keep a container in the fridge and scoop out a spoonful when the mood strikes! This also eliminates the pecan calories if that's a concern for you.
Chocolate-Frangelico Fondue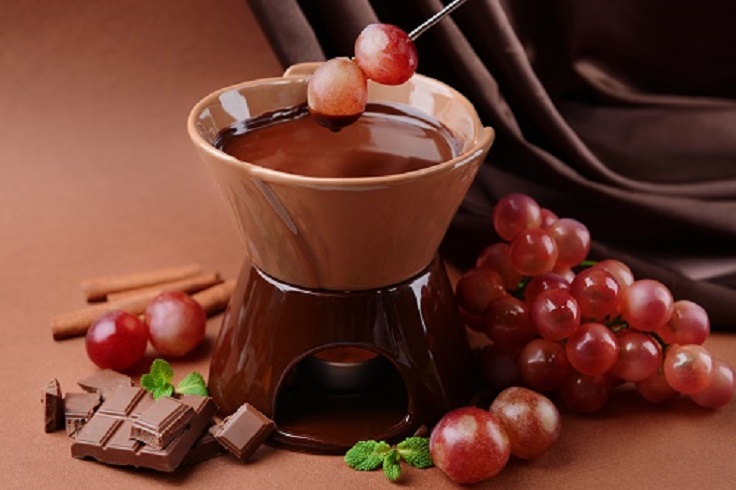 Mix ½ cup of half-and-half, ½ cup of fat-free milk and 8 ounces of chopped chocolate in a saucepan and heat until the chocolate dissolves. Stir in a cup of powdered sugar and 2 tablespoons of corn syrup. After 10 minutes on the stove and constant stirring, you should have a smooth, thick mixture. Stir in 3 tablespoons of Frangelico liqueur and serve in a fondue pot.
Dark Chocolate Creme Brulee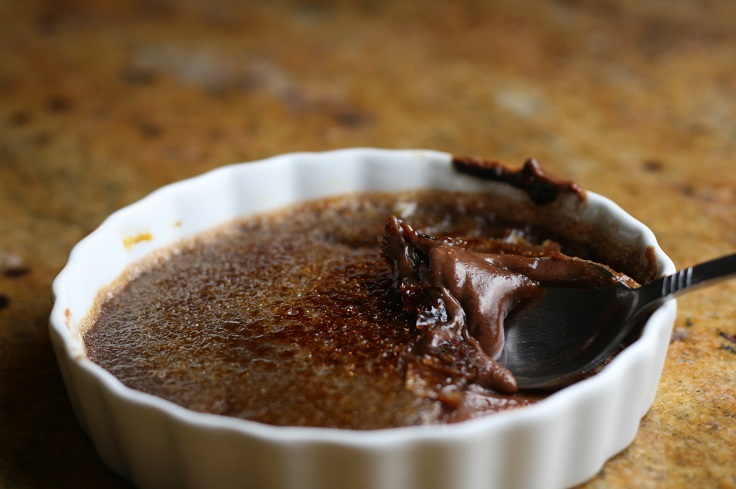 Dark Chocolate Creme Brulee. We only make it about once a year, not because it's complicated, because it is that good. We have to really, really love you to make it. If you had it all the time, it wouldn't be that special right? We'd also weigh 100 pounds more if we did eat this all the time.
Chocolate Bread Pudding with Rum Sauce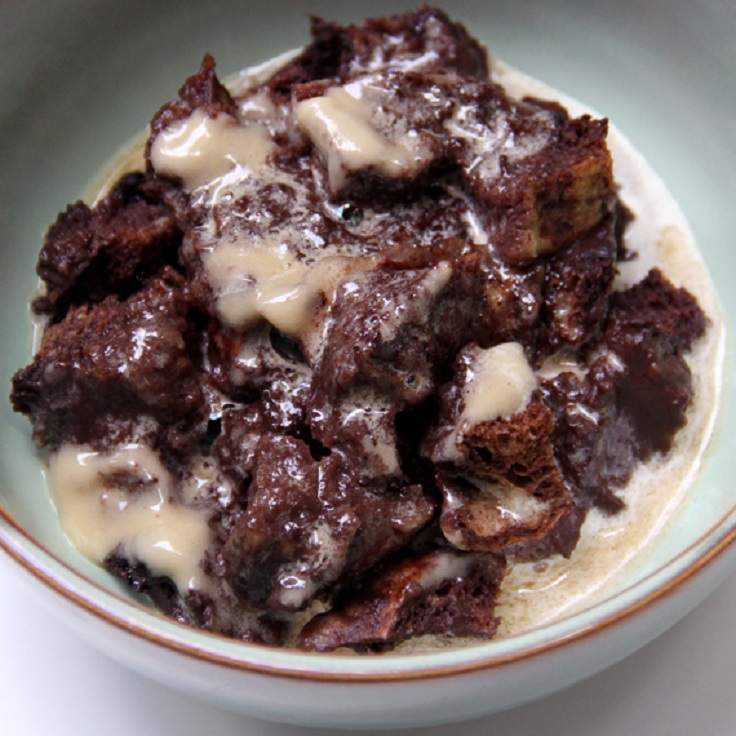 via cestlavegan.com
The top of the pudding dries a bit as it bakes, but the inside is super moist and flavorful, so a little of the sauce goes a long way. The topping did meltdown once it was spooned over the hot pudding, and it tasted incredible, but we know there has to be a way to make a version that isn't going to pack the pounds the way this one will. We just found it to be way, way too buttery.
Triple Chocolate Mousse Cakes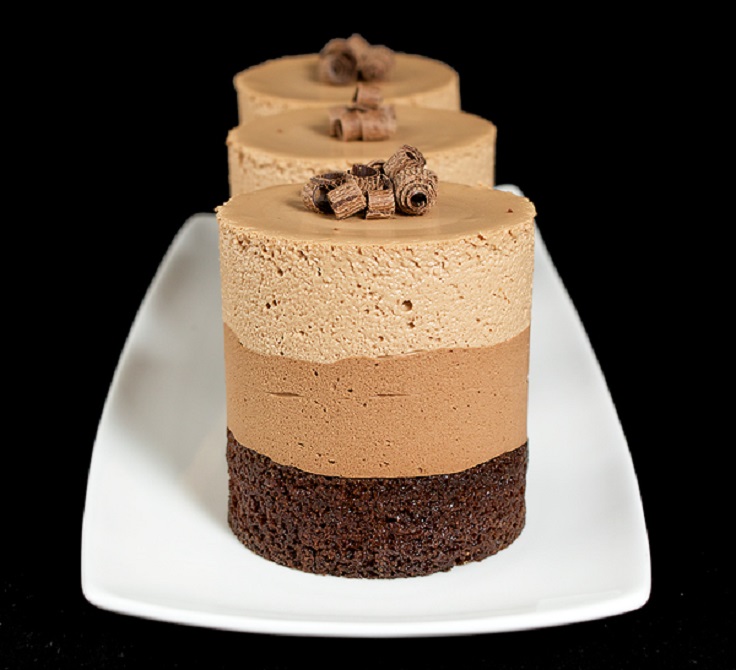 Chocolate, chocolate and more chocolate – try to resist these Triple Chocolate Mousse Cakes – "betcha can't eat just one"! And the look?  Spectacular! We first spotted these cakes many years ago when we received the Martha Stewart Living Magazine regularly.