One of the most famous foods that come out of Japanese cuisine is sushi. This traditional and "fast food" from Japan was popular since forever – centuries ago sushi was so highly – appreciated that people could pay their taxes with sushi!
Those who have tried and love sushi know why it was and still is so popular among many people worldwide. You don't have to go to restaurants because you can easily prepare sushi at home, and that's why we are showing you ten recipes, from vegan to chicken teriyaki sushi rolls; there's something for everyone's taste. Check it out!
1. Maki Sushi
via nasilemaklover.blogspot.com
Easy to prepare and oh-so-tasty, these Maki rolls require just a few ingredients – 2 cups of uncooked sushi rice, 3 cups of water, 4 tbsp Japanese vinegar, 2 tbsp fine granulated sugar, 1/2tsp salt, nori seaweed, crab sticks, Japanese cucumbers, and Japanese mayonnaise. This is a great recipe that will allow you to taste the deliciousness of Japanese cuisine!
2. Vegan Sushi with Cauliflower Rice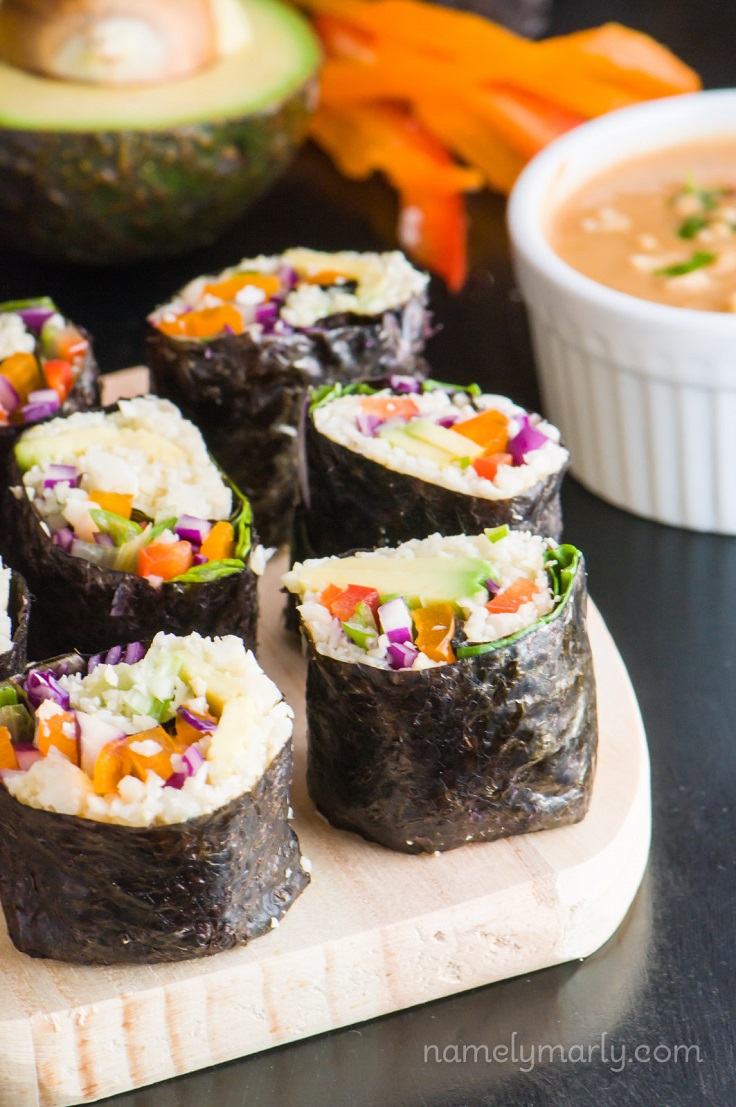 via namelymarly.com
All things veggie – there isn't any meat, but this type of sushi is worth the try. It is ready in 15 minutes, which makes it a perfect idea for busy days. Because it is mostly made of vegetables, this is a really healthy meal that will keep you both full and satisfied. Besides the cauliflower rice, what makes this recipe so special is the sauce made of peanut butter, agave, sriracha, and soy sauce. Also, you can add peanuts on top!
3. Teriyaki Chicken Sushi
The famous teriyaki chicken is adapted into a sushi roll! If you're a fan, then definitely try out this recipe. It is budget – friendly, as all you need are just a few ingredients – 1 cup chicken breast that is grilled and tossed in teriyaki sauce, 8-10 thin slices of celery, 1/4 cup minced cilantro, 1 tablespoon chili sauce, 2 cups rice, and 4 sheets of nori. There isn't any raw meat, so consider preparing these rolls for someone who's not really a sushi fan.
4.  Inari Sushi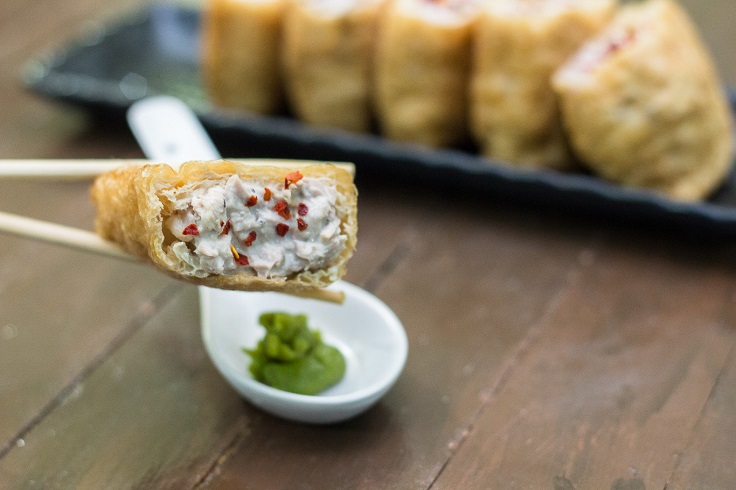 Unlike the rest on the list, the Inari sushi is deep-fried and might be a good idea to cook it if you're planning to share it with people who aren't really fans of raw sushi. This sushi is called Inari because it contains Inari fried tofu pockets with sushi rice as well. It is mostly served as a vegetarian dish, but feel free to add to other non – vegetarian ingredients.
5. Brown Rice Sushi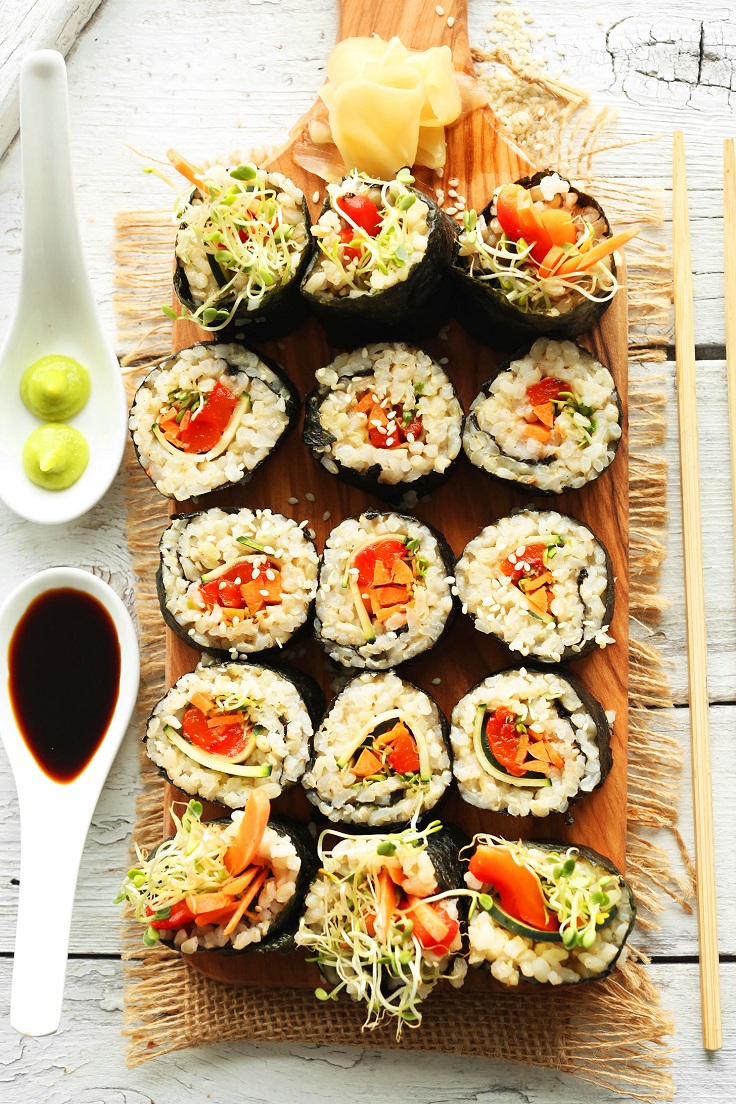 Vegan or not, you're going to love this sushi! It's made of so many tasty ingredients and sauce that one roll won't simply be enough. To prepare the sushi rolls, you need 4 sheets nori (dried seaweed), 1 roasted or fresh red bell pepper, 1 cup thinly sliced carrots, 1 cup thinly sliced cucumber, rice, and 1 cup sprouts. You can use tamari or soy sauce, wasabi, pickled ginger, or sesame seeds for serving.
6. California Roll Sushi Bowl
The famous Californian sushi rolls are so delicious even when they're prepared in bowls. If you haven't tried these so far, we have to say that it is a must! To prepare these at home, you need 2 cups cooked white rice, 1/2 cup chopped imitation crab, 1/2 cucumber, 1/4 small lemon, 1 tablespoon pickled sushi ginger, 1/2 avocado, 1 sheet dried seaweed, and black and toasted sesame seeds to taste.
7.  Spicy Crab Roll
via mysushidaddy.com
The crab is a high – phosphorus food meaning that this is the kind of food that is important for our bone health. It also improves our nervous system's activity, and like many other sea creatures, the crab is also rich in omega 3 fatty acids that help keep our heart healthy. These are just a few of the benefits you get for eating crab, so it's good to include in recipes. In this one, besides the crab, you'll also need sushi rice, nori sheet (1/2), toasted sesame seeds, and back sesame seeds.
8. Quinoa Sushi Bowls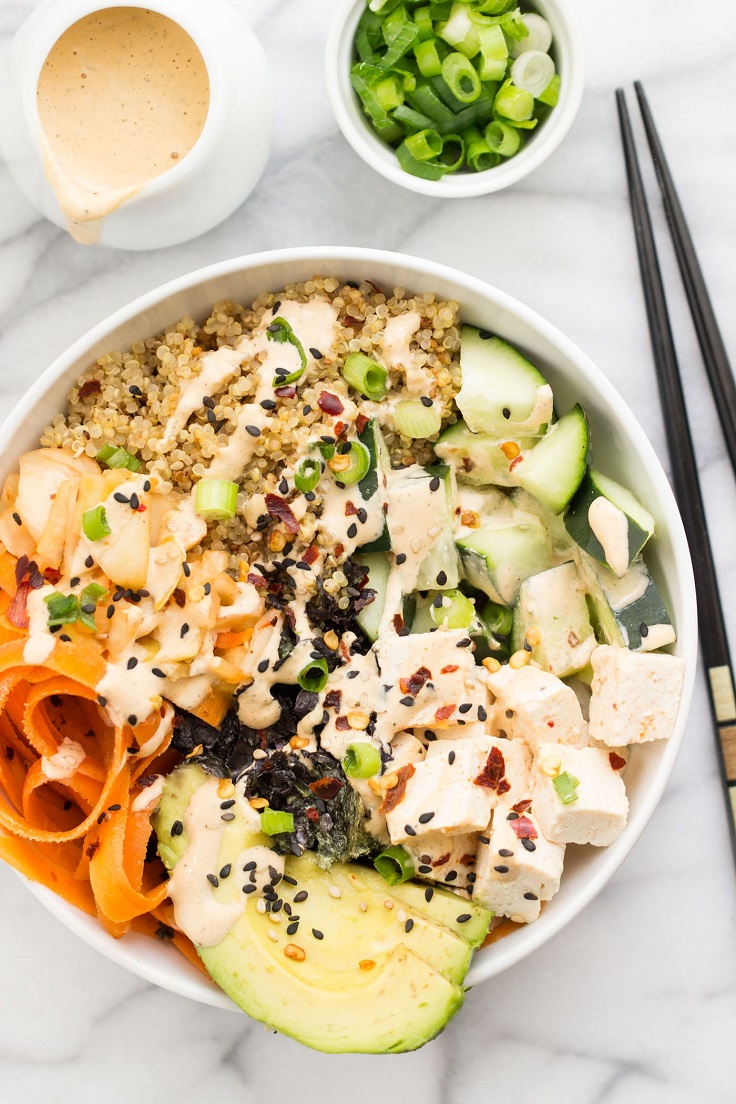 via simplyquinoa.com
Ready in 15 minutes, these quinoa bowls are perfect for lunch or dinner. They have avocados, quinoa, tofu, cucumber, and other tasty veggies, as well as a very delicious sauce made of tahini, kimchi juice, and miso, to name a few of the ingredients. After eating a whole bowl, you will feel full, and your sushi cravings will be satisfied. Don't forget that quinoa is very rich in protein, fiber, and manganese – just a few nutrients that we need so badly!
9. Avocado Mango Brown Rice Sushi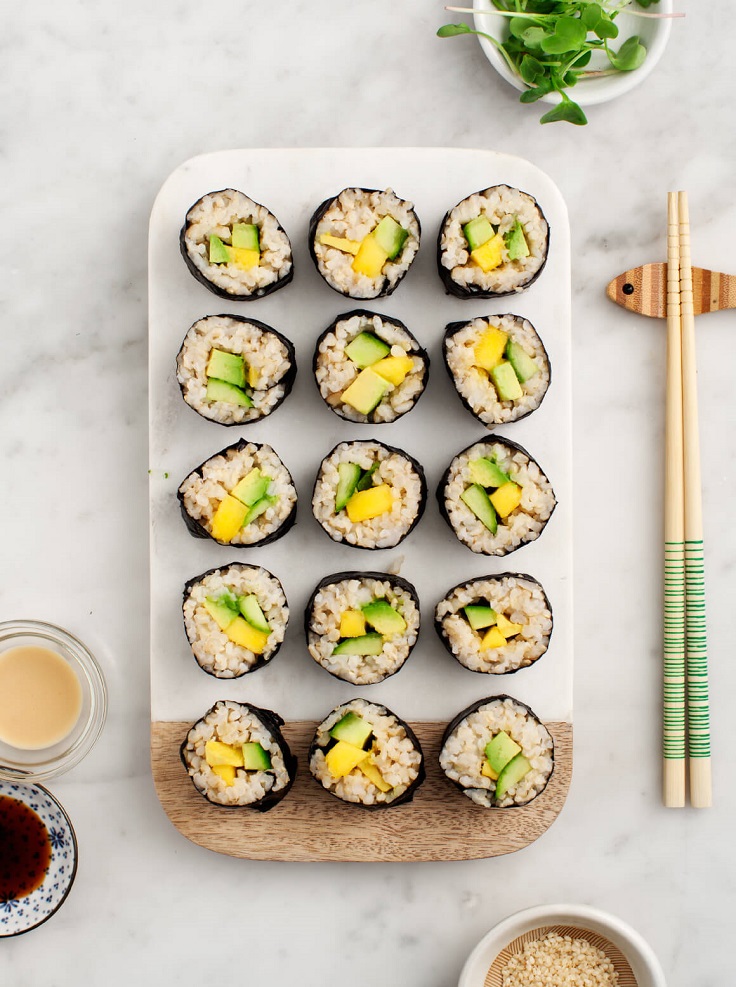 The avocados are high in "heart-healthy" fatty acids, and they also contain about 20 vitamins and minerals – just a few of the reasons this green pear-shaped fruit is considered one of the healthiest foods in the world. On the other hand, mangoes are also very healthy – they clear the skin, lower cholesterol, and contain antioxidants that protect us from cancer, to name a few. So, if you were looking for a few different sushi rolls without fish or any other meat, definitely try these.
10. Spicy Tuna Sushi Bowl
Like the salmon, the tuna is rich in omega 3 fatty acids, which reduce the cholesterol and the omega 6 fatty acids. That being said, the tuna helps in maintaining good heart health. The tuna is also rich in protein, and one can of this fish contains more than 80% of the required daily intake of protein. So, next time when you'll prepare sushi and wonder what to include, don't hesitate and choose tuna. Not only is it healthy, but it will make the whole sushi experience so good!