Do you have an old t-shirt that you have been wearing for a long time, but they are still your favorite ones, and you don't want to throw them? Don't worry; we found you new ideas for reusing your t-shirts.
Check out our top 10 t-shirt scarf tutorials, recycle your summer t-shirts and give a chic look to your outfit. Yes, t-shirt scarf, believe it or not! The scarf became a real fashion accessory.
The scarf's origin is Ancient Rome, where the garment was used to keep clean rather than warm. But today, scarves became one of the most essential and versatile clothing accessories for both men and women.
These tutorials will help you create something that can start a new trend and show off your creative skills. You can cut, dye, sew, embellish and re-use your old t-shirts to get your new unique fashion style.
1. T-Shirt Necklace Scarf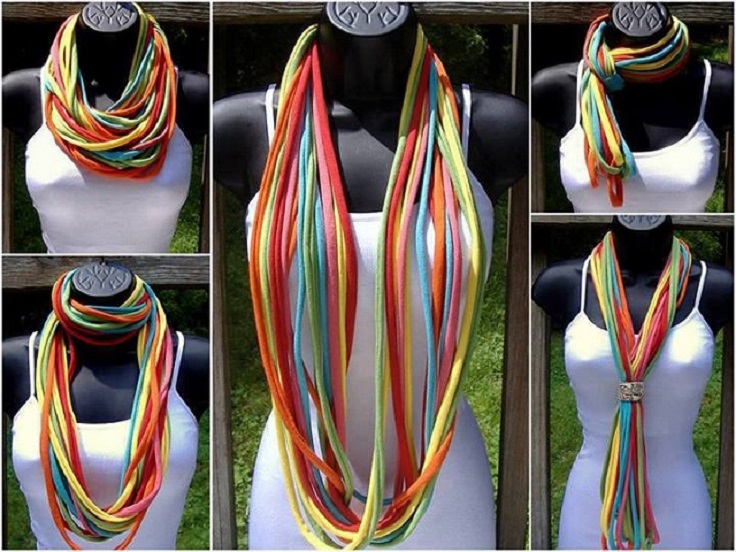 via alldaychic.com
You can see the necklace scarf, but this tutorial will show you how to make a necklace scarf by yourself if you are creative. You will only need t-shirts and scissors. The video below explains the very simple procedure: cut the t-shirt into strips, straighten the strips, group the strips and use them as necklace scarves in different styles. Enjoy!
2. T-Shirt Scarf With Rings
via 4littlefergusons.worldpress.com
This t-shirt scarf with rings tutorial is easy to follow and guides you every step of creating. The choice of colors and combinations for this scarf is endless. So take your scissors and start creating fashionable staff.
3. Double Layer T-shirt Scarf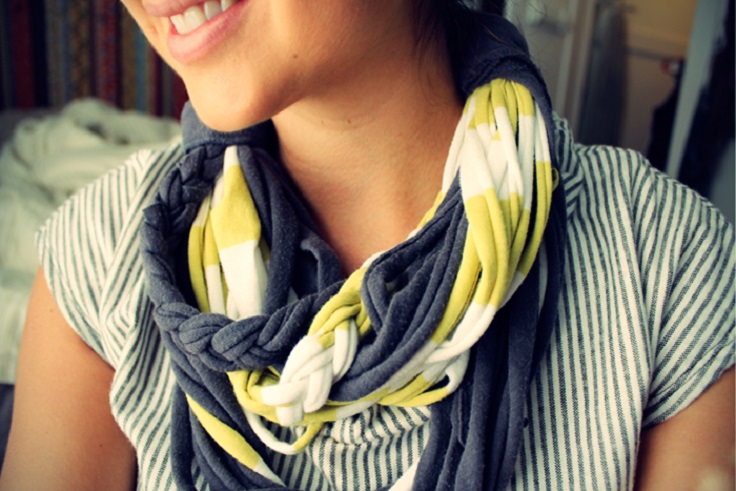 via ninthandbird.com
It really only takes about 10 minutes to turn an old t-shirt into a super cute scarf! Gather a few old t-shirts you don't wear anymore, try this tutorial, and you will see that it is very easy. Be imaginative and piece the strips together with how you want your scarf to look, twist them, braid them and mix the colors.
4. Fringe T-shirt Scarf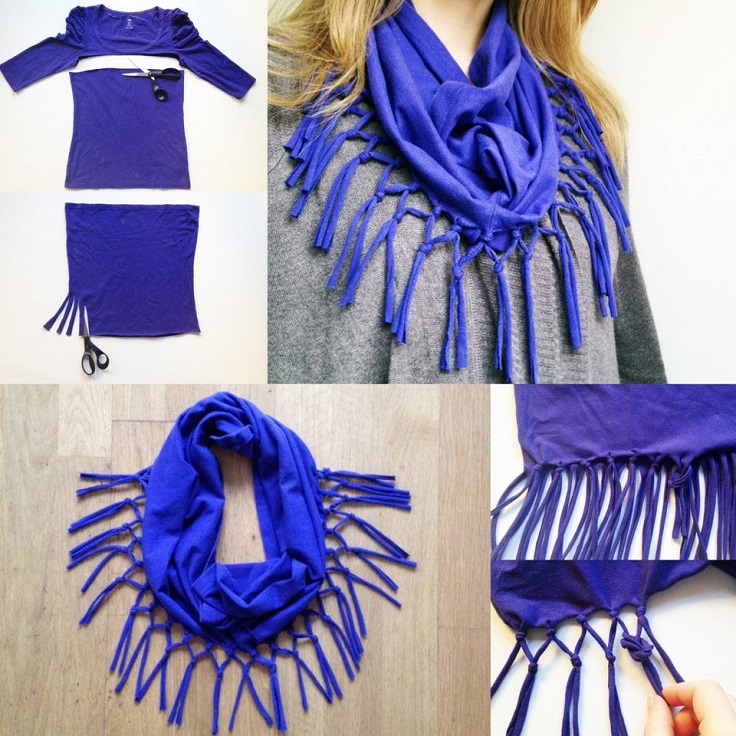 via usefuldiy.com
This is the simplest way to make your t-shirt scarf. You can make an ornamental border of threads left loose or formed into tassels to edge material to get the fancy look. Very easy.
5. Ruffle Flower T-Shirt Scarf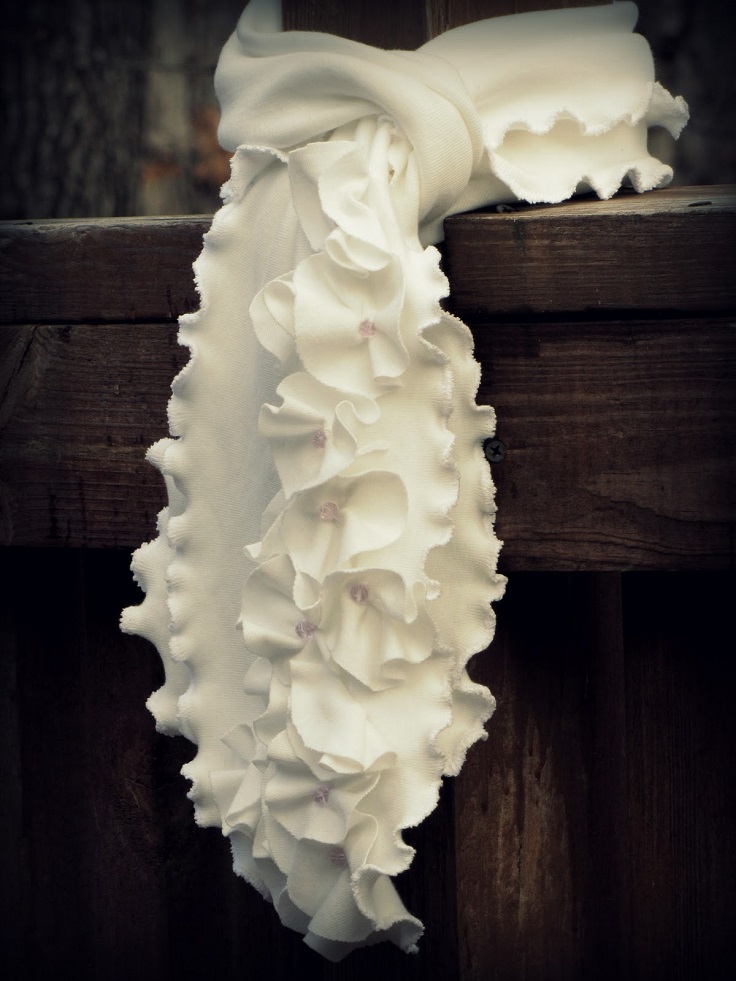 via mama-says-sew.blogspot.com
For this project, you will need basic sewing skills because you have to sew the edges of the material obtained from your t-shirt to make the ruffles. For the flower decoration in this project, you can use a t-shirt with different colors to make it more impressive, or you can simply leave it the same color and add some colorful glass beads.
 6. Ombré T-shirt Scarf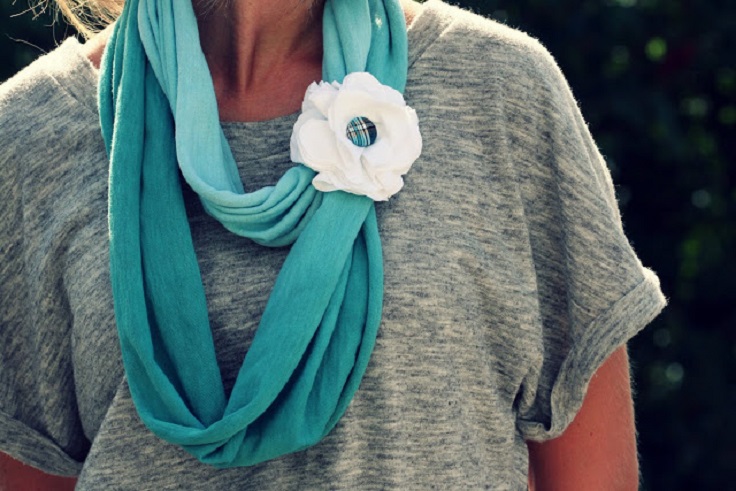 The ombré trend is subtle, bohemian, and soft, and many of you probably love the ombré style. For this t-shirt scarf, you will have to provide rit color remover to get that ombré effect but don't forget to use gloves in this process. Then just cut the t-shirt, and that is it you have a beautiful ombré t-shirt scarf. Take a look at this tutorial.
7. Decorated T-shirt Scarf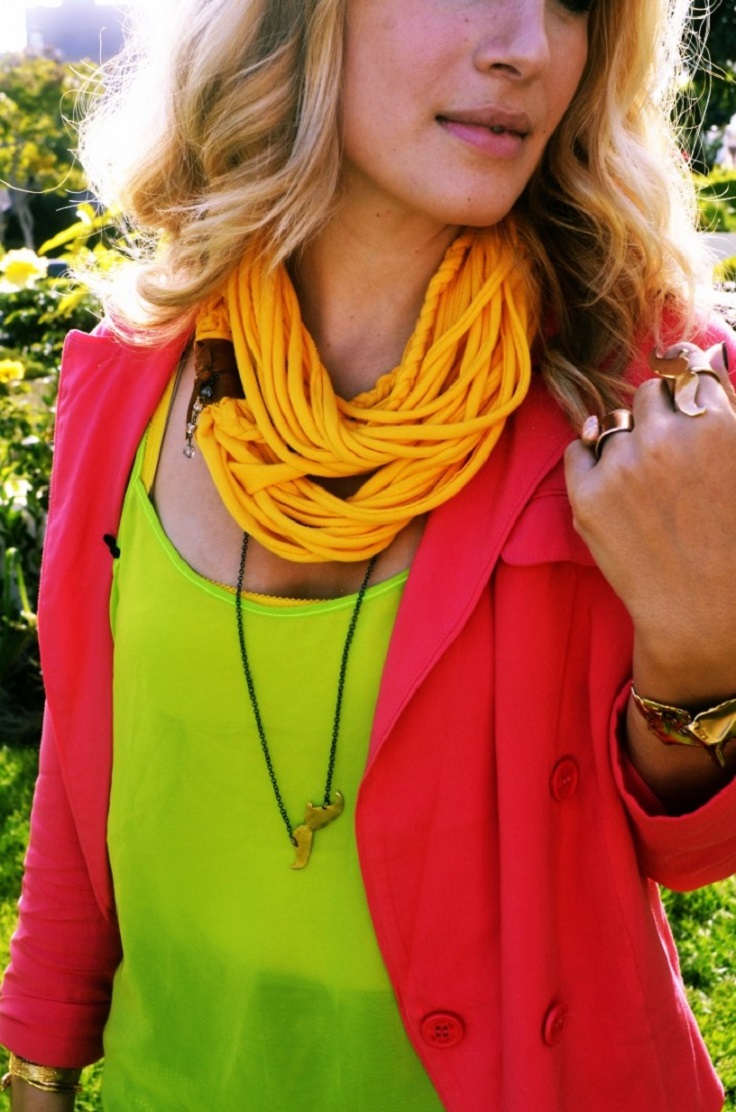 via hellogiggles.com
It is a very easy and fun tutorial with detailed instruction videos for making spaghetti-like t-shirt scarves decorated with jewelry, leather, ribbon, buttons, beads, etc. You can and different kind of decoration suitable for your taste. So, be creative!
8. Infinity T-shirt Scarf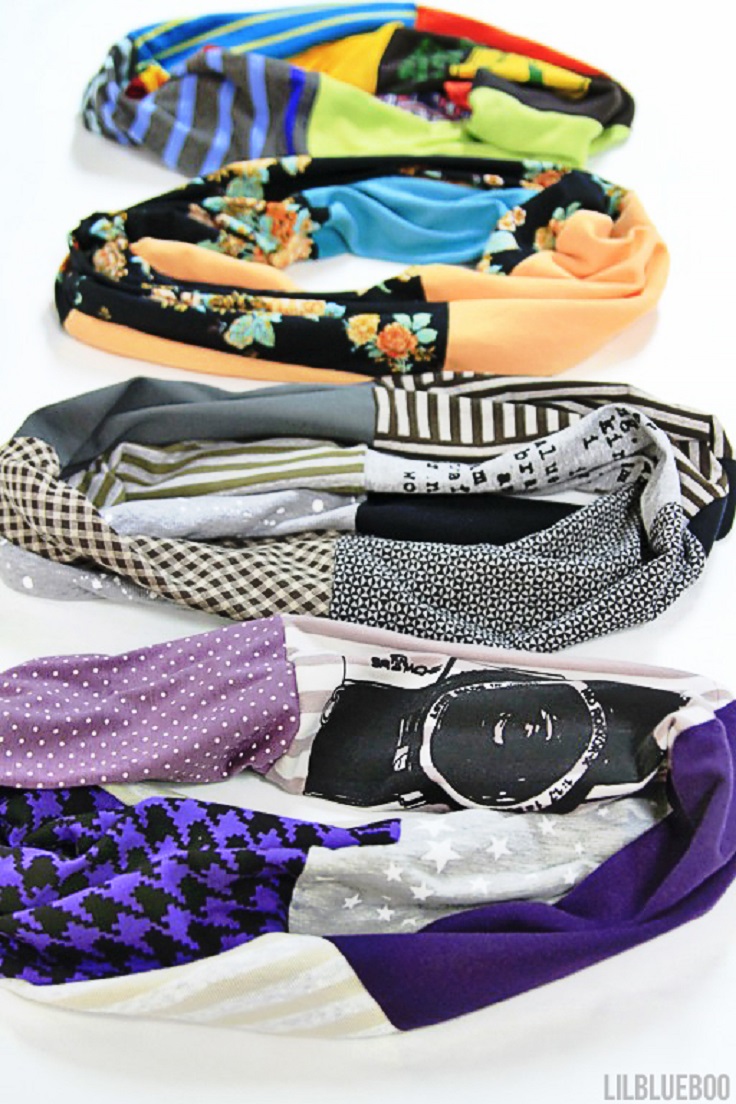 via lilblueboo.com
Here you can find tutorials for making colorful combinations of infinity scarves. You can make it with different materials and as many pieces as you like; you will only have to sew down to connect the pieces.
9. Two Toned Braided T-shirt Scarf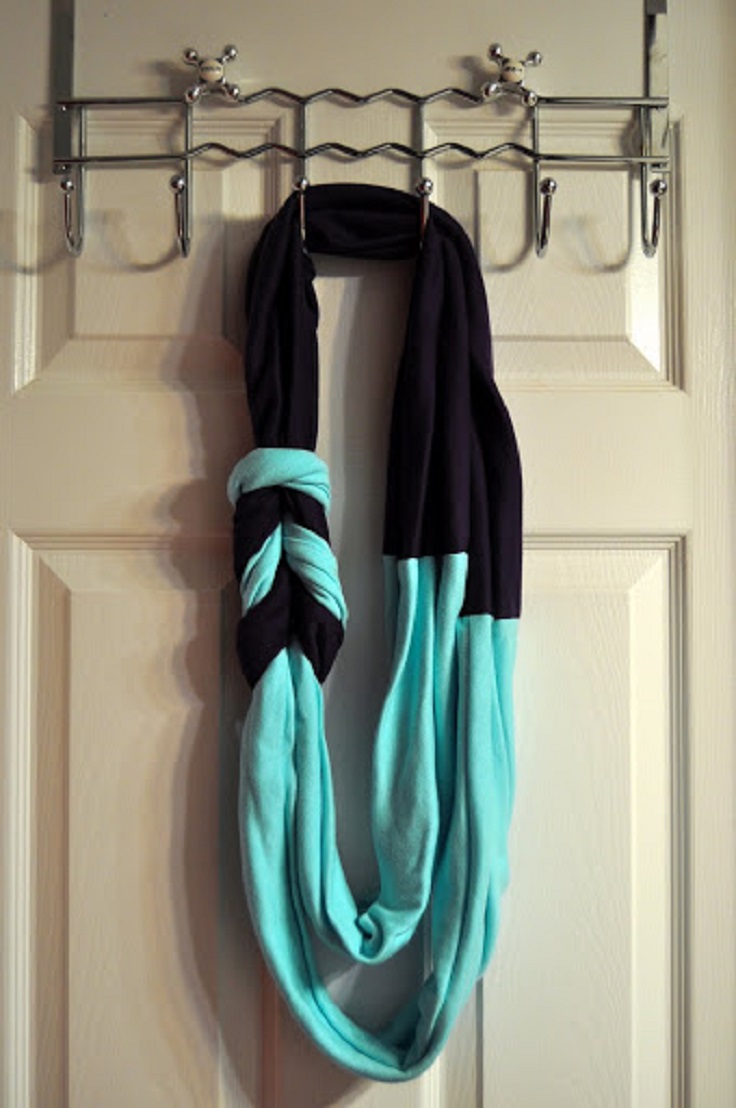 This t-shirt scarf is essentially two big color-blocked tubes of fabric braided together using square knots. You can make your own modifications with color and the braiding, or even you can make a double braid version.
10. Stenciled T-shirt Scarf

Here is one very original and inventive way how to transform your t-shirt into a stenciled infinity scarf. Make a stencil out of freezer paper, adhere it to some t-shirt fabric, paint it in, remove, and voila! You can wear your art.