The capital of the small European country, Hungary, gets sometimes overlooked by tourists. While other capital cities such as Vienna and Prague in the surrounding countries are well visited, Budapest is not always on the top of the list. Travelers who do include a visit, even if for a short weekend trip only, will leave with the feeling that they would return soon and spend more time exploring this fascinating city.
Buda and Pest were two cities on the opposite sides of the river Danube until 1873 when Buda and Pest became united. The two sides have different characteristics, with Buda being the hilly one, narrow streets, a lot of green residential areas, and Pest being the city's urban center with the iconic building of the Parliament stretching along the riverside.
This old city has remnants from Roman and Ottoman occupation times, and the Austro-Hungarian era has made a special influence on the city's style and architecture.
Budapest has a lot to offer, from gastronomy, fine wines, interesting historical sites, natural thermal baths, vibrant nightlife, ruin pubs, and more.
TOP Inspired has selected ten things that you should not miss on your visit.
1. Explore the Castle Hill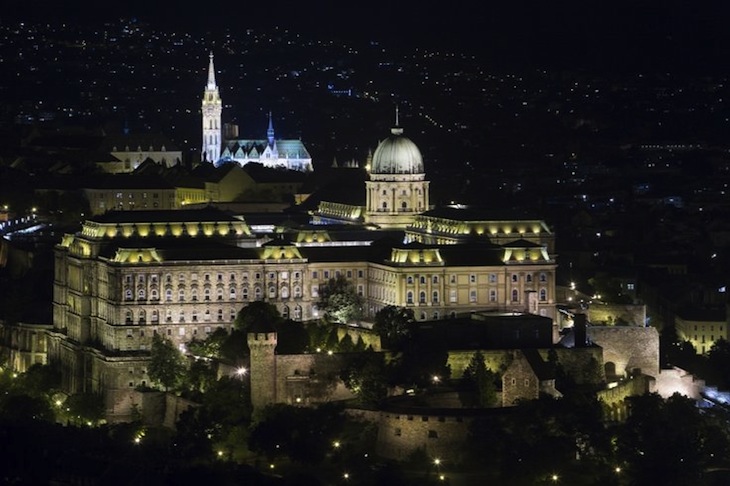 Photograph found on www.origo.hu
One of the most magnificent sites of the city is the Castle District of Buda. Wander around the breathtaking Matthias Church, the Buda Royal Palace, and enjoy the views over Pest from the Fishermen's Bastion. You can easily spend hours here, just by walking around and taking pictures of the historic buildings. Many small cafes and restaurants offer local specialities (mostly at tourist prices), and open-air festivals are common during the spring and summer. Do not miss the annual Budapest Wine Festival if you are there at the beginning of September.
2. Enjoy a thermal bath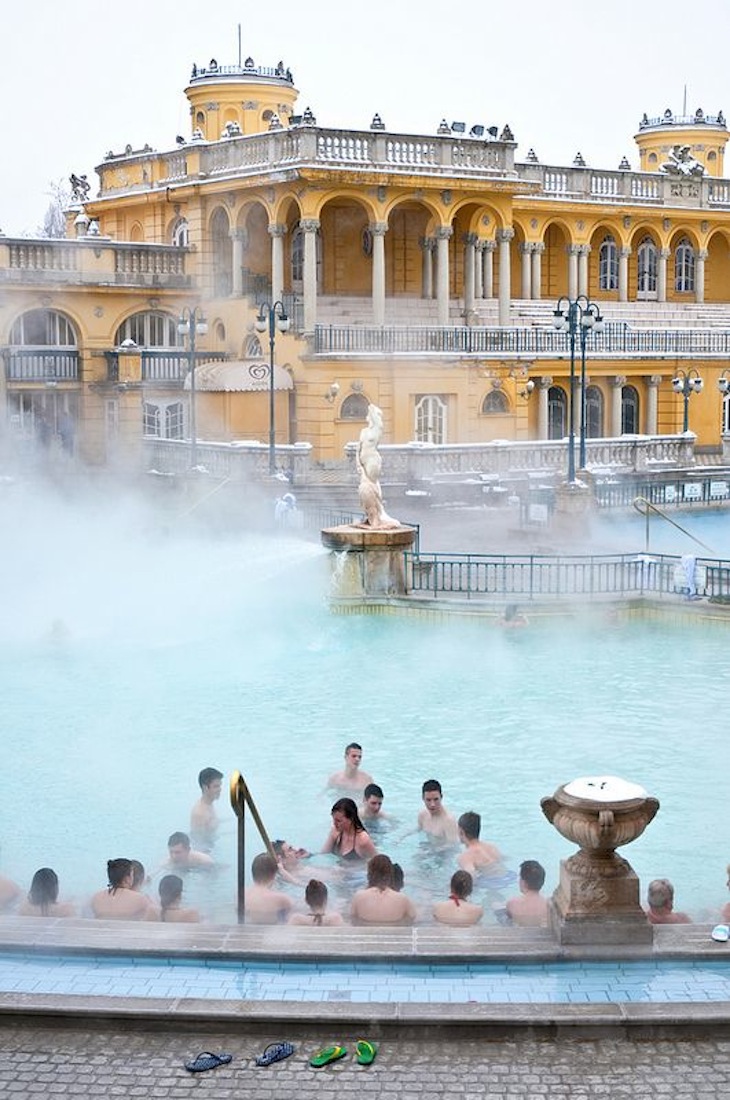 Photograph taken by Darrell Godliman
Budapest is one of the greatest spa cities with many traditional thermal baths located in Budapest's centre, plus many more in the countryside. Each of them has its own style and characteristics. The most popular ones are Szechenyi, Gellert, and Rudas. Have a half a day pamper and rejuvenation after a long day walking tour. Click here to find out more about the baths of Budapest.
3. Visit the Central Market Hall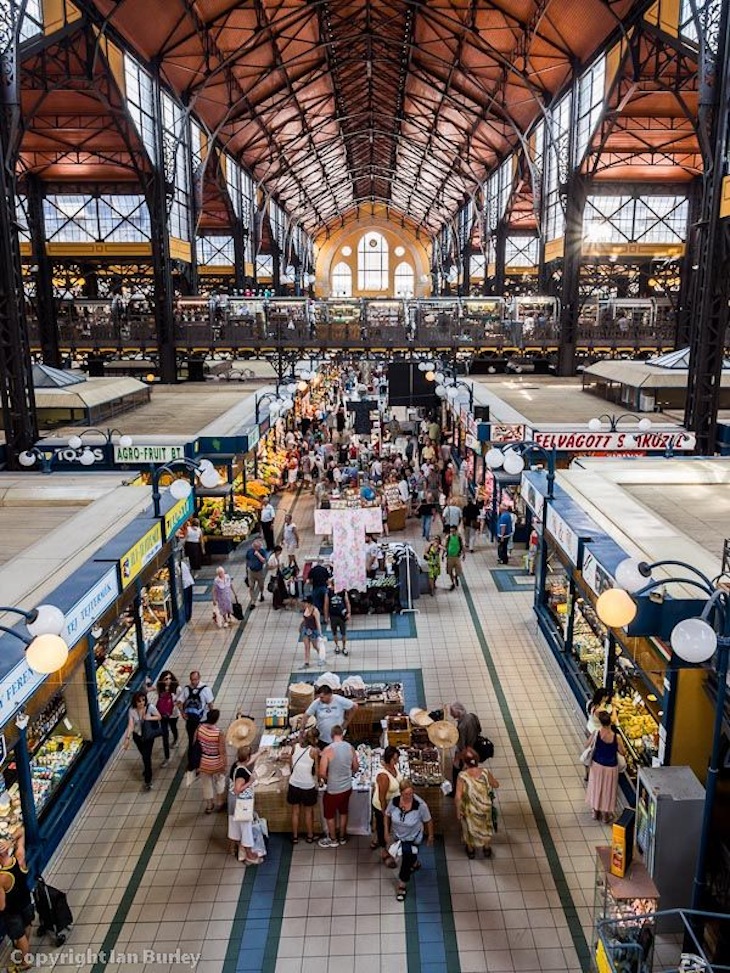 Photograph taken by Ian Burley
The Central Market Hall, located on the riverbank on the Pest side near Váci street, is a great starting point for the day. On the ground floor, vendors sell everything from fresh fruits, vegetables, meat, and dairy products to Hungarian specialities such as the famous spicy sausage called 'szalámi' or goose liver paté. On the first floor, you can find souvenirs and try some warm, street food style dishes. Don't miss out on the 'lángos,' which is a kind of fried bread topped with cheese and sour cream.
4. Shopping on Vaci Street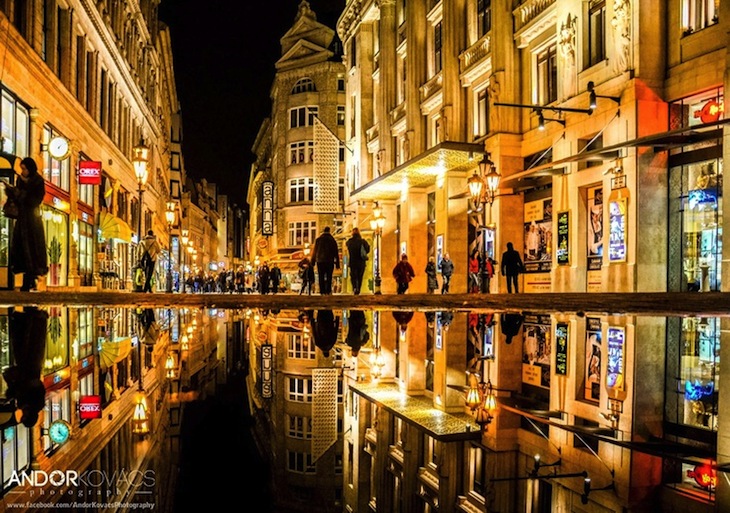 Photograph taken by Andor Kovacs
Finishing in the market hall, continue walking on Vaci utca (utca is street in Hungarian). That's the main shopping street, with beautiful buildings and some expensive restaurants, the shops are the usual fashion brands that can be found in any other European country. If you are looking for something more exclusive, the great Andrassy Avenue is home to the big names. At the end of Vaci street, there is the famous Cafe Gerbeaud, offering mouthwatering pastries in a traditional environment, with a lavish interior located in an originally erected building in 1861.
5. Night out in the Ruin Bars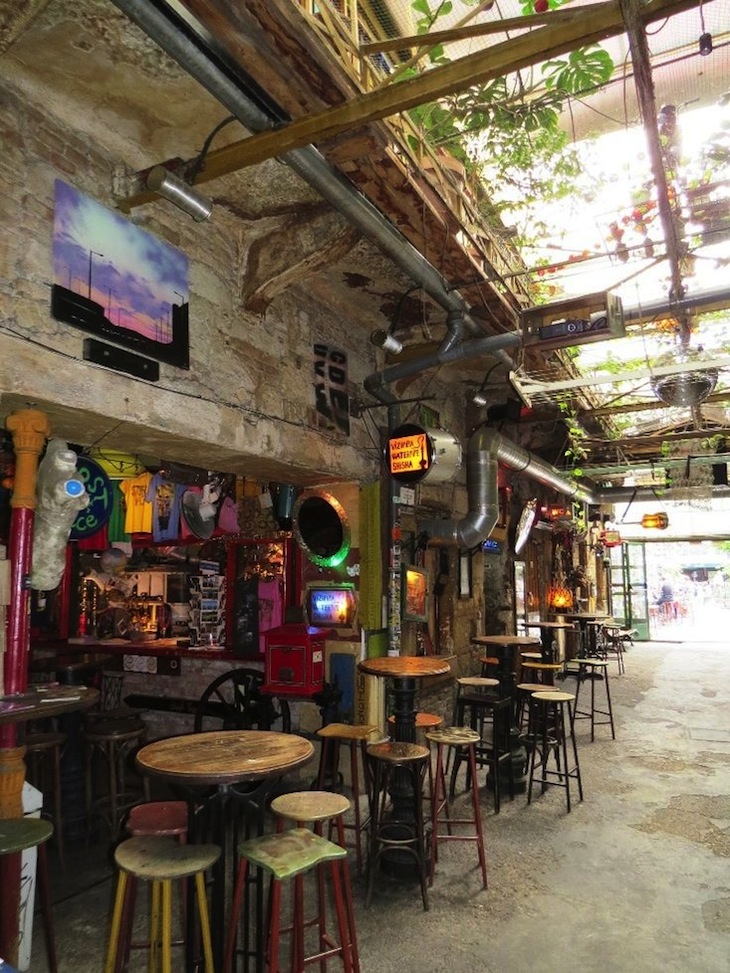 Photograph found on budapest.enewsletters.fourseasons.com
Ruin bars are around for ten years in Budapest's nightlife scene. Located in the 7th district, the old district of Pest, in abandoned houses that were left empty after World War II and equipped with castaway furniture, these are currently the hippest places to go for a beer, party, or even to watch a movie in the open-air cinema. Here is a complete list of ruin bars around the city.
6. Visit the Great Synagogue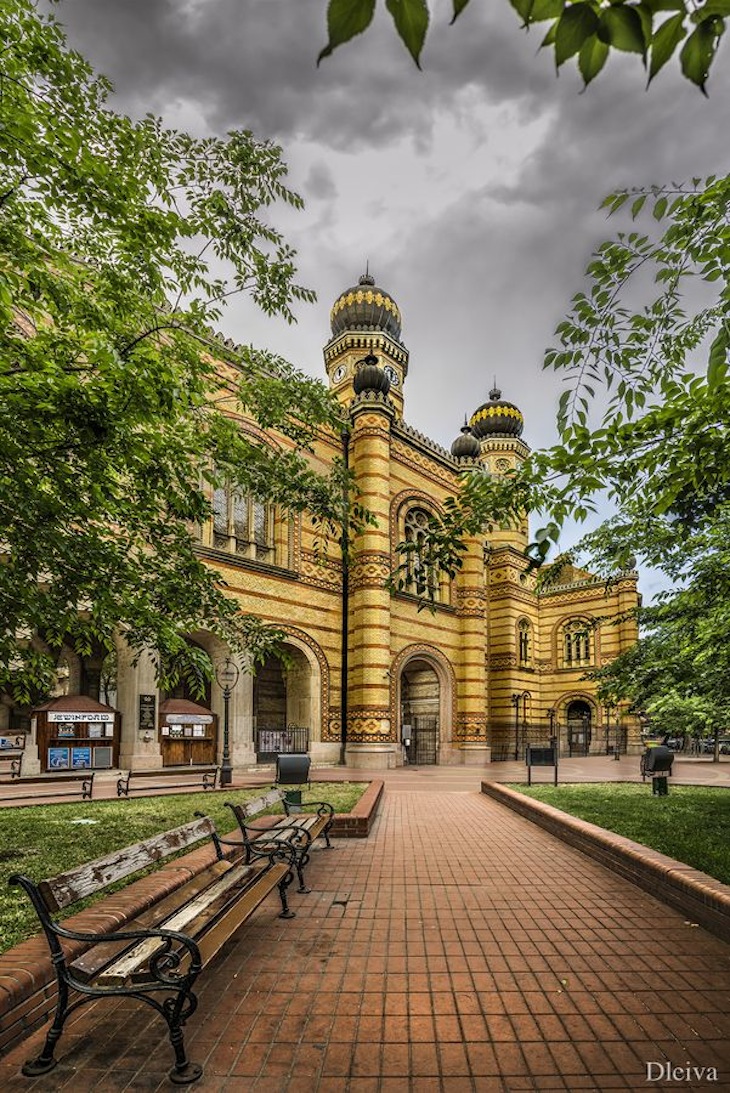 Photograph taken by Domingo Leiva
The largest in Europe and second-largest in the World (after the one in New York), the Great Synagogue is an outstanding experience to visit. There are guided tours inside the Synagogue and also longer guided tours covering the Jewish Quarter of Budapest.
7. Margaret Island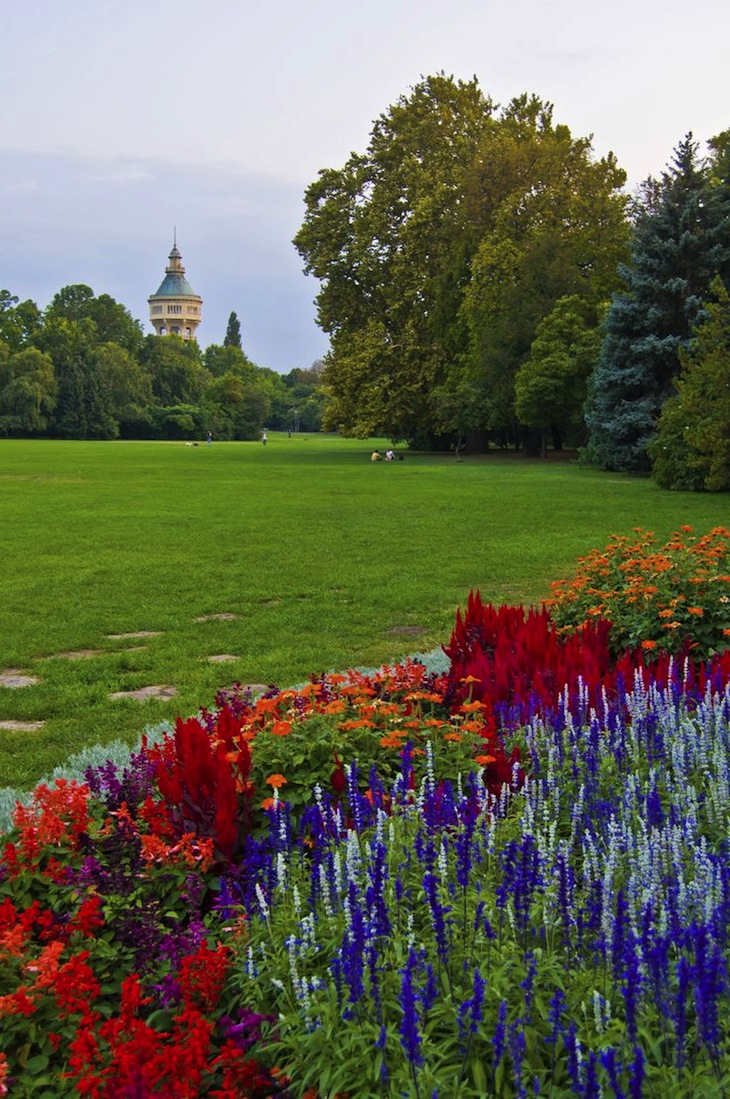 Photograph found on www.buzzfeed.com
Margaret Island is a great place to fill up one's energy levels in nature. The island is very easy to access from the city center. Many locals go for a morning run or just a walk after work to get some fresh air. It is also home to medieval ruins, a small zoo, a water tower, a spa, an open-air theatre, and a few clubs.
8. Try Hungarian Wine and Pálinka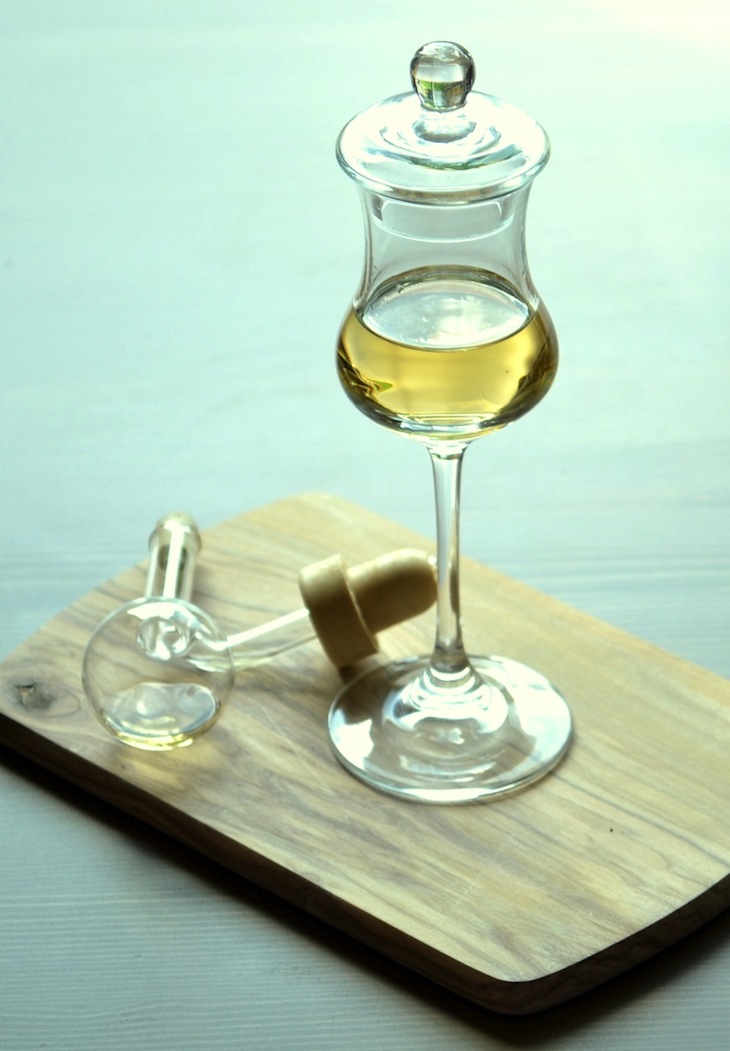 Photograph found on www.orsiskitchen.co.uk
For a small country like Hungary, being the 8th on the top 10 wine producing countries in Europe is a real achievement. There are many excellent wine regions in the country. If you have more time, it is also possible to do an overnight tour to lake Balaton, taste some great wines, and see the countryside. If someone is limited with time, try some great local wines and the very high alcohol content fruit brandy, called pálinka.
9. Ecseri Flea market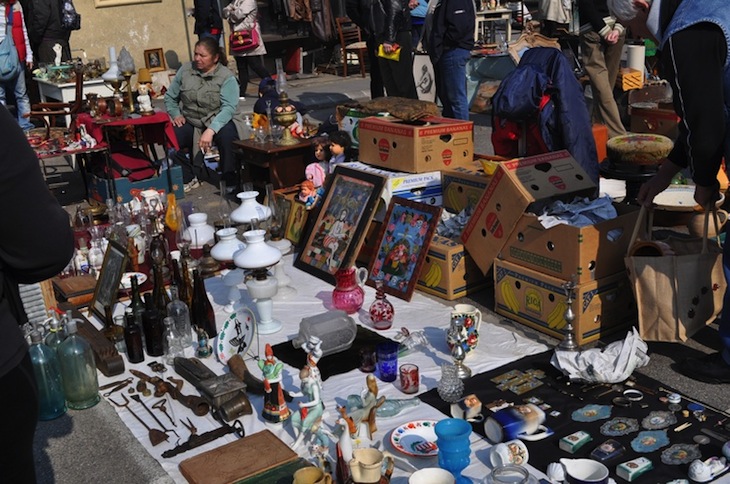 Photograph found on budajest.files.wordpress.com
The Ecseri Flea Market is not the easiest to get to since it is located a bit outside of town, but it is a must to visit for treasure hunters. You can find everything from small figures to old photographs, cameras, furniture, or pieces from the communist times. Take a taxi if you are not very adventurous.
10. Climb up to the dome of St. Stephen's Basilica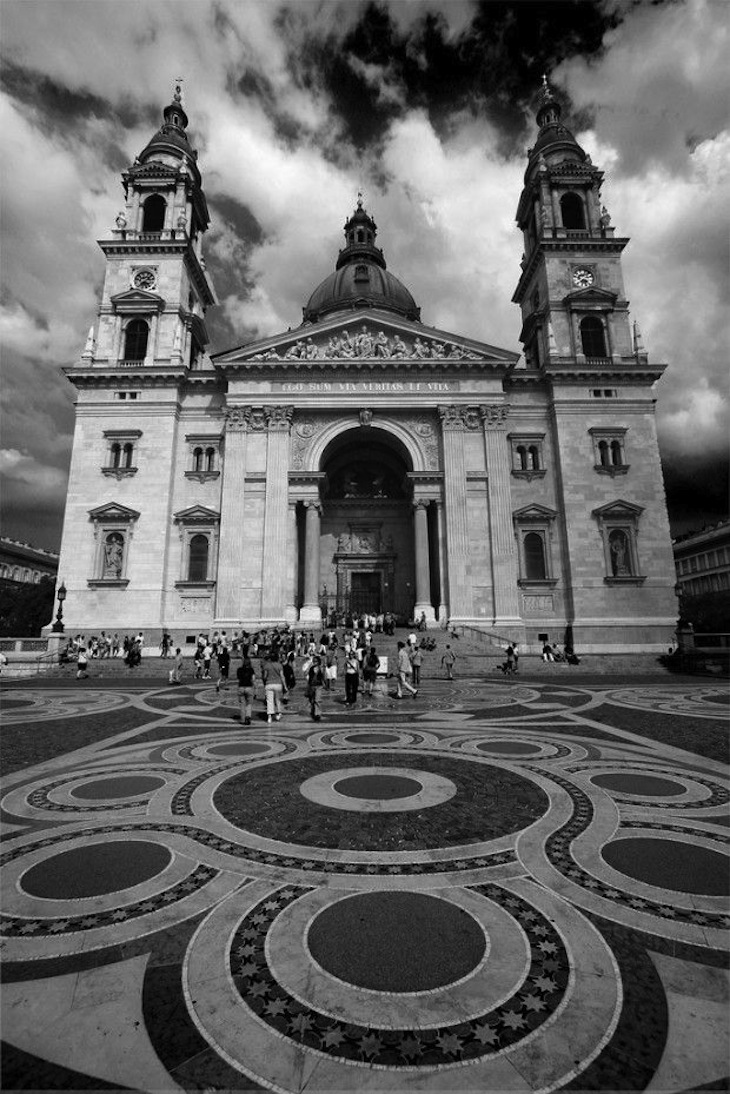 Photograph found on giftgenius.info
The St. Stephen's Basilica is one of the world's top ten most photographed buildings. Once you stand in front of it, you will know why. It is a truly impressive building, finished in 1905 after 50 years of construction. The large black dome can be seen from Budapest with its 315 ft (96m), exactly as tall as the Parliament.