You will be amazed of how many fabulous artful things you can do with simple, inexpensive things like wood blocks. We love sharing projects that show us how to do something out of nothing. For making most of these crafts you wouldn't even need to buy supplies as you probably have everything you need at home. You can make beautiful wall art, kids educational toys, photo holders, wall art, ring holders etc. These 10 artful wood block crafts will surely inspire you. Just take a few moments of your time to browse them and choose your favorites. Many of them make awesome inexpensive gifts.
Make Your Own Wooden Gradient Blocks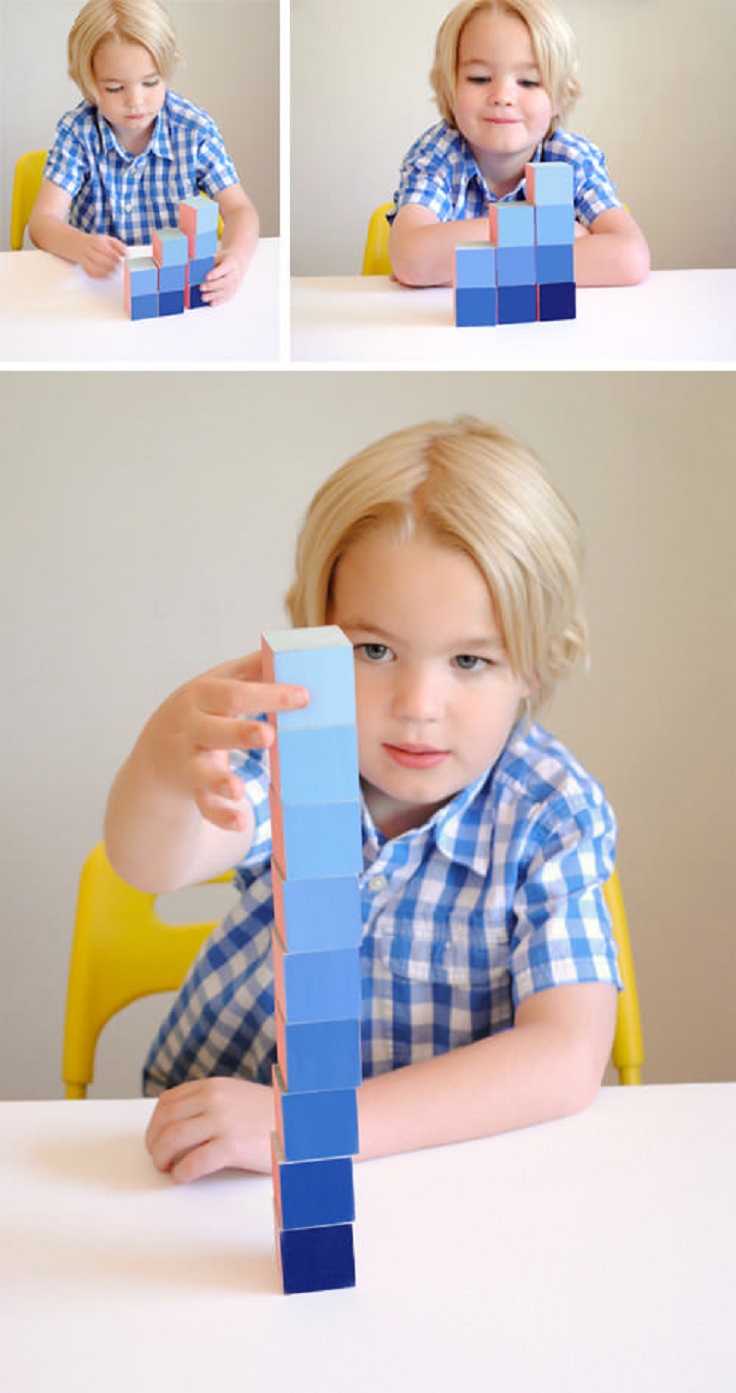 We all know how educational Montessori learning toys are. You can easily make something similar to their beautiful color tablets by using wood blocks. All you need to do is paint 9 wooden blocks in different hues and gradients. The kids will have so much fun playing and learning about the names of colors, color tone and gradation, hue matching, linear ordering and just simply appreciating that color is fun and beautiful!
DIY Instagram Photo Blocks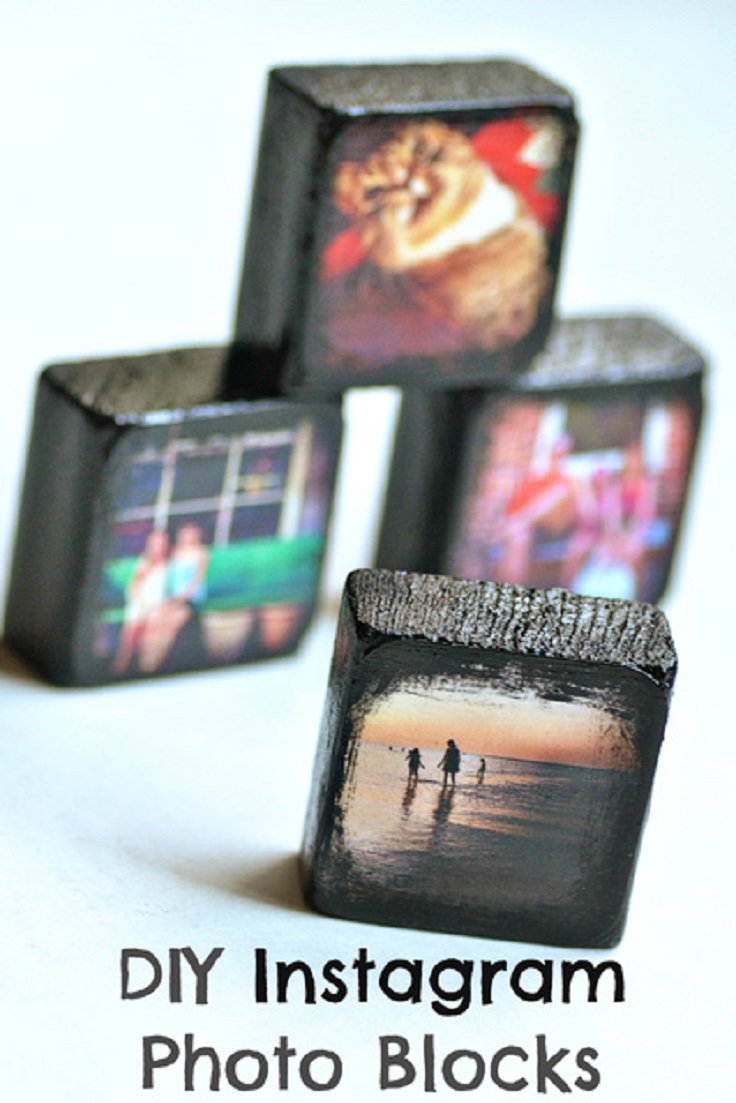 What a creative way to display your instagram photos! You can display your wedding photos or make beautiful gifts. To make these awesome photo blocks you will need square wooden blocks, mod podge, judikins diamond glaze, acrylic paint, glue, paint brushes, corner punch, rounder and some photo paper.
Woodblock Nursery Art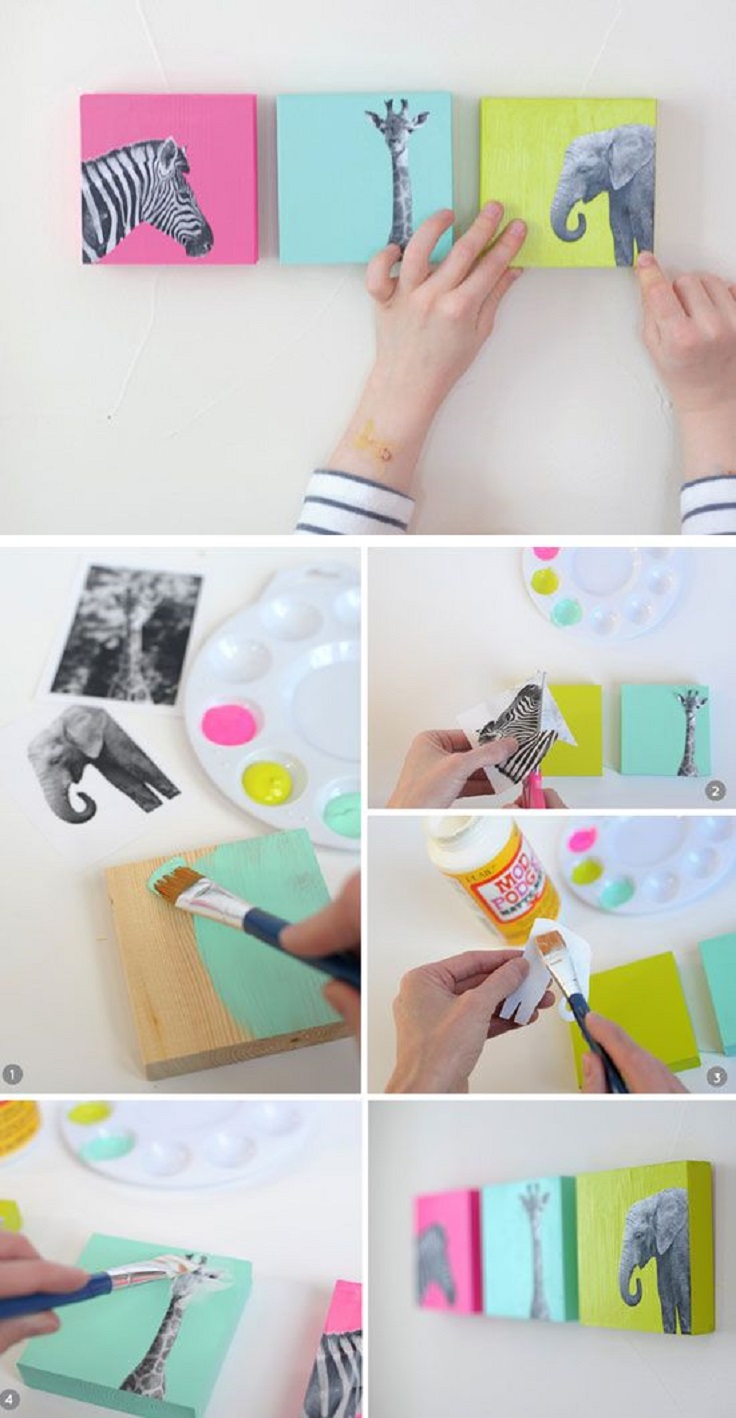 via aliceandlois.com
Add a pop of color to your nursery room with these adorable woodblock wall art. It is a very simple project – all you need to do is to paint some woodblock squares, then adhere a print out of a baby animal or anything you wish. To make this wall art you will need: woodblocks, acrylic paint, mod podge, images by choice, scissors and a paintbrushes.
Wood Block Wedding Ring Holder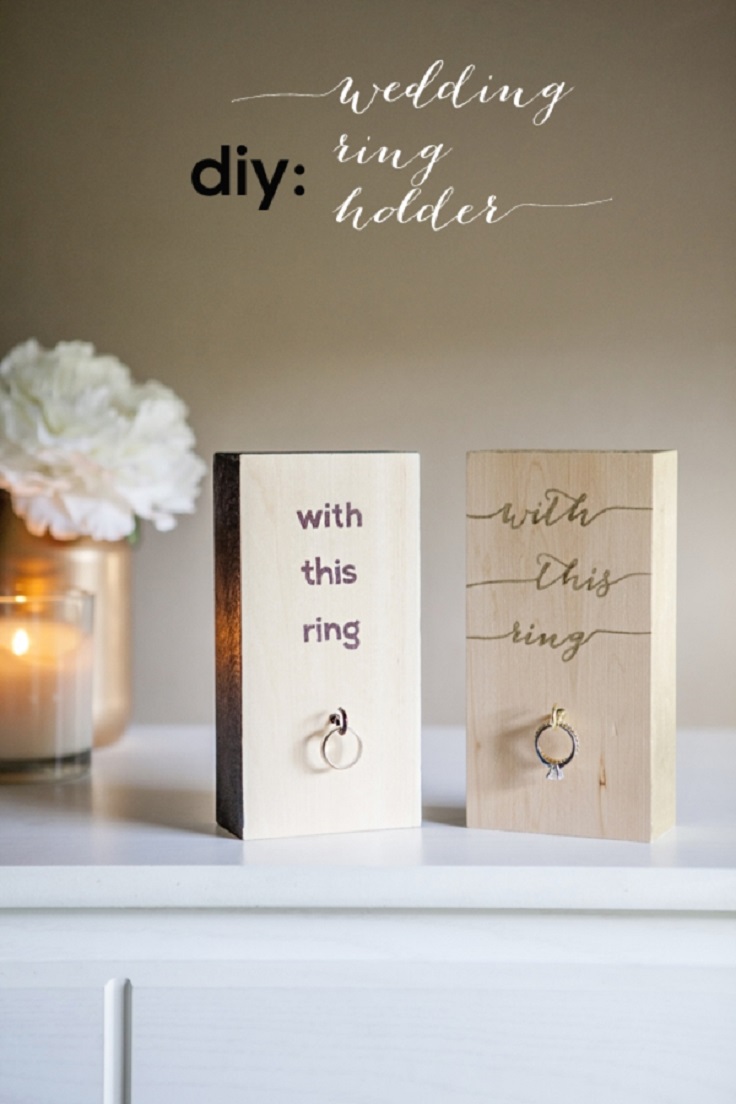 There are so many fun ways to make your own ring holder. Take this amazing project for instance – you will need just a few supplies and a grade-school transfer technique to make this ring holder. And all that in less then an hour. What you need in order to make this wedding ring holder is: basswood carving blocks, sharpies, craft paint and brush, Martha Stewart Crafts gloss enamel spray paint, cup hooks, pencil. The design shown on the photo is free to download.
Scrap Wood Photo Holders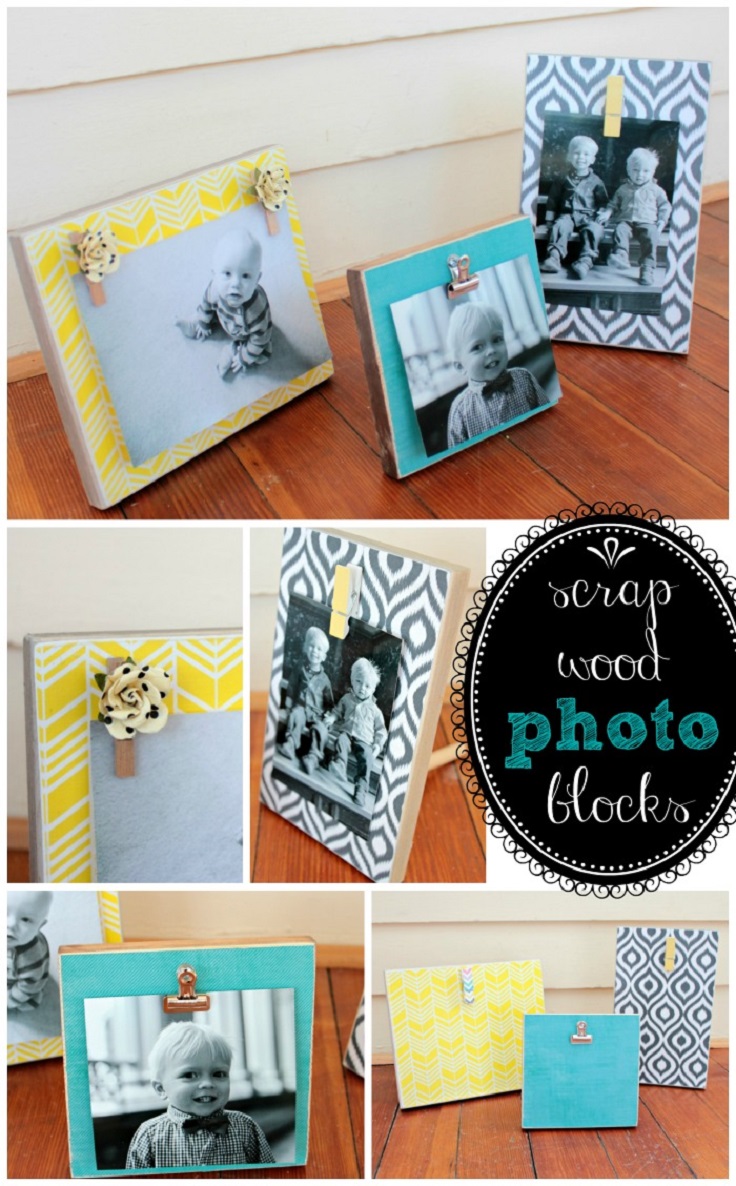 These wooden block photo holders are so adorable, simple and inexpensive. They are made out of scrap wood, fun scrapbook paper, and some mod podge. The final result are these unique photo holders that are perfect for displaying your photos. Feel free to customize the design and colors so they match the interior.
Woodblock Vase
These vases look fabulous! They are easy to be made and are eco friendly which is a huge plus. Here is what you'll need to make them: flowers, acrylic paint, small paintbrush and wood blocks with a drilled hole 1.5 inches deep. We love the geometric triangles on the vases. If you choose colorful flowers go with white paint, but of you choose white flowers you can go with more bold colors.
Super fun & versatile letter blocks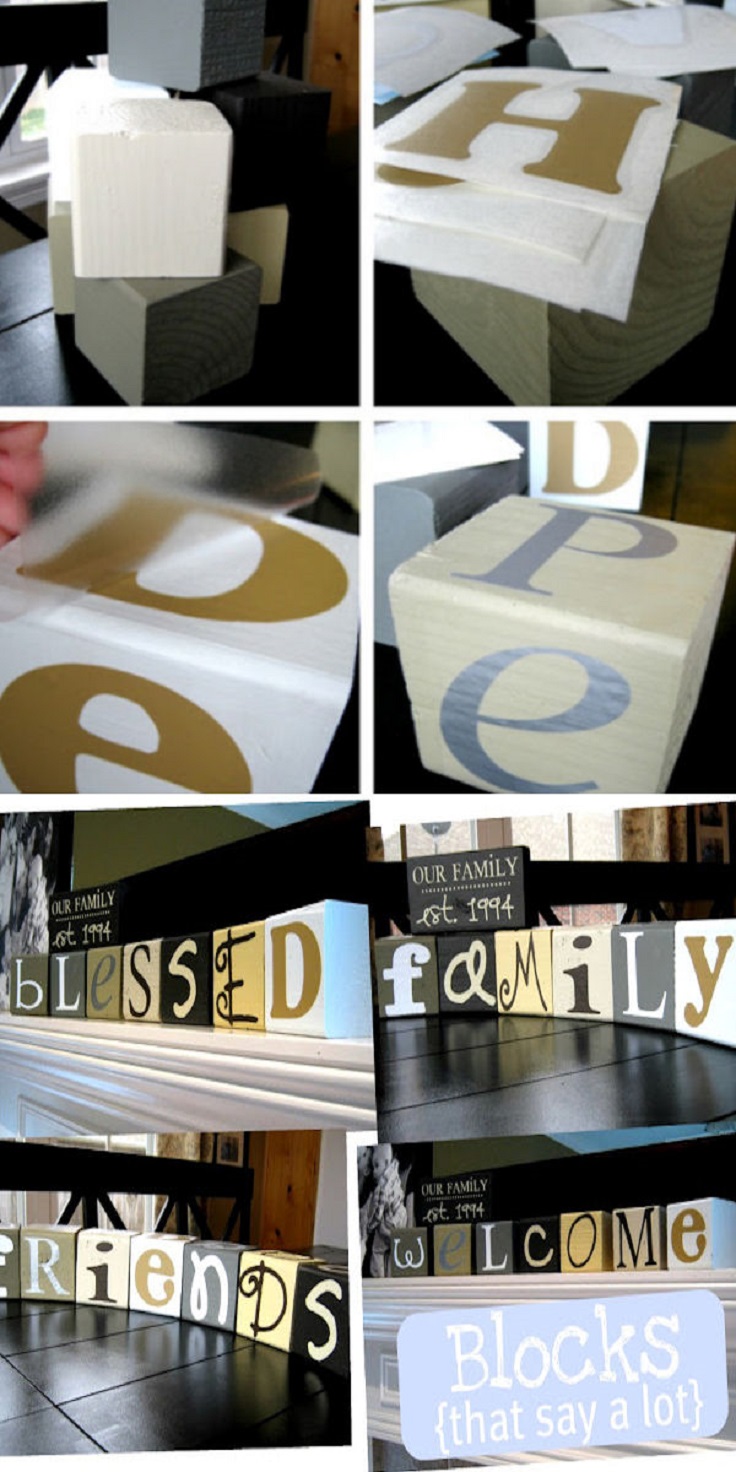 via lilluna.com
This project includes making of 7 wood blocks with 4 letters each. You can make more than 15 seasonal words with them. To make them you will need a 4×4 cut into 7 square blocks, paint & paint brushes, sand paper, vinyl lettering. Different fonts were used for the blocks shown on the photo above, so feel free to use your creativity when choosing them.
Button Bird Art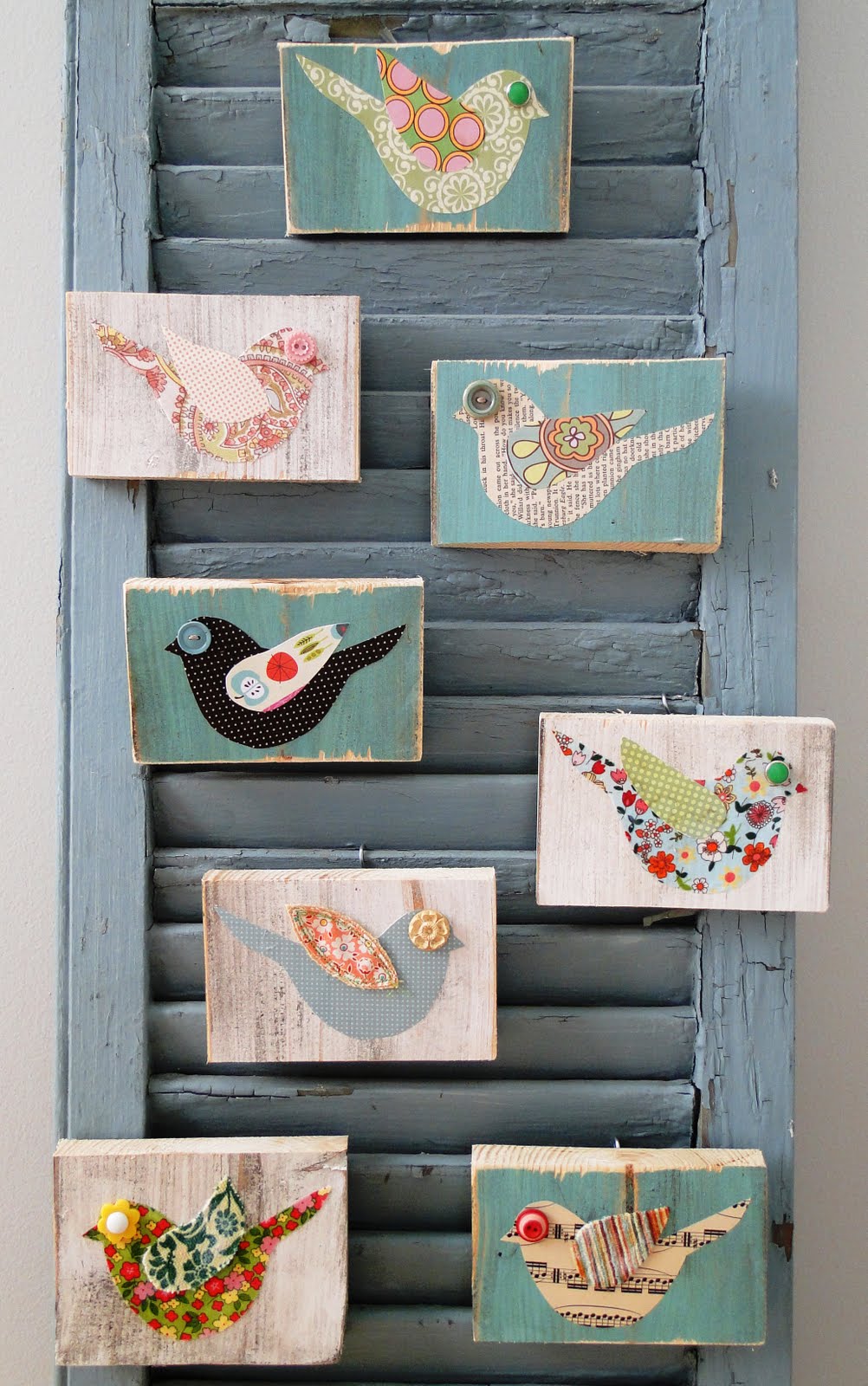 This is an awesome art project and the final result is simply stunning! These button bird wall arts make a great decor but also a great gift. They are creative, unique and budget friendly. In fact, you don't have to buy anything to make them – just use what you already have at home. Choose your favorite patterns and colors and enjoy your new wall art.
Wooden block photo holders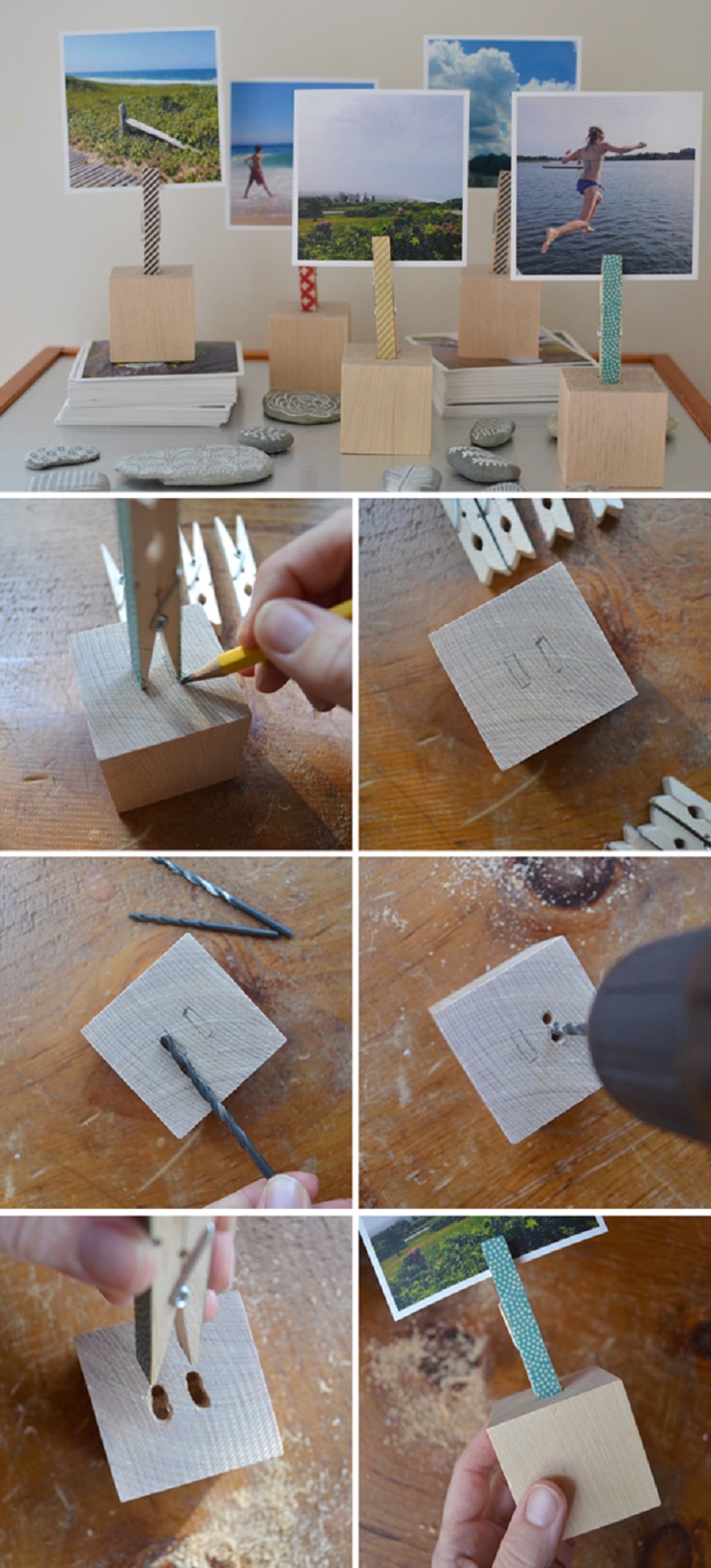 via smallforbig.com
Can you believe you can make 12 of these cool wooden block photo holders for only $20! All you need is to know how to use a drill and the rest is very easy and simple. We love how natural they look and how nicely they display the photos. To make them you will need wooden blocks, made of a solid wood like maple, a drill and a pencil, clothespins found at any hardware store and washi tape (optional) to decorate the clothespins.
Vibrant Wood Block Drink Stirrers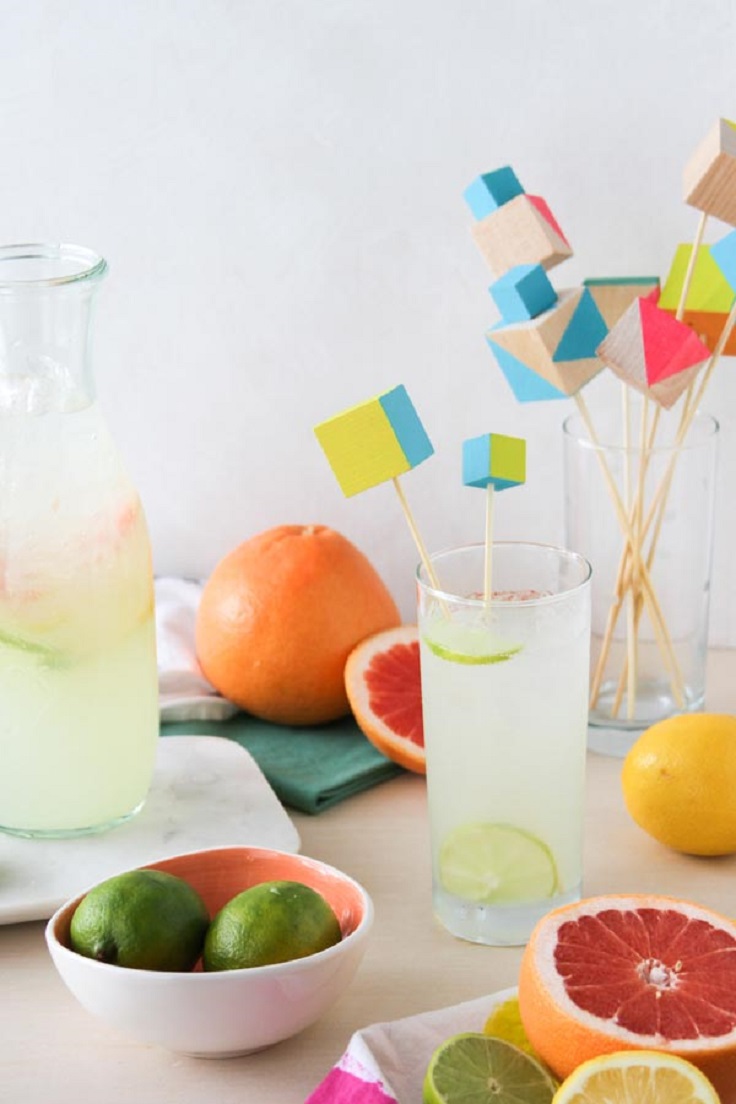 These colorful drink stirrers are a great summer DIY project and will add a splash of sunshine to your day. What's specific for this project is that no glue is needed for making the stirrers. What you'll need is wood blocks in the following sizes 1 1/2 in, 1 1/4 in, 3/4 in, hand drill and drill bit, painter's tape, acrylic paint, paint brush and some bamboo skewers. Fun, easy and awesome.