Many of us, in our everyday lives, face routines. One of the routines is disposing of glass bottles simply because we don't know what to do with them. The junkyards are filled with glass bottles perfectly fine to serve as something more than liquid storage.
If you have a few empty wine bottles and don't know what to do with them, we have a couple of ideas to share with you. If the bottles you own have labels that you want to remove, simply soak your bottles in hot water mixed with some soap and let them stay for 20 minutes before peeling off the label.
Get creative with your wine bottles, choose a fun project, and start today. Comment on your progress below.
1. Hanging Pendant Lights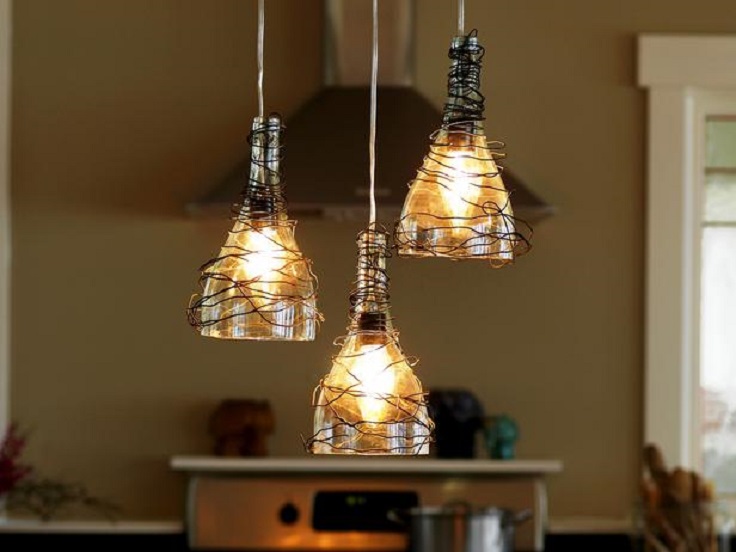 via diynetwork.com
These hanging pendant lights will fit perfectly in anyone's kitchen. Simply, using a bottle cutter, cut the bottles a little above the middle section. Smooth the edges and decorate your bottle with black wire. Insert the light bulb, and your bottle light is ready to be placed on the wall.
2. Wine Bottle Planter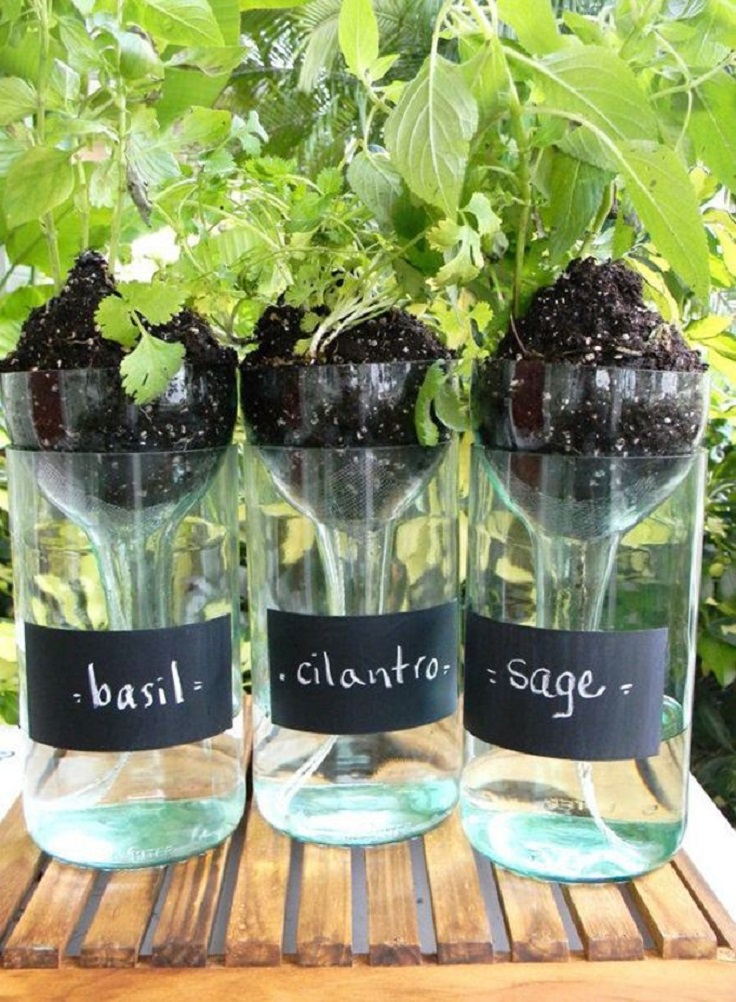 via loveitsomuch.com
Wine bottles are Eco-friendly and can be used as planters. Cut the upper portion of the bottle, place a net and a cord for the plant to hydrate itself. Add some soil and plant your herb/plant. Place the upper portion of the bottle on top of the bottom portion( filled with water). It's the perfect accessory for your garden.
3. Yarn-Wrapped Bottle Vases
Make a fancy vase out of your wine bottle, using only some yarn. Pick yarn or twine (for a more rustic look) and start wrapping the bottle from the bottom. Glue it for extra safety. Fill it with water and insert your fresh bouquet.
4. Hurricane Lamps
This is a very simple yet mesmerizing candle assortment. It is the perfect centerpiece! Just cut the bottom portion of the bottles and insert candles. Make sure the lid is removed. Combine a couple of these lamps and place them on a tabletop.
5.  Garden Edging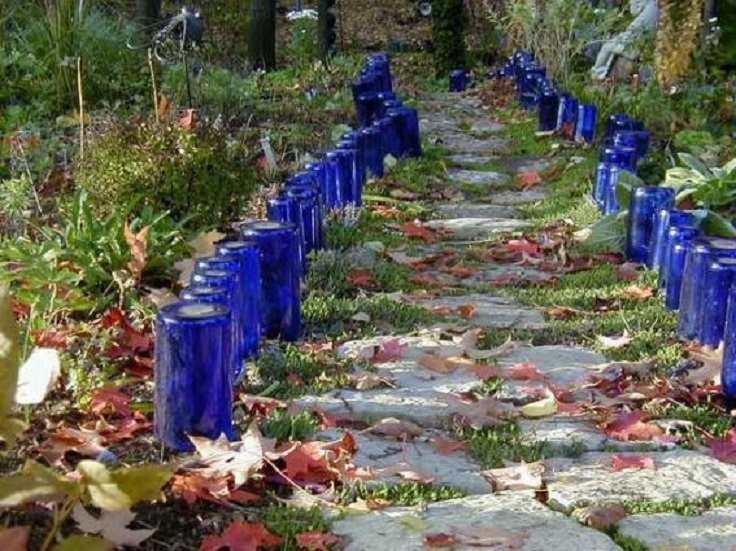 There are a million ways to edge your garden, but this is probably the cheapest one. Get lots of wine bottles; they don't have to be the same color. Dig holes in the area that you want to place the bottles and dig them in the soil. This is a fun way to trace your garden.
6. Soap Dispenser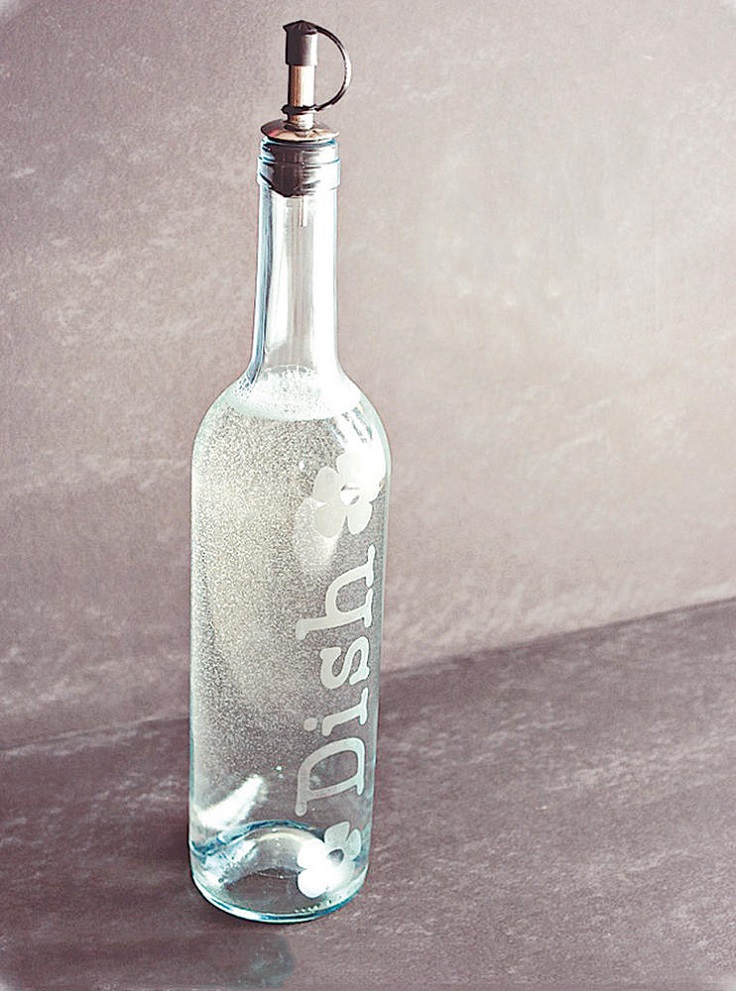 Free your kitchen from the plastic bottles with this cool and permanent soap dispenser made out of a wine bottle. Remove the label on the bottle by soaking it in warm water; after that, simply apply the soap pump on the opening of the bottle.
7. Stop Tall Boots from Toppling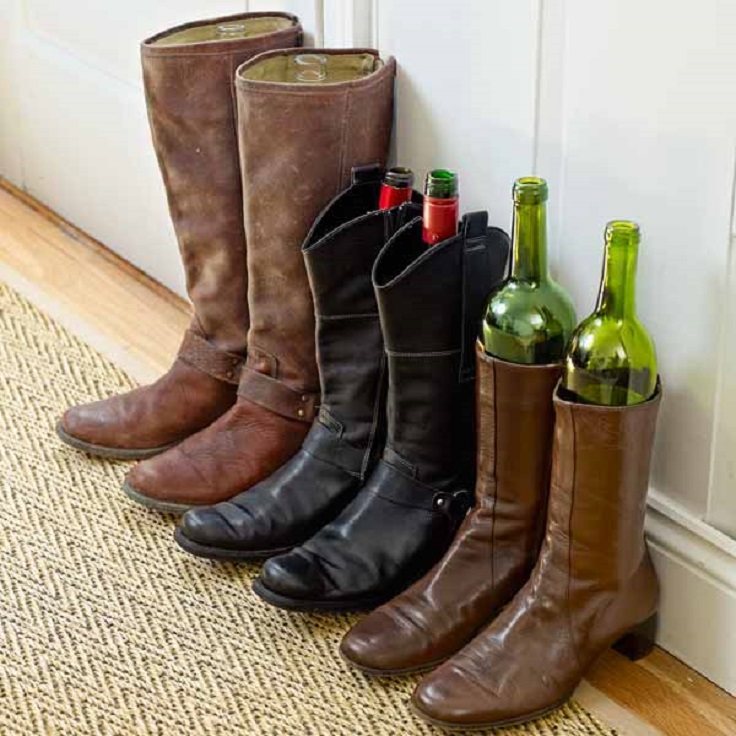 via thesnug.com
Make your boots last longer by maintaining them properly. Keep them straight and in good form by tucking in wine bottles in each shoe. This is the perfect way to preserve them when the winter season is over and when you are not wearing them as often.
8. Prop Books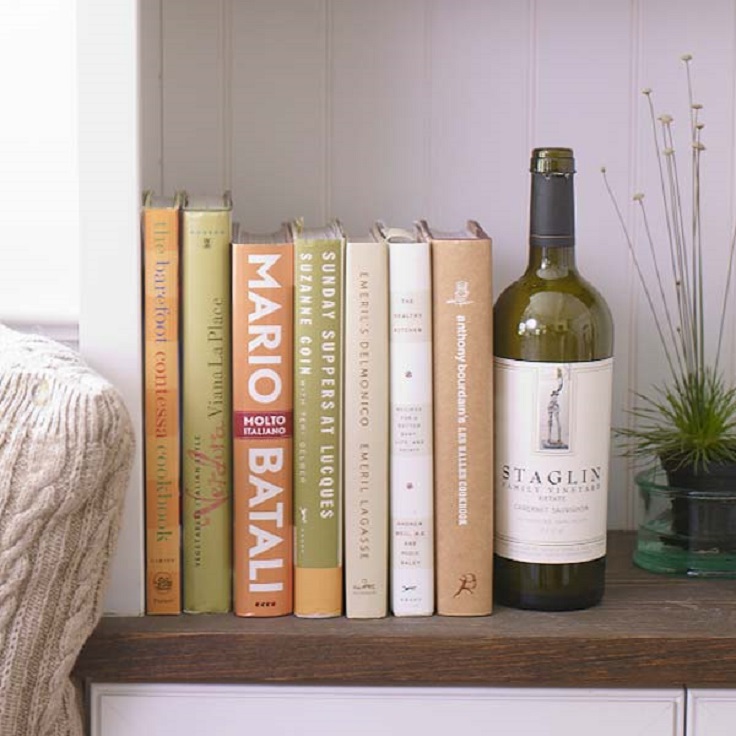 via thisoldhouse.com
Don't know how to place heavy books on shelves without them falling over? Wine bottle once again saves the day. Simply fill a nice looking and presentable wine bottle with sand or little pebbles. This way, your books will stay in place, upright.
9. Wine Bottle Ornaments
via lachicadelacasadecaramelo.com
Disclose your bottle's inner charm by making them a colorful ornament. Simply get some color paint, and using a syringe, spritz the inside of the bottles. Roll the bottles so that the color spreads evenly. Take out the extra color, and let the bottles dry.
10. Bottle Bird Feeder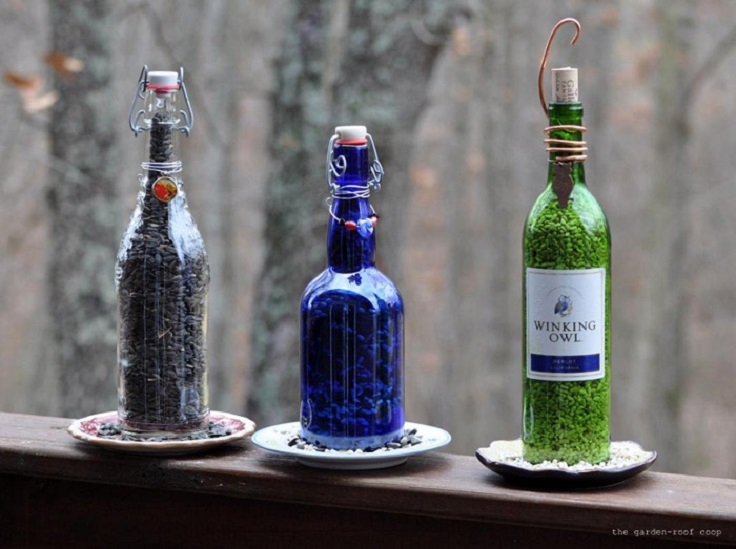 Feed the little birds in your yard this spring by making this DIY bird feeder. Simply drill two holes at both ends of the bottle and use epoxy to attach a plate at the bottle's bottom. Fill the bottle with bird food, place it on your balcony or hang it on a tree branch.