When it comes to our home, there is always space for improvement, so don't hesitate to throw away old stuff and bring fresh new crafts. This doesn't mean that you should empty your wallet so that you can have something new, but it just means reusing old stuff while spending just little.
In this article you will find super easy projects that include bottles and mason jars, and some other that require more skills, such as sewing. It's up to you to find the ones you find the best for your home and most importantly – enjoy the process of creating!
1. Painted Glass Vases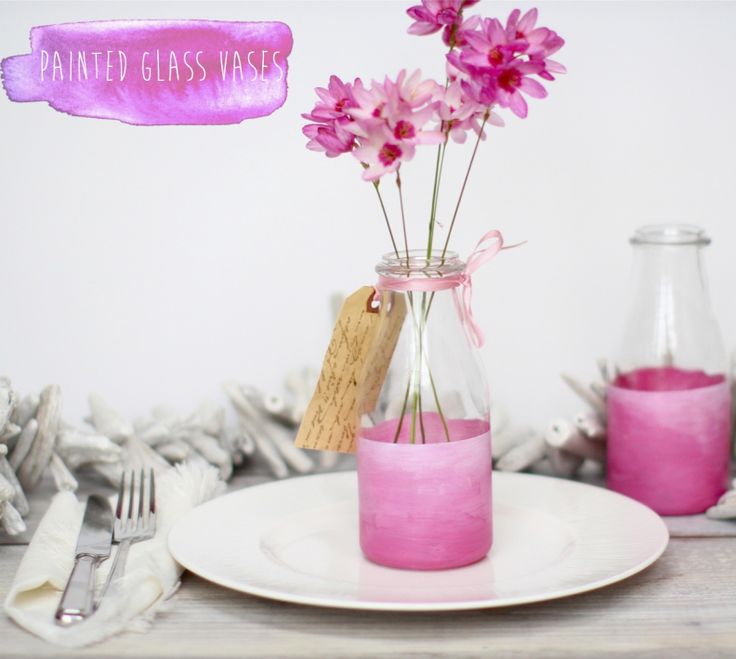 Painting bottles is one of the easiest crafts you can come up with it. It's very possible that you have at least one old bottle, so it's always a good idea to reuse it instead of throwing it away. Bottles make a good vase and for this project you will also need paint in any color you like (pink is perfect, right?), brush and duct tape to help you define the parts of the bottle you want to be painted.
2. Marble Moon Phase Wall Hanging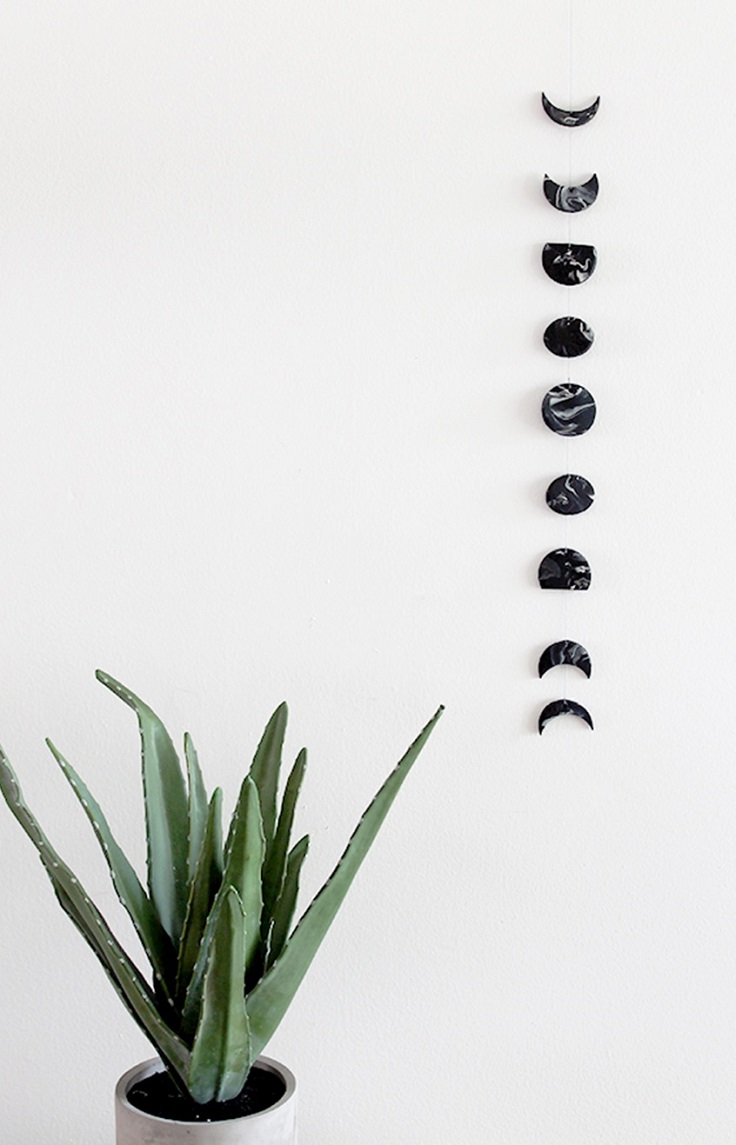 Simple, elegant and kind of boho, these marble moon phases are really nice decor for any room in your home. They don't occupy a lot of space – quite the contrary. So, to make your own marble moons you need two packages of black polymer clay, one package of white polymer clay, cookie cutters to shape the moon phase, toothpicks, string, needle, thread and a rolling pin. If you've got a friend who loves the moon, then you just found the ideal gift for them!
3. Hanging Wood Shelf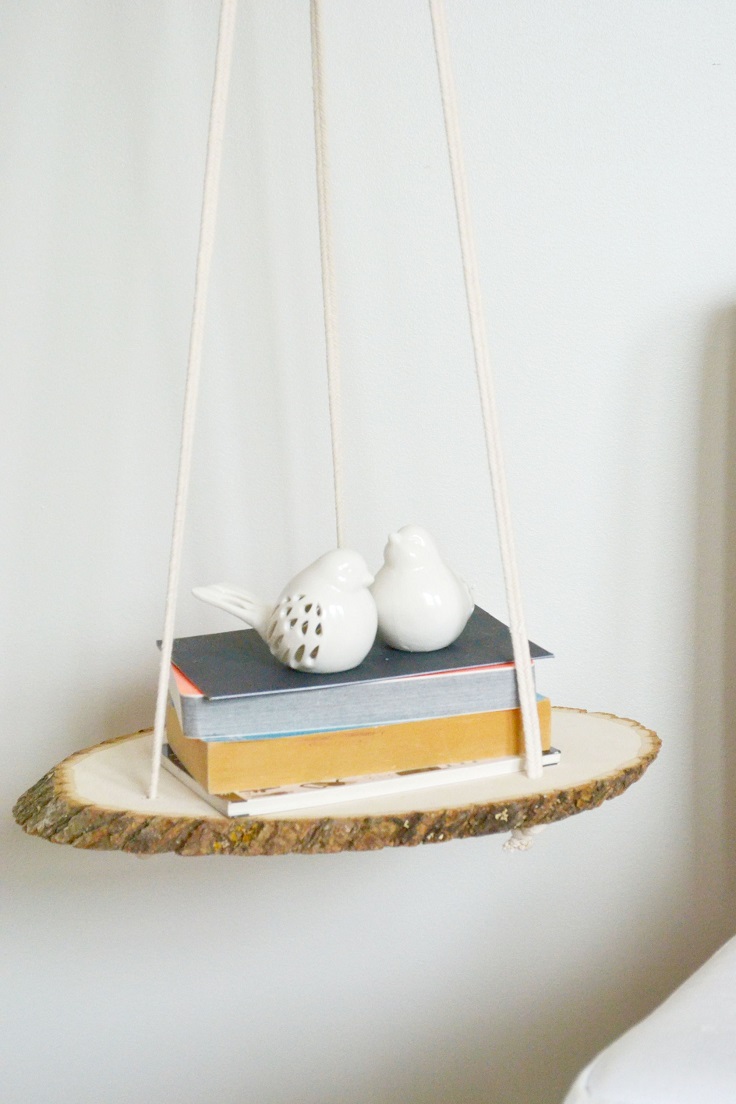 via diys.com
Hanging shelves are very practical and look way more creative than the built-in ones. It's nothing complicated and with a little effort you can easy build your own shelf! For this project, you need a board of wood, leather cord or rope. Note that if you're going for a thicker shelf, you will also need thicker rope. Once you built it, focus on decorating – you can place books or other decor you find adorable.
4. Painted Mason Jar Vase
We can never have enough of mason jar projects, for all the possible reasons – mason jar crafts are cheap, they look beautiful and they are a budget – friendly project that you can make no matter how of a DIY beginner you are. For this project, you need washi tape or painters tape, paint, paint brush and foam dabber. Experiment with the painting – it can be stripes, flowers, hearts, or in this case – polka dots.
5. Yarn Pom Pom Basket
via homedit.com
Baskets are very practical and you should have at least one – you'll see how helpful it would be once you know where you've put your stuff! You can decorate an old basket or new one according to your taste and make it look amazing by just adding few details. Pom poms are always a good idea, so get some from a local craft shop or make your own. You can play with color and make things colorful, or just go with or two colors.
6. Tassel Table Runner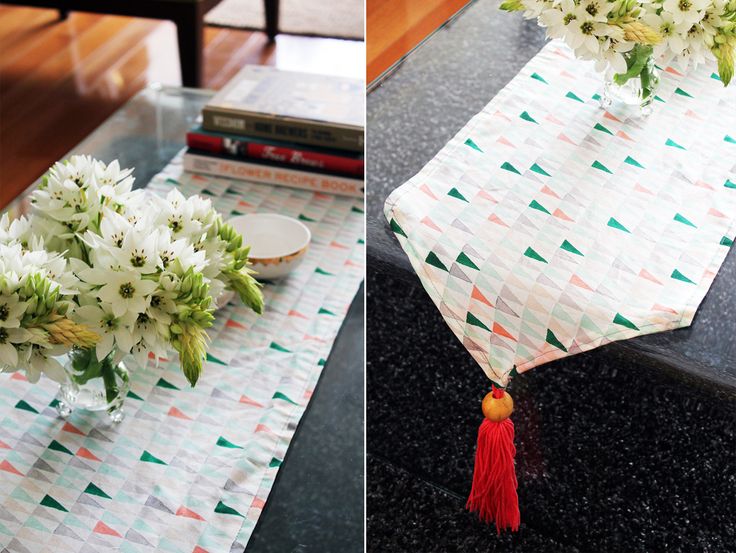 Sometimes all you need is just a new table runner – no candles, wreaths, flowers on the tables, whatever that is. For this project you'll need to have sewing skills, or at least do the project together with someone who does. Make sure you have the following materials and tools – fabric with dimensions suitable for your table, 1 x ball of wool or similar, 2 x large wooden beads, sewing machine, sewing pins and scissors.
7. Succulent Teacup Planter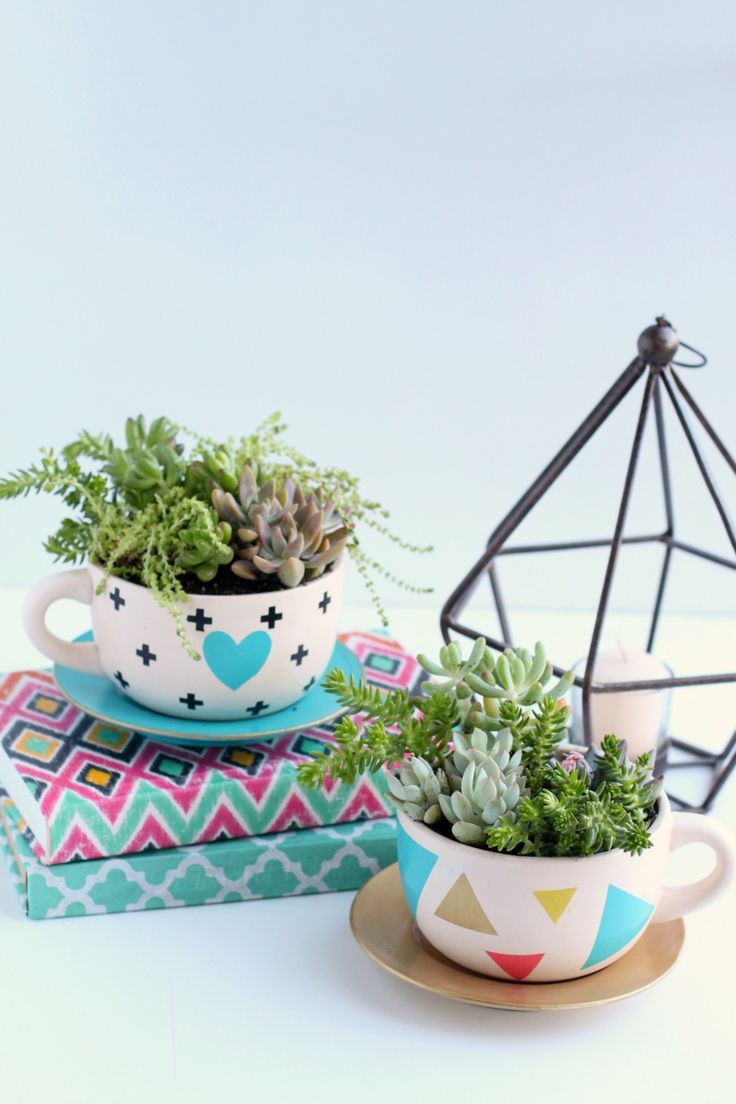 via porch.com
Plants are always a good idea – big or small, they have the magic to add such warm atmosphere and make you feel those home-sweet-home vibes. However, when choosing a planter, many times we go for the regular brown pots, but if you decide to make things more creative, plant your succulents in teacups! It might sound silly, but it can look really nice – especially if you go on with decorating the cups.
8. Rustic Chalkboard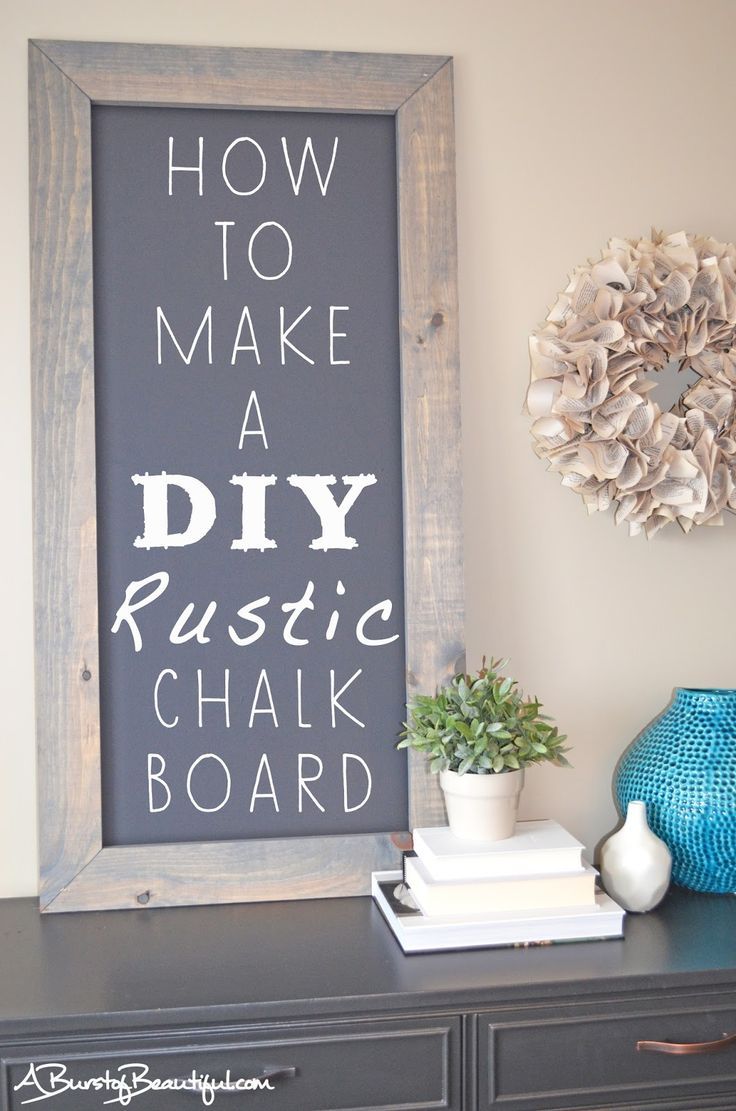 Chalkboards are better than regular boards because it includes drawing with chalk, which is nice and fun, right? You can write down anything you want – from messages to someone from your family to a quote you really love. To make your own chalkboard, you need 1 – 24″ x 48″ particle board, 2 – 1″ x 4″ x 8′ pine boards, chalkboard paint and finish color. It's really easy to come up with the project, and once you place it in any room, you will love writing down stuff on it.
9. Clothesline Photo Frame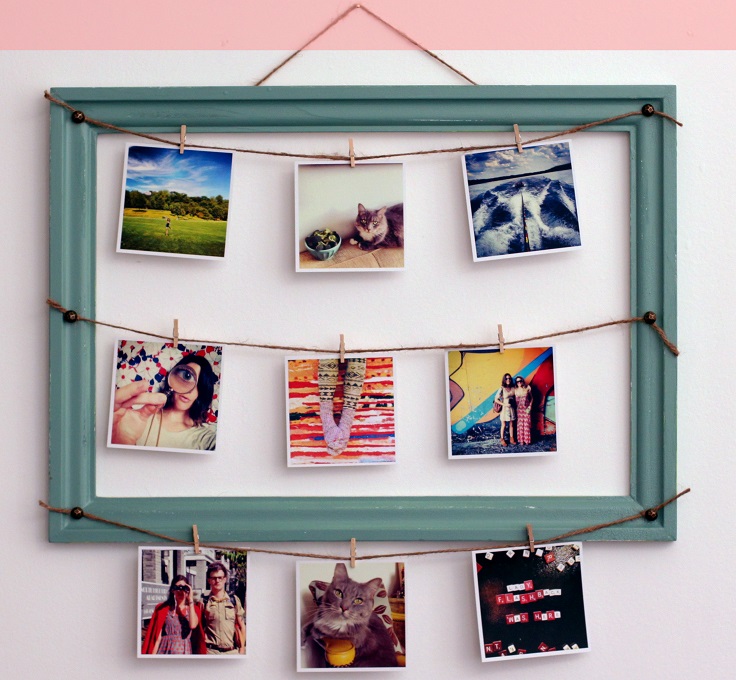 Put away those boring frames and make your own super creative frame! This kind of frame will be surely the center of attention because how often do you see such amazing frame? You can easily make your own at home and for that you need these materials – empty frame, spray paint, packs and nails, twine, rop and hemp, clothespins (mini or regular), hammer and sandpaper, but this one is optional.
10. Flower Wall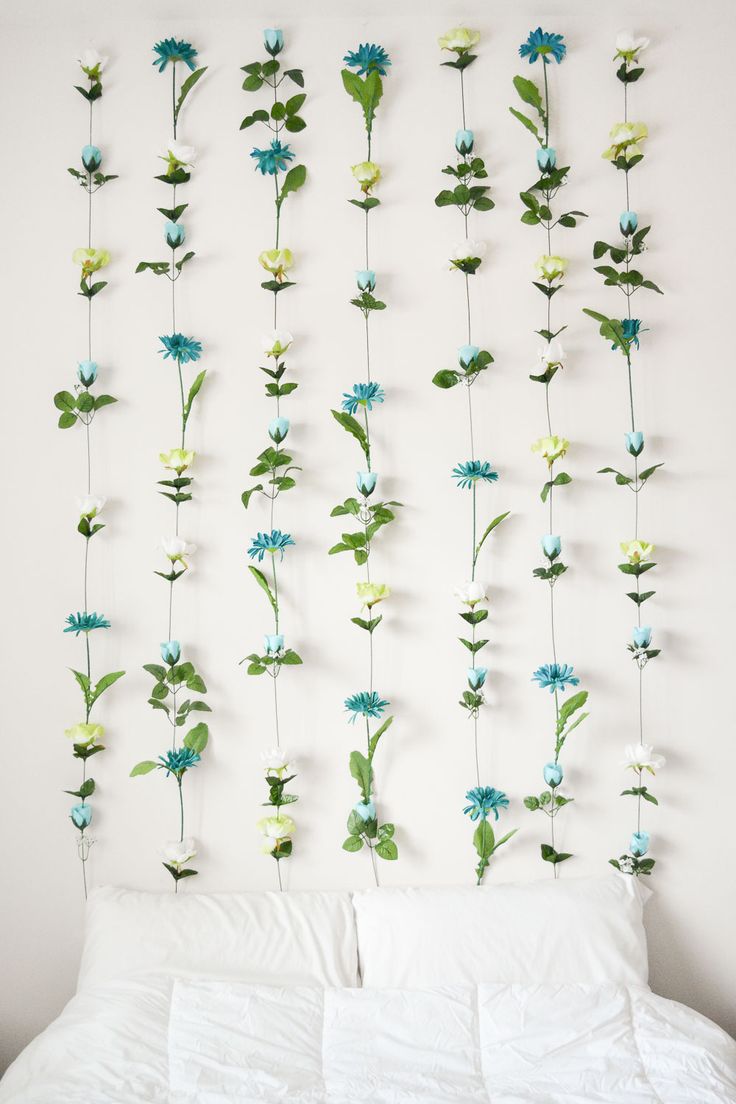 via sweetteal.com
Fake flowers never seemed so pretty right? Instead of putting them all in a vase and make things so dull and uninteresting, how about hanging them on the wall next to your bed? But, we must admit that they would look great in any room! You need about 6 fake flower bouquets with around 12 flowers on each, hot glue gun, clear fishing line, small nails or pushpins and wire cutters.