You already know what a toothbrush can do for your smile, but a toothbrush is also an unexpected beauty powerhouse — and when you realize how incredibly versatile it can be, you'll pick up an extra one from the drugstore.
Or maybe you already have your old one that you never use to brush your teeth. Don't throw it away. Now you'll find out the magical uses of the toothbrushes. Instead of throwing them away, try these tricks for hair, nails, and more. Here are some handy ways to re-use your old toothbrush. You may think this small little brush is only good for cleaning your teeth, but here are 10 ways you can keep the toothbrush cycle going including beauty and cleaning tips and tricks.
1. Help Tame Flyaways

via cosmopolitan.com
Since the bristles of each toothbrush are positioned so close together, they act as a super-tiny boar bristle brush. Spray the head of the toothbrush with hairspray and then brush any flyaways back to blend in with the rest of your hair.
2. Tame Unruly Brows by Brushing Them Into Place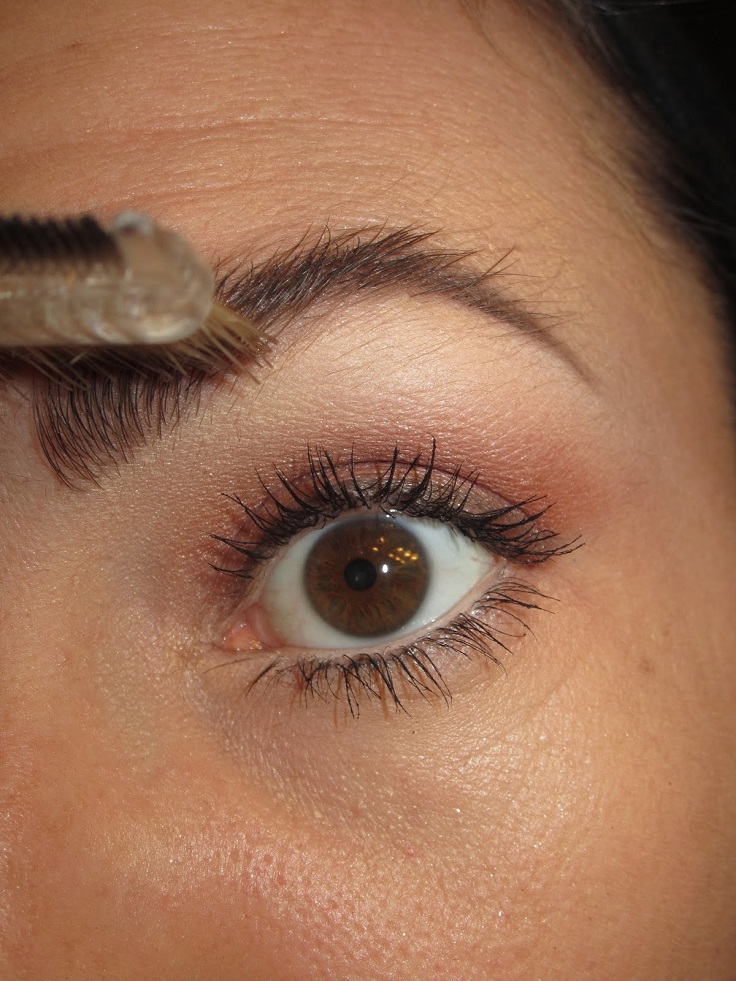 Use the same method as the above flyaway step — spray the head of your toothbrush with hairspray to give your brow hairs some hold and brush them into place.
3. Dip Dye Your Hair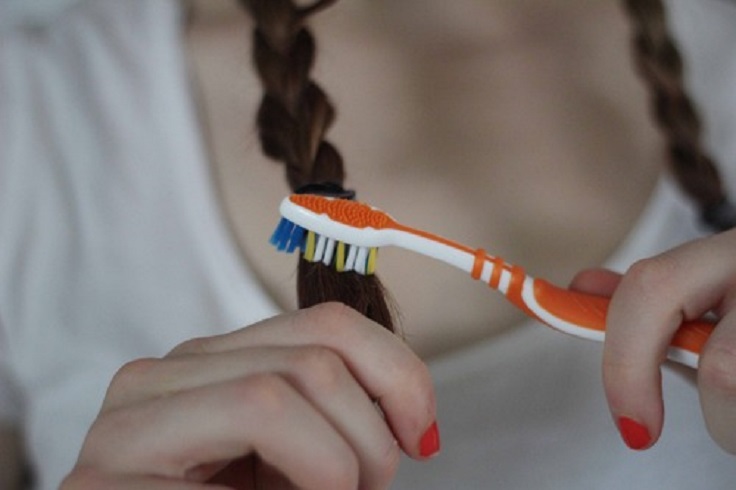 via prettydressesinthelaundry.com
Hair chalk can be messy, especially if it comes in liquid form, so apply it to your toothbrush first, and then brush it onto the strands you want colored. Also, if you want to highlight your hair — perhaps the few strands that frame your face — dip a toothbrush into your at-home blonde hair color or highlighting kit, and then brush it on strands.
4. Exfoliate Away Dark Spots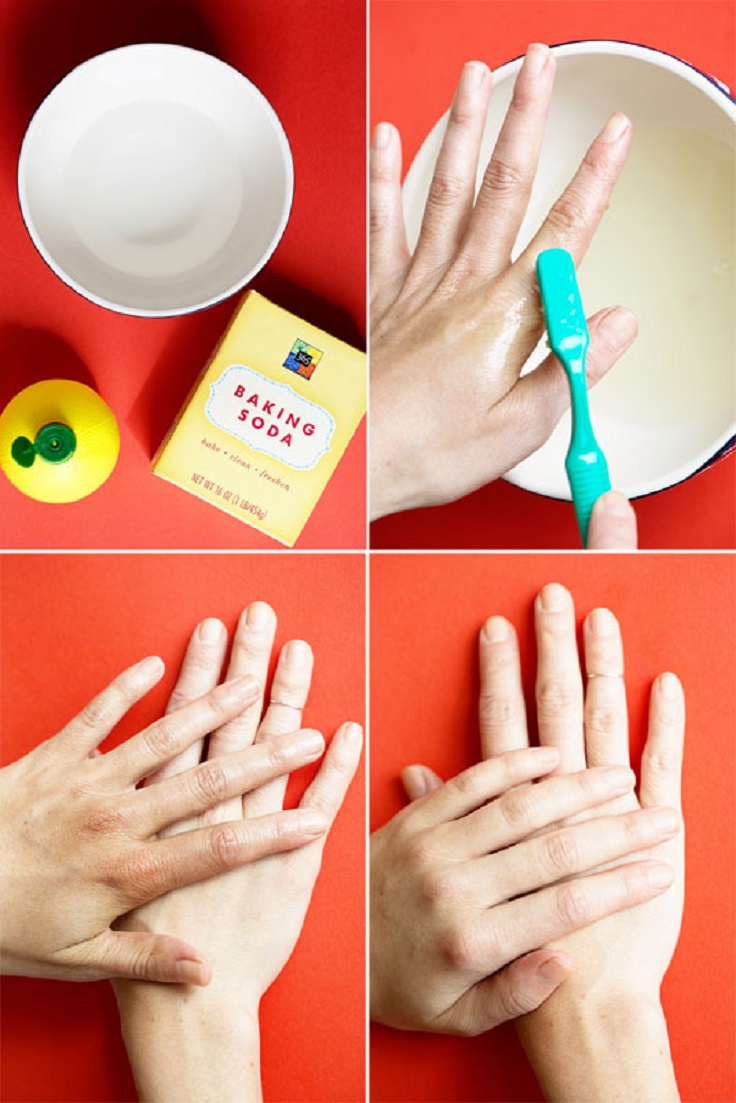 via cosmopolitan.com
Blend a cup of water mixed with a half cup of lemon juice and a tablespoon of baking soda. Dip a toothbrush in the mixture and gently exfoliate over areas where you applied too much self tanner. The lemon juice mixture will erase any spots that accidentally ended up too dark.
5. Splatter Paint Nails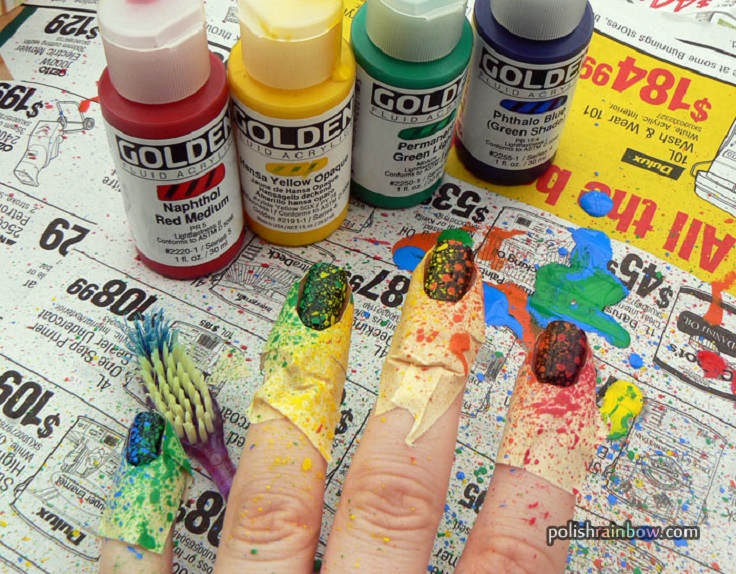 Create graffiti-inspired nail art using a toothbrush to splatter polish. Layer multiple different colors to get a Jackson Pollock-esque design. Grab a few toothbrushes and pick out the polishes you want to stipple onto your nails. Pour paint onto a paper plate, then dab the head of the first toothbrush into the polish (don't oversaturate it or you won't get the dot effect), and then tap the brush onto your nail haphazardly. Continue using these steps, switching out the toothbrush or cleaning it with polish remover each time, to finish the rest of the look.
6. Exfoliate Lips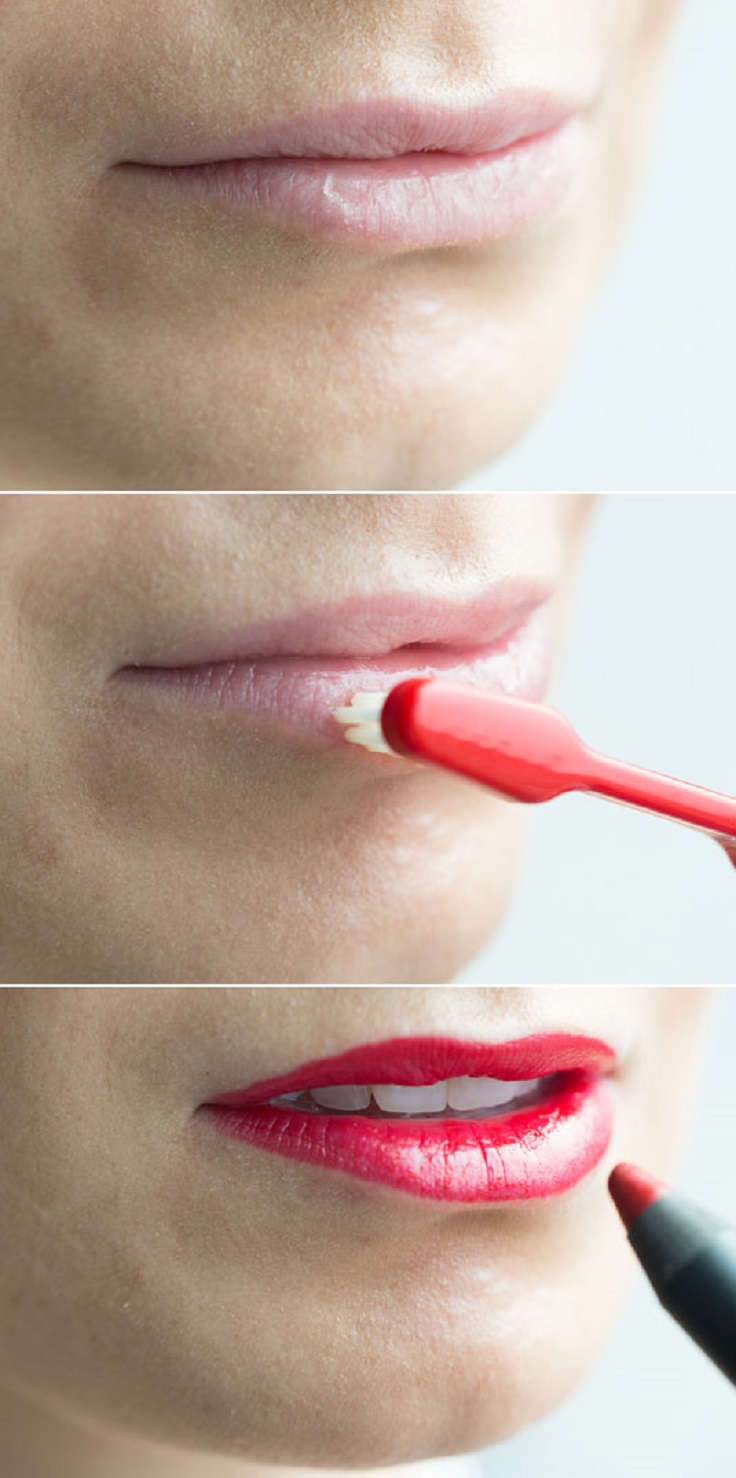 via cosmopolitan.com
Swiping your lips with a toothbrush will get rid of rough spots for smooth lipstick application. Use a mix of olive oil and brown sugar to create a quick lip exfoliator for added moisture.
7. Clean The Hair Dryer's Vent
via cosmopolitan.com
Lint caught in the vent of a hairdryer takes a toll on the motor since it's more difficult for the dryer suck in the air it blows onto your hair. Use a toothbrush to de-lint the vent so you can get out the door faster.
8. Use Your Toothbrush to Tease Your Hair

via cosmopolitan.com
If you don't have a boar bristle teasing comb handy, use an old toothbrush to tease the hair at the crown of your head or the areas along your hairline to get instant volume in the places you want it most.
9. Clean Any Dirt From Underneath Your Nails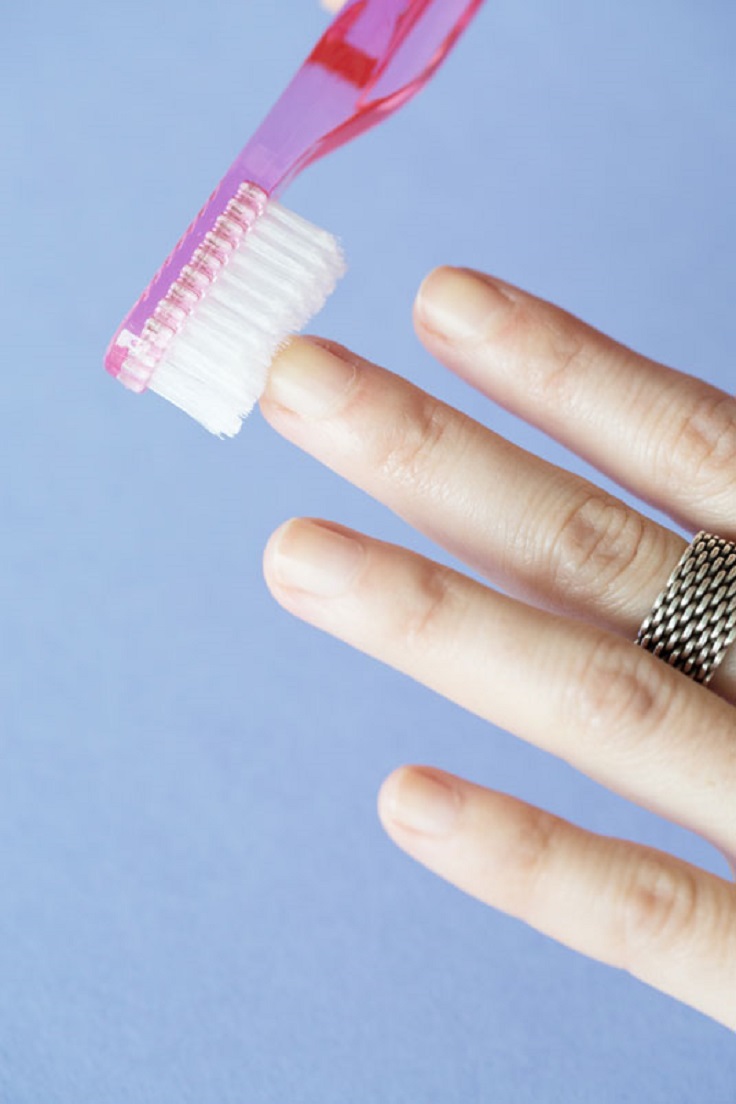 via cosmopolitan.com
You might not have a nail brush handy, but chances are you have an extra toothbrush. Use the bristles to get dirt out from underneath your nails in seconds. Just put a little soap and water on the brush and you're good to go. It feels nice on your nails too.
10. Declump Mascara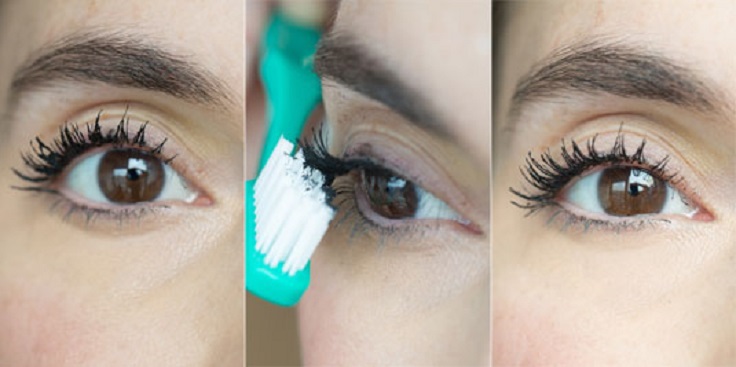 via cosmopolitan.com
If you ever swipe your mascara wand over your lashes and apply more formula than you were hoping for, use this trick: Pick up a new toothbrush (since it's going near your eye, you don't want to use an old toothbrush which could lead to irritation or infection) and run it through your lashes from root to tip. The bristles will grab the excess mascara for fanned-out, gorgeous lashes.