We all have that one wall in our homes that looks completely naked and boring, but as usual, we are without some creative idea what to do with it. If you want to bring a personality to your room and make it look cozier and familiar, then the best solution is to craft some art by yourself.
There are so many different painting techniques that are not so difficult and can be easy to make for everyone, no matter the painting skills and abilities. So, why don't you create an amazing wall statement from our list of 10 DIY paintings?!
Grab a blank canvas, start painting and make some unique artwork you'll be proud of!
Watercolor Painting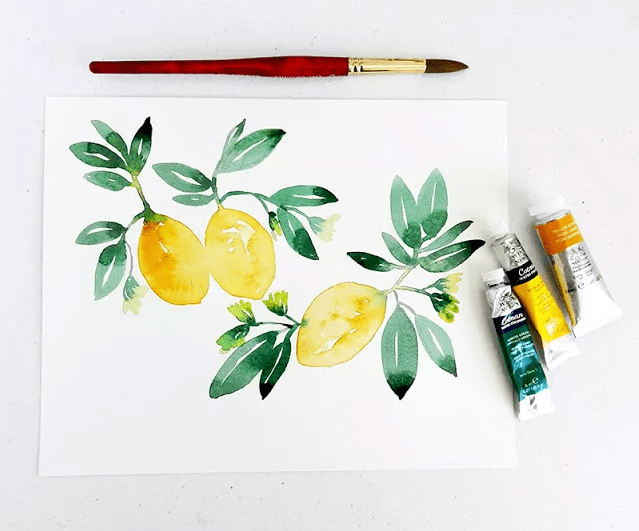 DIY Tutorial via thesprucecrafts.com
Painting in general can throw a lot of us away from even thinking about attempting something on a canvas. However, there are rather simple versions of watercolor painting if you follow the link. It will not make you into the next big deal, but it will rather refresh a long-lost wall that wished for love for such a long time! This could be done over a good morning in front of a great cup of tea, or by inviting friends and family and also them to have a go.
Acrylic Painting
DIY Tutorial via twogirlsbeingcrafty.blogspot.com
Dots are in fashion as we speak! They are back – the '60s are back! Why not spruce up your home with your very own creation that really will not necessitate too much brilliance in the arts and painting department. Just a little will would do just fine. These are super easy to create and super fun. Vary with whichever color suits your home and your mood best, and get creative. A simple tree and tree branches were drawn out first, with the little circles creating the abstract leaves. No color will be the wrong one to use. Experiment and have fun.
An Abstract DIY Painting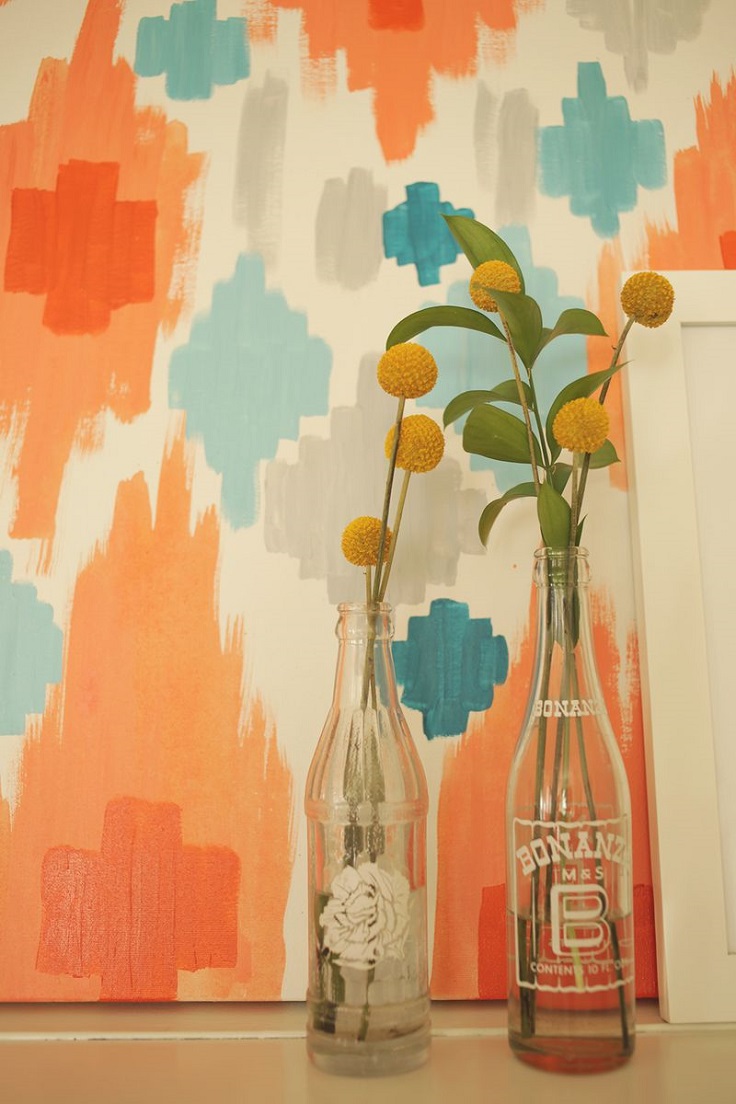 DIY Tutorial via abeautifulmess.com
Have you been on the lookout for a very special artwork that doesn't mean spending a lot of money on it? We all had at some point difficulties finding the perfect artwork or painting to suit our mood at the moment. So why not give it a go yourself? At least they'll be something on the wall one would be very proud of. It is super easy and will give you a sense of creativity and expression of your mood on the canvas. Marry your painting with equally creative items in front of it giving it extra depth and personality.
DIY Metallic Painting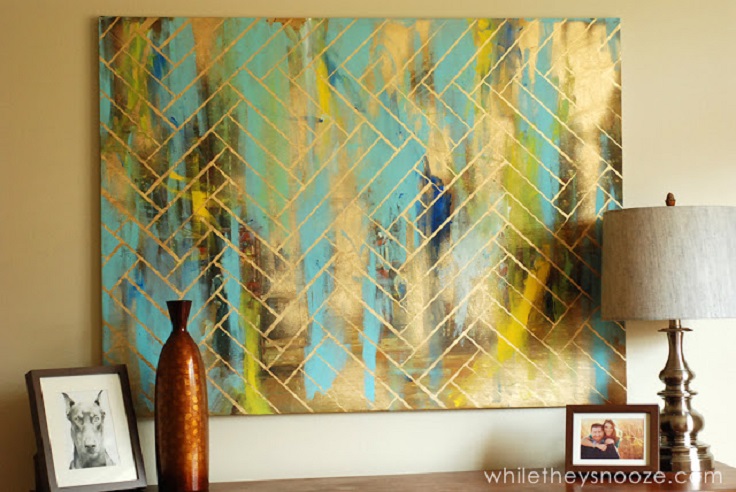 DIY Tutorial via whiletheysnooze.blogspot.com
Wish to have a bit of a bling makeover to your home? Then this is for you. Metallic paint is used for this craft, but if you appear to have gold leaves in your home, use that as well. Use an existing painting that you no longer can stand, and paint over it. The satisfaction is like no other. And, you will do your bit to save the world in the process with a little recycling. What is not to love. You can involve your family and create something altogether.
Tape DIY Painting
DIY Tutorial via diymo.wordpress.com
These very impressive sharp lines will even impress you once the article is done and dusted. There are no rules really, put the tape the way you wish so as long as they are dead straight in any angle. Do not play with symmetry this time around. Use colors most fitting your home and the environment you wish to create. You can have 2 or more paintings on the same wall within a short distance between one another to create the illusion that you have done one big artwork which all speak to one another in the same language.
DIY Painted Wall Art
DIY Tutorial via thesimplylivingblog.blogspot.com
Some of us might be safe with colors or not sure how to use them, or simply terrified to make a mess out of it! Therefore, we suggest starting with a painting that then could be applied to your walls directly. Adding a splash of color to a bland room is important for the state of mind. It's joyful, it's passionate, and brings out the sunshine within your home. Yellows, reds, rich greens, and even pinks are fabulous. If you have a neutral wall, then we would suggest the following suit. Great artwork that will not ask too much from yourself in terms of artistry.
Hot Glue Painting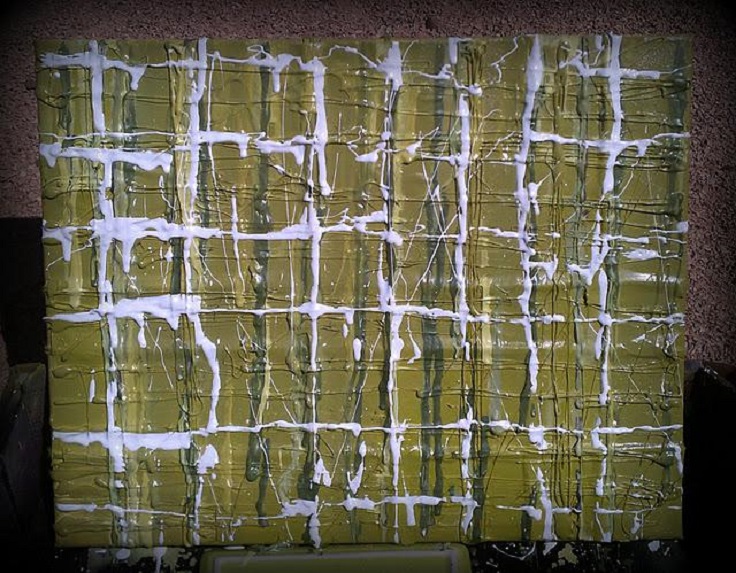 DIY Tutorial via en.paperblog.com
Do you remember playing with glue at school rubbing it all over your hands and peeling it off once dried up? Well, this is kind of the same, or similar at least pleasing strategy to do art. All of this could be done by recycling old picture frames and paintings no longer in your wishlist thoughts. On here you will find mostly straight lines, but then again, the canvas is yours. If you refer to circles then go ahead. And if you wish to do any figures outlining its perimeters, then go for it. It is you in a painting.
Acrylic Skin Stickers Painting
DIY Tutorial via acrylgiessen.com
Acrylic Skin Stickers are a fantastic way to avoid messiness! It is simply by pouring the watercolors of your choice onto a clear plastic sticky sheet in any way imaginable. Your emotions will definitely show on this which makes it extra special because you will not be able to hide it well. You can do this on canvas, on nails, on your clear phone case, or anywhere you, please. Color up your life!
DIY Black and Gold Leaf Painting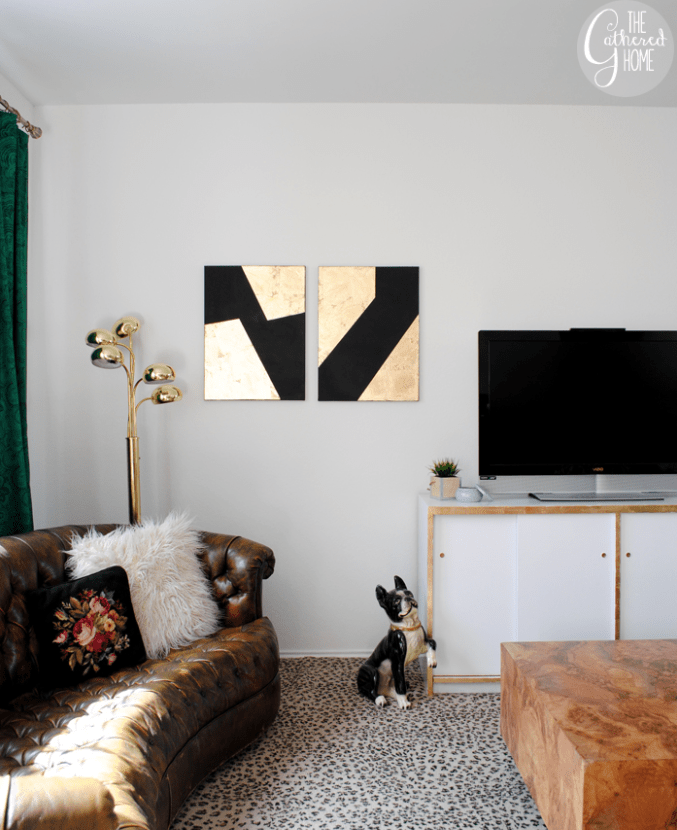 DIY Tutorial via thegatheredhome.com
Something very mystical about using black as part of the main color scheme for your painting. Offset this with gold and wait to be marveled like if you were in a five-star resort somewhere very fancy and luxurious. Add glamour to any room begging to be spruced up a bit. What is lovely about the gold leaf, and using it on a wall or anywhere else for that matter, is the way the sun shines upon it and reflects it in every direction giving you even more light to your living space.
Dish Soap Painting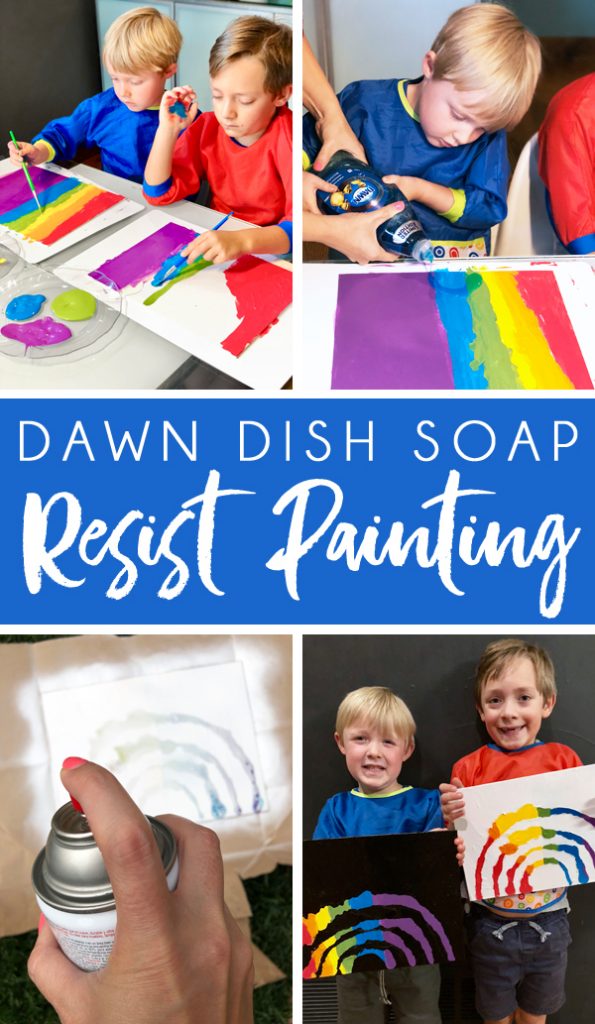 DIY Tutorial via blueistyleblog.com
An activity that is full of such a bundle and fun. It's really terrific! You can make a day of it by inviting people around, or kids' friends; have a barbecue, a couple of beers for the adults, and get painting! It is a lot of fun and something you can do together using household cleaning products in the process. Any shower gel would do the trick just fine. We would recommend avoiding white canvas but instead, go for black – the colors will pop more. Follow the tutorial and get creative!