Smoothies are one of the most popular drinks in the world right now! There is no a woman or man that hasn't lost their head for this miraculous drink packed with healthy ingredients! Perfect for breakfast, lunch or as a snack, we assure you that these beverages will rule the world for a long period of time… they're not just a trend, they've become a lifestyle!
As a lovely mom you're probably doing your best to implement healthier habits in your children life and eating food rich in vitamins is probably one of your goals! This is the challenge which can be tough and sometimes impossible, because we know how much kids love sweets and other product which are full with calories and sugar!
But, this won't be a problem for you anymore… all you need is a couple of fruits and a blender! Make a smoothie for your little ones and they'll get all the vitamins their body needs in only one glass! Not to mention how energized they'll feel! Here is a list of Top 10 Best smoothies for Kids that will make your life easier! They're easy to prepare and if you make them every day, you won't feel the pressure about your kids' diet anymore!
Chocolate, Peanut Butter, and Banana Smoothie
via makeandtakes.com
We're opening our marvelous list of smoothies for kids with a shake which is a real protein bomb! The mix of banana, peanut butter and chocolate will keep your little ones energized during the morning hours. Use a homemade peanut butter, for a better taste and it's a healthier option!
Green Smoothie For Kids
via jennfit.ca
We all know how green smoothie is always the healthiest choice, but it's not so delicious like the regular one! However this smoothie has it all: it's green, healthy and tasty at the same time… perfect snack for your little ones!
Strawberry Smoothie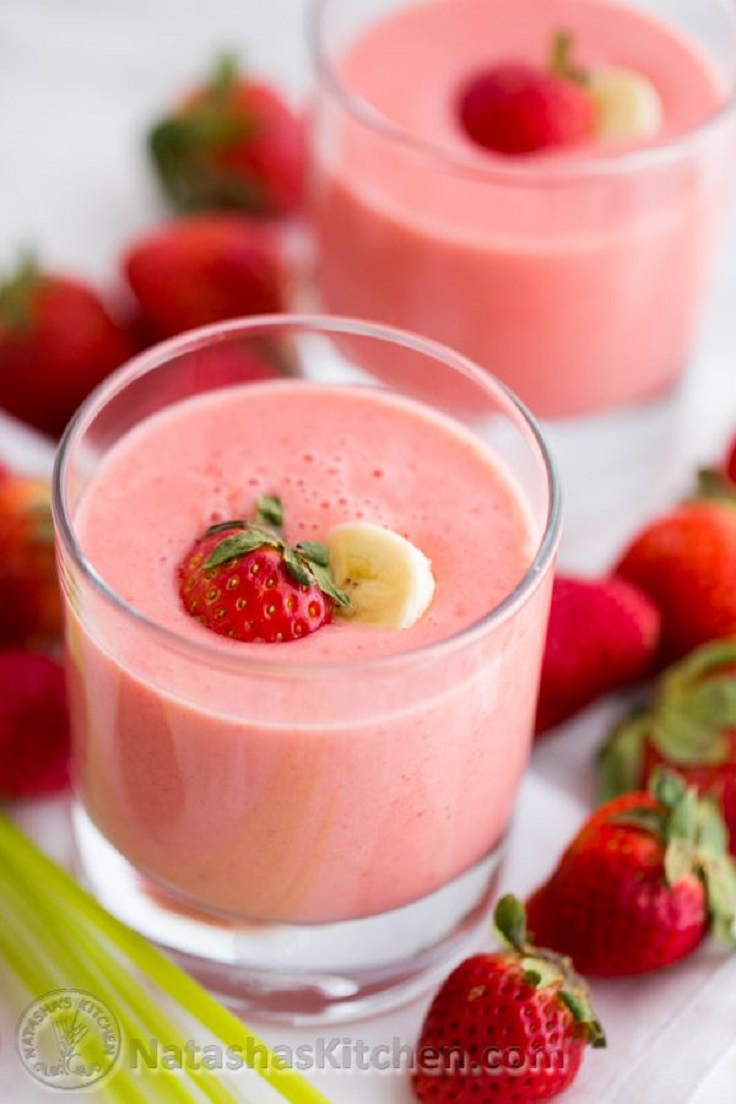 There is no kid in the world who can resist on a combination of banana and strawberry, because that's the mix that makes everyone's mouth water! This smoothie has all that ingredients, but also it's easy and quick to make which is making it a real 30 second meal in a glass! Sounds great!
Protein Smoothie For Kids
Proteins are important for any part of the day, so prepare this smoothie which is infused with banana, ricotta cheese, peanut butter, cocoa powder and coconut milk, and serve to your children wherever you want! They'll adore the creamy and rich taste, for sure!
Triple Berry Frozen Smoothie
This yummy smoothie which is frozen and packed with three kinds of berries (cranberry, blueberry and strawberry) will come as a real refreshment for hot summer days! Give to your kids instead of an ice-cream which is usually stuffed with a sugar and a bunch of unhealthy nutrients!
Skinny Oreo Milkshake
We all love Oreo cookies, no matter how many calories they have! Luckily, you can always mix them with a couple of healthy ingredients to create a smoothie that satisfies your sweet craving and gives all vitamins your body needs on a daily base! The taste is something your little ones will enjoy, without a doubt!
Watermelon Smoothie
via fooddoodles.com
Watermelons are favorite summer fruit for kids and they can eat them all day long! Blend a kid-friendly smoothie with watermelon and lime and enjoy with your little ones in a glass full with vitamins in your backyard during the summer!
Raspberry, Banana, and Dark Chocolate Chip Sweetheart Smoothie
Enjoy in the chocolate flavor without a guilt by making a smoothie which connects raspberry, banana and dark chocolate into one! You can prepare it for your children for breakfast, as a healthy dessert or as an after school treat! Just make sure to blend enough of it, because they'll be craving for more and more!
Sneaky Green Smoothie
Make a "green smoothie" that isn't actually green! All you have to do is to mix an orange juice, baby spinach, vanilla Greek yogurt, blueberries, cranberry juice and frozen banana! The end result is a perfect kid-friendly drink that you and your children will adore!
S'mores Chocolate Smoothie
We're finishing the countdown with a S'mores Chocolate smoothie that is a great vitamin-packed dessert for any part of the day! It's something that every kid can drink all day long, especially if you cover it with whipped cream, golden grahams and mini marshmallows!