Everybody loves the large super king-size, or four-poster beds, which are more like an island. But what to do if you simply don't have space for it?
An attractive, great big bed will waste a lot of space. Rather than compromising on the size of your living area, it makes more sense to compromise on the size of your bedroom. After all, you'll only sleep and recharge your batteries there.
Surely, the bedroom needs to be comfortable, functional, and good-looking regardless of its small size. Loft beds are ideal for everyone with smaller apartments and normal ceiling heights.
We have selected ten loft bed solutions that hopefully will give you some ideas for your own home planning to make the most out of small spaces.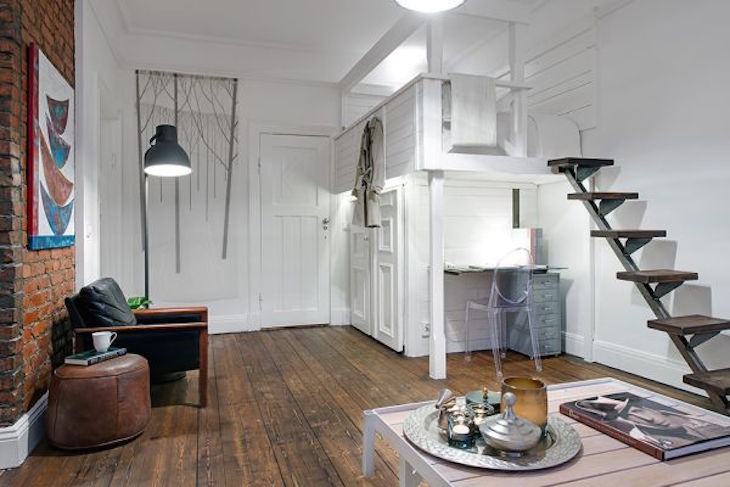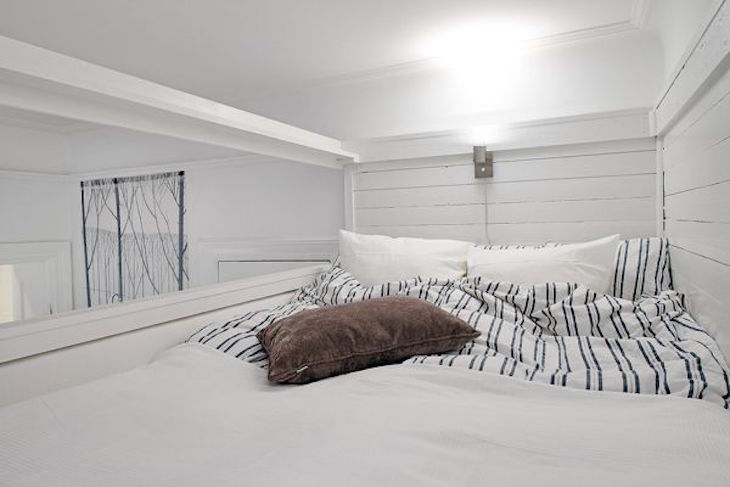 via www.dailyhomedecorideas.com
This beautiful single-room apartment is a perfect example of a small but cozy and surprisingly spacious home. The interior decor is a wonderful blend of present-day and rustic. Underneath the loft bed, the walk-in wardrobe provides extra storage space. With its extremely creative and exciting layout, this Scandinavian apartment is our number one pick!
Wood Loft Bed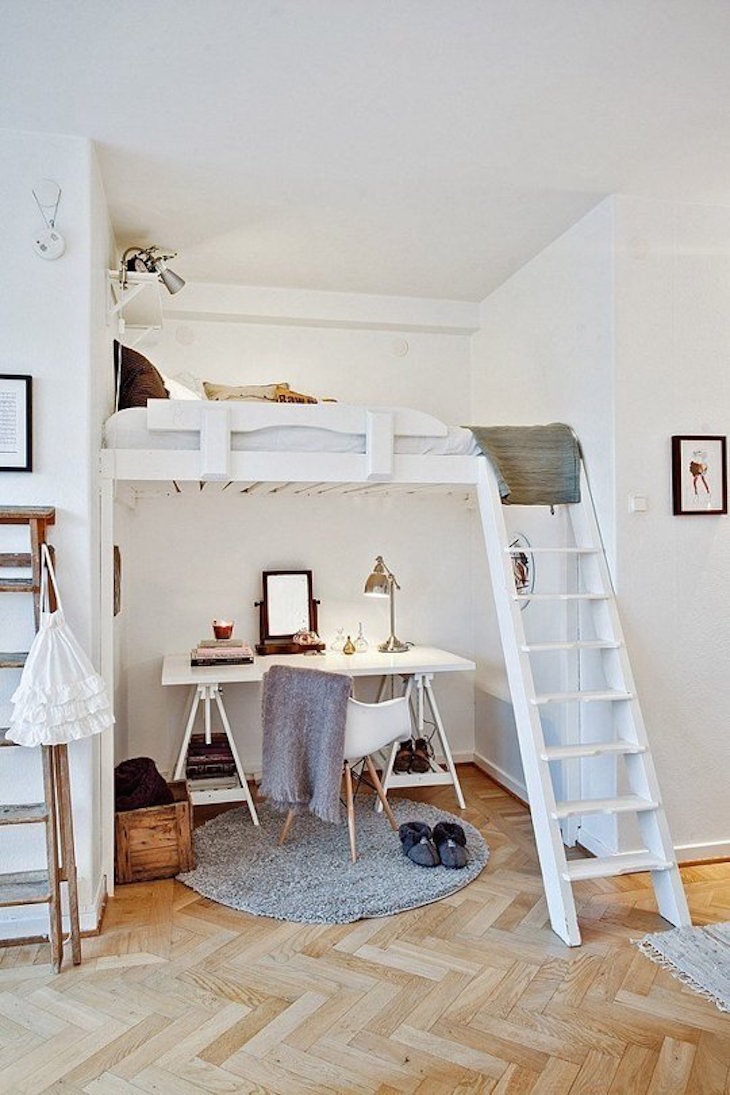 This white painted wood loft bed offers a cozy upper sleeping space with a modern beauty desk or office area underneath. A practical and amazing functional bed design that will save lots of space, giving you extra room.
Suspended Loft Bed
How about stargazing straight from your bed, suspended above the living room? This brilliant and creative idea is perfect for those whose space is at a premium. Reduce your bedroom size, or even better – have it suspended halfway between the floor and the ceiling!
Corner Loft Bed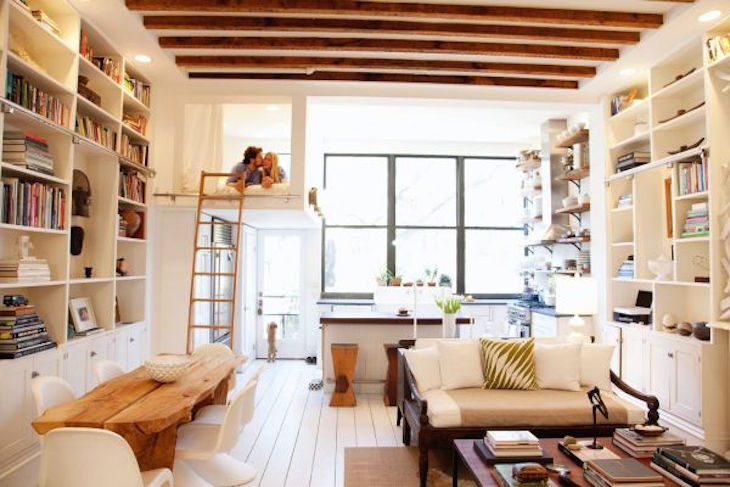 via www.homedit.com
This one-space contemporary apartment is very impressive with its uniquely modern and library-like design. The spacious area with a high ceiling allowed the creation of a private space in a corner. If you think that climbing into bed is for kids, think twice. It's fun and playful even as a grown-up.
Loft Bed with Closet Underneath
This loft bed was built just big enough to hold a bed or mattress. Underneath, there is a track closet system that is ideal for clothes and shoes, hidden by some white curtains.
Loft Bed with Closet Unit
via www.architectureartdesigns.com
Instead of heaving the bed, bookshelves, sofa spread out all around the room, why not have it all together? This way, the large windows are left uncovered, and they can let in even more light creating a spacious and light space. This creative design makes the area feel intimate and very cozy.
Loft Bed with Bathroom Underneath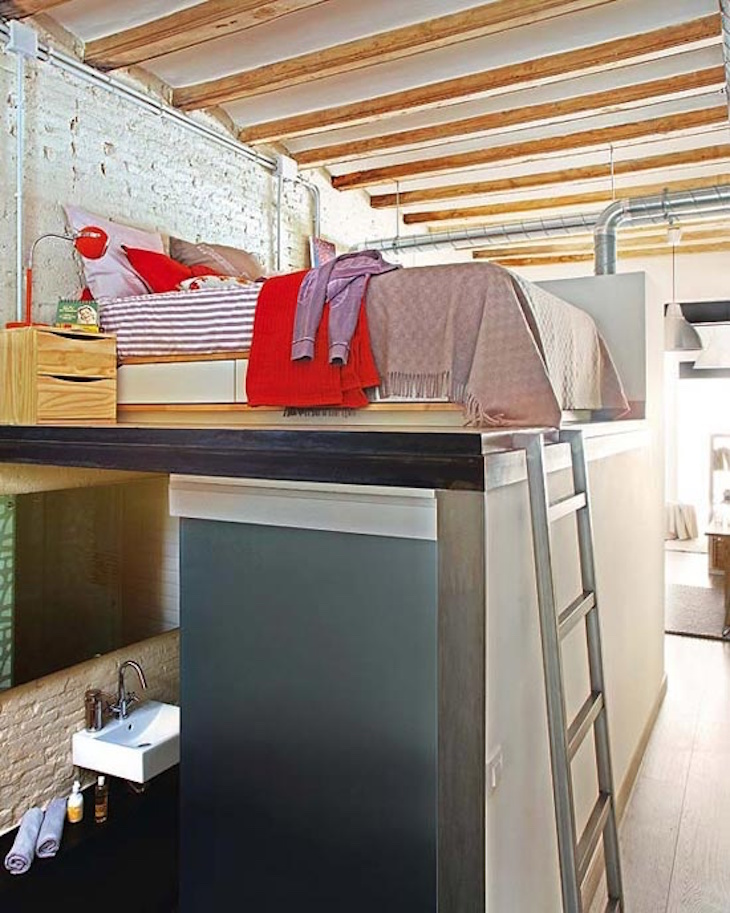 If you have a high ceiling, it is kind of given to create a split-level apartment to utilize the space. The bedroom above your bathroom behind the kitchen? Certainly, it is a unique solution, not for the fainthearted. The fantastic rustic industrial home decor creates a warm and cozy atmosphere.
Mini Loft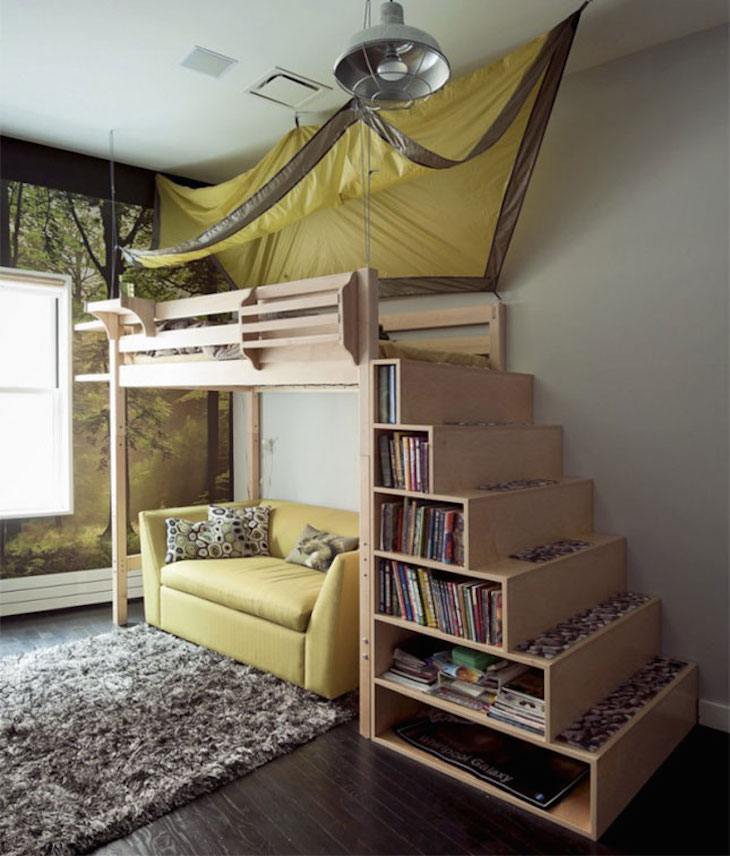 via www.brit.co
Raising your sleeping quarters gives a room separation and creates a cozy refuge. This modern sleeping space is accessible via a small staircase, which offers great storage for books or music. Let down the hanging material, and you will feel like you were in a tent.
Semi-Mezzanine with Loft Bed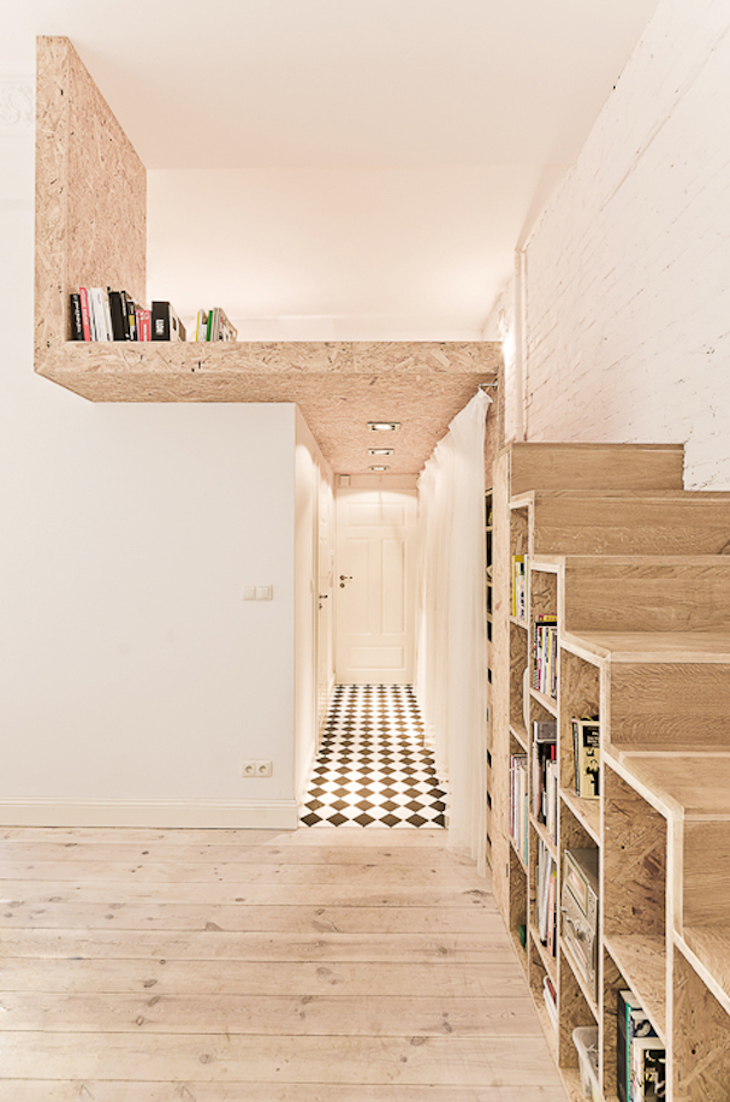 Polish architectures have created a bright and surprisingly spacious apartment only on 29 m2 (312 ft2). The bedroom area is on a semi-mezzanine, located on top of the bathroom and the hallway. The staircase offers plenty of storage space, and the kitchen and living room is one space, thus creating an airy and cozy atmosphere.
Slide-away Bed
The French company Espace Loggia designed a fantastic bed that can be pulled down at night without moving any furniture. This slide-away bed glides up to the ceiling or becomes sofas to transform a bedroom into a living room in the blink of an eye. A brilliant solution for those with very limited space.