Not everybody has the luxury to enjoy a big tub and a heated floor bath, but that doesn't mean your bathroom should be deserted and not given any special attention. You should be able to enjoy your time spent there just like in any other room.
It is important to pay attention and change just a few things to make it better. If you have a free Sunday, then make a "Bath Project" and equip and improve your bath. Get new curtains, make your old towels look fashionable by sewing some buttons, and most importantly, pay attention to cleaning!
A clean and polished bathroom is a thumbs up and a must. Organize your bath by getting new racks. Put candles and dim light here and there for a better atmosphere. We've got some ideas to make your small bathroom your new favorite room. Try them and tell us what you think.
Make Floor Space
via houzz.com
If you don't need storage requirements, then make sure you get a pedestal sink. It opens up the floor space, and that is how your small bath will look bigger. It's all about the illusion we create.
Wall Racks
via queens-homes.net
Since you don't have much horizontal space, use up to vertical. Build racks to keep towels, lamps, decorations, etc. Be creative when it comes to racks, polish your old wooden ladder, and use it as a towel hanger. Add a few extra boxes for storing more bathroom goodies.
Vertical Tiles
via houzz.com
Once again, it is an illusion, a trick of the eye. Using vertical tiles on a small wall will appear bigger and taller. If you don't want to place all tiles vertically, then make one section of the wall. It creative, mosaic-like feature.
Creative Wall
via scraphacker.com
The creative paint treatments work well in little spaces. It is cheap to fix, and it helps turn your little bathroom into a pretty jewel box. Bold colors are great but don't be afraid to experiment with horizontal stripes or even painting your ceiling.
Open Shower Space
via pennyrudolph.com
Eliminating the shower door can increase the bath space. Waterproof measures need to be taken- make sure you tile the whole space, from the floors to the ceiling. Get a nice looking showerhead and enjoy your mini bathroom.
A Mural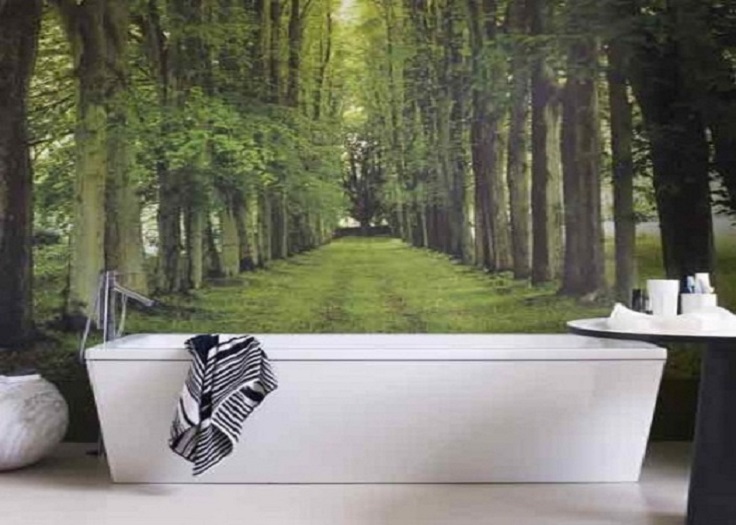 via mzvirgo.com
The mural tricks the eye into believing that the room is more spacious. Imagine taking a trip to the jungle every time you open the bathroom door. Murals are available online, or they can be custom made, you choose.
Sliding Door
via buzzfeed.com
If you are not a fan of plain old sliding doors, why not make a sliding barn door the entrance to your mini kingdom? This kind of door will save a lot of space, and it is very practical. Do you agree?
Quality Investment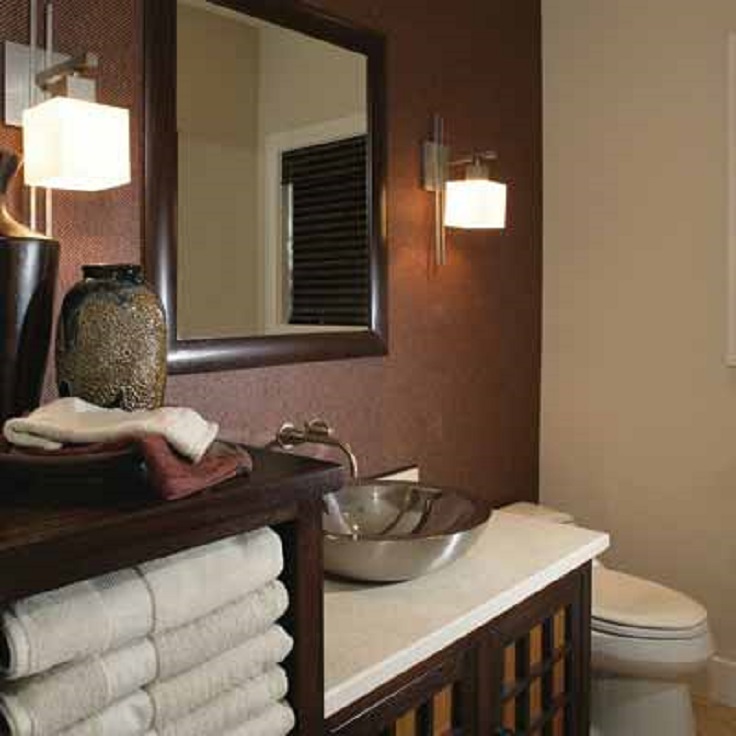 via thisoldhouse.com
Because the space is limited, you don't need many furnishings. Make sure the one you get is of good quality. For example: have a wood piece( mirror, sink, racks) or invest in the lightning. Small baths are the perfect places to splurge on high-end pieces.
Paint The Tub
If you do have the luxury of a tub, then why not painting it? Work with lighter colors as they open up the space like the one in the picture. Let the inner part of the tub be white. Grab towels the same color as the tub or some other matching accessories.
Add a Mirror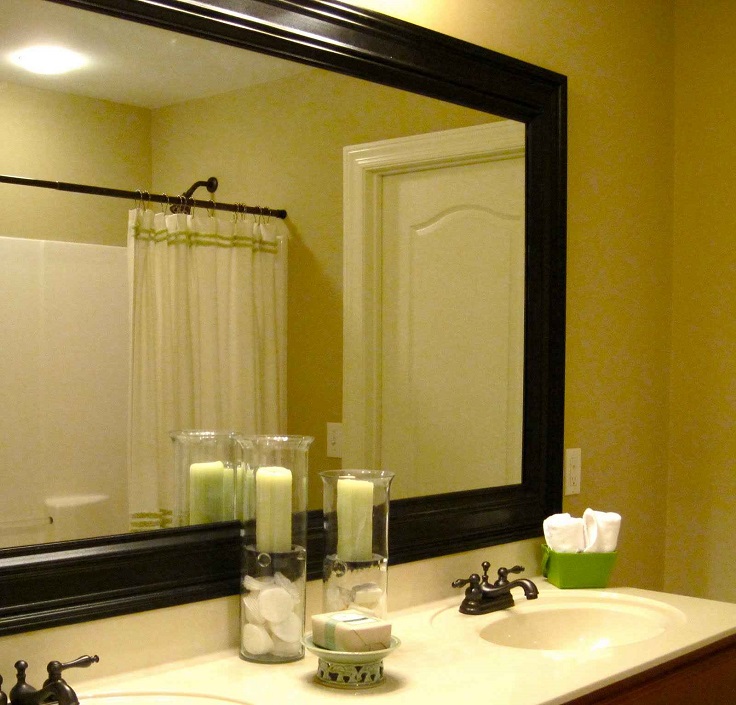 via vaphual.net
Adding a mirror in every room will make the room appear larger. This is one of the oldest tricks. Choose a nice mirror with a wooden frame or some vintage mirror bought at a second-hand shop. Perfect for small spaces.