One of the easiest way to add charm and style to any room in your house is by art. No matter if it is an abstract painting, a portrait, or a printed quote, art comes in many shapes and each of them is capable of making your home stylish and looking expensive (even when it's not!).
However, buying paintings usually costs a lot. So, to avoid emptying your wallet on home decorations, what you can do is enter the world of DIY projects, where there are so many tutorials on everything, including art. Even if you're bad at painting, these ten ideas that we chose are going to help you in waking up your creativity and make an amazing art of your own!
1. Birch Tree Painting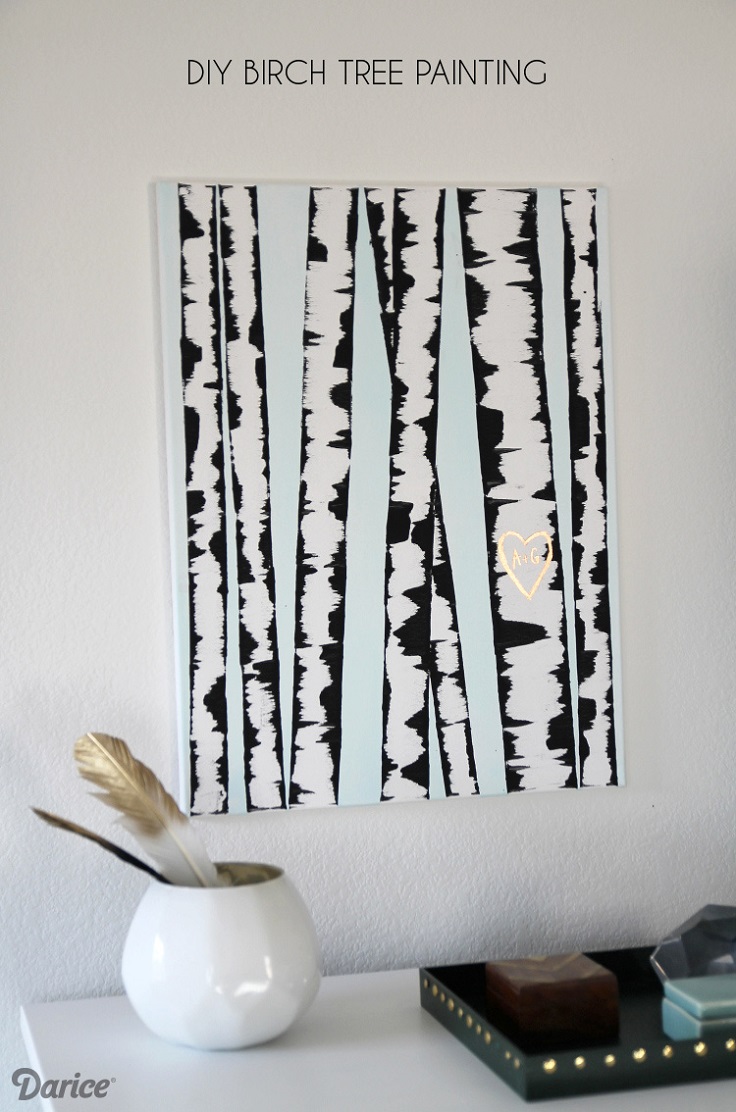 via blog.darice.com
Adding some nature – inspired elements in your room can look really awesome, even if you're not a professional painter. This tutorial is going to help you achieve this with few easy steps. First, you need to get the needed materials: stretched canvas (18″ x 24″), masking tape in different widths, acrylic paint (light blue and black), sponge brush, old credit card or store card, metal leaf adhesive, metal leaf (you could also use a liquid leaf instead of the adhesive and metal foil) and small round brush. Tape off the canvas and paint the background, while paint the birch trees with the old credit card. This can be a little tricky, but after few practices aside, you will get it easily done.
2. Ombre Abstract Painting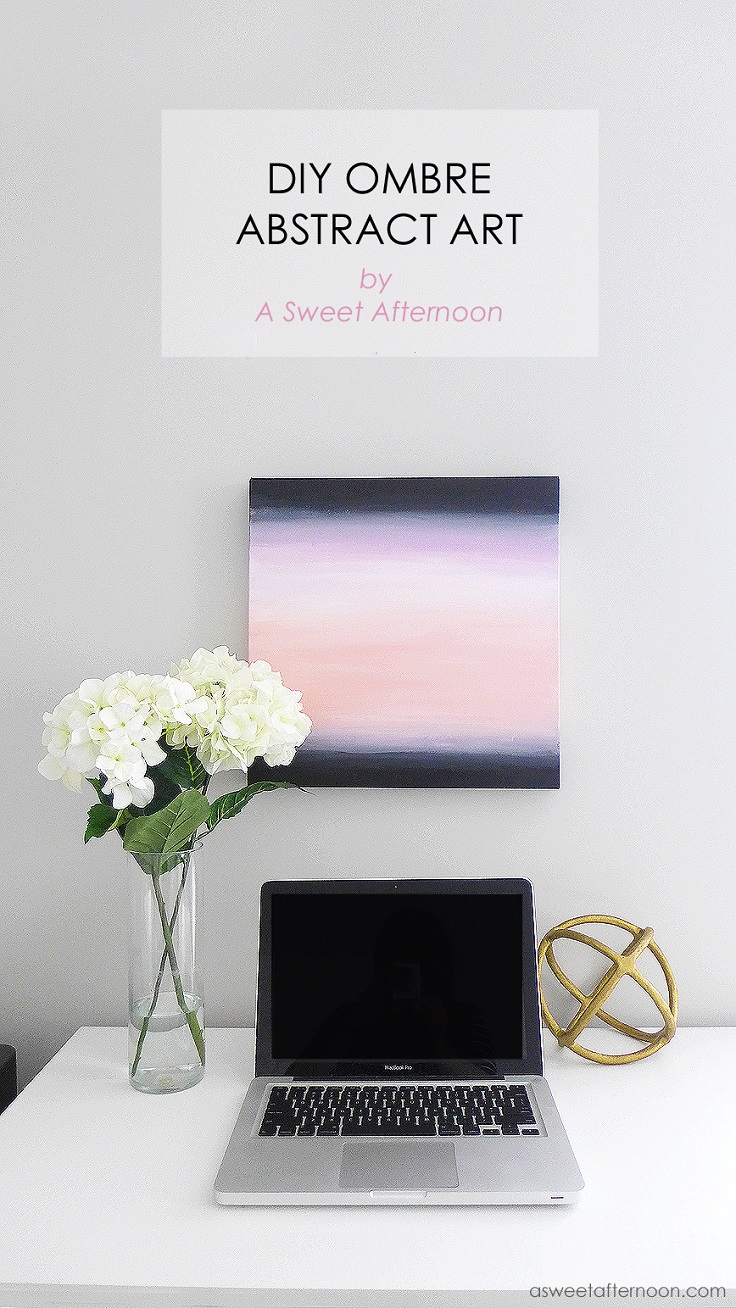 via asweetafternoon.com
The ombre trend started few years ago and still is present. – not only in clothes or hair, but it can be the perfect decoration for your empty walls as well. Here are the needed materials: stretched canvas (16″ x 16″), acrylic paint in white, pink, purple and black (or any other colors that you like) and paint brush. This is a great way of experimenting with colors in paintings. Being a beginner or a professional, you will wake up your imagination and even if it doesn't turn out to be ombre, with just few steps with the brush, you can come up with a painting still worth hanging!
3. Minimalist Canvas Painting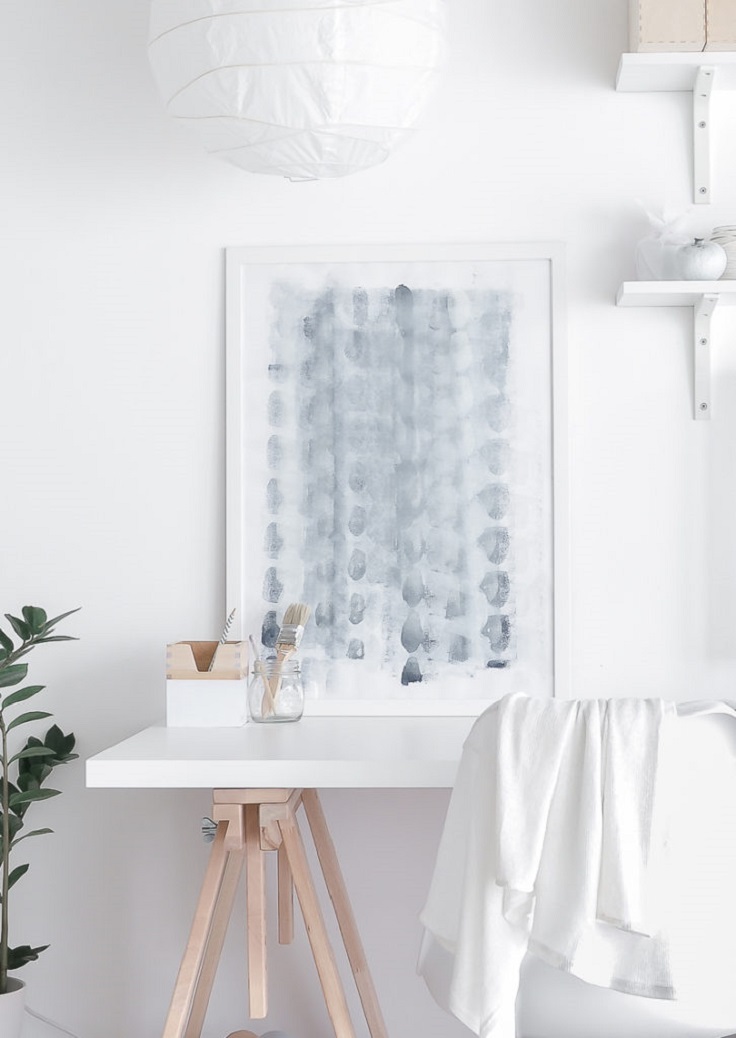 via homedit.com
Minimalism is a way of living, not just a way to dress. More and more people decide to decorate their home according to the rules of minimalism because it's both aesthetic and simple looking. You can use your imagination and make your painting as your additional minimalistic decor in the home. big sheet of paper or canvas, dark blue and white paint and small paint roller applicator. It's all about creating a blurry effect, which is done with few steps. Start with just a drop of painting in few rows and run the roller applicator through them. Repeat with white paint and apply the pattern on top of the dark blue paint.
4. Black and White Abstract Painting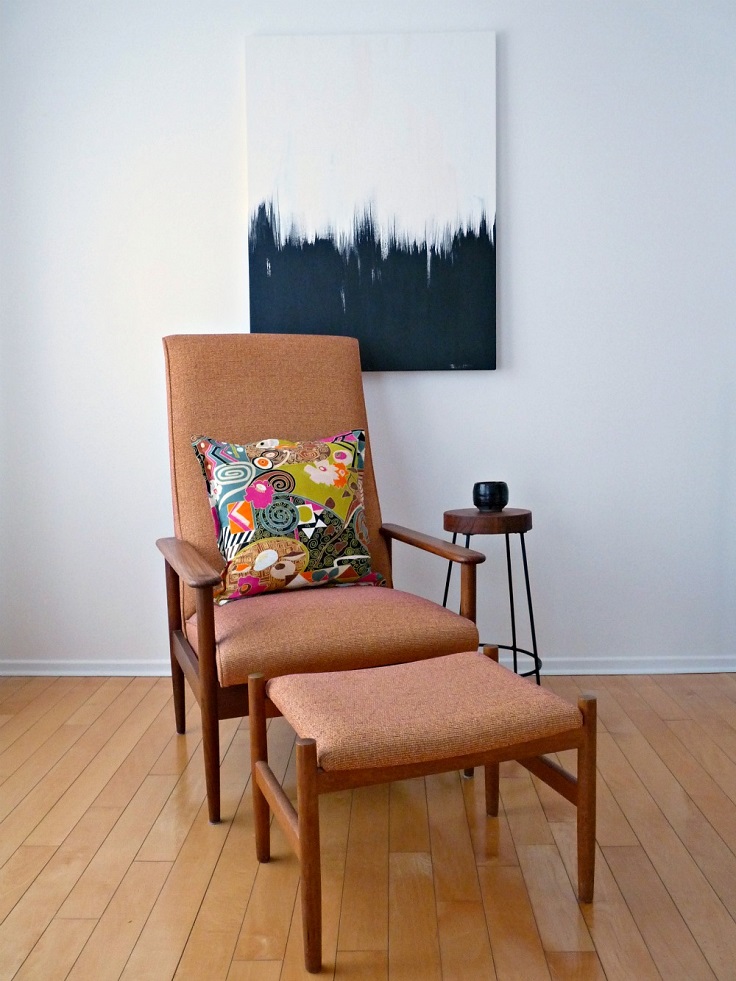 via danslelakehouse.com
Still thinking that you're not going to make the previous paintings? In that case, we got something super easy for you. This is the kind of abstract painting that takes just minutes to be done and will look absolutely artistic! What you need is blank canvas, black acrylic paint and wide paint brush. Flip the canvas upside down and paint that way, in order to encourage the paint to flow down. Make few broad brush strokes and flip the canvas, build the paint in layers. Flip it back again and paint the bottom. It's nothing hard! Just check out the page below the picture for detailed instructions.
5. Diamond Ripple Wall Art
via classyclutter.net
Here's a painting inspired by the diamond shape. It's really easy because you just need to use tape and paint the rest. First get 2 rolls of painter's tape, plywood (cut to the size of your choice) 1+ latex paint colors, paint brushes, exacto knife, measuring tape, straight edge and pencil. Start with tracing a small square (and make it as perfect as possible on all sides) in the bottom left corner of the plywood. Tape around the square and use exacto knife for trimming. Paint the exposed wood, wait it to dry and remove the tapes.
6. Watercolor Phase Art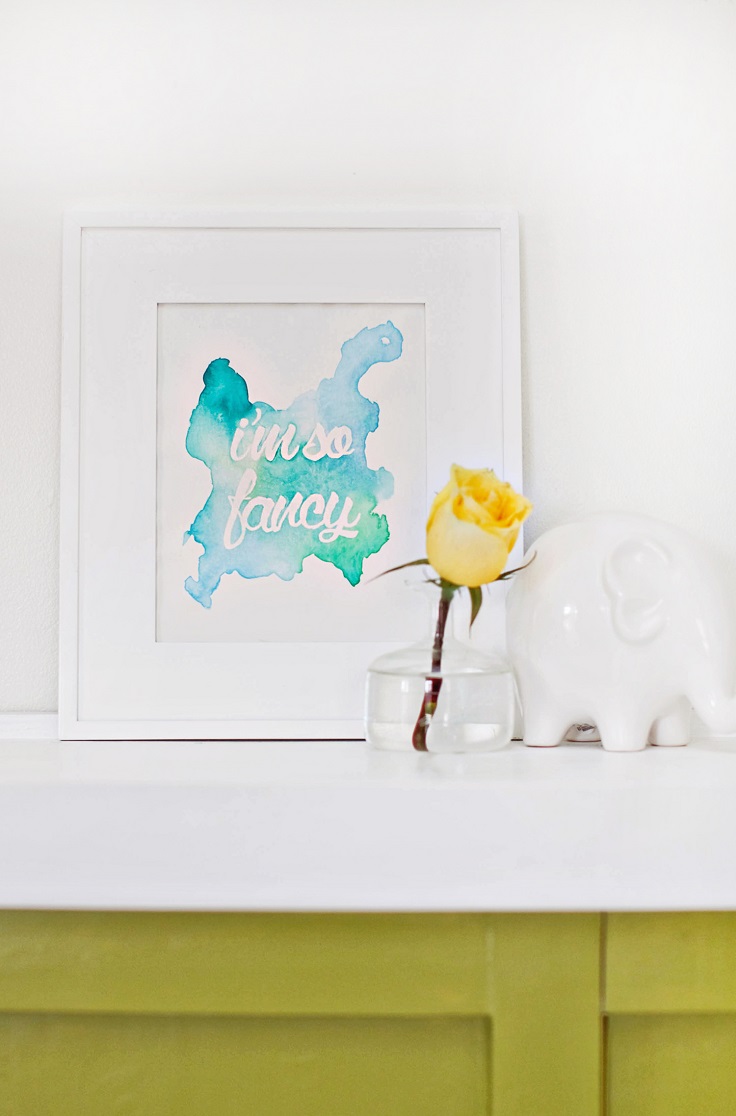 via abeautifulmess.com
We all used to paint with watercolors during our early school days, but this technique can be so much more than that – and your main thing here is to get creative! You need watercolor paper and watercolors, masking tape and board (or flat surface), light box or access to a window for tracing, art masking fluid
 and paint brushes. Find a quote you like and print it in a font you like as well. Put it under the watercolor paper and use a light box or work where the light is good, so that you can see through the quote. Trace the quote and fill it with masking fluid. Tape the paper down and start working with the watercolors! When the painting is fully dry, rub the masking fluid and pull it from the paper.
7. Graphic Canvas Painting
via theplumednest.com
This is also one of the easiest paintings on the list. You need canvas painting, painter's tape and acrylic paint in colors by your choice. So, all you need to do is tape the painting however you like it and paint the exposed parts. When the painting is fully dry, just remove the tape and you're done! This painting is a really low – budget project, that can not only be your new wall art, but serve as great gift as well.
8. Pretty Painted Wall Art
via asideofsweet.com
We're back to the quotes. It's really amazing having a hanged painting with your favorite quote on it. It can be your constant motivational reminder, a memory, whatever it's important to you! Not to mention how gorgeous can it look! Here's what you need for this kind of painting: blank canvas (the one used on the picture is 16″ x 20″), double – sided adhesive paper, acrylic craft paint, liquid gilding paint (which is optional), 1″ paint brush and detailing paint brush. You can print out your favorite quote, or you can go to the website written below the picture and download the free printable "Let's Go Here".
9. Abstract Wall Art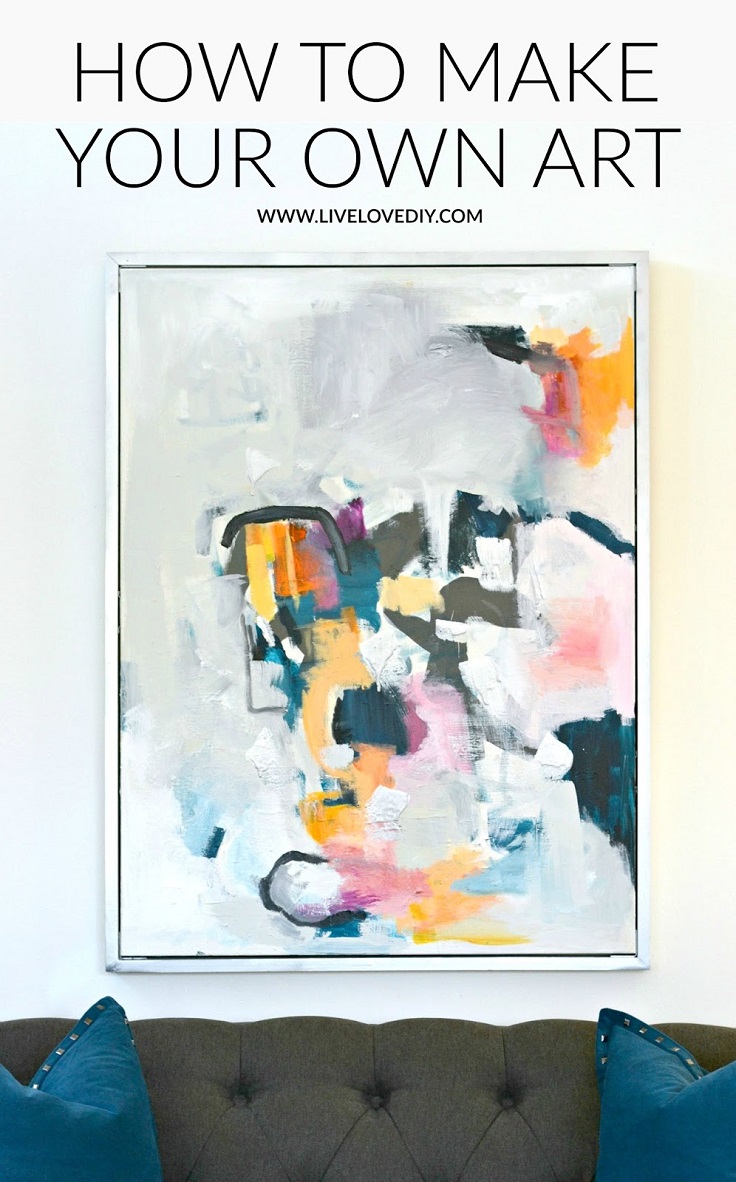 via livelovediy.com
This painting is a little bit advanced compared to the rest, but we're that with enough effort and creativity, you can achieve this abstract effect, no matter how good or bad you're at painting! You need canvas, acrylic paint in colors you like, but you'll also need metallic glaze paint or gold leaf, and brushes. Apply paint in big swatches all over the canvas and add white and light grey into the painting, starting from the edges and at the center. Add the metallic paint at the end.
10. Feather Watercolor Art
via erinspain.com
This painting is also super easy! The materials needed for this painting are the same as the previous: canvas, watercolors and brushes. Painting a feather is no big deal – if you think that you won't make it on your first try, experiment with the watercolors aside and then paint the canvas. When the painting is fully dry, just frame it and hang it. This can be a great painting for your office as well, or even as gift!