Let's admit all: Sometimes our bathroom is way much messier than our bedroom! With all that makeup, towels, shampoos and stuff, it's hard to find what we are really looking for early in the morning. In order to save yourself from those messy situations when you're in hurry and can't find what you need, check out the tips below which will help you to be better organized. You can read about creative storage ideas and what you first need to do to keep it all organized and neat. The good thing is that for most of them you don't need to spend lots of money, in fact, some can be done even by you personally. So, make some space in the bathroom and organize it.
1. Declutter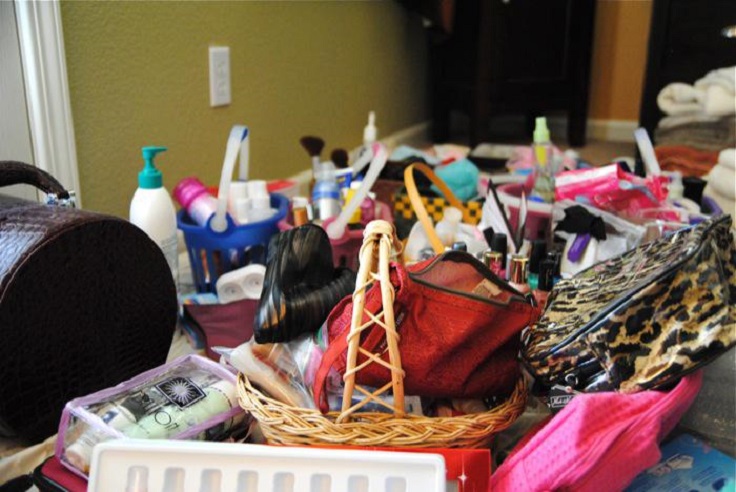 via ortak.co
The very first thing you need to do is to clean your bathroom and throw away all the products and tools that you don't use anymore. Make some room for the new ones or if you feel like you already have what you need, then you are going to make some more space. Keep it simple and clean.
2. Easy Reach Everyday Products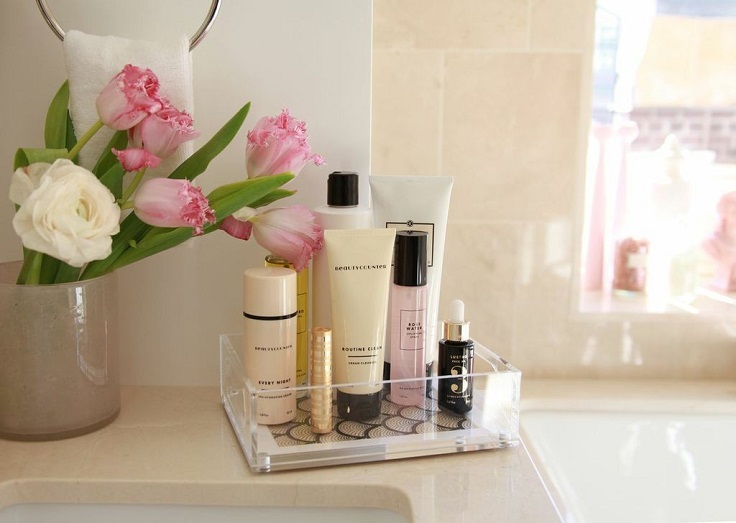 via lonny.com
Don't put them in some basket or drawer where you put every little thing inside. Instead of that, place every product or tool that you use on daily basis in the exact, same place. This way you will always know where your important things are and that they always are close to reach.
3. Organize Your Medicine
via madeinaday.com
Another important thing when it comes to throwing away useless products and tools, is to keep your cabinet clean. Throw old and make space for new products for beginning, then you can separate face from hands cream products, rearrange them some order that you are fine with.
4. Use Baskets and Notes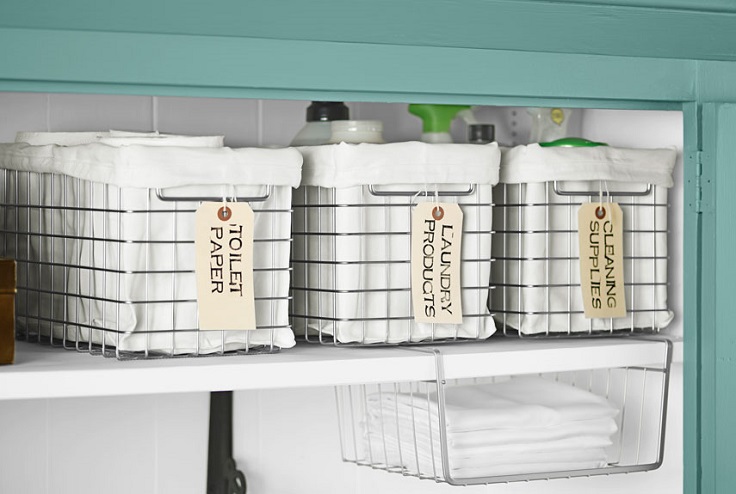 In order to prevent situations in which you lose your clean towels somewhere among the dirty laundry, it's a good idea to place baskets in the bathroom and separate their purpose with notes.It will be easier for you to know where to put the dirty, and where the clean stuff. Another suggestion is to place a basket with few toilet papers. That way, for example, if you're having guests, they won't feel uncomfortable if they run out of toilet paper.
5. Hang a Shower Shelve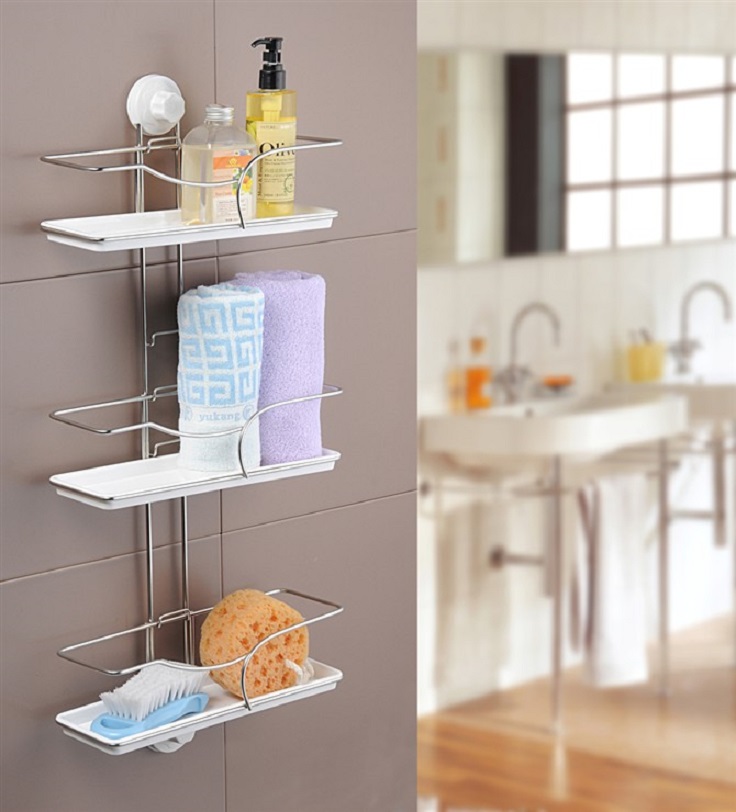 via guidinghome.com
When it comes to shampoos and other bath/shower products, it's nice to hang a shelve near your shower, so that you can have what you need always near. By placing shelves, you separate these type of products from the other and that way you won't get confused where you put these or those products.
6. Bathroom Drawer Organizer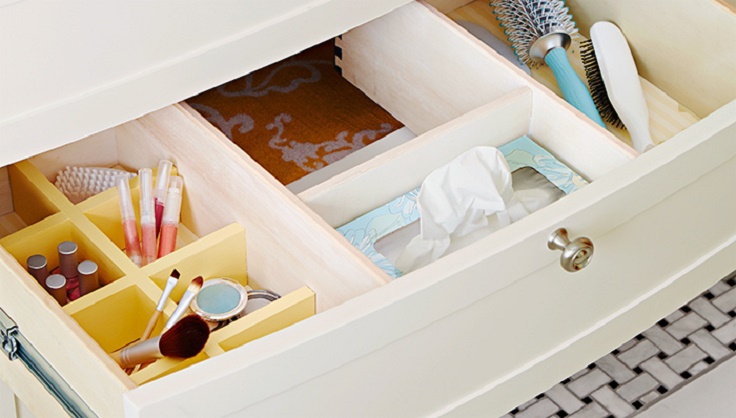 via lowes.com
If you don't like or have any shelves or a mirror cabinet, make sure you get yourself a drawer. If you already have, then make sure you keep it clean and organized. Again, save some space and make it more efficient by separating tools, hair from face products and so on.
7. The Ladder Storage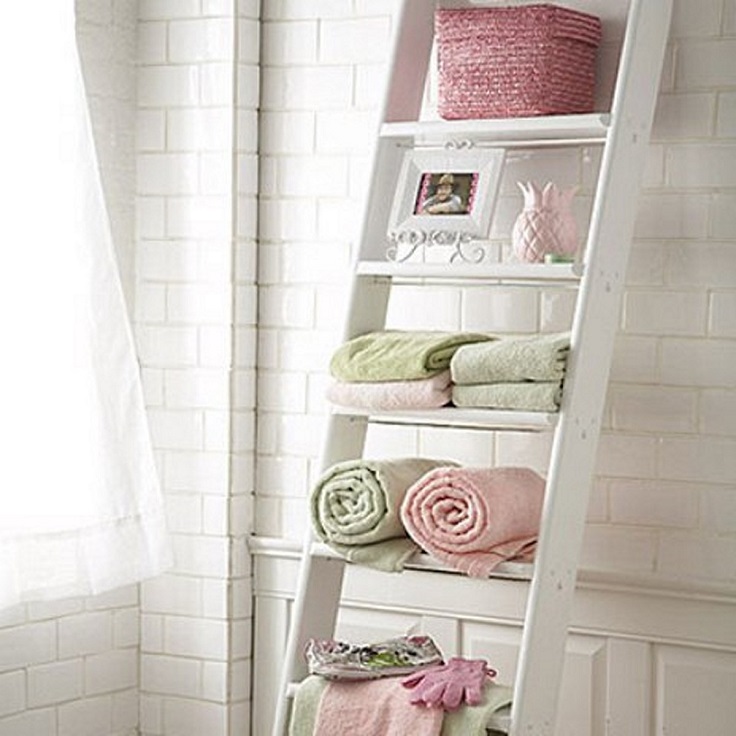 via rilane.com
If you're looking for a way to let in some creativity in the bathroom, an old ladder can do the trick for you. If it's really old, then you might want to color it so that it would look more new and less as old, useless ladder. Then, according to your style preferences, place the towels and some decorations as well.
8. Magnetic Bathroom Organizers
Are you tired from buying new bobby pins all over and over again? This might not be the prettiest trick around, but it is very practical. What you need is a magnetic strip roll and place it where you would like to. Cut the stripes if needed. But, this trick not only works fr bobby pins, but for tweezers and clippers as well.
9. Personalized Bathroom Shelves
via ioprisoi.com
Living alone is already complicated enough, but if you have family that means that organization is more then needed and should be regularly checked. If you have children, you can separate their stuff from yours by putting shelves with your names on them. That way the shelves look creative and they are practical too.
10. Hair Tool Cabinet
via theidearoom.net
Just as much as your hair deserves attention and care, so do your hair tools as well. The instructions to make the box for the tools are quite easy, so in a day you will a have it. With organization like this, your bathroom not only will look nice and neat, but you will also be more aware of where you put your things.