If you're the type of person who likes DIY projects, then you know how gift wrapping is more than just wrapping a decorative paper around a gift. There are so many materials that you can choose – tissue paper, cardstock, pom poms, tassels, confetti, even real flowers and leaves – it's all up to your imagination.
Gift wrapping can be easily done by yourself, or it can be a fun family activity too. Just get the needed materials and let your creativity out! But, before that, to get inspiration on what and how you can do the gift wrapping, scroll along to find out more.
1. Tassel Gift Bag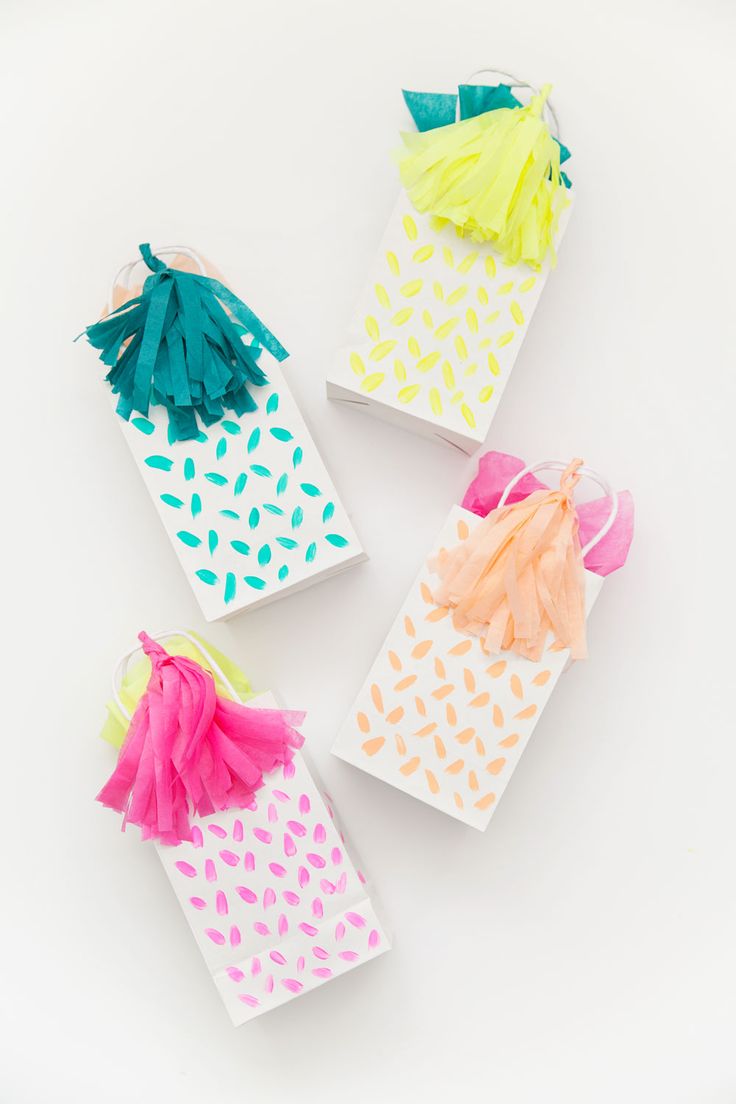 There's something about tassels that make anything look more fun and chic at the same time. This season we've seen plenty of tassel earrings, as using these is common in the fashion industry. But, have you considered using tassels as your gift wrap decoration? You can make your own at home by using tissue paper, and since we're talking about summer ways of gift wrapping, make sure to choose tissue paper in happy colors!
2. 'Let's Cruise'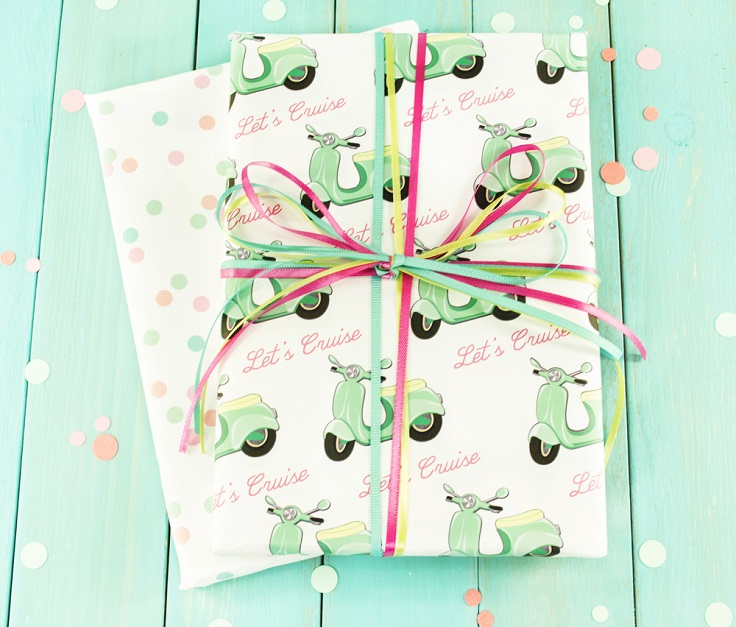 If you don't feel like experiment a lot with gift wrapping and all you want is just a fun, decorative paper, then here's one for you. This cute printable paper with mint vespas is going to add those summer vibes to your gift wrap – when we saw it we instantly thought of fun, summer nights driving around in Rome on a vespa! Maybe it's just us, but if you feel like it too, check out the link below the picture where you can download it for free. Don't forget to add few ribbons for the final touch!
3. Gift Wrap with Stickers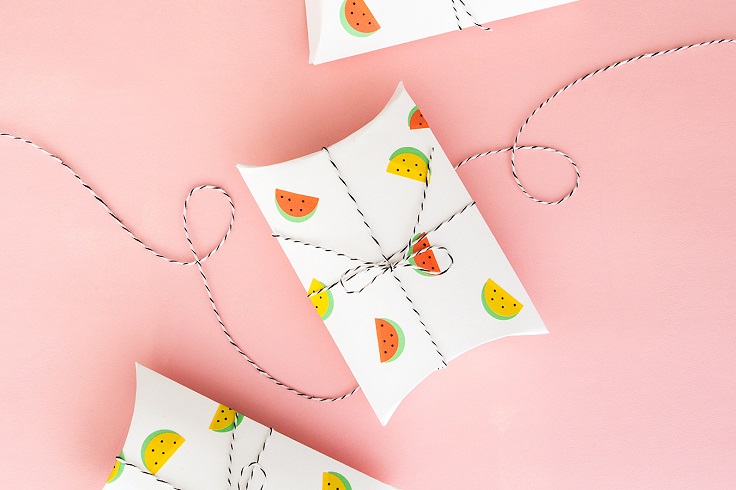 via sarahhearts.com
Here's another way you can decorate your gift wrap. This isn't about a decorative paper, but stickers! You can choose from many adorable stickers at craft stores, or you can make your own at home. For a summer gift wrap, you can go for something that reminds you really of this season. For example, how about using fruit stickers – lemons, pineapples, watermelons? Having such beautiful, bold colors means that you don't need any decorative paper, but something simple.
4. Matchstick Wrap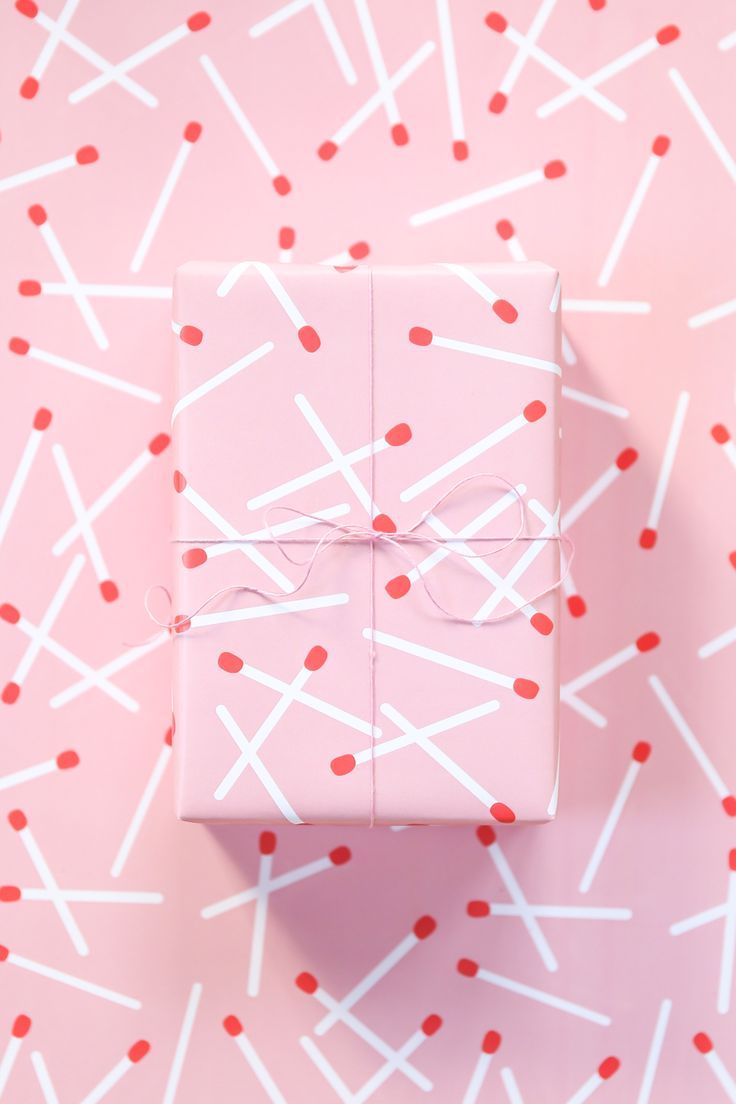 via forthemakers.com
This matchstick decorative paper is ideal for a gift that you plan to give to a loved one. The colors are so lovely, and even though it's not the typical summer – y wrap, it's still is great because of the colors! All you need to do is to go to the website below the picture and download the paper for free. If you want to make your gift to look more adorable, you can tie a bow around it – looks amazing, right?
5. Gift Wrap with Pom Pom Toppers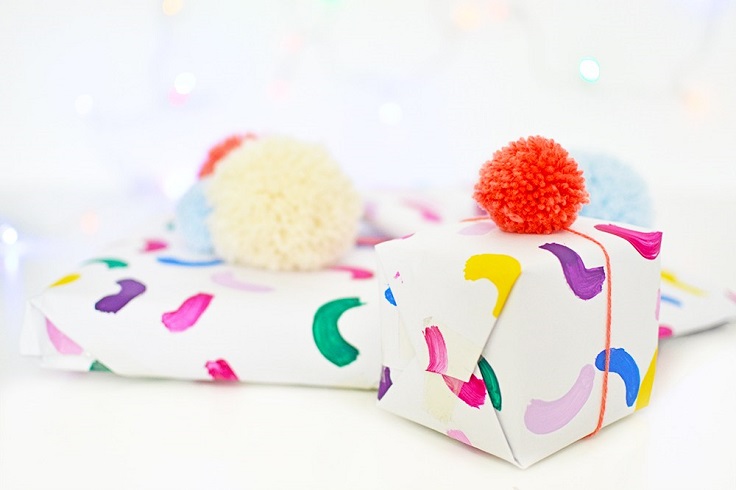 How can you just not love this gift wrap idea? It has all things nice – a simple, abstract art decorative paper that includes shapes in different colors, and on top of it all – a pom pom. This is a nice activity for those who like to paint. You can just get a simple, one – colored decorative paper and paint a little. Just wake your inner art spirit! Even though these shapes are simple, they look great. The pom poms on top just make everything perfect.
6. Flamingo Pom Pom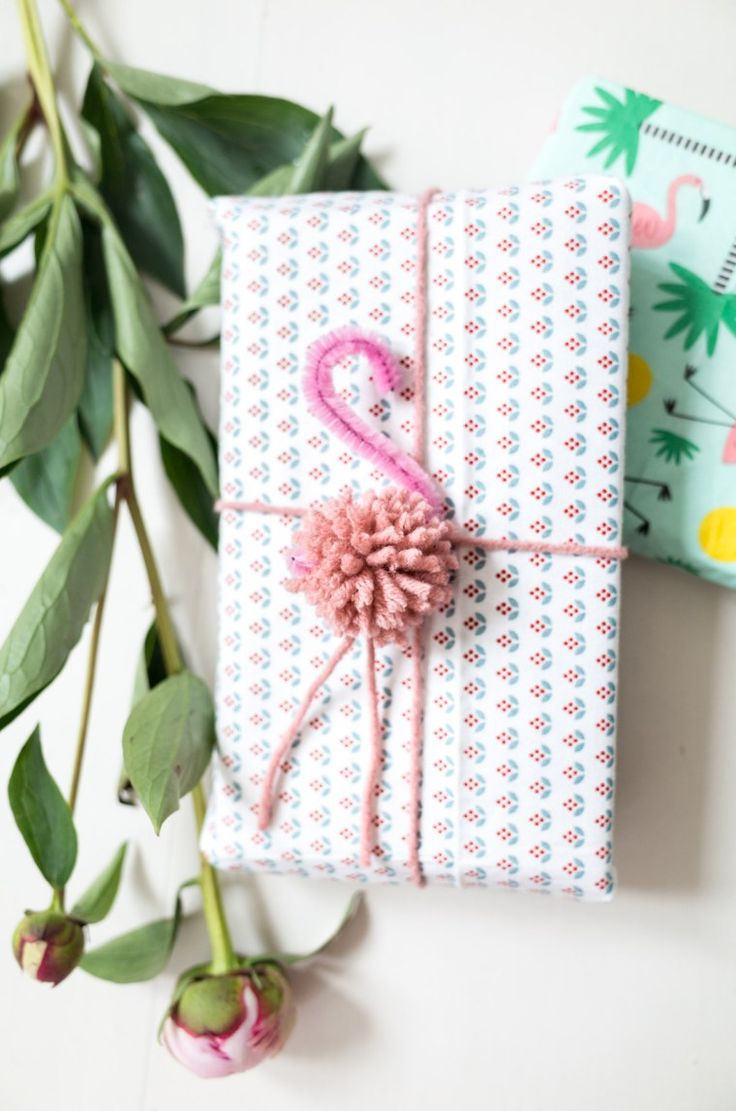 Here's another idea on how you can use pom poms to decorate your gift. Don't you just love flamingos? They're one of the most beautiful birds on Earth! No wonder why they're so often a creative inspiration to many people. Picking the decorative paper is really easy, so what you need to work on for this gift wrap is making the flamingo. For that, you need pink yarn, pink pipe cleaner, scissors and cardboard.
7. Pom Pom and Garland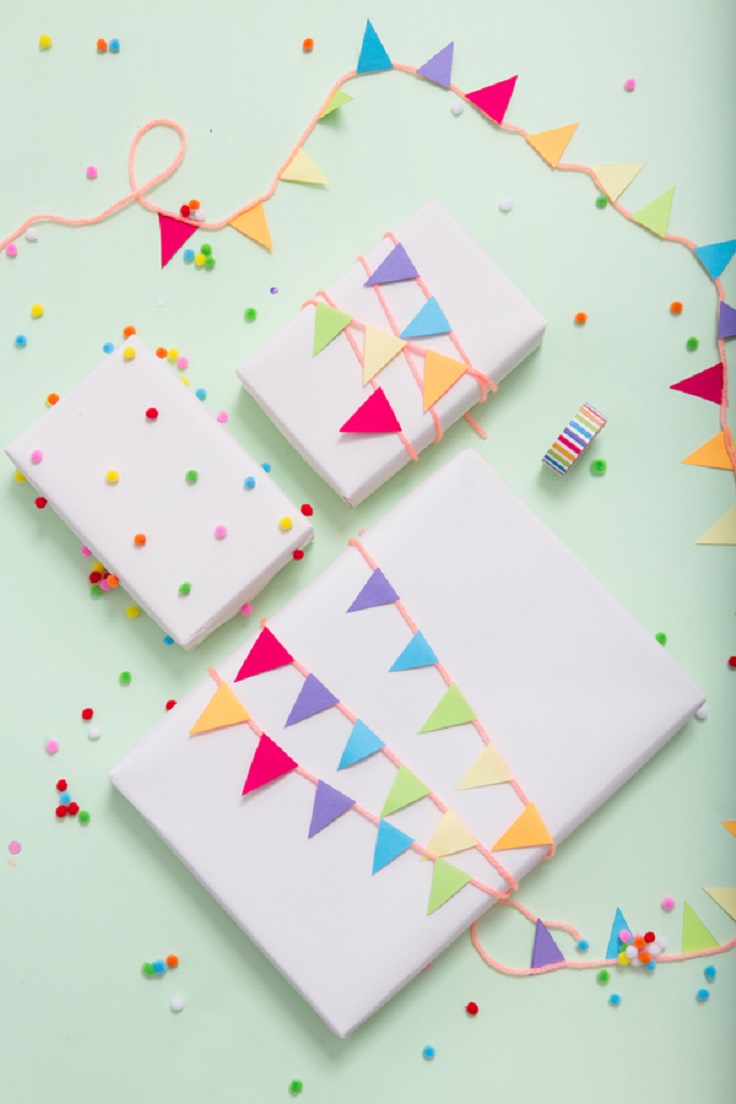 What's more festive than a colorful garland and pom poms? This is the perfect way to add the best birthday vibes to a gift decoration! This is a very simple way of gift wrapping, yet it looks so fun and adorable. It's an easy project, so you can make it together with children. It's also a budget – friendly idea as well! You can wrap a gift and attach tiny pom poms all over with glue, and you can make garland with paper and yarn for other gift – or, you can combine these two!
8. Colorful Knots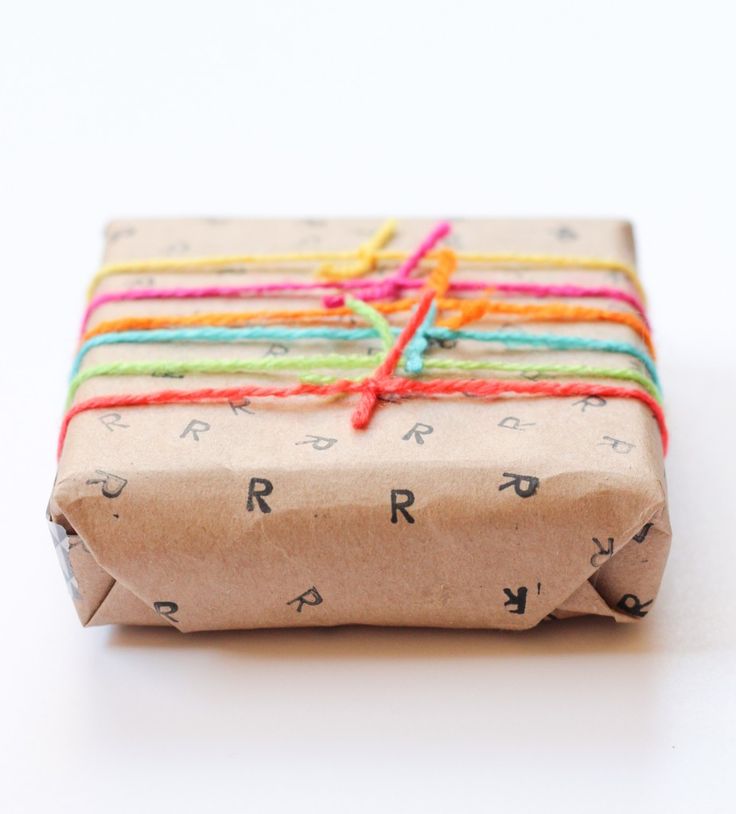 If pom poms, tassels and stickers aren't your thing, then you can try this idea – it's all about having yarn in more colors and make knots of each. Just wrap the gift with a decorative paper by your choice and then wrap yarn knots around the gift. Make sure to choose bright colors to make it look even more colorful and festive. This is a really simple – looking, yet so amazing gift.
9. Tissue Paper Wrapping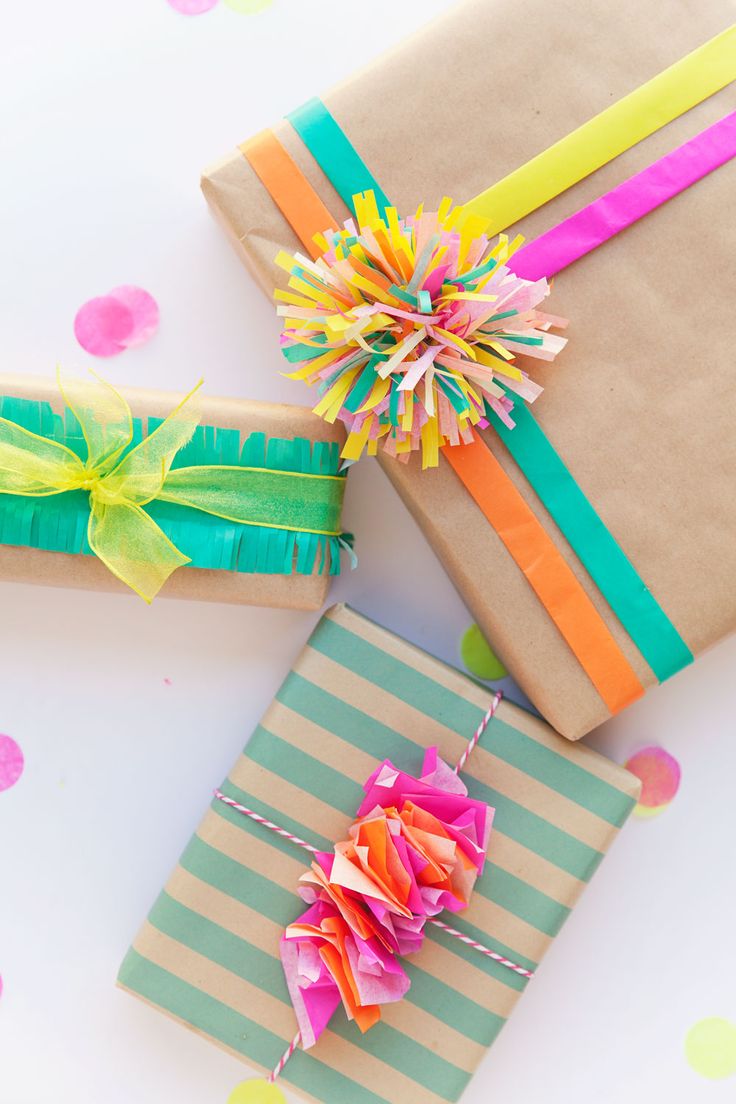 Tissue paper leaves plenty of room for experiment when it comes to DIY projects. Starting from the fact that you can find it in every possible color, the tissue paper is easy to work with and you can use as a decoration to so many projects, including a gift wrap. This depends on your skills a little bit, but you can practice and come up with more complex ways of using the tissue paper for decorating.
10. Shake it Confetti Wrap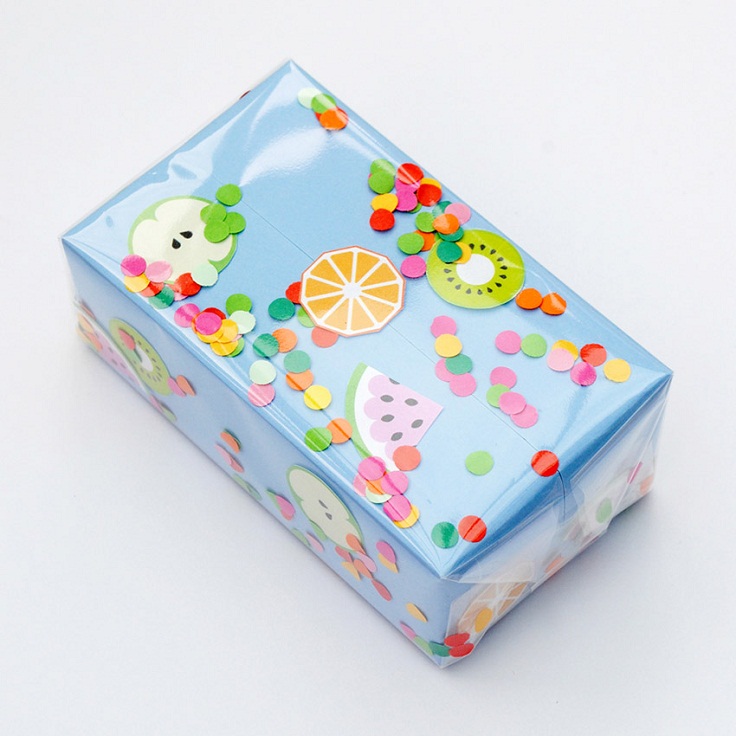 via paperchase.co.uk
And last, we have other festive material on the list – this time we're talking about the confetti! These tiny colorful paper circles are the best way to add some joyful spirit on a birthday party and here we also think about the gift wrapping too. What makes this idea more unique then the rest on the list is that by shaking the gift, the confetti is moving because it's not glued. Add fruit pieces of paper inside as well and voila, you're done!
SaveSave