Everyone who wants to do things on their own should make at least some of these projects. They are really super cute and some of them don't even require much time, materials or money. There is something for everyone's taste: from dolls and bags, to pom poms and bowls. Your cute DIY projects will definitely steal the attention of everybody who is going to see them, so be prepared to explain how you did this or that. Most important of all, you'll have fun no matter which of the projects below you are going to choose.
1. Plush Fox Doll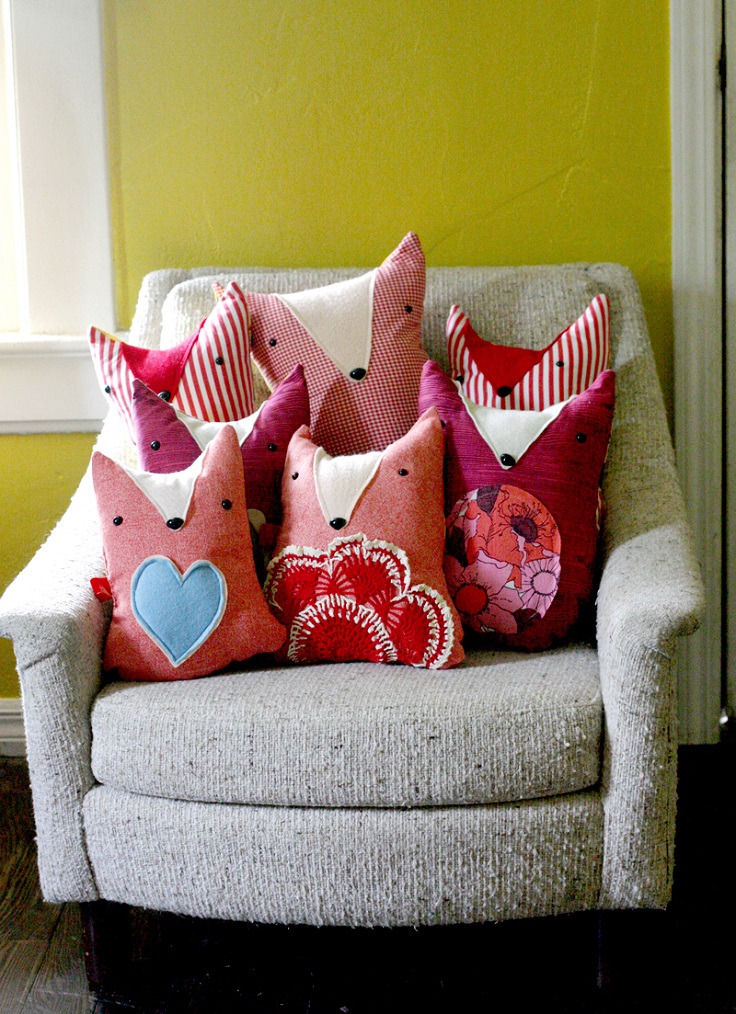 via abeautifulmess.typepad.com
Aren't those foxes the cutest pillows you have ever seen? If yes, you can have them in your home in only few steps. To make the pillows, you need simple solid, print, and white cotton fabric, scissors, card stock, plush stuffing, sewing machine or needle and thread, and child safe snap on button eyes and noses. First of all cut out the back and the front of the fox pillow. Cut out and trace a card stock circle on the back of the patterned fabric. Sew a triangle shape for the snout on a white fabric and for the eyes and the nose, make a tiny hole, poke the eyes and nose through and secure it with the back snap. After the snout, sew on the belly and when you've finished decorating the front side, sew both sides and leave a small gap at the bottom for stuffing the pillow.
2. Washi Tape Clock
This DIY project is so easy and so cheap. Morning clocks don't have to be so plain and dull thanks to the amazing patterns of the washi tape. For this project, besides the travel clock and the washi tape, you need a craft knife, Mod Podge Dimensional Magic and Mod Podge Matte or Glass formula. Place the washi tape across the front side of the clock and trim it with the craft knife. Apply the Mod Podge to seal and let it dry for 15 minutes. After that you can add the Mod Podge Dimensional Magic on top for a glossy sheen, but this is optional. Who can be angry with such a cute alarm clock in the mornings?
3. Wood Birthday Banner
Welcome your guests with such a cute wooden banner. You need wooden banner pieces, acrylic paint, black pen, bakers twine, x – acto knife and a blue painters paint. Print the letters you need and cut them into a small stencil square with the x – acto knife. Tape, paint and trace first the letter with the black pen. Use the black paint to fill in the letter and let it dry. After that you can string it onto the twine. Repeat with the rest of the letters.
4. Fruit Slice Umbrellas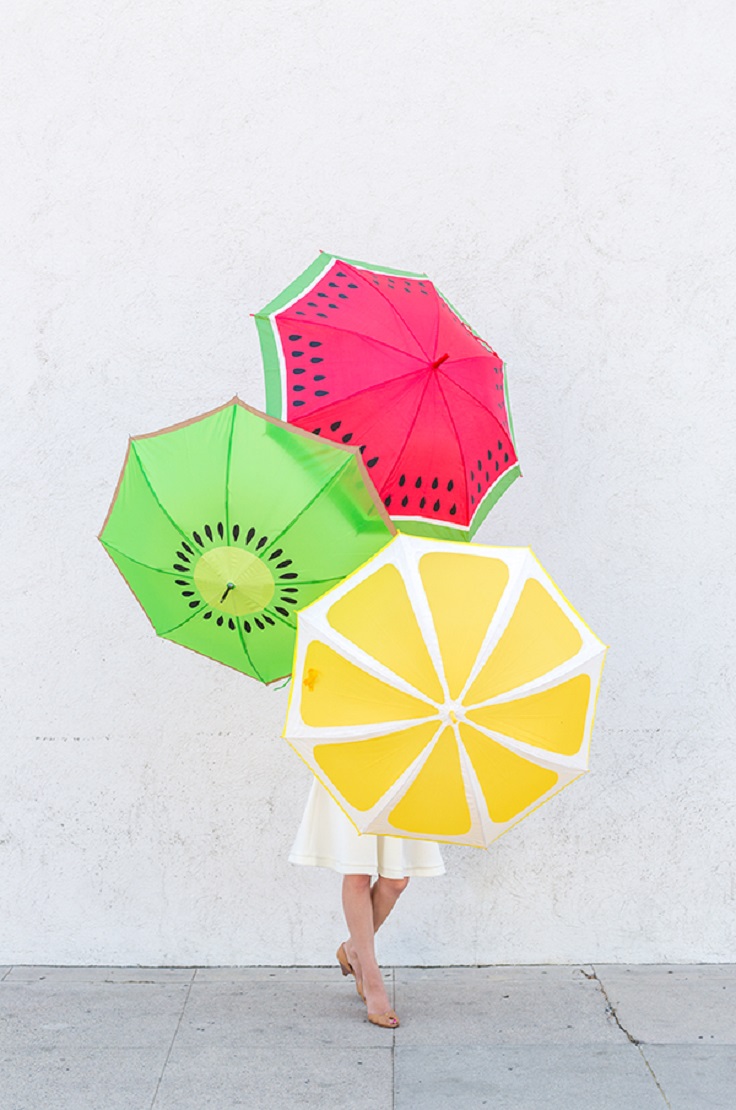 via studiodiy.com
Rainy days don't have to be that grey and dull with umbrellas like this! Add a little cuteness in days like those with colorful fruit slice painted on umbrellas. The link will lead you to explained instructions on all fruit slices. Here we'll stick to the kiwi. Find an umbrella with the similar green color shade as the kiwi. Create the center of the kiwi by painting a white or light green around the umbrella's center. Poke a hole through a paper plate, slip it on top, trace it and freehand paint within the guidelines. Make the kiwi seeds by cutting a seed shape out of a tape to make a stencil and work around the inner circle. Paint brown a tape line and you're done.
5. Soda Can Wrappers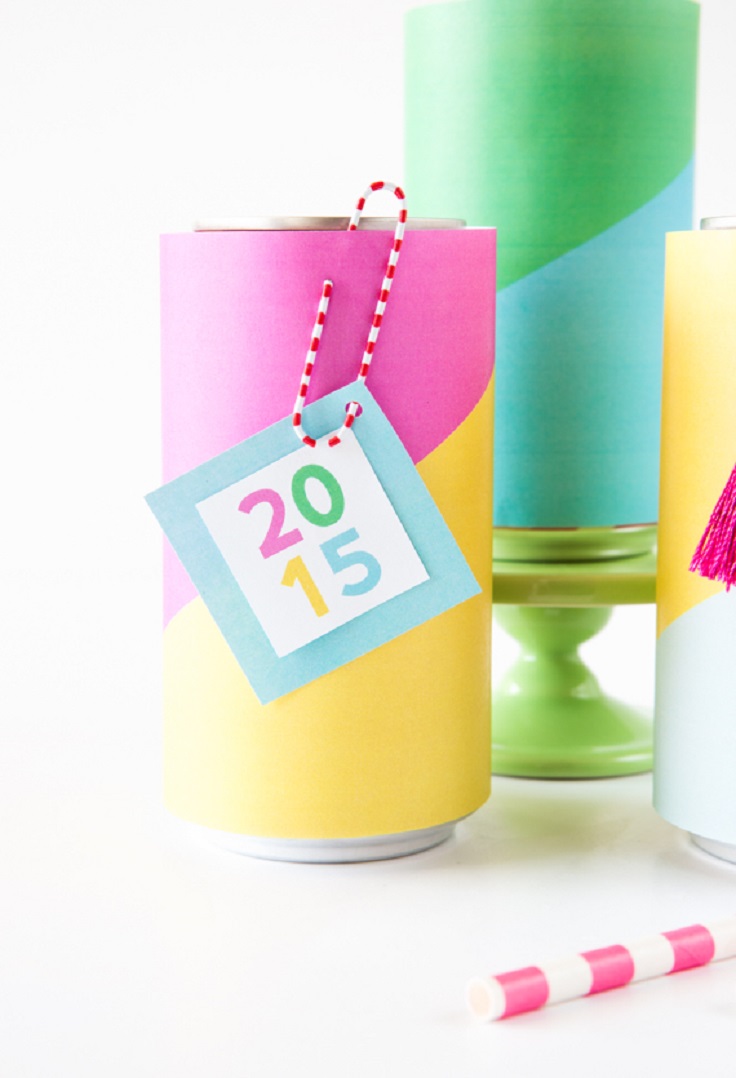 via minted.com
These colorful soda cans can be a great idea for parties, gatherings for a BBQ or any other occasion. You need printable soda can wrappers, tags and flags (the link will lead you to free printable downloads for personal use only), soda cans, scissors, double-sided tape or adhesive roller, paper and colorful paper straws, but this is optional. First print the templates and use scissors or X-acto knife to cut out wrappers, flags and tags. Place the wrappers around a medium – sized soda can and secure the steam with tape. You can embellish with the tags and flags, but you can also use marker and personalize them or draw something.
6. Treat Bags
You need treat bags, candy eyeballs, black marker, paper clips, candy to fill and string which is optional. Design faces on your treat bag by sticking on a plastic or candy eyeballs. You can use paper clips as hair and eyebrows. These bags are ideal for Halloween as treat bags, as you can make scary, happy, worried and many other face expressions. It's really simple to make them, they are cheap and cute looking.
7. Bunny Tote Bag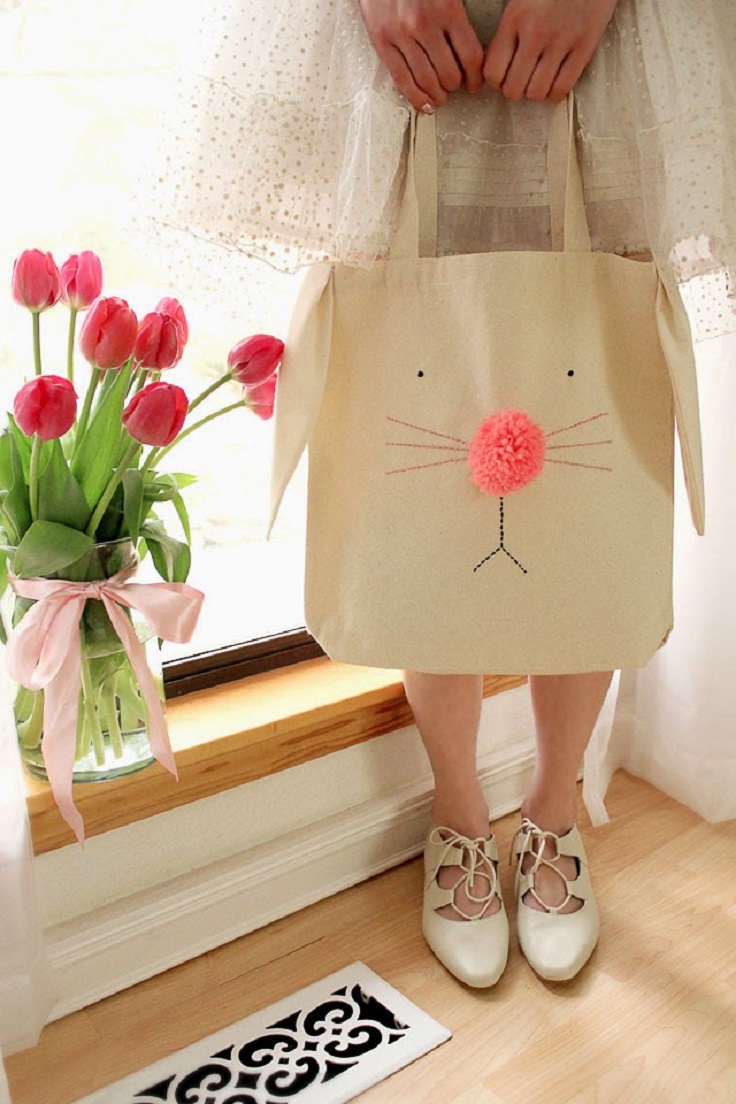 via iwearthecanvas.blogspot.ca
Isn't that the cutest bunny bag ever? This can be a nice gift too. What you need to make it is tote bag, embroidery thread and needle, yarn, pom pom maker, pencil, ruler, scissors, muslin fabric, fusible interfacing, ear template, sewing machine and thread. Draw a bunny face on the bag with a pencil and a ruler. Iron the interfacing, sew the pom poms, make the muslin ears and place them on each side. There are few steps that need to be completed and on the page you will find more detailed instructions.
8. Animal Pom Poms
These animal pom poms can be the perfect decoration for your children's room. They are cute, tiny and really deserve a try! In order to make it, with a cardboard pom pom maker first start with the nose and the mouth, and next with the ears. Place a pencil or a finger on one end and wrap extra yarn around it. You should be careful with the trimming. The page is also offering a flowers pom poms tutorial, so you might want to check that out too for more detailed instructions on how to.
9. Clay Bunny Bowls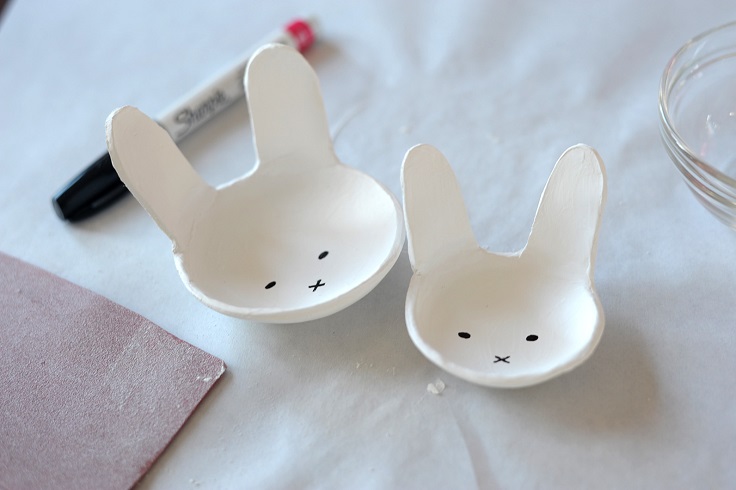 via aliceandlois.com
The decorative clay bunny bowls can be a perfect way to organize the jewelry. Or place some cookies inside. No matter what you choose them for, they are very cute anyway. Roll out dry clay and roll it to thickness. Place bowl top side down on to clay. Cut around the edge and cut the remainder of the clay into bunny ears. Place them on backside and and push the clay into the bowl until it touches the bottom and the sides. Let it dry and after that, you can paint the bowls however you like. In this case they very simple – white color and black eyes and nose.
10. String Organizers
Another project that can help you in better home organization, especially if you often tend to do stuff on your own. Cut a card stock into rectangles and cut out ears. Use a tiny hole punch for the eyes. Make a small slit at the top of the body area, to thread the start of the string from. You can paint the cat cardstocks if you want, or you can make them simple by just adding face expressions. However, they are so cute and very helpful with the strings!
SaveSaveSaveSave