This year's Mardi Gras carnival in New Orleans was filled with parades of marching bands, colorful floats and streets packed with masked people dancing and shouting " Throw me something, Mister". In response, they are rewarded with strings of beads thrown from the people on the floats and the goal is to get as many beads as you can. Now, with Mardi Gras over, you are left with a lot of fun memories and a ton of plastic beads. You might consider them as worthless junk, yet want to keep some as mementos.So why not turn them into something beautiful? Here are the top 10 DIY tutorials on how to make use of your Mardi Gras beads.
Mardi Gras Beads Mosaic
Finally fill that empty wall with something unique and fun. Take an empty canvas or a cardboard, your bag of Mardi Gras beads and some glue. Draw your design and start gluing. In the end you will have your very own beaded masterpiece.
Coned Topiary From Mardi Gras Beads
Artificial topiaries are a nice way t decorate your living room or to as centerpieces for a dinner party. Make your own fun and eye-catching topiary with your Mardi Gras catches and a cone shaped styrofoam.
Colorful Beads In Glassware
Here is simple way to use your Mardi Gras beads and it won't take any of your time. All you have to do is take a glass container, be it a glass, a vase or a candle holder and place the beads inside. That's all it takes to make this nice decor piece.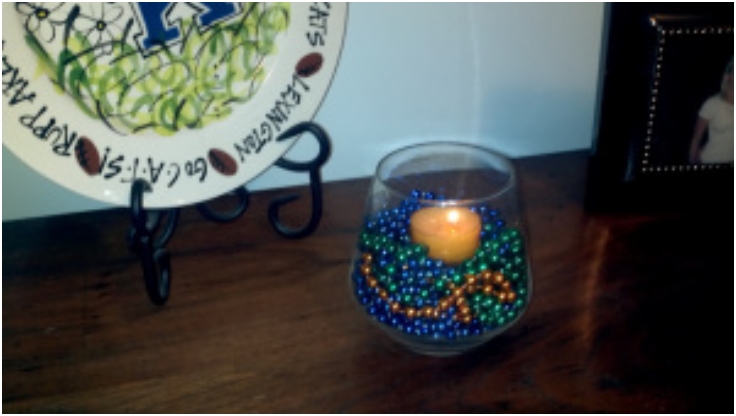 via projectpinterest365.wordpress.com
Beaded Monogram Letter, Photo Frame And Chandelier
You can wrap the Mardi Gras beads around plain and dull items from your home to make them fun and lively. Here is how you can make a monogram, a picture frame and a chandelier with your colorful beads.
Beaded Mardi Gras Wreath
Wreaths are excellent for decorating your front door during some holiday or celebration, but that doesn't mean that you can't make one just for the fun of it. If you make a wreath like this one,it will be a lively reminder of the wildest carnival you've attended.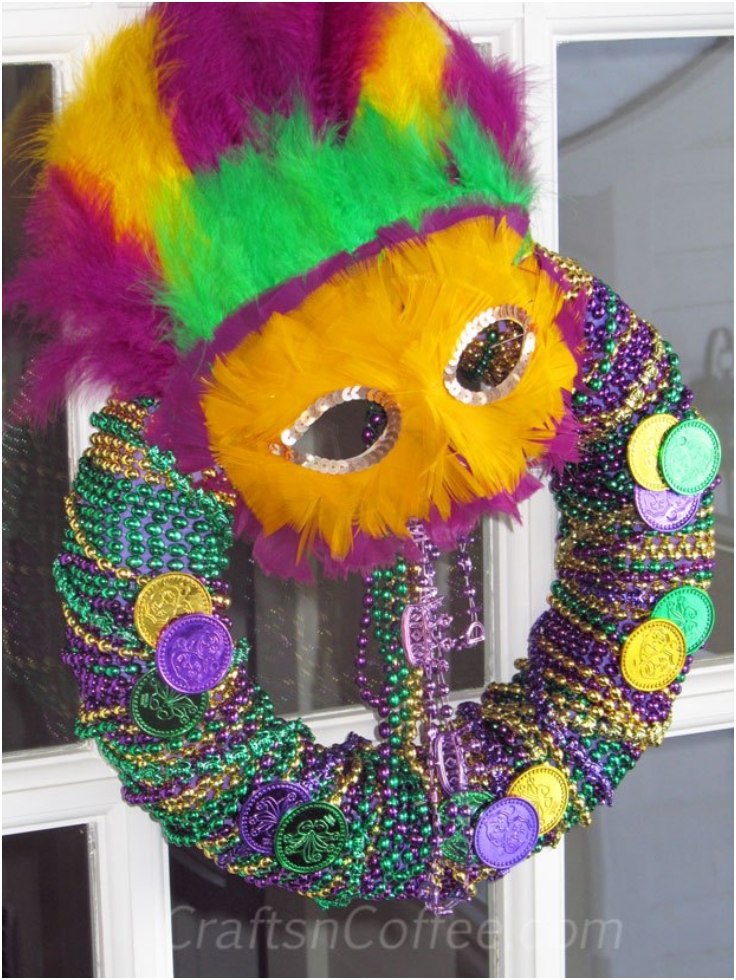 Beaded Decorative Skull
If you're taste leans towards the dark and grotesque, then this is a perfect project for you. Although the Day of the dead is almost a year away, remember this project and make a fun beaded sugar skull.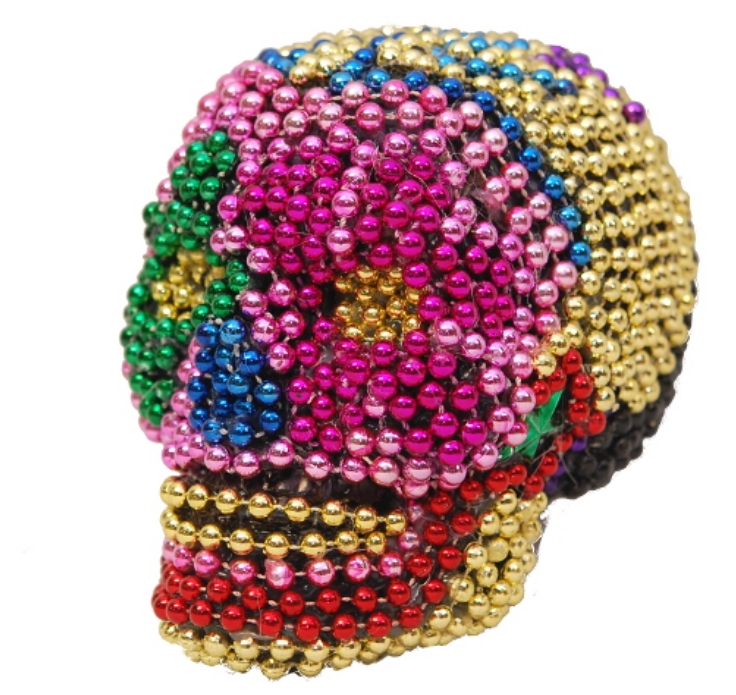 Jambalaya Boxes
Here is a nice way to get rid of the Mardi Gras beads and refresh your dull and old jewelry boxes. Don't hesitate to use any old box you feel that it outlived its usefulness. With this project you will have a pile of nifty and fun boxes ready to use however you see fit.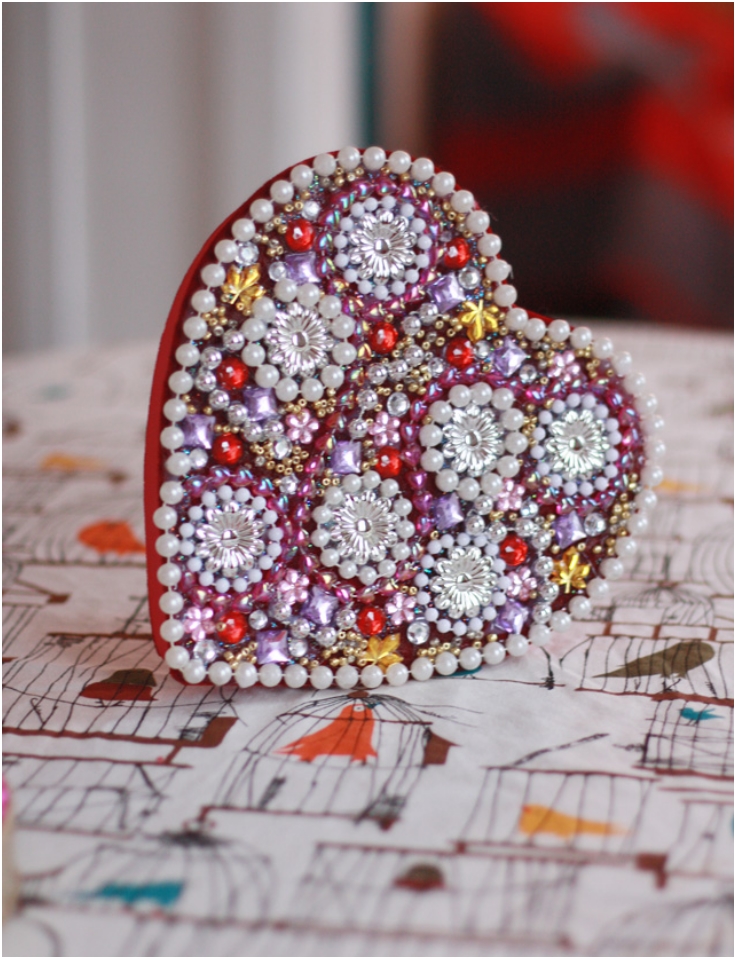 via auntpeaches.com
Beaded Stress Balls
If you like knitting, here is a project that is not only decorative but also useful. The softness of the yarn together with the hardness of the beads tingles your senses while you roll the ball between your hands and takes your mind off whatever bothered you.
via jackie-es.com
Beaded Mardi Gras Charger Plate
Another useful and decorative project. If you feel that the charger plate is too colorful, use only one color per plate. Also, with this technique and by using small circular pieces of fabric instead of cardboard, you can make lovely beaded coasters.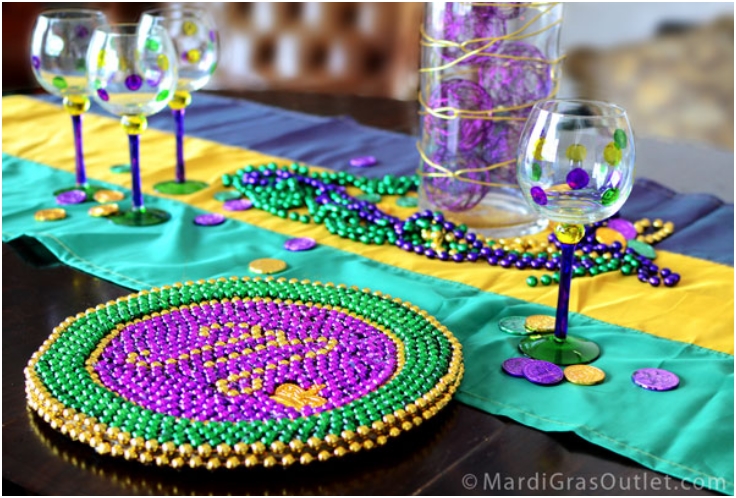 DIY Mardi Gras Accessories You'll Actually Wear
In the end, the Mardi Gras beads are just a cheep looking beaded necklace that you will never wear. Or will you? With some smart refashioning ans some supplies, you will soon have a whole collection of fashionable jewelry pieces.
via brit.co