Curtains are an essential part of home decoration.
Besides the obvious practical advantages, they also function as large pieces of accessories in our homes. They are a style statement, providing ambience in the room making it cozy and lively. Depending on the material, color and pattern you choose they can add a soothing effect and bring atmosphere to the room. Not only curtains but also a stylish curtain rods can brighten up your space. There is a great variety of rods to choose from, and you can even build your own with some DIY skills. Here are ten creative curtain designs with ten different curtain rods.
1. Arrow Curtain Rod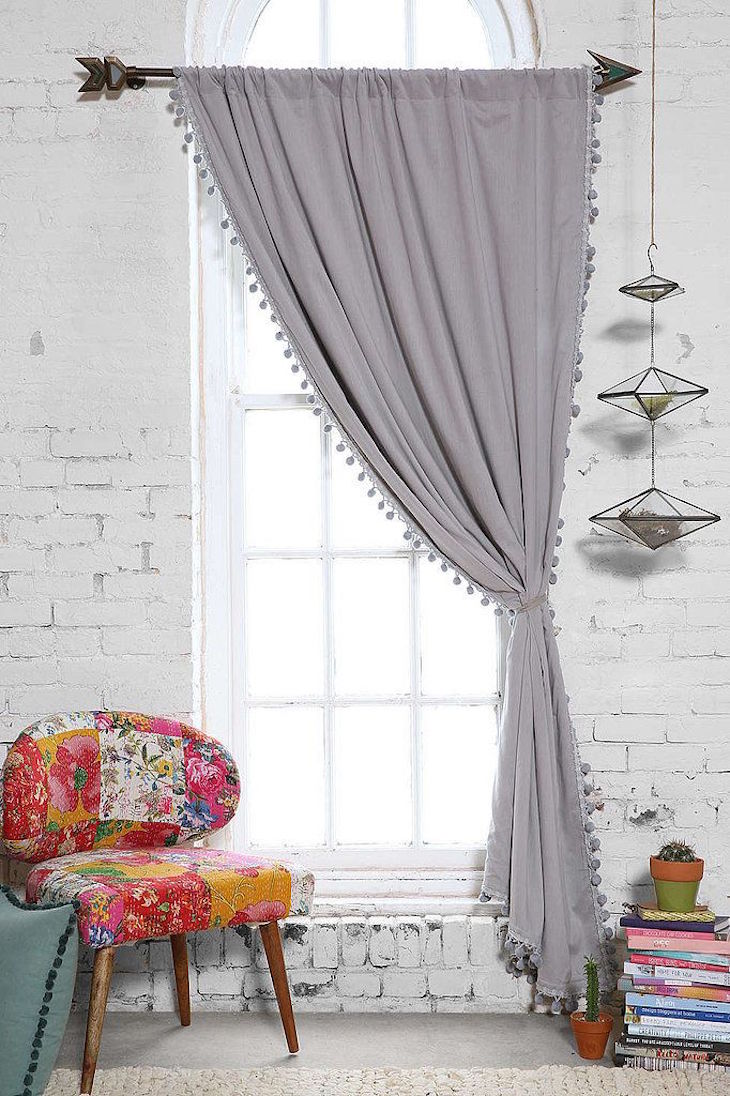 via www.popsugar.com
We love this beautiful interior design – the pastel lavender curtain matches perfectly the white brick walls. The arrow curtain rod brings a modern and stylish look into the apartment. Hang some geometric flower pots to create an unique decoration and add a colorful chair as a special piece of furniture.
2. Hooks Instead of Rod

via www.paperblog.fr
Here is a super simple way of hanging your curtains and create a unique look in your apartment. You only need a piece of wood – pallet wood could work perfectly – and some metal hooks adjusted to the wood with screws. Make sure to work with lighter materials, strong enough to hold the curtain.
3. Galvanized Pipe
You can create your own cool looking industrial curtain rod by using parts from your local hardware store. It will look great in industrial style homes. Use metal rings and clips and choose neutral colors for the curtain to have a minimalist style interior. It costs a fraction of what a similar look would cost retail.
4. Tree Bench Curtain Rod
This beautiful and natural design gives a special look to any plain curtains. Choose a branch that fits best to your window, and treat it with polyurethane to keep the bark sealed and protected and prevent any peeling. This works out perfectly for hanging tab top curtains.
5. Oar Curtain Rod
A campy canoe paddle is a unique way to hang curtains in just a few simple steps. You will need curtain rings and clips that fits the canoe paddle and curtain rod brackets to hold the oar. It will look pretty in any rooms with unique design not only in holiday houses.
6. Rope as Curtain Rod
via vintagehomelove.blogspot.com
Here is a super fun idea to create an amazing look by using only a heavy rope and eye-hooks for the curtain rod and canvas drop cloth as the curtains. For a nautical theme use blue and white stripe canvas or just plain white with nautical anchor patterns.
7. Twine Wrapped Curtain Rod
via thewickerhouse.blogspot.com
If you prefer low budget solutions, this one will be your best bet. Buy a plain white cheap curtain rod and wrap some twine around it. You will get an inexpensive and yet stylish curtain rod. Depending on your window size you will need around 200 feet of jute garden twine and some light color material for curtains.
8. DIY Wooden Window Cornice
You can build your own window cornice in about 30 minutes and for less than $15 each. Just measure the window from one end of the trim to the other, cut the wood accordingly, drill pocket holes and stain or paint the wood. See the tutorial for a step-by-step guide.
9. Drawer Knob Rod
This knob and dowel curtain solution is another cheap and decorative way to brighten up your living space. With some DIY skills you can create your own design. You will need drawer knobs, long dowel from the hardware store and some rod brackets. Depending on your apartment you can leave the rod natural or spray paint it to any of your preferred colors.
10. Forked Branches
Similarly to our fourth example, here also a tree branch is used as a curtain rod. Plus forked branches are used to hang the birch rod on it. Simply screw the forked branches right into the wood window trim or into the wall and place the birch rod on it. Make sure to select suitable size and material as it needs to hold the weight round the clock.