Many people consider the vegan lifestyle as less delicious than the one of the meat and dairy lovers. However, vegans know that it's not necessarily true. In fact, many dishes and meals are prepared to satisfy the needed criteria and that doesn't make them less delicious!
In this article we talk about vegan muffins and we're providing you with ten super delicious recipes. They're all very easy and no matter if you're new at cooking or already at advanced levels, you will find these muffins very simple. Having these muffins as your after lunch dessert or an afternoon sweet snack is going to be such a guilty pleasure – try eating only one!
1. Pumpkin Spice Muffins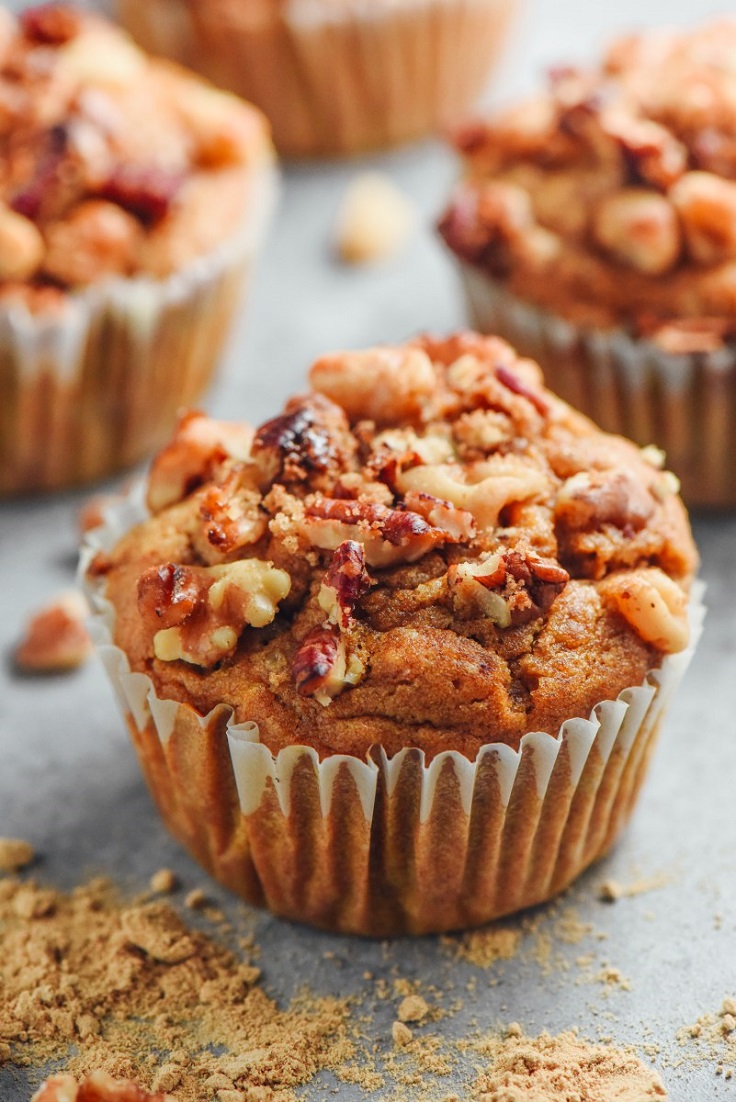 via apple-of-my-eye.com
What's a better way to welcome the new season, but with the most popular and beloved fall pumpkin taste and cinnamon scent? There are so many recipes to try out with pumpkin, but muffins should really be in your first three options. To prepare vegan pumpkin muffins, you need: 1¾ cup flour, ½ cup white sugar, ½ cup light brown sugar, 1 tbsp baking powder, ½ tsp salt, 2 tsp cinnamon, ¾ tsp ground ginger, 1 cup pureed pumpkin, 2 tsp vanilla, ½ cup almond milk and ½ cup olive oil.
2. Blackberry Cornmeal Muffins
via minimalistbaker.com
Blackberries and cornstarch can make really nice muffins, they're definitely worth the try! You need 2 flax eggs (for this mix 2 tbsp flax seed meal + 5 tbsp water), 1/4 cup unsweetened almond milk, 3/4 tsp apple cider vinegar, 1 1/2 tsp baking soda, 2 tbsp maple syrup or agave nectar (use honey if not vegan), 1/2 cup organic cane sugar, 1/4 cup melted vegan butter, 3/4 cup unsweetened applesauce, 1/4 tsp sea salt, 1/4 cup almond meal, 1 cup fine cornmeal, 1 cup unbleached all purpose flour and 1 cup blackberries. You will get ten tasty muffins out of this recipe and it will take you 40 minutes to have them all ready to be eaten!
3. Maple Banana Oat and Nut Muffins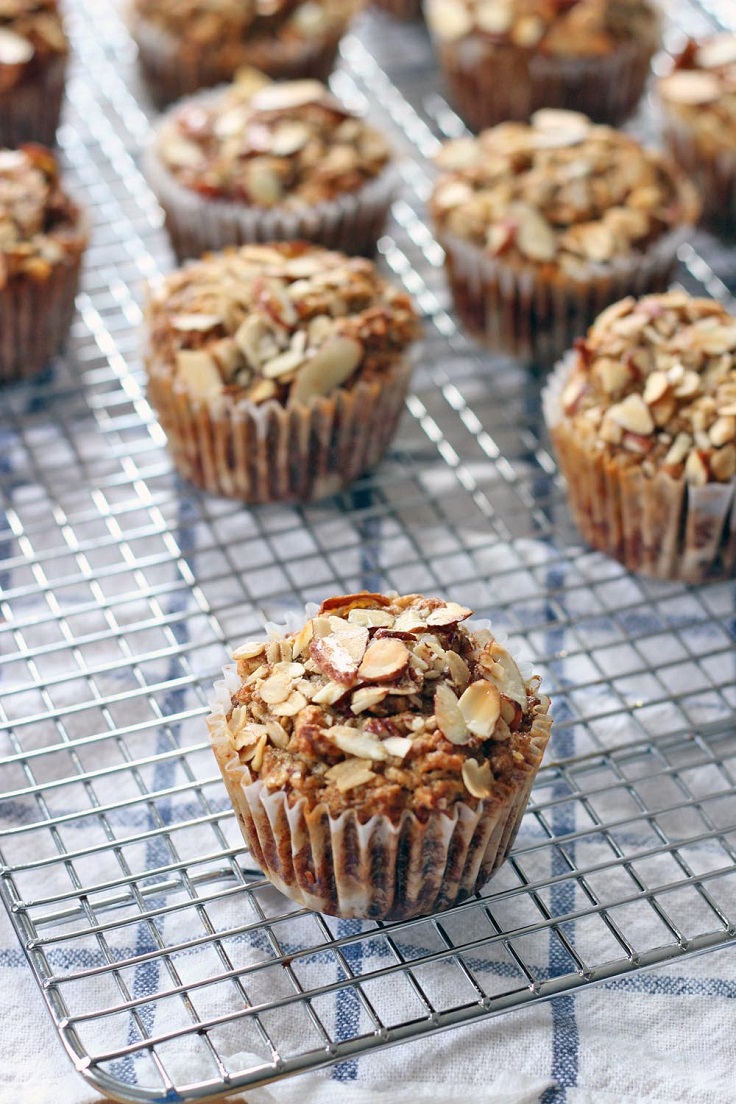 via bowlofdelicious.com
Bananas and nuts are a famous combination when it comes to desserts. The softness of the bananas and the crunchiness of the nuts really go well together! Add few other ingredients and you'll come up with some seriously delicious muffins. You can try this recipe: 2 tablespoons chia seeds, mixed with ⅓ cup water, ½ cup coconut oil, ⅓ cup maple syrup, 2 ripe bananas, 1 teaspoon baking powder, 1 teaspoon baking soda, ½ teaspoon salt, ½ teaspoon cinnamon, ¼ teaspoon ground cardamom, ¼ teaspoon nutmeg, ½ cup water, 1 cup rolled oats, 1 cup whole wheat flour and ½ cup sliced almonds or other nuts.
4. Double Chocolate Muffins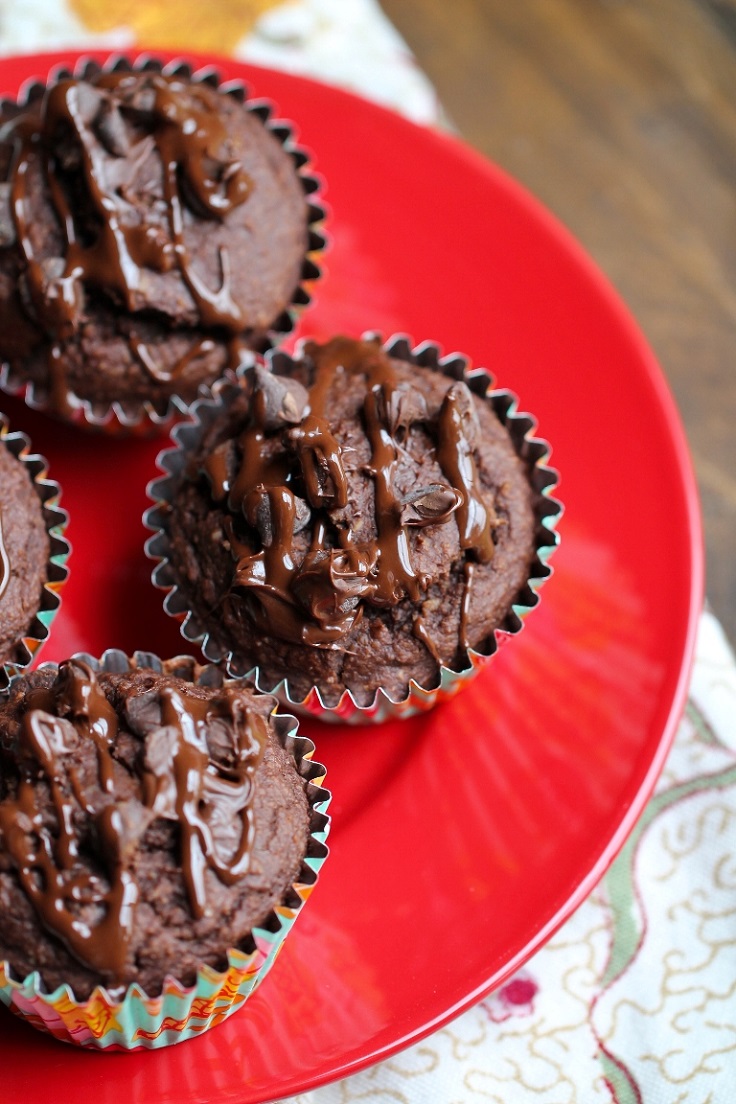 via thevegan8.com
There's no muffin like a chocolate muffin, even if is a vegan version we're talking about! And if it is a double chocolate dessert like this one, we're definitely planning to eat more than one, right? So, to prepare these super tasty double chocolate muffins you need 1 cup oat flour, 1 1/2 cups blanched almond flour, 2 teaspoons aluminum-free baking powder, 1/4 cup + 2 tablespoons raw cacao powder, 3 tablespoons tapioca starch, 1/2 teaspoon sea salt, 1 cup water, 1/2 cup pure maple syrup, 2 1/4 teaspoons vanilla extract and 3/4 cup semi-sweet vegan chocolate chips.
5. Chocolate Pumpkin Swirl Muffins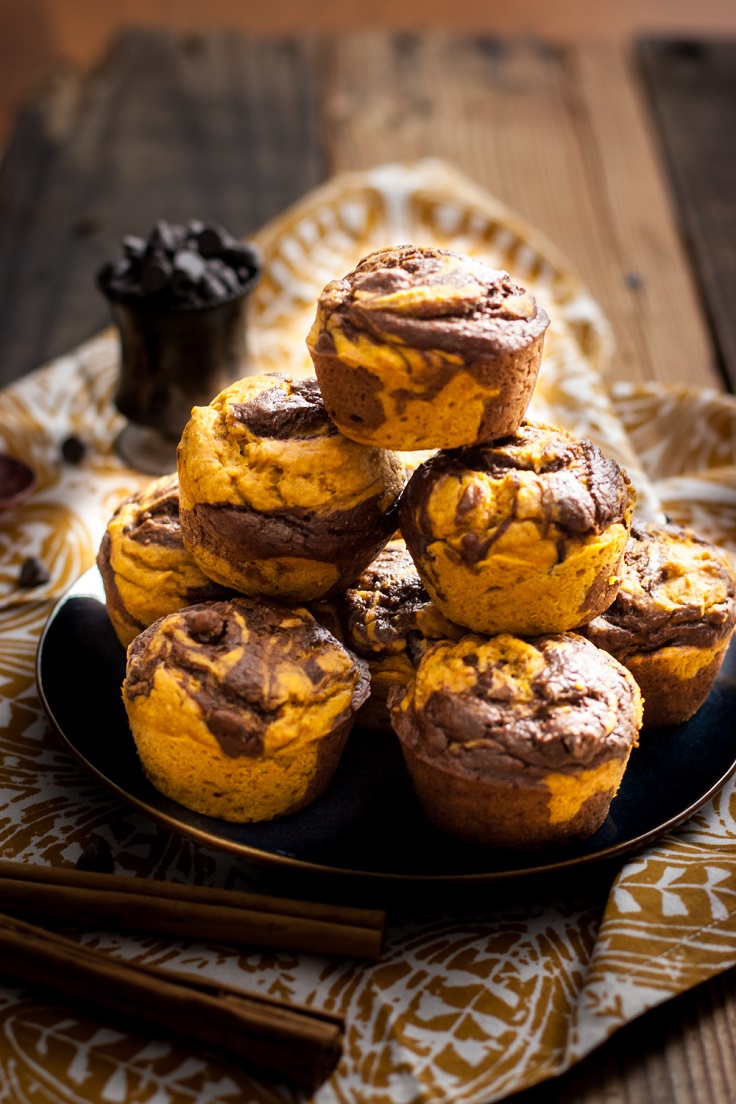 via mycaliforniaroots.com
How about mixing our favorite dessert ingredient with the most popular fall taste? It will look something like this: a chocolate pumpkin muffins, looking so gorgeous thanks to the swirling! If you like the sound of it, and even better – the taste of it – make sure you have the following ingredients: 2 cups all-purpose flour, 1 cup whole wheat flour, 2 tsp cinnamon, 1/2 tsp nutmeg, 1/4 tsp ground cloves, 3/4 tsp salt, 2 tsp baking powder, 1/2 tsp baking soda, 1/4 cup + 2 Tbsp cocoa powder, 3/4 cup + 1/3 cup granulated sugar, 2 tbsp ground flax seed + 6 tbsp water, 1/3 cup canola oil, 1 1/2 cups almond milk, 1 can pumpkin puree and 2/3 cup chocolate chips.
6. Peanut Butter and Jam Muffins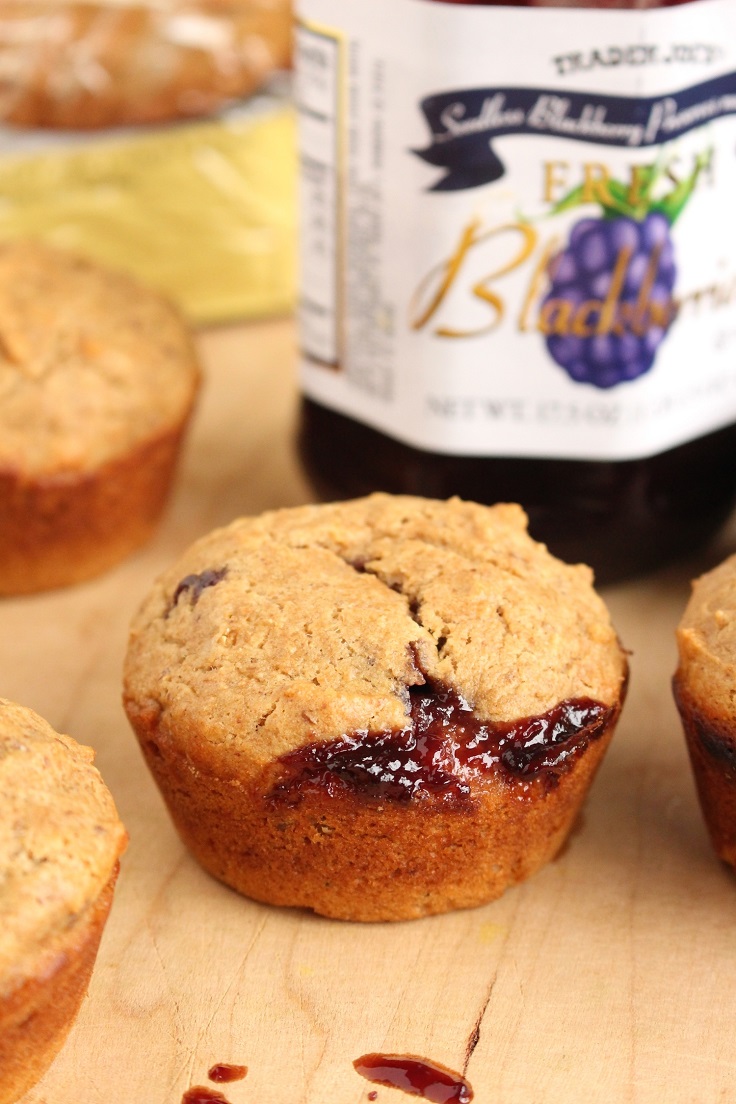 via theconscientiouseater.com
Did you know that peanuts can lower the risk of cardiovascular and coronary heart diseases? Or, that even that they're high in calories, if consumed reasonably, eating them can help in controling hunger and actually aid our weight loss? So, preparing peanut butter muffins plus with your favorite jam can be the perfect snack! You need 1 cup flour, 1 cup peanut flour, 1 tablespoon baking powder, ½ teaspoon salt, 1 flax egg (1 tablespoons ground flaxseed + 3 tablespoons water), 1 cup non-dairy milk, ½ cup maple syrup, ¼ cup melted coconut oil, 1 teaspoon vanilla extract and 12 teaspoons of your favorite jelly, jam, or preserves.
7. Strawberry Muffins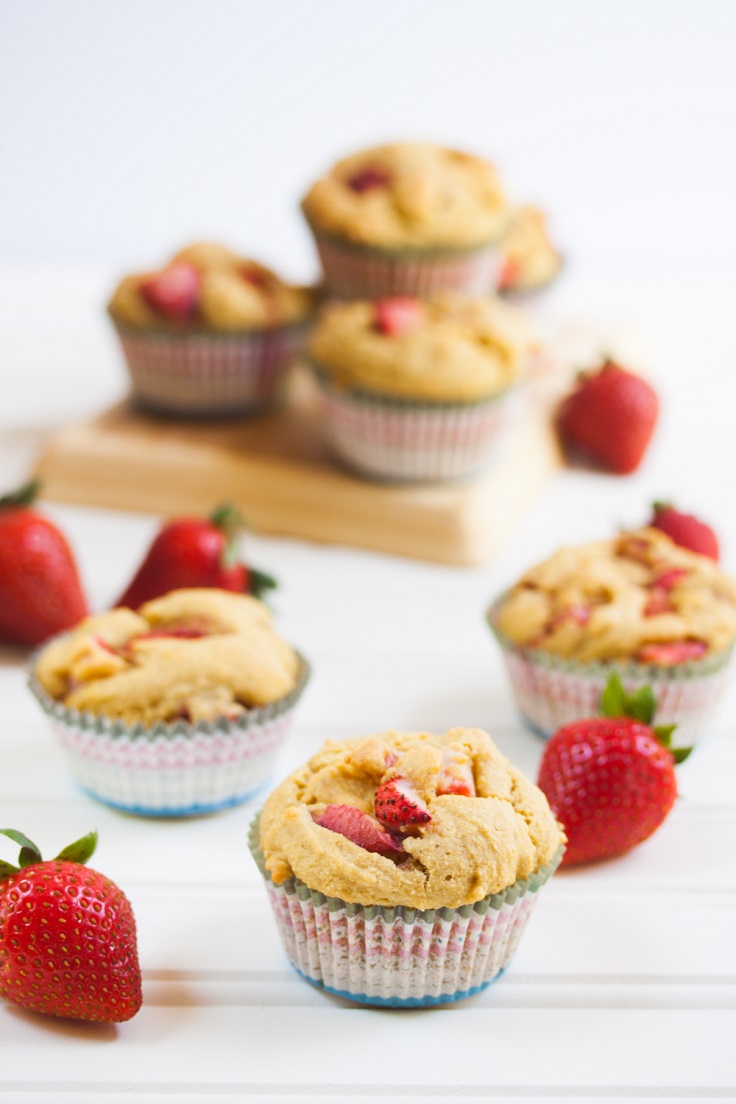 via allysonkramer.com
One of the most delicious fruits and a popular choice when it comes to desserts, the strawberries are tasty no matter how you eat them – fresh or in desserts! Of course it is better to eat them fresh, but a little sweet snack once in a while won't hurt at all. To prepare your own strawberry muffins, you need 1/2 cup almond meal, 1/2 cup masa harina, 3/4 cup besan/chickpea flour, 1 teaspoon salt, 1 teaspoon xanthan gum, 1 teaspoon baking powder, 1/2 teaspoon baking soda, 1/3 cup sugar, 1/3 cup olive oil, 1 cup water, 1/2 teaspoon vanilla and 1 cup chopped strawberries.
8. Peach Crumb Muffins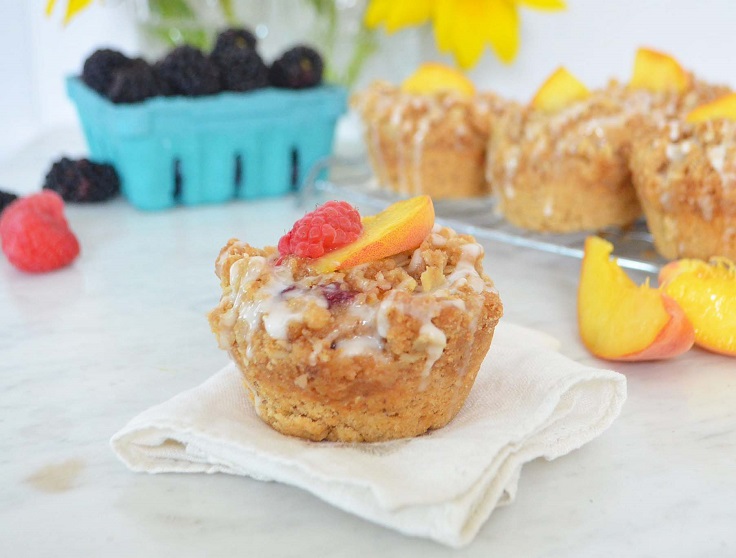 via phoebespurefood.com
One of the best ways to experience muffins is with peach crumb on top! It may doesn't sound as tasty as double chocolate, but trust us – it's worth it absolutely! If you don't know how to prepare a peach crumb, don't worry – the website below the picture offers a recipe for that too. For the muffins, you need 1 flax egg, 2 cups whole wheat white, spelt or all-purpose flour, ¼ cup organic sugar, 1 tablespoon baking powder, ½ teaspoon salt, ¼ teaspoon ground cinnamon, ¼ cup organic, raw coconut oil, melted vegan butter, 1 cup non-dairy milk, 2 teaspoons lemon juice, 1 teaspoon vanilla extract, 1 cup peaches, blackberry or raspberry jam.
9. Butternut Cranberry Muffins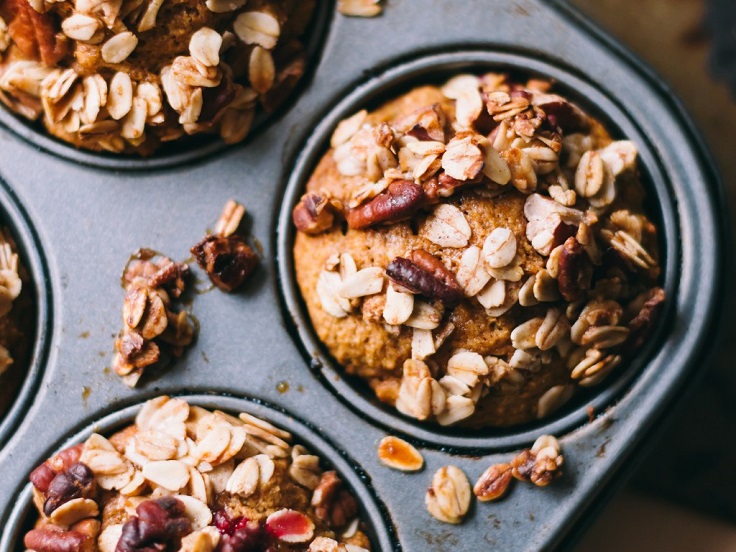 via faring-well.com
The needed ingredients for these muffins are 1/2 cup butternut squash puree, 2 tablespoons coconut oil, 1/4 cup maple syrup, 1/4 cup plain almond milk, 1/2 teaspoon vanilla, 1/4 teaspoon baking soda, 1/2 teaspoon baking powder, pinch of salt, 1/2 teaspoon ground cinnamon, 1/4 teaspoon ground ginger, 1/2 cup whole spelt flour, 6 tablespoons oat flour and 1/3 cup fresh cranberries. However, what really makes the muffins special is the maple pecan crumble on top! Thanks to the maple syrup, it add a sweetness to the muffins, while the pecans give away that crunchy, nut taste.
10. Strawberry Lemonade Muffins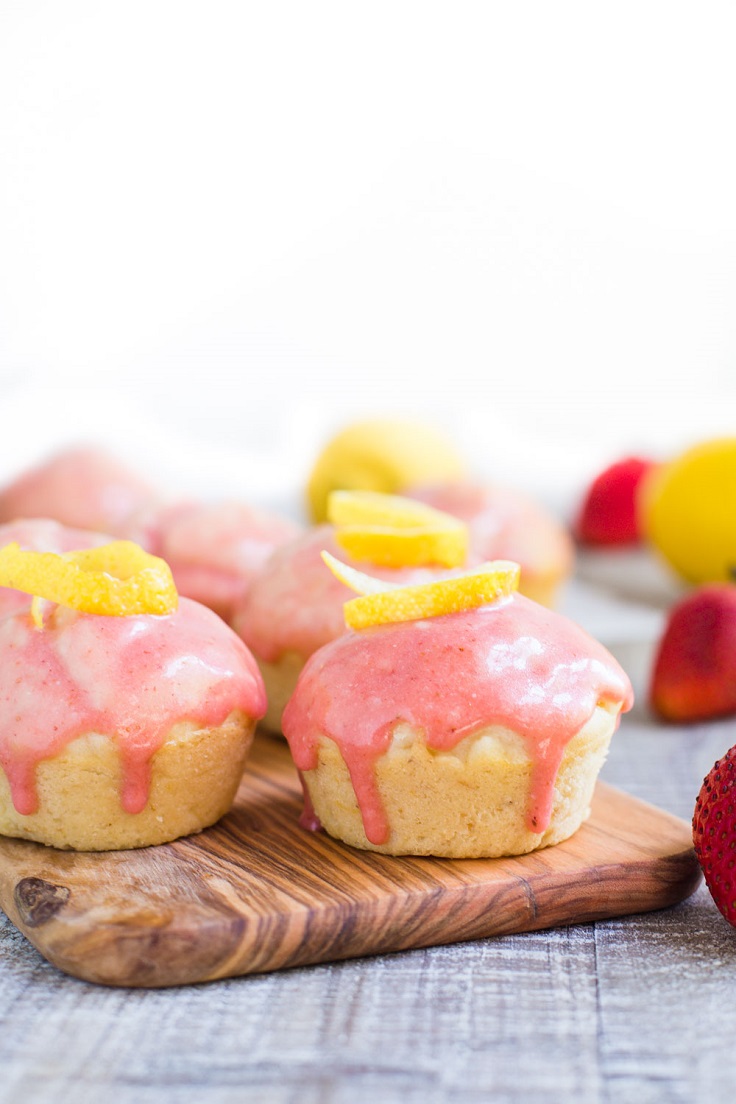 via bbritnell.com
The strawberry lemonade muffins are perfect for any occasions, especially if early in the morning you want something sweet with your cup of coffee or tea. The needed ingredients for the muffins are 2 cups flour, 1/2 teaspoon kosher salt, 2 teaspoons baking powder, 2/3 cup of sugar, 1/2 cup vegan butter, 2 flax eggs, 1 cup of almond milk or other non dairy milk, 1 teaspoon of vanilla extract, zest of 1 lemon and juice of 1 lemon juice. Don't make that mistake of not preparing the icing too! It's what makes these muffins so special. To prepare it, you need 1.5 cups powdered sugar, 1-2 tbs non-dairy milk, added as needed to help blend and 5-8 frozen strawberries.