There are many reasons why you should eat oranges, besides the fact that they are one really delicious fruit. Oranges are really low in calories. One medium orange has 80 calories and 0 fat. That's why this fruit is recommended when you're on diet, or when you simply want to lead a healthy life. They lower the risk for many diseases and they can help us attaining a healthy, clear skin. Except the fact that oranges are important for our health, they can be used for other thing too. Food, in a combination with oranges, especially when it comes to desserts, it's a really great combination. You can make juices, marmalade, jams and many other desserts: cakes, cupcakes, puddings… You name it. On the list below you'll find only recipes about cake, because there were so many of it that are definitely worth trying. So, pick the one that you find the most good – looking and prepare it.
1. Orange Thyme Pistachio Butter Cake
This cake will bring you the amazing taste of what's it like when you mix pistachios, cream and oranges. The pistachios need to be chopped, while the oranges should be freshly squeezed. When the cake is ready, leave it to cool off and then add the glaze and the remaining chopped pistachios. You can add whipped cream on top or you can make an extra orange glaze and pour it on top of each slice of the cake.
2. Chocolate Orange Almond and Olive Oil Cake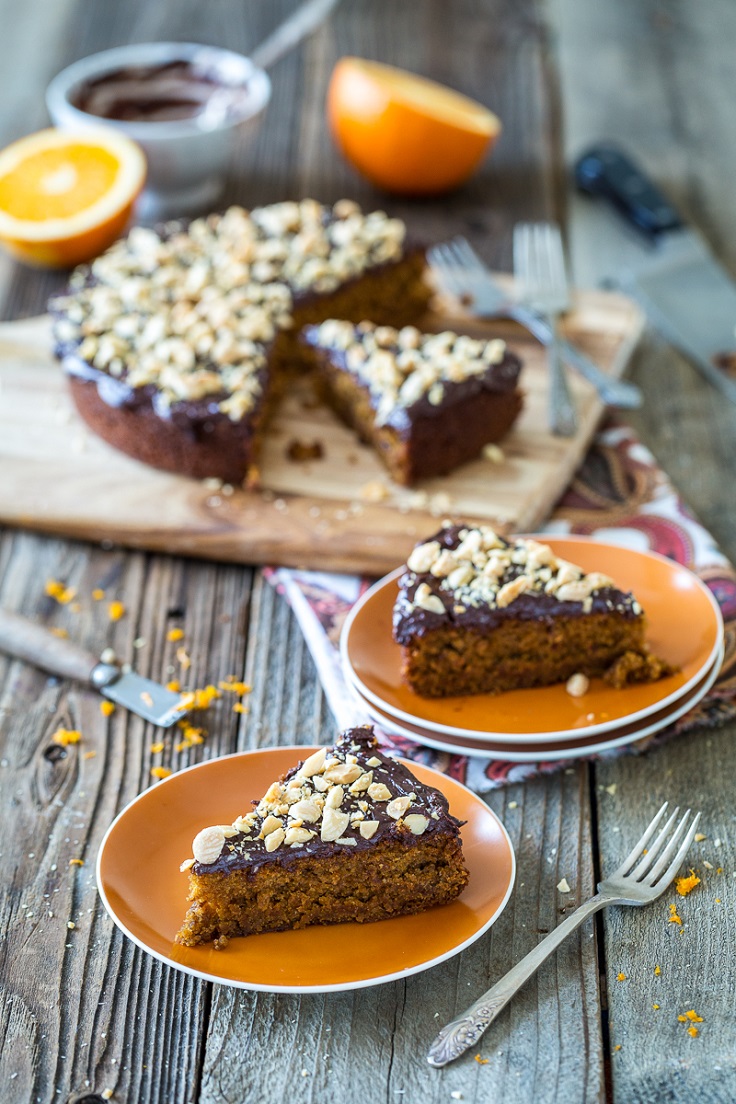 via keepinitkind.com
Chocolate plus almonds, that's something you don't want to miss. Especially if it's all inside a cake. This vegan cake calls for two types of almonds: unpeeled sweet whole almonds or Marcona almonds from Spain, so choose whatever you are able to find. The almonds in this case aren't used just as ingredient. Before putting a piece of the cake on a plate, sprinkle the bottom of it with almonds, so that the cake won't stick. The cake can freeze well without losing it's flavor, but if you decide to freeze it, don't sprinkle the almonds until the cake is defrosted.
3. Mandarin Orange Cheesecake
A layer of graham cracker crust, a layer of mandarin orange, a creamcheese mixture over it and on top, few mandarin oranges. Simple and smooth, this orange cheesecake recipe is definitely something your cookbook needs. The cake is easy to make, it's ready in one hour and is soo delicious. It goes great with a cup of coffee in the morning. Before serving it, make sure you cover it with a plastic wrap and leave it in the fridge for 2 or 3 hours.
4. Orange Drizzle Cake
Light desserts are always welcome. The orange drizzle cake is really something worth trying. It has a very smooth texture and it a very simple, but a very taste glaze made of orange juice and baker's sugar. The cake is made of orange juice and orange zest, in a combination with baker's sugar, eggs, flour, baking powder, salt and milk. The baking part lasts for 45 minutes and when it's done, drizzle the glaze over the cake while it's still hot.
5. Orange Yogurt Cake
If one hour of waiting for a cake to be done is a lot for you, then you just found the recipe you need. Ready in 35 minutes, this orange cake includes plain whole – milk yogurt. Stir all the ingredients in a bowl and then pour them in a pan. After that, leave the cake to cool off for some time and before serving, dust with confectioner's sugar. You can garnish the cake with other ingredients by your choice. Whipped cream or an orange glaze would go great.
6. Chocolate Orange Cake
A chocolate plus orange combination is something you will never have enough, no matter if it's muffins or puddings we're talking about. Especially if it has an amazing ganache to serve on top, like this one. It's made of dark chocolate, golden syrup, butter and juice from one orange. For decoration, you can add something else. In this case that is grated orange rind, but you can also decorate it with chocolate chips or chopped nuts, such as almonds or walnuts.
7. Olive Oil, Almond & Orange Cake
The cake has the best frosting ever. It's made from mascarpone, pouring cream, icing sugar, vanilla essence or extract and one tablespoon of orange zest for decoration. Stir everything together and do that until you have a velvety shiny icing. It may won't come like that at first, but continue stirring. Thanks to the creamy mascarpone frosting and the wonderful taste that the cake has, what you'll get is a moist, creamy dessert that everyone would like to try.
8. Honey Cake with Caramelized Oranges
A honey almond cake with caramelized oranges as topping. It will take more time for everything to be ready, but all the waiting will be worth it after trying this moist, smooth and super delicious cake. In a bottom of a cake pan, place the caramelized oranges, add the batter and bake it for approximately 45 minutes, until the cake gets it's golden color. After baking, let the cake to cool for 15 minutes, flip it over on a plate and jiggle pan to remove.
9. Whole Orange and Almond Cake
You only need five ingredients to make this amazing cake and that are oranges, caster sugar, eggs, almond meal and baking powder. Preparing the cake is really easy and the recipe serves 8, so having this cake when expecting guests is a nice idea. There's no way someone will refuse a piece of it. After heavy lunch or dinner, a light dessert is always welcomed. When it comes to serving it, you can add icing sugar, whipped cream or orange segments. Or all of it.
10. Orange Creamsicle Peeps Cake
Creamsicles are the perfect dessert choice for any time, especially in summer because they are light and tasty. The orange creamsicle cake is really good mix of oranges, vanilla pudding and creamsicle cake mix. For frosting you can use a homemade combination of whipped cream and Orange creamsicle frosting and for garnish you can use mandarins, orange slices and Peeps.