Pears have many health benefits. They are a good source of dietary fiber and a good source of vitamin C. Most of the vitamin C, as well as the dietary fiber, is contained within the skin of the fruit.They are fantastic fruits: super juicy, indulgent, and with a fragrant floral flavor that makes them perfect for elegant desserts. However, pears are the fruit stars for fall and winter baking. With so many varieties to choose from, there's a pear for everyone's tastes. From soft and juicy to crisp and crunchy, pears show off in a plethora of recipes, from sweet to savory. However, each pear variety has its perfect use. Bosc pears hold their shape best, making them perfect for poaching, roasting or thinly sliced for delicious salads. Tender and sweet, Bartlett and Anjou pears do wonders in desserts. For a greater appreciation of this humble fruit, here are 10 delicious dessert pear recipes you just can't go wrong with. For best results, use fresh pears in these simple recipes. What's your favorite pear dessert recipe?
Pear Upside-Down Cake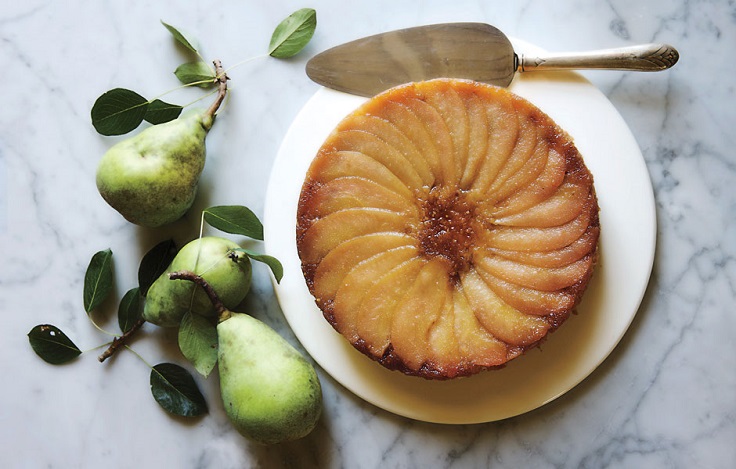 via bonappetit.com
Consider this cake as a sweet and tasty dessert that you can make whenever you have some fresh pears. Be warned: The taste of this upside-down cake is addictive.
Easy Ginger Poached Pears with Pumpkin Whipped Cream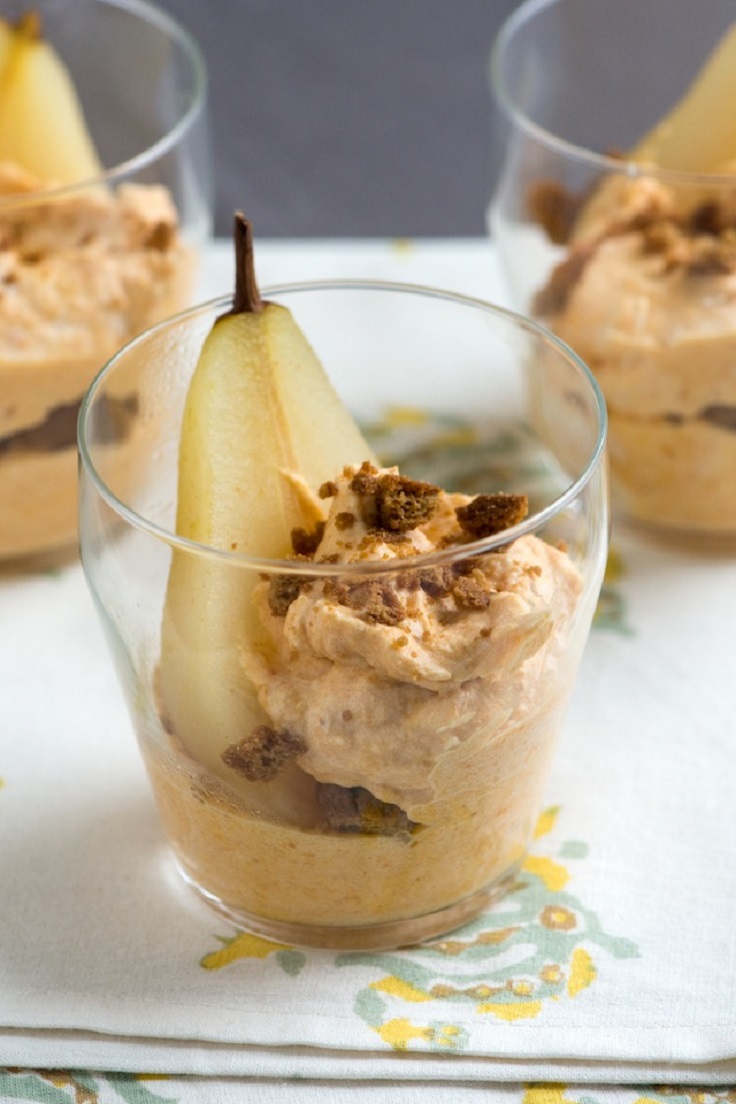 These tender poached pears with pumpkin whipped cream are perfect. The pears are slowly poached in a ginger syrup then we serve them with soft pumpkin whipped cream and crunchy ginger snaps. Not too heavy, packed with flavor and so pretty!
Stuffed Pears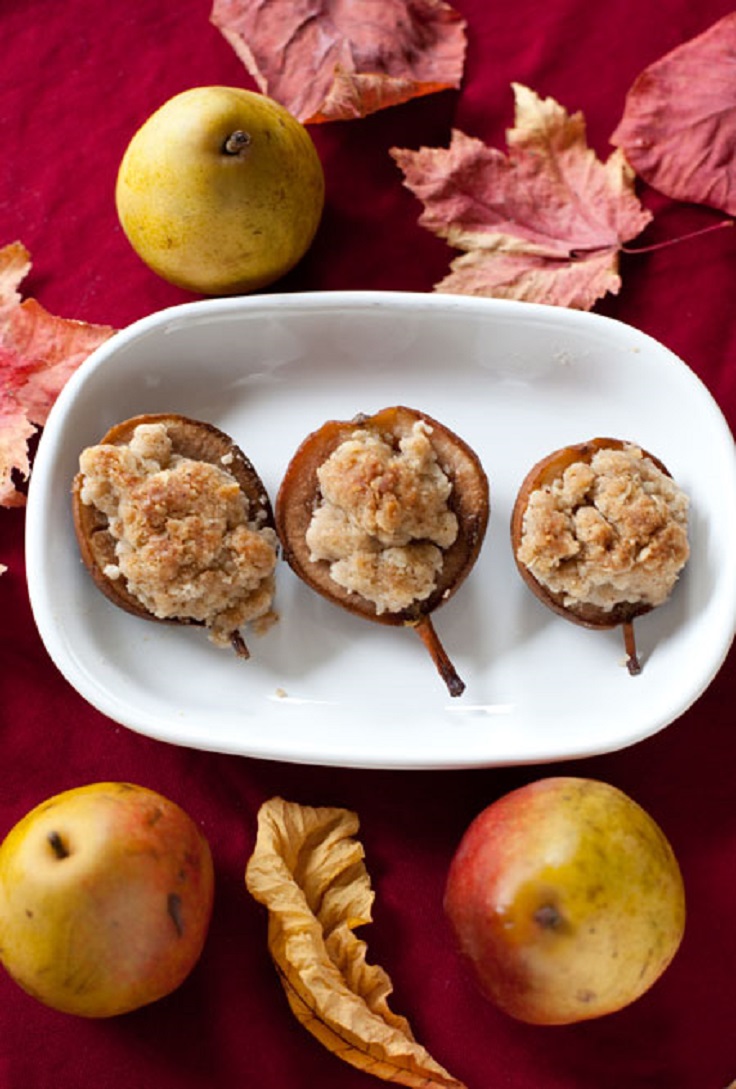 via eatingrichly.com
Preparation for this elegant holiday dessert is simple. This dessert is made with the pears that are commonly called sugar pears, but their real name is Seckel Pears. These are the smallest variety of pears and the only ones believed to actually be originally from America.
Rice Pudding with Fresh Pears and Honey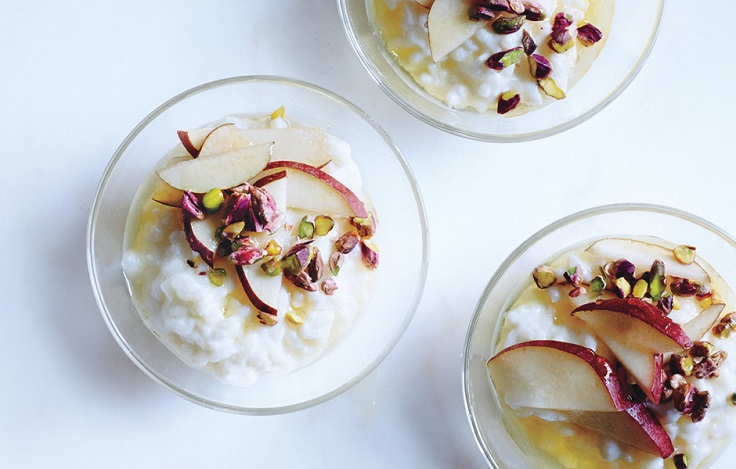 via bonappetit.com
Chef Sarah Ellsworth, the London Plane, Seattle, uses creamy bomba rice and orange-flower water to make an elevated rice pudding for her daughter—for breakfast: "It's a weekend treat."
Caramelized Pears with Vanilla Syrup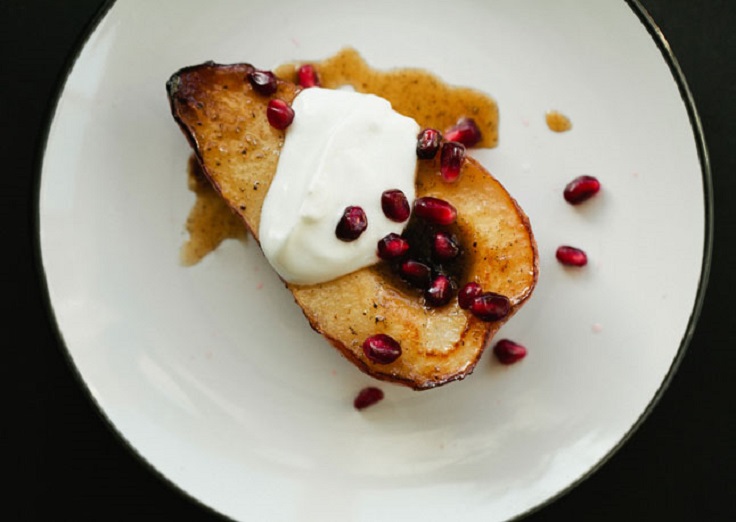 via bonappetit.com
These recipe will only take 20 minutes to cook it.However,this dessert is both tasty and healthy. So if you are afraid that you will gain some weight with this dessert, then we assure you that this is not the case.
Pear Cookie Crisps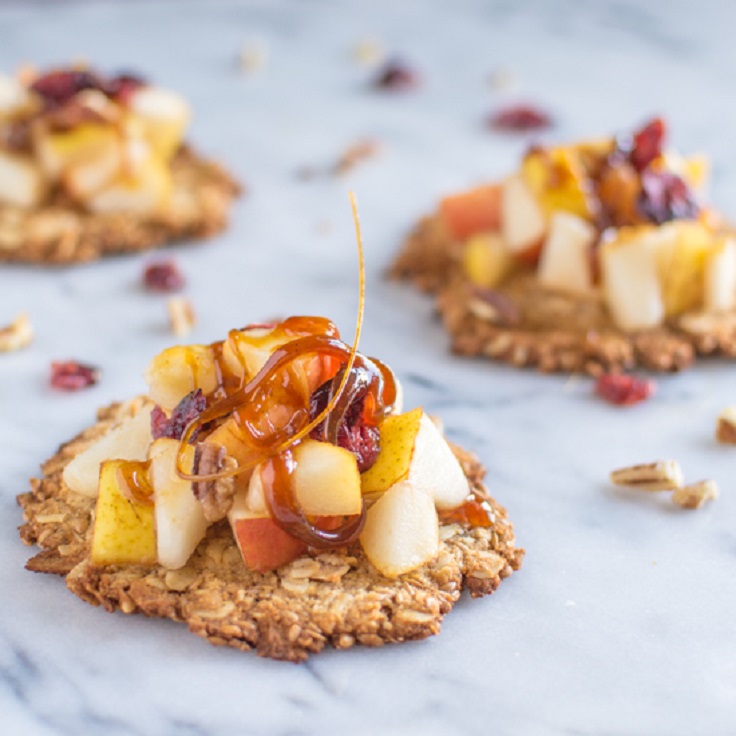 These cookies are crispy—the perfect contrast to the ripe and soft pears on top.
Cornmeal Crepes with Figs and Pears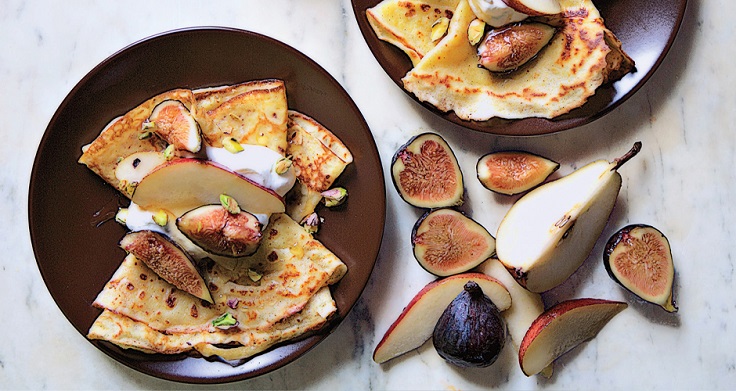 via bonappetit.com
Paper-thin crepes aren't so fussy. They're almost simpler than pancakes. Try to do these crepes with adding pears and figs.
Pear Ginger Thumbprints with Caramel Drizzle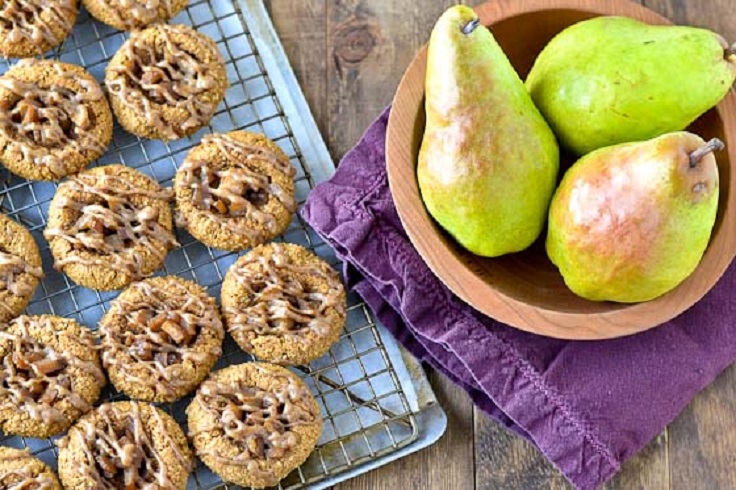 The recipe is everything that you want in a chewy thumbprint cookie base. Soft and chewy grain-free ginger and molasses cookies filled with spiced pears and finished with a creamy caramel drizzle. Gluten-free, dairy-free, and naturally sweetened.
Roasted Pears in Red Wine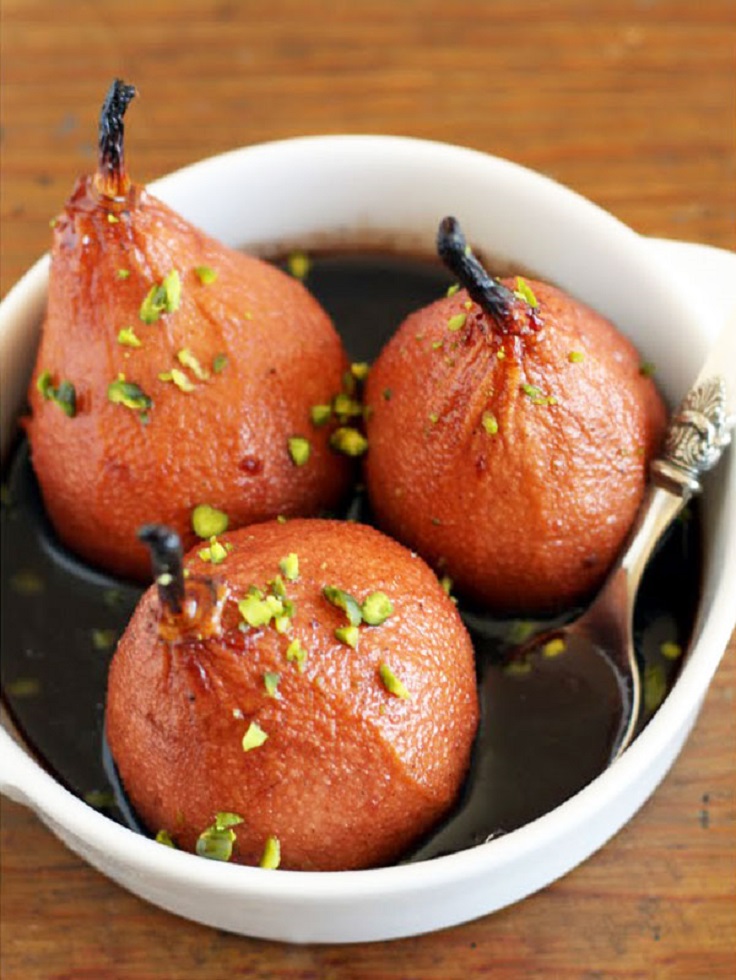 via eatwell101.com
This delicious and fragrant dessert comes from Australia: pears roasted in red wine and vanilla sauce.  Choose firm pears (but ripe) so they can stand cooking well.  The recommended wine in the original recipe is an Australian wine from a Cabernet Sauvignon grape.
Chocolate Pear Tart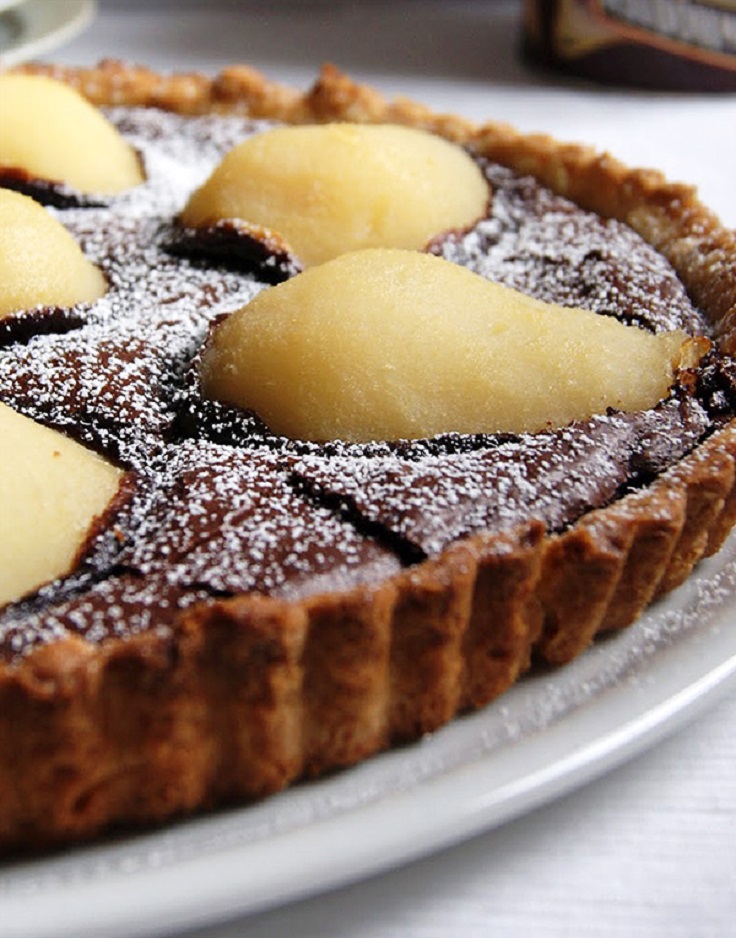 via eatwell101.com
We offer you a fabulous chocolate and pear tart recipe for dessert! Pear and chocolate are two ingredients that blend perfectly. For this tart, the dough is delicately flavored with ground almonds. You can use either fresh or poached pears or pears in syrup as well.