With no doubt, one of the most important and popular holidays in the USA is the Fourth of July – the Independence Day. Many American families celebrate the national holiday together with their closest relatives and friends and in honor of the independence, they cook delicious meals.
There are plenty of choices on what to cook on this day, but there also are so many traditional meals and some in the color of the flag – red, white and blue. Wondering what to cook this year? Just scroll along, we picked ten, very delicious recipes, from main dishes to desserts!
1. The Patriotic Burger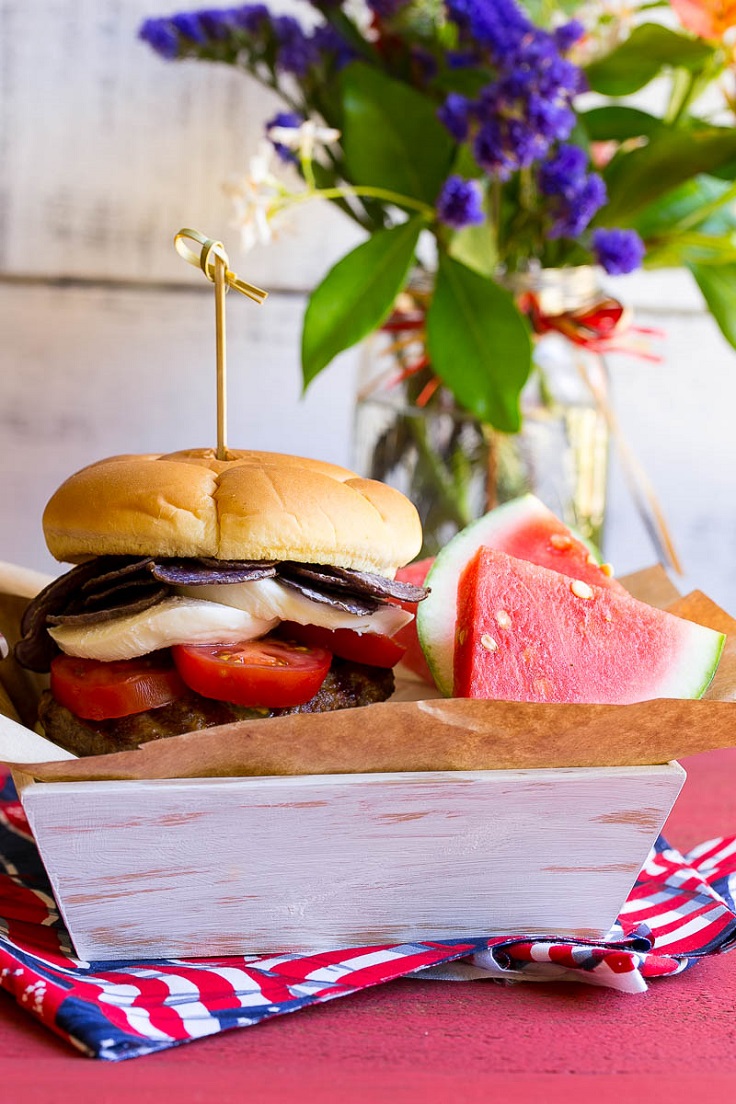 via dinneratthezoo.com
Having burgers on your 4th of July table is a very delicious and traditional way of celebrating the national holiday. Burgers are tasty, so you know right from the start that your food choice is going to be tastefully accepted by everyone! To prepare the Patriotic Burger, you need 1 and ¼ pounds ground beef, 1 and ½ cups sliced tomatoes, 4 ounces of fresh mozzarella, ¾ pound purple potatoes, 4 hamburger buns (use gluten free if needed), salt and pepper and cooking spray. The recipe serves 4, so just double everything if you're having guests to come over for lunch.
2. Baked Donuts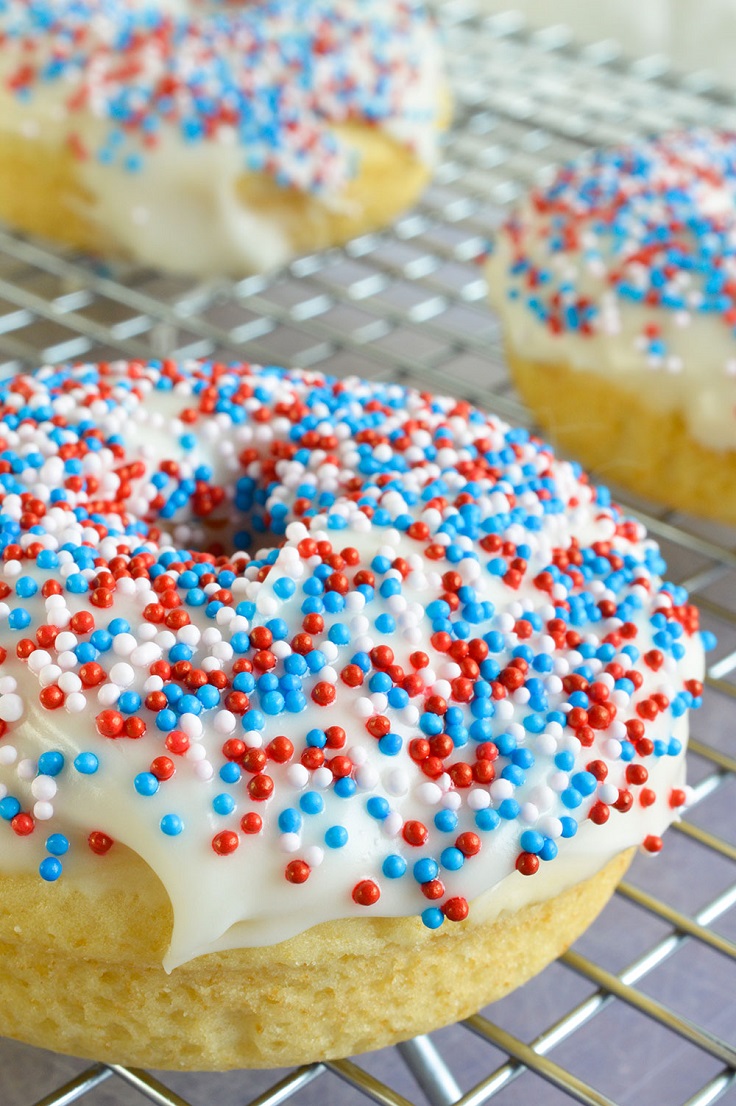 via wonkywonderful.com
Of course, what's more American than the good old donuts they have? Preparing them for the holiday is a real way to express the tradition in the form of food. Donuts super tasty, can be prepared mini if you want less mess and they look super adorable! Especially if you top them with red, white and blue sprinkles. In order to prepare these donuts, make sure you have: 1 cup all purpose flour, 1 teaspoon baking powder, 1/4 teaspoon sea salt, 1/4 cup sugar, 2 tablespoons butter – room temp, 1 large egg, 1/4 cup plain Greek yogurt, 2 teaspoons vanilla extract and 3 tablespoons whole milk.
3. Pasta Salad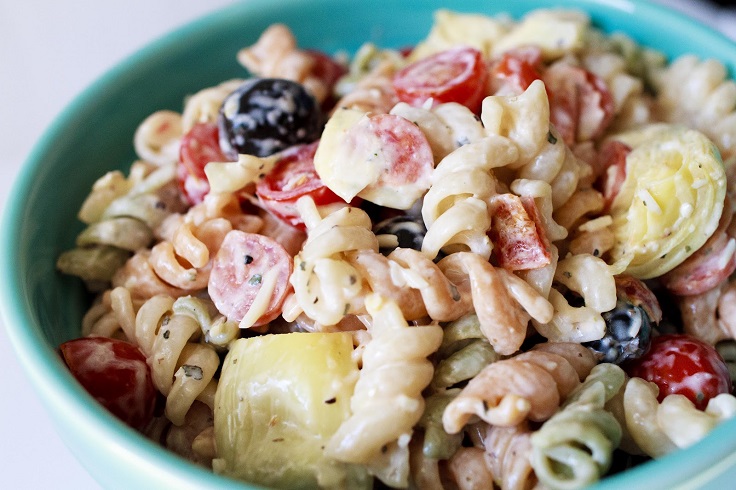 via mynameissnickerdoodle.com
Pasta isn't a traditional meal, but can serve as great side dish. For this one, you need 1 lb multicolored spiral pasta, 1 can black olives, 1 can quartered artichoke hearts, 1 cup grape tomatoes, 1 cup pepperoni minis, 8 oz mozzarella and 2 celery stalk. But, this pasta salad has an amazing dressing that we totally recommend you to prepare it as well. For the dressing, you need the following ingredients – 1/2 cup mayonnaise, 1/4 cup olive oil, 1/4 cup white vinegar, 1/3 cup Parmesan, 1 tsp dried basil, 1 1/2 tsp dried oregano, 1 tsp garlic powder, 1/2 tsp garlic salt
1/2 tsp pepper and 1/4 tsp red pepper flakes. When you'll mix everything, what you'll get is an amazing side dish that everyone would like to have more of!
4. Buffalo Mini Hot Dogs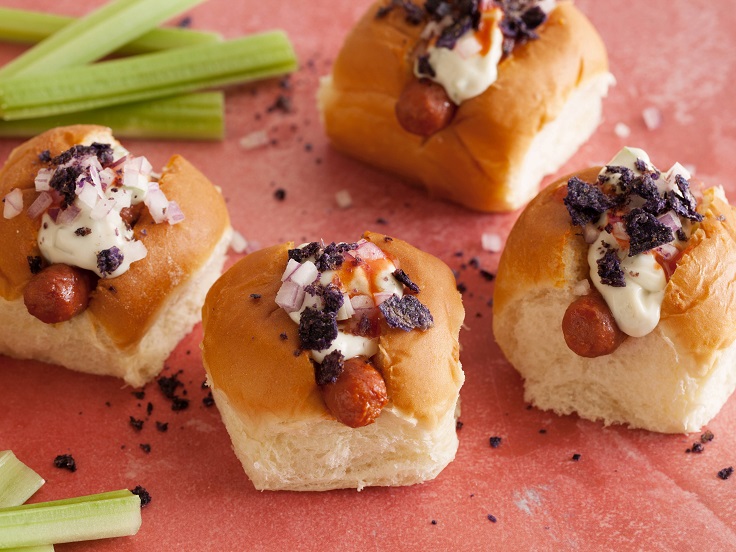 via foodnetwork.com
Instead of preparing the usual hot dogs, why don't you give these a try? They are small, delicious and won't make much mess! They are done in 20 minutes and you'll get 24 sliders, which is great if you're having someone over. Here's what you need to prepare them: 3 ounces cream cheese, 1/2 cup mayonnaise, 1/4 cup crumbled strong blue cheese, 2 ribs celery, plus extra ribs cut into sticks for serving, 1 tablespoon unsalted butter, 48 cocktail hot dogs, 1/4 cup hot pepper sauce, plus extra for drizzling, 24 slider potato rolls, 1/4 cup finely chopped red onion and 1 cup blue potato chips, crushed with your hands. Sounds delicious, right?
5. Patriotic Fruit Salad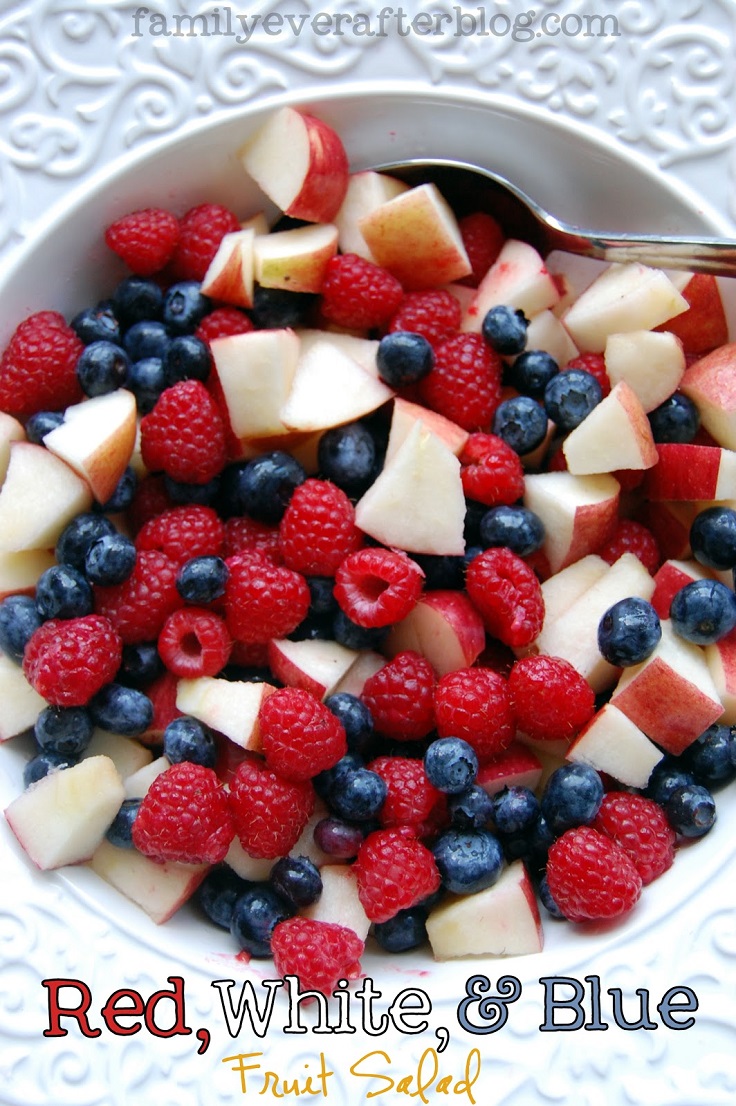 via familyeverafterblog.com
If you're into having the cleanest food possible all the time, then what you can prepare for the holiday is a delicious, fresh salad with this season's fruit. Berries and apples can make one cool salad with the colors of the flag, a reason plus to prepare it. Plus, it's super easy and ready in no time, not to mention the fact that is probably the healthiest salad that you can have! So, if you're in doubt, definitely consider preparing the flag – colored salad and use as much as fruit you need.
6. BBQ Chicken Secret Spice Rub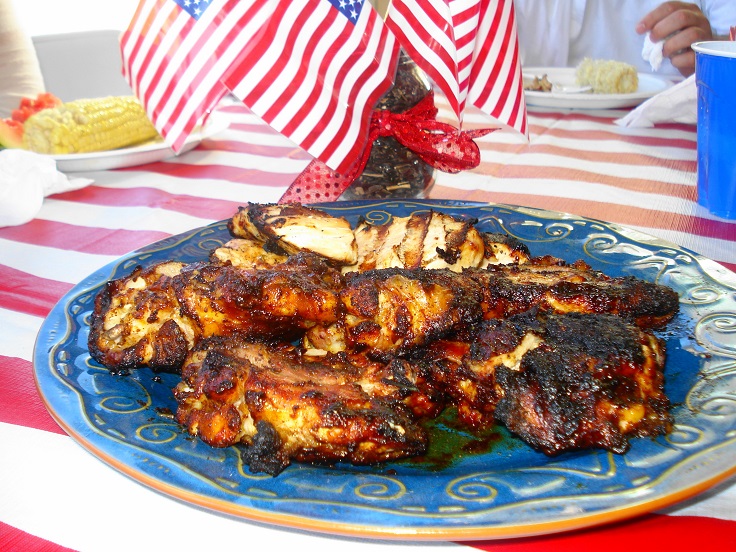 via thesisterscafe.com
Having BBQ for lunch is great, especially if you're planing a backyard party. It's easy to prepare it and if you want to try out the one from the picture, you need 2 Tb paprika, 2 Tb chili powder, 2 tsp salt, 3-4 lb whole chicken, cut up  OR  8-10 thighs and/or drumsticks and 1 cup of your favorite BBQ sauce. All you have to do is just combine the spices and rub them onto the chicken. Grill right away or you can keep the chicken in fridge for 24 hours and then grill it. During the last few minutes of the grilling, add the BBQ sauce onto the chicken.
7. Patriotic Popcorn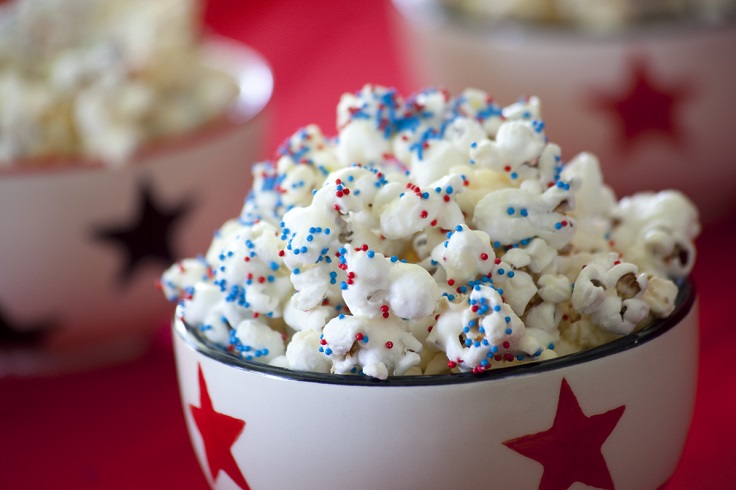 via eatingrichly.com
We understand if you can't spend hundreds of dollars on special meals, so here's a way how to deal with that. When desserts aren't your option, how about pop corn? You might think that pop corn is just a regular Friday night snack, but when prepared the right way, they can be the perfect 4th of July treat. So, all you have to do is pop some corn, melt white chocolate or almond vanilla bark, mix these together and just top them with sprinkles. It's that easy and that delicious!
8. American Flag Pie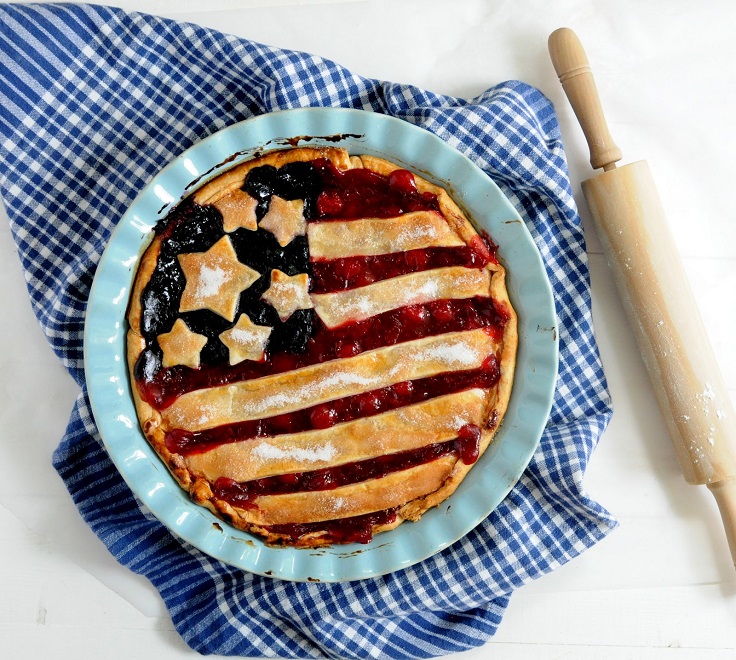 via aprettycoollife.com
The most traditional and most popular of all – the American pie. The symbol of the American culture and almost every dessert that can be found on the table during this table. There are so many recipes to try and each of it makes you want a another! First start by preparing the crust – choose your favorite recipe. After that it's about the filling, for which you can use strawberry jam and blueberry jam. Arrange everything in order to make it look like the flag and the result should look something like on the picture.
9. Yogurt Marinated Grilled Chicken Skewers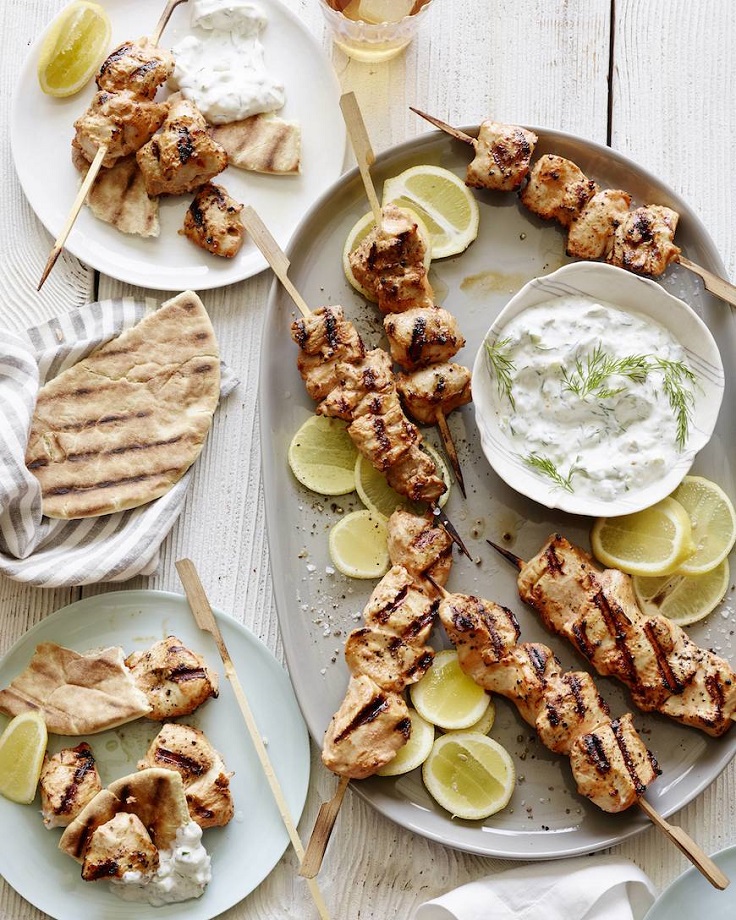 via whatsgabycooking.com
Back to the chicken and this time it's skewers we're talking about. To prepare them, you need the following ingredients: 2 teaspoons crushed red pepper, 2 teaspoons sweet paprika, 1 cup plain whole-milk Greek yogurt, 3 tablespoons extra-virgin olive oil, 2 tablespoons red wine vinegar, 1 tablespoons tomato paste, 2 teaspoons coarse kosher salt, 1 teaspoon freshly ground black pepper, 6 garlic cloves, 1 lemon, juiced, 1 lemon, 2 1/4 pounds boneless skinless chicken (thighs and/or breasts) and tzatziki sauce. It may seem like a lot of job, but it's really easy to prepare!
10. Seven Layer Flag Dip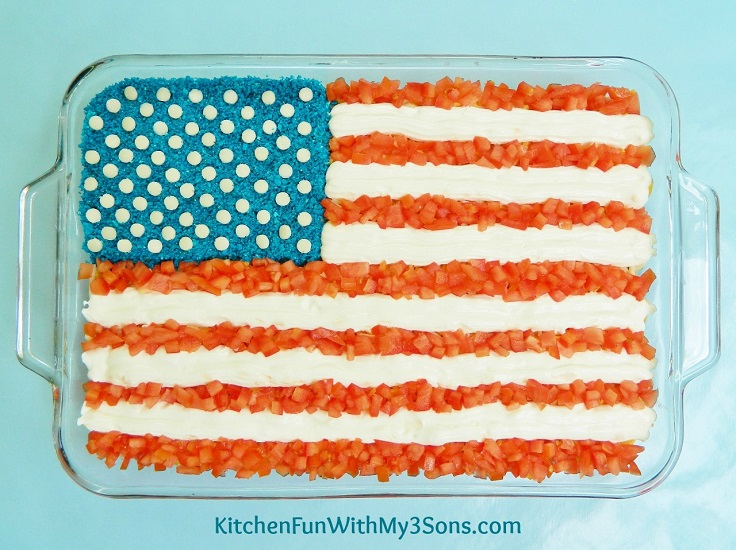 via kitchenfunwithmy3sons.com
And last on the list is a savory dip inspired by the American flag. Here are the ingredients that you need to prepare this dip: 1 can of refried beans, 1 packet of taco seasoning, 1 8 oz of sour cream, 1 8 oz of cream cheese, 2 cups of shredded cheese, 1 bag of shredded lettuce, black olives, 1 jar of salsa, 1 large tomato, blue chips and 1 slice of provolone cheese. Serve it with your favorite dipping snack and it's going to be amazing!
SaveSave
SaveSave