Eggs are one of the most consumed foods all over the world, they are high in protein and good fats from the yolk, this makes them highly nutritious. Most of us have a habit of preparing eggs in our particular way that has become our habit, some people like scrambled eggs and others like boiled eggs, but there are other ways to cook eggs that you might have not know off. Life is about experimenting and trying new things, why not switch your morning routine and try to cook your eggs in a different way. We guarantee that these recipes are fun and delicious and are all about cooking eggs. What's your favorite way, comment bellow.
1. Scrambled Eggs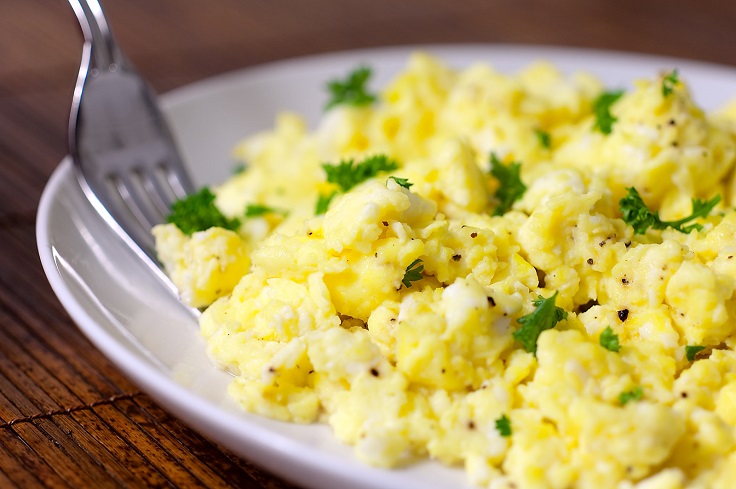 via vitalfarms.com
This is the recipe most people learn as their first cook experience. Scrambled eggs are delicious and are made of eggs and some milk. In a bowl whisk together eggs and milk and pour the mixture in a heated pan with some oil. While cooking push the eggs to the center of the pan. Top with parsley.
2. Asparagus and a Poached Egg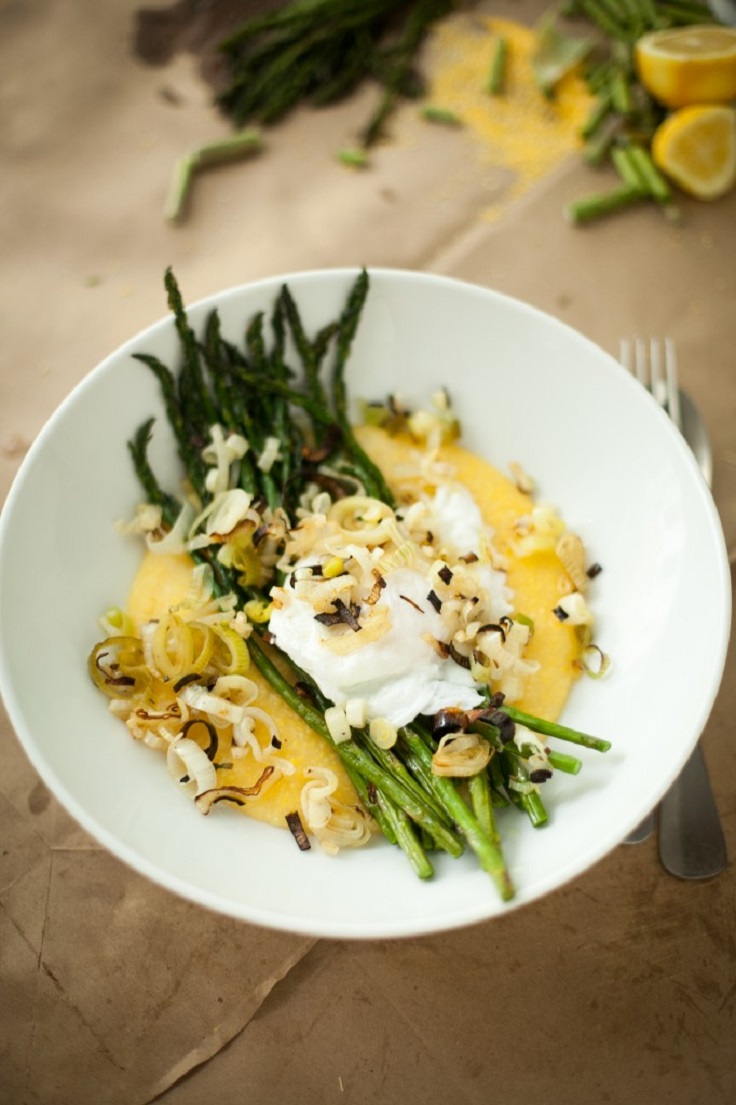 via happyolks.com
A perfect way to start the first spring morning is with this awesome poached egg recipe. You will need: eggs, 1 pound of asparagus,olive oil, salt, pepper and zest of 1 lemon. Prepare the baking sheet and place asparagus. Coat it with olive oil, salt, pepper and lemon zest and bake for 5 minutes. Now it's time for the eggs. In a deep pan heat water and crack the egg in the water. Cook for 4 minutes. For serving, place the asparagus in a plate and the poached egg on top.
3. Baked Eggs In Avocado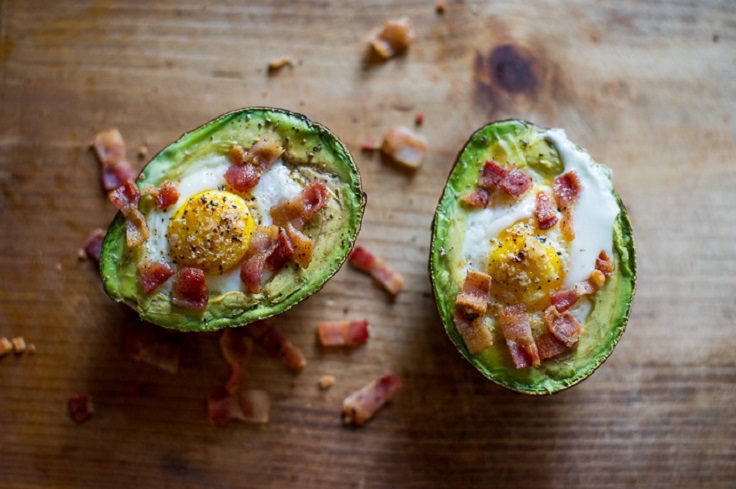 Combine this tropical fruit with some eggs and taste heaven. Ingredients: 1 medium or large avocado, 2 small eggs, 2 sliced of bacon, 2 slices of toast, salt and black pepper. Cut avocado in half and remove the seeds, crack the egg in the middle of the avocado. Spice with salt and pepper and bake for 15 minutes on a preheated oven. Serve with toast.
4. Sausage and Cheddar Grits with Fried Eggs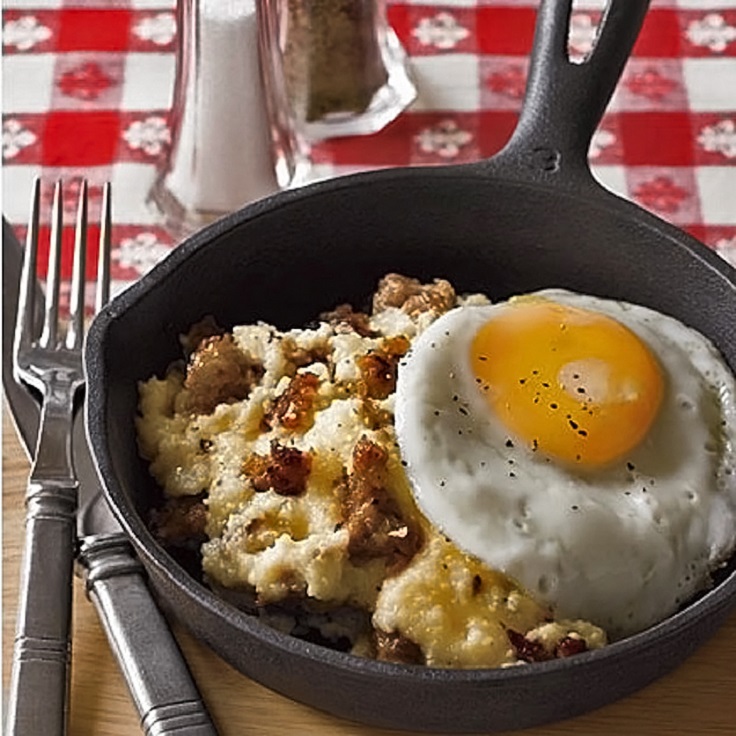 Sunny side-up is the one of the world's common recipe for eggs, combine it with some grits and you will feel energized throughout the entire day. Ingredients: salt and pepper, 1/2 cup  grits, 8 ounces sausage, 3 ounces Cheddar and 4 large eggs. Bring water to a boil and cook the grits for 20 minutes. Cook sausage by frying in a pan for 5 minutes. In a heated pan crack eggs and don't whisk, cook for 3 minutes. Spoon grits in plates and top with the eggs and sausage.
5. Deviled Eggs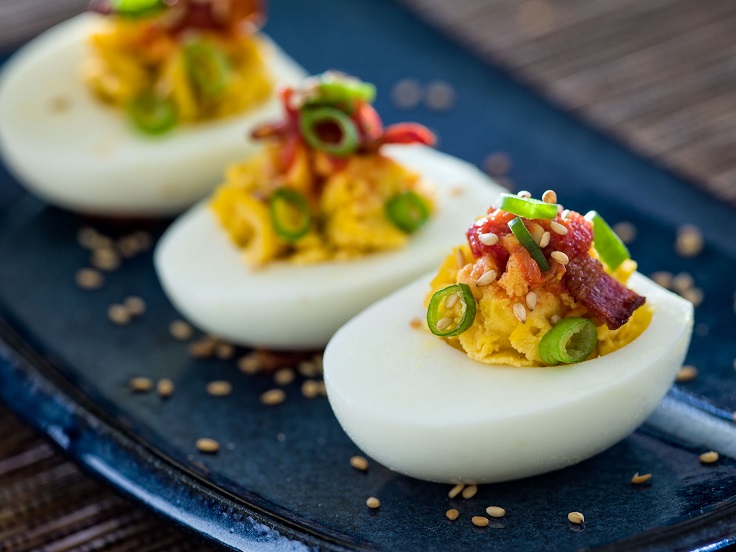 This is a perfect snack for birthdays and any kind of celebrations. You will need: 12 large eggs, 4 tablespoons mayonnaise, 2 teaspoons mustard, 1/4 teaspoon salt, pinch of pepper. Heat water and place eggs, boil for 9 minutes. Cu the eggs in half and remove yolks. Put yolks in a bowl add mayo, mustard and pepper. Transfer the yolk mixture in the egg and top with onion, bacon or whatever you prefer.
6. Cheddar Spinach Omelet

via stahlbush.com
Have you ever tried cheddar cheese with eggs, it's perfect! Ingredients: ½ cup spinach, 2 tsp. olive oil 1 egg plus 2 egg whites, beaten, 1 slices Cheddar and pepper. In a heated pan saute spinach for 3 minutes, add the eggs without stirring for 4 minutes. Top with cheddar cheese.
7. Egg Salad
via easyrecipes.com
The egg salad is a good way to finish a day, it is sower and sweet. You will need: 2-3 eggs, one spoon of mayonnaise, chopped celery, chopped onion and vinegar(optional). Boil the eggs for 9 minutes. Mash them and mix them with the remaining ingredients.
8. Baked Eggs in Bread Bowls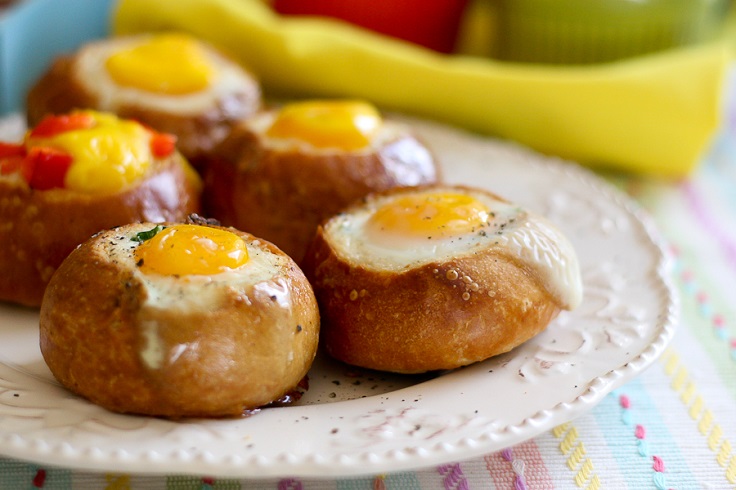 via tastykitchen.com
This is an outstanding recipe for delicious crunchy eggs in breads. Ingredients: 8 crusty dinner rolls, 8 large eggs, 1/4 cup chopped mixed herbs, 2 tablespoons heavy cream, salt and pepper, 4 tablespoons grated Parmesan. Cut dinner rolls in half and remove the soft bread from the inside. Crack the eggs in the inside, add some cream, spice with herbs and top with Parmesan. Bake for 20-25 minutes.
9. Delicious Eggnog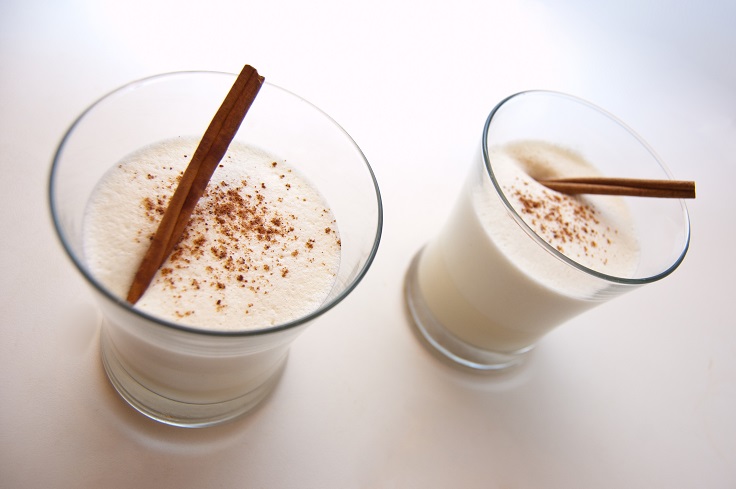 For those of you who love consuming eggnog during the entire year and not only holiday season, here's the recipe. Ingredients: 2 eggs, beaten, 3 tablespoons sugar, 2 1/3 cups low-fat milk, 1 teaspoon vanilla extract, 1 dash ground nutmeg. Blend together all ingredients and serve chilled.
10. Egg Breakfast Burrito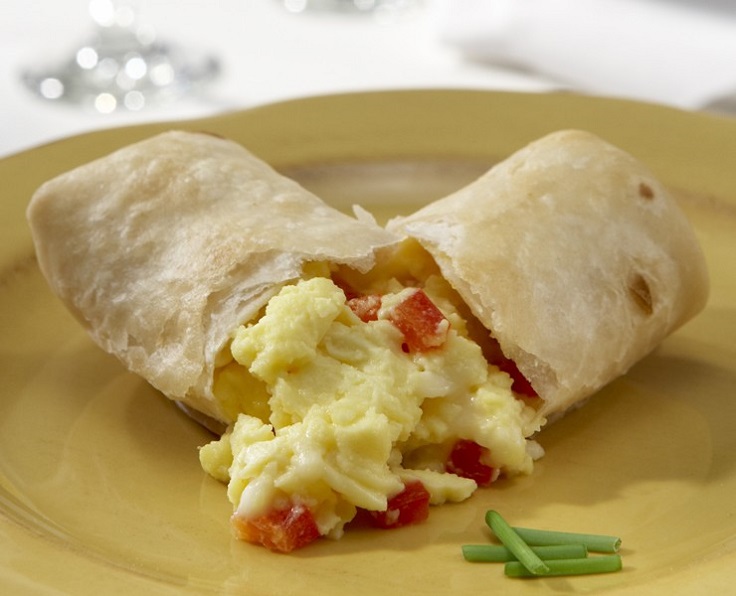 via kabobs.com
If you want a spicy morning start, make this healthy burrito. Ingredients: 1 whole-grain tortilla, 1 batch-cooked hard-boiled egg, ¼ cup shredded Cheddar and 2 tbsp. salsa sauce. Chop the boiled eggs and place in the burrito with the Cheddar cheese and the salsa. Microwave for 45 seconds and enjoy.