The zucchinis are easy to grow at home and have plenty of health benefits, raw or cooked. They are good for our heart and can improve our eye health, both internal and external. Because the zucchinis are low in calories, they are recommended especially for those who'd like to lose weight.
There are many ways that you can use zucchinis in cooking, and one of those ways is to prepare zucchini boats. It's all about cutting the zucchini half a long way and filling them with different ingredients – it can be anything you'd like to eat for lunch or dinner! Scroll along to see ten recipes and choose which one will be your next lunch or dinner.
1. Beef Stuffed Zucchini Boats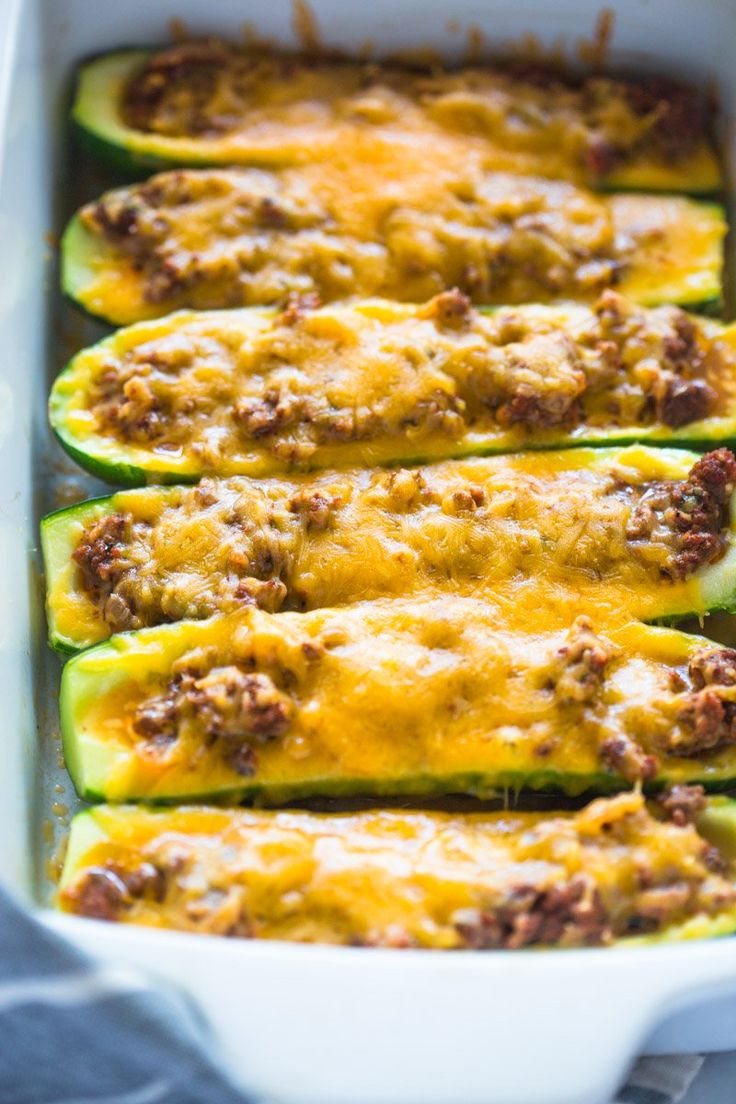 The beef stuffed zucchini boats are the ideal less guilty – pleasure you would like to have for lunch or dinner. The 'less' comes because there are no carbs here – the base is zucchini, so it's just the toppings that are high in calories. Ground beef and melted cheese is a well-known combination in the world of foodies, so these are your three main ingredients, including the zucchini. Feel free to other ingredients, such as marinara sauce and seasonings.
2. Cheddar and Sausage Stuffed Zucchini Boats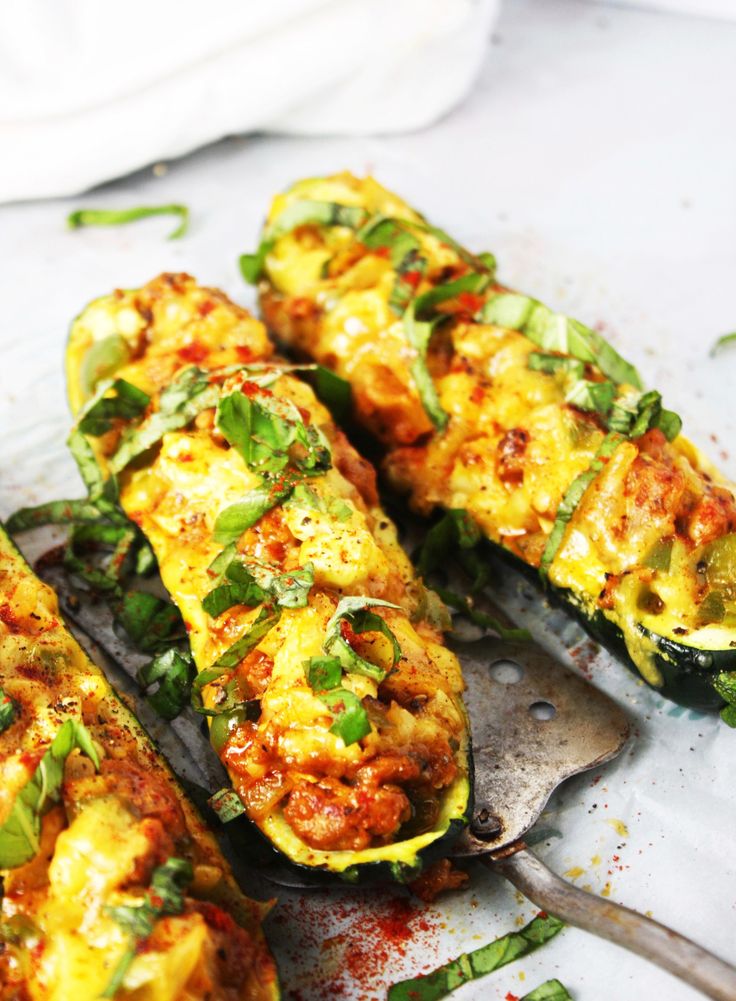 Similar to the previous recipe, the main ingredient here isn't beef, but ground turkey and turkey sausage – a mixture of these two, to be exact. Add melted Cheddar cheese, and you can say that your lunch or dinner is pretty much awesome! If you want things spicy, go ahead and add your favorite spices and seasonings, such as the Italian, and you can also add certain herbs, such as basil and oregano. These zucchinis are ready in 40 minutes.
3. Taco Stuffed Zucchini Boats
Instead of corn or flour tortillas, how about taco seasoned beef zucchinis? This is definitely a lighter version of the classic taco recipe, except that this one has lesser calories, and this goes in your favor – especially if you're willing to lose some weight. Besides the meat, here you will find plenty of other tasty ingredients contributing to the zucchinis' deliciousness, and we're talking about spices and vegetables, such as pepper, onions, dried oregano, chili powder – to name a few.
4. Italian Stuffed Zucchini Boats
These zucchinis are ready in less than one hour and will definitely make you feel full, thanks to the rich toppings. Inspired by the Italian cuisine, the toppings include melted cheese, both Parmesan and mozzarella, and the rest is up to you – take some inspiration from other Italian recipe and just go on with the toppings; here are used spices and herbs, vegetables, beef, mushrooms… anything you like!
5. Enchilada Zucchini Boats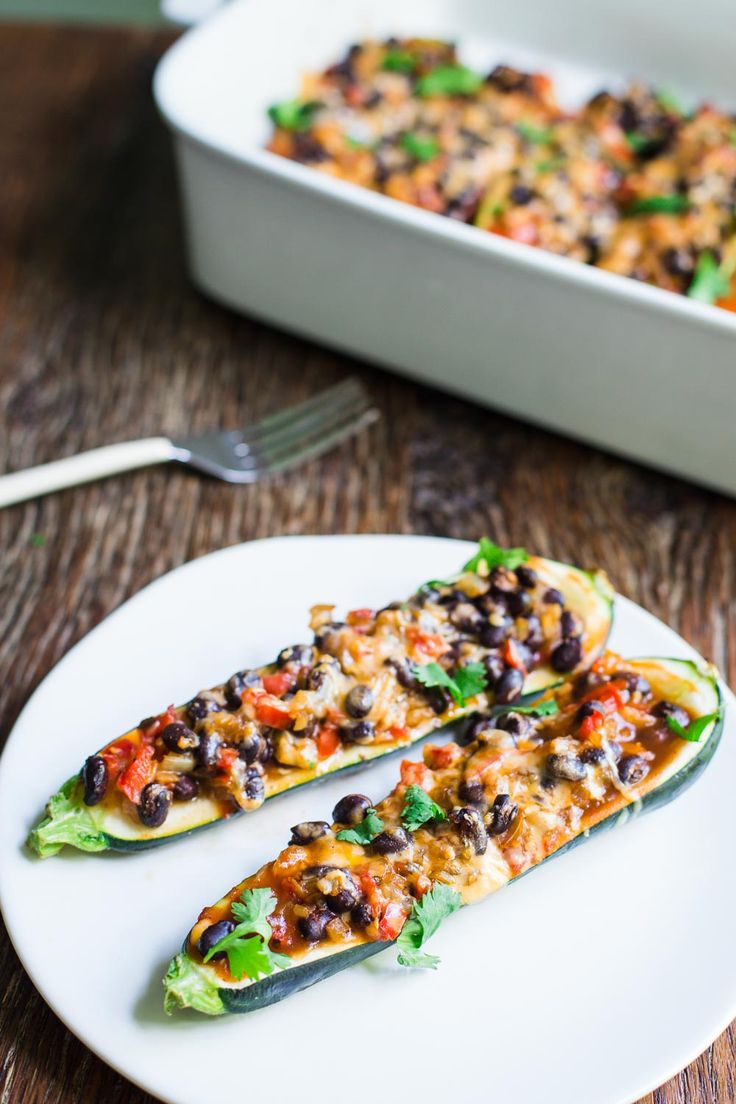 via bbritnell.com
Vegan or not, you're going to love them not just for their taste but for eating one and feeling full. You need these ingredients – 1 tablespoon of oil, 1/2 of a sweet onion, 1/2 red bell pepper, 3 cloves of garlic, 1/4 teaspoon of cumin, 1/4 teaspoon of dried oregano, 1/4 teaspoon of paprika, 1/4 teaspoon of salt, 1 15 ounces can of black beans, drained and rinsed, 3 medium zucchinis, 1 1/2 cups of enchilada sauce and 1/2-1 cup of vegan cheese, but this is optional.
6. Goat Cheese & Marinara Stuffed Zucchini Boats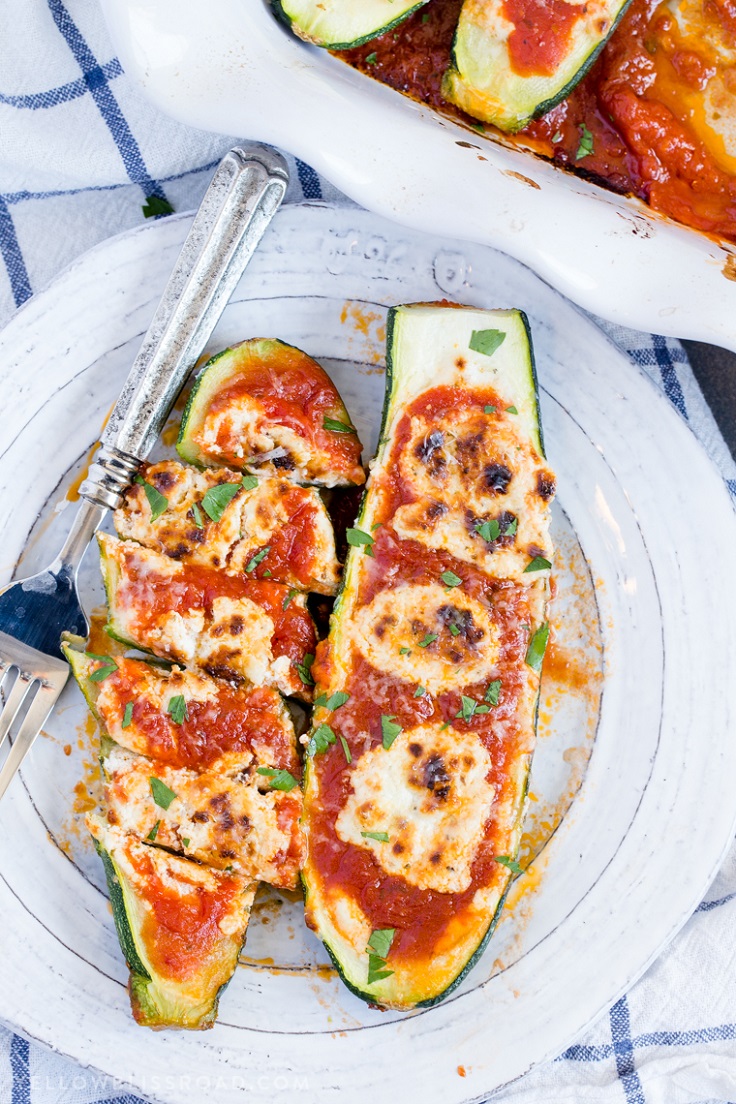 This recipe is perfect for vegetarians – it doesn't contain meat, but you can taste delicious cheese, and here you'll find plenty of it. Goat cheese, Parmesan, and mozzarella are a foodie combination that every cheese lover would love to try out. The marinara sauce will give you those pizza vibes inspired by the Italian cuisine, but luckily there are no dough crust carbs, so feel less guilty and indulge in this amazing lunch or dinner meal.
7. Raw Zucchini Boats With Creamy Garlic Sauce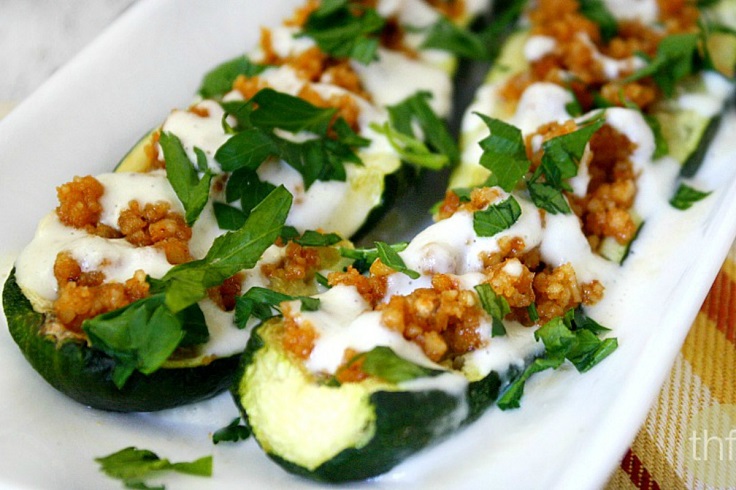 And now something that vegans would love to try out. This recipe contains garlic sauce that is really easy to make it. For that, you need these ingredients – 1/2 cup organic cashews, 1/2 cup water (purified/filtered), 2 teaspoons organic extra-virgin olive oil, 2 teaspoons organic lemon juice, 1 – 2 clove organic garlic, and 1/8 teaspoon Himalayan pink salt. It's very light and delicious, and we are sure that even meat lovers would like to have one of these for dinner.
8. Mini Vegetarian Tex Mex Stuffed Zucchini Boats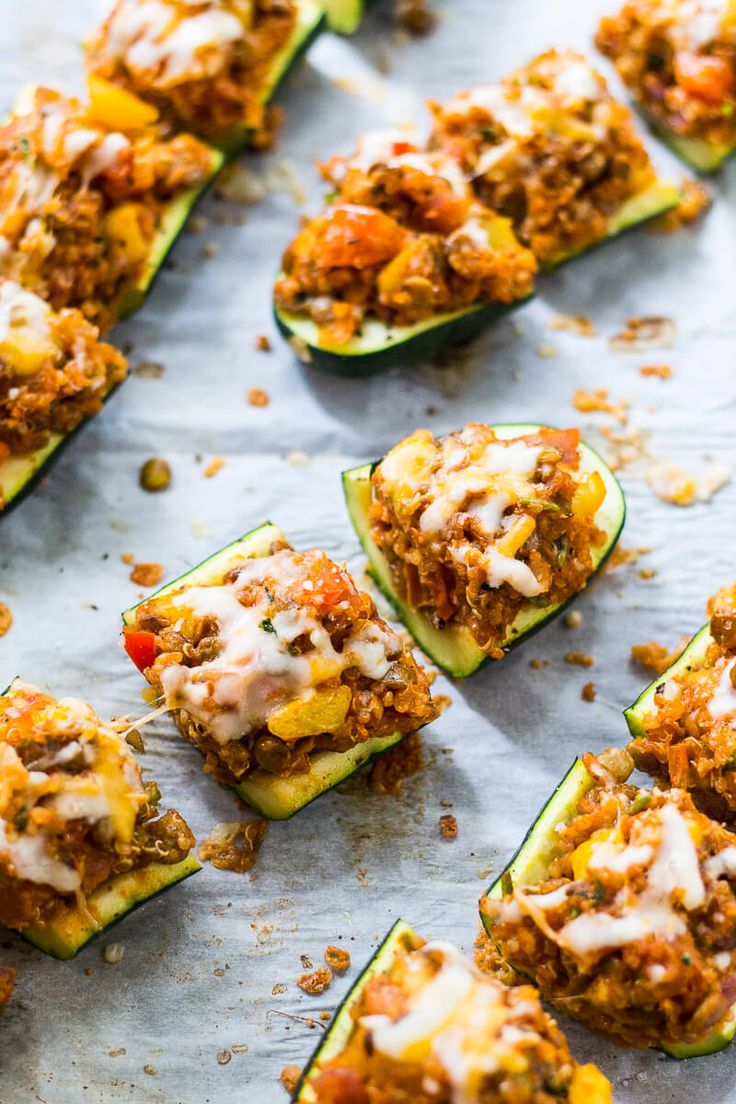 Let's go back to vegetarians. For those who like to try the taco stuffed zucchinis but don't like the meat part – feel free to leave out the beef. Instead of it, make your own filling that will include just melted cheese, vegetables, spices, and herbs. Since we're talking about a taco recipe, make sure to keep at least some of the ingredients used in the original recipe, such as garlic, cilantro, tomatoes, and onions.
9. Greek Quinoa Grilled Zucchini Boats
Vegan, vegetarian, or meat lover, you are going to love this recipe! It is inspired by Greek cuisine, so prepare to taste some feta and olives (if you're a vegan, feel free to leave out the feta). To prepare this recipe, here are the ingredients you'll need – ½ cup quinoa, 1 cup water, 4 zucchini, 1 tablespoon olive oil, 1 tablespoon fresh lemon juice, ½ teaspoon dried oregano, ⅛ teaspoon kosher salt, 1 cup cherry tomatoes, ½ cup pitted kalamata olives, ¼ cup finely chopped red onion, 1 tablespoon chopped fresh parsley and ¼ cup crumbled feta cheese.
10. Buffalo Chicken Zucchini Boats
Ready in less than one hour, these zucchinis filled with buffalo chicken are the perfect way to spend a weekend lunch or dinner with your family. No matter if you're new to cooking or not, you will find it very easy to prepare this meal. Here are the ingredients that you need – 2 zucchinis, 1 pound cooked chicken, 2 tablespoons flour, 1/2 teaspoon salt, 1/2 teaspoon black pepper, 1 carrot, 1 rib of celery, 3/4 cup shredded cheddar cheese, 1/4 cup blue cheese crumbles, 3 tablespoons buffalo sauce and 3 tablespoons blue cheese (or ranch) dressing.